Global Acrylic Resin Industrial Coatings Market Forecast
Acrylic resin industrial coatings market size to reach US$26.3 Bn by the end of 2030
Market revenue poised to experience a CAGR of 6% between 2023 and 2030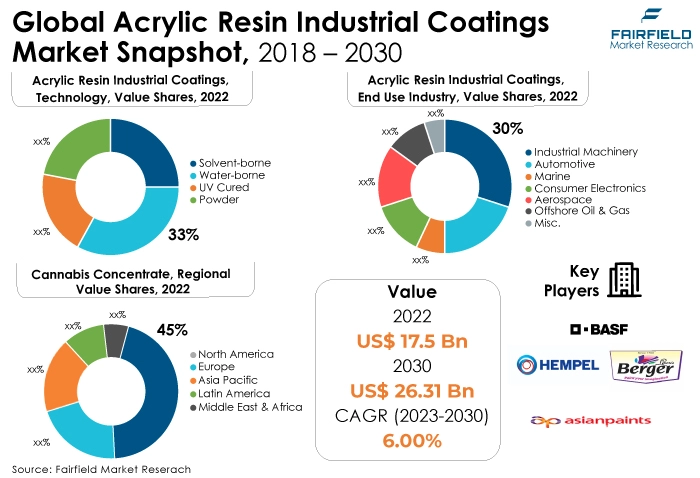 Quick Report Digest
The key trends anticipated to fuel the acrylic resin industrial coatings market growth are increased demand for eco-friendly coatings, rising infrastructure development, growing automotive production, and ongoing innovations in acrylic resin technology, all contributing to expanded market opportunities.
Another major market trend expected to fuel the growth is the acrylic resin industrial coatings market, a rapidly expanding global construction industry. The market is also predicted to profit from the expanding worldwide adhesives & sealants industry.
In 2022, waterborne Waterborne technology became the dominant segment in the acrylic resin industrial coatings market. This change is driven by its eco-friendliness, as it contains fewer harmful compounds (VOCs) in compliance with stricter environmental rules.
Regarding market share for acrylic resin industrial coatings globally, the paints & coatings segment is anticipated to dominate. Industrial machinery has dominated the acrylic resin industrial coatings market because of its demand for sturdy coatings to endure tough conditions like extreme temperatures, chemicals, and wear.
The North American region has dominated the acrylic resin industrial coatings market due to its strong industrial base, robust construction sector, stringent environmental regulations favouring low-VOC coatings, and a history of technological innovation, all contributing to market leadership.
The Asia Pacific region is poised for the fastest CAGR growth in the acrylic resin industrial coatings market due to rapid industrialisation, urbanisation, increased infrastructure development, and expanding automotive production, creating substantial demand for high-performance coatings in the region.
The acrylic resin industrial coatings market is constrained by fluctuating raw material prices, as these variations can impact production costs and pricing stability. This uncertainty makes it challenging for businesses to plan and expand, hindering market growth by affecting competitiveness and profit margins within the industry.
Potential health and environmental issues pose challenges to the acrylic resin industrial coatings market. Concerns over volatile organic compounds (VOCs) and other hazardous components in these coatings raise regulatory and consumer scrutiny, demanding the development of eco-friendly and low-VOC alternatives, which can impact the market's growth and sustainability efforts.
A Look Back and a Look Forward - Comparative Analysis
The acrylic resin industrial coatings market has grown in popularity due to factors such as an increase in its applications across various industries, including paints and coatings, with an increase in usage generally in line with the global economy.
The market witnessed staggered growth during the historical period 2018 – 2022. This is due to the substantial growth of the major end-use application sectors such as building and construction, paints & coatings, adhesives and sealants, and plastics. However, in some applications, the demand for acrylic resin industrial coatings has increased, including paper and paperboard, textiles and fibers, and other products.
The future of the acrylic resin industrial coatings market looks promising, with a focus on sustainability and innovation. Anticipated trends include the development of bio-based acrylic resins, advanced nano-coatings for superior performance, and increased adoption in emerging economies due to growing industrialisation.
Regulatory pressures will drive eco-friendly formulations, and the market will witness continued expansion in the construction, automotive, and electronics sectors. Furthermore, digital technologies like AI and IoT may optimise coating application processes, offering enhanced efficiency and quality control.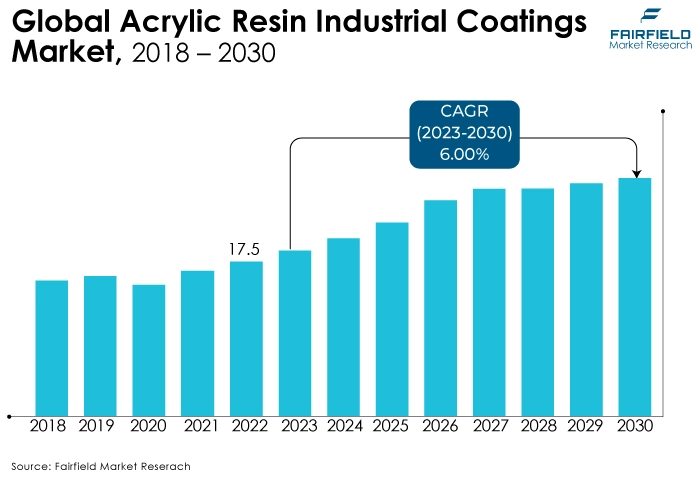 Key Growth Determinants
Increased Construction and Infrastructural Activities
The construction sector requires robust protective coatings to shield surfaces against harsh environmental conditions, corrosion, and wear. Acrylic resin coatings offer durability and weather resistance, making them ideal. Acrylic resin coatings are known for their ability to provide aesthetically pleasing finishes.
In construction and infrastructure projects, aesthetics matter, driving the demand for coatings that enhance the visual appeal of buildings and structures. These coatings extend the lifespan of structures by preventing damage and degradation. As infrastructure investments are long-term commitments, using durable coatings becomes crucial in minimising maintenance and repair costs.
Reflective and cool roofing coatings, often acrylic-based, contribute to energy efficiency by reducing heat absorption. With a growing focus on sustainable and energy-efficient buildings, these coatings are in demand. Stringent environmental regulations often require coatings with low volatile organic compounds (VOCs); acrylic resin coatings can meet these requirements
Growing Requirement of Environmentally Sustainable Formulations
The increasing demand for environmentally sustainable formulations is a significant driver of the acrylic resin industrial coatings market. With rising environmental awareness and stringent regulations, industries seek coatings with reduced volatile organic compounds (VOCs) and lower environmental impact.
Acrylic resins, known for their versatility, can be tailored to meet these requirements, making them a preferred choice. Companies adopting sustainable coatings comply with regulations and appeal to eco-conscious consumers.
This trend fosters innovation in eco-friendly formulations and positions the acrylic resin industrial coatings market for growth as sustainability becomes a defining factor in coating choices across various industries.
Rising Demand for Coatings
The escalating demand for coatings from various end industries is a potent driver of the acrylic resin industrial coatings market. Sectors like automotive, construction, aerospace, and manufacturing rely on acrylic resin coatings for their versatility, durability, and protective properties.
As these industries grow and evolve, the need for advanced coatings to enhance aesthetics, provide corrosion resistance, and ensure longevity becomes paramount. Acrylic resin coatings meet these diverse requirements, driving their widespread adoption.
The expanding application spectrum across end industries fuels market growth, creating opportunities for innovation and diversification in the acrylic resin industrial coatings sector.
Major Growth Barriers
Fluctuating Raw Material Prices
Fluctuating raw material prices present a challenge in the acrylic resin industrial coatings market. Acrylic resins depend on petrochemical derivatives, and price fluctuations in these commodities can disrupt production costs. This instability affects pricing strategies, profit margins, and supply chain management.
Adapting to and mitigating the impact of raw material price volatility is essential for market players to maintain competitiveness and stable operations.
Potential Health and Environmental Issue
Potential health and environmental issues are significant challenges in the acrylic resin industrial coatings market. Some acrylic resin formulations may contain hazardous components or emit volatile organic compounds (VOCs) during application, posing health risks to workers and environmental concerns.
Stringent regulations and consumer demands for safer, eco-friendly coatings drive the need for low-VOC and non-toxic alternatives. Meeting these requirements while maintaining performance characteristics can be challenging for manufacturers.
Striking a balance between product effectiveness, health, and environmental considerations is crucial in navigating these challenges and ensuring market compliance.
Key Trends and Opportunities to Look at
Waterborne Formulations
Due to their low VOC content and reduced environmental impact, waterborne formulations are a key trend in the acrylic resin industrial coatings market. These coatings align with stringent regulations on emissions and worker safety. They offer excellent adhesion, corrosion resistance, and durability, making them suitable for diverse applications.
As the industry prioritises sustainability and compliance, adopting waterborne acrylic resin coatings continues to rise, reshaping the market landscape.
Increasing Demand for Low-Cure Temperature Coatings
Low-cure temperature coatings are a notable trend in the acrylic resin industrial coatings market. These coatings cure at reduced temperatures, conserving energy during the curing process. They are ideal for temperature-sensitive substrates and can enhance production efficiency.
As industries focus on sustainability and cost-effectiveness, low-cure temperature acrylic coatings provide a solution that aligns with these priorities, making them a key trend shaping the market's direction.
Rising Popularity of Anti-Graffiti Coatings
Anti-graffiti coatings are emerging as a key trend in the acrylic resin industrial coatings market. These coatings offer surface protection by preventing graffiti and other unwanted markings, simplifying cleaning, and reducing maintenance costs. They are highly sought after for public infrastructure and commercial buildings.
With a focus on preserving aesthetics and reducing vandalism-related expenses, anti-graffiti acrylic coatings are increasingly important, driving their adoption and development in the market.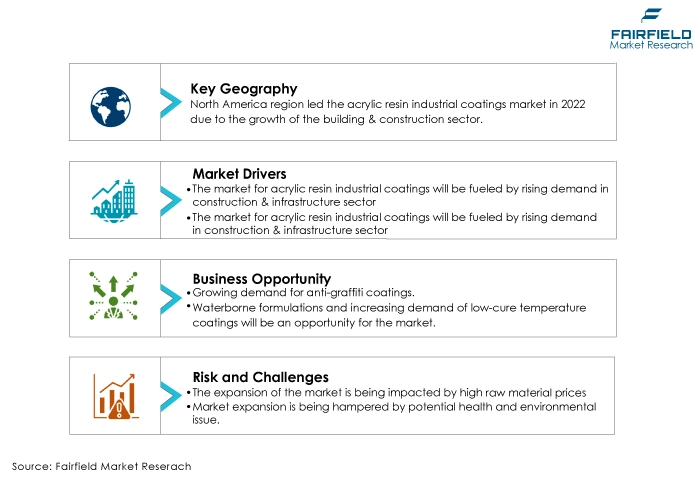 How Does the Regulatory Scenario Shape this Industry?
Stringent regulations governing VOCs emissions drive the market toward low-VOC and VOC-free formulations. Acrylic resin coatings with reduced emissions are essential for compliance with air quality standards and worker safety regulations. Environmental agencies impose rules to minimise the environmental impact of coatings. Compliance requires the development of eco-friendly acrylic coatings, including waterborne and bio-based formulations.
Regulations related to product safety and toxicity drive the development of non-toxic acrylic coatings, ensuring they are safe for both application and end use. Coatings often require specific labeling and certifications to meet regulatory standards. Manufacturers must adhere to labeling requirements and attain certifications to access certain markets.
Restrictions on certain chemicals, such as heavy metals and hazardous substances, shape the formulation of acrylic coatings, pushing for safer and compliant alternatives. Workplace safety regulations impact the handling, storage, and application of coatings, necessitating safety measures and training for workers.
Compliance with building codes and standards is crucial for coatings used in construction. Acrylic coatings must meet these codes for use in architectural applications. As coatings are often traded internationally, global harmonisation of regulations impacts market access and product formulation consistency.
Fairfield's Ranking Board
Top Segments
Waterborne Technology Continues to Dominate over Technology Segment
Waterborne technology has secured the largest market share in the acrylic resin industrial coatings market due to their distinct environmental advantages, as they contain lower levels of VOCs compared to their solvent-based counterparts, which is in line with increasingly stringent environmental regulations. Moreover, waterborne coatings are safer to use and handle, as they reduce the risk of fire hazards associated with solvent-based alternatives.
Additionally, the improved durability and adhesion properties of waterborne acrylic coatings have made them a preferred choice for various industrial applications, including automotive, construction, and packaging, further cementing their dominance in the market. This shift reflects a growing awareness and commitment to sustainable, eco-friendly coating solutions in the industrial sector.
Industrial Machinery will Surge Ahead
In the acrylic resin industrial coatings market, the industrial machinery sector has emerged as the dominating segment in terms of end-use industry, and this can be attributed to several key factors. Industrial machinery requires robust and durable coatings that can withstand harsh operating conditions, such as exposure to extreme temperatures, chemicals, and abrasion.
Acrylic resin coatings offer exceptional protection and corrosion resistance, making them an ideal choice for preserving the structural integrity and appearance of industrial machinery. Furthermore, these coatings can be customised to meet specific performance and aesthetic requirements, which is crucial in the industrial machinery sector where both functionality and visual appeal are essential.
The ease of application and quick drying properties of acrylic coatings also contribute to their popularity in this segment, helping manufacturers reduce downtime and maintain high production efficiency. All of these factors combine to establish industrial machinery as the dominant end-use industry for acrylic resin coatings.
Regional Frontrunners
North America Largest Revenue Contributor
Due to several key factors, North America has secured the largest market share in the acrylic resin industrial coatings market. First, the region's robust industrial base, including the automotive, construction, and aerospace sectors, demands high-performance coatings, where acrylic resins excel.
Stringent environmental regulations have spurred the adoption of low-VOC and eco-friendly coatings aligning with acrylic resin technology. Third, ongoing research and development efforts drive innovation, meeting evolving industry needs. Fourth, North America's economic stability and construction activity contribute to market growth. Lastly, consumer preferences for durable and aesthetically pleasing finishes further boost acrylic resin coatings, making North America the dominant market player.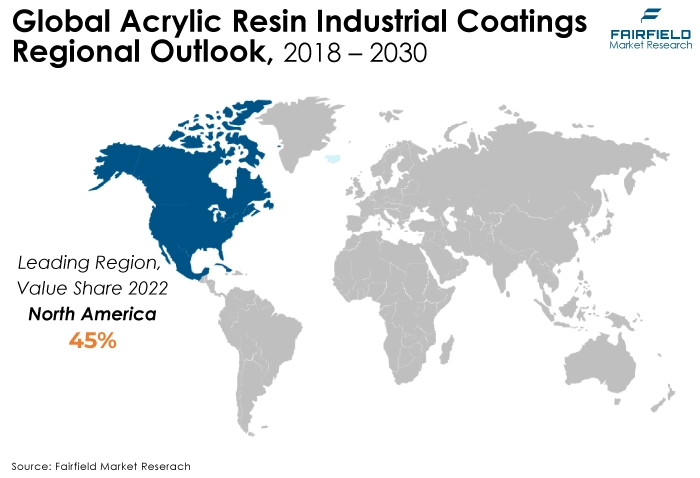 Asia Pacific Likely to Witness the Significant Growth in Sales During Forecast Period
For several compelling reasons, Asia Pacific stands as the fastest-growing region in the acrylic resin industrial coatings market. Rapid urbanisation and industrialisation have fueled increased construction, infrastructure development, and manufacturing activities, driving the demand for industrial coatings.
Additionally, the automotive sector's expansion in countries like China, and India has further boosted acrylic resin coatings demand. The region's emerging economies offer cost-effective production capabilities, attracting global manufacturers.
Moreover, Asia Pacific benefits from a growing awareness of environmental regulations, spurring the adoption of eco-friendly acrylic resin formulations. These factors collectively position Asia Pacific as a hotbed for market growth and innovation in industrial coatings.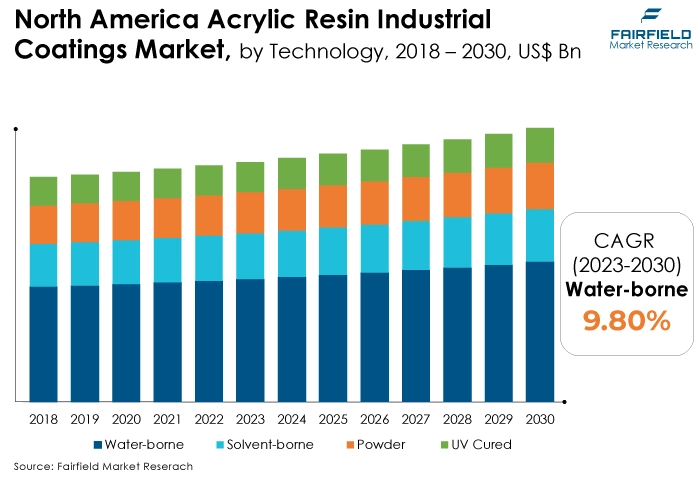 Fairfield's Competitive Landscape Analysis
The global acrylic resin industrial coatings market is a consolidated market with fewer major players present globally. The key players are introducing new products and working on the distribution channels to enhance their worldwide presence. Moreover, Fairfield Market Research expects more consolidation over the coming years.
Who are the Leaders in the Global Acrylic Resin Industrial Coatings Space?
Significant Company Developments
New Product Launches
July 2022: Arkema has recently revealed its acquisition of Polimeros Especiales, a Mexico-based emulsion resin manufacturer. This strategic move to acquire a prominent player in producing solvent-free waterborne acrylic resins is set to enhance Arkema's presence within the region. Furthermore, this acquisition aligns seamlessly with the company's overarching strategy to expand its offerings in the coating solutions sector within emerging markets.
May 2022: Covestro Taiwan Ltd has recently inaugurated a specialised research and development (R&D) facility focusing on resin synthesis and the coating of fiber optics. Situated at the National Central University (NCU) in Taoyuan, China, this R&D center was established to innovate sustainable processes for UV-cured resin synthesis. UV-curable resins find application in various coating sectors, including floors, fiber optic cables, solar panels, electronic materials, and wood products.
April 2022: PPG has announced the successful acquisition of Arsonsisi, an industrial coatings firm headquartered in Milan, Italy, and its powder coatings division. As part of this acquisition, PPG will gain ownership of an advanced, highly automated powder manufacturing facility that handles small and large production batches in Verbania, Italy.
Distribution Agreement
November 2021: Azelis and BASF have reached an agreement to enhance their collaboration in Vietnam, specifically focusing on resin distribution for the industrial, automotive coatings, as well as the printing and packaging sectors.
An Expert's Eye
Demand and Future Growth
As per Fairfield's Analysis, an increase in construction & infrastructure is driving the market. The acrylic resin industrial coatings market is experiencing robust demand driven by its versatile applications in the automotive, construction, and electronics sectors. Future growth prospects are promising, with an increasing emphasis on sustainable and low-VOC coatings.
As environmental regulations tighten, acrylic resins are expected to gain further traction. Additionally, expansion into emerging markets, technological advancements, and innovative formulations will likely drive substantial growth, making the Acrylic Resin Industrial Coatings market a dynamic and evolving sector in the future.
Supply Side of the Market
The supply side of the acrylic resin industrial coatings market is a complex ecosystem involving manufacturers, raw material suppliers, distribution channels, and regulatory bodies. Companies like BASF, PPG Industries, AkzoNobel, and Sherwin-Williams are major players in acrylic resin coatings production. They invest heavily in research and development to create innovative coatings with enhanced properties, such as improved durability and eco-friendliness.
Key raw materials for acrylic resin coatings include acrylic monomers, solvents, pigments, and additives. Suppliers of these materials, like Dow Chemicals and Evonik, play a critical role in ensuring a consistent supply chain. Distributors, wholesalers, and retailers act as intermediaries between manufacturers and end-users. They ensure the efficient flow of products to various industries and regions.
Industries such as automotive, construction, electronics, and packaging are the primary consumers of acrylic resin coatings. Understanding their specific requirements and preferences is vital for suppliers. Compliance with environmental and safety regulations is a significant challenge. Suppliers must stay up-to-date with evolving regulations, such as VOC (Volatile Organic Compounds) limits and environmental sustainability standards.
The market's global nature means suppliers must adapt to international trade dynamics, including tariffs, import/export regulations, and currency fluctuations. Suppliers must invest in advanced manufacturing technologies and sustainable practices to meet the increasing demand for high-performance, eco-friendly coatings.
Global Acrylic Resin Industrial Coatings Market is Segmented as Below:
By Technology:
Solvent-borne
Water-borne
UV-cured
Powder
By End-use Industry:
Industrial Machinery
Automotive
Marine
Consumer Electronics
Aerospace
Offshore Oil & Gas
Miscellaneous
By Geographic Coverage:
North America
Europe

Germany
U.K.
France
Italy
Turkey
Russia
Rest of Europe

Asia Pacific

China
Japan
South Korea
India
Southeast Asia
Rest of Asia Pacific

Latin America

Brazil
Mexico
Argentina
Rest of Latin America

Middle East & Africa

GCC
South Africa
Egypt
Nigeria
Rest of the Middle East & Africa
1. Executive Summary
1.1. Global Acrylic Resin Industrial Coatings Market Snapshot
1.2. Future Projections
1.3. Key Market Trends
1.4. Regional Snapshot, by Value, 2022
1.5. Analyst Recommendations


2. Market Overview
2.1. Market Definitions and Segmentations
2.2. Market Dynamics
2.2.1. Drivers
2.2.2. Restraints
2.2.3. Market Opportunities
2.3. Value Chain Analysis
2.4. Porter's Five Forces Analysis
2.5. Covid-19 Impact Analysis
2.5.1. Supply
2.5.2. Demand
2.6. Impact of Ukraine-Russia Conflict
2.7. Economic Overview
2.7.1. World Economic Projections
2.8. PESTLE Analysis

3. Global Acrylic Resin Industrial Coatings Market Outlook, 2018 - 2030
3.1. Global Acrylic Resin Industrial Coatings Market Outlook, by Technology, Value (US$ Mn), 2018 - 2030
3.1.1. Key Highlights
3.1.1.1. Solvent-borne
3.1.1.2. Water-borne
3.1.1.3. UV-cured
3.1.1.4. Powder
3.2. Global Acrylic Resin Industrial Coatings Market Outlook, by End-use Industry, Value (US$ Mn), 2018 - 2030
3.2.1. Key Highlights
3.2.1.1. Industrial Machinery
3.2.1.2. Automotive
3.2.1.3. Marine
3.2.1.4. Consumer Electronics
3.2.1.5. Aerospace
3.2.1.6. Offshore Oil and Gas
3.2.1.7. Misc.
3.3. Global Acrylic Resin Industrial Coatings Market Outlook, by Region, Value (US$ Mn), 2018 - 2030
3.3.1. Key Highlights
3.3.1.1. North America
3.3.1.2. Europe
3.3.1.3. Asia Pacific
3.3.1.4. Latin America
3.3.1.5. Middle East & Africa


4. North America Acrylic Resin Industrial Coatings Market Outlook, 2018 - 2030
4.1. North America Acrylic Resin Industrial Coatings Market Outlook, by Technology, Value (US$ Mn), 2018 - 2030
4.1.1. Key Highlights
4.1.1.1. Solvent-borne
4.1.1.2. Water-borne
4.1.1.3. UV-cured
4.1.1.4. Powder
4.2. North America Acrylic Resin Industrial Coatings Market Outlook, by End-use Industry, Value (US$ Mn), 2018 - 2030
4.2.1. Key Highlights
4.2.1.1. Industrial Machinery
4.2.1.2. Automotive
4.2.1.3. Marine
4.2.1.4. Consumer Electronics
4.2.1.5. Aerospace
4.2.1.6. Offshore Oil and Gas
4.2.1.7. Misc.
4.3. North America Acrylic Resin Industrial Coatings Market Outlook, by Country, Value (US$ Mn), 2018 - 2030
4.3.1. Key Highlights
4.3.1.1. U.S. Acrylic Resin Industrial Coatings Market, by Technology, Value (US$ Mn), 2018 - 2030
4.3.1.2. U.S. Acrylic Resin Industrial Coatings Market, by End-use Industry, Value (US$ Mn), 2018 - 2030
4.3.1.3. Canada Acrylic Resin Industrial Coatings Market, by Technology, Value (US$ Mn), 2018 - 2030
4.3.1.4. Canada Acrylic Resin Industrial Coatings Market, by End-use Industry, Value (US$ Mn), 2018 - 2030

5. Europe Acrylic Resin Industrial Coatings Market Outlook, 2018 - 2030
5.1. Europe Acrylic Resin Industrial Coatings Market Outlook, by Technology, Value (US$ Mn), 2018 - 2030
5.1.1. Key Highlights
5.1.1.1. Solvent-borne
5.1.1.2. Water-borne
5.1.1.3. UV-cured
5.1.1.4. Powder
5.2. Europe Acrylic Resin Industrial Coatings Market Outlook, by End-use Industry, Value (US$ Mn), 2018 - 2030
5.2.1. Key Highlights
5.2.1.1. Industrial Machinery
5.2.1.2. Automotive
5.2.1.3. Marine
5.2.1.4. Consumer Electronics
5.2.1.5. Aerospace
5.2.1.6. Offshore Oil and Gas
5.2.1.7. Misc.
5.3. Europe Acrylic Resin Industrial Coatings Market Outlook, by Country, Value (US$ Mn), 2018 - 2030
5.3.1. Key Highlights
5.3.1.1. Germany Acrylic Resin Industrial Coatings Market, by Technology, Value (US$ Mn), 2018 - 2030
5.3.1.2. Germany Acrylic Resin Industrial Coatings Market, by End-use Industry, Value (US$ Mn), 2018 - 2030
5.3.1.3. U.K. Acrylic Resin Industrial Coatings Market, by Technology, Value (US$ Mn), 2018 - 2030
5.3.1.4. U.K. Acrylic Resin Industrial Coatings Market, by End-use Industry, Value (US$ Mn), 2018 - 2030
5.3.1.5. France Acrylic Resin Industrial Coatings Market, by Technology, Value (US$ Mn), 2018 - 2030
5.3.1.6. France Acrylic Resin Industrial Coatings Market, by End-use Industry, Value (US$ Mn), 2018 - 2030
5.3.1.7. Italy Acrylic Resin Industrial Coatings Market, by Technology, Value (US$ Mn), 2018 - 2030
5.3.1.8. Italy Acrylic Resin Industrial Coatings Market, by End-use Industry, Value (US$ Mn), 2018 - 2030
5.3.1.9. Turkey Acrylic Resin Industrial Coatings Market, by Technology, Value (US$ Mn), 2018 - 2030
5.3.1.10. Turkey Acrylic Resin Industrial Coatings Market, by End-use Industry, Value (US$ Mn), 2018 - 2030
5.3.1.11. Russia Acrylic Resin Industrial Coatings Market, by Technology, Value (US$ Mn), 2018 - 2030
5.3.1.12. Russia Acrylic Resin Industrial Coatings Market, by End-use Industry, Value (US$ Mn), 2018 - 2030
5.3.1.13. Rest of Europe Acrylic Resin Industrial Coatings Market, by Technology, Value (US$ Mn), 2018 - 2030
5.3.1.14. Rest of Europe Acrylic Resin Industrial Coatings Market, by End-use Industry, Value (US$ Mn), 2018 - 2030

6. Asia Pacific Acrylic Resin Industrial Coatings Market Outlook, 2018 - 2030
6.1. Asia Pacific Acrylic Resin Industrial Coatings Market Outlook, by Technology, Value (US$ Mn), 2018 - 2030
6.1.1. Key Highlights
6.1.1.1. Solvent-borne
6.1.1.2. Water-borne
6.1.1.3. UV-cured
6.1.1.4. Powder
6.2. Asia Pacific Acrylic Resin Industrial Coatings Market Outlook, by End-use Industry, Value (US$ Mn), 2018 - 2030
6.2.1. Key Highlights
6.2.1.1. Industrial Machinery
6.2.1.2. Automotive
6.2.1.3. Marine
6.2.1.4. Consumer Electronics
6.2.1.5. Aerospace
6.2.1.6. Offshore Oil and Gas
6.2.1.7. Misc.
6.3. Asia Pacific Acrylic Resin Industrial Coatings Market Outlook, by Country, Value (US$ Mn), 2018 - 2030
6.3.1. Key Highlights
6.3.1.1. China Acrylic Resin Industrial Coatings Market, by Technology, Value (US$ Mn), 2018 - 2030
6.3.1.2. China Acrylic Resin Industrial Coatings Market, by End-use Industry, Value (US$ Mn), 2018 - 2030
6.3.1.3. Japan Acrylic Resin Industrial Coatings Market, by Technology, Value (US$ Mn), 2018 - 2030
6.3.1.4. Japan Acrylic Resin Industrial Coatings Market, by End-use Industry, Value (US$ Mn), 2018 - 2030
6.3.1.5. South Korea Acrylic Resin Industrial Coatings Market, by Technology, Value (US$ Mn), 2018 - 2030
6.3.1.6. South Korea Acrylic Resin Industrial Coatings Market, by End-use Industry, Value (US$ Mn), 2018 - 2030
6.3.1.7. India Acrylic Resin Industrial Coatings Market, by Technology, Value (US$ Mn), 2018 - 2030
6.3.1.8. India Acrylic Resin Industrial Coatings Market, by End-use Industry, Value (US$ Mn), 2018 - 2030
6.3.1.9. Southeast Asia Acrylic Resin Industrial Coatings Market, by Technology, Value (US$ Mn), 2018 - 2030
6.3.1.10. Southeast Asia Acrylic Resin Industrial Coatings Market, by End-use Industry, Value (US$ Mn), 2018 - 2030
6.3.1.11. Rest of Asia Pacific Acrylic Resin Industrial Coatings Market, by Technology, Value (US$ Mn), 2018 - 2030
6.3.1.12. Rest of Asia Pacific Acrylic Resin Industrial Coatings Market, by End-use Industry, Value (US$ Mn), 2018 - 2030
6.3.2. BPS Analysis/Market Attractiveness Analysis

7. Latin America Acrylic Resin Industrial Coatings Market Outlook, 2018 - 2030
7.1. Latin America Acrylic Resin Industrial Coatings Market Outlook, by Technology, Value (US$ Mn), 2018 - 2030
7.1.1. Key Highlights
7.1.1.1. Solvent-borne
7.1.1.2. Water-borne
7.1.1.3. UV-cured
7.1.1.4. Powder
7.2. Latin America Acrylic Resin Industrial Coatings Market Outlook, by End-use Industry, Value (US$ Mn), 2018 - 2030
7.2.1. Key Highlights
7.2.1.1. Industrial Machinery
7.2.1.2. Automotive
7.2.1.3. Marine
7.2.1.4. Consumer Electronics
7.2.1.5. Aerospace
7.2.1.6. Offshore Oil and Gas
7.2.1.7. Misc.
7.3. Latin America Acrylic Resin Industrial Coatings Market Outlook, by Country, Value (US$ Mn), 2018 - 2030
7.3.1. Key Highlights
7.3.1.1. Brazil Acrylic Resin Industrial Coatings Market, by Technology, Value (US$ Mn), 2018 - 2030
7.3.1.2. Brazil Acrylic Resin Industrial Coatings Market, by End-use Industry, Value (US$ Mn), 2018 - 2030
7.3.1.3. Mexico Acrylic Resin Industrial Coatings Market, by Technology, Value (US$ Mn), 2018 - 2030
7.3.1.4. Mexico Acrylic Resin Industrial Coatings Market, by End-use Industry, Value (US$ Mn), 2018 - 2030
7.3.1.5. Argentina Acrylic Resin Industrial Coatings Market, by Technology, Value (US$ Mn), 2018 - 2030
7.3.1.6. Argentina Acrylic Resin Industrial Coatings Market, by End-use Industry, Value (US$ Mn), 2018 - 2030
7.3.1.7. Rest of Latin America Acrylic Resin Industrial Coatings Market, by Technology, Value (US$ Mn), 2018 - 2030
7.3.1.8. Rest of Latin America Acrylic Resin Industrial Coatings Market, by End-use Industry, Value (US$ Mn), 2018 - 2030


8. Middle East & Africa Acrylic Resin Industrial Coatings Market Outlook, 2018 - 2030
8.1. Middle East & Africa Acrylic Resin Industrial Coatings Market Outlook, by Technology, Value (US$ Mn), 2018 - 2030
8.1.1. Key Highlights
8.1.1.1. Solvent-borne
8.1.1.2. Water-borne
8.1.1.3. UV-cured
8.1.1.4. Powder
8.2. Middle East & Africa Acrylic Resin Industrial Coatings Market Outlook, by End-use Industry, Value (US$ Mn), 2018 - 2030
8.2.1. Key Highlights
8.2.1.1. Industrial Machinery
8.2.1.2. Automotive
8.2.1.3. Marine
8.2.1.4. Consumer Electronics
8.2.1.5. Aerospace
8.2.1.6. Offshore Oil and Gas
8.2.1.7. Misc.
8.3. Middle East & Africa Acrylic Resin Industrial Coatings Market Outlook, by Country, Value (US$ Mn), 2018 - 2030
8.3.1. Key Highlights
8.3.1.1. GCC Acrylic Resin Industrial Coatings Market, by Technology, Value (US$ Mn), 2018 - 2030
8.3.1.2. GCC Acrylic Resin Industrial Coatings Market, by End-use Industry, Value (US$ Mn), 2018 - 2030
8.3.1.3. South Africa Acrylic Resin Industrial Coatings Market, by Technology, Value (US$ Mn), 2018 - 2030
8.3.1.4. South Africa Acrylic Resin Industrial Coatings Market, by End-use Industry, Value (US$ Mn), 2018 - 2030
8.3.1.5. Egypt Acrylic Resin Industrial Coatings Market, by Technology, Value (US$ Mn), 2018 - 2030
8.3.1.6. Egypt Acrylic Resin Industrial Coatings Market, by End-use Industry, Value (US$ Mn), 2018 - 2030
8.3.1.7. Nigeria Acrylic Resin Industrial Coatings Market, by Technology, Value (US$ Mn), 2018 - 2030
8.3.1.8. Nigeria Acrylic Resin Industrial Coatings Market, by End-use Industry, Value (US$ Mn), 2018 - 2030
8.3.1.9. Rest of Middle East & Africa Acrylic Resin Industrial Coatings Market, by Technology, Value (US$ Mn), 2018 - 2030
8.3.1.10. Rest of Middle East & Africa Acrylic Resin Industrial Coatings Market, by End-use Industry, Value (US$ Mn), 2018 - 2030
9. Competitive Landscape
9.1. Capacity vs Application Heatmap
9.2. Manufacturer vs Application Heatmap
9.3. Company Market Share Analysis, 2022
9.4. Competitive Dashboard
9.5. Company Profiles
9.5.1. PPG Industries, Inc.
9.5.1.1. Company Overview
9.5.1.2. Product Portfolio
9.5.1.3. Financial Overview
9.5.1.4. Business Strategies and Development
9.5.2. AkzoNobel N.V.
9.5.2.1. Company Overview
9.5.2.2. Product Portfolio
9.5.2.3. Financial Overview
9.5.2.4. Business Strategies and Development
9.5.3. Axalta Coating Systems
9.5.3.1. Company Overview
9.5.3.2. Product Portfolio
9.5.3.3. Financial Overview
9.5.3.4. Business Strategies and Development
9.5.4. Sherwin-Williams Company
9.5.4.1. Company Overview
9.5.4.2. Product Portfolio
9.5.4.3. Financial Overview
9.5.4.4. Business Strategies and Development
9.5.5. BASF SE
9.5.5.1. Company Overview
9.5.5.2. Product Portfolio
9.5.5.3. Financial Overview
9.5.5.4. Business Strategies and Development
9.5.6. RPM International Inc.
9.5.6.1. Company Overview
9.5.6.2. Product Portfolio
9.5.6.3. Financial Overview
9.5.6.4. Business Strategies and Development
9.5.7. Asian Paints Limited
9.5.7.1. Company Overview
9.5.7.2. Product Portfolio
9.5.7.3. Financial Overview
9.5.7.4. Business Strategies and Development
9.5.8. Hempel A/S
9.5.8.1. Company Overview
9.5.8.2. Product Portfolio
9.5.8.3. Business Strategies and Development
9.5.9. Kansai Paint Co., Ltd.
9.5.9.1. Company Overview
9.5.9.2. Product Portfolio
9.5.9.3. Financial Overview
9.5.9.4. Business Strategies and Development
9.5.10. Jotun Group
9.5.10.1. Company Overview
9.5.10.2. Product Portfolio
9.5.10.3. Financial Overview
9.5.10.4. Business Strategies and Development
9.5.11. Tikkurila Oyj
9.5.11.1. Company Overview
9.5.11.2. Product Portfolio
9.5.11.3. Financial Overview
9.5.11.4. Business Strategies and Development
9.5.12. Berger Paints India Limited
9.5.12.1. Company Overview
9.5.12.2. Product Portfolio
9.5.12.3. Financial Overview
9.5.12.4. Business Strategies and Development
9.5.13. Chugoku Marine Paints, Ltd.
9.5.13.1. Company Overview
9.5.13.2. Product Portfolio
9.5.13.3. Financial Overview
9.5.13.4. Business Strategies and Development
9.5.14. Tnemec Company, Inc.
9.5.14.1. Company Overview
9.5.14.2. Product Portfolio
9.5.14.3. Financial Overview
9.5.14.4. Business Strategies and Development
9.5.15. J.W. Ostendorf GmbH & Co. KG
9.5.15.1. Company Overview
9.5.15.2. Product Portfolio
9.5.15.3. Financial Overview
9.5.15.4. Business Strategies and Development


10. Appendix
10.1. Research Methodology
10.2. Report Assumptions
10.3. Acronyms and Abbreviations