Global Advanced Lithium Batteries Market Forecast
Advanced lithium batteries market revenue to be worth around US$100.9 Bn by the end of 2030
Market size poised to expand at a CAGR of 15% between 2023 and 2030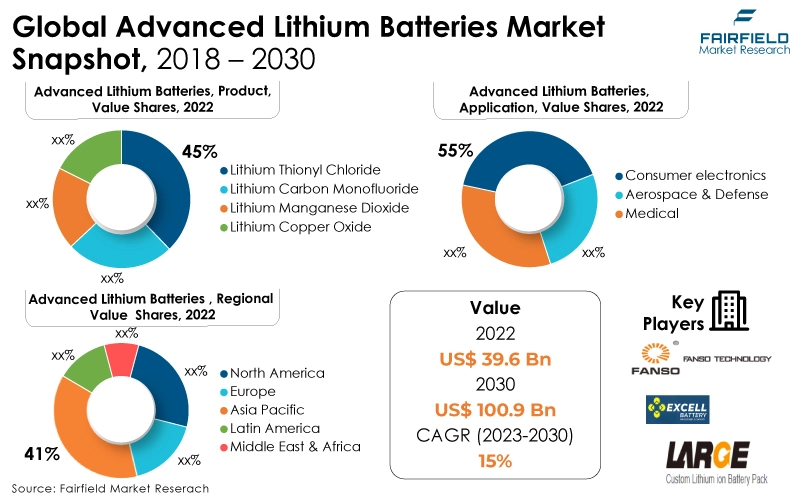 Quick Report Digest
The key trend anticipated to drive the advanced lithium batteries market growth is an increasing demand for miniaturisation and flexibility. Furthermore, Wearables, the Internet of Things (IoT), and flexible electronics applications are increasing demand for smaller, lighter, and more flexible lithium batteries. To achieve these needs, manufacturers are creating cutting-edge battery designs and materials.
Another major market trend expected to drive the advanced lithium batteries market growth is the rapidly expanding grid energy storage. Advanced lithium batteries are being used for grid energy storage to balance supply and demand, including renewable energy sources, and improve grid dependability. With more renewable energy projects being produced globally, this tendency is anticipated to intensify.
Advanced lithium batteries have a lot of opportunities to grow as smartphones, laptops, smartwatches, and fitness trackers continue to increase. Demand for more effective and large-capacity batteries has increased because of consumer expectations for longer battery life and quicker charging periods.
Lithium-ion battery safety issues, such as the possibility of fire and thermal runaway, have received extensive media coverage. These safety concerns, particularly in applications where safety is a top priority, may hinder improved lithium batteries from being widely used.
In 2022, the lithium thionyl chloride category dominated the industry. Li-SOCl2 batteries are among the commercially available batteries with the highest energy densities. They are therefore perfect for locations that are confined and suited for applications that require a lot of energy in a tiny size.
In 2022, the consumer electronics category dominated the industry. The energy needed for extended use without the need for regular recharging is provided by lithium-ion batteries, which are frequently used in laptops and ultra-books.
During the projected period, Asia Pacific is anticipated to lead the market for advanced lithium batteries. As e-commerce has increased in the Asia-Pacific area, so has the need for last-mile delivery services. In the logistics and transportation sectors of the area, electric delivery trucks and drones that are powered by cutting-edge lithium batteries are becoming more common.
North America is expected to be the fastest-growing advanced lithium batteries market region. Advanced lithium batteries are being intensively investigated by the aerospace and defense industries in North America for a variety of uses, such as satellites, unmanned aerial vehicles (UAVs), and space research missions.
A Look Back and a Look Forward - Comparative Analysis
System operators can improve the stability and resilience of the system because of advanced lithium batteries. They can provide short bursts of energy to stabilise the grid amid changes in supply or demand, lowering the chance of blackouts and assuring a steady supply of electricity.
Advanced lithium batteries used in energy storage solutions enable utilities and companies to shift energy usage to off-peak times when electricity prices are lower. This lowers energy expenditures and lessens the load placed on the grid during peak hours.
The market witnessed staggered growth during the historical period 2018 - 2022. ZEV norms and laws require a specific proportion of brand-new vehicle sales to be electric or zero-emission vehicles. Automakers expanded their selection of EVs and invested in cutting-edge lithium battery technology because of these policies.
Many governments provided incentives to consumers who bought electric cars with advanced lithium batteries, including refunds, tax credits, and subsidies. These incentives made EVs more affordable and promoted their adoption by lowering their initial purchase price.
Solid electrolyte materials are used in solid-state lithium batteries instead of the liquid or gel electrolytes used in conventional lithium-ion batteries. These batteries provide greater energy density, quicker charging, and enhanced security. They are thought to be a promising solution for consumer electronics and electric cars in the coming years.
Additionally, the energy density and cycle life of lithium-ion batteries are being improved through the development of new cathode materials, such as nickel-rich and high-nickel cathodes. Furthermore, lithium battery performance and longevity can be enhanced by AI-driven BMS through real-time monitoring and control of charging and discharging parameters during the next five years.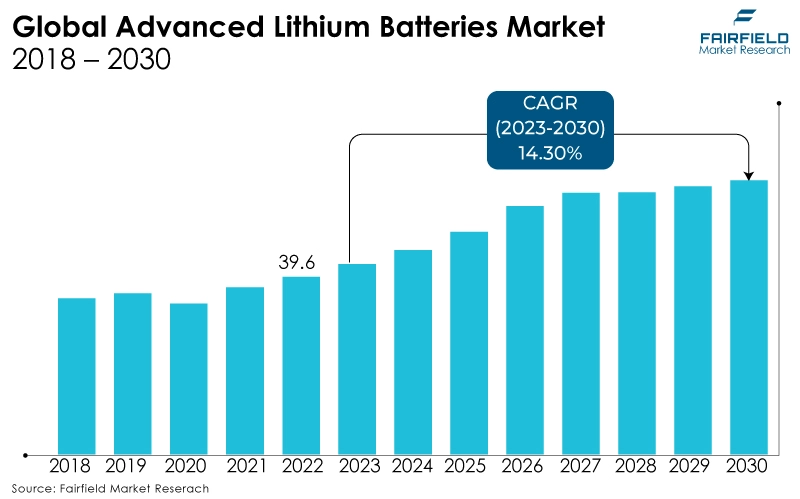 Key Growth Determinants
Increasing Demand for Various Medical Devices
Reliable and durable power sources are frequently needed for medical devices such as defibrillators, infusion pumps, and portable diagnostic equipment. The high energy density, steady voltage output, and prolonged operating life of advanced lithium batteries make them the ideal choice for many applications.
Wearable medical gadgets like continuous glucose monitors and heart rate monitors are becoming more and more important with the development of telemedicine and remote patient monitoring.
Advanced lithium batteries are necessary for these gadgets' longer battery lives and dependable functionality. Modern lithium batteries enable surgical tools, especially robotic surgical systems, to deliver the high power and precision needed for operations. These batteries guarantee continuous operation throughout essential medical procedures.
Rising Demand for Smart Electronic Gadgets
Modern lifestyles are heavily reliant on smartphones and tablets, which are widely used and have fast charging and long usage times. The need for cutting-edge lithium batteries rises along with the demand for these gadgets.
Wearable technology has become increasingly popular, including augmented reality glasses, fitness monitors, and smartwatches. Modern lithium batteries are the best option because these devices demand small, light batteries with a high energy density.
Gaming consoles, controllers, and accessories all rely on cutting-edge lithium batteries for power, and the gaming business is expanding rapidly. Longer playtimes are something that gamers seek, and lithium batteries deliver.
Increasing Demand for High-capacity Batteries
Electric vehicles require high-capacity lithium batteries to have the range needed for long-distance driving. The demand for enhanced lithium batteries with increased energy storage capacity is on the rise as the automobile sector transitions to electric mobility.
Large-scale energy storage systems, such as grid-level energy storage and backup power options for offices and homes, require high-capacity lithium batteries. These batteries serve as a backup during power disruptions by storing extra renewable energy.
Premium computers, cameras, and other consumer electronics use high-capacity lithium batteries to handle power-hungry applications and provide extended usage times between charges.
Major Growth Barriers
Advanced lithium batteries may not be as cost-effective as alternative energy storage technologies due to their high production costs, particularly in price-sensitive sectors. This may make it more difficult for them to be adopted in fields like consumer electronics or grid energy storage, where price is a major factor.
The considerable initial expenditure required to build up contemporary lithium battery production facilities may act as a barrier to entry for new market entrants. Batteries are only produced by established companies with substantial financial resources, which limits industry competition and innovation.
Limited Energy Density Improvements
Compact, lightweight batteries with a high energy density are essential for wearable electronics like smartwatches and activity trackers. Limited advancements may hamper smaller and more powerful wearables.
Concerns about sustainability and environmental effects may arise because of the little energy density gains that may make it difficult to switch away from systems powered by fossil fuels in some applications.
Customers now demand items with longer battery life and quicker charging periods. Manufacturers might be challenged to meet these demands due to limited advancements in energy density.
Key Trends and Opportunities to Look at
Increasing Focus on Sustainability
Manufacturers are developing superior lithium batteries with a lower environmental effect because of sustainability activities. Using cobalt and nickel, two elements that have a negative impact on the environment, as little as possible, as well as lowering the carbon footprint connected with battery production, are examples of how to do this.
Designing batteries for increased life, repairability, and reuse is part of the circular economy strategy adopted by the battery industry. With this strategy, waste is decreased, and resources are conserved, which supports sustainability objectives.
Growing Electric Aviation and Aerospace
Small urban air mobility vehicles (eVTOLs), regional jets, and even commercial aircraft are all being fitted with electric propulsion systems. The tremendous power and energy density necessary for electric flying are provided by these aircraft's cutting-edge lithium batteries.
Demand for high-performance lithium batteries that can provide longer flying periods and quicker charging will rise as the use of electric aircraft increases.
Airlines can save money by using electric propulsion systems because they use less fuel and require less maintenance. By supplying dependable and efficient power, advanced lithium batteries aid in these cost savings.
Rising Integration with IoT and Connectivity
Compact, long-lasting power sources are in high demand due to the IoT devices' quick proliferation, which includes sensors, actuators, and communication modules. Because of their high energy density, long cycle lives, and low self-discharge rates, advanced lithium batteries are ideal for IoT applications.
The capacity of modern lithium batteries to offer longer battery life is one of its main benefits. This is crucial for Internet of Things (IoT) devices installed in remote or difficult-to-reach areas where frequent battery replacement or recharging is impracticable.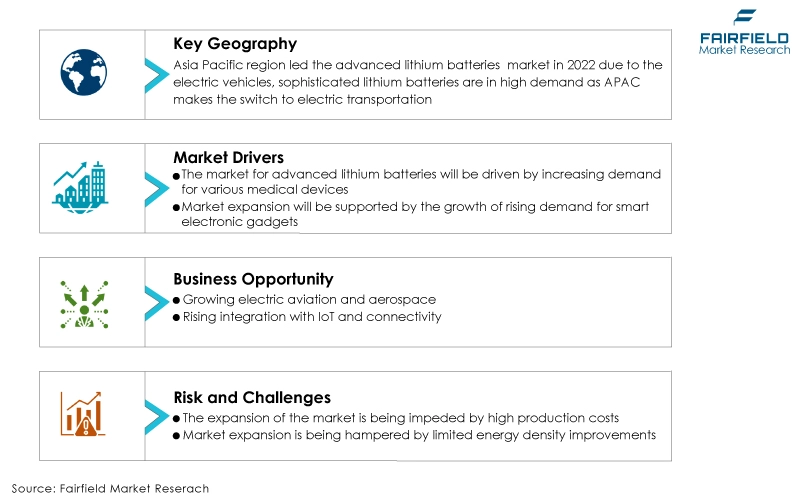 How Does the Regulatory Scenario Shape this Industry?
Over the last three years, the regulatory framework for advanced lithium batteries has varied by location and is controlled by various significant regulatory agencies. The safety standards for secondary (rechargeable) lithium cells and batteries used in diverse applications are outlined in this international standard.
For lithium batteries to be safe, adherence to these criteria is essential. The Hazardous Materials Regulations (HMR) are enforced by the Federal Aviation Administration (FAA) and contain stringent guidelines for the air transportation of lithium batteries. For lithium battery producers and shippers, compliance is essential. The International Air Transport Association (IATA) provides standards and rules for the secure air transportation of dangerous goods, such as lithium batteries.
For the aviation sector and companies exporting lithium batteries worldwide, compliance is essential. The transport of hazardous materials, such as lithium batteries, inside the US is governed by the Pipeline and Hazardous Materials Safety Administration (PHMSA). Safe transportation of lithium batteries requires adherence to Pipeline and Hazardous Materials Safety Administration (PHMSA) rules.
China has adopted several national standards (GB/T standards) that cover various aspects of lithium batteries, including safety, performance, and labelling. Compliance with these standards is essential for manufacturers targeting the Chinese market.
Fairfield's Ranking Board
Top Segments
Lithium Thionyl Chloride Category Dominant over Lithium Carbon Monofluoride
The lithium thionyl chloride segment dominated the market in 2022. Lithium is used as the anode, and thionyl chloride (SOCl2) serves as the cathode in Li-SOCl2 batteries, which use a non-aqueous electrolyte. These materials are useful for applications that demand long-lasting power because of the high energy density that this chemistry produces. They are excellent for applications like remote sensors, industrial monitoring, and medical devices because they have a low self-discharge rate that enables them to hold their charge for a long time.
Furthermore, the lithium carbon monofluoride category is projected to experience the fastest market growth. Lithium anode and lithium carbon monofluoride (LiCFx) cathode are used in Li-CFx batteries. Li-CFx batteries are among the most energy-dense primary (non-rechargeable) battery types available because of this chemistry's high energy density.
Consumer Electronics Will Lead Adoption
The consumer electronics category dominated the market in 2022. The main power sources for smartphones, tablets, and other mobile devices are lithium-ion and lithium-polymer batteries. They let users be connected and productive while they are on the road due to their high energy density, long battery life, and quick charging features.
Due to their high capacity and low self-discharge rates, lithium batteries, frequently in the form of lithium-ion or lithium-polymer, are utilised in digital cameras. For taking pictures and videos, these batteries provide dependable and long-lasting power.
The medical category is anticipated to grow substantially throughout the projected period. Implanted medical devices, including pacemakers, implanted cardioverter-defibrillators (ICDs), and neurostimulators, frequently employ lithium batteries.
The choice of these batteries ensures that the devices can function efficiently for many years without the need for frequent replacement by virtue of their high energy density, long-life, and reliability.
Regional Frontrunners
Asia Pacific Largely Gains from Ascending EV Sales
Asia Pacific region is expected to dominate the advanced lithium batteries market in the forecast period. Advanced lithium battery production is centred in Asia Pacific, mainly in China, and South Korea. This region is home to several of the top battery producers in the world, who make up a substantial portion of the lithium-ion batteries used worldwide.
Advanced lithium batteries are made more widely accessible because of economies of scale, decreased production costs, and increased manufacturing capacity. The largest EV market worldwide is China.
As a key component of electric vehicles, sophisticated lithium batteries are in high demand as Asia Pacific makes the switch to electric transportation. Governments in the area frequently offer incentives and subsidies to encourage EV adoption, which helps the industry grow.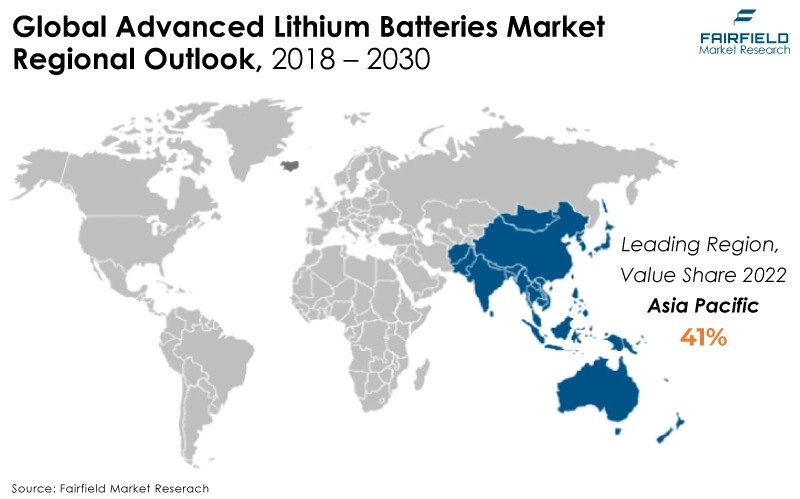 North America Holds Ample Opportunity
North America is expected to be the fastest-growing advanced lithium batteries market region. The US is a major market for electric vehicles in North America. The US is home to Tesla, one of the most well-known EV producers in the world.
The expansion of the EV sector in North America is creating a sizable demand for advanced lithium batteries because these batteries are the primary power source for electric vehicles.
In North America, the usage of renewable energy sources like solar and wind power is increasing. To balance supply and demand, incorporate renewable energy into the grid, and guarantee a steady supply of electricity, advanced lithium batteries are employed for energy storage.
Fairfield's Competitive Landscape Analysis
The consolidated global market for advanced lithium batteries is home to fewer well-known businesses. To expand worldwide, the major companies are releasing new items and upgrading their distribution networks. Moreover, Fairfield Market Research is expecting the market to witness more consolidation over the coming years.
Who are the Leaders in the Global Advanced Lithium Batteries Space?
Significant Company Developments
New Product Launches
July 2023: The United Nations Global Compact (UNGC) has announced that Contemporary Amperex Technology Co., Limited has joined. CATL emphasizes its dedication to the principles of sustainable development and its focus on advancing the global energy transition and green growth.
February 2022: As required by the Bipartisan Infrastructure Law, the US Department of Energy announced that it would contribute US$2.91 Bn to increase the manufacture of innovative batteries used in stationary energy storage systems and electric vehicles.
June 2021: The Model S Plaid, which features a cutting-edge battery pack with increased energy density and range, was introduced by Tesla. With an estimated range of more than 520 miles, the Model S Plaid claims that it has the longest driving range of any EV on the market.
Distribution Agreements
March 2023: The joint venture of Turner Construction Company and Yates Construction was given a contract by Panasonic Holdings Corporation to construct an EV battery production facility in Kansas, United States. Construction of assembly facilities, a central utility plant, and support structures will be carried out by the enterprises.
May 2023: An agreement establishing a joint venture (JV) between GS Yuasa Corporation and Honda Motor Co., Ltd. resulted in the creation of Honda-GS Yuasa EV Battery R&D Co., Ltd. To meet the rising demand for EV batteries, this JV venture will concentrate on investigating and creating lithium-ion batteries and battery manufacturing processes.
An Expert's Eye
Demand and Future Growth
As per Fairfield's Analysis, lithium battery technology is constantly evolving due to research and development work that produces batteries with greater energy densities, longer cycle lives, and faster charging speeds. These innovations drive market growth.
Furthermore, advanced lithium batteries are being promoted for use in electrification projects across a variety of industries, including public transport, shipping, and aviation, to cut emissions and boost energy efficiency. However, the advanced lithium batteries market is expected to face considerable challenges because of high production costs.
Supply Side of the Market
The battery players in the market manufactures several types of modern lithium batteries, including lithium-ion, lithium-polymer, and advanced varieties like solid-state batteries. Leading producers include, among others, Panasonic, LG Chem, CATL, and Samsung SDI.
Lithium, cobalt, nickel, and graphite are some of the basic elements that are used in the production of sophisticated lithium batteries. For the manufacture of batteries, secure access to these materials is essential.
Corporations frequently enter into agreements and partnerships with suppliers of raw materials and mining corporations. A variety of components are used in the construction of batteries, including electrodes, separators, electrolytes, and casing materials.
The supply chain heavily depends on the suppliers of these parts. Advanced lithium batteries are packaged and properly delivered to clients by manufacturers and distributors. This entails maintaining security while traveling and abiding by legal obligations.
Global Advanced Lithium Batteries Market is Segmented as Below:
By Product:
Lithium Thionyl Chloride
Lithium Manganese Dioxide (Coin Cells)
Lithium Carbon Monofluoride (Coin Cells)
Lithium Copper Oxide
By Application:
Consumer Electronics
Aerospace & Defense
Medical
By Geographic Coverage:
North America
Europe

Germany
U.K.
France
Italy
Russia
Rest of Europe

Asia Pacific

China
Japan
South Korea
India
Southeast Asia
Rest of Asia Pacific

Latin America

Brazil
Mexico
Rest of Latin America

Middle East & Africa

GCC
South Africa
Rest of Middle East & Africa
1. Executive Summary
1.1. Global Advanced Lithium Batteries Market Snapshot
1.2. Future Projections
1.3. Key Market Trends
1.4. Regional Snapshot, by Value, 2022
1.5. Analyst Recommendations

2. Market Overview
2.1. Market Definitions and Segmentations
2.2. Market Dynamics
2.2.1. Drivers
2.2.2. Restraints
2.2.3. Market Opportunities
2.3. Value Chain Analysis
2.4. Porter's Five Forces Analysis
2.5. Covid-19 Impact Analysis
2.5.1. Supply
2.5.2. Demand
2.6. Impact of Ukraine-Russia Conflict
2.7. Economic Overview
2.7.1. World Economic Projections
2.8. PESTLE Analysis

3. Global Advanced Lithium Batteries Market Outlook, 2018 - 2030
3.1. Global Advanced Lithium Batteries Market Outlook, by Product, Value (US$ Bn), 2018 - 2030
3.1.1. Key Highlights
3.1.1.1. Lithium Thionyl Chloride
3.1.1.2. Lithium Manganese Dioxide
3.1.1.3. Lithium Carbon Monofluoride
3.1.1.4. Lithium Copper Oxide
3.2. Global Advanced Lithium Batteries Market Outlook, by Application, Value (US$ Bn), 2018 - 2030
3.2.1. Key Highlights
3.2.1.1. Consumer electronics
3.2.1.2. Aerospace & Defense
3.2.1.3. Medical
3.3. Global Advanced Lithium Batteries Market Outlook, by Region, Value (US$ Bn), 2018 - 2030
3.3.1. Key Highlights
3.3.1.1. North America
3.3.1.2. Europe
3.3.1.3. Asia Pacific
3.3.1.4. Latin America
3.3.1.5. Middle East & Africa

4. North America Advanced Lithium Batteries Market Outlook, 2018 - 2030
4.1. North America Advanced Lithium Batteries Market Outlook, by Product, Value (US$ Bn), 2018 - 2030
4.1.1. Key Highlights
4.1.1.1. Lithium Thionyl Chloride
4.1.1.2. Lithium Manganese Dioxide
4.1.1.3. Lithium Carbon Monofluoride
4.1.1.4. Lithium Copper Oxide
4.2. North America Advanced Lithium Batteries Market Outlook, by Application, Value (US$ Bn), 2018 - 2030
4.2.1. Key Highlights
4.2.1.1. Consumer electronics
4.2.1.2. Aerospace & Defense
4.2.1.3. Medical
4.2.2. BPS Analysis/Market Attractiveness Analysis
4.3. North America Advanced Lithium Batteries Market Outlook, by Country, Value (US$ Bn), 2018 - 2030
4.3.1. Key Highlights
4.3.1.1. U.S. Advanced Lithium Batteries Market by Product, Value (US$ Bn), 2018 - 2030
4.3.1.2. U.S. Advanced Lithium Batteries Market Application, Value (US$ Bn), 2018 - 2030
4.3.1.3. Canada Advanced Lithium Batteries Market by Product, Value (US$ Bn), 2018 - 2030
4.3.1.4. Canada Advanced Lithium Batteries Market Application, Value (US$ Bn), 2018 - 2030
4.3.2. BPS Analysis/Market Attractiveness Analysis
5. Europe Advanced Lithium Batteries Market Outlook, 2018 - 2030
5.1. Europe Advanced Lithium Batteries Market Outlook, by Product, Value (US$ Bn), 2018 - 2030
5.1.1. Key Highlights
5.1.1.1. Lithium Thionyl Chloride
5.1.1.2. Lithium Manganese Dioxide
5.1.1.3. Lithium Carbon Monofluoride
5.1.1.4. Lithium Copper Oxide
5.2. Europe Advanced Lithium Batteries Market Outlook, by Application, Value (US$ Bn), 2018 - 2030
5.2.1. Key Highlights
5.2.1.1. Consumer electronics
5.2.1.2. Aerospace & Defense
5.2.1.3. Medical
5.2.2. BPS Analysis/Market Attractiveness Analysis
5.3. Europe Advanced Lithium Batteries Market Outlook, by Country, Value (US$ Bn), 2018 - 2030
5.3.1. Key Highlights
5.3.1.1. Germany Advanced Lithium Batteries Market by Product, Value (US$ Bn), 2018 - 2030
5.3.1.2. Germany Advanced Lithium Batteries Market Application, Value (US$ Bn), 2018 - 2030
5.3.1.3. U.K. Advanced Lithium Batteries Market by Product, Value (US$ Bn), 2018 - 2030
5.3.1.4. U.K. Advanced Lithium Batteries Market Application, Value (US$ Bn), 2018 - 2030
5.3.1.5. France Advanced Lithium Batteries Market by Product, Value (US$ Bn), 2018 - 2030
5.3.1.6. France Advanced Lithium Batteries Market Application, Value (US$ Bn), 2018 - 2030
5.3.1.7. Italy Advanced Lithium Batteries Market by Product, Value (US$ Bn), 2018 - 2030
5.3.1.8. Italy Advanced Lithium Batteries Market Application, Value (US$ Bn), 2018 - 2030
5.3.1.9. Russia Advanced Lithium Batteries Market by Product, Value (US$ Bn), 2018 - 2030
5.3.1.10. Russia Advanced Lithium Batteries Market Application, Value (US$ Bn), 2018 - 2030
5.3.1.11. Rest of Europe Advanced Lithium Batteries Market by Product, Value (US$ Bn), 2018 - 2030
5.3.1.12. Rest of Europe Advanced Lithium Batteries Market Application, Value (US$ Bn), 2018 - 2030
5.3.2. BPS Analysis/Market Attractiveness Analysis

6. Asia Pacific Advanced Lithium Batteries Market Outlook, 2018 - 2030
6.1. Asia Pacific Advanced Lithium Batteries Market Outlook, by Product, Value (US$ Bn), 2018 - 2030
6.1.1. Key Highlights
6.1.1.1. Lithium Thionyl Chloride
6.1.1.2. Lithium Manganese Dioxide
6.1.1.3. Lithium Carbon Monofluoride
6.1.1.4. Lithium Copper Oxide
6.2. Asia Pacific Advanced Lithium Batteries Market Outlook, by Application, Value (US$ Bn), 2018 - 2030
6.2.1. Key Highlights
6.2.1.1. Consumer electronics
6.2.1.2. Aerospace & Defense
6.2.1.3. Medical
6.2.2. BPS Analysis/Market Attractiveness Analysis
6.3. Asia Pacific Advanced Lithium Batteries Market Outlook, by Country, Value (US$ Bn), 2018 - 2030
6.3.1. Key Highlights
6.3.1.1. China Advanced Lithium Batteries Market by Product, Value (US$ Bn), 2018 - 2030
6.3.1.2. China Advanced Lithium Batteries Market Application, Value (US$ Bn), 2018 - 2030
6.3.1.3. Japan Advanced Lithium Batteries Market by Product, Value (US$ Bn), 2018 - 2030
6.3.1.4. Japan Advanced Lithium Batteries Market Application, Value (US$ Bn), 2018 - 2030
6.3.1.5. South Korea Advanced Lithium Batteries Market by Product, Value (US$ Bn), 2018 - 2030
6.3.1.6. South Korea Advanced Lithium Batteries Market Application, Value (US$ Bn), 2018 - 2030
6.3.1.7. India Advanced Lithium Batteries Market by Product, Value (US$ Bn), 2018 - 2030
6.3.1.8. India Advanced Lithium Batteries Market Application, Value (US$ Bn), 2018 - 2030
6.3.1.9. Southeast Asia Advanced Lithium Batteries Market by Product, Value (US$ Bn), 2018 - 2030
6.3.1.10. Southeast Asia Advanced Lithium Batteries Market Application, Value (US$ Bn), 2018 - 2030
6.3.1.11. Rest of Asia Pacific Advanced Lithium Batteries Market by Product, Value (US$ Bn), 2018 - 2030
6.3.1.12. Rest of Asia Pacific Advanced Lithium Batteries Market Application, Value (US$ Bn), 2018 - 2030
6.3.2. BPS Analysis/Market Attractiveness Analysis
7. Latin America Advanced Lithium Batteries Market Outlook, 2018 - 2030
7.1. Latin America Advanced Lithium Batteries Market Outlook, by Product, Value (US$ Bn), 2018 - 2030
7.1.1. Key Highlights
7.1.1.1. Lithium Thionyl Chloride
7.1.1.2. Lithium Manganese Dioxide
7.1.1.3. Lithium Carbon Monofluoride
7.1.1.4. Lithium Copper Oxide
7.2. Latin America Advanced Lithium Batteries Market Outlook, by Application, Value (US$ Bn), 2018 - 2030
7.2.1. Key Highlights
7.2.1.1. Consumer electronics
7.2.1.2. Aerospace & Defense
7.2.1.3. Medical
7.2.2. BPS Analysis/Market Attractiveness Analysis
7.3. Latin America Advanced Lithium Batteries Market Outlook, by Country, Value (US$ Bn), 2018 - 2030
7.3.1. Key Highlights
7.3.1.1. Brazil Advanced Lithium Batteries Market by Product, Value (US$ Bn), 2018 - 2030
7.3.1.2. Brazil Advanced Lithium Batteries Market Application, Value (US$ Bn), 2018 - 2030
7.3.1.3. Mexico Advanced Lithium Batteries Market by Product, Value (US$ Bn), 2018 - 2030
7.3.1.4. Mexico Advanced Lithium Batteries Market Application, Value (US$ Bn), 2018 - 2030
7.3.1.5. Rest of Latin America Advanced Lithium Batteries Market by Product, Value (US$ Bn), 2018 - 2030
7.3.1.6. Rest of Latin America Advanced Lithium Batteries Market Application, Value (US$ Bn), 2018 - 2030
7.3.2. BPS Analysis/Market Attractiveness Analysis

8. Middle East & Africa Advanced Lithium Batteries Market Outlook, 2018 - 2030
8.1. Middle East & Africa Advanced Lithium Batteries Market Outlook, by Product, Value (US$ Bn), 2018 - 2030
8.1.1. Key Highlights
8.1.1.1. Lithium Thionyl Chloride
8.1.1.2. Lithium Manganese Dioxide
8.1.1.3. Lithium Carbon Monofluoride
8.1.1.4. Lithium Copper Oxide
8.2. Middle East & Africa Advanced Lithium Batteries Market Outlook, by Application, Value (US$ Bn), 2018 - 2030
8.2.1. Key Highlights
8.2.1.1. Consumer electronics
8.2.1.2. Aerospace & Defense
8.2.1.3. Medical
8.2.2. BPS Analysis/Market Attractiveness Analysis
8.3. Middle East & Africa Advanced Lithium Batteries Market Outlook, by Country, Value (US$ Bn), 2018 - 2030
8.3.1. Key Highlights
8.3.1.1. GCC Advanced Lithium Batteries Market by Product, Value (US$ Bn), 2018 - 2030
8.3.1.2. GCC Advanced Lithium Batteries Market Application, Value (US$ Bn), 2018 - 2030
8.3.1.3. South Africa Advanced Lithium Batteries Market by Product, Value (US$ Bn), 2018 - 2030
8.3.1.4. South Africa Advanced Lithium Batteries Market Application, Value (US$ Bn), 2018 - 2030
8.3.1.5. Rest of Middle East & Africa Advanced Lithium Batteries Market by Product, Value (US$ Bn), 2018 - 2030
8.3.1.6. Rest of Middle East & Africa Advanced Lithium Batteries Market Application, Value (US$ Bn), 2018 - 2030
8.3.2. BPS Analysis/Market Attractiveness Analysis

9. Competitive Landscape
9.1. Capacity vs Application Heatmap
9.2. Manufacturer vs Application Heatmap
9.3. Company Market Share Analysis, 2022
9.4. Competitive Dashboard
9.5. Company Profiles
9.5.1. Wuhan FANSO Technology Co. Ltd.
9.5.1.1. Company Overview
9.5.1.2. Product Portfolio
9.5.1.3. Financial Overview
9.5.1.4. Business Strategies and Development
9.5.2. Dongguan Large Electronic Co. Ltd.
9.5.2.1. Company Overview
9.5.2.2. Product Portfolio
9.5.2.3. Financial Overview
9.5.2.4. Business Strategies and Development
9.5.3. Excell Battery Co.
9.5.3.1. Company Overview
9.5.3.2. Product Portfolio
9.5.3.3. Financial Overview
9.5.3.4. Business Strategies and Development
9.5.4. Toshiba Corporation
9.5.4.1. Company Overview
9.5.4.2. Product Portfolio
9.5.4.3. Financial Overview
9.5.4.4. Business Strategies and Development
9.5.5. Saft
9.5.5.1. Company Overview
9.5.5.2. Product Portfolio
9.5.5.3. Financial Overview
9.5.5.4. Business Strategies and Development
9.5.6. EEM Battery
9.5.6.1. Company Overview
9.5.6.2. Product Portfolio
9.5.6.3. Financial Overview
9.5.6.4. Business Strategies and Development
9.5.7. Tadiran Batteries GmbH
9.5.7.1. Company Overview
9.5.7.2. Product Portfolio
9.5.7.3. Financial Overview
9.5.7.4. Business Strategies and Development
9.5.8. Duracell Inc.
9.5.8.1. Company Overview
9.5.8.2. Product Portfolio
9.5.8.3. Financial Overview
9.5.8.4. Business Strategies and Development
9.5.9. Maxell Holdings
9.5.9.1. Company Overview
9.5.9.2. Product Portfolio
9.5.9.3. Financial Overview
9.5.9.4. Business Strategies and Development
9.5.10. Camelion Batteries GmbH
9.5.10.1. Company Overview
9.5.10.2. Product Portfolio
9.5.10.3. Financial Overview
9.5.10.4. Business Strategies and Development
9.5.11. Energizer Holdings
9.5.11.1. Company Overview
9.5.11.2. Product Portfolio
9.5.11.3. Financial Overview
9.5.11.4. Business Strategies and Development
9.5.12. GP Batteries
9.5.12.1. Company Overview
9.5.12.2. Product Portfolio
9.5.12.3. Financial Overview
9.5.12.4. Business Strategies and Development
9.5.13. Panasonic Holding Corporation
9.5.13.1. Company Overview
9.5.13.2. Product Portfolio
9.5.13.3. Financial Overview
9.5.13.4. Business Strategies and Development
9.5.14. Tesla, Inc.
9.5.14.1. Company Overview
9.5.14.2. Product Portfolio
9.5.14.3. Financial Overview
9.5.14.4. Business Strategies and Development
9.5.15. EnerSys
9.5.15.1. Company Overview
9.5.15.2. Product Portfolio
9.5.15.3. Financial Overview
9.5.15.4. Business Strategies and Development

10. Appendix
10.1. Research Methodology
10.2. Report Assumptions
10.3. Acronyms and Abbreviations