Growing Demand for Biogas through Anaerobic Digester Route
The global anaerobic digestion (AD) market was valued at US$7.0 Bn in 2020 and is anticipated to be worth US$18.5 Bn in 2026, registering a CAGR of 17.7% during the forecast period.
Anaerobic digestion (AD) is used extensively around the world to manage waste streams. Commercially available anaerobic digester systems are designed for one type of feedstock or multiple feedstocks. The biogas that is generated is primarily made of methane, a key component of natural gas. Small-scale digesters produce biogas from livestock waste, providing fuel and electricity to rural farming communities. Large-scale AD systems are used in industrial farms and by communities to co-digest other sources of organic wastes.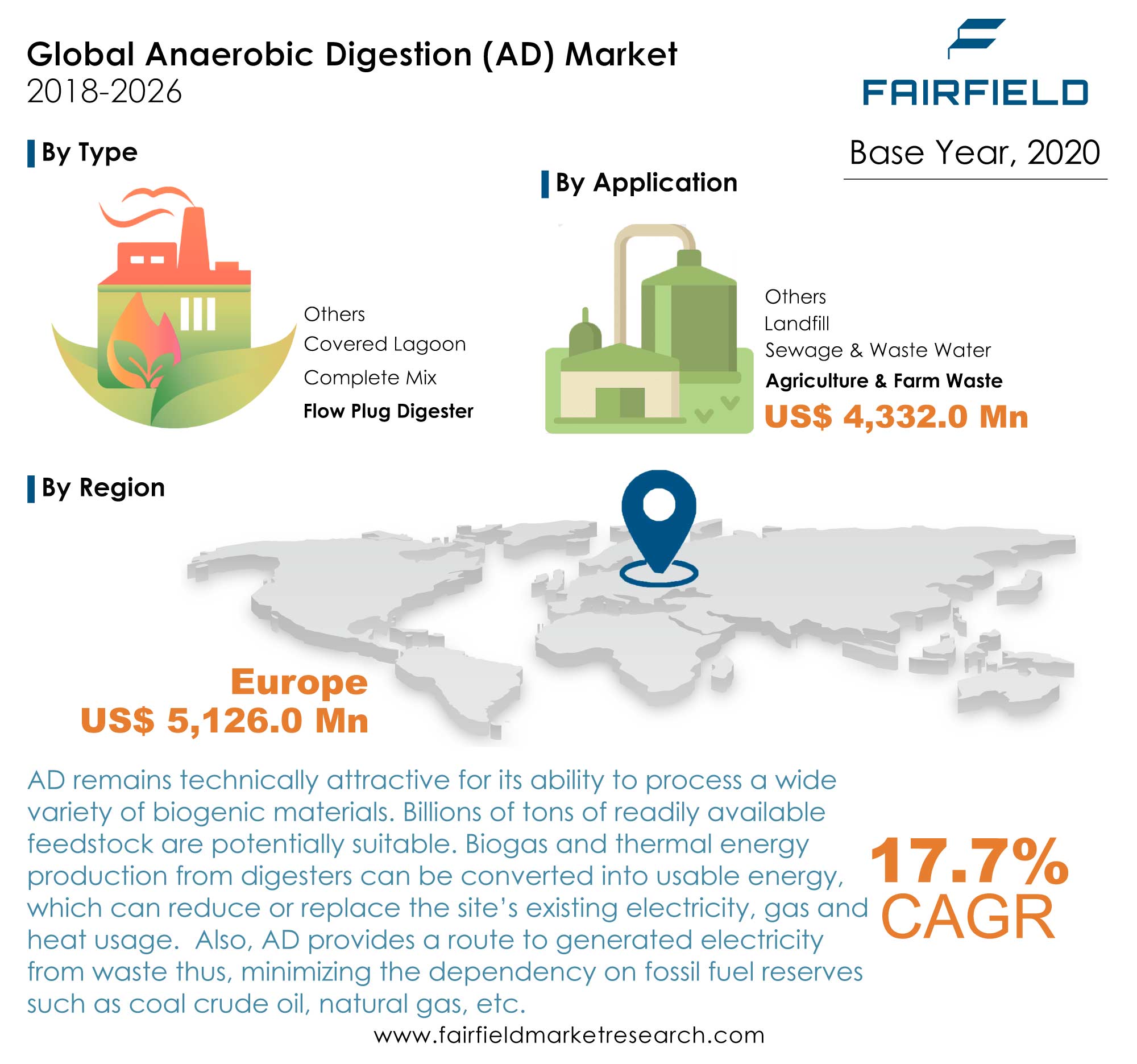 Favourable government policies and incentives are crucial in determining the demand for biogas and the viability and scale of AD projects. Many governments are turning to anaerobic digestion systems as a mean to achieve GHG reductions in the agriculture sector, apart from producing renewable energy and improving nutrient management practices. Advancements in digester design, along with supportive regulations and incentives continue to make AD a more feasible and practical solution for small and large-scale waste management and environmental challenges.
Countries that have made the most progress with anaerobic digestion have instituted policies that recognise biogas as an asset, making energy derived from anaerobic digestion economically competitive with fossil fuel energy. Feed-in low tariffs, tax relief, grant schemes and requirements for organic waste disposal that ensure no incinerated or landfill dumps are the main measures that have been adopted.
Key restraints include high capital and O&M costs. The main areas where improvements can be achieved is in the automation of plants, the understanding of the biological processes involved and increasing the efficiency of the existing CHP engines. Another challenge for the future development of the AD industry is to increase awareness of the existence of methane emissions and the value of the lost fuel, especially in countries such as China, India and Russia, which have rapidly growing energy and waste sectors. Another potential barrier is inconsistent, complicated or poorly devised standards for connecting biogas-generated power to the grid in various countries.
Complete Mix and Flow Plug Digesters to Lead the Market by Installed Capacity
The global anaerobic digestion market is dominated by a complete mix and flow plug digesters. Together, they constituted more than 70% of the global anaerobic digestion market in 2020.
All anaerobic digestion systems adhere to the same basic principles whether the feedstock is food waste, animal manures or wastewater sludge. Although the process is the same, designs will vary from digester to digester. A complete-mix digester is designed to maximize biogas production as an energy source. The concept behind a plug flow digester is the same as a complete mix digester - manure flowing into the digester displaces digester volume, and an equal amount of material flows out. However, the contents of a plug flow digester manure are thick enough to keep particles from settling to the bottom. Very little mixing occurs, so manure moves through the digester as a plug - hence the name "plug flow." Plug flow digesters do not require mechanical mixing.
Europe Constitutes Mammoth Share with Advanced Digestors
Currently, Europe dominates the anaerobic digestion market. Europe has installed capacity of over 13 GW of anaerobic digesters in 2019. Germany biogas production now contributes about 50% of the production in Europe. North America follows with more than 2 GW of installed capacity of anaerobic digestion. In North America, the U.S. saw the addition of 51 megawatts (MW) of biomass projects and 32 MW of biogas projects in 2018.
Geographically, Asia Pacific has the highest number of anaerobic digester plants, though most are small scale, with more than 6 million digesters in China and India alone. Countries in Europe have the most advanced anaerobic digesters with many AD systems serving more than one livestock operator. The anaerobic digestion process is also rapidly gaining popularity in Africa and biogas recovery is emerging in other regions of the world. Also, growing demand for small scale/micro-scale anaerobic digestion plants is expected to benefit the overall demand during the forecast period.
Global Anaerobic Digestion (AD) Market: Competitive Landscape
Key players involved in anaerobic digestion market include: Siemens AG, Veolia, 2G Energy AG, Vanguard Renewables, HoSt Holding B.V., Clearfleau Group Limited, GE, Clarke Energy, Voith GmbH & Co. KGaA, WELTEC BIOPOWER, etc.
In 2021, HoSt Holding B.V. and Birch Solutions signed an exclusive partner agreement to market HoSt's biogas technology alongside Birch Solutions services and operations in the U.K. In this strategic collaboration, the focus will be promoting and selling plant expansion projects to existing plant operators as well as complete, new build AD plants.
In 2021, HoSt Holding B.V. announced that it is currently constructing an anaerobic digestion (AD) plant at the diverse and forward focused Charlton Park Estate developed by Raw Energy.
The Global Anaerobic Digestion (AD) Market is Segmented as Below:
Type Coverage
Covered Lagoon
Complete Mix
Flow Plug Digester
Others
Application Coverage
Agriculture & Farm Waste
Sewage & Waste Water
Landfill
Others
Geographical Coverage
North America
Europe

Germany
UK
Switzerland
France
Austria
Rest of Europe

Asia Pacific

China
Australia
Rest of Asia Pacific

Latin America

Brazil
Argentina
Rest of Latin America

Middle East & Africa
Leading Companies
Siemens AG
Veolia
2G Energy AG
Vanguard Renewables
HoSt Holding B.V.
Clearfleau Group Limited
GE
Clarke Energy
Voith GmbH & Co. KGaA
WELTEC BIOPOWER
Inside This Report You Will Find:
1. Executive Summary
2. Market Overview
3. Price Trends Analysis and Future Projects, 2018 - 2026
4. Global Anaerobic Digestion (AD) Market Outlook, 2018 - 2026
5. North America Anaerobic Digestion (AD) Market Outlook, 2018 - 2026
6. Europe Anaerobic Digestion (AD) Market Outlook, 2018 - 2026
7. Asia Pacific Anaerobic Digestion (AD) Market Outlook, 2018 - 2026
8. Latin America Anaerobic Digestion (AD) Market Outlook, 2018 - 2026
9. Middle East & Africa Anaerobic Digestion (AD) Market Outlook, 2018 - 2026
10. Competitive Landscape
Post Sale Support, Research Updates & Offerings:
We value the trust shown by our customers in Fairfield Market Research. We support our clients through our post sale support, research updates and offerings.
The report will be prepared in a PPT format and will be delivered in a PDF format.
Additionally, Market Estimation and Forecast numbers will be shared in Excel Workbook.
If a report being sold was published over a year ago, we will offer a complimentary copy of the updated research report along with Market Estimation and Forecast numbers within 2-3 weeks' time of the sale.
If we update this research study within the next 2 quarters, post purchase of the report, we will offer a Complimentary copy of the updated Market Estimation and Forecast numbers in Excel Workbook.
If there is a geopolitical conflict, pandemic, recession, and the like which can impact global economic scenario and business activity, which might entirely alter the market dynamics or future projections in the industry, we will create a Research Update upon your request at a nominal charge.
1. Executive Summary
1.1. Global Anaerobic Digestion (AD) Market Snapshot
1.2. Future Projections
1.3. Key Market Trends
1.4. Analyst Recommendations


2. Market Overview
2.1. Market Definitions and Segmentations
2.2. Market Dynamics
2.2.1. Drivers
2.2.2. Restraints
2.2.3. Market Opportunities
2.2.4. Micro and Macro Factors
2.3. Value Chain Analysis
2.4. Porter's Five Forces Analysis and SWOT Analysis
2.5. Covid-19 Impact
2.5.1. Supply Chain
2.5.2. Raw Materials Impact Analysis

3. Price Trends Analysis and Future Projects, 2018 - 2026
3.1. Key Highlights
3.2. by Application/by Type
3.3. By Region
3.4. Anaerobic Digestion Facility: Cost Structure Analysis

4. Global Anaerobic Digestion (AD) Market Outlook, 2018 - 2026
4.1. Global Anaerobic Digestion (AD) Market Outlook, by Application, Capacity (MW) and Value (US$ Mn), 2018 - 2026
4.1.1. Key Highlights
4.1.1.1. Farm & Agriculture Residue
4.1.1.2. Sewage & Wastewater
4.1.1.3. Landfill
4.1.1.4. Others (Bio-waste, Industrial Waste, etc.)
4.1.2. BPS Analysis/Market Attractiveness Analysis, by Application
4.2. Global Anaerobic Digestion (AD) Market Outlook, by Type, Capacity (MW) and Value (US$ Mn), 2018 - 2026
4.2.1. Key Highlights
4.2.1.1. Covered Lagoon
4.2.1.2. Complete Mix
4.2.1.3. Flow Plug Digester
4.2.1.4. Others (Fixed Film, etc.)
4.2.2. BPS Analysis/Market Attractiveness Analysis, by Type
4.3. Global Anaerobic Digestion (AD) Market Outlook, by Region, Capacity (MW) and Value (US$ Mn), 2018 - 2026
4.3.1. Key Highlights
4.3.1.1. North America
4.3.1.2. Europe
4.3.1.3. Asia Pacific
4.3.1.4. Latin America
4.3.1.5. Middle East & Africa
4.3.2. BPS Analysis/Market Attractiveness Analysis, by Region

5. North America Anaerobic Digestion (AD) Market Outlook, 2018 - 2026
5.1. North America Anaerobic Digestion (AD) Market Outlook, by Application, Capacity (MW) and Value (US$ Mn), 2018 - 2026
5.1.1. Key Highlights
5.1.1.1. Farm & Agriculture Residue
5.1.1.2. Sewage & Wastewater
5.1.1.3. Landfill
5.1.1.4. Others (Bio-waste, Industrial Waste, etc.)
5.2. North America Anaerobic Digestion (AD) Market Outlook, by Type, Capacity (MW) and Value (US$ Mn), 2018 - 2026
5.2.1. Key Highlights
5.2.1.1. Covered Lagoon
5.2.1.2. Complete Mix
5.2.1.3. Flow Plug Digester
5.2.1.4. Others (Fixed Film, etc.)
5.3. North America Anaerobic Digestion (AD) Market Outlook, by Country, Capacity (MW) and Value (US$ Mn), 2018 - 2026
5.3.1. Key Highlights
5.3.1.1. U.S. Anaerobic Digestion (AD) Market by Application, Capacity (MW) and Value (US$ Mn), 2018 - 2026
5.3.1.2. U.S. Anaerobic Digestion (AD) Market by Type, Capacity (MW) and Value (US$ Mn), 2018 - 2026
5.3.1.3. Canada Anaerobic Digestion (AD) Market by Application, Capacity (MW) and Value (US$ Mn), 2018 - 2026
5.3.1.4. Canada Anaerobic Digestion (AD) Market by Type, Capacity (MW) and Value (US$ Mn), 2018 - 2026

6. Europe Anaerobic Digestion (AD) Market Outlook, 2018 - 2026
6.1. Europe Anaerobic Digestion (AD) Market Outlook, by Application, Capacity (MW) and Value (US$ Mn), 2018 - 2026
6.1.1. Key Highlights
6.1.1.1. Farm & Agriculture Residue
6.1.1.2. Sewage & Wastewater
6.1.1.3. Landfill
6.1.1.4. Others (Bio-waste, Industrial Waste, etc.)
6.2. Europe Anaerobic Digestion (AD) Market Outlook, by Type, Capacity (MW) and Value (US$ Mn), 2018 - 2026
6.2.1. Key Highlights
6.2.1.1. Covered Lagoon
6.2.1.2. Complete Mix
6.2.1.3. Flow Plug Digester
6.2.1.4. Others (Fixed Film, etc.)
6.3. Europe Anaerobic Digestion (AD) Market Outlook, by Country, Capacity (MW) and Value (US$ Mn), 2018 - 2026
6.3.1. Key Highlights
6.3.1.1. Germany Anaerobic Digestion (AD) Market by Application, Capacity (MW) and Value (US$ Mn), 2018 - 2026
6.3.1.2. Germany Anaerobic Digestion (AD) Market by Type, Capacity (MW) and Value (US$ Mn), 2018 - 2026
6.3.1.3. U.K. Anaerobic Digestion (AD) Market by Application, Capacity (MW) and Value (US$ Mn), 2018 - 2026
6.3.1.4. U.K. Anaerobic Digestion (AD) Market by Type, Capacity (MW) and Value (US$ Mn), 2018 - 2026
6.3.1.5. Switzerland Anaerobic Digestion (AD) Market by Application, Capacity (MW) and Value (US$ Mn), 2018 - 2026
6.3.1.6. Switzerland Anaerobic Digestion (AD) Market by Type, Capacity (MW) and Value (US$ Mn), 2018 - 2026
6.3.1.7. France Anaerobic Digestion (AD) Market by Application, Capacity (MW) and Value (US$ Mn), 2018 - 2026
6.3.1.8. France Anaerobic Digestion (AD) Market by Type, Capacity (MW) and Value (US$ Mn), 2018 - 2026
6.3.1.9. Austria Anaerobic Digestion (AD) Market by Application, Capacity (MW) and Value (US$ Mn), 2018 - 2026
6.3.1.10. Austria Anaerobic Digestion (AD) Market by Type, Capacity (MW) and Value (US$ Mn), 2018 - 2026
6.3.1.11. Rest of Europe Anaerobic Digestion (AD) Market by Application, Capacity (MW) and Value (US$ Mn), 2018 - 2026
6.3.1.12. Rest of Europe Anaerobic Digestion (AD) Market by Type, Capacity (MW) and Value (US$ Mn), 2018 - 2026

7. Asia Pacific Anaerobic Digestion (AD) Market Outlook, 2018 - 2026
7.1. Asia Pacific Anaerobic Digestion (AD) Market Outlook, by Application, Capacity (MW) and Value (US$ Mn), 2018 - 2026
7.1.1. Key Highlights
7.1.1.1. Farm & Agriculture Residue
7.1.1.2. Sewage & Wastewater
7.1.1.3. Landfill
7.1.1.4. Others (Bio-waste, Industrial Waste, etc.)
7.1.2. BPS Analysis/Market Attractiveness Analysis
7.2. Asia Pacific Anaerobic Digestion (AD) Market Outlook, by Type, Capacity (MW) and Value (US$ Mn), 2018 - 2026
7.2.1. Key Highlights
7.2.1.1. Covered Lagoon
7.2.1.2. Complete Mix
7.2.1.3. Flow Plug Digester
7.2.1.4. Others (Fixed Film, etc.)
7.3. Asia Pacific Anaerobic Digestion (AD) Market Outlook, by Country, Capacity (MW) and Value (US$ Mn), 2018 - 2026
7.3.1. Key Highlights
7.3.1.1. China Anaerobic Digestion (AD) Market by Application, Capacity (MW) and Value (US$ Mn), 2018 - 2026
7.3.1.2. China Anaerobic Digestion (AD) Market by Type, Capacity (MW) and Value (US$ Mn), 2018 - 2026
7.3.1.3. Australia Anaerobic Digestion (AD) Market by Application, Capacity (MW) and Value (US$ Mn), 2018 - 2026
7.3.1.4. Australia Anaerobic Digestion (AD) Market by Type, Capacity (MW) and Value (US$ Mn), 2018 - 2026South Korea
7.3.1.5. Rest of Asia Pacific Anaerobic Digestion (AD) Market by Application, Capacity (MW) and Value (US$ Mn), 2018 - 2026
7.3.1.6. Rest of Asia Pacific Anaerobic Digestion (AD) Market by Type, Capacity (MW) and Value (US$ Mn), 2018 - 2026

8. Latin America Anaerobic Digestion (AD) Market Outlook, 2018 - 2026
8.1. Latin America Anaerobic Digestion (AD) Market Outlook, by Application, Capacity (MW) and Value (US$ Mn), 2018 - 2026
8.1.1. Key Highlights
8.1.1.1. Farm & Agriculture Residue
8.1.1.2. Sewage & Wastewater
8.1.1.3. Landfill
8.1.1.4. Others (Bio-waste, Industrial Waste, etc.)
8.2. Latin America Anaerobic Digestion (AD) Market Outlook, by Type, Capacity (MW) and Value (US$ Mn), 2018 - 2026
8.2.1. Key Highlights
8.2.1.1. Covered Lagoon
8.2.1.2. Complete Mix
8.2.1.3. Flow Plug Digester
8.2.1.4. Others (Fixed Film, etc.)
8.3. Latin America Anaerobic Digestion (AD) Market Outlook, by Country, Capacity (MW) and Value (US$ Mn), 2018 - 2026
8.3.1. Key Highlights
8.3.1.1. Brazil Anaerobic Digestion (AD) Market by Application, Capacity (MW) and Value (US$ Mn), 2018 - 2026
8.3.1.2. Brazil Anaerobic Digestion (AD) Market by Type, Capacity (MW) and Value (US$ Mn), 2018 - 2026
8.3.1.3. Argentina Anaerobic Digestion (AD) Market by Application, Capacity (MW) and Value (US$ Mn), 2018 - 2026
8.3.1.4. Argentina Anaerobic Digestion (AD) Market by Type, Capacity (MW) and Value (US$ Mn), 2018 - 2026South Korea
8.3.1.5. Rest of Latin America Anaerobic Digestion (AD) Market by Application, Capacity (MW) and Value (US$ Mn), 2018 - 2026
8.3.1.6. Rest of Latin America Anaerobic Digestion (AD) Market by Type, Capacity (MW) and Value (US$ Mn), 2018 - 2026


9. Middle East & Africa Anaerobic Digestion (AD) Market Outlook, 2018 - 2026
9.1. Middle East & Africa Anaerobic Digestion (AD) Market Outlook, by Application, Capacity (MW) and Value (US$ Mn), 2018 - 2026
9.1.1. Key Highlights
9.1.1.1. Farm & Agriculture Residue
9.1.1.2. Sewage & Wastewater
9.1.1.3. Landfill
9.1.1.4. Others (Bio-waste, Industrial Waste, etc.)
9.2. Middle East & Africa Anaerobic Digestion (AD) Market Outlook, by Type, Capacity (MW) and Value (US$ Mn), 2018 - 2026
9.2.1. Key Highlights
9.2.1.1. Covered Lagoon
9.2.1.2. Complete Mix
9.2.1.3. Flow Plug Digester
9.2.1.4. Others (Fixed Film, etc.)


10. Competitive Landscape
10.1. Company Market Share Analysis, 2020
10.2. Strategic Collaborations
10.3. Company Profiles
10.3.1. Siemens AG
10.3.1.1. Company Overview
10.3.1.2. Product Portfolio
10.3.1.3. Financial Overview
10.3.1.4. Business Strategies and Development
10.3.2. Veolia
10.3.2.1. Company Overview
10.3.2.2. Product Portfolio
10.3.2.3. Financial Overview
10.3.2.4. Business Strategies and Development
10.3.3. 2G Energy AG
10.3.3.1. Company Overview
10.3.3.2. Product Portfolio
10.3.3.3. Financial Overview
10.3.3.4. Business Strategies and Development
10.3.4. Vanguard Renewables
10.3.4.1. Company Overview
10.3.4.2. Product Portfolio
10.3.4.3. Financial Overview
10.3.4.4. Business Strategies and Development
10.3.5. HoSt Holding B.V.
10.3.5.1. Company Overview
10.3.5.2. Product Portfolio
10.3.5.3. Financial Overview
10.3.5.4. Business Strategies and Development
10.3.6. Clearfleau Group Limited
10.3.6.1. Company Overview
10.3.6.2. Product Portfolio
10.3.6.3. Financial Overview
10.3.6.4. Business Strategies and Development
10.3.7. GE
10.3.7.1. Company Overview
10.3.7.2. Product Portfolio
10.3.7.3. Financial Overview
10.3.7.4. Business Strategies and Development
10.3.8. Clarke Energy
10.3.8.1. Company Overview
10.3.8.2. Product Portfolio
10.3.8.3. Financial Overview
10.3.8.4. Business Strategies and Development
10.3.9. Voith GmbH & Co. KGaA
10.3.9.1. Company Overview
10.3.9.2. Product Portfolio
10.3.9.3. Financial Overview
10.3.9.3. Business Strategies and Development
10.3.10. WELTEC BIOPOWER
10.3.10.1. Company Overview
10.3.10.2. Product Portfolio
10.3.10.3. Financial Overview
10.3.10.4. Business Strategies and Development

11. Appendix
11.1. Research Methodology
11.2. Report Assumptions
11.3. Acronyms and Abbreviations