Antimony-free Films Market Outlook
The global antimony-free films market will rise at a significant CAGR of 5.7% CAGR during the period of assessment 2023 - 2030, reaching a market value of US$310.1 Mn in the end of 2030.
Market Overview
The industry involved in distributing, creating, and using packaging materials free of antimony additions or components is referred to as the global antimony-free films market. As the antimony-free films are made without using antimony, it prevents antimony migration into food and cosmetics packaging.
Antimony migration into food in Europe has been restricted to 0.04 mg per kilogram of food. The global KAITEKI program of Mitsubishi Chemical Holding has triple goals of sustainability, health, and comfort for the globe as a creative partner of customers.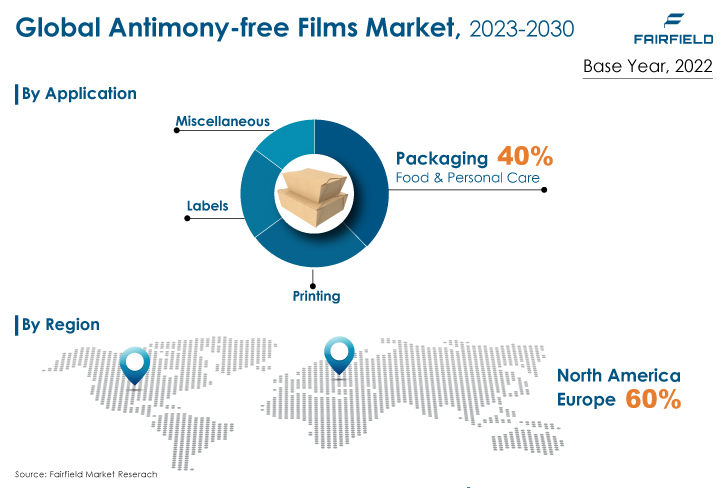 HOSTAPHAN films devoid of antimony have the advantage of not dealing with antimony migration for European packaging, food, and cosmetics firms. This expansion is driven by elements like tighter legal restrictions on the use of antimony, growing consumer awareness of health and environmental issues, and rising demand for environmentally friendly packaging options.
Additionally, the demand for eco-friendly products in the packaging industry drives the demand for antimony-free film. Government laws and limits restrict the usage of antimony-containing films, which is good news for producers of antimony-free films as it helps them gain market share.
Key Report Findings
The market for antimony-free film will demonstrate more than 4x expansion in revenue over the decade, i.e., between 2023 and 2030
The packaging industry's desire for environmentally susianable materials increases demand for antimony-free film
Demand for PET films remains higher in the antimony-free films market
The food and beverages category held the highest antimony-free films market revenue share in 2022
Europe will continue to lead its way, whereas North America's antimony-free films market will experience the strongest growth till 2030
Market Drivers
Increasing Concerns Around Potentially Hazardous Effects of Antimony
As antimony can have hazardous consequences in humans regarding air, food, and water exposure and skin contact, businesses refrain from using antimony in any of their products. Antimony exposure was linked to lead intoxication, which had symptoms like albuminuria, glycosuria, colic, small mouth ulcers with salivation, headache, abdominal pain, constipation, and aversion to food.
Chronic exposure to antimony will also make lung, heart, and digestive issues worse. Vomiting induction and irritation of eyes, and mucous membranes are the additional health impacts. Cardiac arrhythmias, and mild jaundice can happen occasionally.
Chronic antimony exposure may also be linked to chromosomal damage, mutagenicity, and cancer; therefore, it should be avoided during pregnancy and in people with hepatic, renal, or cardiovascular problems. The demand for antimony-free films has been rising rapidly quickly due to the growing concern over the impact of antimony on human health.
Consumers are becoming more aware of the items they are purchasing and their possible risks as there is increased knowledge about health and safety issues. The absence of harmful ingredients, such as antimony, is something that many consumers seek deliberately in products. The need for antimony-free films to satisfy the desires of health-conscious consumers is a major motivator for antimony-free films manufacturers, and brand owners to create and market them.
Furthermore, the application of nanoparticles enhances the barrier, mechanical, and functional properties of the antimony-free film. Manufacturers can achieve flexibility, strength, and barrier performance, resulting in product shield and long shelf-life, by inserting nanoparticles like metal oxides, or clay minerals into the film matrix. Consequently, these qualities of antimony-free films have a favourable impact on human health, which is fueling the expansion of the market.
Rising Emphasis of Governments on Sustainable Packaging
Favourable government regulations that permit subsidies to packaging manufacturers, particularly in developed countries, create profitable opportunities for market participants to boost their output. Major businesses have begun investing in various antimony-free films issued by various commercial units and industries in response to the demand for these government measures.
The European Union's Registration, Evaluation, Authorization, and Restriction of Chemicals (REACH) Regulation. It went into effect in 2007 and replaced the prior chemical legislation in the EU. REACH transfers accountability for evaluating and managing the hazards of chemicals and giving users the necessary safety information from governmental agencies to industry. REACH's primary goals are to provide a high degree of protection for the environment and human health, including the promotion of alternative test techniques, the free movement of substances on the internal market and the improvement of competitiveness and innovation.
Market Challenges
Certain Downsides Continue to Limit Adoption
Limited supply and inconsistent supply chains may result from lacking antimony-free film packaging materials. Due to this, it may be challenging for businesses to manage their production schedules and satisfy consumer needs, which could result in delays and higher expenses.
Restricted options for antimony-free films also hinder organisations' flexibility and creativity when developing their packaging solutions, which slows down the adoption of these films by businesses and consumers. Therefore, a significant barrier to the market's expansion is the restricted supply of materials for antimony-free films.
Furthermore, compared to films containing antimony compounds, antimony-free films frequently have higher production costs due to limited raw material availability. It may be necessary to make additional research, development, and equipment investments to create substitute materials and production techniques that deliver the required functionality without antimony.
To cover these elevated costs, customers may pay a greater premium for antimony-free films. Thus, market adoption is impacted by price sensitivity. If there is a large price difference, some consumers could be reluctant to switch to antimony-free films.
Overview of Key Segments
PET Films Remain Top Selling on the Back of a High Sustainability Quotient
The antimony-free films market is dominated by PET film due to its superior dimensional stability, high tensile strength, barrier qualities against moisture, oxygen, and UV light, aesthetic appeal properties, recyclability, and regulatory compliance.
PET film is also one of the most environmentally benign thermoplastic manufactured films. It is well-known for its exceptional clarity, heat stabilisation, minimal shrinkage, and anti-fog and anti-glare features. These distinctive qualities are key to the antimony-free films market's growth.
The ester polyester film type HSCOAF has a co-extruded layer specially designed for heat sealing on one side and corona-treated on the other. Utilising modern generation catalyst, this film was made. The main benefit of this film is that it was manufactured without antimony; thus, there is no danger of hazardous antimony contaminating food. Greater benefits are provided because there is no health risk to consumers.
With both APET surfaces and itself, it demonstrates heat seal capability. This film comes in thicknesses between 12, 25, and 30 microns. The TFAF variant is a transparent film devoid of antimony with plain surfaces on both sides. This film complies with the US FDA, EU, and REACH regulations for use in food contact.
Market Opportunity
The Sustainable Packaging Trend
The market for antimony-free films is growing as packaging trends witness a shift to lesser harmful, and environmentally sustainable alternatives. The rising emphasis on sustainability will shape the prospects for market. Antimony-free films support sustainable packaging practices by reducing potential environmental harm and boosting recyclability. The demand for antimony-free films will probably rise as the world focuses more on reducing waste and creating a circular economy.
However, the growing need for environment-friendly packaging materials is underpinning the market expansion. The usage of antimony-containing films is being curtailed by government laws and prohibitions, which is good for producers of antimony-free films since it helps them gain market share. Numerous regulations have been put in place to encourage sustainable packaging producers since governments worldwide are aware of the concerns posed by environmental issues.
F&B Registers Maximum Film Consumption for Packaging
The food and beverages category will dominate the antimony-free films market over the forecast period. Antimony-free films are lightweight, flexible, and economical packaging options for food and beverage containers. Antimony-free films have a chance to become more well-known and support the market's expansion due to the segment's particular needs, such as food safety laws and the need for trustworthy protection.
Security and shifting lifestyles are the other primary elements influencing antimony-free film in food and beverage packaging. Consumer demands have altered due to lifestyle changes brought on by increased urbanisation, driving consumers to select simple products. These foods are offered in microwaveable, portable, resealable packaging, are simple to open, and have a longer shelf-life. The antimony-free films are produced without antimony, preventing antimony from leaching into food and beverages. Thus, the lack of antimony, a potentially dangerous substance, ensures the safety of both consumers and the environment, making antimony-free films a feasible option for packaging in the food and beverage industry.
Regional Coverage
Europe Spearheads with a Progressive Sustainability Plan
Europe will continue to hold a dominant position in the global antimony-free films market, clearly attributing to the growing consumer knowledge about antimony's ill effects on the environment, and consumer health. The development and widespread use of antimony-free films in various applications results from the growing demand for eco-friendly and non-toxic alternatives among European customers. The antimony-free films thus align with this sustainability plan since they lessen the potential risks associated with antimony while offering a more environmentally responsible packaging option.
The European Union established REACH as legislation to protect human health and environment from the risks that chemicals might cause while also boosting the competitiveness of the EU chemicals sector. Registration, Evaluation, Authorisation, and Restriction of Chemicals is referred to as REACH. It became effective on June 1st, 2007. Its regulation greatly impacts how the European market for antimony-free films is shaped. REACH controls the use of chemicals, particularly antimony compounds, to protect human health and environment. This rule has resulted in tighter restrictions and controls on the use of antimony in films, prompting the creation and use of antimony-free substitutes.
Furthermore, the demand for antimony-free films in the UK has increased due to the increased focus on sustainability. Due to its strict regulatory environment, innovative sector, emphasis on sustainability, and well-connected supply chain network, the United Kingdom has a substantial market share in the antimony-free films market. However, due to these distinctive qualities, the UK has taken a leading role in promoting the uptake and expansion of antimony-free films domestically and internationally.
North America Develops a Lucrative Market
The market for antimony-free film across North America will display a significant CAGR over the forecast period. Increased government initiatives for packaging using antimony-free films, growing consumer awareness, and the continuous emphasis on R&D activities targeted at creating new eco-friendly packaging options are projected to be the main drivers of the market.
In addition, the market for antimony-free films is anticipated to grow significantly as antimony-free films are used in more industries in this area, including food and beverage, pharmaceuticals, building and construction, cosmetics and personal care, and automotive.
Additionally, environmental protection and corporate social responsibility are highly valued in the US. The US-based businesses prioritise sustainable practices and work to minimise environmental impact. Utilising films devoid of antimony demonstrates a company's commitment to sustainability, enhances its brand image, and draws in clients who care about the environment.
By adopting a moral standard restricting antimony migration from children's products to 60 ppm, Congress' Consumer Product Safety Improvement Act of 2009 was enacted. In several consumer product paints and coatings, California has restricted the amount of antimony that may be present.
Antimony-free Films Market: Competitive Landscape
Some of the leading players at the forefront in the antimony-free films market space include Mitsubishi Polyester Film GmbH, Ester Industries Ltd., UFlex Limited, Fatra A.S., Transparent Paper Ltd., Polyplex, and JBF Bahrain W.L.L.
Recent Notable Developments
In October 2021, HOSTAPHAN polyester film production capacity in Europe will be increased, and a new production line will be purchased, according to Mitsubishi Chemical Corporation. By the end of 2024, the 110 million euro investment is anticipated to be finished. The HOSTAPHAN film is utilised for various purposes in the automotive industry, including the expanding market for electric vehicle batteries and numerous medical uses, including the manufacture of diagnostic strips, patches, and devices for treating wounds.
The Global Antimony-free Films Market is Segmented as Below:
By Thickness
6 micron
10-20 micron
20-30 micron
36 micron
By Application
Packaging
Printing & Laminations
Labels
Miscellaneous
By Geographic Coverage
North America
Europe

Germany
France
U.K.
Italy
Spain
Russia
Rest of Europe

Asia Pacific

Japan
China
India
Southeast Asia
Rest of Asia Pacific

Latin America

Brazil
Rest of Latin America

Middle East and Africa

GCC
South Africa
Rest of Middle East & Africa
Leading Companies
Mitsubishi Polyester Film GmbH
Ester Industries Ltd.
UFlex Limited
Fatra A.S.
Transparent Paper Ltd.
Polyplex
JBF Bahrain W.L.L.
Inside This Report You Will Find:
1. Executive Summary
2. Market Overview
3. Global Antimony-free Films Market Outlook, 2018 - 2030
4. North America Antimony-free Films Market Outlook, 2018 - 2030
5. Europe Antimony-free Films Market Outlook, 2018 - 2030
6. Asia Pacific Antimony-free Films Market Outlook, 2018 - 2030
7. Latin America Antimony-free Films Market Outlook, 2018 - 2030
8. Middle East & Africa Antimony-free Films Market Outlook, 2018 - 2030
9. Competitive Landscape
10. Appendix

1. Executive Summary
1.1. Global Antimony-free Films Market Snapshot
1.2. Future Projections and Incremental Opportunity, 2023 - 2030 (US$ Mn)
1.3. Key Market Trends
1.4. Regional Snapshot, by Value, 2022
1.5. Analyst Recommendations

2. Market Overview
2.1. Market Definitions and Segmentations
2.2. Market Dynamics
2.2.1. Drivers
2.2.2. Restraints
2.2.3. Market Opportunities
2.3. Value Chain Analysis
2.4. Porter's Five Forces Analysis
2.5. COVID-19 Impact Analysis
2.5.1. Supply
2.5.2. Demand
2.6. Impact of Ukraine-Russia Conflict
2.7. Economic Overview
2.7.1. World Economic Projections
2.8. PESTLE Analysis

3. Global Antimony-free Films Market Outlook, 2018 - 2030
3.1. Global Antimony-free Films Market Outlook, by Film Thickness, Value (US$ Mn), 2018 - 2030
3.1.1. Key Highlights
3.1.1.1. 6 micron
3.1.1.2. 10-20 micron
3.1.1.3. 20-30 micron
3.1.1.4. 36 micron
3.2. Global Antimony-free Films Market Outlook, by Application, Value (US$ Mn), 2018 - 2030
3.2.1. Key Highlights
3.2.1.1. Packaging
3.2.1.1.1. Food & Beverages
3.2.1.1.2. Personal Care
3.2.1.2. Printing & Laminations
3.2.1.3. Labels
3.2.1.4. Misc.
3.3. Global Antimony-free Films Market Outlook, by Region, Value (US$ Mn), 2018 - 2030
3.3.1. Key Highlights
3.3.1.1. North America
3.3.1.2. Europe
3.3.1.3. Asia Pacific
3.3.1.4. Latin America
3.3.1.5. Middle East & Africa

4. North America Antimony-free Films Market Outlook, 2018 - 2030
4.1. North America Antimony-free Films Market Outlook, by Film Thickness, Value (US$ Mn), 2018 - 2030
4.1.1. Key Highlights
4.1.1.1. 6 micron
4.1.1.2. 10-20 micron
4.1.1.3. 20-30 micron
4.1.1.4. 36 micron
4.2. North America Antimony-free Films Market Outlook, by Application, Value (US$ Mn), 2018 - 2030
4.2.1. Key Highlights
4.2.1.1. Packaging
4.2.1.1.1. Food & Beverages
4.2.1.1.2. Personal Care
4.2.1.2. Printing & Laminations
4.2.1.3. Labels
4.2.1.4. Misc.
4.2.2. Market Attractiveness Analysis
4.3. North America Antimony-free Films Market Outlook, by Country, Value (US$ Mn), 2018 - 2030
4.3.1. Key Highlights
4.3.1.1. U.S. Antimony-free Films Market by Film Thickness, Value (US$ Mn), 2018 - 2030
4.3.1.2. U.S. Antimony-free Films Market Application, Value (US$ Mn), 2018 - 2030
4.3.1.3. Canada Antimony-free Films Market by Film Thickness, Value (US$ Mn), 2018 - 2030
4.3.1.4. Canada Antimony-free Films Market Application, Value (US$ Mn), 2018 - 2030
4.3.2. BPS Analysis/Market Attractiveness Analysis

5. Europe Antimony-free Films Market Outlook, 2018 - 2030
5.1. Europe Antimony-free Films Market Outlook, by Film Thickness, Value (US$ Mn), 2018 - 2030
5.1.1. Key Highlights
5.1.1.1. 6 micron
5.1.1.2. 10-20 micron
5.1.1.3. 20-30 micron
5.1.1.4. 36 micron
5.2. Europe Antimony-free Films Market Outlook, by Application, Value (US$ Mn), 2018 - 2030
5.2.1. Key Highlights
5.2.1.1. Packaging
5.2.1.1.1. Food & Beverages
5.2.1.1.2. Personal Care
5.2.1.2. Printing & Laminations
5.2.1.3. Labels
5.2.1.4. Misc.
5.2.2. BPS Analysis/Market Attractiveness Analysis
5.3. Europe Antimony-free Films Market Outlook, by Country, Value (US$ Mn), 2018 - 2030
5.3.1. Key Highlights
5.3.1.1. Germany Antimony-free Films Market by Film Thickness, Value (US$ Mn), 2018 - 2030
5.3.1.2. Germany Antimony-free Films Market Application, Value (US$ Mn), 2018 - 2030
5.3.1.3. U.K. Antimony-free Films Market by Film Thickness, Value (US$ Mn), 2018 - 2030
5.3.1.4. U.K. Antimony-free Films Market Application, Value (US$ Mn), 2018 - 2030
5.3.1.5. France Antimony-free Films Market by Film Thickness, Value (US$ Mn), 2018 - 2030
5.3.1.6. France Antimony-free Films Market Application, Value (US$ Mn), 2018 - 2030
5.3.1.7. Italy Antimony-free Films Market by Film Thickness, Value (US$ Mn), 2018 - 2030
5.3.1.8. Italy Antimony-free Films Market Application, Value (US$ Mn), 2018 - 2030
5.3.1.9. Turkey Antimony-free Films Market by Film Thickness, Value (US$ Mn), 2018 - 2030
5.3.1.10. Turkey Antimony-free Films Market Application, Value (US$ Mn), 2018 - 2030
5.3.1.11. Russia Antimony-free Films Market by Film Thickness, Value (US$ Mn), 2018 - 2030
5.3.1.12. Russia Antimony-free Films Market Application, Value (US$ Mn), 2018 - 2030
5.3.1.13. Rest of Europe Antimony-free Films Market by Film Thickness, Value (US$ Mn), 2018 - 2030
5.3.1.14. Rest of Europe Antimony-free Films Market Application, Value (US$ Mn), 2018 - 2030
5.3.2. BPS Analysis/Market Attractiveness Analysis

6. Asia Pacific Antimony-free Films Market Outlook, 2018 - 2030
6.1. Asia Pacific Antimony-free Films Market Outlook, by Film Thickness, Value (US$ Mn), 2018 - 2030
6.1.1. Key Highlights
6.1.1.1. 6 micron
6.1.1.2. 10-20 micron
6.1.1.3. 20-30 micron
6.1.1.4. 36 micron
6.2. Asia Pacific Antimony-free Films Market Outlook, by Application, Value (US$ Mn), 2018 - 2030
6.2.1. Key Highlights
6.2.1.1. Packaging
6.2.1.1.1. Food & Beverages
6.2.1.1.2. Personal Care
6.2.1.2. Printing & Laminations
6.2.1.3. Labels
6.2.1.4. Misc.
6.2.2. BPS Analysis/Market Attractiveness Analysis
6.3. Asia Pacific Antimony-free Films Market Outlook, by Country, Value (US$ Mn), 2018 - 2030
6.3.1. Key Highlights
6.3.1.1. China Antimony-free Films Market by Film Thickness, Value (US$ Mn), 2018 - 2030
6.3.1.2. China Antimony-free Films Market Application, Value (US$ Mn), 2018 - 2030
6.3.1.3. Japan Antimony-free Films Market by Film Thickness, Value (US$ Mn), 2018 - 2030
6.3.1.4. Japan Antimony-free Films Market Application, Value (US$ Mn), 2018 - 2030
6.3.1.5. South Korea Antimony-free Films Market by Film Thickness, Value (US$ Mn), 2018 - 2030
6.3.1.6. South Korea Antimony-free Films Market Application, Value (US$ Mn), 2018 - 2030
6.3.1.7. India Antimony-free Films Market by Film Thickness, Value (US$ Mn), 2018 - 2030
6.3.1.8. India Antimony-free Films Market Application, Value (US$ Mn), 2018 - 2030
6.3.1.9. Southeast Asia Antimony-free Films Market by Film Thickness, Value (US$ Mn), 2018 - 2030
6.3.1.10. Southeast Asia Antimony-free Films Market Application, Value (US$ Mn), 2018 - 2030
6.3.1.11. Rest of Asia Pacific Antimony-free Films Market by Film Thickness, Value (US$ Mn), 2018 - 2030
6.3.1.12. Rest of Asia Pacific Antimony-free Films Market Application, Value (US$ Mn), 2018 - 2030
6.3.2. BPS Analysis/Market Attractiveness Analysis

7. Latin America Antimony-free Films Market Outlook, 2018 - 2030
7.1. Latin America Antimony-free Films Market Outlook, by Film Thickness, Value (US$ Mn), 2018 - 2030
7.1.1. Key Highlights
7.1.1.1. 6 micron
7.1.1.2. 10-20 micron
7.1.1.3. 20-30 micron
7.1.1.4. 36 micron
7.2. Latin America Antimony-free Films Market Outlook, by Application, Value (US$ Mn), 2018 - 2030
7.2.1. Key Highlights
7.2.1.1. Packaging
7.2.1.1.1. Food & Beverages
7.2.1.1.2. Personal Care
7.2.1.2. Printing & Laminations
7.2.1.3. Labels
7.2.1.4. Misc.
7.3. Latin America Antimony-free Films Market Outlook, by Country, Value (US$ Mn), 2018 - 2030
7.3.1. Key Highlights
7.3.1.1. Brazil Antimony-free Films Market by Film Thickness, Value (US$ Mn), 2018 - 2030
7.3.1.2. Brazil Antimony-free Films Market Application, Value (US$ Mn), 2018 - 2030
7.3.1.3. Mexico Antimony-free Films Market by Film Thickness, Value (US$ Mn), 2018 - 2030
7.3.1.4. Mexico Antimony-free Films Market Application, Value (US$ Mn), 2018 - 2030
7.3.1.5. Rest of Latin America Antimony-free Films Market by Film Thickness, Value (US$ Mn), 2018 - 2030
7.3.1.6. Rest of Latin America Antimony-free Films Market Application, Value (US$ Mn), 2018 - 2030
7.3.2. BPS Analysis/Market Attractiveness Analysis

8. Middle East & Africa Antimony-free Films Market Outlook, 2018 - 2030
8.1. Middle East & Africa Antimony-free Films Market Outlook, by Film Thickness, Value (US$ Mn), 2018 - 2030
8.1.1. Key Highlights
8.1.1.1. 6 micron
8.1.1.2. 10-20 micron
8.1.1.3. 20-30 micron
8.1.1.4. 36 micron
8.2. Middle East & Africa Antimony-free Films Market Outlook, by Application, Value (US$ Mn), 2018 - 2030
8.2.1. Key Highlights
8.2.1.1. Packaging
8.2.1.1.1. Food & Beverages
8.2.1.1.2. Personal Care
8.2.1.2. Printing & Laminations
8.2.1.3. Labels
8.2.1.4. Misc.
8.2.2. BPS Analysis/Market Attractiveness Analysis
8.3. Middle East & Africa Antimony-free Films Market Outlook, by Country, Value (US$ Mn), 2018 - 2030
8.3.1. Key Highlights
8.3.1.1. GCC Antimony-free Films Market by Film Thickness, Value (US$ Mn), 2018 - 2030
8.3.1.2. GCC Antimony-free Films Market Application, Value (US$ Mn), 2018 - 2030
8.3.1.3. South Africa Antimony-free Films Market by Film Thickness, Value (US$ Mn), 2018 - 2030
8.3.1.4. South Africa Antimony-free Films Market Application, Value (US$ Mn), 2018 - 2030
8.3.1.5. Rest of Middle East & Africa Antimony-free Films Market by Film Thickness, Value (US$ Mn), 2018 - 2030
8.3.1.6. Rest of Middle East & Africa Antimony-free Films Market Application, Value (US$ Mn), 2018 - 2030
8.3.2. BPS Analysis/Market Attractiveness Analysis

9. Competitive Landscape
9.1. Product vs Application Heatmap
9.2. Manufacturer vs Application Heatmap
9.3. Company Market Share Analysis, 2022
9.4. Competitive Dashboard
9.5. Company Profiles
9.5.1. Mitsubishi Polyester Film GmbH
9.5.1.1. Company Overview
9.5.1.2. Product Portfolio
9.5.1.3. Financial Overview
9.5.1.4. Business Strategies and Development
9.5.2. Ester Industries Ltd.
9.5.2.1. Company Overview
9.5.2.2. Product Portfolio
9.5.2.3. Financial Overview
9.5.2.4. Business Strategies and Development
9.5.3. UFlex Limited
9.5.3.1. Company Overview
9.5.3.2. Product Portfolio
9.5.3.3. Financial Overview
9.5.3.4. Business Strategies and Development
9.5.4. Fatra A.S.
9.5.4.1. Company Overview
9.5.4.2. Product Portfolio
9.5.4.3. Financial Overview
9.5.4.4. Business Strategies and Development
9.5.5. Transparent Paper Ltd.
9.5.5.1. Company Overview
9.5.5.2. Product Portfolio
9.5.5.3. Financial Overview
9.5.5.4. Business Strategies and Development
9.5.6. Polyplex
9.5.6.1. Company Overview
9.5.6.2. Product Portfolio
9.5.6.3. Financial Overview
9.5.6.4. Business Strategies and Development
9.5.7. JBF Bahrain W.L.L.
9.5.7.1. Company Overview
9.5.7.2. Product Portfolio
9.5.7.3. Financial Overview
9.5.7.4. Business Strategies and Development

10. Appendix
10.1. Research Methodology
10.2. Report Assumptions
10.3. Acronyms and Abbreviations