The global biostimulants and biopesticides market will grow at a significant rate of more than 10% CAGR between 2023 and 2030, reaching a market value of around US$20 Bn by the end of 2030.
Market Analysis in Brief
Biostimulants are a group of agricultural chemicals used to promote plant growth, development, and general health. They are made from organic materials, and/or microorganisms. A pesticide known as a biopesticide is produced using natural materials like plants, bacteria, fungi, other microorganisms, and specific minerals. The demand for biostimulant products has increased as people become more conscious of environmental issues and the need for sustainable farming methods. Organic fruits and crops are becoming increasingly popular as customers become more environmentally and health conscious. Biopesticides effectively manage pests without synthetic chemicals and are crucial to organic agricultural techniques. Some biostimulant formulations involve high production costs which might hamper their use.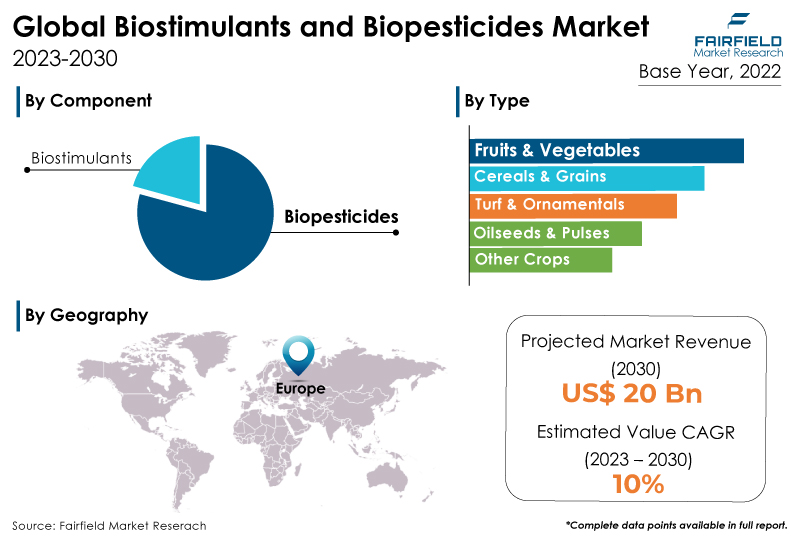 Key Report Findings
The global biostimulants and biopesticides market will expand at a significant rate of more than 10% CAGR between 2023 and 2030.
The demand for biostimulants and biopesticides is rising in the light of the growing preference for natural crop protection methods, and organic nutrition products.
Biopesticides will continue to dominate the global market in terms of sales.
The fruits & vegetables category held the largest market revenue share in 2022.
Europe will continue to lead its way, whereas the Asia Pacific biostimulants and biopesticides market will experience the strongest growth till 2030.
Growth Drivers
Rising Preference for Natural Crop Protection and Nutrition Products
Growing consumer preference for natural crop protection and nutrition solutions is a key driver for the biostimulants and biopesticides market growth. Concerns over the effects of traditional chemical pesticides and fertilizers on the environment are growing among consumers and farmers. Biostimulants and biopesticides provide more environmentally sound and sustainable options as these are made from natural sources and frequently pose fewer environmental threats.
Increase in public awareness of the possible health concerns linked to applying synthetic chemical pesticides to crops, natural origin, and lower toxicity levels and all such factors boost the demand for biopesticides which are considered safer for human health. Customers increasingly seek healthier, pesticide-free food options, which has steadily increased demand for organic products.
Biostimulants and biopesticides are crucial elements of sustainable and organic agricultural methods as part of the growing trend toward organic food production. Due to extensively ongoing research and development activities, more effective biostimulant and biopesticide products have been introduced. Their effectiveness and competitiveness have risen due to developments in formulation and application techniques.
Soaring Popularity of Organic Farming in Line with Surging Consumer Demand for Biological Food
Biostimulants and biopesticides must be used in place of synthetic chemicals when using organic farming techniques. Biostimulants and biopesticides are a natural fit for organic farming systems since farmers must follow strict rules supporting sustainable and ecologically friendly practices to receive organic certification. Consuming food treated with synthetic chemical residues could pose health hazards, according to consumers becoming more health conscious.
Organic food is now being preferred as a healthier and safer option wherein biostimulants and biopesticides with lower toxicity levels are used in production. Farmers are encouraged to implement organic farming techniques to meet consumers' growing demand for organic products.
Regulatory Landscape Analysis
Regulations and Guidelines for Using Biopesticides and Biostimulants
While laws are essential for guaranteeing the efficacy and safety of agricultural products, certain elements might pose difficulties for producers and limit market growth. Registering and approving biopesticides and biostimulants can take a while and be expensive. The manufacturers must provide comprehensive data regarding their product's safety, effectiveness, and environmental impact, while all this might dissuade some businesses, particularly smaller ones, from entering the market.
A lack of harmonization may result from different biopesticide and biostimulant regulations in different nations or regions. Due to this lack of uniformity, manufacturers may find it difficult to sell their goods in various marketplaces. Manufacturers, farmers, and regulators may become perplexed by some nations' complex definitions and classifications of biopesticides and biostimulants. This uncertainty may hamper the creation of new products and market expansion.
Overview of Key Segments
Biopesticides Continue to Sell Higher with Growing Need for Increased Agriculture Yield
Biopesticides protect crops against pests like worms, mites, and insects. They can be used on various crops, including fruits, vegetables, grains, and crops for fiber. Integrated pest management (IPM) techniques and organic farming systems benefit greatly from biopesticides.
Some biopesticides include advantageous microorganisms like bacteria or fungi that function as biological plant disease suppressants. They can decrease the prevalence and severity of plant illnesses by preventing the growth of harmful bacteria, viruses, and fungi. Plant growth is stimulated and enhanced by applying biostimulants, which increase agricultural yields and overall productivity. They can quicken the flowering and fruiting cycles and encourage the growth of roots and shoots.
Improved nutrient and water intake from the soil can result from biostimulants, promoting root growth and increasing root surface area. Fruits and vegetables can benefit from biostimulants to increase their nutritional value, flavour, colour, and shelf-life, increasing consumer appeal.
Strong Demand Growth Expected in Fruits & Vegetables Segment
The fruits & vegetables segment is expected to be the fastest growing biostimulants and biopesticides market segment. Due to its effectiveness, safety, and compatibility with sustainable agricultural practices, the use of biopesticides and biostimulants in fruits and vegetables is growing in popularity. To control insect pests in fruits and vegetables, bioinsecticides made from natural sources such as bacteria (such as Bacillus thuringiensis), fungi (such as Beauveria bassiana), or viruses (such as nucleopolyhedrovirus) are utilised. These bioinsecticides target pests such as caterpillars, beetles, aphids, and thrips to eradicate them while posing no threat to beneficial insects or pollinators.
Fruits and vegetables are grown using biostimulants that contain elements that encourage plant growth, such as humic acids, amino acids, and seaweed extracts. They can accelerate fruit setting, flowering, and root development. Biostimulants are increasingly used for fruits and vegetables to increase their resistance to abiotic conditions such as salinity, heat, and drought. These stress reducers improve the plants' ability to resist challenging climatic circumstances, which boosts crop yield and quality. Biopesticides and biostimulants are essential to integrated pest management (IPM) and sustainable agricultural practices in fruits and vegetables. Farmers may efficiently control pests and diseases, enhance crop performance, produce healthier, higher-quality fruits and vegetables, and lessen the environmental impact of conventional chemical inputs by using these natural products.
Growth Opportunities Across Regions
European Markets Present a Hub of Opportunities
Europe is expected to dominate the biostimulants and biopesticides market during the forecast period. Concerns over the environmental effects and consumer preferences for eco-friendly products have led to a greater emphasis on sustainable agriculture practices in Europe. Europe has seen a boom in organic farming due to consumer demand for organic goods. Organic farming practices rely heavily on biostimulants and biopesticides, which has helped drive their rising popularity.
Biostimulants and biopesticides may become more effective and easier to supply due to developments in biotechnology, nanotechnology, and formulation methods. New market prospects in Germany may arise by creating inventive and more specialised products. Educating German customers about the advantages of biostimulants and biopesticides and their contribution to sustainable agriculture makes it possible to stimulate the market and increase demand for goods with eco-friendly certifications.
Asia Pacific Will be the Fastest Growing Market
The market for biostimulants and biopesticides across the Asia Pacific will display a significant CAGR during the forecast period due to their expanding use in developing nations in this region. The desire to eliminate chemical residues in food products and growing public awareness of sustainable agriculture are driving factors behind this trend. Food safety and quality are becoming more important for consumers worldwide. As a result, there is an increase in demand for fruits and vegetables that are organic and free of residue. To meet consumer demand for safer and better food options, biopesticides and biostimulants are crucial elements of organic farming techniques.
Biopesticides and biostimulants made from native plants and microorganisms are increasingly being researched and developed in countries such as India owing to the country's great biodiversity. These locally produced products are frequently more appropriate for dealing with local pest and disease problems. Using biopesticides and biostimulants in conjunction with other pest control techniques is known as integrated pest management (IPM), and it is becoming more popular in India. IPM reduces dependency on chemical pesticides while providing a holistic approach to pest management.
Biostimulants and Biopesticides Market: Competitive Landscape
Some of the leading players operating in the Biostimulants and Biopesticides market space include Bayer CropScience, BASF, Syngenta (ChemChina), Corteva Agriscience, Biofa GmbH, Certis Europe B.V, COMPO EXPERT GmbH, BIOBEST GROUP NV, AGLUKON, and Humintech GmbH.
Recent Notable Developments
In July 2021, Encartis, a brand-new dual-active fungicide for golf course superintendents, turfgrass managers, and lawn care professionals, was launched by BASF SE. Encartis is a potent instrument for managing turfgrass diseases like anthracnose, brown patch, and dollar spot since it contains the active components of the fungicides Intrinsic and Xzemplar. With the advent of this product, the company's product line-up for the grass protection sector was increased.
In August 2021, the release of Resicore XL in 2022 was announced by Corteva. A herbicide for maize that can be applied pre-, pre-, and post-emergence on maize taller than 11 inches and increase crop safety. The company's product line has grown due to this development.
In May 2022, BioCHOS, a Norwegian University of Life Sciences subsidiary, sold OptiCHOS to UPL Group. This fungicide is naturally sourced. BioCHOS was created as a biodegradable, broad-spectrum disease management agent with minimal negative effects on people and the environment. By acquiring the product, UPL could better serve farmers' requirements by expanding its NPP portfolio and focusing on markets where the product would be useful.
In May 2022, agricultural biologicals innovation pioneer AgBiTech, and UPL Limited formed a strategic cooperation. In the course of this partnership, UPL would offer AgBiTech's biosolutions, beginning with the bioinsecticides Heligen and Fawligen. As a result, UPL would be able to diversify its portfolio of bioinsecticides.
In October 2022, Indigo Ag Inc. announced that seven more carbon farming partners had joined the initiative to assist farmers in accessing this new, sustainability-focused revenue stream as the market for voluntary agricultural carbon credits continues to rise in value. Farmers may access the sustainable market through Indigo Ag's carbon partnerships.
The Global Biostimulants and Biopesticides Market is Segmented as Below:
By Type
Biopesticides
Biostimulants
By Crop Type
Fruits & Vegetables
Cereals & Grains
Turf & Ornamentals
Oilseeds & Pulses
Other Crops
By Application Method
Foliar Treatment
Soil Treatment
Seed Treatment
By Form
By Distribution Channel
By Geographic Coverage
North America
Europe

Germany
U.K.
France
Italy
Turkey
Russia
Rest of Europe

Asia Pacific

China
Japan
South Korea
India
Southeast Asia
Rest of Asia Pacific

Latin America

Brazil
Mexico
Argentina
Rest of Latin America

Middle East & Africa

GCC
South Africa
Egypt
Nigeria
Rest of the Middle East & Africa
Leading Companies
Syngenta (ChemChina)
Corteva Agriscience
Biofa GmbH
COMPO EXPERT GmbH
Biobest Group NV
AGLUKON
Humintech GmbH
1. Executive Summary
1.1. Global Biostimulants and Biopesticides Market Snapshot
1.2. Future Projections
1.3. Key Market Trends
1.4. Regional Snapshot, by Value, 2022
1.5. Analyst Recommendations


2. Market Overview
2.1. Market Definitions and Segmentations
2.2. Market Dynamics
2.2.1. Drivers
2.2.2. Restraints
2.2.3. Market Opportunities
2.3. Value Chain Analysis
2.4. Porter's Five Forces Analysis
2.5. Covid-19 Impact Analysis
2.5.1. Supply
2.5.2. Demand
2.6. Impact of Ukraine-Russia Conflict
2.7. Economic Overview
2.7.1. World Economic Projections
2.8. PESTLE Analysis


3. Global Biostimulants and Biopesticides Market Outlook, 2018 - 2030
3.1. Global Biostimulants and Biopesticides Market Outlook, by Type, Value (US$ Bn), 2018 - 2030
3.1.1. Key Highlights
3.1.1.1. Biopesticides
3.1.1.2. Biostimulants
3.2. Global Biostimulants and Biopesticides Market Outlook, by Crop Type, Value (US$ Bn), 2018 - 2030
3.2.1. Key Highlights
3.2.1.1. Fruits & Vegetables
3.2.1.2. Cereals & Grains
3.2.1.3. Turf & Ornamentals
3.2.1.4. Oilseeds & Pulses
3.2.1.5. Other Crops
3.3. Global Biostimulants and Biopesticides Market Outlook, by Application Method, Value (US$ Bn), 2018 - 2030
3.3.1. Key Highlights
3.3.1.1. Foliar Treatment
3.3.1.2. Soil Treatment
3.3.1.3. Seed Treatment
3.4. Global Biostimulants and Biopesticides Market Outlook, by Form, Value (US$ Bn), 2018 - 2030
3.4.1. Key Highlights
3.4.1.1. Liquid
3.4.1.2. Dry
3.5. Global Biostimulants and Biopesticides Market Outlook, by Distribution Channel, Value (US$ Bn), 2018 - 2030
3.5.1. Key Highlights
3.5.1.1. Direct
3.5.1.2. Indirect
3.6. Global Biostimulants and Biopesticides Market Outlook, by Region, Value (US$ Bn), 2018 - 2030
3.6.1. Key Highlights
3.6.1.1. North America
3.6.1.2. Europe
3.6.1.3. Asia Pacific
3.6.1.4. Latin America
3.6.1.5. Middle East & Africa

4. North America Biostimulants and Biopesticides Market Outlook, 2018 - 2030
4.1. North America Biostimulants and Biopesticides Market Outlook, by Type, Value (US$ Bn), 2018 - 2030
4.1.1. Key Highlights
4.1.1.1. Biopesticides
4.1.1.2. Biostimulants
4.2. North America Biostimulants and Biopesticides Market Outlook, by Crop Type, Value (US$ Bn), 2018 - 2030
4.2.1. Key Highlights
4.2.1.1. Fruits & Vegetables
4.2.1.2. Cereals & Grains
4.2.1.3. Turf & Ornamentals
4.2.1.4. Oilseeds & Pulses
4.2.1.5. Other Crops
4.3. North America Biostimulants and Biopesticides Market Outlook, by Application Method, Value (US$ Bn), 2018 - 2030
4.3.1. Key Highlights
4.3.1.1. Foliar Treatment
4.3.1.2. Soil Treatment
4.3.1.3. Seed Treatment
4.4. North America Biostimulants and Biopesticides Market Outlook, by Form, Value (US$ Bn), 2018 - 2030
4.4.1. Key Highlights
4.4.1.1. Liquid
4.4.1.2. Dry
4.5. North America Biostimulants and Biopesticides Market Outlook, by Distribution Channel, Value (US$ Bn), 2018 - 2030
4.5.1. Key Highlights
4.5.1.1. Direct
4.5.1.2. Indirect
4.5.2. Market Attractiveness Analysis
4.6. North America Biostimulants and Biopesticides Market Outlook, by Country, Value (US$ Bn), 2018 - 2030
4.6.1. Key Highlights
4.6.1.1. U.S. Biostimulants and Biopesticides Market by Type, Value (US$ Bn), 2018 - 2030
4.6.1.2. U.S. Biostimulants and Biopesticides Market, by Crop Type, Value (US$ Bn), 2018 - 2030
4.6.1.3. U.S. Biostimulants and Biopesticides Market, by Application Method, Value (US$ Bn), 2018 - 2030
4.6.1.4. U.S. Biostimulants and Biopesticides Market, by Form, Value (US$ Bn), 2018 - 2030
4.6.1.5. U.S. Biostimulants and Biopesticides Market, by Distribution Channel, Value (US$ Bn), 2018 - 2030
4.6.1.6. Canada Biostimulants and Biopesticides Market by Type, Value (US$ Bn), 2018 - 2030
4.6.1.7. Canada Biostimulants and Biopesticides Market, by Crop Type, Value (US$ Bn), 2018 - 2030
4.6.1.8. Canada Biostimulants and Biopesticides Market, by Application Method, Value (US$ Bn), 2018 - 2030
4.6.1.9. Canada Biostimulants and Biopesticides Market, by Form, Value (US$ Bn), 2018 - 2030
4.6.1.10. Canada Biostimulants and Biopesticides Market, by Distribution Channel, Value (US$ Bn), 2018 - 2030
4.6.2. BPS Analysis/Market Attractiveness Analysis


5. Europe Biostimulants and Biopesticides Market Outlook, 2018 - 2030
5.1. Europe Biostimulants and Biopesticides Market Outlook, by Type, Value (US$ Bn), 2018 - 2030
5.1.1. Key Highlights
5.1.1.1. Biopesticides
5.1.1.2. Biostimulants
5.2. Europe Biostimulants and Biopesticides Market Outlook, by Crop Type, Value (US$ Bn), 2018 - 2030
5.2.1. Key Highlights
5.2.1.1. Fruits & Vegetables
5.2.1.2. Cereals & Grains
5.2.1.3. Turf & Ornamentals
5.2.1.4. Oilseeds & Pulses
5.2.1.5. Other Crops
5.3. Europe Biostimulants and Biopesticides Market Outlook, by Application Method, Value (US$ Bn), 2018 - 2030
5.3.1. Key Highlights
5.3.1.1. Foliar Treatment
5.3.1.2. Soil Treatment
5.3.1.3. Seed Treatment
5.4. Europe Biostimulants and Biopesticides Market Outlook, by Form, Value (US$ Bn), 2018 - 2030
5.4.1. Key Highlights
5.4.1.1. Liquid
5.4.1.2. Dry
5.5. Europe Biostimulants and Biopesticides Market Outlook, by Distribution Channel, Value (US$ Bn), 2018 - 2030
5.5.1. Key Highlights
5.5.1.1. Direct
5.5.1.2. Indirect
5.5.2. BPS Analysis/Market Attractiveness Analysis
5.6. Europe Biostimulants and Biopesticides Market Outlook, by Country, Value (US$ Bn), 2018 - 2030
5.6.1. Key Highlights
5.6.1.1. Germany Biostimulants and Biopesticides Market by Type, Value (US$ Bn), 2018 - 2030
5.6.1.2. Germany Biostimulants and Biopesticides Market, by Crop Type, Value (US$ Bn), 2018 - 2030
5.6.1.3. Germany Biostimulants and Biopesticides Market, by Application Method, Value (US$ Bn), 2018 - 2030
5.6.1.4. Germany Biostimulants and Biopesticides Market, by Form, Value (US$ Bn), 2018 - 2030
5.6.1.5. Germany Biostimulants and Biopesticides Market, by Distribution Channel, Value (US$ Bn), 2018 - 2030
5.6.1.6. U.K. Biostimulants and Biopesticides Market by Type, Value (US$ Bn), 2018 - 2030
5.6.1.7. U.K. Biostimulants and Biopesticides Market, by Crop Type, Value (US$ Bn), 2018 - 2030
5.6.1.8. U.K. Biostimulants and Biopesticides Market, by Application Method, Value (US$ Bn), 2018 - 2030
5.6.1.9. U.K. Biostimulants and Biopesticides Market, by Form, Value (US$ Bn), 2018 - 2030
5.6.1.10. U.K. Biostimulants and Biopesticides Market, by Distribution Channel, Value (US$ Bn), 2018 - 2030
5.6.1.11. France Biostimulants and Biopesticides Market by Type, Value (US$ Bn), 2018 - 2030
5.6.1.12. France Biostimulants and Biopesticides Market, by Crop Type, Value (US$ Bn), 2018 - 2030
5.6.1.13. France Biostimulants and Biopesticides Market, by Application Method, Value (US$ Bn), 2018 - 2030
5.6.1.14. France Biostimulants and Biopesticides Market, by Form, Value (US$ Bn), 2018 - 2030
5.6.1.15. France Biostimulants and Biopesticides Market, by Distribution Channel, Value (US$ Bn), 2018 - 2030
5.6.1.16. Italy Biostimulants and Biopesticides Market by Type, Value (US$ Bn), 2018 - 2030
5.6.1.17. Italy Biostimulants and Biopesticides Market, by Crop Type, Value (US$ Bn), 2018 - 2030
5.6.1.18. Italy Biostimulants and Biopesticides Market, by Application Method, Value (US$ Bn), 2018 - 2030
5.6.1.19. Italy Biostimulants and Biopesticides Market, by Form, Value (US$ Bn), 2018 - 2030
5.6.1.20. Italy Biostimulants and Biopesticides Market, by Distribution Channel, Value (US$ Bn), 2018 - 2030
5.6.1.21. Turkey Biostimulants and Biopesticides Market by Type, Value (US$ Bn), 2018 - 2030
5.6.1.22. Turkey Biostimulants and Biopesticides Market, by Crop Type, Value (US$ Bn), 2018 - 2030
5.6.1.23. Turkey Biostimulants and Biopesticides Market, by Application Method, Value (US$ Bn), 2018 - 2030
5.6.1.24. Turkey Biostimulants and Biopesticides Market, by Form, Value (US$ Bn), 2018 - 2030
5.6.1.25. Turkey Biostimulants and Biopesticides Market, by Distribution Channel, Value (US$ Bn), 2018 - 2030
5.6.1.26. Russia Biostimulants and Biopesticides Market by Type, Value (US$ Bn), 2018 - 2030
5.6.1.27. Russia Biostimulants and Biopesticides Market, by Crop Type, Value (US$ Bn), 2018 - 2030
5.6.1.28. Russia Biostimulants and Biopesticides Market, by Application Method, Value (US$ Bn), 2018 - 2030
5.6.1.29. Russia Biostimulants and Biopesticides Market, by Form, Value (US$ Bn), 2018 - 2030
5.6.1.30. Russia Biostimulants and Biopesticides Market, by Distribution Channel, Value (US$ Bn), 2018 - 2030
5.6.1.31. Rest of Europe Biostimulants and Biopesticides Market by Type, Value (US$ Bn), 2018 - 2030
5.6.1.32. Rest of Europe Biostimulants and Biopesticides Market, by Crop Type, Value (US$ Bn), 2018 - 2030
5.6.1.33. Rest of Europe Biostimulants and Biopesticides Market, by Application Method, Value (US$ Bn), 2018 - 2030
5.6.1.34. Rest of Europe Biostimulants and Biopesticides Market, by Form, Value (US$ Bn), 2018 - 2030
5.6.1.35. Rest of Europe Biostimulants and Biopesticides Market, by Distribution Channel, Value (US$ Bn), 2018 - 2030
5.6.2. BPS Analysis/Market Attractiveness Analysis

6. Asia Pacific Biostimulants and Biopesticides Market Outlook, 2018 - 2030
6.1. Asia Pacific Biostimulants and Biopesticides Market Outlook, by Type, Value (US$ Bn), 2018 - 2030
6.1.1. Key Highlights
6.1.1.1. Biopesticides
6.1.1.2. Biostimulants
6.2. Asia Pacific Biostimulants and Biopesticides Market Outlook, by Crop Type, Value (US$ Bn), 2018 - 2030
6.2.1. Key Highlights
6.2.1.1. Fruits & Vegetables
6.2.1.2. Cereals & Grains
6.2.1.3. Turf & Ornamentals
6.2.1.4. Oilseeds & Pulses
6.2.1.5. Other Crops
6.3. Asia Pacific Biostimulants and Biopesticides Market Outlook, by Application Method, Value (US$ Bn), 2018 - 2030
6.3.1. Key Highlights
6.3.1.1. Foliar Treatment
6.3.1.2. Soil Treatment
6.3.1.3. Seed Treatment
6.4. Asia Pacific Biostimulants and Biopesticides Market Outlook, by Form, Value (US$ Bn), 2018 - 2030
6.4.1. Key Highlights
6.4.1.1. Liquid
6.4.1.2. Dry
6.5. Asia Pacific Biostimulants and Biopesticides Market Outlook, by Distribution Channel, Value (US$ Bn), 2018 - 2030
6.5.1. Key Highlights
6.5.1.1. Direct
6.5.1.2. Indirect
6.5.2. BPS Analysis/Market Attractiveness Analysis
6.6. Asia Pacific Biostimulants and Biopesticides Market Outlook, by Country, Value (US$ Bn), 2018 - 2030
6.6.1. Key Highlights
6.6.1.1. China Biostimulants and Biopesticides Market by Type, Value (US$ Bn), 2018 - 2030
6.6.1.2. China Biostimulants and Biopesticides Market, by Crop Type, Value (US$ Bn), 2018 - 2030
6.6.1.3. China Biostimulants and Biopesticides Market, by Application Method, Value (US$ Bn), 2018 - 2030
6.6.1.4. China Biostimulants and Biopesticides Market, by Form, Value (US$ Bn), 2018 - 2030
6.6.1.5. China Biostimulants and Biopesticides Market, by Distribution Channel, Value (US$ Bn), 2018 - 2030
6.6.1.6. Japan Biostimulants and Biopesticides Market by Type, Value (US$ Bn), 2018 - 2030
6.6.1.7. Japan Biostimulants and Biopesticides Market, by Crop Type, Value (US$ Bn), 2018 - 2030
6.6.1.8. Japan Biostimulants and Biopesticides Market, by Application Method, Value (US$ Bn), 2018 - 2030
6.6.1.9. Japan Biostimulants and Biopesticides Market, by Form, Value (US$ Bn), 2018 - 2030
6.6.1.10. Japan Biostimulants and Biopesticides Market, by Distribution Channel, Value (US$ Bn), 2018 - 2030
6.6.1.11. South Korea Biostimulants and Biopesticides Market by Type, Value (US$ Bn), 2018 - 2030
6.6.1.12. South Korea Biostimulants and Biopesticides Market, by Crop Type, Value (US$ Bn), 2018 - 2030
6.6.1.13. South Korea Biostimulants and Biopesticides Market, by Application Method, Value (US$ Bn), 2018 - 2030
6.6.1.14. South Korea Biostimulants and Biopesticides Market, by Form, Value (US$ Bn), 2018 - 2030
6.6.1.15. South Korea Biostimulants and Biopesticides Market, by Distribution Channel, Value (US$ Bn), 2018 - 2030
6.6.1.16. India Biostimulants and Biopesticides Market by Type, Value (US$ Bn), 2018 - 2030
6.6.1.17. India Biostimulants and Biopesticides Market, by Crop Type, Value (US$ Bn), 2018 - 2030
6.6.1.18. India Biostimulants and Biopesticides Market, by Application Method, Value (US$ Bn), 2018 - 2030
6.6.1.19. India Biostimulants and Biopesticides Market, by Form, Value (US$ Bn), 2018 - 2030
6.6.1.20. India Biostimulants and Biopesticides Market, by Distribution Channel, Value (US$ Bn), 2018 - 2030
6.6.1.21. Southeast Asia Biostimulants and Biopesticides Market by Type, Value (US$ Bn), 2018 - 2030
6.6.1.22. Southeast Asia Biostimulants and Biopesticides Market, by Crop Type, Value (US$ Bn), 2018 - 2030
6.6.1.23. Southeast Asia Biostimulants and Biopesticides Market, by Application Method, Value (US$ Bn), 2018 - 2030
6.6.1.24. Southeast Asia Biostimulants and Biopesticides Market, by Form, Value (US$ Bn), 2018 - 2030
6.6.1.25. Southeast Asia Biostimulants and Biopesticides Market, by Distribution Channel, Value (US$ Bn), 2018 - 2030
6.6.1.26. Rest of Asia Pacific Biostimulants and Biopesticides Market by Type, Value (US$ Bn), 2018 - 2030
6.6.1.27. Rest of Asia Pacific Biostimulants and Biopesticides Market, by Crop Type, Value (US$ Bn), 2018 - 2030
6.6.1.28. Rest of Asia Pacific Biostimulants and Biopesticides Market, by Application Method, Value (US$ Bn), 2018 - 2030
6.6.1.29. Rest of Asia Pacific Biostimulants and Biopesticides Market, by Form, Value (US$ Bn), 2018 - 2030
6.6.1.30. Rest of Asia Pacific Biostimulants and Biopesticides Market, by Distribution Channel, Value (US$ Bn), 2018 - 2030
6.6.2. BPS Analysis/Market Attractiveness Analysis


7. Latin America Biostimulants and Biopesticides Market Outlook, 2018 - 2030
7.1. Latin America Biostimulants and Biopesticides Market Outlook, by Type, Value (US$ Bn), 2018 - 2030
7.1.1. Key Highlights
7.1.1.1. Biopesticides
7.1.1.2. Biostimulants
7.2. Latin America Biostimulants and Biopesticides Market Outlook, by Crop Type, Value (US$ Bn), 2018 - 2030
7.2.1. Key Highlights
7.2.1.1. Fruits & Vegetables
7.2.1.2. Cereals & Grains
7.2.1.3. Turf & Ornamentals
7.2.1.4. Oilseeds & Pulses
7.2.1.5. Other Crops
7.3. Latin America Biostimulants and Biopesticides Market Outlook, by Application Method, Value (US$ Bn), 2018 - 2030
7.3.1. Key Highlights
7.3.1.1. Foliar Treatment
7.3.1.2. Soil Treatment
7.3.1.3. Seed Treatment
7.4. Latin America Biostimulants and Biopesticides Market Outlook, by Form, Value (US$ Bn), 2018 - 2030
7.4.1. Key Highlights
7.4.1.1. Liquid
7.4.1.2. Dry
7.5. Latin America Biostimulants and Biopesticides Market Outlook, by Distribution Channel, Value (US$ Bn), 2018 - 2030
7.5.1. Key Highlights
7.5.1.1. Direct
7.5.1.2. Indirect
7.5.2. BPS Analysis/Market Attractiveness Analysis
7.6. Latin America Biostimulants and Biopesticides Market Outlook, by Country, Value (US$ Bn), 2018 - 2030
7.6.1. Key Highlights
7.6.1.1. Brazil Biostimulants and Biopesticides Market by Type, Value (US$ Bn), 2018 - 2030
7.6.1.2. Brazil Biostimulants and Biopesticides Market, by Crop Type, Value (US$ Bn), 2018 - 2030
7.6.1.3. Brazil Biostimulants and Biopesticides Market, by Application Method, Value (US$ Bn), 2018 - 2030
7.6.1.4. Brazil Biostimulants and Biopesticides Market, by Form, Value (US$ Bn), 2018 - 2030
7.6.1.5. Brazil Biostimulants and Biopesticides Market, by Distribution Channel, Value (US$ Bn), 2018 - 2030
7.6.1.6. Mexico Biostimulants and Biopesticides Market by Type, Value (US$ Bn), 2018 - 2030
7.6.1.7. Mexico Biostimulants and Biopesticides Market, by Crop Type, Value (US$ Bn), 2018 - 2030
7.6.1.8. Mexico Biostimulants and Biopesticides Market, by Application Method, Value (US$ Bn), 2018 - 2030
7.6.1.9. Mexico Biostimulants and Biopesticides Market, by Form, Value (US$ Bn), 2018 - 2030
7.6.1.10. Mexico Biostimulants and Biopesticides Market, by Distribution Channel, Value (US$ Bn), 2018 - 2030
7.6.1.11. Argentina Biostimulants and Biopesticides Market by Type, Value (US$ Bn), 2018 - 2030
7.6.1.12. Argentina Biostimulants and Biopesticides Market, by Crop Type, Value (US$ Bn), 2018 - 2030
7.6.1.13. Argentina Biostimulants and Biopesticides Market, by Application Method, Value (US$ Bn), 2018 - 2030
7.6.1.14. Argentina Biostimulants and Biopesticides Market, by Form, Value (US$ Bn), 2018 - 2030
7.6.1.15. Argentina Biostimulants and Biopesticides Market, by Distribution Channel, Value (US$ Bn), 2018 - 2030
7.6.1.16. Rest of Latin America Biostimulants and Biopesticides Market by Type, Value (US$ Bn), 2018 - 2030
7.6.1.17. Rest of Latin America Biostimulants and Biopesticides Market, by Crop Type, Value (US$ Bn), 2018 - 2030
7.6.1.18. Rest of Latin America Biostimulants and Biopesticides Market, by Application Method, Value (US$ Bn), 2018 - 2030
7.6.1.19. Rest of Latin America Biostimulants and Biopesticides Market, by Form, Value (US$ Bn), 2018 - 2030
7.6.1.20. Rest of Latin America Biostimulants and Biopesticides Market, by Distribution Channel, Value (US$ Bn), 2018 - 2030
7.6.2. BPS Analysis/Market Attractiveness Analysis


8. Middle East & Africa Biostimulants and Biopesticides Market Outlook, 2018 - 2030
8.1. Middle East & Africa Biostimulants and Biopesticides Market Outlook, by Type, Value (US$ Bn), 2018 - 2030
8.1.1. Key Highlights
8.1.1.1. Biopesticides
8.1.1.2. Biostimulants
8.2. Middle East & Africa Biostimulants and Biopesticides Market Outlook, by Crop Type, Value (US$ Bn), 2018 - 2030
8.2.1. Key Highlights
8.2.1.1. Fruits & Vegetables
8.2.1.2. Cereals & Grains
8.2.1.3. Turf & Ornamentals
8.2.1.4. Oilseeds & Pulses
8.2.1.5. Other Crops
8.3. Middle East & Africa Biostimulants and Biopesticides Market Outlook, by Application Method, Value (US$ Bn), 2018 - 2030
8.3.1. Key Highlights
8.3.1.1. Foliar Treatment
8.3.1.2. Soil Treatment
8.3.1.3. Seed Treatment
8.4. Middle East & Africa Biostimulants and Biopesticides Market Outlook, by Form, Value (US$ Bn), 2018 - 2030
8.4.1. Key Highlights
8.4.1.1. Liquid
8.4.1.2. Dry
8.5. Middle East & Africa Biostimulants and Biopesticides Market Outlook, by Distribution Channel, Value (US$ Bn), 2018 - 2030
8.5.1. Key Highlights
8.5.1.1. Direct
8.5.1.2. Indirect
8.5.2. BPS Analysis/Market Attractiveness Analysis
8.6. Middle East & Africa Biostimulants and Biopesticides Market Outlook, by Country, Value (US$ Bn), 2018 - 2030
8.6.1. Key Highlights
8.6.1.1. GCC Biostimulants and Biopesticides Market by Type, Value (US$ Bn), 2018 - 2030
8.6.1.2. GCC Biostimulants and Biopesticides Market, by Crop Type, Value (US$ Bn), 2018 - 2030
8.6.1.3. GCC Biostimulants and Biopesticides Market, by Application Method, Value (US$ Bn), 2018 - 2030
8.6.1.4. GCC Biostimulants and Biopesticides Market, by Form, Value (US$ Bn), 2018 - 2030
8.6.1.5. GCC Biostimulants and Biopesticides Market, by Distribution Channel, Value (US$ Bn), 2018 - 2030
8.6.1.6. South Africa Biostimulants and Biopesticides Market by Type, Value (US$ Bn), 2018 - 2030
8.6.1.7. South Africa Biostimulants and Biopesticides Market, by Crop Type, Value (US$ Bn), 2018 - 2030
8.6.1.8. South Africa Biostimulants and Biopesticides Market, by Application Method, Value (US$ Bn), 2018 - 2030
8.6.1.9. South Africa Biostimulants and Biopesticides Market, by Form, Value (US$ Bn), 2018 - 2030
8.6.1.10. South Africa Biostimulants and Biopesticides Market, by Distribution Channel, Value (US$ Bn), 2018 - 2030
8.6.1.11. Egypt Biostimulants and Biopesticides Market by Type, Value (US$ Bn), 2018 - 2030
8.6.1.12. Egypt Biostimulants and Biopesticides Market, by Crop Type, Value (US$ Bn), 2018 - 2030
8.6.1.13. Egypt Biostimulants and Biopesticides Market, by Application Method, Value (US$ Bn), 2018 - 2030
8.6.1.14. Egypt Biostimulants and Biopesticides Market, by Form, Value (US$ Bn), 2018 - 2030
8.6.1.15. Egypt Biostimulants and Biopesticides Market, by Distribution Channel, Value (US$ Bn), 2018 - 2030
8.6.1.16. Nigeria Biostimulants and Biopesticides Market by Type, Value (US$ Bn), 2018 - 2030
8.6.1.17. Nigeria Biostimulants and Biopesticides Market, by Crop Type, Value (US$ Bn), 2018 - 2030
8.6.1.18. Nigeria Biostimulants and Biopesticides Market, by Application Method, Value (US$ Bn), 2018 - 2030
8.6.1.19. Nigeria Biostimulants and Biopesticides Market, by Form, Value (US$ Bn), 2018 - 2030
8.6.1.20. Nigeria Biostimulants and Biopesticides Market, by Distribution Channel, Value (US$ Bn), 2018 - 2030
8.6.1.21. Rest of Middle East & Africa Biostimulants and Biopesticides Market by Type, Value (US$ Bn), 2018 - 2030
8.6.1.22. Rest of Middle East & Africa Biostimulants and Biopesticides Market, by Crop Type, Value (US$ Bn), 2018 - 2030
8.6.1.23. Rest of Middle East & Africa Biostimulants and Biopesticides Market, by Application Method, Value (US$ Bn), 2018 - 2030
8.6.1.24. Rest of Middle East & Africa Biostimulants and Biopesticides Market, by Form, Value (US$ Bn), 2018 - 2030
8.6.1.25. Rest of Middle East & Africa Biostimulants and Biopesticides Market, by Distribution Channel, Value (US$ Bn), 2018 - 2030
8.6.2. BPS Analysis/Market Attractiveness Analysis


9. Competitive Landscape
9.1. Heat Map Analysis
9.2. Company Market Share Analysis, 2022
9.3. Competitive Dashboard
9.4. Company Profiles
9.4.1. Bayer Crop Science
9.4.1.1. Company Overview
9.4.1.2. Product Portfolio
9.4.1.3. Financial Overview
9.4.1.4. Business Strategies and Development
9.4.2. BASF SE
9.4.2.1. Company Overview
9.4.2.2. Product Portfolio
9.4.2.3. Financial Overview
9.4.2.4. Business Strategies and Development
9.4.3. Syngenta (ChemChina)
9.4.3.1. Company Overview
9.4.3.2. Product Portfolio
9.4.3.3. Financial Overview
9.4.3.4. Business Strategies and Development
9.4.4. Corteva Agriscience
9.4.4.1. Company Overview
9.4.4.2. Product Portfolio
9.4.4.3. Financial Overview
9.4.4.4. Business Strategies and Development
9.4.5. Biofa GmbH
9.4.5.1. Company Overview
9.4.5.2. Product Portfolio
9.4.5.3. Financial Overview
9.4.5.4. Business Strategies and Development
9.4.6. Certis Europe B.V
9.4.6.1. Company Overview
9.4.6.2. Product Portfolio
9.4.6.3. Financial Overview
9.4.6.4. Business Strategies and Development
9.4.7. COMPO EXPERT GmbH
9.4.7.1. Company Overview
9.4.7.2. Product Portfolio
9.4.7.3. Financial Overview
9.4.7.4. Business Strategies and Development
9.4.8. BIOBEST GROUP NV
9.4.8.1. Company Overview
9.4.8.2. Product Portfolio
9.4.8.3. Business Strategies and Development
9.4.9. AGLUKON
9.4.9.1. Company Overview
9.4.9.2. Product Portfolio
9.4.9.3. Financial Overview
9.4.9.4. Business Strategies and Development
9.4.10. Humintech GmbH
9.4.10.1. Company Overview
9.4.10.2. Product Portfolio
9.4.10.3. Financial Overview
9.4.10.4. Business Strategies and Development

10. Appendix
10.1. Research Methodology
10.2. Report Assumptions
10.3. Acronyms and Abbreviations