Global Carbon Dioxide Removal (CDR) Market Forecast
Global carbon dioxide removal market will rise high at a significant CAGR of 20% during 2023 - 2030
Market value likely to reach around US$1.5 Bn by the end of 2030
Market Analysis in Brief
Net-zero emissions targets must be met quickly, and significant emissions reductions are predicted to result from initiatives like fossil fuel replacement and efficiency enhancement. However, it is becoming increasingly obvious that reducing atmospheric carbon dioxide (CO2) is necessary to prevent global warming from exceeding 1.5–2°C. Without utilising carbon dioxide removal (CDR) technologies, estimates vary, but climate models indicate that reaching the targets outlined in the Paris Agreement will be nearly impossible. Because of this, NETs are attracting more interest from academics, governing bodies, investors, businesspeople, and organisations with aspirational environmental objectives. Government policies that are predicted to be more supportive, as well as increased investment and cooperation among market participants, are likely to fuel the expansion of the carbon dioxide removal market.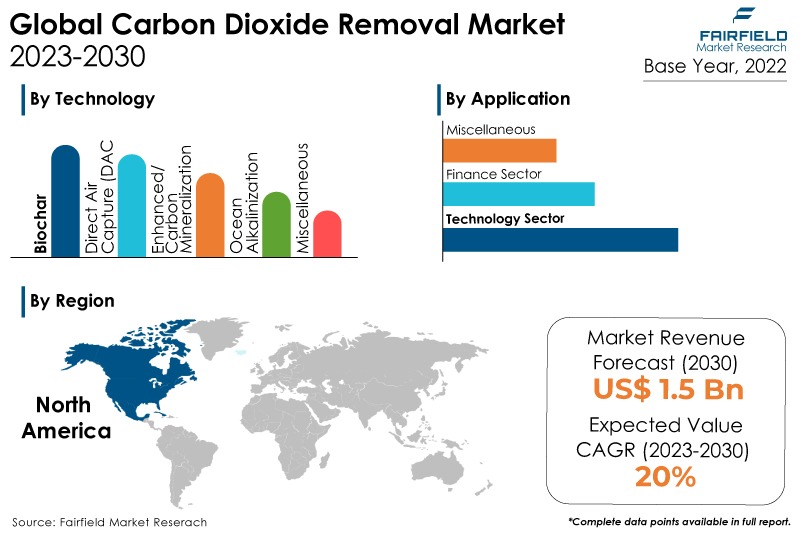 However, some factors impeding the market expansion are the high energy costs associated with some technologies and the absence of monitoring, reporting, and verification. The significance of CDR technologies and practices in the climate transition is still debatable. Still, the world will almost certainly require some negative emissions to achieve climate neutrality - to deal with the remaining emissions that are currently hard to control. This must occur in a well-regulated, predictable, and environmentally safe manner without diverting attention away from the critical objective of reducing carbon emissions from all sectors of the economy as quickly as possible.
The increasing focus on reducing CO2 emissions, support for government initiatives, and increased demand for CO2-EOR techniques are the primary factors propelling the global market for carbon dioxide removal. The rapid industrialisation of the entire world has led to an increase in carbon dioxide emissions. The governments of various industrialised and developing countries, including the US, the Netherlands, the UK, China, and India, are building extensive carbon capture and storage facilities to reduce their carbon footprints.
Key Report Findings
The main drivers of the global market for carbon dioxide removal include the growing emphasis on lowering CO2 emissions, support for government efforts, and increased demand for CO2-EOR procedures.
Demand for biochar remains higher in the carbon dioxide removal market.
The technology sector category held the highest carbon dioxide removal market revenue share in 2022.
North America will continue to lead its way, whereas Europe's carbon dioxide removal market will experience the strongest growth till 2030.
Growth Drivers
Demand for Nature-based CDR Solutions Higher
Due to their low cost and high maturity, nature-based solutions, particularly land-based ones, now account for most CDR supply. However, they are difficult to monitor, and carbon sequestration's long-term sustainability is unknown. There is a need for methodologies to ensure that removals are robustly and openly quantified in quantity and permanence.
On the other hand, BECCS and Direct Air Carbon Capture and Storage, frequently referred to as "engineered" CDR solutions, are more affordable but still have a high cost that prevents their broad use. Despite its limited current capability, DACCS has garnered a lot of interest in removing CO2 from the environment and stopping climate change permanently. DACCS may be applied almost everywhere, is immediate, quantifiable, enables long-term storage, and is most likely to have little environmental effect.
Rising Developments CDR Technology
The product category explains the various carbon dioxide removal technologies and their possibilities on a worldwide scale for the reader. Key players operating in the space frequently use business expansion, partnerships, collaboration, and joint ventures as part of their strategies. For instance, Occidental Petroleum Corp. and Carbon Engineering Ltd. began constructing a carbon removal plant in the US Permian area in October 2022. Using direct air capture technology, the plant could remove 500,000 tonnes of carbon dioxide from the environment per year.
Technology suppliers are important market participants in the worldwide carbon dioxide removal industry analysed and profiled in the report. To further assist the reader in understanding how players compare to one another and give a comprehensive picture of the market, a thorough competitive benchmarking of the players operating in the worldwide carbon dioxide removal market has been conducted. Additionally, thorough competitive strategies, including alliances, contracts, and collaborations, will help readers comprehend the market's latent revenue potential.
Growth Challenges
High-quality CDR Solutions
It is essential for businesses to source high-quality CDR solutions to avoid potential reputational risks associated with making climate claims that cannot be supported by the CDR solutions they have purchased and to ensure that they have the intended climate impact from their purchase of the solution.
Eight environmental integrity drivers that are important for CDR and emission avoidance credits determine the quality of carbon credits. However, it is projected that the expensive nature of capturing and storing carbon, as well as the declining price of crude oil, will restrain the growth of the atmospheric carbon dioxide market over the anticipated period.
Overview of Key Segments
Direct Air Capture (DAC) Technologies Sought-after
In 2022, direct air capture is predicted to account for a sizable portion of the worldwide carbon dioxide removal market. Many millions of dollars are being invested in establishing direct air capture in major economies across the world. These countries are expected to develop more coal-fired power plants throughout the projection period, hence speeding direct air capture (DAC) technology. Technologies known as direct air capture (DAC) remove CO2 from the atmCO2osphere directly for storage or use.
Around the world, 27 DAC plants have been put into operation, removing roughly 0.01 Mt of CO2 annually. At least 130 DAC facilities have various phases of development in their plans right present. DAC deployment would reach the level necessary in 2030 under the net-zero emission by 2050 (NZE) Scenario, or around 75 MtCO2/year if all projects advanced (even those only in the idea stage). By increasing the tax credit for 45Q to US$ 180/t CO2 collected for storing via DAC, with a capture threshold as low as 1 kt CO2/year, the United States announced significant new financing in 2022 under the Inflation Reduction Act (IRA).
Biochar Remains a Prominent Segment
The carbon dioxide removal market is dominated by biochar. Biochar is a type of charcoal produced by pyrolysis at high temperatures (300–6000°C) and without using oxygen from biomass inputs like wood, sawdust, crop leftovers, or manure. Numerous biochar production facilities are active; however, the majority are relatively modest in size.
Given its 1,000-year durability when produced at high temperatures, biochar is a promising technology for the future, but there are still concerns about the viability of such extensive production.
Technology Sector Creates the Maximum Demand
Because of the increasing number of carbon dioxide removal projects, the technology category is expected to rise significantly in the global carbon dioxide removal market. Carbon dioxide has been utilised in enhanced oil recovery (EOR) projects in Texas (US) for over three decades. EOR accounts for more than 20% of total oil output, with some fields achieving up to 70% recoveries. The Kyoto Clean Development Mechanism is used by most OPEC countries that embrace CCUS technology.
Growth Opportunities Across Regions
North America Dominant
The carbon dioxide removal market will continue to dominate North America because of the many government incentives and financial investments made by industry players to implement carbon dioxide removal technologies widely. This is because significant funds have been invested in numerous R&D initiatives and large-scale carbon capture and storage facilities.
The financial initiatives started by regional governments have also been advantageous. For instance, the United States Department of Energy (DoE) proposed a US$12 Mn federal assistance for six research and development efforts promoting the development of direct air capture (DAC) technology in June 2021 to create new strategies for efficiently absorbing CO2 from the environment.
Furthermore, the demand for carbon dioxide removal in the US has increased due to the increased focus on sustainability. Due to its strict regulatory environment, innovative sector, emphasis on sustainability, and well-connected supply chain network, the United Kingdom has a substantial market share in the carbon dioxide removal market.
However, due to these distinctive qualities, the US has taken a leading role in promoting the uptake and expansion of carbon dioxide removal domestically and internationally.
Market in Europe Gains from Favourable Government Initiatives
Europe's carbon dioxide removal market will display a significant CAGR over the forecast period. The growth of this market is mainly attributed to the various government policies for carbon removal and increasing awareness about forestation. These principles serve as the foundation for the criteria in the European Commission's proposal to certify carbon removals.
The increased scrutiny lends legitimacy and creates a business opportunity for more environmentally friendly, technologically advanced CO2 reductions. For instance, the pricing range for CO2 removals on the Finnish puro. Earth market is between 20 and 535 euros per tonne of CO2 equivalent, with the high end giving CO2 removals based on certified biochar production.
However, for now, forest management and the manufacture of wood products dominate the removal of carbon dioxide in Europe; BECCS, biochar, and other innovative technologies account for only around 0.1% of the 2 GtCO2 removed annually.
While the cost of emitting pollutants is a major financial burden, preventing and eliminating emissions becomes a more commercially viable endeavor. This is a key factor in developing and applying CCUS in the EU ETS sector, as the most expensive component of CO2 capture typically costs between 15 and 120 US$/tCO2.
Carbon dioxide removal market: Competitive Landscape
Some of the leading players at the forefront in the carbon dioxide removal market space include Climeworks, Global Thermostat, Carbon Engineering Ltd., Arca, Cella Mineral Storage Inc., Bussme Energy AB, Carbofex Ltd., Oregon Biochar Solutions, Wakefield BioChar, Novocarbo GmbH, Carbicrete, Neustark Ag, Ebb Carbon, CarbonCure Technologies Inc., CarbonFree, Carbfix hf., Blue Planet Systems, Pacific Biochar Benefit Corporation, HEIMDAL, and Charm Industrial.
Recent Notable Developments
In January 2023, to meet the temperature objective of the Paris Agreement, which calls for keeping global warming well below 2 degrees Celsius and pursuing efforts to restrict it to 1.5 degrees Celsius, carbon dioxide extraction (CDR) from the environment is necessary, coupled with significantly reducing emissions. This is underlined in the first "State of Carbon Dioxide Removal" report, organised by Oxford University's Smith School of Business and the Environment, and brought together more than 20 specialists in CDR. The Berlin-based MCC (Mercator Research Institute on Global Commons and Climate Change) was one of its co-leaders.
In October 2022, Carbon Engineering Ltd. and Occidental Petroleum Corp constructed a carbon removal facility in the U.S. Permian Basin. The project would be able to take 500,000 tonnes of carbon dioxide out of the atmosphere annually using direct air capture technology.
Global Carbon dioxide removal market is Segmented as Below:
By Technology Type
Biochar
Direct Air Capture (DAC)
Enhanced/Carbon Mineralization
Ocean Alkalinization
Miscellaneous
By Application
Finance Sector
Technology Sector
Miscellaneous
By Geographic Coverage
North America
Europe

U.K.
Germany
France
Italy
Spain
Rest of Europe

Asia Pacific

Japan
China
India
Southeast Asia
Rest of Asia Pacific

Latin America

Brazil
Mexico
Rest of Latin America

Middle East and Africa

GCC
Rest of Middle East & Africa
1. Executive Summary
1.1. Global Carbon Dioxide Removal (CDR) Market Snapshot
1.2. Future Projections
1.3. Key Market Trends
1.4. Regional Snapshot, by Value, 2022
1.5. Analyst Recommendations
2. Market Overview
2.1. Market Definitions and Segmentations
2.2. Market Dynamics
2.2.1. Drivers
2.2.2. Restraints
2.2.3. Market Opportunities
2.3. Value Chain Analysis
2.4. Porter's Five Forces Analysis
2.5. Covid-19 Impact Analysis
2.5.1. Supply
2.5.2. Demand
2.6. Impact of Ukraine-Russia Conflict
2.7. Economic Overview
2.7.1. World Economic Projections
2.8. PESTLE Analysis
3. Global Carbon Dioxide Removal (CDR) Market Outlook, 2018 - 2030
3.1. Global Carbon Dioxide Removal (CDR) Market Outlook, by Technology Type, Value (US$ Mn), 2018 - 2030
3.1.1. Key Highlights
3.1.1.1. Biochar
3.1.1.2. Direct Air Capture (DAC)
3.1.1.3. Enhanced/Carbon Mineralization
3.1.1.4. Ocean Alkalinization
3.1.1.5. Misc.
3.2. Global Carbon Dioxide Removal (CDR) Market Outlook, by Application, Value (US$ Mn), 2018 - 2030
3.2.1. Key Highlights
3.2.1.1. Finance Sector
3.2.1.2. Technology Sector
3.2.1.3. Misc.
3.3. Global Carbon Dioxide Removal (CDR) Market Outlook, by Region, Value (US$ Mn), 2018 - 2030
3.3.1. Key Highlights
3.3.1.1. North America
3.3.1.2. Europe
3.3.1.3. Asia Pacific
3.3.1.4. Latin America
3.3.1.5. Middle East & Africa
4. North America Carbon Dioxide Removal (CDR) Market Outlook, 2018 - 2030
4.1. North America Carbon Dioxide Removal (CDR) Market Outlook, by Technology Type, Value (US$ Mn), 2018 - 2030
4.1.1. Key Highlights
4.1.1.1. Biochar
4.1.1.2. Direct Air Capture (DAC)
4.1.1.3. Enhanced/Carbon Mineralization
4.1.1.4. Ocean Alkalinization
4.1.1.5. Misc.
4.2. North America Carbon Dioxide Removal (CDR) Market Outlook, by Application, Value (US$ Mn), 2018 - 2030
4.2.1. Key Highlights
4.2.1.1. Finance Sector
4.2.1.2. Technology Sector
4.2.1.3. Misc.
4.2.2. Market Attractiveness Analysis
4.3. North America Carbon Dioxide Removal (CDR) Market Outlook, by Country, Value (US$ Mn), 2018 - 2030
4.3.1. Key Highlights
4.3.1.1. U.S. Carbon Dioxide Removal (CDR) Market by Technology Type, Value (US$ Mn), 2018 - 2030
4.3.1.2. U.S. Carbon Dioxide Removal (CDR) Market End-user, Value (US$ Mn), 2018 - 2030
4.3.1.3. Canada Carbon Dioxide Removal (CDR) Market by Technology Type, Value (US$ Mn), 2018 - 2030
4.3.1.4. Canada Carbon Dioxide Removal (CDR) Market End-user, Value (US$ Mn), 2018 - 2030
4.3.2. BPS Analysis/Market Attractiveness Analysis
5. Europe Carbon Dioxide Removal (CDR) Market Outlook, 2018 - 2030
5.1. Europe Carbon Dioxide Removal (CDR) Market Outlook, by Technology Type, Value (US$ Mn), 2018 - 2030
5.1.1. Key Highlights
5.1.1.1. Biochar
5.1.1.2. Direct Air Capture (DAC)
5.1.1.3. Enhanced/Carbon Mineralization
5.1.1.4. Ocean Alkalinization
5.1.1.5. Misc.
5.2. Europe Carbon Dioxide Removal (CDR) Market Outlook, by Application, Value (US$ Mn), 2018 - 2030
5.2.1. Key Highlights
5.2.1.1. Finance Sector
5.2.1.2. Technology Sector
5.2.1.3. Misc.
5.2.2. BPS Analysis/Market Attractiveness Analysis
5.3. Europe Carbon Dioxide Removal (CDR) Market Outlook, by Country, Value (US$ Mn), 2018 - 2030
5.3.1. Key Highlights
5.3.1.1. Germany Carbon Dioxide Removal (CDR) Market by Technology Type, Value (US$ Mn), 2018 - 2030
5.3.1.2. Germany Carbon Dioxide Removal (CDR) Market End-user, Value (US$ Mn), 2018 - 2030
5.3.1.3. U.K. Carbon Dioxide Removal (CDR) Market by Technology Type, Value (US$ Mn), 2018 - 2030
5.3.1.4. U.K. Carbon Dioxide Removal (CDR) Market End-user, Value (US$ Mn), 2018 - 2030
5.3.1.5. France Carbon Dioxide Removal (CDR) Market by Technology Type, Value (US$ Mn), 2018 - 2030
5.3.1.6. France Carbon Dioxide Removal (CDR) Market End-user, Value (US$ Mn), 2018 - 2030
5.3.1.7. Italy Carbon Dioxide Removal (CDR) Market by Technology Type, Value (US$ Mn), 2018 - 2030
5.3.1.8. Italy Carbon Dioxide Removal (CDR) Market End-user, Value (US$ Mn), 2018 - 2030
5.3.1.9. Russia Carbon Dioxide Removal (CDR) Market by Technology Type, Value (US$ Mn), 2018 - 2030
5.3.1.10. Russia Carbon Dioxide Removal (CDR) Market End-user, Value (US$ Mn), 2018 - 2030
5.3.1.11. Rest of Europe Carbon Dioxide Removal (CDR) Market by Technology Type, Value (US$ Mn), 2018 - 2030
5.3.1.12. Rest of Europe Carbon Dioxide Removal (CDR) Market End-user, Value (US$ Mn), 2018 - 2030
5.3.2. BPS Analysis/Market Attractiveness Analysis
6. Asia Pacific Carbon Dioxide Removal (CDR) Market Outlook, 2018 - 2030
6.1. Asia Pacific Carbon Dioxide Removal (CDR) Market Outlook, by Technology Type, Value (US$ Mn), 2018 - 2030
6.1.1. Key Highlights
6.1.1.1. Biochar
6.1.1.2. Direct Air Capture (DAC)
6.1.1.3. Enhanced/Carbon Mineralization
6.1.1.4. Ocean Alkalinization
6.1.1.5. Misc.
6.2. Asia Pacific Carbon Dioxide Removal (CDR) Market Outlook, by Application, Value (US$ Mn), 2018 - 2030
6.2.1. Key Highlights
6.2.1.1. Finance Sector
6.2.1.2. Technology Sector
6.2.1.3. Misc.
6.2.2. BPS Analysis/Market Attractiveness Analysis
6.3. Asia Pacific Carbon Dioxide Removal (CDR) Market Outlook, by Country, Value (US$ Mn), 2018 - 2030
6.3.1. Key Highlights
6.3.1.1. China Carbon Dioxide Removal (CDR) Market by Technology Type, Value (US$ Mn), 2018 - 2030
6.3.1.2. China Carbon Dioxide Removal (CDR) Market End-user, Value (US$ Mn), 2018 - 2030
6.3.1.3. Japan Carbon Dioxide Removal (CDR) Market by Technology Type, Value (US$ Mn), 2018 - 2030
6.3.1.4. Japan Carbon Dioxide Removal (CDR) Market End-user, Value (US$ Mn), 2018 - 2030
6.3.1.5. South Korea Carbon Dioxide Removal (CDR) Market by Technology Type, Value (US$ Mn), 2018 - 2030
6.3.1.6. South Korea Carbon Dioxide Removal (CDR) Market End-user, Value (US$ Mn), 2018 - 2030
6.3.1.7. India Carbon Dioxide Removal (CDR) Market by Technology Type, Value (US$ Mn), 2018 - 2030
6.3.1.8. India Carbon Dioxide Removal (CDR) Market End-user, Value (US$ Mn), 2018 - 2030
6.3.1.9. Southeast Asia Carbon Dioxide Removal (CDR) Market by Technology Type, Value (US$ Mn), 2018 - 2030
6.3.1.10. Southeast Asia Carbon Dioxide Removal (CDR) Market End-user, Value (US$ Mn), 2018 - 2030
6.3.1.11. Rest of Asia Pacific Carbon Dioxide Removal (CDR) Market by Technology Type, Value (US$ Mn), 2018 - 2030
6.3.1.12. Rest of Asia Pacific Carbon Dioxide Removal (CDR) Market End-user, Value (US$ Mn), 2018 - 2030
6.3.2. BPS Analysis/Market Attractiveness Analysis
7. Latin America Carbon Dioxide Removal (CDR) Market Outlook, 2018 - 2030
7.1. Latin America Carbon Dioxide Removal (CDR) Market Outlook, by Technology Type, Value (US$ Mn), 2018 - 2030
7.1.1. Key Highlights
7.1.1.1. Biochar
7.1.1.2. Direct Air Capture (DAC)
7.1.1.3. Enhanced/Carbon Mineralization
7.1.1.4. Ocean Alkalinization
7.1.1.5. Misc.
7.2. Latin America Carbon Dioxide Removal (CDR) Market Outlook, by Application, Value (US$ Mn), 2018 - 2030 7.2.1. Key Highlights
7.2.1.1. Finance Sector
7.2.1.2. Technology Sector
7.2.1.3. Misc.
7.2.2. BPS Analysis/Market Attractiveness Analysis
7.3. Latin America Carbon Dioxide Removal (CDR) Market Outlook, by Country, Value (US$ Mn), 2018 - 2030
7.3.1. Key Highlights
7.3.1.1. Brazil Carbon Dioxide Removal (CDR) Market by Technology Type, Value (US$ Mn), 2018 - 2030
7.3.1.2. Brazil Carbon Dioxide Removal (CDR) Market End-user, Value (US$ Mn), 2018 - 2030
7.3.1.3. Mexico Carbon Dioxide Removal (CDR) Market by Technology Type, Value (US$ Mn), 2018 - 2030
7.3.1.4. Mexico Carbon Dioxide Removal (CDR) Market End-user, Value (US$ Mn), 2018 - 2030
7.3.1.5. Rest of Latin America Carbon Dioxide Removal (CDR) Market by Technology Type, Value (US$ Mn), 2018 - 2030
7.3.1.6. Rest of Latin America Carbon Dioxide Removal (CDR) Market End-user, Value (US$ Mn), 2018 - 2030
7.3.2. BPS Analysis/Market Attractiveness Analysis
8. Middle East & Africa Carbon Dioxide Removal (CDR) Market Outlook, 2018 - 2030
8.1. Middle East & Africa Carbon Dioxide Removal (CDR) Market Outlook, by Technology Type, Value (US$ Mn), 2018 - 2030
8.1.1. Key Highlights
8.1.1.1. Biochar
8.1.1.2. Direct Air Capture (DAC)
8.1.1.3. Enhanced/Carbon Mineralization
8.1.1.4. Ocean Alkalinization
8.1.1.5. Misc.
8.2. Middle East & Africa Carbon Dioxide Removal (CDR) Market Outlook, by Application, Value (US$ Mn), 2018 - 2030
8.2.1. Key Highlights
8.2.1.1. Finance Sector
8.2.1.2. Technology Sector
8.2.1.3. Misc.
8.2.2. BPS Analysis/Market Attractiveness Analysis
8.3. Middle East & Africa Carbon Dioxide Removal (CDR) Market Outlook, by Country, Value (US$ Mn), 2018 - 2030
8.3.1. Key Highlights
8.3.1.1. GCC Carbon Dioxide Removal (CDR) Market by Technology Type, Value (US$ Mn), 2018 - 2030
8.3.1.2. GCC Carbon Dioxide Removal (CDR) Market End-user, Value (US$ Mn), 2018 - 2030
8.3.1.3. Rest of Middle East & Africa Carbon Dioxide Removal (CDR) Market by Technology Type, Value (US$ Mn), 2018 - 2030
8.3.1.4. Rest of Middle East & Africa Carbon Dioxide Removal (CDR) Market End-user, Value (US$ Mn), 2018 - 2030
8.3.2. BPS Analysis/Market Attractiveness Analysis
9. Competitive Landscape
9.1. Company Market Share Analysis, 2022
9.2. Competitive Dashboard
9.3. Company Profiles
9.3.1. Climeworks
9.3.1.1. Company Overview
9.3.1.2. Product Portfolio
9.3.1.3. Financial Overview
9.3.1.4. Business Strategies and Development
9.3.2. Global Thermostat
9.3.2.1. Company Overview
9.3.2.2. Product Portfolio
9.3.2.3. Financial Overview
9.3.2.4. Business Strategies and Development
9.3.3. Carbon Engineering Ltd.
9.3.3.1. Company Overview
9.3.3.2. Product Portfolio
9.3.3.3. Financial Overview
9.3.3.4. Business Strategies and Development
9.3.4. Arca
9.3.4.1. Company Overview
9.3.4.2. Product Portfolio
9.3.4.3. Financial Overview
9.3.4.4. Business Strategies and Development
9.3.5. Cella Mineral Storage Inc.
9.3.5.1. Company Overview
9.3.5.2. Product Portfolio
9.3.5.3. Financial Overview
9.3.5.4. Business Strategies and Development
9.3.6. Bussme Energy AB
9.3.6.1. Company Overview
9.3.6.2. Product Portfolio
9.3.6.3. Financial Overview
9.3.6.4. Business Strategies and Development
9.3.7. Carbofex Ltd.
9.3.7.1. Company Overview
9.3.7.2. Product Portfolio
9.3.7.3. Financial Overview
9.3.7.4. Business Strategies and Development
9.3.8. Oregon Biochar Solutions
9.3.8.1. Company Overview
9.3.8.2. Product Portfolio
9.3.8.3. Business Strategies and Development
9.3.9. Wakefield BioChar
9.3.9.1. Company Overview
9.3.9.2. Product Portfolio
9.3.9.3. Financial Overview
9.3.9.4. Business Strategies and Development
9.3.10. Novocarbo GmbH
9.3.10.1. Company Overview
9.3.10.2. Product Portfolio
9.3.10.3. Financial Overview
9.3.10.4. Business Strategies and Development
9.3.11. Carbicrete
9.3.11.1. Company Overview
9.3.11.2. Product Portfolio
9.3.11.3. Financial Overview
9.3.11.4. Business Strategies and Development
9.3.12. Neustark Ag
9.3.12.1. Company Overview
9.3.12.2. Product Portfolio
9.3.12.3. Financial Overview
9.3.12.4. Business Strategies and Development
10. Appendix
10.1. Research Methodology
10.2. Report Assumptions
10.3. Acronyms and Abbreviations