The global carbon dioxide utilization market will rise at a significant pace of 14.3% CAGR during the period of assessment, 2023 - 2030, reaching a market value of around US$9.9 Bn by the end of 2030.
Market Analysis in Brief
Global industrialisation is speeding up, which is causing a rise in carbon dioxide emissions. Several governments are at the forefront of building multiple carbon dioxide capture and storage facilities to lessen their contribution to the global carbon footprint. During the forecast period, this factor is anticipated to propel the market growth for carbon dioxide utilization. The carbon capture, utilization, and storage (CCUS) process involves seizing of carbon dioxide from fuel combustion or industrial processes, transporting it by ship or pipeline, and either using it as a resource to produce useful goods or services, or permanently storing it underground in geological formations. The carbon capture and storage (CCS) technologies also lay the groundwork for carbon removal or negative emissions when the CO2 originates from bio-based processes or the atmosphere.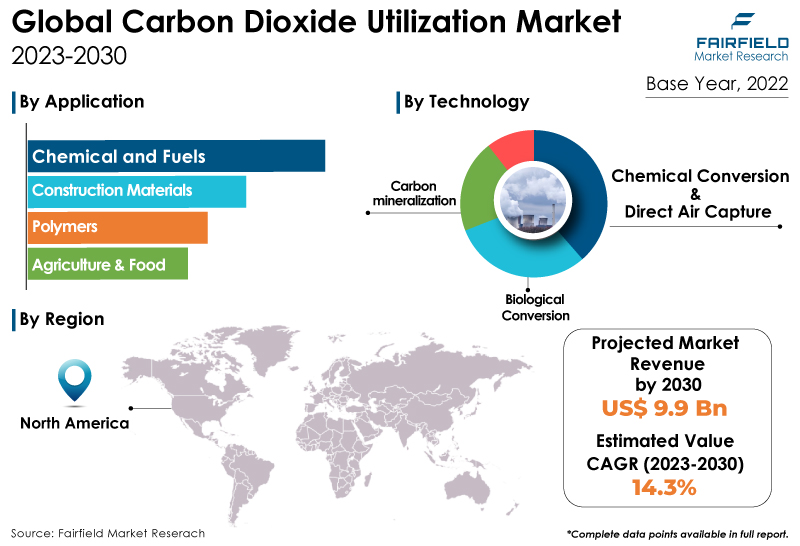 Key Report Findings
The market for carbon dioxide utilization will demonstrate substantial expansion in revenue over the decade, i.e., between 2023 and 2030.
Demand for post-combustion capture remains higher in the carbon dioxide utilization market.
The oil & gas power generation end user category held the highest revenue share of the carbon dioxide utilization market in 2022.
North America will continue to lead its way, whereas the Asia Pacific carbon dioxide utilization market will experience the strongest growth till 2030.
Growth Drivers
Increased Demand for Natural Gas in Line with Improving Environmental Consciousness
The demand for carbon capture, utilization, and storage has been constantly on the rise because of stringent environmental regulatory measures. The most significant energy fuel sources are petrol, diesel, petroleum products, and natural gas. These fuels are dangerous to the environment, and their exploration and production are detrimental. However, natural gas is regarded as the alternative fuel for sustainable growth because it lowers GHG emissions, slows global warming, and cuts carbon emissions.
The US government has implemented several rules and regulations to reduce the risks related to using petrol and diesel as fuel and to promote using natural gas. Countries with significant natural gas reserves are considering the benefits of carbon capture, utilization, and storage, which will result in decreased carbon emissions.
The US-China Energy Cooperation Programme is a partnership between China, and the US that significantly contributes to global GHG emissions, engaged in 2010. Plans for action on climate change, sustainable energy, and energy efficiency are all included in this international climate pact. By 2035, the world's energy consumption will have increased by 50%, predict the Energy Information Administration and Institute of Energy Economics Japan. This will further raise the need for carbon collection, use, and storage, in turn bolstering the growth of the carbon dioxide utilization market.
Growing Role of Carbon Dioxide Utilization in Ambitious Global Climate Targets
The sector that uses carbon dioxide is expanding because it offers a way to meet the ambitious climate targets that the world has set. The regions of North America, and Europe are anticipating substantial investments in this technology. The industry is driven by increased demand for carbon goods from different industries and consumers. In the past few years, polymers based on carbon dioxide have increased significantly in the European, and Asia Pacific regions.
The manufacturing procedures for polymers primarily use carbon dioxide. The use of carbon dioxide in common chemicals, building materials, and fuels has enormous potential. The solid carbon industry, which includes carbon nanotubes, diamonds, carbon fibre, and the protein industry, will be the best use of carbon dioxide utilization. The market for carbon utilization is anticipated to grow greatly during the predicted time because of increased technological use in gas and oil exploration activities.
Market Opportunity
Growing Adoption for Enhanced Oil Recovery
Utilizing carbon dioxide for better oil recovery techniques will become increasingly important for both onshore and offshore activities. The need for carbon dioxide is rising to support the oil and gas industry, and activities involving enhanced oil recovery. The demand in these industries will create a massive opportunity in the upcoming years.
Overview of Key Segments
Chemical Conversion and Direct Air Capture Technology to Hold Significant Shares
The chemical conversion and direct air capture technology will dominate the carbon dioxide utilization market over the forecast period. Chemical conversion technology is largely used to produce chemical and synthetic fuels. This technology can be used for production of methanol, ethanol, and formaldehyde. Furthermore, the carbon dioxide is also utilized to produce formic acid, and carbon monoxide. Formic acid can be used as a base material for a range of chemicals, as well as energy storage applications. Carbon monoxide in combination with hydrogen is used to produce syngas.
Direct air capture is another promising technology used to convert carbon dioxide into chemicals, and synthetic fuels. With this technology capture carbon dioxide, and hydrogen are reacted to produce hydrocarbon chemicals that can be directly or refined further to convert into compatible fuels such as gasoline, jet fuel, and diesel. Carbon Engineering, a Canada-based clean energy company has been targeting the commercialisation of direct air capture technology that captures carbon dioxide directly from the atmosphere.
Chemicals, and Fuels Form a Dominant Segment
Chemicals, and fuels will be the dominating segments in the carbon dioxide utilization market over the forecast period. The market share of these industry verticals will rise high because of the mounting demand for carbon-derived chemicals and petrochemicals. The usage of carbon dioxide to produce chemicals is likely to provide opportunity to prevent millions of tons of CO2 emissions every year. This will also decrease the dependency on the usage of fossil fuels, one of the major factors contributing to the CO2 emissions.
Companies are focusing on the production of synthetic fuels with the help of carbon dioxide. Carbon Recycling International, an Ireland-based e-methanol technology supplier has developed a technology to produce methanol from carbon dioxide. This methanol can be used as fuel additive or in the production of biodiesels.
Growth Opportunities Across Regions
North America Continues to be the Leading Regional Pocket
The carbon dioxide utilization market will continue to see dominance of North America owing to the growing need for clean technology. The North American market accounts for the largest market share and the carbon dioxide has been widely used in enhanced oil recovery practices in the North American region. Carbon dioxide utilization in these plants is projected to drive the market in countries such as Canada, and the United States.
The US accounts for approximately 75% of global carbon capture capacity in enhanced oil recovery activities. Furthermore, Under the 45Q provision, the country enacted the Furthering Capital Carbon Capture, Utilization, Technology, Underground Storage, and Reduced Emissions (FUTURE Act) to give incentives for capturing the carbon dioxide produced by industrial and power sources to be utilized in enhanced oil recovery. With the development of shale gas techniques, and the new government's lack of interest in carbon capturing, the market here is expected to observe a moderate pace in the near future, increasing North America's market share in the carbon capture, utilization, and storage market.
Asia Pacific Holds Promising Growth Potential
The market for carbon dioxide utilization across the Asia Pacific will display a significant CAGR over the forecast period. This is due to tremendous industrial development in countries such as China. According to the People's Republic of China's State Council, the country's industrial output increased by 3.6% year on year in 2022, sustaining the country's industrial production development. Furthermore, the country is a major CO2 consumer in the Asia Pacific, and globally.
The increasing development of shale gas technology and the support provided by various governments in both developing and developed countries will aid in creating good revenue generation opportunities during the projection period. Multiple carbon capture and utilization initiatives now underway or planned in the Asia Pacific region, which are generating opportunities for market participants. China, and Australia were early adopters of carbon capture and utilization in the area. South Korea, India, Australia, and China are prominently pioneering the carbon collection and utilization landscape of the Asian subcontinent.
Carbon Dioxide Utilization Market: Competitive Landscape
Some of the leading players at the forefront in the carbon dioxide utilization market space include Carbon Recycling International, Royal Dutch Shell Plc, LanzaTech Inc., TotalEnergies SE, Hitachi, Ltd., Climeworks AG, ExxonMobil Corporation, Linde plc, Schlumberger Limited, Aker Solutions, Honeywell International Inc., Mitsubishi Heavy Industries, Ltd, JGC Holdings Corporation, General Electric, and CarbonCure Technologies.
Recent Notable Developments
In October 2021, ExxonMobil Corporation indicated interest in using a car to collect and store CO2 from the Fife Ethylene Unit. To meet this goal, it has boosted its involvement in Scotland's Acorn carbon capture project.
In February 2022, Aker Carbon Capture and Dan-Unity CO2 agreed to research carbon dioxide transportation by sea. Aker Carbon Capture creates a value chain for carbon capture, utilization, and storage (CCUS), including CO2 maritime transit.
In April 2022, Shell PLC completed acquisition of Sprng Energy Group, a renewable energy company, as a step of its journey toward reduced carbon emissions. While this transaction was intended to increase the former's CCS potential and market share, reports show ExxonMobil Corporation, Shell, and the Guangdong Provincial Development and Reform Commission are also collaborating for the assessment of the viability of a CCS project at Huizhou's Dayawan Petrochemical Industrial Park.
In June 2023, Air Liquide, a French multinational corporation, struck cooperation with the Paris 2024 Paralympic and Olympic Games to reduce carbon emissions. The goal is to provide renewable hydrogen gas to power the automobiles at the event while reducing carbon dioxide emissions.
The Global Carbon Dioxide Utilization Market is Segmented as Below:
By Technology
Chemical Conversion
Biological Conversion
Direct Air Capture
Carbon Mineralization
By Application
Construction Materials
Chemicals
Polymers
Fuels
Agriculture & Food
Miscellaneous
By Geographic Coverage
North America
Europe

Germany
U.K.
France
Italy
Turkey
Russia
Rest of Europe

Asia Pacific

China
Japan
South Korea
India
Southeast Asia
Rest of Asia Pacific

Latin America

Brazil
Mexico
Rest of Latin America

Middle East & Africa

GCC
South Africa
Rest of Middle East & Africa
Leading Companies
TotalEnergies SE
Hitachi, Ltd.
ExxonMobil Corporation
Linde plc
Carbon Recycling International
Carbon Engineering
Royal Dutch Shell Plc
Mitsubishi Heavy Industries, Ltd
JGC Holdings Corporation
General Electric
CarbonCure Technologiesḍ
1. Executive Summary
1.1. Global Carbon dioxide utilization Market Snapshot
1.2. Future Projections
1.3. Key Market Trends
1.4. Regional Snapshot, by Value, 2022
1.5. Analyst Recommendations

2. Market Overview
2.1. Market Definitions and Segmentations
2.2. Market Dynamics
2.2.1. Drivers
2.2.2. Restraints
2.2.3. Market Opportunities
2.3. Value Chain Analysis
2.4. Porter's Five Forces Analysis
2.5. Covid-19 Impact Analysis
2.5.1. Supply
2.5.2. Demand
2.6. Impact of Ukraine-Russia Conflict
2.7. Economic Overview
2.7.1. World Economic Projections
2.8. PESTLE Analysis

3. Production Output and Trade Statistics (If Applicable)
3.1. Global Carbon dioxide utilization Production, 2018 – 2022

4. Price Trends Analysis and Future Projects, 2018 - 2030 (If Applicable)
4.1. Global Average Price Analysis, by Technology, US$ per Kg
4.2. Prominent Factors Affecting Carbon dioxide utilization Prices
4.3. Global Average Price Analysis, by Region, US$ per Kg


5. Global Carbon dioxide utilization Market Outlook, 2018 - 2030
5.1. Global Carbon Dioxide Utilization Market Outlook, by Technology, Volume (Kilo Tons) and Value (US$ Bn), 2018 - 2030
5.1.1. Key Highlights
5.1.1.1. Chemical Conversion
5.1.1.2. Biological Conversion
5.1.1.3. Direct Air Capture
5.1.1.4. Carbon mineralization
5.2. Global Carbon Dioxide Utilization Market Outlook, by Application, Volume (Kilo Tons) and Value (US$ Bn), 2018 - 2030
5.2.1. Key Highlights
5.2.1.1. Construction Materials
5.2.1.2. Chemicals
5.2.1.3. Polymers
5.2.1.4. Fuels
5.2.1.5. Agriculture & Food
5.2.1.6. Misc.
5.3. Global Carbon Dioxide Utilization Market Outlook, by Region, Volume (Kilo Tons) and Value (US$ Bn), 2018 - 2030
5.3.1. Key Highlights
5.3.1.1. North America
5.3.1.2. Europe
5.3.1.3. Asia Pacific
5.3.1.4. Latin America
5.3.1.5. Middle East & Africa

6. North America Carbon Dioxide Utilization Market Outlook, 2018 - 2030
6.1. North America Carbon Dioxide Utilization Market Outlook, by Technology, Volume (Kilo Tons) and Value (US$ Bn), 2018 - 2030
6.1.1. Key Highlights
6.1.1.1. Chemical Conversion
6.1.1.2. Biological Conversion
6.1.1.3. Direct Air Capture
6.1.1.4. Carbon mineralization
6.2. North America Carbon Dioxide Utilization Market Outlook, by Application, Volume (Kilo Tons) and Value (US$ Bn), 2018 - 2030
6.2.1. Key Highlights
6.2.1.1. Construction Materials
6.2.1.2. Chemicals
6.2.1.3. Polymers
6.2.1.4. Fuels
6.2.1.5. Agriculture & Food
6.2.1.6. Misc.
6.2.2. Market Attractiveness Analysis
6.3. North America Carbon Dioxide Utilization Market Outlook, by Country, Volume (Kilo Tons) and Value (US$ Bn), 2018 - 2030
6.3.1. Key Highlights
6.3.1.1. U.S. Carbon Dioxide Utilization Market Technology, Volume (Kilo Tons) and Value (US$ Bn), 2018 - 2030
6.3.1.2. U.S. Carbon Dioxide Utilization Market Application, Volume (Kilo Tons) and Value (US$ Bn), 2018 - 2030
6.3.1.3. Canada Carbon Dioxide Utilization Market Technology, Volume (Kilo Tons) and Value (US$ Bn), 2018 - 2030
6.3.1.4. Canada Carbon Dioxide Utilization Market End-user, Volume (Kilo Tons) and Value (US$ Bn), 2018 - 2030
6.3.2. BPS Analysis/Market Attractiveness Analysis

7. Europe Carbon Dioxide Utilization Market Outlook, 2018 - 2030
7.1. Europe Carbon Dioxide Utilization Market Outlook, by Service, Volume (Kilo Tons) and Value (US$ Bn), 2018 - 2030
7.2. Europe Carbon Dioxide Utilization Market Outlook, by Technology, Volume (Kilo Tons) and Value (US$ Bn), 2018 - 2030
7.2.1. Key Highlights
7.2.1.1. Chemical Conversion
7.2.1.2. Biological Conversion
7.2.1.3. Direct Air Capture
7.2.1.4. Carbon mineralization
7.3. Europe Carbon Dioxide Utilization Market Outlook, by Application, Volume (Kilo Tons) and Value (US$ Bn), 2018 - 2030
7.3.1. Key Highlights
7.3.1.1. Construction Materials
7.3.1.2. Chemicals
7.3.1.3. Polymers
7.3.1.4. Fuels
7.3.1.5. Agriculture & Food
7.3.1.6. Misc.
7.3.2. BPS Analysis/Market Attractiveness Analysis
7.4. Europe Carbon Dioxide Utilization Market Outlook, by Country, Volume (Kilo Tons) and Value (US$ Bn), 2018 - 2030
7.4.1. Key Highlights
7.4.1.1. Germany Carbon Dioxide Utilization Market Technology, Volume (Kilo Tons) and Value (US$ Bn), 2018 - 2030
7.4.1.2. Germany Carbon Dioxide Utilization Market Application, Volume (Kilo Tons) and Value (US$ Bn), 2018 - 2030
7.4.1.3. U.K. Carbon Dioxide Utilization Market Technology, Volume (Kilo Tons) and Value (US$ Bn), 2018 - 2030
7.4.1.4. U.K. Carbon Dioxide Utilization Market Application, Volume (Kilo Tons) and Value (US$ Bn), 2018 - 2030
7.4.1.5. France Carbon Dioxide Utilization Market Technology, Volume (Kilo Tons) and Value (US$ Bn), 2018 - 2030
7.4.1.6. France Carbon Dioxide Utilization Market Application, Volume (Kilo Tons) and Value (US$ Bn), 2018 - 2030
7.4.1.7. Italy Carbon Dioxide Utilization Market Technology, Volume (Kilo Tons) and Value (US$ Bn), 2018 - 2030
7.4.1.8. Italy Carbon Dioxide Utilization Market Application, Volume (Kilo Tons) and Value (US$ Bn), 2018 - 2030
7.4.1.9. Turkey Carbon Dioxide Utilization Market Technology, Volume (Kilo Tons) and Value (US$ Bn), 2018 - 2030
7.4.1.10. Turkey Carbon Dioxide Utilization Market Application, Volume (Kilo Tons) and Value (US$ Bn), 2018 - 2030
7.4.1.11. Russia Carbon Dioxide Utilization Market Technology, Volume (Kilo Tons) and Value (US$ Bn), 2018 - 2030
7.4.1.12. Russia Carbon Dioxide Utilization Market Application, Volume (Kilo Tons) and Value (US$ Bn), 2018 - 2030
7.4.1.13. Rest of Europe Carbon Dioxide Utilization Market Technology, Volume (Kilo Tons) and Value (US$ Bn), 2018 - 2030
7.4.1.14. Rest of Europe Carbon Dioxide Utilization Market Application, Volume (Kilo Tons) and Value (US$ Bn), 2018 - 2030
7.4.2. BPS Analysis/Market Attractiveness Analysis

8. Asia Pacific Carbon Dioxide Utilization Market Outlook, 2018 - 2030
8.1. Asia Pacific Carbon Dioxide Utilization Market Outlook, by Technology, Volume (Kilo Tons) and Value (US$ Bn), 2018 - 2030
8.1.1. Key Highlights
8.1.1.1. Chemical Conversion
8.1.1.2. Biological Conversion
8.1.1.3. Direct Air Capture
8.1.1.4. Carbon mineralization
8.2. Asia Pacific Carbon Dioxide Utilization Market Outlook, by Application, Volume (Kilo Tons) and Value (US$ Bn), 2018 - 2030
8.2.1. Key Highlights
8.2.1.1. Construction Materials
8.2.1.2. Chemicals
8.2.1.3. Polymers
8.2.1.4. Fuels
8.2.1.5. Agriculture & Food
8.2.1.6. Misc.
8.2.2. BPS Analysis/Market Attractiveness Analysis
8.3. Asia Pacific Carbon Dioxide Utilization Market Outlook, by Country, Volume (Kilo Tons) and Value (US$ Bn), 2018 - 2030
8.3.1. Key Highlights
8.3.1.1. China Carbon Dioxide Utilization Market Technology, Volume (Kilo Tons) and Value (US$ Bn), 2018 - 2030
8.3.1.2. China Carbon Dioxide Utilization Market Application, Volume (Kilo Tons) and Value (US$ Bn), 2018 - 2030
8.3.1.3. Japan Carbon Dioxide Utilization Market by Technology, Volume (Kilo Tons) and Value (US$ Bn), 2018 - 2030
8.3.1.4. Japan Carbon Dioxide Utilization Market End-user, Volume (Kilo Tons) and Value (US$ Bn), 2018 - 2030
8.3.1.5. South Korea Carbon Dioxide Utilization Market by Technology, Volume (Kilo Tons) and Value (US$ Bn), 2018 - 2030
8.3.1.6. South Korea Carbon Dioxide Utilization Market End-user, Volume (Kilo Tons) and Value (US$ Bn), 2018 - 2030
8.3.1.7. India Carbon Dioxide Utilization Market by Technology, Volume (Kilo Tons) and Value (US$ Bn), 2018 - 2030
8.3.1.8. India Carbon Dioxide Utilization Market End-user, Volume (Kilo Tons) and Value (US$ Bn), 2018 - 2030
8.3.1.9. Southeast Asia Carbon Dioxide Utilization Market by Technology, Volume (Kilo Tons) and Value (US$ Bn), 2018 - 2030
8.3.1.10. Southeast Asia Carbon Dioxide Utilization Market End-user, Volume (Kilo Tons) and Value (US$ Bn), 2018 - 2030
8.3.1.11. Rest of Asia Pacific Carbon Dioxide Utilization Market by Technology, Volume (Kilo Tons) and Value (US$ Bn), 2018 - 2030
8.3.1.12. Rest of Asia Pacific Carbon Dioxide Utilization Market End-user, Volume (Kilo Tons) and Value (US$ Bn), 2018 - 2030
8.3.2. BPS Analysis/Market Attractiveness Analysis

9. Latin America Carbon Dioxide Utilization Market Outlook, 2018 - 2030
9.1. Latin America Carbon Dioxide Utilization Market Outlook, by Technology, Volume (Kilo Tons) and Value (US$ Bn), 2018 - 2030
9.1.1. Key Highlights
9.1.1.1. Chemical Conversion
9.1.1.2. Biological Conversion
9.1.1.3. Direct Air Capture
9.1.1.4. Carbon mineralization
9.2. Latin America Carbon Dioxide Utilization Market Outlook, by Application, Volume (Kilo Tons) and Value (US$ Bn), 2018 - 2030
9.2.1. Key Highlights
9.2.1.1. Construction Materials
9.2.1.2. Chemicals
9.2.1.3. Polymers
9.2.1.4. Fuels
9.2.1.5. Agriculture & Food
9.2.1.6. Misc.
9.2.2. BPS Analysis/Market Attractiveness Analysis
9.3. Latin America Carbon Dioxide Utilization Market Outlook, by Country, Volume (Kilo Tons) and Value (US$ Bn), 2018 - 2030
9.3.1. Key Highlights
9.3.1.1. Brazil Carbon Dioxide Utilization Market by Technology, Volume (Kilo Tons) and Value (US$ Bn), 2018 - 2030
9.3.1.2. Brazil Carbon Dioxide Utilization Market End-user, Volume (Kilo Tons) and Value (US$ Bn), 2018 - 2030
9.3.1.3. Mexico Carbon Dioxide Utilization Market by Technology, Volume (Kilo Tons) and Value (US$ Bn), 2018 - 2030
9.3.1.4. Mexico Carbon Dioxide Utilization Market End-user, Volume (Kilo Tons) and Value (US$ Bn), 2018 - 2030
9.3.1.5. Rest of Latin America Carbon Dioxide Utilization Market by Technology, Volume (Kilo Tons) and Value (US$ Bn), 2018 - 2030
9.3.1.6. Rest of Latin America Carbon Dioxide Utilization Market End-user, Volume (Kilo Tons) and Value (US$ Bn), 2018 - 2030
9.3.2. BPS Analysis/Market Attractiveness Analysis

10. Middle East & Africa Carbon Dioxide Utilization Market Outlook, 2018 - 2030
10.1. Middle East & Africa Carbon Dioxide Utilization Market Outlook, by Technology, Volume (Kilo Tons) and Value (US$ Bn), 2018 - 2030
10.1.1. Key Highlights
10.1.1.1. Chemical Conversion
10.1.1.2. Biological Conversion
10.1.1.3. Direct Air Capture
10.1.1.4. Carbon mineralization
10.2. Middle East & Africa Carbon Dioxide Utilization Market Outlook, by Application, Volume (Kilo Tons) and Value (US$ Bn), 2018 - 2030
10.2.1. Key Highlights
10.2.1.1. Construction Materials
10.2.1.2. Chemicals
10.2.1.3. Polymers
10.2.1.4. Fuels
10.2.1.5. Agriculture & Food
10.2.1.6. Misc.
10.2.2. BPS Analysis/Market Attractiveness Analysis
10.3. Middle East & Africa Carbon Dioxide Utilization Market Outlook, by Country, Volume (Kilo Tons) and Value (US$ Bn), 2018 - 2030
10.3.1. Key Highlights
10.3.1.1. GCC Carbon Dioxide Utilization Market by Technology, Volume (Kilo Tons) and Value (US$ Bn), 2018 - 2030
10.3.1.2. GCC Carbon Dioxide Utilization Market End-user, Volume (Kilo Tons) and Value (US$ Bn), 2018 - 2030
10.3.1.3. South Africa Carbon Dioxide Utilization Market by Technology, Volume (Kilo Tons) and Value (US$ Bn), 2018 - 2030
10.3.1.4. South Africa Carbon Dioxide Utilization Market End-user, Volume (Kilo Tons) and Value (US$ Bn), 2018 - 2030
10.3.1.5. Rest of Middle East & Africa Carbon Dioxide Utilization Market by Technology, Volume (Kilo Tons) and Value (US$ Bn), 2018 - 2030
10.3.1.6. Rest of Middle East & Africa Carbon Dioxide Utilization Market End-user, Volume (Kilo Tons) and Value (US$ Bn), 2018 - 2030
10.3.2. BPS Analysis/Market Attractiveness Analysis

11. Competitive Landscape
11.1. Product vs Application Heatmap
11.2. Manufacturer vs Application Heatmap
11.3. Company Market Share Analysis, 2022
11.4. Competitive Dashboard
11.5. Company Profiles
11.5.1. Honeywell International Inc.
11.5.1.1. Company Overview
11.5.1.2. Product Portfolio
11.5.1.3. Financial Overview
11.5.1.4. Business Strategies and Development
11.5.2. LanzaTech Inc.
11.5.2.1. Company Overview
11.5.2.2. Product Portfolio
11.5.2.3. Financial Overview
11.5.2.4. Business Strategies and Development
11.5.3. TotalEnergies SE
11.5.3.1. Company Overview
11.5.3.2. Product Portfolio
11.5.3.3. Financial Overview
11.5.3.4. Business Strategies and Development
11.5.4. Hitachi Ltd.
11.5.4.1. Company Overview
11.5.4.2. Product Portfolio
11.5.4.3. Financial Overview
11.5.4.4. Business Strategies and Development
11.5.5. ExxonMobil Corporation
11.5.5.1. Company Overview
11.5.5.2. Product Portfolio
11.5.5.3. Financial Overview
11.5.5.4. Business Strategies and Development
11.5.6. Linde Plc
11.5.6.1. Company Overview
11.5.6.2. Product Portfolio
11.5.6.3. Financial Overview
11.5.6.4. Business Strategies and Development
11.5.7. Climeworks AG
11.5.7.1. Company Overview
11.5.7.2. Product Portfolio
11.5.7.3. Financial Overview
11.5.7.4. Business Strategies and Development
11.5.8. Carbon Recycling International
11.5.8.1. Company Overview
11.5.8.2. Product Portfolio
11.5.8.3. Financial Overview
11.5.8.4. Business Strategies and Development
11.5.9. Carbon Engineering
11.5.9.1. Company Overview
11.5.9.2. Product Portfolio
11.5.9.3. Financial Overview
11.5.9.4. Business Strategies and Development
11.5.10. Royal Dutch Shell Plc
11.5.10.1. Company Overview
11.5.10.2. Product Portfolio
11.5.10.3. Financial Overview
11.5.10.4. Business Strategies and Development
11.5.11. Mitsubishi Heavy Industries, Ltd.
11.5.11.1. Company Overview
11.5.11.2. Product Portfolio
11.5.11.3. Financial Overview
11.5.11.4. Business Strategies and Development
11.5.12. JGC Holdings Corporation
11.5.12.1. Company Overview
11.5.12.2. Product Portfolio
11.5.12.3. Financial Overview
11.5.12.4. Business Strategies and Development
11.5.13. General Electric
11.5.13.1. Company Overview
11.5.13.2. Product Portfolio
11.5.13.3. Financial Overview
11.5.13.4. Business Strategies and Development
11.5.14. CarbonCure Technologies
11.5.14.1. Company Overview
11.5.14.2. Product Portfolio
11.5.14.3. Financial Overview
11.5.14.4. Business Strategies and Development

12. Appendix
12.1. Research Methodology
12.2. Report Assumptions
12.3. Acronyms and Abbreviations
BASE YEAR

HISTORICAL DATA

FORECAST PERIOD

UNITS

2022

2018 - 2022

2023 - 2030

Value: US$ Mn Volume: Kilo Tons
REPORT FEATURES

DETAILS

Technology Coverage

Chemical Conversion
Biological Conversion
Direct Air Capture
Carbon Mineralization

Application Coverage

Construction Materials
Chemicals
Polymers
Fuels
Agriculture & Food
Miscellaneous

Geographical Coverage

Europe

Germany
France
Norway
Iceland
Sweden
Slovakia
Russia
Rest of Europe

Asia Pacific

China
Australia
India
Kazakhstan
Southeast Asia
Rest of Asia Pacific

Latin America

Brazil
Argentina
Rest of Latin America

Middle East & Africa

GCC
South Africa
Iran
Egypt
Mozambique
Rest of Middle East & Africa

Leading Companies

Honeywell International Inc
LanzaTech Inc.
TotalEnergies SE
Hitachi, Ltd.
ExxonMobil Corporation
Linde plc
Climeworks AG
Carbon Recycling International
Carbon Engineering
Royal Dutch Shell Plc
Mitsubishi Heavy Industries, Ltd
JGC Holdings Corporation
General Electric
CarbonCure Technologies

Report Highlights

Market Estimates and Forecast, Market Dynamics, Industry Trends, Production Output, Trade Statistics, Price Trend Analysis, Competition Landscape, Grade-, Application-, Region-, Country-wise Trends & Analysis, COVID-19 Impact Analysis (Demand and Supply), Key Market Trends