Global Cooling Towers Market Forecast
Cooling towers market size likely to see moderate expansion in revenue, from US$2.2 Bn in 2022 to US$3.1 Bn to 2030
Market revenue anticipated to expand at a CAGR of 4.8% over 2023 - 2030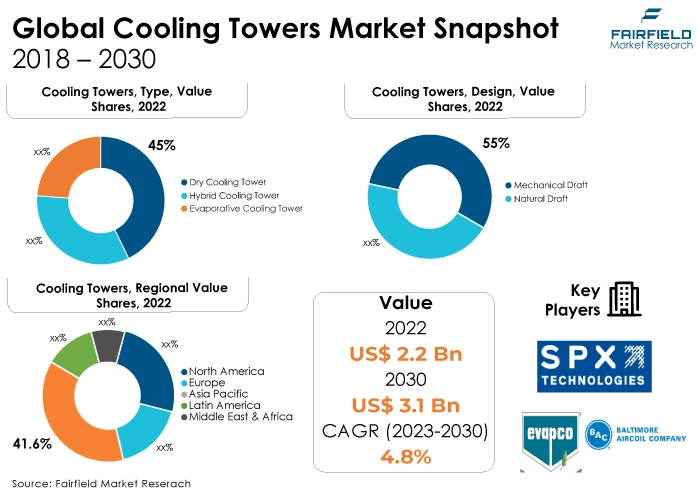 Quick Report Digest
The main trend expected to drive the market growth for cooling towers is the increasing demand for modular cooling tower systems. Furthermore, Modular cooling towers are often easier to install than traditional cooling towers, which frequently need extensive on-site construction. For enterprises and industries, this rapid deployment reduces downtime.
Another major market trend expected to drive the cooling tower market growth is the rapidly expanding popularity of cooling tower systems. Demand is also being driven by the availability of newer, more efficient cooling towers that can be retrofitted to existing cooling systems, enabling businesses to upgrade without undergoing significant infrastructure improvements.
In 2022, the dry cooling tower dominated the industry. The hot process water or fluid travels through heat exchanger coils inside dry cooling towers. For effective heat exchange, these coils are often composed of metal and have a wide surface area.
The mechanical draft category dominated the market in 2022. Most of mechanical Draft towers use fill media inside the building to increase the air-warm water contact surface area and improve cooling effectiveness.
In 2022, the fiberglass-reinforced plastic (FRP) category dominated the industry. Compared to cooling towers built of other materials, FRP towers require less maintenance, which lowers operational costs.
In 2022, the crossflow segment dominated the market. The heated water is distributed evenly over the top of the fill material using a water distribution system, which frequently consists of spray nozzles or pipelines.
The open circuit category dominated the market in 2022. Open circuit cooling towers are ideal for situations where precise temperature control is required because of their outstanding cooling efficiency.
The HVACR category is anticipated to grow significantly throughout the forecast period. They provide precise temperature regulation, which is crucial in HVACR applications where stable and controlled temperatures are required.
In the market for cooling towers, North America is anticipated to grow at the fastest rate. In North America, there are a lot of aging cooling towers that require replacement. This opens doors for the cooling towers market to provide cutting-edge, environmentally friendly solutions.
The Asia Pacific region will dominate the cooling towers market throughout the forecast period. The booming energy industry in the area is made up of coal-fired power plants, natural gas facilities, and renewable energy projects, all of which need the effective cooling solutions that cooling towers can provide.
A Look Back and a Look Forward - Comparative Analysis
Health concerns can result from Legionella bacteria proliferation in cooling towers. To stop Legionella and other dangerous germs from growing, modern cooling towers use technologies, including UV-C sterilisation, chemical treatments, and automatic cleaning systems.
Operators can control and monitor cooling towers from a distance because of cloud-based monitoring and control technologies. As a result, operational efficiency is increased, on-site staffing requirements are decreased, and maintenance and performance issues can be solved more quickly.
The market witnessed staggered growth during the historical period 2018 - 2022. Regulations focused on reducing cooling towers' negative environmental effects were put in place because of environmental concerns, especially those related to air quality and emissions reduction.
The pollutants that were frequently the focus of these rules were emissions of particulate matter and volatile organic compounds (VOCs) from cooling tower operations. As a result, cooling tower makers created systems with little emissions and a smaller environmental impact, making them more environmentally friendly.
Manufacturers of cooling towers provide specialised solutions that meet the unique needs of data centres, including those related to size, capacity, and environmental factors in the coming years. Additionally, to ensure the dependability of delicate electronic equipment, data centres need to control the temperature and humidity precisely.
Furthermore, the environment inside the data centre can be stabilised and kept within prescribed temperature and humidity limits by integrating cooling tower systems with precision cooling solutions during the next five years.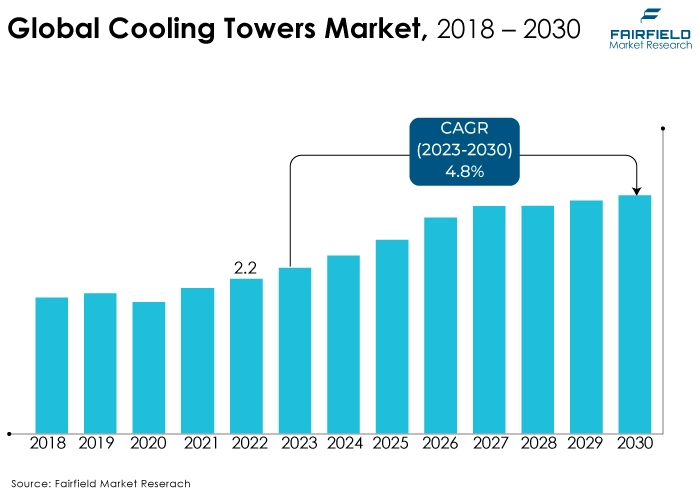 Key Growth Determinants
Increasing Demand for Cooling Tower Systems Across Industrial Sector
The demand for cooling towers is rising as the industrial sector throughout the world expands, which affects sectors including manufacturing, food and beverage production, electricity generation, and chemical processing. For these sectors to effectively manage the surplus heat produced by their processes, cooling systems must be effective. Commercial and residential building construction has increased dramatically due to rapid urbanisation.
To maintain suitable inside conditions, all of these structures require cooling systems like HVAC units fitted with cooling towers. The usage of effective cooling tower systems is required by increasingly stringent environmental requirements to cut down on water use and minimise emissions, which is pushing enterprises to replace or update their existing systems.
Rising Demand for Energy-efficient Systems
Systems for energy-efficient cooling towers are created to optimise heat exchange procedures, lowering energy consumption and operational expenses for organisations. This potential for cost savings is a strong motivator for industries to use such technologies.
Water usage and greenhouse gas emissions are both decreased by energy-efficient cooling towers, helping to meet environmental requirements and the world's sustainability goals. Many businesses are purchasing these systems to reduce their carbon footprint.
Modern materials and technology are frequently used in energy-efficient cooling towers, improving durability and lengthening lifespans. Its longevity may further decrease long-term operational costs.
Greater Emphasis on Water Efficiency
Water scarcity is a serious problem in many parts of the world. Dry and hybrid cooling towers are two examples of water-efficient cooling tower technologies that assist in conserving water resources by reducing or eliminating the requirement for constant water replenishment. This is in line with sustainability objectives and legal obligations in water-strapped areas.
Stricter environmental rules call for decreased water use and disposal in industrial operations. Industries can comply with these laws and avoid fines by using water-efficient cooling tower systems. By reducing water use, treatment costs, and disposal costs, water-efficient cooling towers can reduce operational costs. The potential for cost savings makes investing in these systems by businesses quite appealing.
Major Growth Barriers
The size and capacity of cooling tower systems vary based on the application and cooling needs. The cost of buying and installing larger, more powerful cooling towers for use in large-scale facilities or heavy industry can be high.
To maintain the longevity and effectiveness of cooling towers, high-quality materials and construction methods are required. Engineering standards and corrosion-resistant materials raise the initial cost.
Cooling tower systems that use less energy and water frequently use advanced technology, including control systems, drift eliminators, and variable-speed fans. The greater starting costs are a result of these qualities.
Aquatic ecosystems may be impacted by cooling tower output water that is much warmer than receiving water bodies. Increased water temperatures have a negative impact on marine life, destabilise ecosystems, and lower oxygen levels in bodies of water.
If not properly maintained, cooling towers can serve as a breeding ground for the Legionella bacteria, which can cause outbreaks of Legionnaires' disease. Public health is at risk because of this.
Drift emissions from cooling towers are tiny water droplets released into the atmosphere. These droplets could harm nearby ecosystems and people's health by carrying chemicals, pathogens, and other toxins.
Key Trends and Opportunities to Look at
Smart/Intelligent Cooling Tower Systems
Based on real-time data and environmental factors, intelligent cooling towers may optimise fan speeds, water flow rates, and other parameters. Because of the large energy savings produced by this dynamic control, they are appealing to enterprises trying to cut operating expenses. These systems collect a vast amount of data and analyse it to reveal information on the operation of cooling towers, water usage, and potential problems.
Equipment breakdowns are avoided, and downtime is decreased with the use of predictive maintenance capabilities. Smart cooling towers enable remote monitoring and control through web-based or mobile applications. This function increases operational efficiency by allowing operators to modify settings, address issues, and enhance performance from any location.
Low-Noise Cooling Tower Systems
The quality of life for nearby residents and workers is improved by reducing noise from cooling towers. This is crucial, especially in metropolitan settings where noise disruptions can harm productivity and well-being.
Businesses are becoming more conscious of their reputation and corporate image. A company's reputation can be improved by using low-noise cooling tower systems to demonstrate a commitment to environmental responsibility and community well-being.
Increasing Focus on Environmental Sustainability
Water-efficient designs and technologies, like closed-loop systems, dry cooling, and water recycling, are frequently used in environmentally friendly cooling towers. These actions lessen water use while addressing challenges related to water scarcity.
Pollutant emissions from cooling towers can affect the quality of the air and water. Systems that are favourable to the environment are created to reduce these emissions, assisting industry in adhering to environmental standards.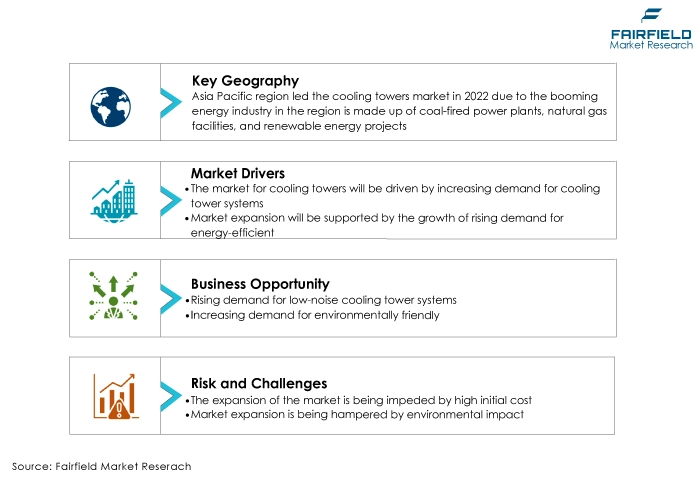 How Does the Regulatory Scenario Shape this Industry?
Over the last three years, various regulatory bodies and organisations operating at the national, regional, and municipal levels have influenced the cooling towers market. The Environmental Protection Agency (EPA) United States creates environmental rules for handling hazardous items, water quality, and pollutants.
The Clean Water Act and Clean Air Act have a big impact on cooling towers. Closed-loop systems and other technologies that reduce emissions and water use are adopted as a result of adherence to these restrictions. The European Union (EU) has rules and directives that deal with emissions, water quality, and energy efficiency. These requirements for cooling towers have prompted the deployment of technology like closed-loop systems and drift eliminators.
The ministry in India sets environmental conditions for many businesses, including those concerned with the quality of the air and water. The selection of cooling tower technology and water management procedures is affected by compliance with these criteria.
Occupational Safety and Health Administration (OSHA) establishes safety regulations for the workplace, which cover topics like operating and maintaining cooling towers. Safe cooling tower procedures are ensured by adherence to OSHA requirements.
Fairfield's Ranking Board
Top Segments
Dry Cooling Tower Category Leads
In 2022, the category of dry cooling towers dominated the market. The dry cooling tower has various advantages, including the ability to remove fog, icing, and mist. By preventing its use, thermal pollution, and evaporative losses, the water purification system offers a convincing answer to water issues.
In food and beverage applications, as well as heating, ventilation, air conditioning, and refrigeration (HVACR) systems, the dry cooling tower is in high demand.
Furthermore, the hybrid cooling tower category is anticipated to grow significantly throughout the forecast period. Because they can avoid noticeable plumes in cool, humid environments and where local restrictions demand this technology, like at airports and residential areas, these towers are reasonably priced and have little to no plume visibility.
The Mechanical Draft Segment Maintains Dominance
In 2022, the mechanical draft segment dominated the market. Mechanical fans or blowers positioned at the top of the tower are a feature of mechanical draft cooling towers. These fans produce the airflow inside the building. Mechanical draft cooling towers commonly have an enclosed design, frequently with walls or louvers to control the airflow and shield the internal parts from the elements.
The natural draft category is expected to grow significantly during the forecast period. The unique hyperbolic or chimney-like shape of natural draft cooling towers serves as a defining characteristic. The upward airflow required for cooling is only possible with this design.
FRP Remains Preferred
In 2022, the fiberglass-reinforced plastic (FRP) segment dominated the market because of its strong resistance to snow, acid rain, and corrosion. Additionally, it can resist a variety of weather conditions, is lightweight, requires little maintenance, and may be used for both dry and wet tasks. In the upcoming years, it is projected that all of the factors above will increase demand for FRP cooling towers globally.
The concrete category is expected to grow the fastest. The cooling tower's reinforced concrete structure is built to withstand powerful waters. Concrete towers' structural robustness and architectural adaptability are by far their most obvious advantages. Due to their mass, concrete constructions are indestructible and immune to adverse weather.
The Crossflow Category at the Forefront
The crossflow category dominated the industry in 2022. Vertical or diagonal air input louvers are frequently found at the sides or top of crossflow cooling towers. Into the fill media is directed by these louvers. Crossflow cooling towers are appropriate for a variety of applications because they provide effective heat exchange between the water and the air.
The counterflow segment is expected to rise the fastest. The fill media inside a counterflow cooling tower is typically comprised of plastic, wood, or metal. Water flows over a lot of surface area due to the fill media, which encourages interaction between the water and incoming air.
Open Circuit Cooling Towers Bestseller Category
In 2022, the open circuit segment dominated the industry. Open-circuit cooling towers' greater cooling, lower process temperatures, and low carbon footprint are all factors in this market segment's expansion. All of these elements contribute to the rising use of open-circuit cooling towers in the refineries, cement, chemicals, commercial and residential real estate, pharmaceutical, and power generation industries.
The close circuit category is anticipated to grow the fastest. Closed-circuit cooling towers have a number of benefits, such as greater thermal efficiency, decreased freezing risk, and less primary circuit contamination. For instance, maintaining the process fluid free of pollution from the external environment is necessary for many municipal and industrial activities, including those that produce food.
Power Generation Top Application Area
The power generation category dominated the market in 2022. The utilisation of cooling towers is required due to the massive amounts of heat produced by the electricity-producing plants. The demand for cooling towers is anticipated to increase throughout the forecast period as a result of cooling towers' critical function in eliminating the excess heat produced in power plants, and so contributing to the safer operation of power plants.
The HVACR segment is projected to grow the fastest. The U.S. Department of Health and Human Services states that industrial and HVAC applications are the main uses for cooling towers. The HVAC system can run efficiently and affordably thanks to cooling towers. To keep their equipment cold, more than 1,500 industrial facilities use a lot of water.
Regional Frontrunners
Asia Pacific - the Star Player
Asia Pacific is expected to dominate the cooling towers market during the forecast period. The Asia Pacific region provides access to cheap workers and raw commodities. Additionally, the area sees an increase in domestic demand, which attracts producers of cooling towers as an investment location.
The cooling tower market in this region will be influenced by multiple variables, including China, and India's developing infrastructural concerns, urbanisation, industrialisation, and rising population. Furthermore, India has witnessed incredible growth in this sector. Massive investments in industrial expansion would fuel cooling tower sector growth across the nation.
In addition, throughout the anticipated period, the food and beverage industry's growing need for energy-efficient systems will drive market expansion in the country and raise cooling towers' proportion of the global market.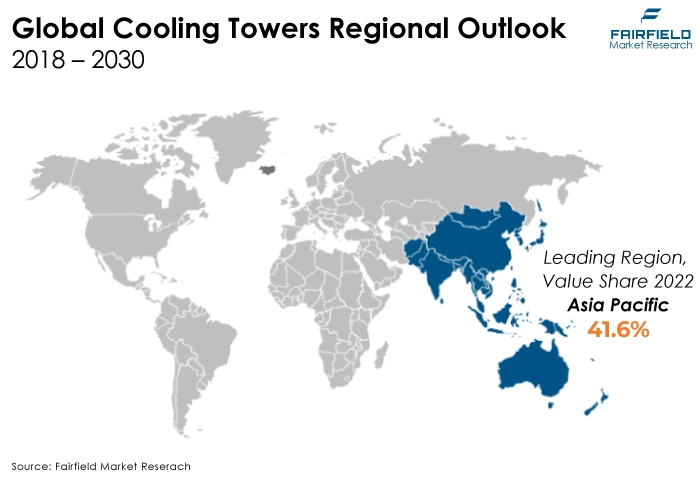 North America Holds the Promise for Years to Come
North America is expected to be the fastest-growing cooling tower market region due to the presence of building automation suppliers, large-scale data centres, and intelligent building vendors in the area. Additionally, the global data centres market would expand, spurring demand for cooling towers because of the rapid growth of structured and unstructured data as well as the rising need for cloud computing.
To keep data centres at the ideal temperature, cooling towers are used, which reduces energy consumption. The rigorous government regulations in the area are anticipated to drive market growth.
The market in the region benefits from government laws that limit water consumption for cooling equipment and power-producing plants. The substantial presence of well-known businesses in North America, including SPX Corporation, Babcock & Wilcox Enterprises, Inc., and EVAPCO, Inc., is also assisting the market's growth.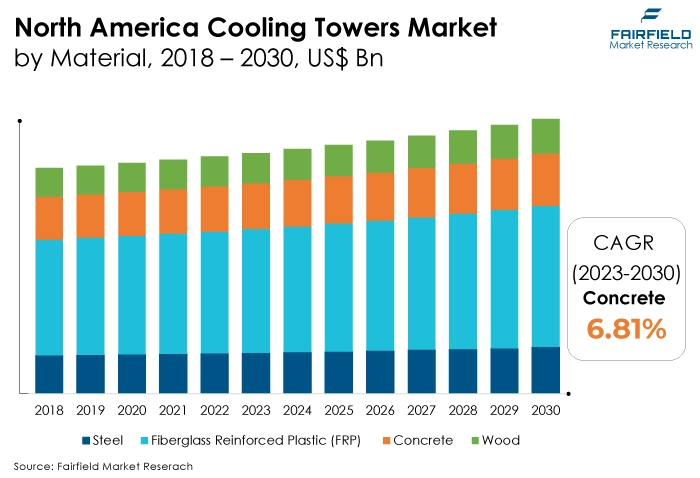 Fairfield's Competitive Landscape Analysis
Several well-known manufacturers may be found in the cooling towers market, which is very competitive. To boost their market value share globally, big businesses are launching new products, extending their distribution networks, and doing other things. According to Fairfield Market Research, additional market consolidation is also anticipated in the upcoming years.
Who are the Leaders in the Global Cooling Towers Space?
Significant Company Developments
New Product Launches
February 2023: The new TrilliumSeries Adiabatic Cooler from Baltimore Aircoil Company (BAC) was launched. Applications requiring low water use and high energy efficiency are perfect for this adiabatic cooling tower. The plan maximises the use of water and energy while also lowering prices. The installation and continuous maintenance of the TrilliumSeries Cooler are also made to be straightforward.
November 2022: The successful installation of a new cooling tower for a nuclear power station was declared by Russia. The cooling tower was put in place at the atomic power station in Kursk II. At 179 meters, this cooling tower is the tallest in all of Russia. This cooling tower is 8 meters more elevated than the previous tallest tower in Russian history and is anticipated to endure 100 years.
November 2020: The Amur CGG, or Amur Gas Chemical Complex, in Russia, chose HAMON & CIE (INTERNATIONAL) S.A. to install and design an 18-cell cooling tower. Fibreglass Reinforced Plastic (GRP) is used to construct the critical building, and an automatic louver system is included for continuous operation at extremely low temperatures.
Distribution Agreements
August 2023: Alessa, a significant industrial equipment distributor in the Middle East, and Evapco, Inc. recently announced a new distribution agreement.
January 2022: A new distribution agreement between SPX Cooling Technologies, and Air Conditioning & Industrial Sales was announced. The Middle East and North Africa (MENA) region distribution of SPX Cooling's whole line of cooling towers is covered by the agreement.
An Expert's Eye
Demand and Future Growth
As per Fairfield's Analysis, developing countries are making investments in the construction of infrastructure, such as office and residential buildings, data centres, and shopping centres. To offer temperature control and cooling for these facilities, cooling towers are required.
Furthermore, concerns about climate change are an international priority. Energy-saving and environmentally friendly cooling towers contribute to lowering greenhouse gas emissions and supporting climate change mitigation efforts. However, the cooling towers market is expected to face considerable challenges because of the high initial cost.
Supply Side of the Market
In the Asia Pacific region, China is the world's top producer and exporter, accounting for over 50% of the market for cooling towers. The cooling towers market in China is incredibly fragmented because of fierce rivalry between several small and medium-sized businesses (SMEs).
However, a few notable companies exist in the sector, including Shanghai Electric, and Shenyang Blower Group. Through a 25% share of the Asia Pacific cooling tower industry, India is the second-largest producer and exporter in the area. The cooling towers market in India is also very fragmented, with many SMEs in direct competition with one another.
There are, however, also a few significant market participants, including Larsen & Toubro, and Thermax. More than 75% of the region's consumption, the US, is North America's biggest consumer of cooling towers. The necessity to cool power plants and the sizeable and expanding industrial sector in the US both contribute to the demand for cooling towers in the country.
Global Cooling Towers Market is Segmented as Below:
By Type:
Evaporative Cooling Tower
Dry Cooling Tower
Hybrid Cooling Tower
By Design:
Mechanical Draft
Natural Draft
By Material:
Concrete
Steel
Fiberglass Reinforced Plastic (FRP)
Wood
By Flow Type:
By Technology:
Open Circuit
Close Circuit
Hybrid Circuit
By Application:
Power Generation
HVACR
Food & Beverage
Chemical
Petrochemical and Oil & Gas
Others
By Geographic Coverage:
North America
Europe

Germany
U.K.
France
Italy
Turkey
Russia
Rest of Europe

Asia Pacific

China
Japan
South Korea
India
Southeast Asia
Rest of Asia Pacific

Latin America

Brazil
Mexico
Argentina
Rest of Latin America

Middle East & Africa

GCC
South Africa
Egypt
Nigeria
Rest of Middle East & Africa
1. Executive Summary
1.1. Global Cooling Towers Market Snapshot
1.2. Future Projections
1.3. Key Market Trends
1.4. Regional Snapshot, by Value, 2022
1.5. Analyst Recommendations

2. Market Overview
2.1. Market Definitions and Segmentations
2.2. Market Dynamics
2.2.1. Drivers
2.2.2. Restraints
2.2.3. Market Opportunities
2.3. Value Chain Analysis
2.4. Porter's Five Forces Analysis
2.5. COVID-19 Impact Analysis
2.5.1. Supply
2.5.2. Demand
2.6. Impact of Ukraine-Russia Conflict
2.7. Economic Overview
2.7.1. World Economic Projections
2.8. PESTLE Analysis

3. Global Cooling Towers Market Outlook, 2018 - 2030
3.1. Global Cooling Towers Market Outlook, by Type, Value (US$ Bn), 2018 - 2030
3.1.1. Key Highlights
3.1.1.1. Evaporative Cooling Tower
3.1.1.2. Dry Cooling Tower
3.1.1.3. Hybrid Cooling Tower
3.2. Global Cooling Towers Market Outlook, by Design, Value (US$ Bn), 2018 - 2030
3.2.1. Key Highlights
3.2.1.1. Mechanical Draft
3.2.1.2. Natural Draft
3.3. Global Cooling Towers Market Outlook, by Material, Value (US$ Bn), 2018 - 2030
3.3.1. Key Highlights
3.3.1.1. Concrete
3.3.1.2. Steel
3.3.1.3. Fiberglass Reinforced Plastic (FRP)
3.3.1.4. Wood
3.4. Global Cooling Towers Market Outlook, by Flow Type, Value (US$ Bn), 2018 - 2030
3.4.1. Key Highlights Snacks
3.4.1.1. Crossflow
3.4.1.2. Counterflow
3.5. Global Cooling Towers Market Outlook, by Technology, Value (US$ Bn), 2018 - 2030
3.5.1. Key Highlights Snacks
3.5.1.1. Open Circuit
3.5.1.2. Close Circuit
3.5.1.3. Hybrid Circuit
3.6. Global Cooling Towers Market Outlook, by Application, Value (US$ Bn), 2018 - 2030
3.6.1. Key Highlights Snacks
3.6.1.1. Power Generation
3.6.1.2. HVACR
3.6.1.3. Food & Beverage
3.6.1.4. Chemical
3.6.1.5. Petrochemical and Oil & Gas
3.6.1.6. Others
3.7. Global Cooling Towers Market Outlook, by Region, Value (US$ Bn), 2018 - 2030
3.7.1. Key Highlights
3.7.1.1. North America
3.7.1.2. Europe
3.7.1.3. Asia Pacific
3.7.1.4. Latin America
3.7.1.5. Middle East & Africa

4. North America Cooling Towers Market Outlook, 2018 - 2030
4.1. North America Cooling Towers Market Outlook, by Type, Value (US$ Bn), 2018 - 2030
4.1.1. Key Highlights
4.1.1.1. Evaporative Cooling Tower
4.1.1.2. Dry Cooling Tower
4.1.1.3. Hybrid Cooling Tower
4.2. North America Cooling Towers Market Outlook, by Design, Value (US$ Bn), 2018 - 2030
4.2.1. Key Highlights
4.2.1.1. Mechanical Draft
4.2.1.2. Natural Draft
4.3. North America Cooling Towers Market Outlook, by Material, Value (US$ Bn), 2018 - 2030
4.3.1. Key Highlights
4.3.1.1. Concrete
4.3.1.2. Steel
4.3.1.3. Fiberglass Reinforced Plastic (FRP)
4.3.1.4. Wood
4.4. North America Cooling Towers Market Outlook, by Flow Type, Value (US$ Bn), 2018 - 2030
4.4.1. Key Highlights
4.4.1.1. Crossflow
4.4.1.2. Counterflow
4.5. Global Cooling Towers Market Outlook, by Technology, Value (US$ Bn), 2018 - 2030
4.5.1. Key Highlights Snacks
4.5.1.1. Open Circuit
4.5.1.2. Close Circuit
4.5.1.3. Hybrid Circuit
4.6. Global Cooling Towers Market Outlook, by Application, Value (US$ Bn), 2018 - 2030
4.6.1. Key Highlights Snacks
4.6.1.1. Power Generation
4.6.1.2. HVACR
4.6.1.3. Food & Beverage
4.6.1.4. Chemical
4.6.1.5. Petrochemical and Oil & Gas
4.6.1.6. Others
4.6.2. BPS Analysis/Market Attractiveness Analysis
4.7. North America Cooling Towers Market Outlook, by Country, Value (US$ Bn), 2018 - 2030
4.7.1. Key Highlights
4.7.1.1. U.S. Cooling Towers Market by Type, Value (US$ Bn), 2018 - 2030
4.7.1.2. U.S. Cooling Towers Market Design, Value (US$ Bn), 2018 - 2030
4.7.1.3. U.S. Cooling Towers Market Material, Value (US$ Bn), 2018 - 2030
4.7.1.4. U.S. Cooling Towers Market Flow Type, Value (US$ Bn), 2018 - 2030
4.7.1.5. U.S. Cooling Towers Market Technology, Value (US$ Bn), 2018 - 2030
4.7.1.6. U.S. Cooling Towers Market Application, Value (US$ Bn), 2018 - 2030
4.7.1.7. Canada Cooling Towers Market by Type, Value (US$ Bn), 2018 - 2030
4.7.1.8. Canada Cooling Towers Market Design, Value (US$ Bn), 2018 - 2030
4.7.1.9. Canada Cooling Towers Market Material, Value (US$ Bn), 2018 - 2030
4.7.1.10. Canada Cooling Towers Market Flow Type, Value (US$ Bn), 2018 - 2030
4.7.1.11. Canada Cooling Towers Market Technology, Value (US$ Bn), 2018 - 2030
4.7.1.12. Canada Cooling Towers Market Application, Value (US$ Bn), 2018 - 2030
4.7.2. BPS Analysis/Market Attractiveness Analysis

5. Europe Cooling Towers Market Outlook, 2018 - 2030
5.1. Europe Cooling Towers Market Outlook, by Type, Value (US$ Bn), 2018 - 2030
5.1.1. Key Highlights
5.1.1.1. Evaporative Cooling Tower
5.1.1.2. Dry Cooling Tower
5.1.1.3. Hybrid Cooling Tower
5.2. Europe Cooling Towers Market Outlook, by Design, Value (US$ Bn), 2018 - 2030
5.2.1. Key Highlights
5.2.1.1. Mechanical Draft
5.2.1.2. Natural Draft
5.3. Europe Cooling Towers Market Outlook, by Material, Value (US$ Bn), 2018 - 2030
5.3.1. Key Highlights
5.3.1.1. Concrete
5.3.1.2. Steel
5.3.1.3. Fiberglass Reinforced Plastic (FRP)
5.3.1.4. Wood
5.4. Europe Cooling Towers Market Outlook, by Flow Type, Value (US$ Bn), 2018 - 2030
5.4.1. Key Highlights
5.4.1.1. Crossflow
5.4.1.2. Counterflow
5.5. Global Cooling Towers Market Outlook, by Technology, Value (US$ Bn), 2018 - 2030
5.5.1. Key Highlights Snacks
5.5.1.1. Open Circuit
5.5.1.2. Close Circuit
5.5.1.3. Hybrid Circuit
5.6. Global Cooling Towers Market Outlook, by Application, Value (US$ Bn), 2018 - 2030
5.6.1. Key Highlights Snacks
5.6.1.1. Power Generation
5.6.1.2. HVACR
5.6.1.3. Food & Beverage
5.6.1.4. Chemical
5.6.1.5. Petrochemical and Oil & Gas
5.6.1.6. Others
5.6.2. BPS Analysis/Market Attractiveness Analysis
5.7. Europe Cooling Towers Market Outlook, by Country, Value (US$ Bn), 2018 - 2030
5.7.1. Key Highlights
5.7.1.1. Germany Cooling Towers Market by Type, Value (US$ Bn), 2018 - 2030
5.7.1.2. Germany Cooling Towers Market Design, Value (US$ Bn), 2018 - 2030
5.7.1.3. Germany Cooling Towers Market Material, Value (US$ Bn), 2018 - 2030
5.7.1.4. Germany Cooling Towers Market Flow Type, Value (US$ Bn), 2018 - 2030
5.7.1.5. Germany Cooling Towers Market Technology, Value (US$ Bn), 2018 - 2030
5.7.1.6. Germany Cooling Towers Market Application, Value (US$ Bn), 2018 - 2030
5.7.1.7. U.K. Cooling Towers Market by Type, Value (US$ Bn), 2018 - 2030
5.7.1.8. U.K. Cooling Towers Market Design, Value (US$ Bn), 2018 - 2030
5.7.1.9. U.K. Cooling Towers Market Material, Value (US$ Bn), 2018 - 2030
5.7.1.10. U.K. Cooling Towers Market Flow Type, Value (US$ Bn), 2018 - 2030
5.7.1.11. U.K. Cooling Towers Market Technology, Value (US$ Bn), 2018 - 2030
5.7.1.12. U.K. Cooling Towers Market Application, Value (US$ Bn), 2018 - 2030
5.7.1.13. France Cooling Towers Market by Type, Value (US$ Bn), 2018 - 2030
5.7.1.14. France Cooling Towers Market Design, Value (US$ Bn), 2018 - 2030
5.7.1.15. France Cooling Towers Market Material, Value (US$ Bn), 2018 - 2030
5.7.1.16. France Cooling Towers Market Flow Type, Value (US$ Bn), 2018 - 2030
5.7.1.17. France Cooling Towers Market Technology, Value (US$ Bn), 2018 - 2030
5.7.1.18. France Cooling Towers Market Application, Value (US$ Bn), 2018 - 2030
5.7.1.19. Italy Cooling Towers Market by Type, Value (US$ Bn), 2018 - 2030
5.7.1.20. Italy Cooling Towers Market Design, Value (US$ Bn), 2018 - 2030
5.7.1.21. Italy Cooling Towers Market Material, Value (US$ Bn), 2018 - 2030
5.7.1.22. Italy Cooling Towers Market Flow Type, Value (US$ Bn), 2018 - 2030
5.7.1.23. Italy Cooling Towers Market Technology, Value (US$ Bn), 2018 - 2030
5.7.1.24. Italy Cooling Towers Market Application, Value (US$ Bn), 2018 - 2030
5.7.1.25. Turkey Cooling Towers Market by Type, Value (US$ Bn), 2018 - 2030
5.7.1.26. Turkey Cooling Towers Market Design, Value (US$ Bn), 2018 - 2030
5.7.1.27. Turkey Cooling Towers Market Material, Value (US$ Bn), 2018 - 2030
5.7.1.28. Turkey Cooling Towers Market Flow Type, Value (US$ Bn), 2018 - 2030
5.7.1.29. Turkey Cooling Towers Market Technology, Value (US$ Bn), 2018 - 2030
5.7.1.30. Turkey Cooling Towers Market Application, Value (US$ Bn), 2018 - 2030
5.7.1.31. Russia Cooling Towers Market by Type, Value (US$ Bn), 2018 - 2030
5.7.1.32. Russia Cooling Towers Market Design, Value (US$ Bn), 2018 - 2030
5.7.1.33. Russia Cooling Towers Market Material, Value (US$ Bn), 2018 - 2030
5.7.1.34. Russia Cooling Towers Market Flow Type, Value (US$ Bn), 2018 - 2030
5.7.1.35. Russia Cooling Towers Market Technology, Value (US$ Bn), 2018 - 2030
5.7.1.36. Russia Cooling Towers Market Application, Value (US$ Bn), 2018 - 2030
5.7.1.37. Rest of Europe Cooling Towers Market by Type, Value (US$ Bn), 2018 - 2030
5.7.1.38. Rest of Europe Cooling Towers Market Design, Value (US$ Bn), 2018 - 2030
5.7.1.39. Rest of Europe Cooling Towers Market Material, Value (US$ Bn), 2018 - 2030
5.7.1.40. Rest of Europe Cooling Towers Market Flow Type, Value (US$ Bn), 2018 - 2030
5.7.1.41. Rest of Europe Cooling Towers Market Technology, Value (US$ Bn), 2018 - 2030
5.7.1.42. Rest of Europe Cooling Towers Market Application, Value (US$ Bn), 2018 - 2030
5.7.2. BPS Analysis/Market Attractiveness Analysis

6. Asia Pacific Cooling Towers Market Outlook, 2018 - 2030
6.1. Asia Pacific Cooling Towers Market Outlook, by Type, Value (US$ Bn), 2018 - 2030
6.1.1. Key Highlights
6.1.1.1. Evaporative Cooling Tower
6.1.1.2. Dry Cooling Tower
6.1.1.3. Hybrid Cooling Tower
6.2. Asia Pacific Cooling Towers Market Outlook, by Design, Value (US$ Bn), 2018 - 2030
6.2.1. Key Highlights
6.2.1.1. Mechanical Draft
6.2.1.2. Natural Draft
6.3. Asia Pacific Cooling Towers Market Outlook, by Material, Value (US$ Bn), 2018 - 2030
6.3.1. Key Highlights
6.3.1.1. Concrete
6.3.1.2. Steel
6.3.1.3. Fiberglass Reinforced Plastic (FRP)
6.3.1.4. Wood
6.4. Asia Pacific Cooling Towers Market Outlook, by Flow Type, Value (US$ Bn), 2018 - 2030
6.4.1. Key Highlights
6.4.1.1. Crossflow
6.4.1.2. Counterflow
6.5. Global Cooling Towers Market Outlook, by Technology, Value (US$ Bn), 2018 - 2030
6.5.1. Key Highlights Snacks
6.5.1.1. Open Circuit
6.5.1.2. Close Circuit
6.5.1.3. Hybrid Circuit
6.6. Global Cooling Towers Market Outlook, by Application, Value (US$ Bn), 2018 - 2030
6.6.1. Key Highlights Snacks
6.6.1.1. Power Generation
6.6.1.2. HVACR
6.6.1.3. Food & Beverage
6.6.1.4. Chemical
6.6.1.5. Petrochemical and Oil & Gas
6.6.1.6. Others
6.6.2. BPS Analysis/Market Attractiveness Analysis
6.7. Asia Pacific Cooling Towers Market Outlook, by Country, Value (US$ Bn), 2018 - 2030
6.7.1. Key Highlights
6.7.1.1. China Cooling Towers Market by Type, Value (US$ Bn), 2018 - 2030
6.7.1.2. China Cooling Towers Market Design, Value (US$ Bn), 2018 - 2030
6.7.1.3. China Cooling Towers Market Material, Value (US$ Bn), 2018 - 2030
6.7.1.4. China Cooling Towers Market Flow Type, Value (US$ Bn), 2018 - 2030
6.7.1.5. China Cooling Towers Market Technology, Value (US$ Bn), 2018 - 2030
6.7.1.6. China Cooling Towers Market Application, Value (US$ Bn), 2018 - 2030
6.7.1.7. Japan Cooling Towers Market by Type, Value (US$ Bn), 2018 - 2030
6.7.1.8. Japan Cooling Towers Market Design, Value (US$ Bn), 2018 - 2030
6.7.1.9. Japan Cooling Towers Market Material, Value (US$ Bn), 2018 - 2030
6.7.1.10. Japan Cooling Towers Market Flow Type, Value (US$ Bn), 2018 - 2030
6.7.1.11. Japan Cooling Towers Market Technology, Value (US$ Bn), 2018 - 2030
6.7.1.12. Japan Cooling Towers Market Application, Value (US$ Bn), 2018 - 2030
6.7.1.13. South Korea Cooling Towers Market by Type, Value (US$ Bn), 2018 - 2030
6.7.1.14. South Korea Cooling Towers Market Design, Value (US$ Bn), 2018 - 2030
6.7.1.15. South Korea Cooling Towers Market Material, Value (US$ Bn), 2018 - 2030
6.7.1.16. South Korea Cooling Towers Market Flow Type, Value (US$ Bn), 2018 - 2030
6.7.1.17. South Korea Cooling Towers Market Technology, Value (US$ Bn), 2018 - 2030
6.7.1.18. South Korea Cooling Towers Market Application, Value (US$ Bn), 2018 - 2030
6.7.1.19. India Cooling Towers Market by Type, Value (US$ Bn), 2018 - 2030
6.7.1.20. India Cooling Towers Market Design, Value (US$ Bn), 2018 - 2030
6.7.1.21. India Cooling Towers Market Material, Value (US$ Bn), 2018 - 2030
6.7.1.22. India Cooling Towers Market Flow Type, Value (US$ Bn), 2018 - 2030
6.7.1.23. India Cooling Towers Market Technology, Value (US$ Bn), 2018 - 2030
6.7.1.24. India Cooling Towers Market Application, Value (US$ Bn), 2018 - 2030
6.7.1.25. Southeast Asia Cooling Towers Market by Type, Value (US$ Bn), 2018 - 2030
6.7.1.26. Southeast Asia Cooling Towers Market Design, Value (US$ Bn), 2018 - 2030
6.7.1.27. Southeast Asia Cooling Towers Market Material, Value (US$ Bn), 2018 - 2030
6.7.1.28. Southeast Asia Cooling Towers Market Flow Type, Value (US$ Bn), 2018 - 2030
6.7.1.29. Southeast Asia Cooling Towers Market Technology, Value (US$ Bn), 2018 - 2030
6.7.1.30. Southeast Asia Cooling Towers Market Application, Value (US$ Bn), 2018 - 2030
6.7.1.31. Rest of Asia Pacific Cooling Towers Market by Type, Value (US$ Bn), 2018 - 2030
6.7.1.32. Rest of Asia Pacific Cooling Towers Market Design, Value (US$ Bn), 2018 - 2030
6.7.1.33. Rest of Asia Pacific Cooling Towers Market Material, Value (US$ Bn), 2018 - 2030
6.7.1.34. Rest of Asia Pacific Cooling Towers Market Flow Type, Value (US$ Bn), 2018 - 2030
6.7.1.35. Rest of Asia Pacific Cooling Towers Market Technology, Value (US$ Bn), 2018 - 2030
6.7.1.36. Rest of Asia Pacific Cooling Towers Market Application, Value (US$ Bn), 2018 - 2030
6.7.2. BPS Analysis/Market Attractiveness Analysis

7. Latin America Cooling Towers Market Outlook, 2018 - 2030
7.1. Latin America Cooling Towers Market Outlook, by Type, Value (US$ Bn), 2018 - 2030
7.1.1. Key Highlights
7.1.1.1. Evaporative Cooling Tower
7.1.1.2. Dry Cooling Tower
7.1.1.3. Hybrid Cooling Tower
7.2. Latin America Cooling Towers Market Outlook, by Design, Value (US$ Bn), 2018 - 2030
7.2.1. Key Highlights
7.2.1.1. Mechanical Draft
7.2.1.2. Natural Draft
7.3. Latin America Cooling Towers Market Outlook, by Material, Value (US$ Bn), 2018 - 2030
7.3.1. Key Highlights
7.3.1.1. Concrete
7.3.1.2. Steel
7.3.1.3. Fiberglass Reinforced Plastic (FRP)
7.3.1.4. Wood
7.4. Latin America Cooling Towers Market Outlook, by Flow Type, Value (US$ Bn), 2018 - 2030
7.4.1. Key Highlights
7.4.1.1. Crossflow
7.4.1.2. Counterflow
7.5. Global Cooling Towers Market Outlook, by Technology, Value (US$ Bn), 2018 - 2030
7.5.1. Key Highlights Snacks
7.5.1.1. Open Circuit
7.5.1.2. Close Circuit
7.5.1.3. Hybrid Circuit
7.6. Global Cooling Towers Market Outlook, by Application, Value (US$ Bn), 2018 - 2030
7.6.1. Key Highlights Snacks
7.6.1.1. Power Generation
7.6.1.2. HVACR
7.6.1.3. Food & Beverage
7.6.1.4. Chemical
7.6.1.5. Petrochemical and Oil & Gas
7.6.1.6. Others
7.6.2. BPS Analysis/Market Attractiveness Analysis
7.7. Latin America Cooling Towers Market Outlook, by Country, Value (US$ Bn), 2018 - 2030
7.7.1. Key Highlights
7.7.1.1. Brazil Cooling Towers Market by Type, Value (US$ Bn), 2018 - 2030
7.7.1.2. Brazil Cooling Towers Market Design, Value (US$ Bn), 2018 - 2030
7.7.1.3. Brazil Cooling Towers Market Material, Value (US$ Bn), 2018 - 2030
7.7.1.4. Brazil Cooling Towers Market Flow Type, Value (US$ Bn), 2018 - 2030
7.7.1.5. Brazil Cooling Towers Market Technology, Value (US$ Bn), 2018 - 2030
7.7.1.6. Brazil Cooling Towers Market Application, Value (US$ Bn), 2018 - 2030
7.7.1.7. Mexico Cooling Towers Market by Type, Value (US$ Bn), 2018 - 2030
7.7.1.8. Mexico Cooling Towers Market Design, Value (US$ Bn), 2018 - 2030
7.7.1.9. Mexico Cooling Towers Market Material, Value (US$ Bn), 2018 - 2030
7.7.1.10. Mexico Cooling Towers Market Flow Type, Value (US$ Bn), 2018 - 2030
7.7.1.11. Mexico Cooling Towers Market Technology, Value (US$ Bn), 2018 - 2030
7.7.1.12. Mexico Cooling Towers Market Application, Value (US$ Bn), 2018 - 2030
7.7.1.13. Argentina Cooling Towers Market by Type, Value (US$ Bn), 2018 - 2030
7.7.1.14. Argentina Cooling Towers Market Design, Value (US$ Bn), 2018 - 2030
7.7.1.15. Argentina Cooling Towers Market Material, Value (US$ Bn), 2018 - 2030
7.7.1.16. Argentina Cooling Towers Market Flow Type, Value (US$ Bn), 2018 - 2030
7.7.1.17. Argentina Cooling Towers Market Technology, Value (US$ Bn), 2018 - 2030
7.7.1.18. Argentina Cooling Towers Market Application, Value (US$ Bn), 2018 - 2030
7.7.1.19. Rest of Latin America Cooling Towers Market by Type, Value (US$ Bn), 2018 - 2030
7.7.1.20. Rest of Latin America Cooling Towers Market Design, Value (US$ Bn), 2018 - 2030
7.7.1.21. Rest of Latin America Cooling Towers Market Material, Value (US$ Bn), 2018 - 2030
7.7.1.22. Rest of Latin America Cooling Towers Market Flow Type, Value (US$ Bn), 2018 - 2030
7.7.1.23. Rest of Latin America Cooling Towers Market Technology, Value (US$ Bn), 2018 - 2030
7.7.1.24. Rest of Latin America Cooling Towers Market Application, Value (US$ Bn), 2018 - 2030
7.7.2. BPS Analysis/Market Attractiveness Analysis

8. Middle East & Africa Cooling Towers Market Outlook, 2018 - 2030
8.1. Middle East & Africa Cooling Towers Market Outlook, by Type, Value (US$ Bn), 2018 - 2030
8.1.1. Key Highlights
8.1.1.1. Evaporative Cooling Tower
8.1.1.2. Dry Cooling Tower
8.1.1.3. Hybrid Cooling Tower
8.2. Middle East & Africa Cooling Towers Market Outlook, by Design, Value (US$ Bn), 2018 - 2030
8.2.1. Key Highlights
8.2.1.1. Mechanical Draft
8.2.1.2. Natural Draft
8.3. Middle East & Africa Cooling Towers Market Outlook, by Material, Value (US$ Bn), 2018 - 2030
8.3.1. Key Highlights
8.3.1.1. Concrete
8.3.1.2. Steel
8.3.1.3. Fiberglass Reinforced Plastic (FRP)
8.3.1.4. Wood
8.4. Middle East & Africa Cooling Towers Market Outlook, by Flow Type, Value (US$ Bn), 2018 - 2030
8.4.1. Key Highlights
8.4.1.1. Crossflow
8.4.1.2. Counterflow
8.5. Global Cooling Towers Market Outlook, by Technology, Value (US$ Bn), 2018 - 2030
8.5.1. Key Highlights Snacks
8.5.1.1. Open Circuit
8.5.1.2. Close Circuit
8.5.1.3. Hybrid Circuit
8.6. Global Cooling Towers Market Outlook, by Application, Value (US$ Bn), 2018 - 2030
8.6.1. Key Highlights Snacks
8.6.1.1. Power Generation
8.6.1.2. HVACR
8.6.1.3. Food & Beverage
8.6.1.4. Chemical
8.6.1.5. Petrochemical and Oil & Gas
8.6.1.6. Others
8.6.2. BPS Analysis/Market Attractiveness Analysis
8.7. Middle East & Africa Cooling Towers Market Outlook, by Country, Value (US$ Bn), 2018 - 2030
8.7.1. Key Highlights
8.7.1.1. GCC Cooling Towers Market by Type, Value (US$ Bn), 2018 - 2030
8.7.1.2. GCC Cooling Towers Market Design, Value (US$ Bn), 2018 - 2030
8.7.1.3. GCC Cooling Towers Market Material, Value (US$ Bn), 2018 - 2030
8.7.1.4. GCC Cooling Towers Market Flow Type, Value (US$ Bn), 2018 - 2030
8.7.1.5. GCC Cooling Towers Market Technology, Value (US$ Bn), 2018 - 2030
8.7.1.6. GCC Cooling Towers Market Application, Value (US$ Bn), 2018 - 2030
8.7.1.7. South Africa Cooling Towers Market by Type, Value (US$ Bn), 2018 - 2030
8.7.1.8. South Africa Cooling Towers Market Design, Value (US$ Bn), 2018 - 2030
8.7.1.9. South Africa Cooling Towers Market Material, Value (US$ Bn), 2018 - 2030
8.7.1.10. South Africa Cooling Towers Market Flow Type, Value (US$ Bn), 2018 - 2030
8.7.1.11. South Africa Cooling Towers Market Technology, Value (US$ Bn), 2018 - 2030
8.7.1.12. South Africa Cooling Towers Market Application, Value (US$ Bn), 2018 - 2030
8.7.1.13. Egypt Cooling Towers Market by Type, Value (US$ Bn), 2018 - 2030
8.7.1.14. Egypt Cooling Towers Market Design, Value (US$ Bn), 2018 - 2030
8.7.1.15. Egypt Cooling Towers Market Material, Value (US$ Bn), 2018 - 2030
8.7.1.16. Egypt Cooling Towers Market Flow Type, Value (US$ Bn), 2018 - 2030
8.7.1.17. Egypt Cooling Towers Market Technology, Value (US$ Bn), 2018 - 2030
8.7.1.18. Egypt Cooling Towers Market Application, Value (US$ Bn), 2018 - 2030
8.7.1.19. Nigeria Cooling Towers Market by Type, Value (US$ Bn), 2018 - 2030
8.7.1.20. Nigeria Cooling Towers Market Design, Value (US$ Bn), 2018 - 2030
8.7.1.21. Nigeria Cooling Towers Market Material, Value (US$ Bn), 2018 - 2030
8.7.1.22. Nigeria Cooling Towers Market Flow Type, Value (US$ Bn), 2018 - 2030
8.7.1.23. Nigeria Cooling Towers Market Technology, Value (US$ Bn), 2018 - 2030
8.7.1.24. Nigeria Cooling Towers Market Application, Value (US$ Bn), 2018 - 2030
8.7.1.25. Rest of Middle East & Africa Cooling Towers Market by Type, Value (US$ Bn), 2018 - 2030
8.7.1.26. Rest of Middle East & Africa Cooling Towers Market Design, Value (US$ Bn), 2018 - 2030
8.7.1.27. Rest of Middle East & Africa Cooling Towers Market Material, Value (US$ Bn), 2018 - 2030
8.7.1.28. Rest of Middle East & Africa Cooling Towers Market Flow Type, Value (US$ Bn), 2018 - 2030
8.7.1.29. Rest of Middle East & Africa Cooling Towers Market Technology, Value (US$ Bn), 2018 - 2030
8.7.1.30. Rest of Middle East & Africa Cooling Towers Market Application, Value (US$ Bn), 2018 - 2030
8.7.2. BPS Analysis/Market Attractiveness Analysis

9. Competitive Landscape
9.1. Material vs Design Heatmap
9.2. Manufacturer vs Design Heatmap
9.3. Company Market Share Analysis, 2022
9.4. Competitive Dashboard
9.5. Company Profiles
9.5.1. EVAPCO
9.5.2. Baltimore Aircoil Company Inc.
9.5.2.1. Company Overview
9.5.2.2. Product Portfolio
9.5.2.3. Financial Overview
9.5.2.4. Business Strategies and Development
9.5.3. SPX Corporation
9.5.3.1. Company Overview
9.5.3.2. Product Portfolio
9.5.3.3. Financial Overview
9.5.3.4. Business Strategies and Development
9.5.4. Artech Cooling Towers Pvt. Ltd.
9.5.4.1. Company Overview
9.5.4.2. Product Portfolio
9.5.4.3. Financial Overview
9.5.4.4. Business Strategies and Development
9.5.5. Babcock & Wilcox Enterprises
9.5.5.1. Company Overview
9.5.5.2. Product Portfolio
9.5.5.3. Financial Overview
9.5.5.4. Business Strategies and Development
9.5.6. Brentwood Industries
9.5.6.1. Company Overview
9.5.6.2. Product Portfolio
9.5.6.3. Financial Overview
9.5.6.4. Business Strategies and Development
9.5.7. Johnson Controls Inc.
9.5.7.1. Company Overview
9.5.7.2. Product Portfolio
9.5.7.3. Financial Overview
9.5.7.4. Business Strategies and Development
9.5.8. Paharpur Cooling Tower Ltd.
9.5.8.1. Company Overview
9.5.8.2. Product Portfolio
9.5.8.3. Financial Overview
9.5.8.4. Business Strategies and Development
9.5.9. Enexio
9.5.9.1. Company Overview
9.5.9.2. Product Portfolio
9.5.9.3. Financial Overview
9.5.9.4. Business Strategies and Development
9.5.10. Hamon & CIE International
9.5.10.1. Company Overview
9.5.10.2. Product Portfolio
9.5.10.3. Financial Overview
9.5.10.4. Business Strategies and Development
9.5.11. Cenk Endüstri Tesisleri Imalat Ve Taahhüt A.Åž.
9.5.11.1. Company Overview
9.5.11.2. Product Portfolio
9.5.11.3. Financial Overview
9.5.11.4. Business Strategies and Development
9.5.12. Cooling Tower Systems, Inc.
9.5.12.1. Company Overview
9.5.12.2. Product Portfolio
9.5.12.3. Financial Overview
9.5.12.4. Business Strategies and Development
9.5.13. Delta Cooling Towers Inc.
9.5.13.1. Company Overview
9.5.13.2. Product Portfolio
9.5.13.3. Financial Overview
9.5.13.4. Business Strategies and Development
9.5.14. Engie Refrigeration GmbH
9.5.14.1. Company Overview
9.5.14.2. Product Portfolio
9.5.14.3. Financial Overview
9.5.14.4. Business Strategies and Development
9.5.15. Liang Chi Industry Co. Ltd.
9.5.15.1. Company Overview
9.5.15.2. Product Portfolio
9.5.15.3. Financial Overview
9.5.15.4. Business Strategies and Development

10. Appendix
10.1. Research Methodology
10.2. Report Assumptions
10.3. Acronyms and Abbreviations
BASE YEAR

HISTORICAL DATA

FORECAST PERIOD

UNITS

2022

2018 - 2022

2023 - 2030

Value: US$ Million
REPORT FEATURES

DETAILS

Type Coverage

Evaporative Cooling Tower
Dry Cooling Tower
Hybrid Cooling Tower

Design Coverage

Mechanical Draft
Natural Draft

Material Coverage

Flow Type Coverage

Technology Coverage

Open Circuit
Close Circuit
Hybrid Circuit

Application Coverage

Power Generation
HVACR
Food & Beverage
Chemical
Petrochemical and Oil & Gas
Others

Geographical Coverage

Germany
UK
France
Italy
Spain
Rest of EU

China
Japan
India
South Korea
Rest of APAC

Brazil
Mexico
Rest of Latin America

GCC Countries
South Africa
Rest of Middle East & Africa

Leading Companies

EVAPCO
Baltimore Aircoil Company Inc.
SPX Corporation
Artech Cooling Towers Pvt. Ltd.
Babcock & Wilcox Enterprises
Brentwood Industries
Johnson Controls Inc.
Paharpur Cooling Tower Ltd.
Enexio
Hamon & CIE International
Cenk Endüstri Tesisleri Imalat Ve Taahhüt A.Åž.
Cooling Tower Systems, Inc.
Delta Cooling Towers Inc.
Engie Refrigeration GmbH
Liang Chi Industry Co. Ltd.

Report Highlights

Key Market Indicators, Macro-micro economic impact analysis,

Technological Roadmap, Key Trends, Driver, Restraints, and Future

Opportunities & Revenue Pockets, Porter's 5 Forces Analysis, Historical

Trend (2019-2021), Market Estimates and Forecast, Market Dynamics,

Industry Trends, Competition Landscape, Category, Region, Country-

wise Trends & Analysis, COVID-19 Impact Analysis (Demand and

Supply Chain)