Global Engineering Plastic Compounds Market Thrives as Demand for Metal, Glass, and Ceramics Alternative Rises
An excellent alternative to metal, glass or even ceramics, engineering plastic compounds are being increasingly finding place in most demanding applications owing to their mechanical strength, heat resistance, and chemical attack resistance properties. As a result the global engineering plastic compounds market has wide scope for application in areas such as automotive and industrial, renewable energy, medical technology, and transport. Engineering plastic compounds encompasses several plastics under its umbrella, among which polyamide, polycarbonate, Styrenics (ABS & SAN), Poly butylene Terephthalate (PBT), Polyoxymethylene (POM), Polymethyl methacrylate (PMMA) and Thermoplastic Elastomers (TPE) are the most prominent one's.
The global engineering plastic compounds market was valued at US$17.3 Bn in 2017 and is projected to grow to US$26.9 Bn by 2025, at a CAGR of 5.75% during the forecast period. The increasing trend for lightweight vehicles, increasing demand for connected vehicles and growing awareness about the reduction of vehicular emissions are driving the engineering plastics compound market in the automotive & transportation end-use industry.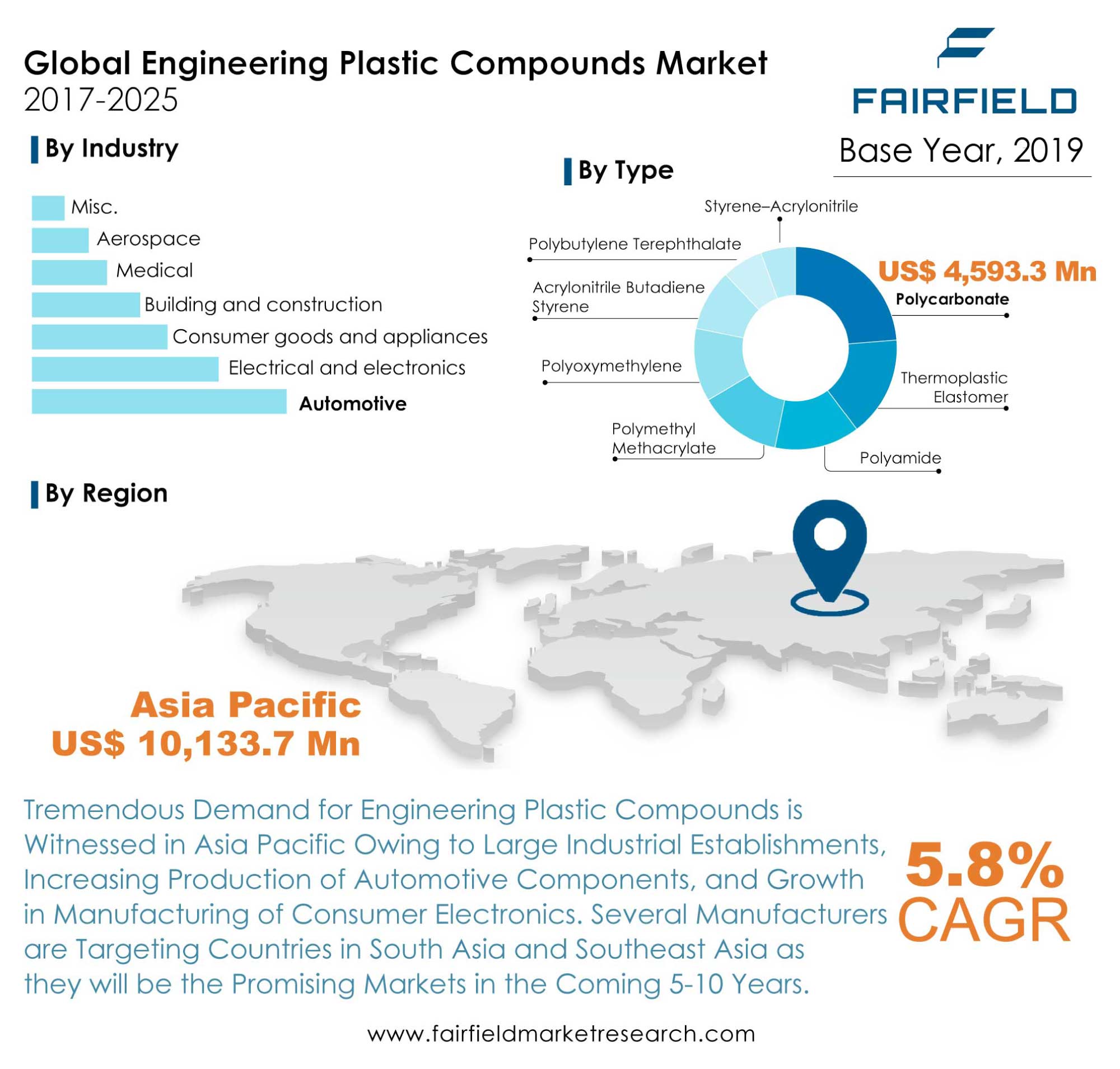 Metals and glass are continuously being replaced by lighter materials because of continuous developments and property upgradation in the plastic industry. For instance, polyamides have replaced metal automotive gear shift module because of their lightweight and high-strength properties. Metal replacement is playing a very crucial role in the automotive industry to reduce vehicle weight, easy integration of parts, and decrease in total manufacturing costs. Owing to government regulations and concerns regarding fuel efficiency standards and consumer preferences for vehicles with high gas mileage, automobile manufacturers are focusing on enhancing fuel economy. Engineering plastic compounds are also used in electrical components of hybrid electric cars due to their favourable properties, for instance, high heat resistance.
Although there is a tremendous usage of engineering plastics resins in several industries, but its compounds are mostly in demand for high temperature applications such as automotive, industrial, aerospace, and electronics manufacturing. To process these EP resins into compounds the plastics are melted with additives, fillers, or reinforcers, which changes its physical, thermal, electrical, or aesthetic characteristics. Based on the addition of these additives several properties can be achieved including conductivity, flame retardance, wear resistance, structural, and precolored.
COVID-19 Impact on Global Engineering Plastic Compounds Market
Medical devices and instruments are in a constant state of evolution, and with the current ongoing covid situation it has become essential to respond to trends within and outside the hospital premises to attain better care at lesser system costs. The trends toward miniaturization and compactness are driving new requirements in the medical industry. Hygiene and public health safety continue to receive strong consideration globally, demanding devices to withstand a range of chemicals and sterilization procedures. There was a time when reusability of a product was considered as a leap ahead advantage, but not any more in the medical industry, especially in orthopedics. The use of single-use products is the answer and is the latest trend in orthopedics application. This has forced the industry to go for plastic materials by which the cost can be reduced to an extent. Increasing client demands in sophisticated medical applications with high-performance materials and long-term preparation constancy, has impelled manufacturers to extend its portfolio of engineering plastics compounds for medical technology.
Increasing Demand for Engineering Plastic Compounds in Electric Vehicles Boosts Market
Engineering plastic compounds market has tremendous opportunity in the automotive sector. To reduce weight and achieve greater fuel efficiency, plastics are becoming immensely popular in automotive applications. Dozens of different plastics are used to make 2,000 or more parts of varying shapes and sizes, from lights and bumpers to engine components, dashboards, headrests, switches, clips, panoramic roofs, seats, airbags, and seat belts Several engineering plastics compounds such as polyamide, polycarbonate, and ABS together account for a substantial share in the automotive manufacturing. Apart from this, plastic usage has also imparted other benefits to the car manufacturers such as saving their overall investments. For instance, a nylon bracket that holds together components under the hood might have mounts and other features moulded right into it.
Engineering thermoplastics are apparently lighter and stronger than several metals such as aluminium, magnesium alloys, aluminium alloys and others, which are offering great potential to replace traditional metal parts. One of the most important drivers aiding the growth of engineering plastics compounds are unexplored opportunities of replacing metals not only in automobiles, but also in the application areas of household appliances, construction, and infrastructure, to list down a few. For example, nylon replacing metals in under-the-hood motor vehicle applications and polycarbonate in the construction, medical and consumer markets.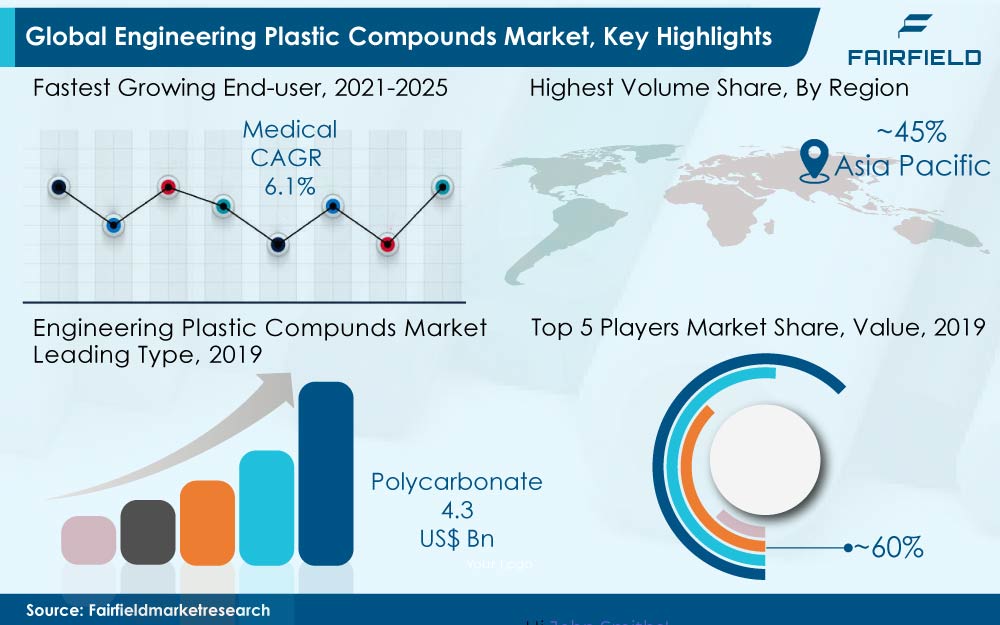 Avoided Emissions - Production Approach to be Adopted by Manufacturers to Curb Emissions
To achieve goals of sustainable manufacturing various manufacturers are privately investing in research organizations to develop a novel, eco-friendly, and closed-loop route for recycling engineering plastics. For instance, Exeter Advanced Technologies (X-AT) along with some industrial companies has developed a recycling process through solvolysis process. This process separates composites/plastic compounds into different components, such as fillers, fibres and resins, under specific temperatures and pressures for reuse in new applications. Further, companies such as Entec polymers are also offering post-consumer nylon products that are certified to UL's most rigorous adherence standard for PCR based products. Mitsubishi Chemicals has developed a bio-based polycarbonate resin derived mainly from plant-based isosorbide, which has excellent durability, making possible its deployment in a wide variety of applications such as for optical, electronic equipment, automotive housings, interior and exterior decor.
'Avoided emissions' refers to the emissions related environmental benefits that occur downstream in the use phase of our products. While avoided emissions do not count toward any specific Science Based Targets, they result in reduced emissions for customers and end-users. For example, DSM Engineering Plastics provides products for packaging films in the food industry, which require effective oxygen barrier properties and high puncture resistance. These films play an important role in reducing food waste by protecting food during transport, retail, and consumer use, and extending shelf life. Reducing food waste diminishes the burden on the food production system, leading to significant avoided emissions. By adopting this production approach, companies can gain goodwill in the market and gain traction from customers as well end users.
China and India - Driving the Engineering Plastic Compounds Industry, Globally
Asia Pacific region holds the largest share of more than 45% in the engineering plastics compound market owing to rapidly growing economies such as China and India, and ASEAN countries including Malaysia and Thailand. The major factor driving their growth is the increasing investments due to the high consumption of engineering plastic compounds. Owing to the increase in disposable income, the consumer buying pattern has changed; it has been influenced by globalization and westernization. These countries are also attracting attention of foreign investors to set up manufacturing plants and generate employment and revenue in the countries. This has created many opportunities for global manufacturers to set up their plants in the emerging economies.
The increasing population in Asia Pacific is boosting the demand in end-use industries, such as automotive & transportation, electrical & electronics, consumer appliances, and building & construction. The growth of the automotive industry has resulted in increased demand for engineering plastics compound. The booming electrical & electronics sector is also driving the growth of the engineering plastics compound market.
Top 8 Companies Hold About 60% Share in the Global Engineering Plastics Compounds Market
The key companies operating the global engineering plastic compounds market are BASF SE, Idemitsu Kosan Company Ltd., SABIC, Asahi Kasei Advance Corporation, Lanxess AG, and Covestro AG, among others. According to Fairfield Analysis, the top eight companies hold about 60% share in the engineering plastics compounds market. These companies are continuously developing their product portfolio to meet the increasing demand from automotive, building and construction, and electronics industries. Further, these companies are also expanding their production base with heavy investments concentrating in Asia Pacific countries owing to easy access to raw materials, and low labour and technology cost.
Above companies together hold compounding capacity of more than 2.6 million tons of products such as PBT compounds, polycarbonate compounds, TPE compounds, polyamide compounds, and ABS compounds. Other key players operating in the market includes Trinseo, Kraiburg TPE, Radici Plastics, Petrochemical Conversion Company (PCC), Chevron Philips, Repsol, and Polyone Corporation, among others. These companies jointly have production capacities of around 11.3 million tonnes.
The Global Engineering Plastics Compounds Market is Segmented as Below:
Type Coverage
Polycarbonate
Polyamide
Polymethyl Methacrylate
Polyoxymethylene
Polybutylene Terephthalate
Acrylonitrile Butadiene Styrene
Styrene-Acrylonitrile
Thermoplastic Elastomer
Misc. (UHMWPE, LCP ASA, PI, PVDF, etc.)
End Use Industry Coverage
Automotive
Aerospace
Electrical and electronics
Building and construction
Consumer goods and appliances
Medical
(Packaging, Industrial applications, etc.)
Geographical Coverage
North America
Europe

UK
Germany
France
Spain
Italy
Poland
Russia
Rest of Europe

Asia Pacific

China
Japan
India
Malaysia
Thailand
Rest of Asia Pacific

Latin America

Brazil
Mexico
Rest of Latin America

Middle East & Africa

GCC
South Africa
Rest of Middle East & Africa
Leading Companies
BASF
SABIC
Idemitsu
Asahi Kasei Engineering Plastics
Elix Polymer
Lanxess
Siko Polymers
Bhansali Engineers Polymer Ltd.
Polyplastics
Covestro
Ineos Styrosolution
Celanese Corporation
Others
Inside This Report You Will Find:
1. Executive Summary
2. Market Overview
3. Global Production Capacity Analysis
4. Price Trends Analysis and Future Projects 2017 - 2025
5. Global Engineering Plastic Compounds Market Outlook 2017 - 2025
6. North America Engineering Plastic Compounds Market Outlook 2017 - 2025
7. Europe Engineering Plastic Compounds Market Outlook 2017 - 2025
8. Asia Pacific Engineering Plastic Compounds Market Outlook 2017 - 2025
9. Latin America Engineering Plastic Compounds Market Outlook 2017 - 2025
10. Middle East & Africa Engineering Plastic Compounds Market Outlook 2017 - 2025
11. Competitive Landscape
12. Appendix
Post Sale Support, Research Updates & Offerings:
We value the trust shown by our customers in Fairfield Market Research. We support our clients through our post sale support, research updates and offerings.
The report will be prepared in a PPT format and will be delivered in a PDF format.
Additionally, Market Estimation and Forecast numbers will be shared in Excel Workbook.
If a report being sold was published over a year ago, we will offer a complimentary copy of the updated research report along with Market Estimation and Forecast numbers within 2-3 weeks' time of the sale.
If we update this research study within the next 2 quarters, post purchase of the report, we will offer a Complimentary copy of the updated Market Estimation and Forecast numbers in Excel Workbook.
If there is a geopolitical conflict, pandemic, recession, and the like which can impact global economic scenario and business activity, which might entirely alter the market dynamics or future projections in the industry, we will create a Research Update upon your request at a nominal charge.
1. Executive Summary
1.1. Global Engineering Plastic Compounds Market Snapshot
1.2. Future Projections
1.3. Key Market Trends
1.4. Analyst Recommendations

2. Market Overview
2.1. Market Definitions and Segmentations
2.2. Market Dynamics
2.2.1. Drivers
2.2.2. Restraints
2.2.3. Key Trends
2.3. Supply Chain Analysis
2.4. Economic Overview
2.5. Factorization Analysis
2.5.1. Political Factors
2.5.2. Economic Factors
2.5.3. Social Factors
2.5.4. Technical Factors
2.6. Porters Five Forces Analysis
2.7. Covid-19 Impact Analysis
2.7.1. Effects on Plastic Industry
2.7.2. Heat Map, by Industry
2.8. Regulatory Analysis

3. Global Production Capacity Analysis
3.1. By Company
3.2. By Type

4. Price Trends Analysis and Future Projects 2017 - 2025
4.1. Price Trends Analysis and Future Projects, by Type 2017 - 2025

5. Global Engineering Plastic Compounds Market Outlook 2017 - 2025
5.1. Global Engineering Plastic Compounds Market Outlook, by Type, Volume (Kilo Tons) and Value (US$ Mn) 2017 - 2025
5.1.1. Key Highlights
5.1.1.1. Polycarbonate
5.1.1.2. Polyamide
5.1.1.3. Polymethyl Methacrylate
5.1.1.4. Polyoxymethylene
5.1.1.5. Polybutylene Terephthalate
5.1.1.6. Acrylonitrile Butadiene Styrene
5.1.1.7. Styrene–Acrylonitrile
5.1.1.8. Thermoplastic Elastomer
5.1.1.9. Misc. (UHMWPE, LCP ASA, PI, PVDF, etc.)
5.2. Global Engineering Plastic Compounds Market Outlook, by End Use Industry, Volume (Kilo Tons) and Value (US$ Mn) 2017 - 2025
5.2.1. Key Highlights
5.2.1.1. Automotive
5.2.1.2. Aerospace
5.2.1.3. Electrical and electronics
5.2.1.4. Building and construction
5.2.1.5. Consumer goods and appliances
5.2.1.6. Medical
5.2.1.7. Misc. (Packaging, Industrial applications, etc.)
5.3. Global Engineering Plastic Compounds Market Outlook, by Region, Volume (Kilo Tons) and Value (US$ Mn) 2017 - 2025
5.3.1. Key Highlights
5.3.1.1. North America
5.3.1.2. Europe
5.3.1.3. Asia Pacific
5.3.1.4. Latin America
5.3.1.5. Middle East & Africa

6. North America Engineering Plastic Compounds Market Outlook 2017 - 2025
6.1. North America Engineering Plastic Compounds Market Outlook, by Type, Volume (Kilo Tons) and Value (US$ Mn) 2017 - 2025
6.1.1. Key Highlights
6.1.1.1. Polycarbonate
6.1.1.2. Polyamide
6.1.1.3. Polymethyl Methacrylate
6.1.1.4. Polyoxymethylene
6.1.1.5. Polybutylene Terephthalate
6.1.1.6. Acrylonitrile Butadiene Styrene
6.1.1.7. Styrene–Acrylonitrile
6.1.1.8. Thermoplastic Elastomer
6.1.1.9. Misc. (UHMWPE, LCP ASA, PI, PVDF, etc.)
6.2. North America Engineering Plastic Compounds Market Outlook, by End Use Industry, Volume (Kilo Tons) and Value (US$ Mn) 2017 - 2025
6.2.1. Key Highlights
6.2.1.1. Automotive
6.2.1.2. Aerospace
6.2.1.3. Electrical and electronics
6.2.1.4. Building and construction
6.2.1.5. Consumer goods and appliances
6.2.1.6. Medical
6.2.1.7. Misc. (Packaging, Industrial applications, etc.)
6.3. North America Engineering Plastic Compounds Market Outlook, by Country, Volume (Kilo Tons) and Value (US$ Mn) 2017 - 2025
6.3.1. Key Highlights
6.3.1.1. U.S. Engineering Plastic Compounds Market by Type, Volume (Kilo Tons) and Value (US$ Mn) 2017 - 2025
6.3.1.2. U.S. Engineering Plastic Compounds Market by End Use Industry, Volume (Kilo Tons) and Value (US$ Mn) 2017 - 2025
6.3.1.3. Canada Engineering Plastic Compounds Market by Type, Volume (Kilo Tons) and Value (US$ Mn) 2017 - 2025
6.3.1.4. Canada Engineering Plastic Compounds Market by End Use Industry, Volume (Kilo Tons) and Value (US$ Mn) 2017 - 2025

7. Europe Engineering Plastic Compounds Market Outlook 2017 - 2025
7.1. Europe Engineering Plastic Compounds Market Outlook, by Type, Volume (Kilo Tons) and Value (US$ Mn) 2017 - 2025
7.1.1. Key Highlights
7.1.1.1. Polycarbonate
7.1.1.2. Polyamide
7.1.1.3. Polymethyl Methacrylate
7.1.1.4. Polyoxymethylene
7.1.1.5. Polybutylene Terephthalate
7.1.1.6. Acrylonitrile Butadiene Styrene
7.1.1.7. Styrene–Acrylonitrile
7.1.1.8. Thermoplastic Elastomer
7.1.1.9. Misc. (UHMWPE, LCP ASA, PI, PVDF, etc.)
7.2. Europe Engineering Plastic Compounds Market Outlook, by End Use Industry, Volume (Kilo Tons) and Value (US$ Mn) 2017 - 2025
7.2.1. Key Highlights
7.2.1.1. Automotive
7.2.1.2. Aerospace
7.2.1.3. Electrical and electronics
7.2.1.4. Building and construction
7.2.1.5. Consumer goods and appliances
7.2.1.6. Medical
7.2.1.7. Misc. (Packaging, Industrial applications, etc.)
7.3. Europe Engineering Plastic Compounds Market Outlook, by Country, Volume (Kilo Tons) and Value (US$ Mn) 2017 - 2025
7.3.1. Key Highlights
7.3.1.1. U.K. Engineering Plastic Compounds Market by Type, Volume (Kilo Tons) and Value (US$ Mn) 2017 - 2025
7.3.1.2. U.K. Engineering Plastic Compounds Market by End Use Industry, Volume (Kilo Tons) and Value (US$ Mn) 2017 - 2025
7.3.1.3. Germany Engineering Plastic Compounds Market by Type, Volume (Kilo Tons) and Value (US$ Mn) 2017 - 2025
7.3.1.4. Germany Engineering Plastic Compounds Market by End Use Industry, Volume (Kilo Tons) and Value (US$ Mn) 2017 - 2025
7.3.1.5. France Engineering Plastic Compounds Market by Type, Volume (Kilo Tons) and Value (US$ Mn) 2017 - 2025
7.3.1.6. France Engineering Plastic Compounds Market by End Use Industry, Volume (Kilo Tons) and Value (US$ Mn) 2017 - 2025
7.3.1.7. Spain Engineering Plastic Compounds Market by Type, Volume (Kilo Tons) and Value (US$ Mn) 2017 - 2025
7.3.1.8. Spain Engineering Plastic Compounds Market by End Use Industry, Volume (Kilo Tons) and Value (US$ Mn) 2017 - 2025
7.3.1.9. Italy Engineering Plastic Compounds Market by Type, Volume (Kilo Tons) and Value (US$ Mn) 2017 - 2025
7.3.1.10. Italy Engineering Plastic Compounds Market by End Use Industry, Volume (Kilo Tons) and Value (US$ Mn) 2017 - 2025
7.3.1.11. Poland Engineering Plastic Compounds Market by Type, Volume (Kilo Tons) and Value (US$ Mn) 2017 - 2025
7.3.1.12. Poland Engineering Plastic Compounds Market by End Use Industry, Volume (Kilo Tons) and Value (US$ Mn) 2017 - 2025
7.3.1.13. Russia Engineering Plastic Compounds Market by Type, Volume (Kilo Tons) and Value (US$ Mn) 2017 - 2025
7.3.1.14. Russia Engineering Plastic Compounds Market by End Use Industry, Volume (Kilo Tons) and Value (US$ Mn) 2017 - 2025
7.3.1.15. Rest of Europe Engineering Plastic Compounds Market by Type, Volume (Kilo Tons) and Value (US$ Mn) 2017 - 2025
7.3.1.16. Rest of Europe Engineering Plastic Compounds Market by End Use Industry, Volume (Kilo Tons) and Value (US$ Mn) 2017 - 2025

8. Asia Pacific Engineering Plastic Compounds Market Outlook 2017 - 2025
8.1. Asia Pacific Engineering Plastic Compounds Market Outlook, by Type, Volume (Kilo Tons) and Value (US$ Mn) 2017 - 2025
8.1.1. Key Highlights
8.1.1.1. Polycarbonate
8.1.1.2. Polyamide
8.1.1.3. Polymethyl Methacrylate
8.1.1.4. Polyoxymethylene
8.1.1.5. Polybutylene Terephthalate
8.1.1.6. Acrylonitrile Butadiene Styrene
8.1.1.7. Styrene–Acrylonitrile
8.1.1.8. Thermoplastic Elastomer
8.1.1.9. Misc. (UHMWPE, LCP ASA, PI, PVDF, etc.)
8.2. Asia Pacific Engineering Plastic Compounds Market Outlook, by End Use Industry, Volume (Kilo Tons) and Value (US$ Mn) 2017 - 2025
8.2.1. Key Highlights
8.2.1.1. Automotive
8.2.1.2. Aerospace
8.2.1.3. Electrical and electronics
8.2.1.4. Building and construction
8.2.1.5. Consumer goods and appliances
8.2.1.6. Medical
8.2.1.7. Misc. (Packaging, Industrial applications, etc.)
8.3. Asia Pacific Engineering Plastic Compounds Market Outlook, by Country, Volume (Kilo Tons) and Value (US$ Mn) 2017 - 2025
8.3.1. Key Highlights
8.3.1.1. China Engineering Plastic Compounds Market by Type, Volume (Kilo Tons) and Value (US$ Mn) 2017 - 2025
8.3.1.2. China Engineering Plastic Compounds Market by End Use Industry, Volume (Kilo Tons) and Value (US$ Mn) 2017 - 2025
8.3.1.3. Japan Engineering Plastic Compounds Market by Type, Volume (Kilo Tons) and Value (US$ Mn) 2017 - 2025
8.3.1.4. Japan Engineering Plastic Compounds Market by End Use Industry, Volume (Kilo Tons) and Value (US$ Mn) 2017 - 2025
8.3.1.5. India Engineering Plastic Compounds Market by Type, Volume (Kilo Tons) and Value (US$ Mn) 2017 - 2025
8.3.1.6. India Engineering Plastic Compounds Market by End Use Industry, Volume (Kilo Tons) and Value (US$ Mn) 2017 - 2025
8.3.1.7. Malaysia Engineering Plastic Compounds Market by Type, Volume (Kilo Tons) and Value (US$ Mn) 2017 - 2025
8.3.1.8. Malaysia Engineering Plastic Compounds Market by End Use Industry, Volume (Kilo Tons) and Value (US$ Mn) 2017 - 2025
8.3.1.9. Thailand Engineering Plastic Compounds Market by Type, Volume (Kilo Tons) and Value (US$ Mn) 2017 - 2025
8.3.1.10. Thailand Engineering Plastic Compounds Market by End Use Industry, Volume (Kilo Tons) and Value (US$ Mn) 2017 - 2025
8.3.1.11. Rest of Asia Pacific Engineering Plastic Compounds Market by Type, Volume (Kilo Tons) and Value (US$ Mn) 2017 - 2025
8.3.1.12. Rest of Asia Pacific Engineering Plastic Compounds Market by End Use Industry, Volume (Kilo Tons) and Value (US$ Mn) 2017 - 2025

9. Latin America Engineering Plastic Compounds Market Outlook 2017 - 2025
9.1. Latin America Engineering Plastic Compounds Market Outlook, by Type, Volume (Kilo Tons) and Value (US$ Mn) 2017 - 2025
9.1.1. Key Highlights
9.1.1.1. Polycarbonate
9.1.1.2. Polyamide
9.1.1.3. Polymethyl Methacrylate
9.1.1.4. Polyoxymethylene
9.1.1.5. Polybutylene Terephthalate
9.1.1.6. Acrylonitrile Butadiene Styrene
9.1.1.7. Styrene–Acrylonitrile
9.1.1.8. Thermoplastic Elastomer
9.1.1.9. Misc. (UHMWPE, LCP ASA, PI, PVDF, etc.)
9.2. Latin America Engineering Plastic Compounds Market Outlook, by End Use Industry, Volume (Kilo Tons) and Value (US$ Mn) 2017 - 2025
9.2.1. Key Highlights
9.2.1.1. Automotive
9.2.1.2. Aerospace
9.2.1.3. Electrical and electronics
9.2.1.4. Building and construction
9.2.1.5. Consumer goods and appliances
9.2.1.6. Medical
9.2.1.7. Misc. (Packaging, Industrial applications, etc.)
9.3. Latin America Engineering Plastic Compounds Market Outlook, by Country, Volume (Kilo Tons) and Value (US$ Mn) 2017 - 2025
9.3.1. Key Highlights
9.3.1.1. Brazil Engineering Plastic Compounds Market by Type, Volume (Kilo Tons) and Value (US$ Mn) 2017 - 2025
9.3.1.2. Brazil Engineering Plastic Compounds Market by End Use Industry, Volume (Kilo Tons) and Value (US$ Mn) 2017 - 2025
9.3.1.3. Mexico Engineering Plastic Compounds Market by Type, Volume (Kilo Tons) and Value (US$ Mn) 2017 - 2025
9.3.1.4. Mexico Engineering Plastic Compounds Market by End Use Industry, Volume (Kilo Tons) and Value (US$ Mn) 2017 - 2025
9.3.1.5. Argentina Engineering Plastic Compounds Market by Type, Volume (Kilo Tons) and Value (US$ Mn) 2017 - 2025
9.3.1.6. Argentina Engineering Plastic Compounds Market by End Use Industry, Volume (Kilo Tons) and Value (US$ Mn) 2017 - 2025
9.3.1.7. Rest of Latin America Engineering Plastic Compounds Market by Type, Volume (Kilo Tons) and Value (US$ Mn) 2017 - 2025
9.3.1.8. Rest of Latin America Engineering Plastic Compounds Market by End Use Industry, Volume (Kilo Tons) and Value (US$ Mn) 2017 - 2025

10. Middle East & Africa Engineering Plastic Compounds Market Outlook 2017 - 2025
10.1. Middle East & Africa Engineering Plastic Compounds Market Outlook, by Type, Volume (Kilo Tons) and Value (US$ Mn) 2017 - 2025
10.1.1. Key Highlights
10.1.1.1. Polycarbonate
10.1.1.2. Polyamide
10.1.1.3. Polymethyl Methacrylate
10.1.1.4. Polyoxymethylene
10.1.1.5. Polybutylene Terephthalate
10.1.1.6. Acrylonitrile Butadiene Styrene
10.1.1.7. Styrene–Acrylonitrile
10.1.1.8. Thermoplastic Elastomer
10.1.1.9. Misc. (UHMWPE, LCP ASA, PI, PVDF, etc.)
10.2. Middle East & Africa Engineering Plastic Compounds Market Outlook, by End Use Industry, Volume (Kilo Tons) and Value (US$ Mn) 2017 - 2025
10.2.1. Key Highlights
10.2.1.1. Automotive
10.2.1.2. Aerospace
10.2.1.3. Electrical and electronics
10.2.1.4. Building and construction
10.2.1.5. Consumer goods and appliances
10.2.1.6. Medical
10.2.1.7. Misc. (Packaging, Industrial applications, etc.)
10.3. Middle East & Africa Engineering Plastic Compounds Market Outlook, by Country, Volume (Kilo Tons) and Value (US$ Mn) 2017 - 2025
10.3.1. Key Highlights
10.3.1.1. GCC Engineering Plastic Compounds Market by Type, Volume (Kilo Tons) and Value (US$ Mn) 2017 - 2025
10.3.1.2. GCC Engineering Plastic Compounds Market by End Use Industry, Volume (Kilo Tons) and Value (US$ Mn) 2017 - 2025
10.3.1.3. South Africa Engineering Plastic Compounds Market by Type, Volume (Kilo Tons) and Value (US$ Mn) 2017 - 2025
10.3.1.4. South Africa Engineering Plastic Compounds Market by End Use Industry, Volume (Kilo Tons) and Value (US$ Mn) 2017 - 2025
10.3.1.5. Rest of Middle East & Africa Engineering Plastic Compounds Market by Type, Volume (Kilo Tons) and Value (US$ Mn) 2017 - 2025
10.3.1.6. Rest of Middle East & Africa Engineering Plastic Compounds Market by End Use Industry, Volume (Kilo Tons) and Value (US$ Mn) 2017 - 2025

11. Competitive Landscape
11.1. Engineering Plastic Compounds Market: Intensity Mapping
11.2. Engineering Plastic Compounds Market: Competition Dashboard
11.3. Company Market Share Analysis
11.4. Company Profiles
11.4.1. BASF SE
11.4.1.1. Company Overview
11.4.1.2. Product Portfolio
11.4.1.3. Financial Overview
11.4.1.4. Business Strategies and Development
11.4.2. SABIC
11.4.2.1. Company Overview
11.4.2.2. Product Portfolio
11.4.2.3. Financial Overview
11.4.2.4. Business Strategies and Development
11.4.3. Idemitsu Kosan Company, Ltd.
11.4.3.1. Company Overview
11.4.3.2. Product Portfolio
11.4.3.3. Financial Overview
11.4.3.4. Business Strategies and Development
11.4.4. Asahi Kasei Advance Corporation
11.4.4.1. Company Overview
11.4.4.2. Product Portfolio
11.4.4.3. Financial Overview
11.4.4.4. Business Strategies and Development
11.4.5. Lanxess AG
11.4.5.1. Company Overview
11.4.5.2. Product Portfolio
11.4.5.3. Financial Overview
11.4.5.4. Business Strategies and Development
11.4.6. Covestro AG
11.4.6.1. Company Overview
11.4.6.2. Product Portfolio
11.4.6.3. Financial Overview
11.4.6.4. Business Strategies and Development
11.4.7. Suzhou Siko New Material Technology Co., Ltd.
11.4.7.1. Company Overview
11.4.7.2. Product Portfolio
11.4.7.3. Key Development
11.4.8. ELIX Polymer (Sinochem International Pte. Ltd.)
11.4.8.1. Company Overview
11.4.8.2. Product Portfolio
11.4.8.3. Key Development
11.4.9. Celanese Corporation
11.4.9.1. Company Overview
11.4.9.2. Product Portfolio
11.4.9.3. Financial Overview
11.4.9.4. Business Strategies and Development
11.4.10. Polyplastics Co. Ltd.
11.4.10.1. Company Overview
11.4.10.2. Product Portfolio
11.4.10.3. Financial Overview
11.4.10.4. Business Strategies and Development
11.4.11. Bhansali Engineers Polymer Ltd (BEPL)
11.4.11.1. Company Overview
11.4.11.2. Product Portfolio
11.4.11.3. Financial Overview
11.4.11.4. Business Strategies and Development
11.4.12. INEOS Styrolution India Limited
11.4.12.1. Company Overview
11.4.12.2. Product Portfolio
11.4.12.3. Financial Overview
11.4.12.4. Business Strategies and Development

12. Appendix
12.1. Research Methodology
12.2. Report Assumptions
12.3. Acronyms and Abbreviations
BASE YEAR

HISTORICAL DATA

FORECAST PERIOD

UNITS

2019

2017 - 2019

2021 - 2025

Value: US$ Million

Volume: Kilo Tons
REPORT FEATURES

DETAILS

Type Coverage

Polycarbonate

Polyamide

Polymethyl Methacrylate

Polyoxymethylene

Polybutylene Terephthalate

Acrylonitrile Butadiene Styrene

Styrene-Acrylonitrile

Thermoplastic Elastomer

Misc. (UHMWPE, LCP ASA, PI, PVDF, etc.)

End Use Industry Coverage

Automotive

Aerospace

Electrical and electronics

Building and construction

Consumer goods and appliances

Medical

Misc. (Packaging, Industrial applications, etc.)

Geographical Coverage

North America

Europe

U.K.

Germany

France

Spain

Italy

Poland

Russia

Rest of Europe

Asia Pacific

China

Japan

India

Malaysia

Thailand

Rest of Asia Pacific

Latin America

Brazil

Mexico

Rest of Latin America

Middle East & Africa

Leading Companies

BASF

SABIC

Idemitsu

Asahi Kasei Engineering Plastics

Elix Polymer

Lanxess

Siko Polymers

Bhansali Engineers Polymer Ltd.

Polyplastics

Covestro

Ineos Styrosolution

Celanese Corporation

Others

Report Highlights

Market Estimates and Forecast, Market Dynamics, Industry Trends, Competition Landscape, Porters Five Forces Analysis, Factorization Analysis, Type-, End Use Industry-, Region-, Country-wise Trends & Analysis, COVID-19 Impact Analysis (Demand), Key Trends