The global flexible electronics in healthcare market will rise at a significant pace of approximately 20% CAGR during the period of assessment 2023 - 2030, reaching a market value of around US$20.9 Bn by the end of 2030.
Market Analysis in Brief
By mounting the electronic components on a platform made of flexible substrates like polyether ether ketone (PEEK), polyimide, or transparent conductive polyester film, flexible electronics is a technology for organising electrical circuitry. Flexible electronics is preferred for small electronic devices because it is more flexible and unbreakable, making it simple to mount a circuit in such small devices. Integrating a hard, active plastic display with flexible electronics is possible. In the past few years, flexible electronics have expanded significantly, with numerous applications in flexible OLED electronics, and flexible solar cell arrays constructed on plastic substrates. Flexible circuits are lighter and easier to incorporate into the finished product. The ongoing advancement of technology in the electronics industry fuels the adoption of flexible electronics in healthcare. In addition, the current trend in the market for flexible electronics is the surge in demand for smart, lightweight wearable technology. The distinct characteristics of flexible circuits and the expanding consumer products industry are the main market drivers for flexible electronics worldwide.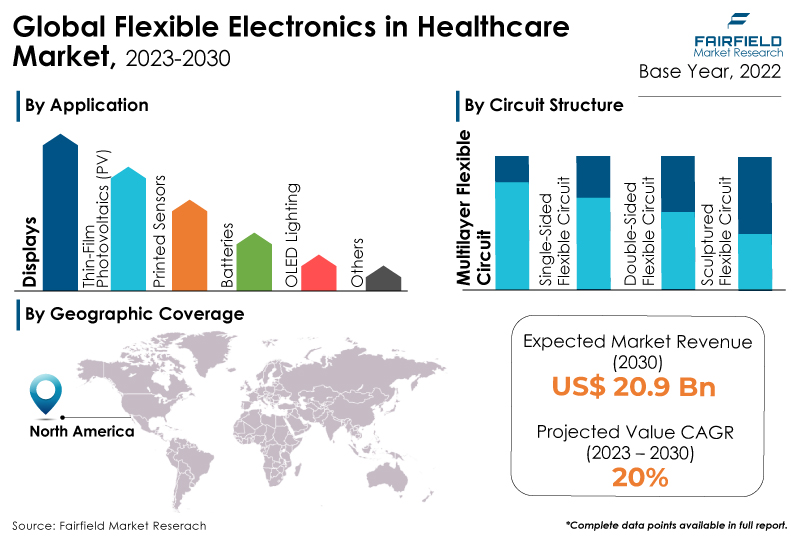 Key Report Findings
The market is anticipated to expand swiftly with ongoing technological developments, product development, and rising consumer demand for electronics.
The market for flexible electronics in healthcare will demonstrate massive expansion in revenue between 2023 and 2030.
The displays segment increases demand for flexible electronics in healthcare industry.
Demand for multilayer flexible circuits remains higher in the flexible electronics in healthcare market.
North America will continue to lead its way, whereas Asia Pacific flexible electronics in healthcare will experience the strongest growth until 2030.
Growth Drivers
Flexible Electronics Gain Ground on the Back of Stretchable Attributes
Global demand for flexible electronics is being driven by a rise in the need for a variety of consumer and industrial items that are specially developed, as well as a rise in the use of novel materials in the production of consumer goods. Its use on several substrates, including flex glass, plastics, and paper, is made easier by the flexibility property. The market for flexible electronics is expanding in response to the rising demand for wearable gadgets.
The ability of flexible electronics to conform to different shapes has encouraged its acceptance in producing several wearable devices worldwide. The increasing sales of Internet of things (IoT) devices have positively impacted global market development in the healthcare sector. It is projected that the market for flexible electronics would expand in response to the rising demand from customers worldwide for creative, small, and smart consumer electronics.
The increasing complexity of designs for numerous electronic items, including smartphones, tablets, laptops, and smartwatches, is driving the introduction of flexible electronics in producing electronic products. Numerous industries, including healthcare, the military, aerospace, and others, manufacture more devices, encouraging flexible electronics to create flexible and compact electronic devices. The market is thus anticipated to grow because of the increasing use of flexible electronics in LEDs, and OLEDs, boosting the growth of flexible electronics in healthcare market.
Rapid Expansion of Wearable Smart Gadgets
Printed, stretchable, and flexible sensors and electronics, based on a new wave of digital materials, is creating new opportunities in healthcare. Smart manufacturing, the Internet of Things (IoT), consumer electronics, and smart medical technology will all benefit from the innovation these technologies will foster. The ability of biobatteries to heal skin patches and replace pharmaceuticals is driving the flexible electronics market. Flexible batteries are used in wearables, electronic fabrics, portable electronics, wireless sensors, and smart packaging.
Printed and flexible electronics-equipped OLED eye masks are foreseeing a huge opportunity demanding the use of flexible/printed electronics. Holst Center, a pioneer of printed electronics presented a pregnancy monitoring belt at a leading event on flexible electronics in Europe. It comprises an array of closely spaced active electrodes, to measure the strength and the direction of the contractions to enable accurate prediction of delivery initiation. It allows monitoring of the well-being of the foetus in a non-clinical setting, without impeding the mother's everyday activities. This kind of innovation thus highlights technological leadership in bringing care to one's home.
The printing technologies used in flexible electronics include flexography, inkjet, gravure, and screen printing. Users can obtain photonic devices and printed electronics on a variety of substrates such as cloth, paper, and polymers that can be printed using these processes. Wearable technology, the sports industry, and flexible screens are a few areas where this printing technique is commonly used. The market is expanding due to factors such as the expanding use of flexible displays in products like wearable technology and smartphones and the growing acceptance of thin-film solar modules for various applications.
Growth Challenges
Expensive Price Point, and Lack of VFM May Limit Adoption of Flexible Printing Technology
Price reduction is typically a motivating factor for research and development efforts in the case of revolutionary technology. Purchasing new equipment and parts for flexible electronics innovation can be rather expensive. Manufacturers must therefore invest extensively in research to develop things that are more valuable than just cost-effectiveness, such as lighter, smaller, and more flexible.
In a variety of technologies, material properties may affect financial decisions. New technologies involve the use of accurate equipment and qualified personnel, raising overall costs, thus expected to hamper the flexible electronics market. Repair and modification of flexible electronics possess challenges due to ripped or sliced flex material, heat-damaged/lifted pads, and damaged conductors and demands skilled individuals. The circuits are thin, and intricate, and require highly precise equipment. To avoid any short-circuiting issues, a flexible circuit must first be cleared of all the components and conductor material that are present.
Overview of Key Segments
Displays Will Remain a Dominant Segment
The widespread use of displays in healthcare applications such as interactive solutions, patient consultation & education, and reliable displays for patients, staff, and entrance areas is driving the demand for displays. Additionally, the use of healthcare apps in smartphones is expanding, which is anticipated to support the expansion of worldwide flexible electronics in healthcare field. Wireless electronics are enabling effective patient monitoring that fits into the routine lifestyle making it more patient appealing.
Smartphone, tablet, and display products that are flexible, foldable, and rollable have been introduced by market participants in the healthcare electronics sector, including Samsung, and LG Electronics. Wearable and mobile health monitoring technologies have recently generated much interest worldwide due to the awareness regarding telemedicine, the increasing baby boomer population, and the rising need for in-home healthcare.
Multilayer Flexible Circuit Holds the Maximum Share
The multilayer flexible circuit category will dominate the flexible electronics in healthcare market over the forecast period. Reduced assembly costs, time, package size, and weight are all benefits of multilayer flex circuits. Additionally, compared to other structure types, they offer higher signal integrity, and their rising applications in the healthcare sector. Due to the extremely tiny lines on multilayer flex circuit boards, additional components can be accommodated. Multilayer flex circuit boards feature a high board density, making them ideal for applications requiring a lot of density.
Through precise design and automated fabrication, multilayer flex circuits help to prevent human error by avoiding the usage of hand-built wire harnesses. Flex circuits with several layers require less manual labour during assembly, which lowers production faults. Fit, function, and form can all be integrated seamlessly in multilayer flex circuits by nature. They lower the high cost associated with wrapping, soldering, and wiring.
Additionally, design freedom differs from rigid PCBs in that it is not limited to only two dimensions. Their adaptability enables operation in the most challenging settings and practically limitless application possibilities. As the name suggests, flexibility is innate and adds a third dimension to designs and applications. Flex circuits allow for manipulation during installation without compromising electronic performance.
Growth Opportunities Across Regions
North America Frontrunner
Flexible Electronics in Healthcare market will continue to dominate in North America, and this region is anticipated to expand rapidly throughout the projection period. Numerous universities are engaged in research projects on technology-related themes which define the growth of the region. Additionally, several significant companies with expertise in flexible electronics-related process technologies, equipment, and intellectual property are anticipated to drive the expansion of the regional market throughout the anticipated time frame in the US.
Increased consumer expenditure, a promising economic outlook, and a rise in the demand for consumer electronics is further expected to boost the market growth. The market in this region has grown dramatically due to the growing adoption of flexible electronics in industries like healthcare, automotive, the military, and consumer electronics.
The rising popularity of smart wearables and consumer electronics drives the need for flexible electronics in the region. For instance, based on the consistent rise observed in previous years, Ericsson estimates that the number of smartphone subscriptions in North America will reach 358 million by 2027. Americans held, as of 2021, 328 million cell phones. Additionally, according to Cisco Systems, the wearable market looks promising in the United States. Since 2022, North America will have over 439 million linked wearable devices. In 2022, North America is anticipated to have the highest percentage of 5G connections made using wearable technology.
Rise in R&D Activities, and Large-scale Production Uphold Market in Asia Pacific
The market for flexible electronics in healthcare across the Asia Pacific will display a significant CAGR over the forecast period. The region's large-scale electronic component production and rising investments in printed electronics-related R&D activities can be attributed to the growth of the region. Due to its scale and diversity, the Asia Pacific printed electronics market is distinct from other regions. The region's population, which makes up more than 60% of the world's population, has increased almost four times in the last century. The potential economic benefits of this population growth are enormous, and it also benefits the printed electronics industry's suppliers.
Additionally, two world leaders in flexible display manufacture and innovation, Samsung Display and LG Display are based in the Asia Pacific region. This gives the local market access to low-cost production facilities and local products, which boosts demand from the very populous nations of China, and India. The area is a significant hub for the production of automobiles worldwide.
The demand for effective solutions that reduce the overall cost of assembly provide the maximum yield, and guarantee dependability is rising due to the rapid expansion of advanced automotive electronics for engine management, ADAS, and future infrastructure for autonomous vehicles. There have already been several significant improvements. Cars have historically included printed warmers. A few high-end Audi and BMW cars include rear taillights with OLED lighting. OLED lighting options allow designers to create fresh, innovative appearances.
Flexible Electronics in Healthcare Market: Competitive Landscape
Some of the leading players at the forefront of flexible electronics in healthcare market space include GE Healthcare, Johnson & Johnson, Galvani Bioelectronics, Samsung Electronics Co., Ltd., Solar Frontier K.K., Palo Alto Research Center Incorporated, LG Corporation, Blue Spark Technologies, Enfucell Oy, Imprint Energy, Inc., E Ink Holdings, Inc., and AU Optronics Corporation.
Recent Notable Developments
In February 2022, the flexible control of household energy was made more efficient and seamless through a partnership between Eaton Corporation PLC, and LG Electronics. Following the contract, Eaton smart breakers, and electric vehicle (EV) charging technologies will work with LG energy management services to deliver vital data and load control for solar and storage applications.
In January 2023, at CES 2023, LG Display introduced its most recent OLED panels for televisions and computer monitors. These panels have a maximum brightness of 2,100 nits, a 60% improvement over its previous premium OLED panels. The third-generation OLED panels also provide better viewing angles and power efficiency thanks to microlens technology and a new algorithm. This collection of technologies, dubbed META Technology by LG Display, improves visibility and brightness in various conditions.
In June 2023, at InfoComm 2023, Samsung Electronics unveiled its new line of digital signage products, showing cutting-edge displays that enable companies to flourish in various markets. The Wall for Virtual Production, a specialised display that combines extremely large LED walls with real-time visual effects technology, is the centerpiece. This display helps content producers produce material more quickly and more affordably. As further evidence of its dedication to environmental sustainability, Samsung unveiled the QxC Series Crystal UHD Signage and the LED All-in-One display. It also received carbon footprint certifications for its Smart Signage models.
The Global Flexible Electronics in Healthcare Market is Segmented as Below:
By Application
Displays
Thin-Film Photovoltaics (PV)
Printed Sensors
Batteries
OLED Lighting
Others
By Circuit Structure
Single-Sided Flexible Circuit
Double-Sided Flexible Circuit
Multilayer Flexible Circuit
Sculptured Flexible Circuit
Others
By Geographic Coverage
North America
Europe

Germany
U.K.
France
Italy
Spain
Russia
Rest of Europe

Asia Pacific

China
Japan
South Korea
India
Southeast Asia
Rest of Asia Pacific

Latin America

Brazil
Mexico
Rest of Latin America

Middle East & Africa

GCC
South Africa
Rest of the Middle East & Africa
1. Executive Summary
1.1. Global Flexible Electronics in Healthcare Market Snapshot
1.2. Future Projections
1.3. Key Market Trends
1.4. Regional Snapshot, by Value, 2022
1.5. Analyst Recommendations

2. Market Overview
2.1. Market Definitions and Segmentations
2.2. Market Dynamics
2.2.1. Drivers
2.2.2. Restraints
2.2.3. Market Opportunities
2.3. Value Chain Analysis
2.4. Porter's Five Forces Analysis
2.5. Covid-19 Impact Analysis
2.5.1. Supply
2.5.2. Demand
2.6. Impact of Ukraine-Russia Conflict
2.7. Economic Overview
2.7.1. World Economic Projections
2.8. PESTLE Analysis

3. Global Flexible Electronics in Healthcare Market Outlook, 2018 - 2030
3.1. Global Flexible Electronics in Healthcare Market Outlook, by Application, Value (US$ Bn), 2018 - 2030
3.1.1. Key Highlights
3.1.1.1. Displays
3.1.1.2. Thin-Film Photovoltaics (PV)
3.1.1.3. Printed Sensors
3.1.1.4. Batteries
3.1.1.5. OLED Lighting
3.1.1.6. Others
3.2. Global Flexible Electronics in Healthcare Market Outlook, by Circuit Structure, Value (US$ Bn), 2018 - 2030
3.2.1. Key Highlights
3.2.1.1. Single-Sided Flexible Circuit
3.2.1.2. Double-Sided Flexible Circuit
3.2.1.3. Multilayer Flexible Circuit
3.2.1.4. Sculptured Flexible Circuit
3.2.1.5. Others
3.3. Global Flexible Electronics in Healthcare Market Outlook, by Region, Value (US$ Bn), 2018 - 2030
3.3.1. Key Highlights
3.3.1.1. North America
3.3.1.2. Europe
3.3.1.3. Asia Pacific
3.3.1.4. Latin America
3.3.1.5. Middle East & Africa


4. North America Flexible Electronics in Healthcare Market Outlook, 2018 - 2030
4.1. North America Flexible Electronics in Healthcare Market Outlook, by Application, Value (US$ Bn), 2018 - 2030
4.1.1. Key Highlights
4.1.1.1. Displays
4.1.1.2. Thin-Film Photovoltaics (PV)
4.1.1.3. Printed Sensors
4.1.1.4. Batteries
4.1.1.5. OLED Lighting
4.1.1.6. Others
4.2. North America Flexible Electronics in Healthcare Market Outlook, by Circuit Structure, Value (US$ Bn), 2018 - 2030
4.2.1. Key Highlights
4.2.1.1. Single-Sided Flexible Circuit
4.2.1.2. Double-Sided Flexible Circuit
4.2.1.3. Multilayer Flexible Circuit
4.2.1.4. Sculptured Flexible Circuit
4.2.1.5. Others
4.2.2. Market Attractiveness Analysis
4.3. North America Flexible Electronics in Healthcare Market Outlook, by Country, Value (US$ Bn), 2018 - 2030
4.3.1. Key Highlights
4.3.1.1. U.S. Flexible Electronics in Healthcare Market, by Application, Value (US$ Bn), 2018 - 2030
4.3.1.2. U.S. Flexible Electronics in Healthcare Market, by Circuit Structure, Value (US$ Bn), 2018 - 2030
4.3.1.3. Canada Flexible Electronics in Healthcare Market, by Application, Value (US$ Bn), 2018 - 2030
4.3.1.4. Canada Flexible Electronics in Healthcare Market, by Circuit Structure, Value (US$ Bn), 2018 - 2030
4.3.2. BPS Analysis/Market Attractiveness Analysis


5. Europe Flexible Electronics in Healthcare Market Outlook, 2018 - 2030
5.1. Europe Flexible Electronics in Healthcare Market Outlook, by Application, Value (US$ Bn), 2018 - 2030
5.1.1. Key Highlights
5.1.1.1. Displays
5.1.1.2. Thin-Film Photovoltaics (PV)
5.1.1.3. Printed Sensors
5.1.1.4. Batteries
5.1.1.5. OLED Lighting
5.1.1.6. Others
5.2. Europe Flexible Electronics in Healthcare Market Outlook, by Circuit Structure, Value (US$ Bn), 2018 - 2030
5.2.1. Key Highlights
5.2.1.1. Single-Sided Flexible Circuit
5.2.1.2. Double-Sided Flexible Circuit
5.2.1.3. Multilayer Flexible Circuit
5.2.1.4. Sculptured Flexible Circuit
5.2.1.5. Others
5.2.2. BPS Analysis/Market Attractiveness Analysis
5.3. Europe Flexible Electronics in Healthcare Market Outlook, by Country, Value (US$ Bn), 2018 - 2030
5.3.1. Key Highlights
5.3.1.1. Germany Flexible Electronics in Healthcare Market by Application, Value (US$ Bn), 2018 - 2030
5.3.1.2. Germany Flexible Electronics in Healthcare Market, by Circuit Structure, Value (US$ Bn), 2018 - 2030
5.3.1.3. U.K. Flexible Electronics in Healthcare Market, by Application, Value (US$ Bn), 2018 - 2030
5.3.1.4. U.K. Flexible Electronics in Healthcare Market, by Circuit Structure, Value (US$ Bn), 2018 - 2030
5.3.1.5. France Flexible Electronics in Healthcare Market by Application, Value (US$ Bn), 2018 - 2030
5.3.1.6. France Flexible Electronics in Healthcare Market, by Circuit Structure, Value (US$ Bn), 2018 - 2030
5.3.1.7. Italy Flexible Electronics in Healthcare Market, by Application, Value (US$ Bn), 2018 - 2030
5.3.1.8. Italy Flexible Electronics in Healthcare Market, by Circuit Structure, Value (US$ Bn), 2018 - 2030
5.3.1.9. Spain Flexible Electronics in Healthcare Market, by Application, Value (US$ Bn), 2018 - 2030
5.3.1.10. Spain Flexible Electronics in Healthcare Market, by Circuit Structure, Value (US$ Bn), 2018 - 2030
5.3.1.11. Russia Flexible Electronics in Healthcare Market, by Application, Value (US$ Bn), 2018 - 2030
5.3.1.12. Russia Flexible Electronics in Healthcare Market, by Circuit Structure, Value (US$ Bn), 2018 - 2030
5.3.1.13. Rest of Europe Flexible Electronics in Healthcare Market, by Application, Value (US$ Bn), 2018 - 2030
5.3.1.14. Rest of Europe Flexible Electronics in Healthcare Market, by Circuit Structure, Value (US$ Bn), 2018 - 2030
5.3.2. BPS Analysis/Market Attractiveness Analysis

6. Asia Pacific Flexible Electronics in Healthcare Market Outlook, 2018 - 2030
6.1. Asia Pacific Flexible Electronics in Healthcare Market Outlook, by Application, Value (US$ Bn), 2018 - 2030
6.1.1. Key Highlights
6.1.1.1. Displays
6.1.1.2. Thin-Film Photovoltaics (PV)
6.1.1.3. Printed Sensors
6.1.1.4. Batteries
6.1.1.5. OLED Lighting
6.1.1.6. Others
6.2. Asia Pacific Flexible Electronics in Healthcare Market Outlook, by Circuit Structure, Value (US$ Bn), 2018 - 2030
6.2.1. Key Highlights
6.2.1.1. Single-Sided Flexible Circuit
6.2.1.2. Double-Sided Flexible Circuit
6.2.1.3. Multilayer Flexible Circuit
6.2.1.4. Sculptured Flexible Circuit
6.2.1.5. Others
6.2.2. BPS Analysis/Market Attractiveness Analysis
6.3. Asia Pacific Flexible Electronics in Healthcare Market Outlook, by Country, Value (US$ Bn), 2018 - 2030
6.3.1. Key Highlights
6.3.1.1. China Flexible Electronics in Healthcare Market, by Application, Value (US$ Bn), 2018 - 2030
6.3.1.2. China Flexible Electronics in Healthcare Market, by Circuit Structure, Value (US$ Bn), 2018 - 2030
6.3.1.3. Japan Flexible Electronics in Healthcare Market, by Application, Value (US$ Bn), 2018 - 2030
6.3.1.4. Japan Flexible Electronics in Healthcare Market, by Circuit Structure, Value (US$ Bn), 2018 - 2030
6.3.1.5. South Korea Flexible Electronics in Healthcare Market, by Application, Value (US$ Bn), 2018 - 2030
6.3.1.6. South Korea Flexible Electronics in Healthcare Market, by Circuit Structure, Value (US$ Bn), 2018 - 2030
6.3.1.7. India Flexible Electronics in Healthcare Market, by Application, Value (US$ Bn), 2018 - 2030
6.3.1.8. India Flexible Electronics in Healthcare Market, by Circuit Structure, Value (US$ Bn), 2018 - 2030
6.3.1.9. Southeast Asia Flexible Electronics in Healthcare Market, by Application, Value (US$ Bn), 2018 - 2030
6.3.1.10. Southeast Asia Flexible Electronics in Healthcare Market, by Circuit Structure, Value (US$ Bn), 2018 - 2030
6.3.1.11. Rest of Asia Pacific Flexible Electronics in Healthcare Market, by Application, Value (US$ Bn), 2018 - 2030
6.3.1.12. Rest of Asia Pacific Flexible Electronics in Healthcare Market, by Circuit Structure, Value (US$ Bn), 2018 - 2030
6.3.2. BPS Analysis/Market Attractiveness Analysis


7. Latin America Flexible Electronics in Healthcare Market Outlook, 2018 - 2030
7.1. Latin America Flexible Electronics in Healthcare Market Outlook, by Application, Value (US$ Bn), 2018 - 2030
7.1.1. Key Highlights
7.1.1.1. Displays
7.1.1.2. Thin-Film Photovoltaics (PV)
7.1.1.3. Printed Sensors
7.1.1.4. Batteries
7.1.1.5. OLED Lighting
7.1.1.6. Others
7.2. Latin America Flexible Electronics in Healthcare Market Outlook, by Circuit Structure, Value (US$ Bn), 2018 - 2030
7.2.1. Key Highlights
7.2.1.1. Single-Sided Flexible Circuit
7.2.1.2. Double-Sided Flexible Circuit
7.2.1.3. Multilayer Flexible Circuit
7.2.1.4. Sculptured Flexible Circuit
7.2.1.5. Others
7.2.2. BPS Analysis/Market Attractiveness Analysis
7.3. Latin America Flexible Electronics in Healthcare Market Outlook, by Country, Value (US$ Bn), 2018 - 2030
7.3.1. Key Highlights
7.3.1.1. Brazil Flexible Electronics in Healthcare Market, by Application, Value (US$ Bn), 2018 - 2030
7.3.1.2. Brazil Flexible Electronics in Healthcare Market, by Circuit Structure, Value (US$ Bn), 2018 - 2030
7.3.1.3. Mexico Flexible Electronics in Healthcare Market, by Application, Value (US$ Bn), 2018 - 2030
7.3.1.4. Mexico Flexible Electronics in Healthcare Market, by Circuit Structure, Value (US$ Bn), 2018 - 2030
7.3.1.5. Rest of Latin America Flexible Electronics in Healthcare Market, by Application, Value (US$ Bn), 2018 - 2030
7.3.1.6. Rest of Latin America Flexible Electronics in Healthcare Market, by Circuit Structure, Value (US$ Bn), 2018 - 2030
7.3.2. BPS Analysis/Market Attractiveness Analysis

8. Middle East & Africa Flexible Electronics in Healthcare Market Outlook, 2018 - 2030
8.1. Middle East & Africa Flexible Electronics in Healthcare Market Outlook, by Application, Value (US$ Bn), 2018 - 2030
8.1.1. Key Highlights
8.1.1.1. Displays
8.1.1.2. Thin-Film Photovoltaics (PV)
8.1.1.3. Printed Sensors
8.1.1.4. Batteries
8.1.1.5. OLED Lighting
8.1.1.6. Others
8.2. Middle East & Africa Flexible Electronics in Healthcare Market Outlook, by Circuit Structure, Value (US$ Bn), 2018 - 2030
8.2.1. Key Highlights
8.2.1.1. Single-Sided Flexible Circuit
8.2.1.2. Double-Sided Flexible Circuit
8.2.1.3. Multilayer Flexible Circuit
8.2.1.4. Sculptured Flexible Circuit
8.2.1.5. Others
8.2.2. BPS Analysis/Market Attractiveness Analysis
8.3. Middle East & Africa Flexible Electronics in Healthcare Market Outlook, by Country, Value (US$ Bn), 2018 - 2030
8.3.1. Key Highlights
8.3.1.1. GCC Flexible Electronics in Healthcare Market, by Application, Value (US$ Bn), 2018 - 2030
8.3.1.2. GCC Flexible Electronics in Healthcare Market, by Circuit Structure, Value (US$ Bn), 2018 - 2030
8.3.1.3. South Africa Flexible Electronics in Healthcare Market, by Application, Value (US$ Bn), 2018 - 2030
8.3.1.4. South Africa Flexible Electronics in Healthcare Market, by Circuit Structure, Value (US$ Bn), 2018 - 2030
8.3.1.5. Rest of Middle East & Africa Flexible Electronics in Healthcare Market, by Application, Value (US$ Bn), 2018 - 2030
8.3.1.6. Rest of Middle East & Africa Flexible Electronics in Healthcare Market, by Circuit Structure, Value (US$ Bn), 2018 - 2030
8.3.2. BPS Analysis/Market Attractiveness Analysis


9. Competitive Landscape
9.1. Manufacturer vs Circuit Structure Heatmap
9.2. Company Market Share Analysis, 2022
9.3. Competitive Dashboard
9.4. Company Profiles
9.4.1. Samsung Electronics Co. Ltd.
9.4.1.1. Company Overview
9.4.1.2. Product Portfolio
9.4.1.3. Financial Overview
9.4.1.4. Business Strategies and Development
9.4.2. Solar Frontier K.K.
9.4.2.1. Company Overview
9.4.2.2. Product Portfolio
9.4.2.3. Financial Overview
9.4.2.4. Business Strategies and Development
9.4.3. Palo Alto Research Center Incorporated
9.4.3.1. Company Overview
9.4.3.2. Product Portfolio
9.4.3.3. Financial Overview
9.4.3.4. Business Strategies and Development
9.4.4. LG Corporation
9.4.4.1. Company Overview
9.4.4.2. Product Portfolio
9.4.4.3. Financial Overview
9.4.4.4. Business Strategies and Development
9.4.5. Blue Spark Technologies
9.4.5.1. Company Overview
9.4.5.2. Product Portfolio
9.4.5.3. Financial Overview
9.4.5.4. Business Strategies and Development
9.4.6. Enfucell Oy
9.4.6.1. Company Overview
9.4.6.2. Product Portfolio
9.4.6.3. Financial Overview
9.4.6.4. Business Strategies and Development
9.4.7. Imprint Energy, Inc.
9.4.7.1. Company Overview
9.4.7.2. Product Portfolio
9.4.7.3. Financial Overview
9.4.7.4. Business Strategies and Development
9.4.8. E Ink Holdings, Inc.
9.4.8.1. Company Overview
9.4.8.2. Product Portfolio
9.4.8.3. Financial Overview
9.4.8.4. Business Strategies and Development
9.4.9. AU Optronics Corporation
9.4.9.1. Company Overview
9.4.9.2. Product Portfolio
9.4.9.3. Financial Overview
9.4.9.4. Business Strategies and Development

10. Appendix
10.1. Research Methodology
10.2. Report Assumptions
10.3. Acronyms and Abbreviations