Frozen Food Market Outlook
The global frozen food market was valued at US$243.8 Bn in 2021 and will reach the valuation of US$362.2 Bn by 2029 end. The market is likely to register the CAGR of 4.9 % between the forecast years of 2022 to 2029.
Product Innovations in Frozen Category Drive Global Frozen Food Market Growth
The desire for more upscale, environment-friendly, and healthy goods is on the rise, which is the promising news for the frozen food market. There are strict standards for product quality, flavor, provenance, and moral brand behavior. The recent statistics suggest 78% of Generation Z, and 81% of millennials are prepared to pay a premium for food that lives up to these standards. Millennials are more inclined to spend money with environment-friendly companies that sell high-protein, organic, and fair-trade goods. Numerous improvements have also been brought forth by the segment's expansion in the market. Packaging is a vital part of this sector. One of the advancements in the food sector is flexible packaging. Multiple-layered laminated sheets comprising a single or a mix of substrates, such as plastic, paper, or aluminum foils, are used in flexible packaging. Flexible packaging has a variety of roles in keeping goods secure, increasing shelf-life, preventing contamination, assuring safe storage, and maintaining customer accessibility.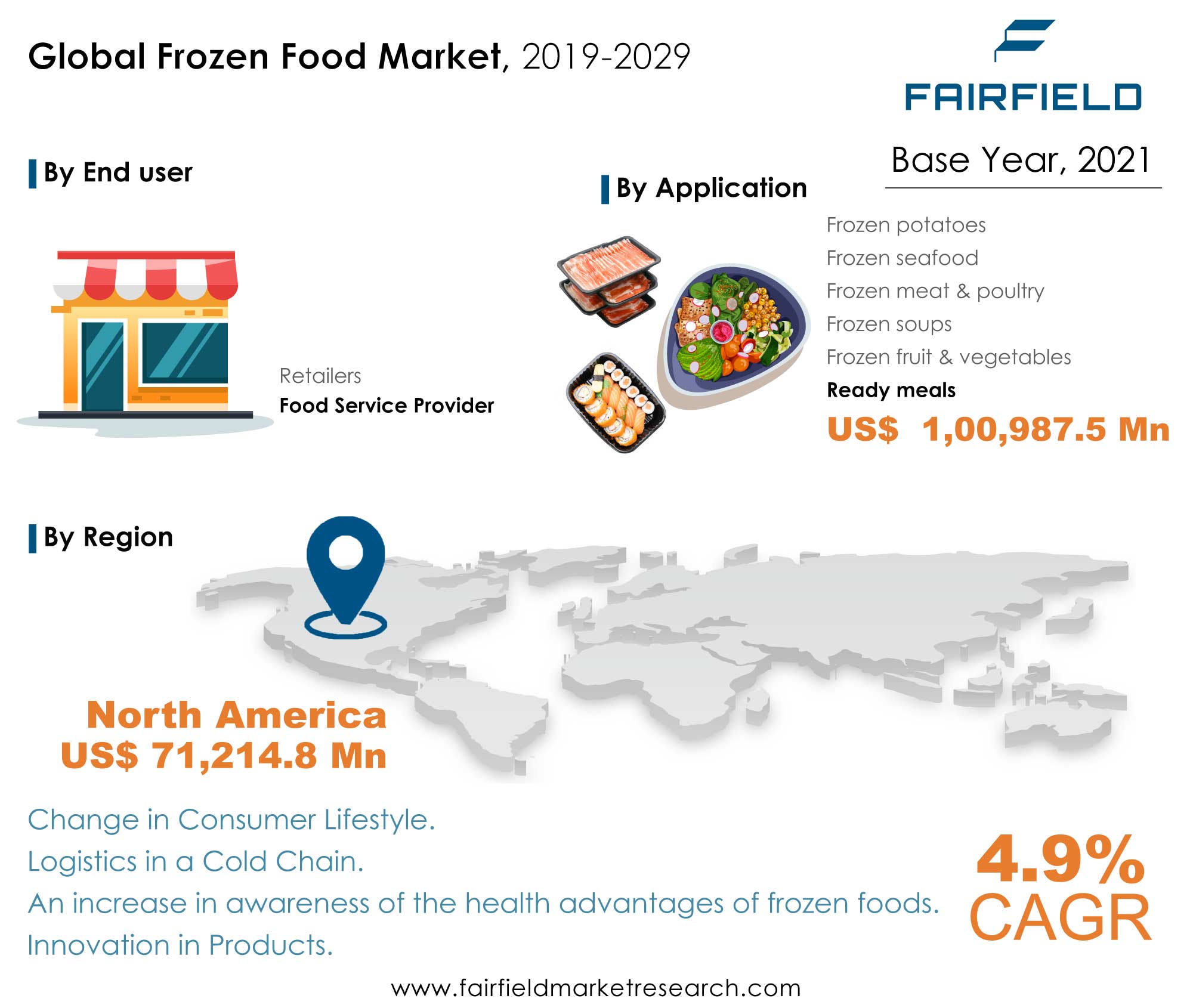 Supermarkets, and Hypermarkets Emerge as Top Revenue Contributors to Frozen Food Market
The expansion of the food industry has also accelerated the development of supermarkets, and hypermarkets. The necessary space and infrastructure for the storage of frozen goods are provided by large format supermarkets, and hypermarkets. Such large-format supermarkets are the go-to for groceries and food shopping for today's discriminating consumer. Frozen food is widely available in western markets, where Indian consumers buy anything from fish to jackfruit seeds. More disruption than ever before is being seen across the board in the frozen food market. Frozen food producers must make major R&D and innovation investments to counteract this disruption and create goods that answer customer concerns about origin, health, and nutrition. Being local while thinking globally is the adage of the day. A good trend in the food industry will always be visible as the environment and customer views evolve. Internationally successful Indian companies are emerging as global trends catch up with them. Particularly in the frozen food sector, new product options and disruptions are occurring across the board. Although consumer misconceptions will gradually dissipate, it is up to the companies in this category to increase customer confidence in frozen food and the sector as a whole.
Lack of Cold Chain Infrastructure Remains an Impediment Facing Frozen Food Market Across Developing Economies
To grow the market share of frozen foods in any nation, cold chain logistics have been shown to be an essential prerequisite. However, poor nations continue to lack the cold chain infrastructure necessary to provide their residents with safe frozen food supplies. Although frozen food has a lengthy shelf-life, because of a lack of infrastructure, the product is readily discarded, costing frozen food producers money. One factor causing the cold chain logistics industry to sluggish down has been a lack of investment caused by the financial crisis in developing nations. The frozen food market has so been affected as a result. The import and export of frozen food goods has been negatively impacted by a lack of cold chain logistics infrastructure in developing nations including Bangladesh, South Africa, and Myanmar. However, because to the growing acceptability among consumers in metropolitan areas, these emerging nations present a significant opportunity for market investment.
Increasing Demand for Natural and Fresh Products May Pose a Longstanding Barrier Ahead of Frozen Food Market
One of the main barriers to the growth of frozen food market is the perception among certain customers that frozen food is a subpar alternative to fresh food. Food prepared a year or more before it is consumed is thought to be non-nutritious. The US Food and Drug Administration (FDA), and the International Food Information Council (IFIC) have made claims regarding the nutritional value of frozen food that frozen produce may be as excellent as the fresh stuff in terms of nutrients, which are altering customer perception. Food items held at various temperatures can lose nutrients while nutrients like vitamin C, and folate can alter with temperature changes. Foods that are frozen do not lose as many vital nutrients since they are kept at a consistent low temperature.
Global Frozen Food Market: Competitive Landscape
North America is expected to lead the global frozen food market by the end of 2027. Nonstop product launches, and demands for ready to eat food are expected to drive these regional markets. Changing lifestyles and busy schedules, have increased unhealthy habits among consumers in recent years leading to various health-related problems like IBD, and obesity. As a result, rising preference for healthy food and heightened health concerns among consumers are anticipated to be the primary drivers for the markets over the forecast period. Asia Pacific, the market is developing strong and will be the fastest growing market anticipating a high CAGR.
The global frozen food market is highly diversified and competitive in nature owing to the presence of large number of local and international manufacturers, globally. Also, numerous producers of frozen food have made huge production facilities available in several countries. Some of the leading market players identified are Cargill Inc, Nestle SA, Nomad Foods Ltd, General Mills Inc, Unilever Plc, Tyson Foods Inc., Conagra Brands Inc, Kellogg Company, The Kraft Heinz Company, and Associated British Foods Plc. The market is witnessing a strong competition, globally. Many market players are acquiring or merging with small and large manufacturers to sustain in this competitive market.
Recent Notable Developments
In February 2021, CJCJ Food, Americas announced its investment in the frozen Asian meals category, which represents an estimated US$3.2 Bn opportunities for food retailers in the US. Among its US-based affiliates, recent activities include launching a new merchandising model in the respective aisle, establishing one portfolio of leading Asian food brands for retailers, introducing new products, and investing in long-term manufacturing capabilities


In November 2021, Spot See, a US-based logistics and cold chain risk management system provider introduced a heat-sensitive label as part of its temperature monitoring solution portfolio for frigid/chilled meals products
The Global Frozen Food Market is Segmented as Below:
By End User Coverage
Food Service Provider
Retail
By Type Coverage
Ready meals
Frozen seafood
Frozen meat & poultry
Frozen fruit & vegetables
Frozen potatoes
Frozen soups
By Distribution Coverage
By Geographical Coverage
North America
Europe

Germany
France
UK
Italy
Turkey
Spain
Russia
Rest of Europe

Asia Pacific

China
Japan
South Korea
India
Southeast Asia
Rest of Asia Pacific

Latin America

Brazil
Mexico
Rest of Latin America

Middle East & Africa

GCC
Egypt
Rest of Middle East & Africa
Leading Companies
Nestle SA
Nomad Foods Ltd
General Mills Inc
Unilever Plc
Tyson Foods Inc.
Conagra Brands Inc
Cargill Incorporated
Kellogg Company
The Kraft Heinz Company
Associated British Foods Plc.
Inside This Report You Will Find:
1. Executive Summary
2. Market Overview
3. Global Frozen Food Market Outlook, 2019 - 2029
4. North America Frozen Food Market Outlook, 2019 - 2029
5. Europe Frozen Food Market Outlook, 2019 - 2029
6. Asia Pacific Frozen Food Market Outlook, 2019 - 2029
7. Latin America Frozen Food Market Outlook, 2019 - 2029
8. Middle East & Africa Frozen Food Market Outlook, 2019 - 2029
9. Competitive Landscape
10. Appendix

Post Sale Support, Research Updates & Offerings:
We value the trust shown by our customers in Fairfield Market Research. We support our clients through our post sale support, research updates and offerings.
The report will be prepared in a PPT format and will be delivered in a PDF format.
Additionally, Market Estimation and Forecast numbers will be shared in Excel Workbook.
If a report being sold was published over a year ago, we will offer a complimentary copy of the updated research report along with Market Estimation and Forecast numbers within 2-3 weeks' time of the sale.
If we update this research study within the next 2 quarters, post purchase of the report, we will offer a Complimentary copy of the updated Market Estimation and Forecast numbers in Excel Workbook.
If there is a geopolitical conflict, pandemic, recession, and the like which can impact global economic scenario and business activity, which might entirely alter the market dynamics or future projections in the industry, we will create a Research Update upon your request at a nominal charge.
1. Executive Summary
1.1. Global Frozen Food Market Snapshot
1.2. Future Projections
1.3. Key Market Trends
1.4. Analyst Recommendations

2. Market Overview
2.1. Market Definitions
2.2. Market Taxonomy
2.3. Market Dynamics
2.3.1. Drivers
2.3.2. Restraints
2.4. Value Chain Analysis
2.5. Porter's Five Forces Analysis
2.6. COVID-19 Impact Analysis
2.7. Key Patents

3. Global Frozen Food Market Outlook, 2019 - 2029
3.1. Global Frozen Food Market Outlook, by End User, Value (US$ '000), 2019 - 2029
3.1.1. Key Highlights
3.1.1.1. Food Service Provider
3.1.1.2. Retail
3.1.2. BPS Analysis/Market Attractiveness Analysis
3.2. Global Frozen Food Market Outlook, by Distribution Channel, Value (US$ '000), 2019 - 2029
3.2.1. Key Highlights
3.2.1.1. Online
3.2.1.2. Offline
3.2.2. BPS Analysis/Market Attractiveness Analysis
3.3. Global Frozen Food Market Outlook, by Type, Value (US$ '000), 2019 - 2029
3.3.1. Key Highlights
3.3.1.1. Ready meals
3.3.1.2. Frozen seafood
3.3.1.3. Frozen meat & poultry
3.3.1.4. Frozen fruit & vegetables
3.3.1.5. Frozen potatoes
3.3.1.6. Frozen soups
3.3.2. BPS Analysis/Market Attractiveness Analysis
3.4. Global Frozen Food Market Outlook, by Region, Value (US$ '000), 2019 - 2029
3.4.1. Key Highlights
3.4.1.1. North America
3.4.1.2. Europe
3.4.1.3. Asia Pacific
3.4.1.4. Latin America
3.4.1.5. Middle East & Africa
3.4.2. BPS Analysis/Market Attractiveness Analysis

4. North America Frozen Food Market Outlook, 2019 - 2029
4.1. North America Frozen Food Market Outlook, by End User, Value (US$ '000), 2019 - 2029
4.1.1. Key Highlights
4.1.1.1. Food Service Provider
4.1.1.2. Retail
4.1.2. BPS Analysis/Market Attractiveness Analysis
4.2. North America Frozen Food Market Outlook, by Distribution Channel, Value (US$ '000), 2019 - 2029
4.2.1. Key Highlights
4.2.1.1. Online
4.2.1.2. Offline
4.2.2. BPS Analysis/Market Attractiveness Analysis
4.3. North America Frozen Food Market Outlook, by Type, Value (US$ '000), 2019 - 2029
4.3.1. Key Highlights
4.3.1.1. Ready meals
4.3.1.2. Frozen seafood
4.3.1.3. Frozen meat & poultry
4.3.1.4. Frozen fruit & vegetables
4.3.1.5. Frozen potatoes
4.3.1.6. Frozen soups
4.3.2. BPS Analysis/Market Attractiveness Analysis
4.4. North America Frozen Food Market Outlook, by Country, Value (US$ '000), 2019 - 2029
4.4.1. Key Highlights
4.4.1.1. U.S. Frozen Food Market by Value (US$ '000), 2019 - 2029
4.4.1.2. Canada Frozen Food Market by Value (US$ '000), 2019 - 2029
4.4.2. BPS Analysis/Market Attractiveness Analysis

5. Europe Frozen Food Market Outlook, 2019 - 2029
5.1. Europe Frozen Food Market Outlook, by End User, Value (US$ '000), 2019 - 2029
5.1.1. Key Highlights
5.1.1.1. Food Service Provider
5.1.1.2. Retail
5.1.2. BPS Analysis/Market Attractiveness Analysis
5.2. Europe Frozen Food Market Outlook, by Distribution Channel, Value (US$ '000), 2019 - 2029
5.2.1. Key Highlights
5.2.1.1. Online
5.2.1.2. Offline
5.2.2. BPS Analysis/Market Attractiveness Analysis
5.3. Europe Frozen Food Market Outlook, by Type, Value (US$ '000), 2019 - 2029
5.3.1. Key Highlights
5.3.1.1. Ready meals
5.3.1.2. Frozen seafood
5.3.1.3. Frozen meat & poultry
5.3.1.4. Frozen fruit & vegetables
5.3.1.5. Frozen potatoes
5.3.1.6. Frozen soups
5.3.2. BPS Analysis/Market Attractiveness Analysis
5.4. Europe Frozen Food Market Outlook, by Country, Value (US$ '000), 2019 - 2029
5.4.1. Key Highlights
5.4.1.1. Germany Frozen Food Market by Value (US$ '000), 2019 - 2029
5.4.1.2. France Frozen Food Market by Product, Value (US$ '000), 2019 - 2029
5.4.1.3. U.K. Frozen Food Market by Value (US$ '000), 2019 - 2029
5.4.1.4. Italy Frozen Food Market by Value (US$ '000), 2019 - 2029
5.4.1.5. Spain Frozen Food Market by Product, Value (US$ '000), 2019 - 2029
5.4.1.6. Rest of Europe Frozen Food Market Value (US$ '000), 2019 - 2029
5.4.2. BPS Analysis/Market Attractiveness Analysis

6. Asia Pacific Frozen Food Market Outlook, 2019 - 2029
6.1. Asia Pacific Frozen Food Market Outlook, by End User, Value (US$ '000), 2019 - 2029
6.1.1. Key Highlights
6.1.1.1. Food Service Provider
6.1.1.2. Retail
6.1.2. BPS Analysis/Market Attractiveness Analysis
6.2. Asia Pacific Frozen Food Market Outlook, by Distribution Channel, Value (US$ '000), 2019 - 2029
6.2.1. Key Highlights
6.2.1.1. Online
6.2.1.2. Offline
6.2.2. BPS Analysis/Market Attractiveness Analysis
6.3. Asia Pacific Frozen Food Market Outlook, by Type, Value (US$ '000), 2019 - 2029
6.3.1. Key Highlights
6.3.1.1. Ready meals
6.3.1.2. Frozen seafood
6.3.1.3. Frozen meat & poultry
6.3.1.4. Frozen fruit & vegetables
6.3.1.5. Frozen potatoes
6.3.1.6. Frozen soups
6.3.2. BPS Analysis/Market Attractiveness Analysis
6.4. Asia Pacific Frozen Food Market Outlook, by Country, Value (US$ '000), 2019 - 2029
6.4.1. Key Highlights
6.4.1.1. India Frozen Food Market by Value (US$ '000), 2019 - 2029
6.4.1.2. China Frozen Food Market by Value (US$ '000), 2019 - 2029
6.4.1.3. Japan Frozen Food Market by Value (US$ '000), 2019 - 2029
6.4.1.4. Australia & New Zealand Frozen Food Market Value (US$ '000), 2019 - 2029
6.4.1.5. Rest of Asia Pacific Market by Value (US$ '000), 2019 - 2029
6.4.2. BPS Analysis/Market Attractiveness Analysis

7. Latin America Frozen Food Market Outlook, 2019 - 2029
7.1. Latin America Frozen Food Market Outlook, by End User, Value (US$ '000), 2019 - 2029
7.1.1. Key Highlights
7.1.1.1. Food Service Provider
7.1.1.2. Retail
7.1.2. BPS Analysis/Market Attractiveness Analysis
7.2. Latin America Frozen Food Market Outlook, by Distribution Channel, Value (US$ '000), 2019 - 2029
7.2.1. Key Highlights
7.2.1.1. Online
7.2.1.2. Offline
7.2.2. BPS Analysis/Market Attractiveness Analysis
7.3. Latin America Frozen Food Market Outlook, by Type, Value (US$ '000), 2019 - 2029
7.3.1. Key Highlights
7.3.1.1. Ready meals
7.3.1.2. Frozen seafood
7.3.1.3. Frozen meat & poultry
7.3.1.4. Frozen fruit & vegetables
7.3.1.5. Frozen potatoes
7.3.1.6. Frozen soups
7.3.2. BPS Analysis/Market Attractiveness Analysis
7.4. Latin America Frozen Food Market Outlook, by Country, Value (US$ '000), 2019 - 2029
7.4.1. Key Highlights
7.4.1.1. Brazil Frozen Food Market by Value (US$ '000), 2019 - 2029
7.4.1.2. Mexico Frozen Food Market by Value (US$ '000), 2019 - 2029
7.4.1.3. Rest of Latin America Frozen Food Market by Value (US$ '000), 2019 - 2029
7.4.2. BPS Analysis/Market Attractiveness Analysis

8. Middle East & Africa Frozen Food Market Outlook, 2019 - 2029
8.1. Middle East & Africa Frozen Food Market Outlook, by End User, Value (US$ '000), 2019 - 2029
8.1.1. Key Highlights
8.1.1.1. Food Service Provider
8.1.1.2. Retail
8.1.2. BPS Analysis/Market Attractiveness Analysis
8.2. Middle East & Africa Frozen Food Market Outlook, by Distribution Channel, Value (US$ '000), 2019 - 2029
8.2.1. Key Highlights
8.2.1.1. Online
8.2.1.2. Offline
8.2.2. BPS Analysis/Market Attractiveness Analysis
8.3. Middle East & Africa Frozen Food Market Outlook, by Type, Value (US$ '000), 2019 - 2029
8.3.1. Key Highlights
8.3.1.1. Ready meals
8.3.1.2. Frozen seafood
8.3.1.3. Frozen meat & poultry
8.3.1.4. Frozen fruit & vegetables
8.3.1.5. Frozen potatoes
8.3.1.6. Frozen soups
8.3.2. BPS Analysis/Market Attractiveness Analysis
8.4. Middle East & Africa Frozen Food Market Outlook, by Country, Value (US$ '000), 2019 - 2029
8.4.1. Key Highlights
8.4.1.1. GCC Frozen Food Market by Value (US$ '000), 2019 - 2029
8.4.1.2. South Africa Frozen Food Market by Value (US$ '000), 2019 - 2029
8.4.1.3. Rest of Middle East & Africa Frozen Food Market by Value (US$ '000), 2019 - 2029
8.4.2. BPS Analysis/Market Attractiveness Analysis

9. Competitive Landscape
9.1. Company Market Share Analysis, 2021
9.2. Company Profiles
9.2.1. Cargill
9.2.1.1. Company Overview
9.2.1.2. Key Retailing Partners
9.2.1.3. Business Segment Revenue
9.2.1.4. Ingredient Overview
9.2.1.5. Product Offering & its Presence
9.2.1.6. Certifications & Claims
9.2.2. Nestle SA
9.2.3. Nomad Foods Ltd
9.2.4. General Mills Inc
9.2.5. Unilever Plc
9.2.6. Tyson Foods Inc
9.2.7. Conagra Brands Inc
9.2.8. Kellogg Company
9.2.9. The Kraft Heinz Company
9.2.10. Associated British Foods Plc

10. Appendix
10.1. Research Methodology
10.2. Report Assumptions
10.3. Acronyms and Abbreviations
BASE YEAR

HISTORICAL DATA

FORECAST PERIOD

UNITS

2021

2019 - 2021

2022 - 2029

Value: US$ Million
REPORT FEATURES

DETAILS

End User Coverage

Food Service Provider

Retail

Type Coverage

Distribution Coverage

Geographical Coverage

North America

Europe

Germany

France

U.K.

Italy

Turkey

Spain

Russia

Rest of Europe

Asia Pacific

China

Japan

South Korea

India

Southeast Asia

Rest of Asia Pacific

Latin America

Brazil

Mexico

Rest of Latin America

Middle East & Africa

Leading Companies

Report Highlights

Market Estimates and Forecast, Market Dynamics, Industry Trends, Competition Landscape, Product-, Application-, Region-, Country-wise Trends & Analysis, COVID-19 Impact Analysis, Key Trends