Medical Packaging Market Outlook
Global Medical Packaging Market Shines Bright as Pharma Packaging Evolves
The pharmaceutical industry is vast and competitive. Many companies compete to develop and market drugs. For an industry that has been growing at a steady pace, the coronavirus pandemic has opened up newer opportunities. The prospects are huge and immense. The success of the pharmaceutical industry depends not only on the product itself but most importantly, in keeping and distributing medications at an optimal state. For that, right packaging is crucial; it protects from physical, chemical, and biological damage (ensures pharmaceutical product integrity, with their properties intact, during storage, shipment, and delivery). Packaging involves all operations from research, development, and production to marketing products.
In 2019, the global medical packaging market was valued at US$75.17 Bn and it is expected to reach US$113.68 Bn by 2025, registering a healthy growth of 7.4% between 2021 and 2025. Medical packaging is done according to very strict protocols and is designed to uphold the highest medical standards and ergonomically protect the integrity and stability of a product.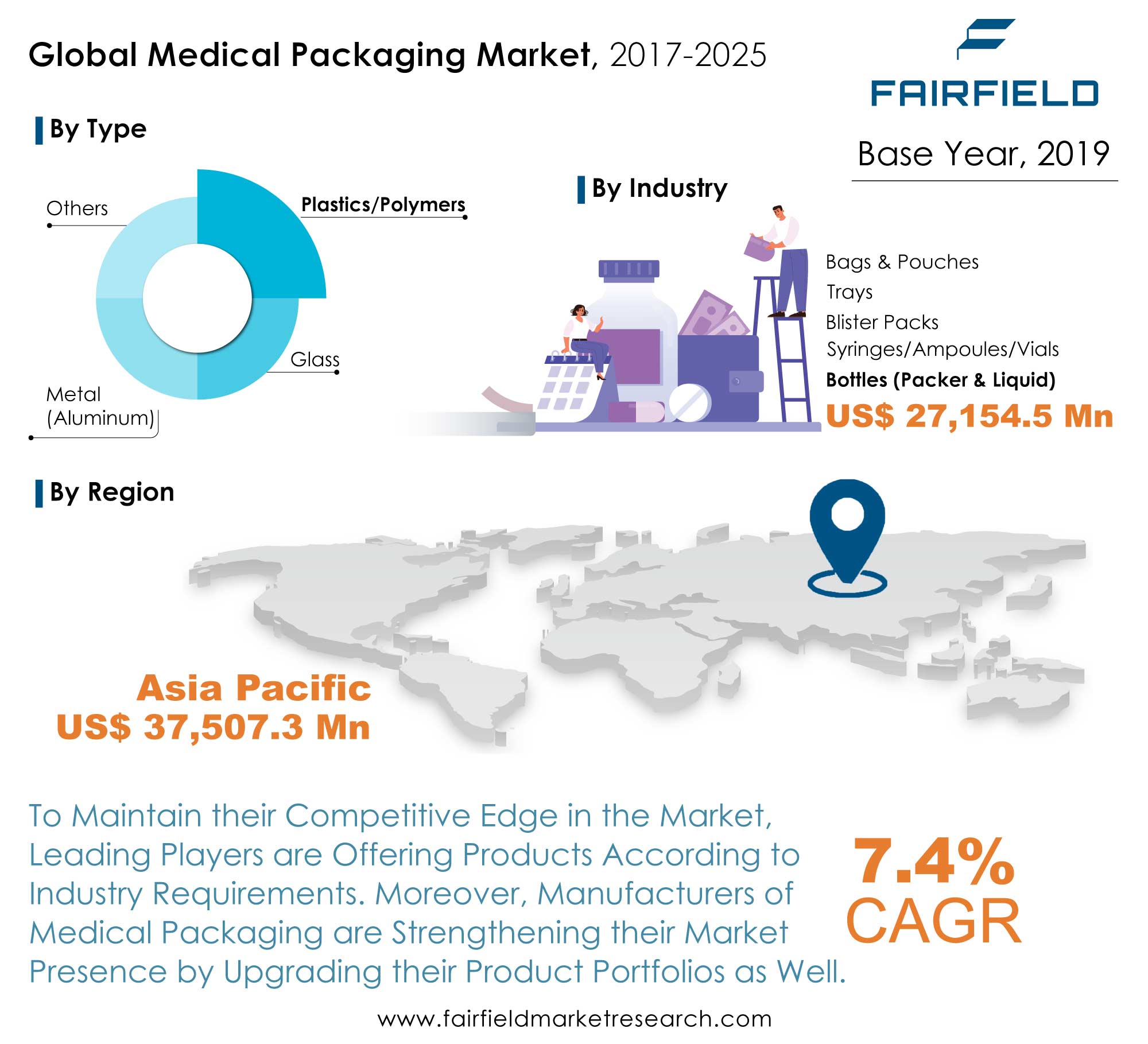 The global medical packaging market is governed by ISO9000: Quality Management Standard and PSO9000: Pharmaceutical Packaging Materials Standard.
Medical and pharmaceutical packaging is one of those segments that will always be here and most likely continue to grow owing to following factors:
Specialty Drugs - The increasing use of specialty drugs to treat chronic or difficult health conditions is driving the global medical packaging market, especially in developed markets. This segment is currently driving 40% of the market growth.
Access to Medicines – Rise of middle class in fast-emerging economies has given the overall population to an access to healthcare and necessary medication. This factor also contributes to sale of pharmaceuticals, thereby making a positive impact on the global medical packaging market.
Easy Packaging Solutions – Simple and intuitive design that enables ease of opening and sealing, visible dosage indicators and reminders, clearly labelling has added to the rise of the global medical packaging market that remains cantered to providing the best solutions.
According to The Association for Packaging and Processing Technologies (PMMI), global medicine use was 4.7 trillion doses in 2020, up 25% from 2015, emphasizing the opportunity in the medical packaging market. As per DrugBank, there are approximately 4,167 approved drugs out of a total number of 14,549. These statistics are obvious indicators of the mammoth medical packaging material that will be required to cater to the soaring medical needs.
The specification and requirement of quality is dependent on the type of packing material and is regulated by governments of the respective countries and in accordance to regulatory agencies such as WHO GMP (Good Manufacturing Practices), USFDA, ICH (The International Council for Harmonization of Technical Requirements for Pharmaceuticals for Human Use (ICH)) guidelines.
Bottles to Have a Significant Demand in Global Medical Packaging Market Over Forecast Period
Swift transition to cost-effective, infection-resistant, and security-enhanced formats such pouches and trays will continue to drive sales in the medical packaging market. Growth in the demand for pouches will reflect ongoing advances in resistance, barrier properties, strength, and puncture, expanding applications to small- to medium-sized supplies and devices.
Meanwhile, bottles will have a strong foothold in the global medical packaging market, exceeding a market share of 32% during the forecast period. Among the other medical device containers, blister packs, and glass vials will account for the significant growth during the forecast period owing to applications such as packaging of contact lenses, diagnostics reagents, and related substances.
Depending on the customer requirement, cost effectivity, raw material availability, and applicability, medical device manufacturers will opt for different packaging types such as glass, metals, plastics, etc. However, plastics such as PVC, PP, and PE are expected to remain dominant materials in the global medical packaging market, accounting for more than 40% share.
Single Use Packaging Products Drive the Medical Packaging Market as Safety Remains Paramount Concern
Medical devices and instruments are in a constant state of evolution, and with the current ongoing Covid pandemic it has become essential to respond to trends within and outside the hospital premises to attain better care at lesser system costs. The trends toward miniaturization and compactness are driving new requirements in the medical packaging industry. The use of single-use products is the latest trend in the industry and demanding efficient packaging solutions. This has forced the industry to go for plastic and other high-performance materials.
Demand for blood bags to store blood and blood components has increased considerably in the past year. There was a double-digit increase in the demand for convalescent plasma as COVID-19 cases surged. The demand for intravenous (IV) bags and dialysis bags is also on continuous rise, not just because of covid-19, but also other health related issues.
U.S., China, and India Seen as Front Runner in Global Medical Packaging Market
Asia Pacific due to the region's sheer population size and demographics is projected to be the leader with a market share of around 46% in 2019. Aside, respective governments commitment to healthcare and healthcare spending, as well as health seeking behaviours of the population. The US has Affordable Care Act (ACA).
According to Policy Advice, the global healthcare spending could reach over $10 trillion by 2022. The US tops the list, spending 17.8% of the country's GDP. In 2023 the nation's spending on health will add up to $4.3 trillion. The US spends the most on health per person, followed by Switzerland and Germany.
The Indian Government has undertaken deep structural and sustained reforms to strengthen the healthcare sector. As per the Union Budget 2021, a sum of Rs 2.23 lakh crore has been allocated for healthcare and wellness initiatives in the Union Budget 2021-22, which is a whopping 137% increase over the previous year.
Global spending on medicine continues to grow. In 2020, approximately US$ 1.27 trillion (out of which 35% belongs to the U.S.) had been spent on medicines, up from just US$ 887 Bn in 2010. Spending on medicines has increased everywhere globally. However, the U.S. takes the lead in total medicines spending globally and is expected to remain the top country for medicines spending through 2025. To show how huge this is, China in the second place is estimated to spend $170 Bn by 2023, which is not up to a third of the expenditure in the U.S. in the same period. U.S. pharma industry spends about $60 Bn yearly on drug research and development; over US$2.6 Bn spent on developing a new drug.
Companies Focusing on Capacity Expansion to Meet the Soaring Demand
The key companies operating the global medical packaging market are Westrock Company., Becton, Dickinson and Company, Amcor plc, Berry Global Group, Inc, Mondi group, Ardagh Group S.A., Sealed Air Corporation, Nipro Corporation, Catalent, Inc., West Pharmaceutical Services, Inc., UDG Healthcare, and others.
Some of the key developments happening in the industry are as follows:-
In 29 April 2021, Amcor launched its latest innovation called New AmSky™ blister system was developed which has the potential to transform the sustainability of healthcare packaging.

In October 2020, Ardagh Group announced a business growth investment program to grow the Metal Beverage Packaging and Glass Packaging business of $1.8 Bn.

In January 2021, a part of UDG healthcare plc called Ashfield announced the formation of three business units to expand and bolster its healthcare services.
The Global Medical Packaging Market is Segmented as Below:
Material Coverage
Plastics/Polymers

Polyethylene
Polyvinyl chloride
Polypropylene
Polyethyene terephthalate
Others (Polystyrene & Polycarbonate)

Glass
Metal (Aluminum)
Others (Paper and Paperboard)
Application Coverage
Bottles (Packer & Liquid)
Trays
Syringes/Ampoules/Vials
Blister Packs
Bags & Pouches
Others (Sachets, Tubes, etc.)
Geographical Coverage
North America
Europe

Switzerland
Germany
Belgium
France
Italy
UK
Rest of Europe

Asia Pacific

China
India
Japan
Southeast Asia
Rest of Asia Pacific

Latin America

Brazil
Mexico
Argentina
Rest of Latin America

Middle East & Africa

GCC
South Africa
Rest of Middle East & Africa
Leading Companies
Amcor Plc
Ardagh Group S.A.
Becton, Dickinson and Company
UDG Healthcare plc
Berry Global Group, Inc
Sealed Air Corporation
Catalent, Inc.
West Pharmaceutical Services Inc.
Mondi Group Plc
Gerresheimer AG
Constantia Flexibles Group GmbH
Nipro Corporation
Inside This Report You Will Find:
1. Executive Summary
2. Market Overview
3. Global Packaging Industry Outlook, 2020
4. Price Trends Analysis and Future Projects, 2017 - 2025
5. Global Medical Packaging Market Outlook, 2017 - 2025
6. North America Medical Packaging Market Outlook, 2017 - 2025
7. Europe Medical Packaging Market Outlook, 2017 - 2025
8. Asia Pacific Medical Packaging Market Outlook, 2017 - 2025
9. Latin America Medical Packaging Market Outlook, 2017 - 2025
10. Middle East & Africa Medical Packaging Market Outlook, 2017 - 2025
11. Competitive Landscape
12. Appendix
Post Sale Support, Research Updates & Offerings:
We value the trust shown by our customers in Fairfield Market Research. We support our clients through our post sale support, research updates and offerings.
The report will be prepared in a PPT format and will be delivered in a PDF format.
Additionally, Market Estimation and Forecast numbers will be shared in Excel Workbook.
If a report being sold was published over a year ago, we will offer a complimentary copy of the updated research report along with Market Estimation and Forecast numbers within 2-3 weeks' time of the sale.
If we update this research study within the next 2 quarters, post purchase of the report, we will offer a Complimentary copy of the updated Market Estimation and Forecast numbers in Excel Workbook.
If there is a geopolitical conflict, pandemic, recession, and the like which can impact global economic scenario and business activity, which might entirely alter the market dynamics or future projections in the industry, we will create a Research Update upon your request at a nominal charge.
1. Executive Summary
1.1. Global Medical Packaging Market Snapshot
1.2. Future Projections
1.3. Key Market Trends
1.4. Analyst Recommendations


2. Market Overview
2.1. Market Definitions and Segmentations
2.2. Market Dynamics
2.2.1. Drivers
2.2.2. Restraints
2.2.3. Key Trends
2.3. Healthcare Sector Outlook
2.4. Value Chain Analysis
2.5. Economic Overview
2.6. Macro-economic Factors & Forecast Analysis
2.7. Covid-19 Impact Analysis
2.7.1. Effects on Packaging Industry
2.7.2. Heat Map, by Industry
2.8. Regulatory Analysis


3. Global Packaging Industry Outlook, 2020
3.1. Global Rigid Packaging Market Outlook, 2020
3.2. Global Flexible Packaging Market Growth Overview


4. Price Trends Analysis and Future Projects, 2017 - 2025
4.1. Price Trends Analysis and Future Projects, by Material, 2017 - 2025


5. Global Medical Packaging Market Outlook, 2017 - 2025
5.1. Global Medical Packaging Market Outlook, by Material, Volume (Kilo Tons) and Value (US$ Mn), 2017 - 2025
5.1.1. Key Highlights
5.1.1.1. Plastics/Polymers
5.1.1.1.1. Polyethylene
5.1.1.1.2. Polyvinyl chloride
5.1.1.1.3. Polypropylene
5.1.1.1.4. Polyethylene terephthalate
5.1.1.1.5. Others (Polystyrene & Polycarbonate)
5.1.1.2. Glass
5.1.1.3. Metal (Aluminum)
5.1.1.4. Others (Paper and Paperboard)
5.2. Global Medical Packaging Market Outlook, by Application, Volume (Kilo Tons) and Value (US$ Mn), 2017 - 2025
5.2.1. Key Highlights
5.2.1.1. Bottles (Packer & Liquid)
5.2.1.2. Trays
5.2.1.3. Syringes/Ampoules/Vials
5.2.1.4. Blister Packs
5.2.1.5. Bags & Pouches
5.2.1.6. Others (Sachets, Tubes, etc.)
5.3. Global Medical Packaging Market Outlook, by Region, Volume (Kilo Tons) and Value (US$ Mn), 2017 - 2025
5.3.1. Key Highlights
5.3.1.1. North America
5.3.1.2. Europe
5.3.1.3. Asia Pacific
5.3.1.4. Latin America
5.3.1.5. Middle East & Africa


6. North America Medical Packaging Market Outlook, 2017 - 2025
6.1. North America Medical Packaging Market Outlook, by Product, Volume (Kilo Tons) and Value (US$ Mn), 2017 - 2025
6.1.1. Key Highlights
6.1.1.1. Plastics/Polymers
6.1.1.1.1. Polyethylene
6.1.1.1.2. Polyvinyl chloride
6.1.1.1.3. Polypropylene
6.1.1.1.4. Polyethylene terephthalate
6.1.1.1.5. Others (Polystyrene & Polycarbonate)
6.1.1.2. Glass
6.1.1.3. Metal (Aluminum)
6.1.1.4. Others (Paper and Paperboard)
6.2. North America Medical Packaging Market Outlook, by Application, Volume (Kilo Tons) and Value (US$ Mn), 2017 - 2025
6.2.1. Key Highlights
6.2.1.1. Bottles (Packer & Liquid)
6.2.1.2. Trays
6.2.1.3. Syringes/Ampoules/Vials
6.2.1.4. Blister Packs
6.2.1.5. Bags & Pouches
6.2.1.6. Others (Sachets, Tubes, etc.)
6.3. North America Medical Packaging Market Outlook, by Country, Volume (Kilo Tons) and Value (US$ Mn), 2017 - 2025
6.3.1. Key Highlights
6.3.1.1. U.S. Medical Packaging Market by Product, Volume (Kilo Tons) and Value (US$ Mn), 2017 - 2025
6.3.1.2. U.S. Medical Packaging Market by Application, Volume (Kilo Tons) and Value (US$ Mn), 2017 - 2025
6.3.1.3. Canada Medical Packaging Market by Product, Volume (Kilo Tons) and Value (US$ Mn), 2017 - 2025
6.3.1.4. Canada Medical Packaging Market by Application, Volume (Kilo Tons) and Value (US$ Mn), 2017 - 2025


7. Europe Medical Packaging Market Outlook, 2017 - 2025
7.1. Europe Medical Packaging Market Outlook, by Product, Volume (Kilo Tons) and Value (US$ Mn), 2017 - 2025
7.1.1. Key Highlights
7.1.1.1. Plastics/Polymers
7.1.1.1.1. Polyethylene
7.1.1.1.2. Polyvinyl chloride
7.1.1.1.3. Polypropylene
7.1.1.1.4. Polyethylene terephthalate
7.1.1.1.5. Others (Polystyrene & Polycarbonate)
7.1.1.2. Glass
7.1.1.3. Metal (Aluminum)
7.1.1.4. Others (Paper and Paperboard)
7.2. Europe Medical Packaging Market Outlook, by Application, Volume (Kilo Tons) and Value (US$ Mn), 2017 - 2025
7.2.1. Key Highlights
7.2.1.1. Bottles (Packer & Liquid)
7.2.1.2. Trays
7.2.1.3. Syringes/Ampoules/Vials
7.2.1.4. Blister Packs
7.2.1.5. Bags & Pouches
7.2.1.6. Others (Sachets, Tubes, etc.)
7.3. Europe Medical Packaging Market Outlook, by Country, Volume (Kilo Tons) and Value (US$ Mn), 2017 - 2025
7.3.1. Key Highlights
7.3.1.1. Switzerland Medical Packaging Market by Product, Volume (Kilo Tons) and Value (US$ Mn), 2017 - 2025
7.3.1.2. Switzerland Medical Packaging Market by Application, Volume (Kilo Tons) and Value (US$ Mn), 2017 - 2025
7.3.1.3. Germany Medical Packaging Market by Product, Volume (Kilo Tons) and Value (US$ Mn), 2017 - 2025
7.3.1.4. Germany Medical Packaging Market by Application, Volume (Kilo Tons) and Value (US$ Mn), 2017 - 2025
7.3.1.5. Belgium Medical Packaging Market by Product, Volume (Kilo Tons) and Value (US$ Mn), 2017 - 2025
7.3.1.6. Belgium Medical Packaging Market by Application, Volume (Kilo Tons) and Value (US$ Mn), 2017 - 2025
7.3.1.7. France Medical Packaging Market by Product, Volume (Kilo Tons) and Value (US$ Mn), 2017 - 2025
7.3.1.8. France Medical Packaging Market by Application, Volume (Kilo Tons) and Value (US$ Mn), 2017 - 2025
7.3.1.9. Italy Medical Packaging Market by Product, Volume (Kilo Tons) and Value (US$ Mn), 2017 - 2025
7.3.1.10. Italy Medical Packaging Market by Application, Volume (Kilo Tons) and Value (US$ Mn), 2017 - 2025
7.3.1.11. U.K. Medical Packaging Market by Product, Volume (Kilo Tons) and Value (US$ Mn), 2017 - 2025
7.3.1.12. U.K. Medical Packaging Market by Application, Volume (Kilo Tons) and Value (US$ Mn), 2017 - 2025
7.3.1.13. Rest of Europe Medical Packaging Market by Product, Volume (Kilo Tons) and Value (US$ Mn), 2017 - 2025
7.3.1.14. Rest of Europe Medical Packaging Market by Application, Volume (Kilo Tons) and Value (US$ Mn), 2017 - 2025


8. Asia Pacific Medical Packaging Market Outlook, 2017 - 2025
8.1. Asia Pacific Medical Packaging Market Outlook, by Product, Volume (Kilo Tons) and Value (US$ Mn), 2017 - 2025
8.1.1. Key Highlights
8.1.1.1. Plastics/Polymers
8.1.1.1.1. Polyethylene
8.1.1.1.2. Polyvinyl chloride
8.1.1.1.3. Polypropylene
8.1.1.1.4. Polyethylene terephthalate
8.1.1.1.5. Others (Polystyrene & Polycarbonate)
8.1.1.2. Glass
8.1.1.3. Metal (Aluminum)
8.1.1.4. Others (Paper and Paperboard)
8.2. Asia Pacific Medical Packaging Market Outlook, by Application, Volume (Kilo Tons) and Value (US$ Mn), 2017 - 2025
8.2.1. Key Highlights
8.2.1.1. Bottles (Packer & Liquid)
8.2.1.2. Trays
8.2.1.3. Syringes/Ampoules/Vials
8.2.1.4. Blister Packs
8.2.1.5. Bags & Pouches
8.2.1.6. Others (Sachets, Tubes, etc.)
8.3. Asia Pacific Medical Packaging Market Outlook, by Country, Volume (Kilo Tons) and Value (US$ Mn), 2017 - 2025
8.3.1. Key Highlights
8.3.1.1. China Medical Packaging Market by Product, Volume (Kilo Tons) and Value (US$ Mn), 2017 - 2025
8.3.1.2. China Medical Packaging Market by Application, Volume (Kilo Tons) and Value (US$ Mn), 2017 - 2025
8.3.1.3. Japan Medical Packaging Market by Product, Volume (Kilo Tons) and Value (US$ Mn), 2017 - 2025
8.3.1.4. Japan Medical Packaging Market by Application, Volume (Kilo Tons) and Value (US$ Mn), 2017 - 2025
8.3.1.5. India Medical Packaging Market by Product, Volume (Kilo Tons) and Value (US$ Mn), 2017 - 2025
8.3.1.6. India Medical Packaging Market by Application, Volume (Kilo Tons) and Value (US$ Mn), 2017 - 2025
8.3.1.7. Southeast Asia Medical Packaging Market by Product, Volume (Kilo Tons) and Value (US$ Mn), 2017 - 2025
8.3.1.8. Southeast Asia Medical Packaging Market by Application, Volume (Kilo Tons) and Value (US$ Mn), 2017 - 2025
8.3.1.9. Rest of Asia Pacific Medical Packaging Market by Product, Volume (Kilo Tons) and Value (US$ Mn), 2017 - 2025
8.3.1.10. Rest of Asia Pacific Medical Packaging Market by Application, Volume (Kilo Tons) and Value (US$ Mn), 2017 - 2025


9. Latin America Medical Packaging Market Outlook, 2017 - 2025
9.1. Latin America Medical Packaging Market Outlook, by Product, Volume (Kilo Tons) and Value (US$ Mn), 2017 - 2025
9.1.1. Key Highlights
9.1.1.1. Plastics/Polymers
9.1.1.1.1. Polyethylene
9.1.1.1.2. Polyvinyl chloride
9.1.1.1.3. Polypropylene
9.1.1.1.4. Polyethylene terephthalate
9.1.1.1.5. Others (Polystyrene & Polycarbonate)
9.1.1.2. Glass
9.1.1.3. Metal (Aluminum)
9.1.1.4. Others (Paper and Paperboard)
9.2. Latin America Medical Packaging Market Outlook, by Application, Volume (Kilo Tons) and Value (US$ Mn), 2017 - 2025
9.2.1. Key Highlights
9.2.1.1. Bottles (Packer & Liquid)
9.2.1.2. Trays
9.2.1.3. Syringes/Ampoules/Vials
9.2.1.4. Blister Packs
9.2.1.5. Bags & Pouches
9.2.1.6. Others (Sachets, Tubes, etc.)
9.3. Latin America Medical Packaging Market Outlook, by Country, Volume (Kilo Tons) and Value (US$ Mn), 2017 - 2025
9.3.1. Key Highlights
9.3.1.1. Brazil Medical Packaging Market by Product, Volume (Kilo Tons) and Value (US$ Mn), 2017 - 2025
9.3.1.2. Brazil Medical Packaging Market by Application, Volume (Kilo Tons) and Value (US$ Mn), 2017 - 2025
9.3.1.3. Mexico Medical Packaging Market by Product, Volume (Kilo Tons) and Value (US$ Mn), 2017 - 2025
9.3.1.4. Mexico Medical Packaging Market by Application, Volume (Kilo Tons) and Value (US$ Mn), 2017 - 2025
9.3.1.5. Argentina Medical Packaging Market by Product, Volume (Kilo Tons) and Value (US$ Mn), 2017 - 2025
9.3.1.6. Argentina Medical Packaging Market by Application, Volume (Kilo Tons) and Value (US$ Mn), 2017 - 2025
9.3.1.7. Rest of Latin America Medical Packaging Market by Product, Volume (Kilo Tons) and Value (US$ Mn), 2017 - 2025
9.3.1.8. Rest of Latin America Medical Packaging Market by Application, Volume (Kilo Tons) and Value (US$ Mn), 2017 - 2025


10. Middle East & Africa Medical Packaging Market Outlook, 2017 - 2025
10.1. Middle East & Africa Medical Packaging Market Outlook, by Product, Volume (Kilo Tons) and Value (US$ Mn), 2017 - 2025
10.1.1. Key Highlights
10.1.1.1. Plastics/Polymers
10.1.1.1.1. Polyethylene
10.1.1.1.2. Polyvinyl chloride
10.1.1.1.3. Polypropylene
10.1.1.1.4. Polyethylene terephthalate
10.1.1.1.5. Others (Polystyrene & Polycarbonate)
10.1.1.2. Glass
10.1.1.3. Metal (Aluminum)
10.1.1.4. Others (Paper and Paperboard)
10.2. Middle East & Africa Medical Packaging Market Outlook, by Application, Volume (Kilo Tons) and Value (US$ Mn), 2017 - 2025
10.2.1. Key Highlights
10.2.1.1. Bottles (Packer & Liquid)
10.2.1.2. Trays
10.2.1.3. Syringes/Ampoules/Vials
10.2.1.4. Blister Packs
10.2.1.5. Bags & Pouches
10.2.1.6. Others (Sachets, Tubes, etc.)
10.3. Middle East & Africa Medical Packaging Market Outlook, by Country, Volume (Kilo Tons) and Value (US$ Mn), 2017 - 2025
10.3.1. Key Highlights
10.3.1.1. GCC Medical Packaging Market by Product, Volume (Kilo Tons) and Value (US$ Mn), 2017 - 2025
10.3.1.2. GCC Medical Packaging Market by Application, Volume (Kilo Tons) and Value (US$ Mn), 2017 - 2025
10.3.1.3. South Africa Medical Packaging Market by Product, Volume (Kilo Tons) and Value (US$ Mn), 2017 - 2025
10.3.1.4. South Africa Medical Packaging Market by Application, Volume (Kilo Tons) and Value (US$ Mn), 2017 - 2025
10.3.1.5. Rest of Middle East & Africa Medical Packaging Market by Product, Volume (Kilo Tons) and Value (US$ Mn), 2017 - 2025
10.3.1.6. Rest of Middle East & Africa Medical Packaging Market by Application, Volume (Kilo Tons) and Value (US$ Mn), 2017 - 2025


11. Competitive Landscape
11.1. Medical Packaging Market: Intensity Mapping
11.2. Medical Packaging Market: Competition Dashboard
11.3. Company Market Share Analysis
11.4. Company Profiles
11.4.1. Amcor Plc
11.4.1.1. Company Overview
11.4.1.2. Product Portfolio
11.4.1.3. Financial Overview
11.4.1.4. Business Strategies and Development
11.4.2. Ardagh Group S.A.
11.4.2.1. Company Overview
11.4.2.2. Product Portfolio
11.4.2.3. Financial Overview
11.4.2.4. Business Strategies and Development
11.4.3. Becton, Dickinson and Company
11.4.3.1. Company Overview
11.4.3.2. Product Portfolio
11.4.3.3. Financial Overview
11.4.3.4. Business Strategies and Development
11.4.4. UDG Healthcare plc
11.4.4.1. Company Overview
11.4.4.2. Product Portfolio
11.4.4.3. Financial Overview
11.4.4.4. Business Strategies and Development
11.4.5. Berry Global Group, Inc
11.4.5.1. Company Overview
11.4.5.2. Product Portfolio
11.4.5.3. Financial Overview
11.4.5.4. Business Strategies and Development
11.4.6. Sealed Air Corporation
11.4.6.1. Company Overview
11.4.6.2. Product Portfolio
11.4.6.3. Financial Overview
11.4.6.4. Business Strategies and Development
11.4.7. Catalent, Inc.
11.4.7.1. Company Overview
11.4.7.2. Product Portfolio
11.4.7.3. Financial Overview
11.4.7.4. Business Strategies and Development
11.4.8. West Pharmaceutical Services Inc.
11.4.8.1. Company Overview
11.4.8.2. Product Portfolio
11.4.8.3. Financial Overview
11.4.8.4. Business Strategies and Development
11.4.9. Mondi Group Plc
11.4.9.1. Company Overview
11.4.9.2. Product Portfolio
11.4.9.3. Financial Overview
11.4.9.4. Business Strategies and Development
11.4.10. Gerresheimer AG
11.4.10.1. Company Overview
11.4.10.2. Product Portfolio
11.4.10.3. Financial Overview
11.4.10.4. Business Strategies and Development
11.4.11. Constantia Flexibles Group GmbH
11.4.11.1. Company Overview
11.4.11.2. Product Portfolio
11.4.11.3. Financial Overview
11.4.11.4. Business Strategies and Development
11.4.12. Nipro Corporation
11.4.12.1. Company Overview
11.4.12.2. Product Portfolio
11.4.12.3. Financial Overview
11.4.12.4. Business Strategies and Development


12. Appendix
12.1. Research Methodology
12.2. Report Assumptions
12.3. Acronyms and Abbreviations