Sorbitan Esters Market Outlook
Expanding Application in Food and Other Industries Creates Demand for Sorbitan Esters
The global sorbitan esters market is expected to witness sustainable growth during the forecast period. The market is expected to reach US$1721.5 Mn registering a CAGR 5.2% by 2025. Increasing demand for plant-derived sorbitan esters coupled with soaring application across industries is expected to support the global demand for sorbitan esters during the forecast period.
Sorbitan esters are expected to find a significant application in the food and cosmetics industry. This FDA approved ingredient is widely used as a stabilizer, solubilizer and emulsifier in these industries. Food items such as doughs, baked and confectionery products and margarine use sorbitan esters excessively due to their high affinity of fats.
The cosmetic industry employs sorbitan esters as an emulsifier for manufacturing ointments and cream-based solutions. Apart from food and cosmetics, sorbitan esters are being applied in other industries such as textiles and leather industry as emulsifying agents for better water and oil emulsions or mixtures.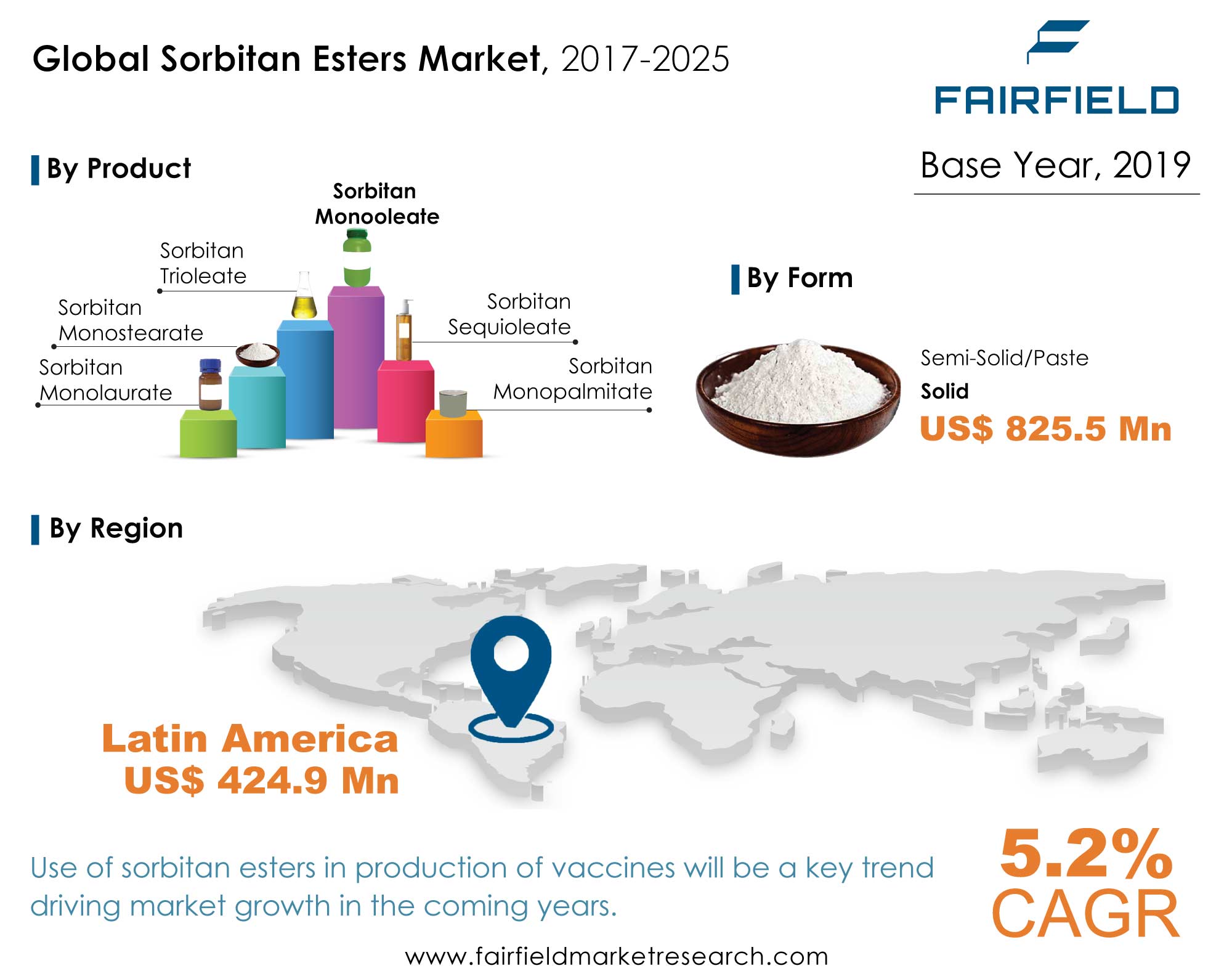 Health Problems Associated with Sorbitan Esters to Limit Market Growth
Sorbitan esters are added to a wide range of food and beverages for enhancing taste and texture. These food additives act as emulsifying and stabilizing agents. However, its excessive usage can prove to be toxic to human consumption.
The chemicals used in the food and beverage industry are very specific in their application and their uses vary significantly based on their physical and chemical properties. Recently in 2017, the regulatory bodies limited the acceptable daily intake (ADI) of sorbitan esters to 25 mg/kg body weight. These factors are further limiting market growth. Furthermore, access to accurate information about consumption of chemicals through food products and beverages has been identified to as market restraints in the coming years.
Food and Cosmetics Industry Ride the Wave of Increased Demand due to Younger Demographics
The commonly used sorbitan esters are sorbitan monopalmitate, sorbitan monooleate and sorbitan tristearate. The food segment is estimated to account for a lion's share in the market share, followed by cosmetics segment. Increased demand for products comprising natural ingredients coupled shifting consumer preference for vegan products is expected to fuel the segment growth in the global sorbitan esters market.
The overall increase in consumption of baked items as dietary preferences change is also anticipated to bode well for the market. Growing number of home bakers and mushrooming artisanal bakeries are also expected to contribute to rising consumption of sorbitan esters.
The cosmetics industry is not far behind. Rise in the number of social media influencers dictating the grooming choices to the younger generation is likely to have a positive impact on the global sorbitan esters market. The use of this compound in the production of wide range of cosmetics to suit varied skin types is likely to generate lucrative opportunities for the market.
Artisanal Bakeries Across Europe to Result in Exponential Use of Sorbitan Esters
Globally, Europe is estimated to account for a mammoth value and volume share. Bread, an integral part of the staple diet across the European region, is estimated to put this region at the forefront. The region's bakery products market was valued at US$230 Bn in 2020, which indicates increased usage of sorbitan esters in the past year. Report predicts the trend stands to strengthen as bread and baked products will remain important parts of quick meals.
Furthermore, the increased prevalence for veganism and the fact that major retail chains have rapidly expanded their shelf space with products comprising clean labels and natural and plant-based ingredients are further creating opportunities for sorbitan esters market in the region.
Fairfield Market Research also identifies Asia Pacific as one of the leading consumers for cosmetic products. Expanded application of sorbitan esters in skincare, hair care and colour cosmetics is expected to open a new gateway for sorbitan esters in the region, contributing to the potential growth of the market. With the growing influence of popular media, the region is on the fulcrum a cultural change that is being characterized by personal grooming and focus on beauty and aesthetics.
For instance, in the past two decades, beauty pageants made a strong case for the cosmetics industry. Escalating demand for age-reversing creams, moisturizing lotions and sunscreens has led to a higher uptake of raw materials being used in the production of these cosmetics to name a few. Thus, the continuation of this trend will make a remarkable difference to the Asia Pacific sorbitan esters market in a positive way.
Sorbitan Esters Market: Competitive Landscape
Some of the major players considered in the report includes Dupont, Oleon Holding NV, Esterchem Ltd, Lonza Group AG, Vantage Specialty Chemicals Inc, Merck KGaA, Ivanhoe Industries Inc, Penta International Corp, Avatar Corporation and SABO S.p.A. among others.
The Global Sorbitan Esters Market is Segmented as Below:
By Form Coverage
Liquid
Solid
Semi-Solid/Paste
By Product Type Coverage
Sorbitan Monolaurate
Sorbitan Monostearate
Sorbitan Monooleate
Sorbitan Trioleate
Sorbitan Monopalmitate
Sorbitan Sequioleate
By Application Coverage
Cosmetics and Personal Care Products

Facial Care
Body Care
Others

Food and Beverages Processing

Confectionery
Bakery
Oil & Fats
Non-Alcoholic Beverages
Soups and Gravies

Pharmaceuticals
Lubricants & Waxes
Animal Nutrition & Pet Food
Industrial
Textile
Others
By Geographical Coverage
North America
Europe

Germany
France
Italy
UK
Spain
Russia
Rest of Europe

Asia Pacific

China
Japan
South Korea
India
Australia
Rest of Asia Pacific

Latin America

Brazil
Mexico
Rest of Latin America

Middle East & Africa

Saudi Arabia
South Africa
UAE
Rest of Middle East & Africa
Leading Companies
Dupont
Oleon Holding NV
Esterchem Ltd
Lonza Group AG
Vantage Specialty Chemicals Inc
Merck KGaA
Ivanhoe Industries Inc
Penta International Corp
Avatar Corporation
SABO S.p.A.
Inside This Report You Will Find:
1. Executive Summary
2. Market Overview
3. Regulatory Overview
4. Global Sorbitan Esters Market Outlook, 2017 - 2025
5. North America Sorbitan Esters Market Outlook, 2017 - 2025
6. Europe Sorbitan Esters Market Outlook, 2017 - 2025
7. Asia Pacific Sorbitan Esters Market Outlook, 2017 - 2025
8. Latin America Sorbitan Esters Market Outlook, 2017 - 2025
9. Middle East & Africa Sorbitan Esters Market Outlook, 2017 - 2025
10. Competitive Landscape
11. Appendix
Post Sale Support, Research Updates & Offerings:
We value the trust shown by our customers in Fairfield Market Research. We support our clients through our post sale support, research updates and offerings.
The report will be prepared in a PPT format and will be delivered in a PDF format.
Additionally, Market Estimation and Forecast numbers will be shared in Excel Workbook.
If a report being sold was published over a year ago, we will offer a complimentary copy of the updated research report along with Market Estimation and Forecast numbers within 2-3 weeks' time of the sale.
If we update this research study within the next 2 quarters, post purchase of the report, we will offer a Complimentary copy of the updated Market Estimation and Forecast numbers in Excel Workbook.
If there is a geopolitical conflict, pandemic, recession, and the like which can impact global economic scenario and business activity, which might entirely alter the market dynamics or future projections in the industry, we will create a Research Update upon your request at a nominal charge.
1. Executive Summary
1.1. Global Sorbitan Esters Market Snapshot
1.2. Future Projections
1.3. Key Market Trends
1.4. Analyst Recommendations


2. Market Overview
2.1. Market Definitions
2.2. Market Taxonomy
2.3. Market Dynamics
2.3.1. Drivers
2.3.2. Restraints
2.4. Value Chain Analysis
2.5. Pricing Analysis
2.6. Porter's Five Forces Analysis
2.7. Covid-19 Impact Analysis
2.8. Macro-Economic Factors


3. Regulatory Overview
3.1. Key Regulations
3.2. Key Certificates

4. Global Sorbitan Esters Market Outlook, 2017 - 2025
4.1. Global Sorbitan Esters Market Outlook, by Form, Volume (Tons) and Value (US$ Mn), 2017 - 2025
4.1.1. Key Highlights
4.1.1.1. Liquid
4.1.1.2. Solid
4.1.1.3. Semi-Solid/Paste
4.1.2. BPS Analysis -2020-2025
4.2. Global Sorbitan Esters Market Outlook, by Product Type, Volume (Tons) and Value (US$ Mn), 2017 - 2025
4.2.1. Key Highlights
4.2.1.1. Sorbitan Monolaurate
4.2.1.2. Sorbitan Monostearate
4.2.1.3. Sorbitan Monooleate
4.2.1.4. Sorbitan Trioleate
4.2.1.5. Sorbitan Monopalmitate
4.2.1.6. Sorbitan Sequioleate
4.2.2. BPS Analysis -2020-2025
4.3. Global Sorbitan Esters Market Outlook, by Application, Volume (Tons) and Value (US$ Mn), 2017 - 2025
4.3.1. Key Highlights
4.3.1.1. Cosmetics and Personal Care Products
4.3.1.1.1. Facial Care
4.3.1.1.2. Body Care
4.3.1.1.3. Others
4.3.1.2. Food and Beverages Processing
4.3.1.2.1. Confectionery
4.3.1.2.2. Bakery
4.3.1.2.3. Oil & Fats
4.3.1.2.4. Non-Alcoholic Beverages
4.3.1.2.5. Soups and Gravies
4.3.1.3. Pharmaceuticals
4.3.1.4. Lubricants & Waxes
4.3.1.5. Animal Nutrition & Pet Food
4.3.1.6. Industrial
4.3.1.7. Textile
4.3.1.8. Others
4.3.2. BPS Analysis -2020-2025
4.4. Global Sorbitan Esters Market Outlook, by Region, Volume (Tons) and Value (US$ Mn), 2017 - 2025
4.4.1. Key Highlights
4.4.1.1. North America
4.4.1.2. Europe
4.4.1.3. Asia Pacific
4.4.1.4. Latin America
4.4.1.5. Middle East & Africa
4.4.2. BPS Analysis -2020-2025

5. North America Sorbitan Esters Market Outlook, 2017 - 2025
5.1. North America Sorbitan Esters Market Outlook, by Country, Volume (Tons) and Value (US$ Mn), 2017 - 2025
5.1.1. Key Highlights
5.1.1.1. U.S. Sorbitan Esters Market by Volume (Tons) and Value (US$ Mn), 2017 - 2025
5.1.1.2. Canada Sorbitan Esters Market by Volume (Tons) and Value (US$ Mn), 2017 - 2025
5.1.2. BPS Analysis -2020-2025
5.2. North America Sorbitan Esters Market Outlook, by Form, Volume (Tons) and Value (US$ Mn), 2017 - 2025
5.2.1. Key Highlights
5.2.1.1. Liquid
5.2.1.2. Solid
5.2.1.3. Semi-Solid/Paste
5.2.2. BPS Analysis -2020-2025
5.3. North America Sorbitan Esters Market Outlook, by Product Type, Volume (Tons) and Value (US$ Mn), 2017 - 2025
5.3.1. Key Highlights
5.3.1.1. Sorbitan Monolaurate
5.3.1.2. Sorbitan Monostearate
5.3.1.3. Sorbitan Monooleate
5.3.1.4. Sorbitan Trioleate
5.3.1.5. Sorbitan Monopalmitate
5.3.1.6. Sorbitan Sequioleate
5.3.2. BPS Analysis -2020-2025
5.4. North America Sorbitan Esters Market Outlook, by Application, Volume (Tons) and Value (US$ Mn), 2017 - 2025
5.4.1. Key Highlights
5.4.1.1. Cosmetics and Personal Care Products
5.4.1.1.1. Facial Care
5.4.1.1.2. Body Care
5.4.1.1.3. Others
5.4.1.2. Food and Beverages Processing
5.4.1.2.1. Confectionery
5.4.1.2.2. Bakery
5.4.1.2.3. Oil & Fats
5.4.1.2.4. Non-Alcoholic Beverages
5.4.1.2.5. Soups and Gravies
5.4.1.3. Pharmaceuticals
5.4.1.4. Lubricants & Waxes
5.4.1.5. Animal Nutrition & Pet Food
5.4.1.6. Industrial
5.4.1.7. Textile
5.4.1.8. Others
5.4.2. BPS Analysis -2020-2025

6. Europe Sorbitan Esters Market Outlook, 2017 - 2025
6.1. Europe Sorbitan Esters Market Outlook, by Country, Volume (Tons) and Value (US$ Mn), 2017 - 2025
6.1.1. Key Highlights
6.1.1.1. Germany Sorbitan Esters Market by Volume (Tons) and Value (US$ Mn), 2017 - 2025
6.1.1.2. France Sorbitan Esters Market by Product, Volume (Tons) and Value (US$ Mn), 2017 - 2025
6.1.1.3. U.K. Sorbitan Esters Market by Volume (Tons) and Value (US$ Mn), 2017 - 2025
6.1.1.4. Italy Sorbitan Esters Market by Volume (Tons) and Value (US$ Mn), 2017 - 2025
6.1.1.5. Spain Sorbitan Esters Market by Product, Volume (Tons) and Value (US$ Mn), 2017 - 2025
6.1.1.6. Russia Sorbitan Esters Market by Volume (Tons) and Value (US$ Mn), 2017 - 2025
6.1.1.7. Rest of Europe Sorbitan Esters Market Volume (Tons) and Value (US$ Mn), 2017 - 2025
6.1.2. BPS Analysis -2020-2025
6.2. Europe Sorbitan Esters Market Outlook, by Form, Volume (Tons) and Value (US$ Mn), 2017 - 2025
6.2.1. Key Highlights
6.2.1.1. Liquid
6.2.1.2. Solid
6.2.1.3. Semi-Solid/Paste
6.2.2. BPS Analysis -2020-2025
6.3. Europe Sorbitan Esters Market Outlook, by Product Type, Volume (Tons) and Value (US$ Mn), 2017 - 2025
6.3.1. Key Highlights
6.3.1.1. Sorbitan Monolaurate
6.3.1.2. Sorbitan Monostearate
6.3.1.3. Sorbitan Monooleate
6.3.1.4. Sorbitan Trioleate
6.3.1.5. Sorbitan Monopalmitate
6.3.1.6. Sorbitan Sequioleate
6.3.2. BPS Analysis -2020-2025
6.4. Europe Sorbitan Esters Market Outlook, by Application, Volume (Tons) and Value (US$ Mn), 2017 - 2025
6.4.1. Key Highlights
6.4.1.1. Cosmetics and Personal Care Products
6.4.1.1.1. Facial Care
6.4.1.1.2. Body Care
6.4.1.1.3. Others
6.4.1.2. Food and Beverages Processing
6.4.1.2.1. Confectionery
6.4.1.2.2. Bakery
6.4.1.2.3. Oil & Fats
6.4.1.2.4. Non-Alcoholic Beverages
6.4.1.2.5. Soups and Gravies
6.4.1.3. Pharmaceuticals
6.4.1.4. Lubricants & Waxes
6.4.1.5. Animal Nutrition & Pet Food
6.4.1.6. Industrial
6.4.1.7. Textile
6.4.1.8. Others
6.4.2. BPS Analysis -2020-2025

7. Asia Pacific Sorbitan Esters Market Outlook, 2017 - 2025
7.1. Asia Pacific Sorbitan Esters Market Outlook, by Country, Volume (Tons) and Value (US$ Mn), 2017 - 2025
7.1.1. Key Highlights
7.1.1.1. India Sorbitan Esters Market by Volume (Tons) and Value (US$ Mn), 2017 - 2025
7.1.1.2. China Sorbitan Esters Market by Volume (Tons) and Value (US$ Mn), 2017 - 2025
7.1.1.3. Japan Sorbitan Esters Market by Volume (Tons) and Value (US$ Mn), 2017 - 2025
7.1.1.4. South Korea Sorbitan Esters Market by Volume (Tons) and Value (US$ Mn), 2017 - 2025
7.1.1.5. Australia Sorbitan Esters Market Volume (Tons) and Value (US$ Mn), 2017 - 2025
7.1.1.6. Rest of Asia Pacific Market by Volume (Tons) and Value (US$ Mn), 2017 - 2025
7.1.2. BPS Analysis -2020-2025
7.2. Asia Pacific Sorbitan Esters Market Outlook, by Form, Volume (Tons) and Value (US$ Mn), 2017 - 2025
7.2.1. Key Highlights
7.2.1.1. Liquid
7.2.1.2. Solid
7.2.1.3. Semi-Solid/Paste
7.2.2. BPS Analysis -2020-2025
7.3. Asia Pacific Sorbitan Esters Market Outlook, by Product Type Volume (Tons) and Value (US$ Mn), 2017 - 2025
7.3.1. Key Highlights
7.3.1.1. Sorbitan Monolaurate
7.3.1.2. Sorbitan Monostearate
7.3.1.3. Sorbitan Monooleate
7.3.1.4. Sorbitan Trioleate
7.3.1.5. Sorbitan Monopalmitate
7.3.1.6. Sorbitan Sequioleate
7.3.2. BPS Analysis
7.4. Asia Pacific Sorbitan Esters Market Outlook, by Application, Volume (Tons) and Value (US$ Mn), 2017 - 2025
7.4.1. Key Highlights
7.4.1.1. Cosmetics and Personal Care Products
7.4.1.1.1. Facial Care
7.4.1.1.2. Body Care
7.4.1.1.3. Others
7.4.1.2. Food and Beverages Processing
7.4.1.2.1. Confectionery
7.4.1.2.2. Bakery
7.4.1.2.3. Oil & Fats
7.4.1.2.4. Non-Alcoholic Beverages
7.4.1.2.5. Soups and Gravies
7.4.1.3. Pharmaceuticals
7.4.1.4. Lubricants & Waxes
7.4.1.5. Animal Nutrition & Pet Food
7.4.1.6. Industrial
7.4.1.7. Textile
7.4.1.8. Others
7.4.2. BPS Analysis -2020-2025

8. Latin America Sorbitan Esters Market Outlook, 2017 - 2025
8.1. Latin America Sorbitan Esters Market Outlook, by Country, Volume (Tons) and Value (US$ Mn), 2017 - 2025
8.1.1. Key Highlights
8.1.1.1. Brazil Sorbitan Esters Market by Volume (Tons) and Value (US$ Mn), 2017 - 2025
8.1.1.2. Mexico Sorbitan Esters Market by Volume (Tons) and Value (US$ Mn), 2017 - 2025
8.1.1.3. Rest of Latin America Sorbitan Esters Market by Volume (Tons) and Value (US$ Mn), 2017 - 2025
8.1.2. BPS Analysis -2020-2025
8.2. Latin America Sorbitan Esters Market Outlook, by Form, Volume (Tons) and Value (US$ Mn), 2017 - 2025
8.2.1. Key Highlights
8.2.1.1. Liquid
8.2.1.2. Solid
8.2.1.3. Semi-Solid/Paste
8.2.2. BPS Analysis -2020-2025
8.3. Latin America Sorbitan Esters Market Outlook, by Product Type, Volume (Tons) and Value (US$ Mn), 2017 - 2025
8.3.1. Key Highlights
8.3.1.1. Sorbitan Monolaurate
8.3.1.2. Sorbitan Monostearate
8.3.1.3. Sorbitan Monooleate
8.3.1.4. Sorbitan Trioleate
8.3.1.5. Sorbitan Monopalmitate
8.3.1.6. Sorbitan Sequioleate
8.3.2. BPS Analysis -2020-2025
8.4. Latin America Sorbitan Esters Market Outlook, by Application, Volume (Tons) and Value (US$ Mn), 2017 - 2025
8.4.1. Key Highlights
8.4.1.1. Cosmetics and Personal Care Products
8.4.1.1.1. Facial Care
8.4.1.1.2. Body Care
8.4.1.1.3. Others
8.4.1.2. Food and Beverages Processing
8.4.1.2.1. Confectionery
8.4.1.2.2. Bakery
8.4.1.2.3. Oil & Fats
8.4.1.2.4. Non-Alcoholic Beverages
8.4.1.2.5. Soups and Gravies
8.4.1.3. Pharmaceuticals
8.4.1.4. Lubricants & Waxes
8.4.1.5. Animal Nutrition & Pet Food
8.4.1.6. Industrial
8.4.1.7. Textile
8.4.1.8. Others
8.4.2. BPS Analysis -2020-2025

9. Middle East & Africa Sorbitan Esters Market Outlook, 2017 - 2025
9.1. Middle East & Africa Sorbitan Esters Market Outlook, by Country, Volume (Tons) and Value (US$ Mn), 2017 - 2025
9.1.1. Key Highlights
9.1.1.1. UAE Sorbitan Esters Market by Volume (Tons) and Value (US$ Mn), 2017 - 2025
9.1.1.2. South Africa Sorbitan Esters Market by Volume (Tons) and Value (US$ Mn), 2017 - 2025
9.1.1.3. Saudi Arabia Sorbitan Esters Market by Volume (Tons) and Value (US$ Mn), 2017 - 2025
9.1.1.4. Rest of Middle East & Africa Sorbitan Esters Market by Volume (Tons) and Value (US$ Mn), 2017 - 2025
9.1.2. BPS Analysis -2020-2025
9.2. Middle East & Africa Sorbitan Esters Market Outlook, by Form, Volume (Tons) and Value (US$ Mn), 2017 - 2025
9.2.1. Key Highlights
9.2.1.1. Liquid
9.2.1.2. Solid
9.2.1.3. Semi-Solid/Paste
9.2.2. BPS Analysis -2020-2025
9.3. Middle East & Africa Sorbitan Esters Market Outlook, by Product Type, Volume (Tons) and Value (US$ Mn), 2017 - 2025
9.3.1. Key Highlights
9.3.1.1. Sorbitan Monolaurate
9.3.1.2. Sorbitan Monostearate
9.3.1.3. Sorbitan Monooleate
9.3.1.4. Sorbitan Trioleate
9.3.1.5. Sorbitan Monopalmitate
9.3.1.6. Sorbitan Sequioleate
9.3.2. BPS Analysis -2020-2025
9.4. Middle East & Africa Sorbitan Esters Market Outlook, by Application, Volume (Tons) and Value (US$ Mn), 2017 - 2025
9.4.1. Key Highlights
9.4.1.1. Cosmetics and Personal Care Products
9.4.1.1.1. Facial Care
9.4.1.1.2. Body Care
9.4.1.1.3. Others
9.4.1.2. Food and Beverages Processing
9.4.1.2.1. Confectionery
9.4.1.2.2. Bakery
9.4.1.2.3. Oil & Fats
9.4.1.2.4. Non-Alcoholic Beverages
9.4.1.2.5. Soups and Gravies
9.4.1.3. Pharmaceuticals
9.4.1.4. Lubricants & Waxes
9.4.1.5. Animal Nutrition & Pet Food
9.4.1.6. Industrial
9.4.1.7. Textile
9.4.1.8. Others
9.4.2. BPS Analysis -2020-2025

10. Competitive Landscape
10.1. Company Market Share Analysis, 2019
10.2. Company Profiles
10.2.1. Dupont
10.2.1.1. Company Overview
10.2.1.2. Regional Presence & Revenue
10.2.1.3. Business Segment Revenue
10.2.1.4. Product Portfolio
10.2.2. Oleon Holding NV
10.2.2.1. Company Overview
10.2.2.2. Regional Presence & Revenue
10.2.2.3. Business Segment Revenue
10.2.2.4. Product Portfolio
10.2.3. Esterchem Ltd
10.2.3.1. Company Overview
10.2.3.2. Regional Presence & Revenue
10.2.3.3. Business Segment Revenue
10.2.3.4. Product Portfolio
10.2.4. Lonza Group AG
10.2.4.1. Company Overview
10.2.4.2. Regional Presence & Revenue
10.2.4.3. Business Segment Revenue
10.2.4.4. Product Portfolio
10.2.5. Vantage Specialty Chemicals Inc
10.2.5.1. Company Overview
10.2.5.2. Regional Presence & Revenue
10.2.5.3. Business Segment Revenue
10.2.5.4. Product Portfolio
10.2.6. Merck KGaA
10.2.6.1. Company Overview
10.2.6.2. Regional Presence & Revenue
10.2.6.3. Business Segment Revenue
10.2.6.4. Product Portfolio
10.2.7. Ivanhoe Industries Inc
10.2.7.1. Company Overview
10.2.7.2. Regional Presence & Revenue
10.2.7.3. Business Segment Revenue
10.2.7.4. Product Portfolio
10.2.8. Penta International Corp
10.2.8.1. Company Overview
10.2.8.2. Regional Presence & Revenue
10.2.8.3. Business Segment Revenue
10.2.8.4. Product Portfolio
10.2.9. Avatar Corporation
10.2.9.1. Company Overview
10.2.9.2. Regional Presence & Revenue
10.2.9.3. Business Segment Revenue
10.2.9.4. Product Portfolio
10.2.10. SABO S.p.A.
10.2.10.1. Company Overview
10.2.10.1.1. Regional Presence & Revenue
10.2.10.2. Business Segment Revenue
10.2.10.3. Product Portfolio

11. Appendix
11.1. Research Methodology
11.2. Report Assumptions
11.3. Acronyms and Abbreviations