Global IoT in Energy Market Forecast
Global IoT in energy market size poised to reach a valuation of US$114 Bn by 2030-end
Market revenue projected to demonstrate a robust CAGR of 19.4% during 2023 - 2030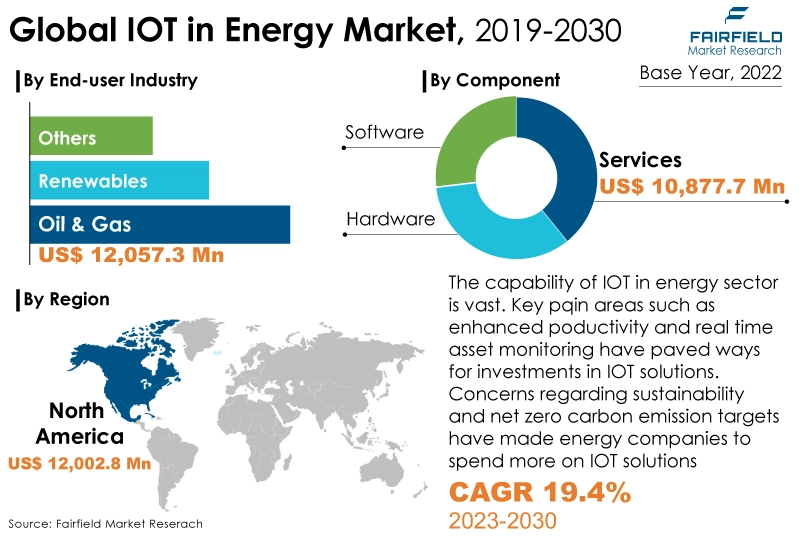 Quick Report Digest
IoT is a strong growing market worldwide and has even surpassed the US$0.7 Tn mark of revenue in the year 2020. By the end of 2030, the IoT industry will possibly reach beyond US$4 Tn.
The most significant factor accounting for the staggering market projections is the dramatic difference between the industry requirements – pre- and post-pandemic.
Investments paced up after Q3 2021, which have been instrumental to the built up of the IoT in energy market.
IoT has also penetrated the energy sector deeply and the increasing enterprise investment in different IoT projects is likely to push the IoT energy market to nearly US$35 Bn in the next couple of years.
In 2022, North America constituted 43.3% of the global IoT in energy market valuation. On the other hand, Asia Pacific's IoT in energy market is expected to register a stronger CAGR of 19.5% during 2023-2030.
In terms of application, asset monitoring segment dominated the market and constituted 23.7% share in 2022. In terms of end-user industry, oil & gas segment constituted more than 43.5% share of the market the same year. Based on component, the services segment led the market with around 39.2% revenue share in 2022.
The largest independent crude oil tanker operator in the world, Euronav, uses an IoT-based platform called Fleet Automatic Statistics & Tracking (FAST) to collect data from ships and analyse it in real time. With this solution, the business was able to cut down on waiting times and fuel usage, implement predictive maintenance, enhance vessel-shore communication, and more.
Key Growth Determinants
Decarbonisation Targets, Coupled with Enhanced Productivity
The energy market is presently going through strategic reforms. Decarbonisation, energy efficiency, the development of new digital energy market models, and the adoption of IoT technology are the main goals of these reforms. IoT is a network architecture that is dynamic and based on accepted communication standards. It makes it possible to transfer, store, and distribute energy.
Additionally, it incorporates pertinent data to enable two-way energy transfer. This might lower the price of producing electricity while boosting dependability and efficiency. Additionally, it will lower the cost of electricity for customers.
Energy-related investments make up 12–15% of total IoT investments per sector. The main IoT application area in the energy sector is supply chain optimisation and tracking.
With its cutting-edge technologies and real-time applications, it is portraying a new reality and encompassing the energy industry. It gathers actionable insights from sensor devices and gateway connectivity, then uses them to create cutting-edge services for increased productivity. It enhances overall experiences, complicated operability, and real-time decision-making even more.
Rising Adoption by Companies in Energy Sector
Ascending adoption of technologies like IoT and AI in the energy industry, and growing deployment of smart grids for energy optimisation are expected to create lucrative growth opportunities for the IoT in energy market.
The inadequacy of skilled workforce will however continue to place a challenge facing market growth. Moreover, persistent concerns around data and user privacy will also be the crucial challenges to the expansion of the market.
Companies are increasingly considering adoption of IoT to safeguard the environment through IoT-enabled devices, as well as data analytics. Embracing IoT is supposed to help them slash the wastage and raise the efficiency of systems. The eventual objective is to reduce the overall energy demand and consumption.
IoT has thus been witnessing growing deployment across commercial and residential set-ups where energy consumption monitoring and regulation have gained priority. Absorption of technologies like IoT by energy sector also uplifts the possibilities of catering to growing energy demands, especially in the upcoming smart cities, in a more efficient manner.
Need for High Productivity, Automation and Real-time Monitoring
IoT solutions more effectively abide by carbon emission rules. Operators can generate less wasted energy thanks to the IoT. They can channel extra energy into sophisticated battery arrays that store power for later use as energy storage.
By storing energy during peak usage times, these batteries can assist in balancing the energy load. The Internet of Things, which has numerous sensors in power plants, transmission lines, substations, and delivery networks, is used by the Internet of Energy. As a result, consumers and players in the energy sector now operate more efficiently.
It is not easy to integrate IoT devices into the energy grid. The complexity of integrating IoT devices into energy systems presents significant hurdles to the energy business. IoT must be integrated into energy systems with the appropriate competence. This is a significant factor in why many businesses struggle to adopt IoT.
Electric firms should invest in IoT base systems and assemble the appropriate teams of specialists to supervise implementation to get over these obstacles.
Despite multiple advantages, many businesses will find it difficult to integrate IoT technologies. IoE faces multiple difficulties, and to ensure its success, a thorough assessment of the difficulties and opportunities is required.
Majority of oil & gas companies are either unaware or simply neglect the need of IoT solutions in their business processes. Some companies fear about the expenses while others are still figuring out the need for IoT solutions as per different operations.
Major Growth Barriers
The peculiar architectural demand of using IoT in energy sector remains a longstanding challenge facing the industry participants. While the desired architectural design will promote scalability and further establish interconnections between things and people, it prevails as a significant growth impediment as of now.
Moreover, seamless integration of IoT with existing subsystems is another strong challenge facing the expansion of the IoT in energy market.
While deployments of IoT-enabled devices has been picking pace over the recent past, the inconsistency among them is itself a challenge to rapid growth of this sector as it leads to lack of standardisation.
Finally, the concerns around user privacy and IoT security also prevail as amongst the primary growth challenges for the IoT in energy market.
Fairfield's Ranking Board
Top Segments
Oil & Gas Industry Leads IoT investments – Mainly in Upstream and Midstream Sectors
The global IoT in energy market has been segmented into oil & gas, renewables, and others. In 2022, oil & gas industry sector dominated the market and constituted more than 45% share.
More than 85% of oil companies are supporting the usage IoT technology to increase their business's value. BP, Equinor, ExxonMobil, Shell, and TotalEnergies are among the leading IoT adopters in the oil & gas sector.
IoT technology can be connected with systems for generating and storing renewable energy power, enabling users to schedule the operation of their gadgets during times of lower energy costs. Both the requirement to produce power and carbon emissions may be decreased as a result.
A fascinating new area of IoT research is IoE technology. A new method of controlling energy use is the IoT. By enabling power plants to produce more electricity during periods of high demand and less during periods of low demand, it aids nations in better managing their electricity demand.
Demand for IoT Service Packages to Grow at a Higher Pace
In terms of component, the global IoT in energy market has been segmented into hardware, software, and services. In 2022, services segment dominated and constituted more than 30% share by value. Suppliers should provide hardware as per the specifications and usage application to track, monitor, and automate.
Services are a collection of hardware and software that are offered by different companies. These are portable tools for researching the main problem areas in the energy industry. Service bundles cost more than buying separate parts of hardware or software.
Many vendors in the hardware and software industries have joined forces with sellers of service packages that include a lot of hardware and software to meet specific needs and applications.
Asset Monitoring Application Dominates Demand Generation
In terms of application, the global IoT in energy market has been fragmented into asset monitoring, process automation, fleet management, tracking, plant performance optimisation, quality control, condition monitoring, predictive maintenance, others. In 2022, asset monitoring constituted 24% share of the market.
IoT sensors and devices are used in asset monitoring and tracking to continuously capture data, evaluate it, and present the necessary information dependent on the device. This enables organisations to recognise and address specific concerns and issues.
One of the largest issues for businesses is maintenance, which involves significant costs that can be lowered with IoT. For instance, IoT devices can examine historical data to discover trends and predict prospective equipment problems or disasters.
Regional Frontrunners
North America, and Asia Pacific to Witness Strong Growth
Globally, the US is the largest end-user of IoT in energy market but throughout different sectors. North America is one of the leading players in the global IoT in energy market. In 2022, the region accounted for more than 40% of the global market for IoT in energy market; throughout the forecast period, its share is anticipated to rise.
In addition to being one of the biggest users of IoT systems in oil & gas industry. Globally, the US is also a major global supplier of IoT systems and solution. Majority of IoT players are housed in the US.
Europe is strong in renewable energy. Apart from oil & gas, coal, the region has strong vision for renewable power. The share of IoT in renewable power is likely to grow in Europe by 2030.
The largest independent crude oil tanker operator in the world, Euronav, uses an IoT-based platform called Fleet Automatic Statistics & Tracking (FAST) to collect data from ships and analyse it in real time. With this solution, the business was able to cut down on waiting times and fuel usage, implement predictive maintenance, enhance vessel-shore communication, and more.
In Middle East & Africa, recently to enhance Shell Nigeria's pipeline facility with cutting-edge features like remote pipeline surveillance and wellhead monitoring, field data analysis, and automation, Shell introduced an IoT solution dubbed Digital Oilfield.
Fairfield's Competitive Landscape Analysis
The global IoT in energy market is a consolidated market with fewer major players present across the globe. The key players are introducing new products as well as working on the distribution channels to enhance their worldwide presence. Moreover, Fairfield Market Research is expecting the market to witness more consolidation over the coming years.
Who are the Leaders in Global IoT in Energy Industry Space?
Significant Company Developments
Recently in 2023, Vantiq, and Infosys developed IoT solution for the energy industry. Vantiq partnered with Infosys for a safety monitoring and carbon emission management solution.
In March 2022, in a significant move, Intel Corporation announced its acquisition of Granulate Cloud Solutions Ltd. The Israel-based company specialises in real-time optimisation software, providing a boon for cloud and data centre customers. With this acquisition, users can expect improved compute workload performance and reduced infrastructure and cloud costs.
In March 2022, SAP SE made waves with its acquisition of Taulia, enhancing its offerings for CFO offices and expanding its business network. Notably, Taulia's products will remain distinct and fully integrated into SAP software. Operating independently under its brand within the SAP Group, Taulia is set to play a crucial role in SAP's strategic plans.
In February 2022, Intel's commitment to supporting the Linux community was reinforced through its acquisition of Linutronix. The latter is known for its PREEMPT RT (Real Time) architecture and industrial Linux technology, adds to Intel's growing software ecosystem. This move highlights Intel's dedication to the development and advancement of the Linux kernel, benefiting both the company and the broader Linux community.
In 2022, IBM, Dell and OMG launched Responsible Computing Initiative. These include ensuring that efficiency and sustainability are prioritised in the design and operation of data centres. Infrastructure is also given attention, including tracking how much energy is used by various items and technology and ensuring that garbage is disposed of ethically.
In 2021, Hiber, an IIoT startup, signed an agreement with Shell to provide well-integrity monitoring solutions globally.
Global IoT in Energy Market is Segmented as Below:
By Application Coverage:
Asset Monitoring
Process Automation
Fleet Management
Tracking
Plant Performance Optimization
Quality Control
Condition Monitoring
Predictive Maintenance
Others
By End-user Industry Coverage:
Oil & Gas
Renewables
Others
By Component Coverage:
Hardware
Software
Services
By Geographic Coverage:
North America
Europe

Germany
Netherlands
U.K.
Italy
Russia & CIS
Rest of EU

Asia Pacific

China
India
Japan
ASEAN
Rest of Asia Pacific

Middle East & Africa

Iran
Saudi Arabia
UAE
South Africa
Rest of Middle East & Africa

Latin America

Brazil
Mexico
Venezuela
Rest of Latin America
1. Executive Summary
1.1. Global IoT in Energy Market Snapshot
1.2. Future Projections
1.3. Key Market Trends
1.4. Analyst Recommendations

2. Market Overview
2.1. Market Definitions and Segmentations
2.2. Market Dynamics
2.2.1. Drivers
2.2.2. Restraints
2.2.3. Market Opportunities
2.2.4. Economic Trends
2.3. Value Chain Analysis
2.4. Porter's Five Forces Analysis
2.5. COVID-19 Impact
2.5.1. Supply Chain
2.5.2. End-use Industry Customer Impact Analysis

3. Price Trends Analysis, 2019 - 2030

4. Global IoT in Energy Market Outlook, 2019 - 2030
4.1. Global IoT in Energy Market Outlook, by Application, Value (US$ Mn), 2019 - 2030
4.1.1. Key Highlights
4.1.1.1. Asset Monitoring
4.1.1.2. Process Automation
4.1.1.3. Fleet Management
4.1.1.4. Tracking
4.1.1.5. Plant Performance Optimisation
4.1.1.6. Quality Control
4.1.1.7. Condition Monitoring
4.1.1.8. Predictive Maintenance
4.1.1.9. Others
4.1.2. BPS Analysis/Market Attractiveness Analysis, by Application
4.2. Global IoT in Energy Market Outlook, by End-use Industry, Value (US$ Mn), 2019 - 2030
4.2.1. Key Highlights
4.2.1.1. Oil & Gas
4.2.1.2. Renewables
4.2.1.3. Others
4.2.2. BPS Analysis/Market Attractiveness Analysis, by End-use Industry
4.3. Global IoT in Energy Market Outlook, by Component, Value (US$ Mn), 2019 - 2030
4.3.1. Key Highlights
4.3.1.1. Hardware
4.3.1.2. Software
4.3.1.3. Services
4.3.2. BPS Analysis/Market Attractiveness Analysis, by Component
4.4. Global IoT in Energy Market Outlook, by Region, Value (US$ Mn), 2019 - 2030
4.4.1. Key Highlights
4.4.1.1. North America
4.4.1.2. Europe
4.4.1.3. Asia Pacific
4.4.1.4. Middle East & Africa
4.4.1.5. Latin America
4.4.2. BPS Analysis/Market Attractiveness Analysis, by Region

5. North America IoT in Energy Market Outlook, 2019 - 2030
5.1. North America IoT in Energy Market Outlook, by Application, Value (US$ Mn), 2019 - 2030
5.1.1. Key Highlights
5.1.1.1. Asset Monitoring
5.1.1.2. Process Automation
5.1.1.3. Fleet Management
5.1.1.4. Tracking
5.1.1.5. Plant Performance Optimisation
5.1.1.6. Quality Control
5.1.1.7. Condition Monitoring
5.1.1.8. Predictive Maintenance
5.1.1.9. Others
5.2. North America IoT in Energy Market Outlook, by End-use Industry, Value (US$ Mn), 2019 - 2030
5.2.1. Key Highlights
5.2.1.1. Oil & Gas
5.2.1.2. Renewables
5.2.1.3. Others
5.3. North America IoT in Energy Market Outlook, by Component, Value (US$ Mn), 2019 - 2030
5.3.1. Key Highlights
5.3.1.1. Hardware
5.3.1.2. Software
5.3.1.3. Services
5.4. North America IoT in Energy Market Outlook, by Country, Value (US$ Mn), 2019 - 2030
5.4.1. Key Highlights
5.4.1.1. U.S. IoT in Energy Market, Value (US$ Mn), by Application, End-use Industry, Component, 2019 - 2030
5.4.1.2. Canada IoT in Energy Market, Value (US$ Mn), by Application, End-use Industry, Component, 2019 - 2030


6. Europe IoT in Energy Market Outlook, 2019 - 2030
6.1. Europe IoT in Energy Market Outlook, by Application, Value (US$ Mn), 2019 - 2030
6.1.1. Key Highlights
6.1.1.1. Asset Monitoring
6.1.1.2. Process Automation
6.1.1.3. Fleet Management
6.1.1.4. Tracking
6.1.1.5. Plant Performance Optimisation
6.1.1.6. Quality Control
6.1.1.7. Condition Monitoring
6.1.1.8. Predictive Maintenance
6.1.1.9. Others
6.2. Europe IoT in Energy Market Outlook, by End-use Industry, Value (US$ Mn), 2019 - 2030
6.2.1. Key Highlights
6.2.1.1. Oil & Gas
6.2.1.2. Renewables
6.2.1.3. Others
6.3. Europe IoT in Energy Market Outlook, by Component, Value (US$ Mn), 2019 - 2030
6.3.1. Key Highlights
6.3.1.1. Hardware
6.3.1.2. Software
6.3.1.3. Services
6.4. Europe IoT in Energy Market Outlook, by Country, Value (US$ Mn), 2019 - 2030
6.4.1. Key Highlights
6.4.1.1. Germany IoT in Energy Market, Value (US$ Mn), by Application, End-use Industry, Component, 2019 - 2030
6.4.1.2. Netherland IoT in Energy Market, Value (US$ Mn), by Application, End-use Industry, Component, 2019 - 2030
6.4.1.3. U.K. IoT in Energy Market, Value (US$ Mn), by Application, End-use Industry, Component, 2019 - 2030
6.4.1.4. Italy IoT in Energy Market, Value (US$ Mn), by Application, End-use Industry, Component, 2019 - 2030
6.4.1.5. Russia & CIS IoT in Energy Market, Value (US$ Mn), by Application, End-use Industry, Component, 2019 - 2030
6.4.1.6. Rest of Europe IoT in Energy Market, Value (US$ Mn), by Application, End-use Industry, Component, 2019 - 2030

7. Asia Pacific IoT in Energy Market Outlook, 2019 - 2030
7.1. Asia Pacific IoT in Energy Market Outlook, by Application, Value (US$ Mn), 2019 - 2030
7.1.1. Key Highlights
7.1.1.1. Asset Monitoring
7.1.1.2. Process Automation
7.1.1.3. Fleet Management
7.1.1.4. Tracking
7.1.1.5. Plant Performance Optimisation
7.1.1.6. Quality Control
7.1.1.7. Condition Monitoring
7.1.1.8. Predictive Maintenance
7.1.1.9. Others
7.2. Asia Pacific IoT in Energy Market Outlook, by End-use Industry, Value (US$ Mn), 2019 - 2030
7.2.1. Key Highlights
7.2.1.1. Oil & Gas
7.2.1.2. Renewables
7.2.1.3. Others
7.3. Asia Pacific IoT in Energy Market Outlook, by Component, Value (US$ Mn), 2019 - 2030
7.3.1. Key Highlights
7.3.1.1. Hardware
7.3.1.2. Software
7.3.1.3. Services
7.4. Asia Pacific IoT in Energy Market Outlook, by Country, Value (US$ Mn), 2019 - 2030
7.4.1. Key Highlights
7.4.1.1. China IoT in Energy Market, Value (US$ Mn), by Application, End-use Industry, Component, 2019 - 2030
7.4.1.2. India IoT in Energy Market, Value (US$ Mn), by Application, End-use Industry, Component, 2019 - 2030
7.4.1.3. Japan IoT in Energy Market, Value (US$ Mn), by Application, End-use Industry, Component, 2019 - 2030
7.4.1.4. ASEAN IoT in Energy Market, Value (US$ Mn), by Application, End-use Industry, Component, 2019 - 2030
7.4.1.5. Rest of Asia Pacific IoT in Energy Market, Value (US$ Mn), by Application, End-use Industry, Component, 2019 - 2030

8. Middle East & Africa IoT in Energy Market Outlook, 2019 - 2030
8.1. Middle East & Africa IoT in Energy Market Outlook, by Application, Value (US$ Mn), 2019 - 2030
8.1.1. Key Highlights
8.1.1.1. Asset Monitoring
8.1.1.2. Process Automation
8.1.1.3. Fleet Management
8.1.1.4. Tracking
8.1.1.5. Plant Performance Optimisation
8.1.1.6. Quality Control
8.1.1.7. Condition Monitoring
8.1.1.8. Predictive Maintenance
8.1.1.9. Others
8.2. Middle East & Africa IoT in Energy Market Outlook, by End-use Industry, Value (US$ Mn), 2019 - 2030
8.2.1. Key Highlights
8.2.1.1. Oil & Gas
8.2.1.2. Renewables
8.2.1.3. Others
8.3. Middle East & Africa IoT in Energy Market Outlook, by Component, Value (US$ Mn), 2019 - 2030
8.3.1. Key Highlights
8.3.1.1. Hardware
8.3.1.2. Software
8.3.1.3. Services
8.4. Middle East & Africa IoT in Energy Market Outlook, by Country, Value (US$ Mn), 2019 - 2030
8.4.1. Key Highlights
8.4.1.1. Saudi Arabia IoT in Energy Market, Value (US$ Mn), by Application, End-use Industry, Component, 2019 - 2030
8.4.1.2. Iran IoT in Energy Market, Value (US$ Mn), by Application, End-use Industry, Component, 2019 - 2030
8.4.1.3. UAE IoT in Energy Market, Value (US$ Mn), by Application, End-use Industry, Component, 2019 - 2030
8.4.1.4. South Africa IoT in Energy Market, Value (US$ Mn), by Application, End-use Industry, Component, 2019 - 2030
8.4.1.5. Rest of Middle East & Africa IoT in Energy Market, Value (US$ Mn), by Application, End-use Industry, Component, 2019 - 2030

9. Latin America IoT in Energy Market Outlook, 2019 - 2030
9.1. Latin America IoT in Energy Market Outlook, by Application, Value (US$ Mn), 2019 - 2030
9.1.1. Key Highlights
9.1.1.1. Asset Monitoring
9.1.1.2. Process Automation
9.1.1.3. Fleet Management
9.1.1.4. Tracking
9.1.1.5. Plant Performance Optimisation
9.1.1.6. Quality Control
9.1.1.7. Condition Monitoring
9.1.1.8. Predictive Maintenance
9.1.1.9. Others
9.2. Latin America IoT in Energy Market Outlook, by End-use Industry, Value (US$ Mn), 2019 - 2030
9.2.1. Key Highlights
9.2.1.1. Oil & Gas
9.2.1.2. Renewables
9.2.1.3. Others
9.3. Middle East & Africa IoT in Energy Market Outlook, by Component, Value (US$ Mn), 2019 - 2030
9.3.1. Key Highlights
9.3.1.1. Hardware
9.3.1.2. Software
9.3.1.3. Services
9.4. Latin America IoT in Energy Market Outlook, by Country, Value (US$ Mn), 2019 - 2030
9.4.1. Key Highlights
9.4.1.1. Brazil IoT in Energy Market, Value (US$ Mn), by Application, End-use Industry, Component, 2019 - 2030
9.4.1.2. Mexico IoT in Energy Market, Value (US$ Mn), by Application, End-use Industry, Component, 2019 - 2030
9.4.1.3. Venezuela IoT in Energy Market, Value (US$ Mn), by Application, End-use Industry, Component, 2019 - 2030
9.4.1.4. Rest of Latin America IoT in Energy Market, Value (US$ Mn), by Application, End-use Industry, Component, 2019 - 2030


10. Competitive Landscape
10.1. Company Market Share Analysis, 2022
10.2. Strategic Collaborations
10.3. Company Profiles
10.3.1. SAP
10.3.1.1. Company Overview
10.3.1.2. Product Portfolio
10.3.1.3. Financial Overview
10.3.1.4. Business Strategies and Development
10.3.2. IBM
10.3.2.1. Company Overview
10.3.2.2. Product Portfolio
10.3.2.3. Financial Overview
10.3.2.4. Business Strategies and Development
10.3.3. HCL Technologies
10.3.3.1. Company Overview
10.3.3.2. Product Portfolio
10.3.3.3. Financial Overview
10.3.3.4. Business Strategies and Development
10.3.4. Accenture
10.3.4.1. Company Overview
10.3.4.2. Product Portfolio
10.3.4.3. Financial Overview
10.3.4.4. Business Strategies and Development
10.3.5. CISCO
10.3.5.1. Company Overview
10.3.5.2. Product Portfolio
10.3.5.3. Financial Overview
10.3.5.4. Business Strategies and Development
10.3.6. Dell Technologies
10.3.6.1. Company Overview
10.3.6.2. Product Portfolio
10.3.6.3. Financial Overview
10.3.6.4. Business Strategies and Development
10.3.7. Siemens AG
10.3.7.1. Company Overview
10.3.7.2. Product Portfolio
10.3.7.3. Financial Overview
10.3.7.4. Business Strategies and Development
10.3.8. Intel
10.3.8.1. Company Overview
10.3.8.2. Product Portfolio
10.3.8.3. Financial Overview
10.3.8.4. Business Strategies and Development
10.3.9. Infosys
10.3.9.1. Company Overview
10.3.9.2. Product Portfolio
10.3.9.3. Financial Overview
10.3.9.4. Business Strategies and Development
10.3.10. Bosch
10.3.10.1. Company Overview
10.3.10.2. Product Portfolio
10.3.10.3. Financial Overview
10.3.10.4. Business Strategies and Development
10.3.11. Rockwell Automation
10.3.11.1. Company Overview
10.3.11.2. Product Portfolio
10.3.11.3. Financial Overview
10.3.11.4. Business Strategies and Development


11. Appendix
11.1. Research Methodology
11.2. Report Assumptions
11.3. Acronyms and Abbreviations
BASE YEAR

HISTORICAL DATA

FORECAST PERIOD

UNITS

2022

2019 - 2022

2023 - 2030

Value: US$ Million
REPORT FEATURES

DETAILS

Application Coverage

End-user Industry Coverage

Oil & Gas

Renewables

Others

Component Coverage

Hardware

Software

Services

Geographical Coverage

Europe

Germany

Netherlands

U.K.

Italy

Russia & CIS

Rest of EU

Asia Pacific

China

India

Japan

ASEAN

Rest of Asia Pacific

Middle East & Africa

Latin America

Brazil

Mexico

Venezuela

Rest of Latin America

Leading Companies

SAP

IBM

HCL Technologies

Accenture Plc

CISCO

Dell Technologies

Siemens

Intel

Infosys

Bosch

Rockwell Automation

Report Highlights

Key Market Indicators, Macro-micro economic impact analysis, Technological Roadmap, Key Trends, Driver, Restraints, and Future Opportunities & Revenue Pockets, Porter's 5 Forces Analysis, Historical Trend (2019-2021), Price Trend Analysis, Market Estimates and Forecast, Market Dynamics, Industry Trends, Competition Landscape, Category, Region, Country-wise Trends & Analysis, COVID-19 Impact Analysis (Demand and Supply Chain)