Global Iron Casting Market Forecast
Global iron casting market size to witness a healthy CAGR of 6% during 2023 - 2030
Market valuation likely to approach the US$150 Bn mark by the end of 2030
Market Analysis in Brief
Cast iron comprises ferrous silicon, carbon, and iron alloys with additional elements added to imbibe certain qualities. It is a flexible material renowned for its strength, toughness, and heat resistance. Cast iron products, such as pipes, fittings, manhole covers, and structural elements, are in high demand in the building and infrastructure industries. The demand for these items in construction projects and public utilities drives the market as economies expand and urbanisation rises. Raw material prices, especially those for iron ore and scrap metal, frequently fluctuate. Changes in this pricing can impact the profitability of manufacturers in the iron casting business. Cast iron's appeal in various applications can be increased by consistently studying and developing new cast iron alloys and techniques to obtain higher mechanical capabilities, corrosion resistance, and other qualities.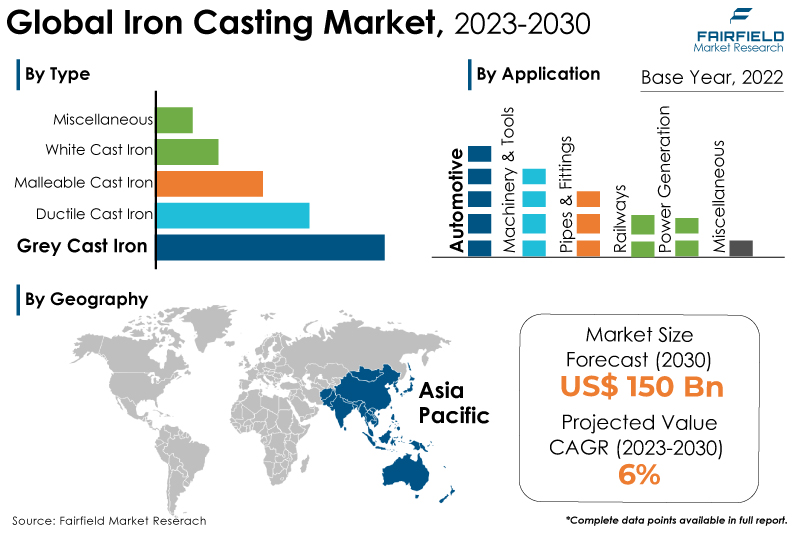 Key Report Findings
The global iron casting market will expand at a significant rate of around 6% CAGR between 2023 and 2030.
The demand for iron casting is rising due to the growing demand in the construction sector.
Demand for grey cast iron remains higher in the iron casting market.
The automotive category held the major iron casting market revenue share in 2022.
Asia Pacific will continue to lead, whereas the North American iron casting market will experience the strongest growth until 2030.
Growth Drivers
Demand from Construction Sector
Several factors contribute to the construction industry's increased demand for iron casting products. Cast iron parts are used extensively in construction because of their durability, strength, and adaptability for structural applications. Cast iron excels in construction projects where structural stability is vital due to its strong compressive strength and capacity to sustain enormous loads. It is frequently used to create columns, beams, and other load-bearing structures.
Cast iron has always been used in construction, especially in the Victorian era. To preserve the architectural integrity of historic structures, restoration efforts frequently call for the repair or replication of intricately cast-iron elements. For manhole covers, drainage grates, and sewage systems, cast iron is a favoured material due to its resilience to wear, corrosion, and severe temperatures. These parts must withstand heavy use and exposure to various elements.
Strong cast iron components are frequently needed for stability and safety in construction machinery and equipment such as cranes, scaffolding, and support structures. Overall, the durability, dependability, and adaptability of iron casting in the construction industry are key factors driving demand. Cast iron products remain vital in satisfying structural and architectural needs as construction projects become increasingly varied and ambitious.
Increasing Demand form Agricultural Equipment Manufacturers
The demand for iron casting in the manufacturing of agricultural equipment is a significant market driver. Agricultural machinery needs strong, resilient parts that can endure the demands of heavy-duty operations in frequently harsh settings. Cast iron is a great material for various agricultural gear and implements due to its mechanical qualities and resistance to wear, impact, and corrosion.
Tractors, Plows, cultivators, and harrows, among other agricultural machinery, must withstand rigorous field use. The equipment lasts longer because of cast iron's excellent durability and capacity to endure the strains of farming operations.
Many agricultural machineries can drag or till big loads. Cast iron is a good material choice for items that must withstand heavy loads due to its high tensile and compressive strengths. Cast iron is appropriate for components exposed to dirt, pebbles, and debris due to its hardness and abrasion resistance.
The wear-resistant qualities of cast iron are advantageous for parts like tillage tools, seed drills, and plowshares. Cast iron's mechanical qualities make it a good choice for components like threshing blades, rollers, and sorting mechanisms in agricultural machinery used for crop harvesting, threshing, and processing.
Growth Challenges
Increasing Costs of Raw Materials
Rising raw material costs may restrain the iron casting market's growth. Costlier raw materials may directly affect how much it costs to produce cast iron goods. As a result, manufacturers' profit margins may be impacted, which would lower the marketability of their goods.
It can be difficult for businesses to invest in innovation, technology advancements, and corporate expansion when costs rise without corresponding increases in selling prices. Sharp rises in the price of raw materials can cause supply chain disruptions, which can cause manufacturing delays and possible shortages of cast iron goods.
Smaller foundries or manufacturers with slimmer profit margins would find it difficult to adjust to sharp rises in the cost of raw materials, thereby forcing the closure of their operations. The cost of raw materials may deter businesses from investing in new technology or increasing manufacturing capacity.
Overview of Key Segments
Grey Cast Iron Sought-after
The grey cast iron segment will dominate the global market during the forecast period. Due to its unique qualities and benefits, grey cast iron, known for its characteristic grey colour and high castability, is frequently utilised in many industries. It is preferred for engine blocks because of grey iron's excellent thermal conductivity and vibration-dampening properties.
Grey iron is the best material for heavy-duty applications because of its longevity, resistance to corrosion, and weight-bearing ability. Grey iron is a good choice for brake shoes in railway applications due to its heat resistance and wear characteristics.
Due to its adaptability, affordability, and unique features, grey cast iron is well-suited for various applications in numerous industries. Its prominence in various manufacturing areas is largely attributed to its capacity to be cast into complex shapes, good machinability, and thermal characteristics.
Automotive Industry Largest Revenue Contributor
The automotive segment is expected to be the fastest-growing iron casting market segment. Automobiles' performance, safety, and longevity are all impacted by the vital components that iron casting provides to the automotive industry.
Grey iron is frequently used to make engine blocks because of its superior heat dissipation qualities, high compression strength, and vibration-dampening qualities. The building blocks of the overall engine assembly are the engine blocks.
Cast iron is used in EV motor housings as the automotive industry transitions to electric cars as it can bear high torque loads and aid in thermal control. Cast iron is occasionally utilised for the chassis and frame parts because of its toughness and capacity to absorb road vibrations.
Air enters the engine cylinders using intake manifolds made of cast iron. Cast iron can be utilised instead of alternative materials like plastic for certain performance applications.
Growth Opportunities Across Regions
Asia Pacific Holds the Lion's Share
Asia Pacific is expected to dominate the iron casting market during the forecast period. The Asia Pacific region has seen substantial industrial growth, especially in nations like China, and India. The need for iron casting products has expanded due to this expansion in many other industries, including the equipment, automotive, and construction sectors.
Urbanisation and economic growth-driven infrastructure developments have increased throughout the Asia Pacific region. Buildings, bridges, pipelines, and other crucial infrastructure require iron casting.
The agriculture industry in India continues to make a substantial contribution to the national economy. Cast iron parts used in tractors, plows, and other farming equipment are in demand as agriculture becomes more mechanised.
The 'Make in India' campaign and other government initiatives supporting manufacturing give the iron casting industry the potential to meet domestic demand and further the nation's self-reliance objectives.
North America Set for the Fastest Growth
In North America, foundries are looking into more eco-friendly casting techniques that comply with market demands and environmental standards by using less energy, producing less waste, and emitting fewer emissions.
Advanced casting methods like additive manufacturing (3D printing), and computer simulations are becoming more popular in North America. These innovations enable quicker prototyping, less material waste, and more intricate designs.
Products made from iron casting are used to make various consumer goods in the United States, including cookware, home decor, and gardening tools. The capacity to provide specialised, bespoke iron casting goods in the United States that meet the industry needs raises demand across various industries.
Products made from iron casting are exported from the United States to various foreign markets, helping the sector expand and generate income.
Iron Casting Market: Competitive Landscape
Some leading players at the forefront in the iron casting market space include Hitachi Metals, Ltd., Dandong Foundry, Brakes India Private Limited, OSCO Industries, Inc., Chamberlin plc, Crescent Foundry, Xinxing Cast Pipe Co., Ltd, Georg Fischer Ltd, CALMET, Casting P.L.C, Newby Foundries Ltd., and Grupo Industrial Saltillo (GIS).
Recent Notable Developments
In August 2023, The Indian government announced mandatory quality norms for cast iron products in to reduce the import of sub-standard goods and enhance the domestic manufacturing of these items. A notification concerning this matter was released by the Department for Promotion of Industry and Internal Trade (DPIIT).
In February 2022, Cast Corporation Foundry in Minnesota was purchased by M7 Group. M7 Group anticipates that the acquisition will aid in the growth of its product line.
In November 2021, The U.S. government approved a US$1 trillion bipartisan plan to repair the nation's infrastructure, including its roads, bridges, airports, and rail and power networks. By 2025, this infrastructure upgrade is expected to be finished.
In October 2021, The French government announced an action plan to quadruple rail freight by 2030. To increase competition among rail freight carriers, it intends to invest EUR 1 billion (US$1.11 Bn), and it expects to make additional investments totalling EUR 170 million (US$187.9 Bn) every year until 2024 to ease the strain on the tracks.
Global Iron Casting Market is Segmented as Below:
By Type
Grey Cast Iron
Ductile Cast Iron
Malleable Cast Iron
White Cast Iron
Miscellaneous
By Application
Automotive
Machinery & Tools
Pipes & Fittings
Railways
Power Generation
Miscellaneous
By Geographic Coverage
North America
Europe

Germany
U.K.
France
Italy
Turkey
Russia
Rest of Europe

Asia Pacific

China
Japan
South Korea
India
Southeast Asia
Rest of Asia Pacific

Latin America

Brazil
Mexico
Argentina
Rest of Latin America

Middle East & Africa

GCC
South Africa
Egypt
Nigeria
Rest of the Middle East & Africa
1. Executive Summary
1.1. Global Iron Casting Market Snapshot
1.2. Future Projections
1.3. Key Market Trends
1.4. Regional Snapshot, by Volume/Value, 2022
1.5. Analyst Recommendations

2. Market Overview
2.1. Market Definitions and Segmentations
2.2. Market Dynamics
2.2.1. Drivers
2.2.2. Restraints
2.2.3. Market Opportunities
2.3. Value Chain Analysis
2.4. Porter's Five Forces Analysis
2.5. COVID-19 Impact Analysis
2.5.1. Supply
2.5.2. Demand
2.6. Impact of Ukraine-Russia Conflict
2.7. Economic Overview
2.7.1. World Economic Projections
2.8. PESTLE Analysis

3. Production Output and Trade Statistics (If Applicable)
3.1. Global Iron Casting Production, 2018 - 2022
3.2. Import & Export Statistics, 2018 - 2022

4. Price Trends Analysis and Future Projects, 2018 - 2030 (If Applicable)
4.1. Global Average Price Analysis, by Type/Region, US$ per Kg
4.2. Prominent Factors Affecting Iron Casting Prices

5. Global Iron Casting Market Outlook, 2018 - 2030
5.1. Global Iron Casting Market Outlook, by Type, Volume (Kilotons) and Value (US$ Bn), 2018 - 2030
5.1.1. Key Highlights
5.1.1.1. Grey Cast Iron
5.1.1.2. Ductile Cast Iron
5.1.1.3. Malleable Cast Iron
5.1.1.4. White Cast Iron
5.1.1.5. Misc.
5.2. Global Iron Casting Market Outlook, by Application, Volume (Kilotons) and Value (US$ Bn), 2018 - 2030
5.2.1. Key Highlights
5.2.1.1. Automotive
5.2.1.2. Machinery & Tools
5.2.1.3. Pipes & Fittings
5.2.1.4. Railways
5.2.1.5. Power Generation
5.2.1.6. Others
5.3. Global Iron Casting Market Outlook, by Region, Volume (Kilotons) and Value (US$ Bn), 2018 - 2030
5.3.1. Key Highlights
5.3.1.1. North America
5.3.1.2. Europe
5.3.1.3. Asia Pacific
5.3.1.4. Latin America
5.3.1.5. Middle East & Africa

6. North America Iron Casting Market Outlook, 2018 - 2030
6.1. North America Iron Casting Market Outlook, by Type, Volume (Kilotons) and Value (US$ Bn), 2018 - 2030
6.1.1. Key Highlights
6.1.1.1. Grey Cast Iron
6.1.1.2. Ductile Cast Iron
6.1.1.3. Malleable Cast Iron
6.1.1.4. White Cast Iron
6.1.1.5. Misc.
6.2. North America Iron Casting Market Outlook, by Application, Volume (Kilotons) and Value (US$ Bn), 2018 - 2030
6.2.1. Key Highlights
6.2.1.1. Automotive
6.2.1.2. Machinery & Tools
6.2.1.3. Pipes & Fittings
6.2.1.4. Railways
6.2.1.5. Power Generation
6.2.1.6. Others
6.2.2. Market Attractiveness Analysis
6.3. North America Iron Casting Market Outlook, by Country, Volume (Kilotons) and Value (US$ Bn), 2018 - 2030
6.3.1. Key Highlights
6.3.1.1. U.S. Iron Casting Market by Type, Volume (Kilotons) and Value (US$ Bn), 2018 - 2030
6.3.1.2. U.S. Iron Casting Market Application, Volume (Kilotons) and Value (US$ Bn), 2018 - 2030
6.3.1.3. Canada Iron Casting Market by Type, Volume (Kilotons) and Value (US$ Bn), 2018 - 2030
6.3.1.4. Canada Iron Casting Market Application, Volume (Kilotons) and Value (US$ Bn), 2018 - 2030
6.3.2. BPS Analysis/Market Attractiveness Analysis

7. Europe Iron Casting Market Outlook, 2018 - 2030
7.1. Europe Iron Casting Market Outlook, by Type, Volume (Kilotons) and Value (US$ Bn), 2018 - 2030
7.1.1. Key Highlights
7.1.1.1. Grey Cast Iron
7.1.1.2. Ductile Cast Iron
7.1.1.3. Malleable Cast Iron
7.1.1.4. White Cast Iron
7.1.1.5. Misc.
7.2. Europe Iron Casting Market Outlook, by Application, Volume (Kilotons) and Value (US$ Bn), 2018 - 2030
7.2.1. Key Highlights
7.2.1.1. Automotive
7.2.1.2. Machinery & Tools
7.2.1.3. Pipes & Fittings
7.2.1.4. Railways
7.2.1.5. Power Generation
7.2.1.6. Others
7.2.2. BPS Analysis/Market Attractiveness Analysis
7.3. Europe Iron Casting Market Outlook, by Country, Volume (Kilotons) and Value (US$ Bn), 2018 - 2030
7.3.1. Key Highlights
7.3.1.1. Germany Iron Casting Market by Type, Volume (Kilotons) and Value (US$ Bn), 2018 - 2030
7.3.1.2. Germany Iron Casting Market Application, Volume (Kilotons) and Value (US$ Bn), 2018 - 2030
7.3.1.3. U.K. Iron Casting Market by Type, Volume (Kilotons) and Value (US$ Bn), 2018 - 2030
7.3.1.4. U.K. Iron Casting Market Application, Volume (Kilotons) and Value (US$ Bn), 2018 - 2030
7.3.1.5. France Iron Casting Market by Type, Volume (Kilotons) and Value (US$ Bn), 2018 - 2030
7.3.1.6. France Iron Casting Market Application, Volume (Kilotons) and Value (US$ Bn), 2018 - 2030
7.3.1.7. Italy Iron Casting Market by Type, Volume (Kilotons) and Value (US$ Bn), 2018 - 2030
7.3.1.8. Italy Iron Casting Market Application, Volume (Kilotons) and Value (US$ Bn), 2018 - 2030
7.3.1.9. Turkey Iron Casting Market by Type, Volume (Kilotons) and Value (US$ Bn), 2018 - 2030
7.3.1.10. Turkey Iron Casting Market Application, Volume (Kilotons) and Value (US$ Bn), 2018 - 2030
7.3.1.11. Russia Iron Casting Market by Type, Volume (Kilotons) and Value (US$ Bn), 2018 - 2030
7.3.1.12. Russia Iron Casting Market Application, Volume (Kilotons) and Value (US$ Bn), 2018 - 2030
7.3.1.13. Rest of Europe Iron Casting Market by Type, Volume (Kilotons) and Value (US$ Bn), 2018 - 2030
7.3.1.14. Rest of Europe Iron Casting Market Application, Volume (Kilotons) and Value (US$ Bn), 2018 - 2030
7.3.2. BPS Analysis/Market Attractiveness Analysis

8. Asia Pacific Iron Casting Market Outlook, 2018 - 2030
8.1. Asia Pacific Iron Casting Market Outlook, by Type, Volume (Kilotons) and Value (US$ Bn), 2018 - 2030
8.1.1. Key Highlights
8.1.1.1. Grey Cast Iron
8.1.1.2. Ductile Cast Iron
8.1.1.3. Malleable Cast Iron
8.1.1.4. White Cast Iron
8.1.1.5. Misc.
8.2. Asia Pacific Iron Casting Market Outlook, by Application, Volume (Kilotons) and Value (US$ Bn), 2018 - 2030
8.2.1. Key Highlights
8.2.1.1. Automotive
8.2.1.2. Machinery & Tools
8.2.1.3. Pipes & Fittings
8.2.1.4. Railways
8.2.1.5. Power Generation
8.2.1.6. Others
8.2.2. BPS Analysis/Market Attractiveness Analysis
8.3. Asia Pacific Iron Casting Market Outlook, by Country, Volume (Kilotons) and Value (US$ Bn), 2018 - 2030
8.3.1. Key Highlights
8.3.1.1. China Iron Casting Market by Type, Volume (Kilotons) and Value (US$ Bn), 2018 - 2030
8.3.1.2. China Iron Casting Market Application, Volume (Kilotons) and Value (US$ Bn), 2018 - 2030
8.3.1.3. Japan Iron Casting Market by Type, Volume (Kilotons) and Value (US$ Bn), 2018 - 2030
8.3.1.4. Japan Iron Casting Market Application, Volume (Kilotons) and Value (US$ Bn), 2018 - 2030
8.3.1.5. South Korea Iron Casting Market by Type, Volume (Kilotons) and Value (US$ Bn), 2018 - 2030
8.3.1.6. South Korea Iron Casting Market Application, Volume (Kilotons) and Value (US$ Bn), 2018 - 2030
8.3.1.7. India Iron Casting Market by Type, Volume (Kilotons) and Value (US$ Bn), 2018 - 2030
8.3.1.8. India Iron Casting Market Application, Volume (Kilotons) and Value (US$ Bn), 2018 - 2030
8.3.1.9. Southeast Asia Iron Casting Market by Type, Volume (Kilotons) and Value (US$ Bn), 2018 - 2030
8.3.1.10. Southeast Asia Iron Casting Market Application, Volume (Kilotons) and Value (US$ Bn), 2018 - 2030
8.3.1.11. Rest of Asia Pacific Iron Casting Market by Type, Volume (Kilotons) and Value (US$ Bn), 2018 - 2030
8.3.1.12. Rest of Asia Pacific Iron Casting Market Application, Volume (Kilotons) and Value (US$ Bn), 2018 - 2030
8.3.2. BPS Analysis/Market Attractiveness Analysis

9. Latin America Iron Casting Market Outlook, 2018 - 2030
9.1. Latin America Iron Casting Market Outlook, by Type, Volume (Kilotons) and Value (US$ Bn), 2018 - 2030
9.1.1. Key Highlights
9.1.1.1. Grey Cast Iron
9.1.1.2. Ductile Cast Iron
9.1.1.3. Malleable Cast Iron
9.1.1.4. White Cast Iron
9.1.1.5. Misc.
9.2. Latin America Iron Casting Market Outlook, by Application, Volume (Kilotons) and Value (US$ Bn), 2018 - 2030
9.2.1. Key Highlights
9.2.1.1. Automotive
9.2.1.2. Machinery & Tools
9.2.1.3. Pipes & Fittings
9.2.1.4. Railways
9.2.1.5. Power Generation
9.2.1.6. Others
9.2.2. BPS Analysis/Market Attractiveness Analysis
9.3. Latin America Iron Casting Market Outlook, by Country, Volume (Kilotons) and Value (US$ Bn), 2018 - 2030
9.3.1. Key Highlights
9.3.1.1. Brazil Iron Casting Market by Type, Volume (Kilotons) and Value (US$ Bn), 2018 - 2030
9.3.1.2. Brazil Iron Casting Market Application, Volume (Kilotons) and Value (US$ Bn), 2018 - 2030
9.3.1.3. Mexico Iron Casting Market by Type, Volume (Kilotons) and Value (US$ Bn), 2018 - 2030
9.3.1.4. Mexico Iron Casting Market Application, Volume (Kilotons) and Value (US$ Bn), 2018 - 2030
9.3.1.5. Argentina Iron Casting Market by Type, Volume (Kilotons) and Value (US$ Bn), 2018 - 2030
9.3.1.6. Argentina Iron Casting Market Application, Volume (Kilotons) and Value (US$ Bn), 2018 - 2030
9.3.1.7. Rest of Latin America Iron Casting Market by Type, Volume (Kilotons) and Value (US$ Bn), 2018 - 2030
9.3.1.8. Rest of Latin America Iron Casting Market Application, Volume (Kilotons) and Value (US$ Bn), 2018 - 2030
9.3.2. BPS Analysis/Market Attractiveness Analysis

10. Middle East & Africa Iron Casting Market Outlook, 2018 - 2030
10.1. Middle East & Africa Iron Casting Market Outlook, by Type, Volume (Kilotons) and Value (US$ Bn), 2018 - 2030
10.1.1. Key Highlights
10.1.1.1. Grey Cast Iron
10.1.1.2. Ductile Cast Iron
10.1.1.3. Malleable Cast Iron
10.1.1.4. White Cast Iron
10.1.1.5. Misc.
10.2. Middle East & Africa Iron Casting Market Outlook, by Application, Volume (Kilotons) and Value (US$ Bn), 2018 - 2030
10.2.1. Key Highlights
10.2.1.1. Automotive
10.2.1.2. Machinery & Tools
10.2.1.3. Pipes & Fittings
10.2.1.4. Railways
10.2.1.5. Power Generation
10.2.1.6. Others
10.2.2. BPS Analysis/Market Attractiveness Analysis
10.3. Middle East & Africa Iron Casting Market Outlook, by Country, Volume (Kilotons) and Value (US$ Bn), 2018 - 2030
10.3.1. Key Highlights
10.3.1.1. GCC Iron Casting Market by Type, Volume (Kilotons) and Value (US$ Bn), 2018 - 2030
10.3.1.2. GCC Iron Casting Market Application, Volume (Kilotons) and Value (US$ Bn), 2018 - 2030
10.3.1.3. South Africa Iron Casting Market by Type, Volume (Kilotons) and Value (US$ Bn), 2018 - 2030
10.3.1.4. South Africa Iron Casting Market Application, Volume (Kilotons) and Value (US$ Bn), 2018 - 2030
10.3.1.5. Egypt Iron Casting Market by Type, Volume (Kilotons) and Value (US$ Bn), 2018 - 2030
10.3.1.6. Egypt Iron Casting Market Application, Volume (Kilotons) and Value (US$ Bn), 2018 - 2030
10.3.1.7. Nigeria Iron Casting Market by Type, Volume (Kilotons) and Value (US$ Bn), 2018 - 2030
10.3.1.8. Nigeria Iron Casting Market Application, Volume (Kilotons) and Value (US$ Bn), 2018 - 2030
10.3.1.9. Rest of Middle East & Africa Iron Casting Market by Type, Volume (Kilotons) and Value (US$ Bn), 2018 - 2030
10.3.1.10. Rest of Middle East & Africa Iron Casting Market Application, Volume (Kilotons) and Value (US$ Bn), 2018 - 2030
10.3.2. BPS Analysis/Market Attractiveness Analysis

11. Competitive Landscape
11.1. Manufacturer vs Type Heatmap
11.2. Company Market Share Analysis, 2022
11.3. Competitive Dashboard
11.4. Company Profiles
11.4.1. Hitachi Metals, Ltd.
11.4.1.1. Company Overview
11.4.1.2. Product Portfolio
11.4.1.3. Financial Overview
11.4.1.4. Business Strategies and Development
11.4.2. Dandong Foundry
11.4.2.1. Company Overview
11.4.2.2. Product Portfolio
11.4.2.3. Financial Overview
11.4.2.4. Business Strategies and Development
11.4.3. Brakes India Private Limited
11.4.3.1. Company Overview
11.4.3.2. Product Portfolio
11.4.3.3. Financial Overview
11.4.3.4. Business Strategies and Development
11.4.4. OSCO Industries, Inc.
11.4.4.1. Company Overview
11.4.4.2. Product Portfolio
11.4.4.3. Financial Overview
11.4.4.4. Business Strategies and Development
11.4.5. Chamberlin plc
11.4.5.1. Company Overview
11.4.5.2. Product Portfolio
11.4.5.3. Financial Overview
11.4.5.4. Business Strategies and Development
11.4.6. Crescent Foundry
11.4.6.1. Company Overview
11.4.6.2. Product Portfolio
11.4.6.3. Financial Overview
11.4.6.4. Business Strategies and Development
11.4.7. Xinxing Cast Pipe Co., Ltd
11.4.7.1. Company Overview
11.4.7.2. Product Portfolio
11.4.7.3. Financial Overview
11.4.7.4. Business Strategies and Development
11.4.8. Georg Fischer Ltd
11.4.8.1. Company Overview
11.4.8.2. Product Portfolio
11.4.8.3. Financial Overview
11.4.8.4. Business Strategies and Development
11.4.9. CALMET
11.4.9.1. Company Overview
11.4.9.2. Product Portfolio
11.4.9.3. Financial Overview
11.4.9.4. Business Strategies and Development
11.4.10. Casting P.L.C
11.4.10.1. Company Overview
11.4.10.2. Product Portfolio
11.4.10.3. Financial Overview
11.4.10.4. Business Strategies and Development
11.4.11. Newby Foundries Ltd
11.4.11.1. Company Overview
11.4.11.2. Product Portfolio
11.4.11.3. Financial Overview
11.4.11.4. Business Strategies and Development
11.4.12. Grupo Industrial Saltillo (GIS)
11.4.12.1. Company Overview
11.4.12.2. Product Portfolio
11.4.12.3. Financial Overview
11.4.12.4. Business Strategies and Development

12. Appendix
12.1. Research Methodology
12.2. Report Assumptions
12.3. Acronyms and Abbreviations