Global Kaolin Market Forecast
Global kaolin market size to reach beyond US$5.5 Bn in 2030, up from US$4.1 Bn recorded in 2022
Market valuation likely to witness 4.3% expansion between 2023 and 2030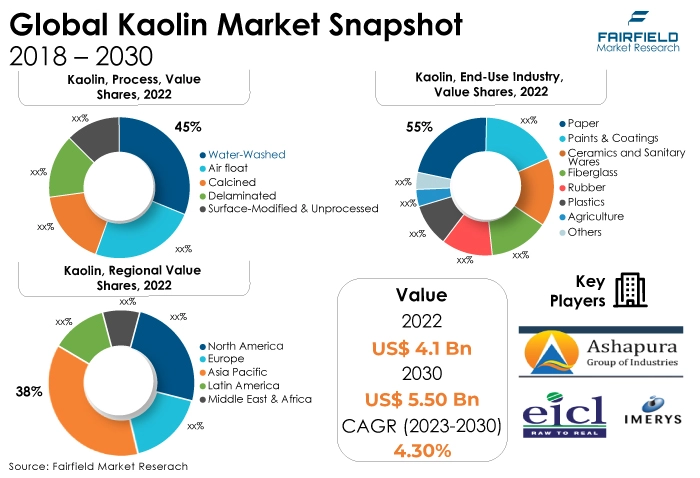 Quick Report Digest
The key trend anticipated to drive the kaolin market growth is an increasing demand for innovation in processing technologies. Furthermore, processing advancements can increase the yield of premium kaolin from raw materials, increasing production effectiveness and efficiency. Automation improves uniformity in product quality, lowers errors, and improves operational efficiency in processing plants. Additionally, it reduces labor expenses and raises safety.
Another major market trend expected to drive the kaolin market growth is the rapidly expanding digitalisation and Industry 4.0. Industry 4.0 technologies enable kaolin producers to collect and analyze data from various stages of mining, processing, and distribution. This data can inform decision-making, optimize processes, and reduce operational costs.
Energy can be used extensively during the extraction and processing of kaolin, and as a result, the cost of manufacturing as a whole may increase. Kaolin may be less competitive compared to other materials due to high energy costs.
In 2022, the water-washed category dominated the industry. The size and density of the kaolin particles are categorised using hydrocyclones in several water-washed procedures. The appropriate particle size distribution is achieved with the aid of this categorisation stage.
The air float segment is anticipated to increase at the fastest rate of the kaolin market during the forecast period. The air-floated kaolin is frequently dried to reduce its moisture content before being transformed into different forms, such as powders, pastes, or slurries, depending on the requirements of the customer. The kaolin products are then prepared for distribution and sale.
In 2022, the paper category dominated the industry. Improved ink holdout and less feathering or bleeding are possible on paper that has been treated with kaolin. For high-quality printing applications, this is especially crucial.
Asia Pacific dominates the kaolin market during the forecast period. Due to the region's growing concern for environmental issues, eco-friendly and sustainable materials like kaolin, a mineral that occurs naturally, are becoming more popular.
North America is expected to be the fastest-growing kaolin market region. Specialised kaolin products that meet particular industry needs have been developed as a result of ongoing technological developments in manufacturing and materials research.
A Look Back and a Look Forward - Comparative Analysis
Kaolin is a pharmaceutical excipient that is used in tablet and capsule preparations as an inert filler, binder, or disintegrant. It can help with manufacturing, manage drug release, and improve tablet hardness.
Kaolin works well in topical skincare products, including creams, lotions, masks, and powders, because of its mild and non-irritating characteristics. It is a crucial component of goods made for oily or acne-prone skin because it is frequently utilised in cosmetic and pharmaceutical formulations to absorb extra oil and pollutants.
The market witnessed staggered growth during the historical period 2018 – 2022. Paper and packaging materials saw a sharp increase in demand in emerging nations as e-commerce and consumer spending increased. The paper industry's usage of kaolin as a filler and coating pigment proved essential in raising the caliber of printed matter and enhancing the functionality of packaging items.
Rapid urbanisation and industrialisation took place in emerging markets. Particularly in these areas, the construction sector experienced a boom, which increased demand for kaolin in products like cement, ceramics, and building supplies.
The ceramics industry relies heavily on the raw material kaolin. Due to its distinctive characteristics, which include high plasticity, whiteness, and low shrinkage when burnt, it is used to produce porcelain and other ceramic items. Because of this, kaolin is a necessary ingredient in the creation of premium ceramics in the coming years.
Additionally, Kaolin enhances a number of ceramic qualities, including surface finish, plasticity for shaping, and strength. These characteristics make kaolin a crucial component in the creation of fine china, dinnerware, sanitary equipment, and ceramic tiles.
Furthermore, The use of digital printing in ceramics is expanding. To enhance printability and image quality, ceramic tiles will be coated with compounds made of kaolin during the next five years.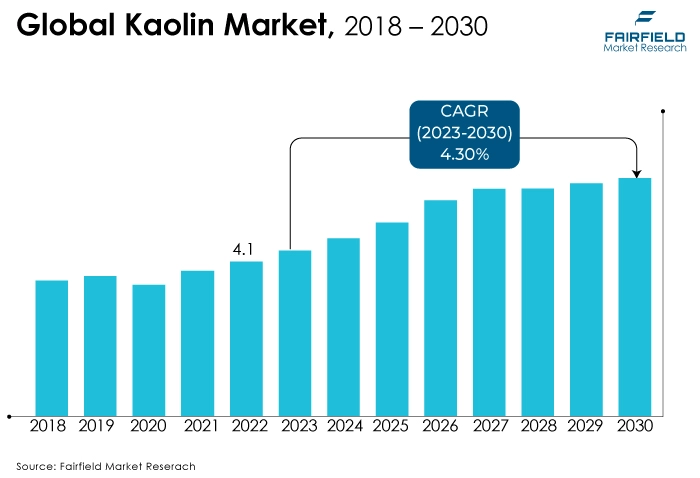 Key Growth Determinants
Increasing Availability of Kaolin Reserves
A plentiful supply of kaolin guarantees a steady and long-lasting flow of the material. This is essential for kaolin-dependent businesses, including construction, paper, ceramics, and cosmetics, since they require a constant supply of this raw material to keep up production.
Abundant reserves may aid in preserving kaolin pricing. Consistent supply lowers the possibility of price changes brought on by supply shortages, which helps both manufacturers and users of kaolin-based products.
A constant supply of kaolin supports efforts in research and development to identify new uses for the mineral. By creating new sectors that can employ kaolin, this variety of services can increase market size.
Growing Adoption by Paper and Packaging Industry
Kaolin is a coating material that is applied to paper to enhance its printability and surface quality. It provides a glossy, smooth finish that improves the printed items' aesthetic attractiveness. Both the need for kaolin and the demand for high-quality printed materials are increasing.
Kaolin is prized for its capacity to boost paper transparency, hence minimizing text or image show-through from one side of the paper to the other. For applications like periodicals and packaging materials where print clarity is essential, this is especially significant.
Paper with a kaolin coating has improved ink and pigment adhesion, producing prints that are sharper and more vivid. This is crucial in fields like packaging, where it is important for product branding and information to stand out.
Growing Uptake by Paints and Coatings Industry
Kaolin is used in paint formulas as a filler and extender. It improves the paint's overall quality by making it more opaque, bright, and white. This is crucial if you want to achieve even and vivid paint finishes.
Kaolin helps paint producers lower the requirement for more pricey pigment components like titanium dioxide. This affordable substitute increases paint production efficiency, which allows manufacturers to save money.
Kaolin can be used to give paints and varnishes the required matte or satin finish. The need for paint products based on kaolin has increased because of the popularity of these finishes in both home and commercial applications.
Major Growth Barriers
Alternative materials, including calcium carbonate, talc, and synthetic fillers, are frequently offered at competitive rates. They may be a desirable option for industries aiming to save production costs. Customers may select these alternatives over kaolin because of price sensitivity.
A few alternative materials have characteristics including opacity, whiteness, and texture that are comparable to those of kaolin. Due to their similarities, these alternatives are more readily adopted by industries without lowering the quality of their output.
Kaolin's market position may be more challenged by ongoing research and development initiatives in the materials sector that could lead to the development of new and improved replacement materials.
The extraction of kaolin may lead to landscape modification and habitat disruption, raising worries about the possible extinction of natural ecosystems. On account of this, environmental organisations and local populations may criticize or oppose kaolin mining operations. The mining and processing of kaolin has the potential to leak chemicals and sediments into surrounding bodies of water.
Water pollution can destroy aquatic life and affect nearby communities that depend on clean water sources. Kaolin mining and processing can need a lot of energy, which increases greenhouse gas emissions. Concerns about the environmental effects of kaolin production may arise in areas where energy generation is dependent on fossil fuels.
Key Trends and Opportunities to Look at
Expanding Cosmetic and Personal Care Market
Kaolin is a versatile ingredient used in a variety of skincare products, such as scrubs, cleansers, and facial masks. Due to its all-natural makeup, it may be used on a variety of skin types, and skincare formulae highly appreciate its mild exfoliating and oil-absorbing qualities.
Kaolin is suitable for delicate skin types because it is non-comedogenic and easy on the skin. It assists in cleansing the skin of pollutants without irritating it, which is crucial in the creation of gentle and efficient skincare products.
The great oil-absorbing qualities of kaolin make it a perfect ingredient for products intended to manage oil, such as mattifying primers, powders, and masks.
Sustainability and Eco-Friendly Products
Kaolin is a naturally occurring mineral that satisfies the demand for raw materials with low environmental effects and a sustainable supply chain. The fact that it can be mined without depleting its source makes it a renewable resource.
Compared to synthetic alternatives, the extraction and processing of kaolin often leave less of a carbon footprint. This makes kaolin a popular option for businesses and customers trying to lessen their influence on the environment.
Cosmetics and packaging materials made from kaolin are biodegradable. Due to this quality, they are appealing to enterprises and customers looking for eco-friendly alternatives that do not increase long-term waste and pollution.
Specialty Kaolin Grades
Specialty kaolin grades can be designed to have certain qualities that satisfy the stringent standards of particular industries. This adaptability enables kaolin to meet the varying demands of numerous applications, from advanced ceramics to cosmetics.
Specialty kaolin grades can provide enhanced performance traits by fine-tuning the mineral composition and particle size distribution. They become appealing to sectors looking for high-performance materials because of features including exceptional whiteness, opacity, smoothness, and chemical resistance.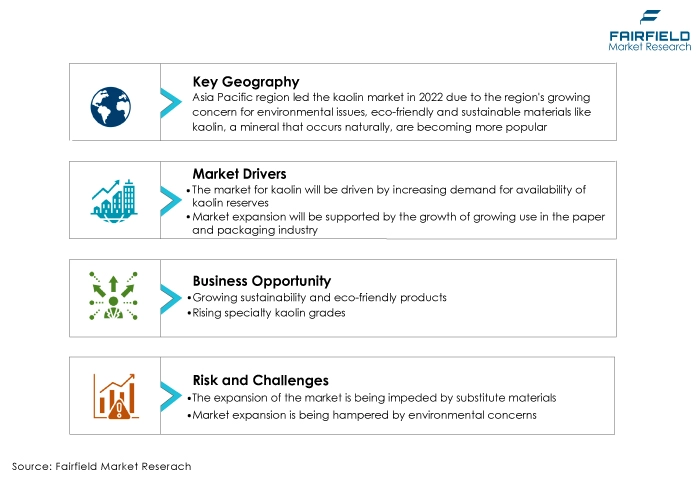 How Does the Regulatory Scenario Shape this Industry?
Over the last three years, regulations on environmental impact assessments, air and water quality, and waste management procedures have been established and enforced by ecological agencies like the U.S. Environmental Protection Agency (EPA).
For sustainable kaolin operations, environmental rules compliance is essential and has an impact on operational expenses. These organisations enforce safety guidelines for employees in the kaolin sector, much like the Occupational Safety and Health Administration (OSHA) in the United States.
Protecting the health and safety of workers depends on compliance with safety requirements. Regulations pertaining to workplace safety may have an impact on the industry's labor practices and prices. Regulatory agencies like the Food and Drug Administration (FDA) oversee the safety and labeling of kaolin in nations like the United States, where it is used in food and pharmaceutical goods.
Modifications to safety regulations or labeling specifications may impact the usage of kaolin in certain applications. Industry standards and requirements for kaolin goods are established by organisations like ASTM International and the International Organisation for Standardisation (ISO). To guarantee consistency and quality in the products, compliance with these standards is necessary.
Fairfield's Ranking Board
Top Segments
The Water-washed Category Leads
The water-washed segment dominated the market in 2022. Because of its ability to create kaolin with lower impurity levels and better brightness. Because it successfully holds onto water, often at levels of between 12% and 14% inside the clay, this technique is frequently employed to produce hydrous kaolin.
Water washing is the primary procedure used to transform raw, unrefined kaolin into refined final products. Demand for water-washed kaolin is the increasing need for ceramics in the building and construction industry.
Due to its widespread application in the creation of ceramic items, this type of kaolin is a significant market driver for water-washed kaolin. Furthermore, the air float category is projected to experience the fastest market growth.
The kaolin slurry is introduced into a high-velocity air stream within a specialised air classifier or separator as part of the air float process. Based on their size and density, the kaolin particles are divided using this air stream.
Paper Remains the Spearheading Segment
The paper segment dominated the market in 2022. As online shopping and e-commerce continue to grow, paper packaging materials are becoming more and more essential. Kaolin is widely used in packaging paper in order to enhance its quality and printability.
The popularity of sustainable and eco-friendly packaging options is another factor supporting the use of kaolin. Print media is still strong despite digital media's dominance, particularly in niche markets like books, specialised journals, and high-quality brochures.
Kaolin is essential for these applications because it improves the paper's ability to print and look good. During the forecasted period, the paints and coatings category is expected to expand substantially.
The construction industry's usage of paints and coatings to enhance paint performance through enhanced suspension properties, quick dispersion, corrosion resistance, superior water resistance, and lower viscosities is also expected to support market expansion favourably.
Regional Frontrunners
Asia Pacific Contributes the Largest Share
During the projected period, Asia Pacific is anticipated to dominate the kaolin market. The Asia Pacific region is home to developing countries with an expanding middle class. As a result of this demographic change, consumer demand for products like cosmetics, medications, and consumer goods that include kaolin has increased.
In addition, as a result of the swift industrialisation and urbanisation in countries like China, and India, the need for kaolin has increased across several industries, including construction, manufacturing, and infrastructure development.
The growth of e-commerce in the Asia Pacific area has increased the demand for paper packaging materials. The fact that kaolin is widely used in the production of packing paper further increases its use.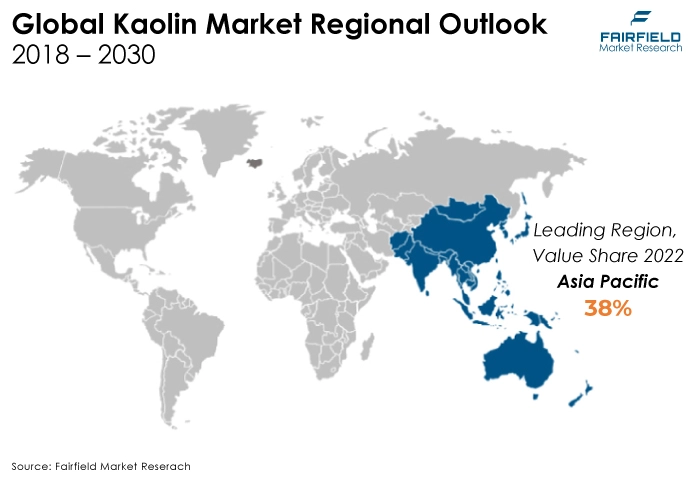 North America Likely to Witness the Significant Growth in Sales During Forecast Period
The kaolin market is anticipated to expand fastest in North America. Due to its therapeutic and absorbent qualities, kaolin is employed in the pharmaceutical industry. The North American pharmaceutical sector drives the need for premium kaolin in various formulations.
The region is home to numerous R&D projects aimed at generating cutting-edge kaolin-based products for multiple industries and enhancing kaolin processing methods.
Environmental sustainability and the usage of eco-friendly materials are highly valued in North America. Kaolin is a preferred option in industries that love sustainability because of its natural origin and minimal influence on the environment.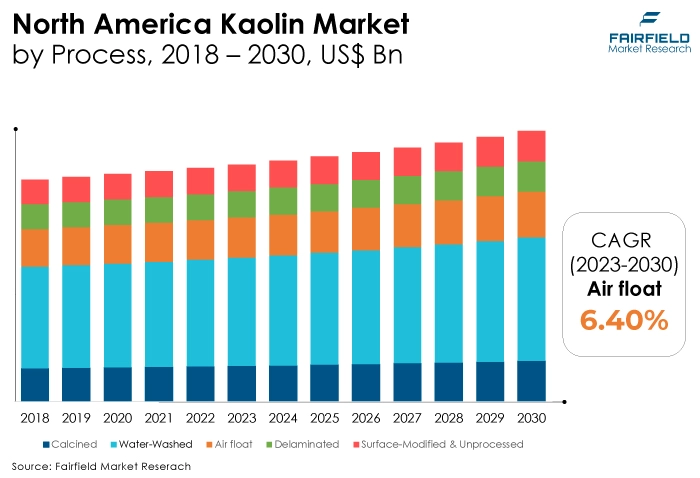 Fairfield's Competitive Landscape Analysis
Several well-known companies operate in the fiercely competitive Kaolin market. To boost their market share globally, big businesses are producing new items, launching innovative products, and growing their distribution networks. Moreover, Fairfield Market Research is expecting the market to witness more consolidation over the coming years.
Who are the Leaders in the Global Kaolin Space?
Significant Company Developments
New Product Launches
March 2023: BASF announced the launch of its new Luzenac brand of kaolin products. The Luzenac brand will offer a wide range of kaolin products for a variety of applications, including papermaking, ceramics, and coatings.
May 2023: Hawkins, Inc., a top supplier of specialty chemicals, increased the variety of kaolin products it offers by launching new formulations designed to meet certain industrial demands. The business concentrated on developing premium kaolin products with enhanced performance traits in order to diversify its market offers.
November 2020: Andromeda Metals (ADN) has released a fresh estimate of the mineral resources for the joint venture's Great White Kaolin Project. ADN owns 75% of the South Australian project, and Minotaur Exploration owns the remaining 25%. After a number of drilling operations, the resource in Andromeda has grown to 34.6 billion tonnes of brilliant white, kaolinized granite with an ISO Brightness cut-off of 75. This increased resource represents an increase of 8.6 billion tonnes or 33% above the earlier estimate.
Distribution Agreements
April 2023: The Langage Green Hydrogen project in Devon will be established due to a partnership agreement struck by Imerys and Sibelco with Carlton Power. In 2025, the 10MW hydrogen hub in Carlton is scheduled to start up. For both Kaolin production firms to achieve the company's sustainability objectives, this project intends to supply green hydrogen.
January 2019: 20 Microns has signed a strategic alliance with Dorfner GmbH Germany as a distributing partner for the sale of hydrous and calcined Kaolin throughout the European market. By joining forces, the company hopes to expand its reach internationally and tap into new markets.
An Expert's Eye
Demand and Future Growth
As per Fairfield's Analysis, transportation, handling, and storage expenses can be decreased through improved supply chain and logistics operations. Suppliers of kaolin can pass these savings on to clients, raising the value and competitiveness of their offerings.
Furthermore, Kaolin products are always accessible to clients when and where they need them because of effective logistics. Sales and market share may rise as a result. However, the kaolin market is expected to face considerable challenges because of substitute materials.
Supply Side of the Market
According to our analysis, almost 50% of the world's kaolin production is produced in the Asia Pacific area, making it the greatest producer in the world. China, India, and Japan are the next-largest producers of kaolin in the area. South Korea, Indonesia, and Thailand are some of the other prominent manufacturers in the Asia Pacific region.
With more than 25% of the world's production, Europe is the second-largest producer of kaolin. France, the United Kingdom, and Germany are the top three exporters of kaolin in the area. Spain, Italy, and Turkey are some additional prominent manufacturers in Europe.
The Asia Pacific area consumes the most kaolin due to its brisk economic development and rising standard of living. In the region, kaolin is used for a variety of purposes, such as papermaking, ceramics, and construction.
About one-third of the world's kaolin usage is consumed in China, which is also the top consumer. Germany, the United States, and India are the next three biggest consumers of kaolin in the world.
Global Kaolin Market is Segmented as Below:
By Process:
Water-Washed
Air float
Calcination
Delaminated
Surface-Modified
Miscellaneous
By End-use Industry:
Paper
Agroculture
Ceramics and Sanitary Wares
Fiberglass
Paints and Coatings
Rubber
Plastics
Others
By Geographic Coverage:
North America
Europe

Germany
U.K.
France
Italy
Turkey
Russia
Rest of Europe

Asia Pacific

China
Japan
South Korea
India
Southeast Asia
Rest of Asia Pacific

Latin America

Brazil
Mexico
Argentina
Rest of Latin America

Middle East & Africa

GCC
South Africa
Egypt
Nigeria
Rest of Middle East & Africa
1. Executive Summary
1.1. Global Kaolin Market Snapshot
1.2. Future Projections
1.3. Key Market Trends
1.4. Regional Snapshot, by Value, 2022
1.5. Analyst Recommendations

2. Market Overview
2.1. Market Definitions and Segmentations
2.2. Market Dynamics
2.2.1. Drivers
2.2.2. Restraints
2.2.3. Market Opportunities
2.3. Value Chain Analysis
2.4. Porter's Five Forces Analysis
2.5. COVID-19 Impact Analysis
2.5.1. Supply
2.5.2. Demand
2.6. Impact of Ukraine-Russia Conflict
2.7. Economic Overview
2.7.1. World Economic Projections
2.8. PESTLE Analysis

3. Global Kaolin Market Outlook, 2018 - 2030
3.1. Global Kaolin Market Outlook, by Process, Value (US$ Bn), 2018 - 2030
3.1.1. Key Highlights
3.1.1.1. Water-Washed
3.1.1.2. Air float
3.1.1.3. Calcination
3.1.1.4. Delaminated
3.1.1.5. Surface-Modified
3.1.1.6. Misc.
3.2. Global Kaolin Market Outlook, by End-Use Industry, Value (US$ Bn), 2018 - 2030
3.2.1. Key Highlights
3.2.1.1. Paper
3.2.1.2. Agriculture
3.2.1.3. Ceramics and Sanitary Wares
3.2.1.4. Fiberglass
3.2.1.5. Paints and Coatings
3.2.1.6. Rubber
3.2.1.7. Plastics
3.2.1.8. Others
3.3. Global Kaolin Market Outlook, by Region, Value (US$ Bn), 2018 - 2030
3.3.1. Key Highlights
3.3.1.1. North America
3.3.1.2. Europe
3.3.1.3. Asia Pacific
3.3.1.4. Latin America
3.3.1.5. Middle East & Africa

4. North America Kaolin Market Outlook, 2018 - 2030
4.1. North America Kaolin Market Outlook, by Process, Value (US$ Bn), 2018 - 2030
4.1.1. Key Highlights
4.1.1.1. Water-Washed
4.1.1.2. Air float
4.1.1.3. Calcination
4.1.1.4. Delaminated
4.1.1.5. Surface-Modified
4.2. North America Kaolin Market Outlook, by End-Use Industry, Value (US$ Bn), 2018 - 2030
4.2.1. Key Highlights
4.2.1.1. Paper
4.2.1.2. Ceramics and Sanitary Wares
4.2.1.3. Fiberglass
4.2.1.4. Paints and Coatings
4.2.1.5. Rubber
4.2.1.6. Plastics
4.2.1.7. Others
4.2.2. BPS Analysis/Market Attractiveness Analysis
4.3. North America Kaolin Market Outlook, by Country, Value (US$ Bn), 2018 - 2030
4.3.1. Key Highlights
4.3.1.1. U.S. Kaolin Market by Process, Value (US$ Bn), 2018 - 2030
4.3.1.2. U.S. Kaolin Market End-Use Industry, Value (US$ Bn), 2018 - 2030
4.3.1.3. Canada Kaolin Market by Process, Value (US$ Bn), 2018 - 2030
4.3.1.4. Canada Kaolin Market End-Use Industry, Value (US$ Bn), 2018 - 2030
4.3.2. BPS Analysis/Market Attractiveness Analysis

5. Europe Kaolin Market Outlook, 2018 - 2030
5.1. Europe Kaolin Market Outlook, by Process, Value (US$ Bn), 2018 - 2030
5.1.1. Key Highlights
5.1.1.1. Water-Washed
5.1.1.2. Air float
5.1.1.3. Calcination
5.1.1.4. Delaminated
5.1.1.5. Surface-Modified
5.1.1.6. Misc.
5.2. Europe Kaolin Market Outlook, by End-Use Industry, Value (US$ Bn), 2018 - 2030
5.2.1. Key Highlights
5.2.1.1. Paper
5.2.1.2. Agriculture
5.2.1.3. Ceramics and Sanitary Wares
5.2.1.4. Fiberglass
5.2.1.5. Paints and Coatings
5.2.1.6. Rubber
5.2.1.7. Plastics
5.2.1.8. Others
5.2.2. BPS Analysis/Market Attractiveness Analysis
5.3. Europe Kaolin Market Outlook, by Country, Value (US$ Bn), 2018 - 2030
5.3.1. Key Highlights
5.3.1.1. Germany Kaolin Market by Process, Value (US$ Bn), 2018 - 2030
5.3.1.2. Germany Kaolin Market End-Use Industry, Value (US$ Bn), 2018 - 2030
5.3.1.3. U.K. Kaolin Market by Process, Value (US$ Bn), 2018 - 2030
5.3.1.4. U.K. Kaolin Market End-Use Industry, Value (US$ Bn), 2018 - 2030
5.3.1.5. France Kaolin Market by Process, Value (US$ Bn), 2018 - 2030
5.3.1.6. France Kaolin Market End-Use Industry, Value (US$ Bn), 2018 - 2030
5.3.1.7. Italy Kaolin Market by Process, Value (US$ Bn), 2018 - 2030
5.3.1.8. Italy Kaolin Market End-Use Industry, Value (US$ Bn), 2018 - 2030
5.3.1.9. Turkey Kaolin Market by Process, Value (US$ Bn), 2018 - 2030
5.3.1.10. Turkey Kaolin Market End-Use Industry, Value (US$ Bn), 2018 - 2030
5.3.1.11. Russia Kaolin Market by Process, Value (US$ Bn), 2018 - 2030
5.3.1.12. Russia Kaolin Market End-Use Industry, Value (US$ Bn), 2018 - 2030
5.3.1.13. Rest of Europe Kaolin Market by Process, Value (US$ Bn), 2018 - 2030
5.3.1.14. Rest of Europe Kaolin Market End-Use Industry, Value (US$ Bn), 2018 - 2030
5.3.2. BPS Analysis/Market Attractiveness Analysis

6. Asia Pacific Kaolin Market Outlook, 2018 - 2030
6.1. Asia Pacific Kaolin Market Outlook, by Process, Value (US$ Bn), 2018 - 2030
6.1.1. Key Highlights
6.1.1.1. Water-Washed
6.1.1.2. Air float
6.1.1.3. Calcination
6.1.1.4. Delaminated
6.1.1.5. Surface-Modified
6.1.1.6. Misc.
6.2. Asia Pacific Kaolin Market Outlook, by End-Use Industry, Value (US$ Bn), 2018 - 2030
6.2.1. Key Highlights
6.2.1.1. Paper
6.2.1.2. Agriculture
6.2.1.3. Ceramics and Sanitary Wares
6.2.1.4. Fiberglass
6.2.1.5. Paints and Coatings
6.2.1.6. Rubber
6.2.1.7. Plastics
6.2.1.8. Others
6.2.2. BPS Analysis/Market Attractiveness Analysis
6.3. Asia Pacific Kaolin Market Outlook, by Country, Value (US$ Bn), 2018 - 2030
6.3.1. Key Highlights
6.3.1.1. China Kaolin Market by Process, Value (US$ Bn), 2018 - 2030
6.3.1.2. China Kaolin Market End-Use Industry, Value (US$ Bn), 2018 - 2030
6.3.1.3. Japan Kaolin Market by Process, Value (US$ Bn), 2018 - 2030
6.3.1.4. Japan Kaolin Market End-Use Industry, Value (US$ Bn), 2018 - 2030
6.3.1.5. South Korea Kaolin Market by Process, Value (US$ Bn), 2018 - 2030
6.3.1.6. South Korea Kaolin Market End-Use Industry, Value (US$ Bn), 2018 - 2030
6.3.1.7. India Kaolin Market by Process, Value (US$ Bn), 2018 - 2030
6.3.1.8. India Kaolin Market End-Use Industry, Value (US$ Bn), 2018 - 2030
6.3.1.9. Southeast Asia Kaolin Market by Process, Value (US$ Bn), 2018 - 2030
6.3.1.10. Southeast Asia Kaolin Market End-Use Industry, Value (US$ Bn), 2018 - 2030
6.3.1.11. Rest of Asia Pacific Kaolin Market by Process, Value (US$ Bn), 2018 - 2030
6.3.1.12. Rest of Asia Pacific Kaolin Market End-Use Industry, Value (US$ Bn), 2018 - 2030
6.3.2. BPS Analysis/Market Attractiveness Analysis

7. Latin America Kaolin Market Outlook, 2018 - 2030
7.1. Latin America Kaolin Market Outlook, by Process, Value (US$ Bn), 2018 - 2030
7.1.1. Key Highlights
7.1.1.1. Water-Washed
7.1.1.2. Air float
7.1.1.3. Calcination
7.1.1.4. Delaminated
7.1.1.5. Surface-Modified
7.1.1.6. Misc.
7.2. Latin America Kaolin Market Outlook, by End-Use Industry, Value (US$ Bn), 2018 - 2030
7.2.1. Key Highlights
7.2.1.1. Paper
7.2.1.2. Agriculture
7.2.1.3. Ceramics and Sanitary Wares
7.2.1.4. Fiberglass
7.2.1.5. Paints and Coatings
7.2.1.6. Rubber
7.2.1.7. Plastics
7.2.1.8. Others
7.2.2. BPS Analysis/Market Attractiveness Analysis
7.3. Latin America Kaolin Market Outlook, by Country, Value (US$ Bn), 2018 - 2030
7.3.1. Key Highlights
7.3.1.1. Brazil Kaolin Market by Process, Value (US$ Bn), 2018 - 2030
7.3.1.2. Brazil Kaolin Market End-Use Industry, Value (US$ Bn), 2018 - 2030
7.3.1.3. Mexico Kaolin Market by Process, Value (US$ Bn), 2018 - 2030
7.3.1.4. Mexico Kaolin Market End-Use Industry, Value (US$ Bn), 2018 - 2030
7.3.1.5. Argentina Kaolin Market by Process, Value (US$ Bn), 2018 - 2030
7.3.1.6. Argentina Kaolin Market End-Use Industry, Value (US$ Bn), 2018 - 2030
7.3.1.7. Rest of Latin America Kaolin Market by Process, Value (US$ Bn), 2018 - 2030
7.3.1.8. Rest of Latin America Kaolin Market End-Use Industry, Value (US$ Bn), 2018 - 2030
7.3.2. BPS Analysis/Market Attractiveness Analysis

8. Middle East & Africa Kaolin Market Outlook, 2018 - 2030
8.1. Middle East & Africa Kaolin Market Outlook, by Process, Value (US$ Bn), 2018 - 2030
8.1.1. Key Highlights
8.1.1.1. Water-Washed
8.1.1.2. Air float
8.1.1.3. Calcination
8.1.1.4. Delaminated
8.1.1.5. Surface-Modified
8.1.1.6. Misc.
8.2. Middle East & Africa Kaolin Market Outlook, by End-Use Industry, Value (US$ Bn), 2018 - 2030
8.2.1. Key Highlights
8.2.1.1. Paper
8.2.1.2. Agriculture
8.2.1.3. Ceramics and Sanitary Wares
8.2.1.4. Fiberglass
8.2.1.5. Paints and Coatings
8.2.1.6. Rubber
8.2.1.7. Plastics
8.2.1.8. Others
8.2.2. BPS Analysis/Market Attractiveness Analysis
8.3. Middle East & Africa Kaolin Market Outlook, by Country, Value (US$ Bn), 2018 - 2030
8.3.1. Key Highlights
8.3.1.1. GCC Kaolin Market by Process, Value (US$ Bn), 2018 - 2030
8.3.1.2. GCC Kaolin Market End-Use Industry, Value (US$ Bn), 2018 - 2030
8.3.1.3. South Africa Kaolin Market by Process, Value (US$ Bn), 2018 - 2030
8.3.1.4. South Africa Kaolin Market End-Use Industry, Value (US$ Bn), 2018 - 2030
8.3.1.5. Egypt Kaolin Market by Process, Value (US$ Bn), 2018 - 2030
8.3.1.6. Egypt Kaolin Market End-Use Industry, Value (US$ Bn), 2018 - 2030
8.3.1.7. Nigeria Kaolin Market by Process, Value (US$ Bn), 2018 - 2030
8.3.1.8. Nigeria Kaolin Market End-Use Industry, Value (US$ Bn), 2018 - 2030
8.3.1.9. Rest of Middle East & Africa Kaolin Market by Process, Value (US$ Bn), 2018 - 2030
8.3.1.10. Rest of Middle East & Africa Kaolin Market End-Use Industry, Value (US$ Bn), 2018 - 2030
8.3.2. BPS Analysis/Market Attractiveness Analysis

9. Competitive Landscape
9.1. Manufacturer vs End-Use Industry Heatmap
9.2. Company Market Share Analysis, 2022
9.3. Competitive Dashboard
9.4. Company Profiles
9.4.1. Imerys S.A.
9.4.1.1. Company Overview
9.4.1.2. Product Portfolio
9.4.1.3. Financial Overview
9.4.1.4. Business Strategies and Development
9.4.2. Ashapura Group
9.4.2.1. Company Overview
9.4.2.2. Product Portfolio
9.4.2.3. Financial Overview
9.4.2.4. Business Strategies and Development
9.4.3. EICL Limited
9.4.3.1. Company Overview
9.4.3.2. Product Portfolio
9.4.3.3. Financial Overview
9.4.3.4. Business Strategies and Development
9.4.4. SCR-Sibelco N.V.
9.4.4.1. Company Overview
9.4.4.2. Product Portfolio
9.4.4.3. Financial Overview
9.4.4.4. Business Strategies and Development
9.4.5. KaMin LLC
9.4.5.1. Company Overview
9.4.5.2. Product Portfolio
9.4.5.3. Financial Overview
9.4.5.4. Business Strategies and Development
9.4.6. Thiele Kaolin Company
9.4.6.1. Company Overview
9.4.6.2. Product Portfolio
9.4.6.3. Financial Overview
9.4.6.4. Business Strategies and Development
9.4.7. LASSELSBERGER Group
9.4.7.1. Company Overview
9.4.7.2. Product Portfolio
9.4.7.3. Financial Overview
9.4.7.4. Business Strategies and Development
9.4.8. Quarzwerke GmbH
9.4.8.1. Company Overview
9.4.8.2. Product Portfolio
9.4.8.3. Financial Overview
9.4.8.4. Business Strategies and Development
9.4.9. Sedlecký kaolin A.S.
9.4.9.1. Company Overview
9.4.9.2. Product Portfolio
9.4.9.3. Financial Overview
9.4.9.4. Business Strategies and Development
9.4.10. I-Minerals lnc.
9.4.10.1. Company Overview
9.4.10.2. Product Portfolio
9.4.10.3. Financial Overview
9.4.10.4. Business Strategies and Development
9.4.11. 20 Microns Limited
9.4.11.1. Company Overview
9.4.11.2. Product Portfolio
9.4.11.3. Financial Overview
9.4.11.4. Business Strategies and Development
9.4.12. Minotaur Exploration Limited
9.4.12.1. Company Overview
9.4.12.2. Product Portfolio
9.4.12.3. Financial Overview
9.4.12.4. Business Strategies and Development
9.4.13. W. R. Grace & Co.
9.4.13.1. Company Overview
9.4.13.2. Product Portfolio
9.4.13.3. Financial Overview
9.4.13.4. Business Strategies and Development
9.4.14. LB Minerals Ltd.
9.4.14.1. Company Overview
9.4.14.2. Product Portfolio
9.4.14.3. Financial Overview
9.4.14.4. Business Strategies and Development
9.4.15. BASF SE
9.4.15.1. Company Overview
9.4.15.2. Product Portfolio
9.4.15.3. Financial Overview
9.4.15.4. Business Strategies and Development

10. Appendix
10.1. Research Methodology
10.2. Report Assumptions
10.3. Acronyms and Abbreviations