Global Lubricants in Power Generation Market Forecast
Global market for lubricants in power generation that recorded US$4.8 Bn revenue in 2022 to reach US$6.53 Bn by 2030
Market valuation of lubricants in power generation to expand at a CAGR of 4.5% between 2023 and 2030
Quick Report Digest
The main trend expected to drive the market growth for lubricants in power generation is increased demand for environmentally friendly lubricants. Furthermore, lubricants designed to be environmentally friendly have less effect on the environment. They frequently have lower toxicity and biodegradable components.
The rapidly growing synthetic lubricants for enhanced performance is another significant trend anticipated to drive lubricants in power generation growth. Synthetic lubricants are highly resistant to oxidation and thermal degradation. This means they maintain their performance characteristics for extended periods, reducing the need for frequent oil changes and maintenance.
Rapid changes in oil prices might cause uncertainty in the price of the raw ingredients required to make lubricants. Given this uncertainty, it may be difficult for lubricant producers to plan and set steady prices for their goods.
Mineral oil lubricants dominated the lubricants in power generation market in 2022. This is due to the varied viscosity grades of mineral oil-based lubricants available to accommodate varied power production equipment and operating conditions. These viscosity ranges provide the right lubrication and defense against wear and friction.
In 2022, the gear oil category dominated the industry. Industrial extreme pressure (EP) gear oils are made to offer further defense against deterioration, scoring, and pitting in strongly loaded gear systems.
The hydropower generation category dominated the market in 2022. Hydropower plants often use large turbines to generate mechanical energy converted into electricity from water's kinetic energy.
North America is anticipated to grow at the fastest rate in the market for lubricants in power generation. North America has a significant industrial sector that requires reliable power generation. Industrial equipment maintenance and operation depend heavily on lubricants.
The Asia Pacific region will dominate the lubricants in the power generation market throughout the forecast period. Modern gas turbine technologies are being adopted in Asia Pacific for power generation.
A Look Back and a Look Forward - Comparative Anaysis
Wind turbines, a prominent renewable energy source, require lubrication for their gearboxes, bearings, and other moving components. The continued expansion of wind farms worldwide is driving the demand for specialised lubricants designed to withstand the unique conditions of these turbines. Power generation at bioenergy facilities, including biomass and biogas, frequently comes from engines and generators. These engines need lubrication, and as more bioenergy projects develop, the lubricant need is rising.
The market witnessed staggered growth during the historical period 2018 – 2022. Equipment for generating more efficient amounts of power was developed due to technological breakthroughs. These developments decreased energy losses from heat and friction, increasing the need for high-performance lubricants to enhance the efficiency of machinery. Technologies in power generation equipment gave lubricant firms options for global expansion. Global adoption of new technology led to lubricant suppliers expanding their reach to meet the needs of global markets.
Many nations are investing in increasing their power-producing capabilities as the world's demand for energy rises. The increased need for lubricants results from this expansion, which frequently involves building new power plants and modernising existing ones in the coming years. Additionally, lubrication is required for many power generation equipment due to the global shift towards greener, more sustainable energy sources, such as renewable energy and natural gas. To increase their market share, lubricant suppliers leverage these new developments for the next five years.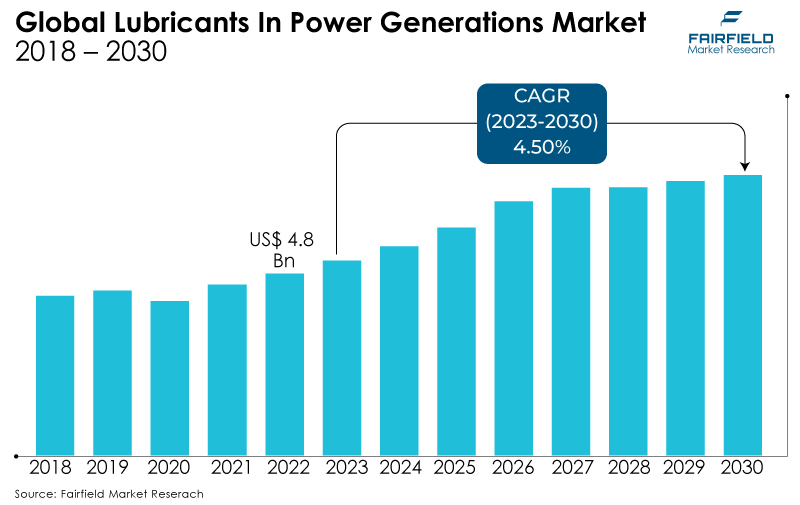 Key Growth Determinants
Increasing Demand for Powerful Engines
The power generation industry's growing need for powerful engines is a major driver of the lubricants market. Stronger engines are capable of generating more electrical power. Power-producing facilities are updating their engines to meet this rising demand as the need for electricity rises globally. These powerful engines need specialised lubricants to handle the extra strain and stress.
Modern technology is frequently incorporated into strong engines to maximise efficiency. Lubricants are essential for lowering friction and heat production, which helps these engines run more efficiently. As a result of this improved efficiency, fuel consumption and operating expenses are lowered.
Specialised lubricants can assist engines in fulfilling these environmental criteria by reducing emissions and boosting combustion efficiency, which is important for the power generation industry's many powerful engines subject to severe emissions rules.
Growing Longevity and Reliability of Equipment
Better engineering and maintenance procedures result in longer lifespans for power production machinery, such as turbines, generators, and boilers. Proper lubrication is crucial for these expensive assets to operate longer and see less wear.
As equipment dependability rises, power generation facilities can switch from reactive maintenance to more proactive and predictive maintenance practices. Monitoring and analysis of lubricant conditions aid in the early detection of potential problems, enabling scheduled maintenance and averting expensive breakdowns.
Equipment reliability reduces the amount of unplanned maintenance and shutdowns. To reduce downtime and production losses, lubricants are essential in preventing equipment failures brought on by friction, wear, and corrosion.
Rising Demand for Remote Monitoring, and IoT Penetration
Power generation equipment can use IoT sensors to continuously check on the health of vital parts like turbines and generators. This data can be analysed to forecast when maintenance is required.
IoT can assist in optimising lubricant usage by ensuring they are replaced or replenished exactly when necessary. Lubricants are essential to the upkeep of these devices. Cost reductions and improved operational efficiency may result from this. IoT can be used to keep an eye on lubricant stock levels.
Automated systems can order more lubricants when they run short, ensuring that there is always a sufficient supply on hand. By doing this, situations where equipment might be used without the required lubrication are avoided.
Major Growth Barriers
Lubricants may be viewed as an ongoing operational cost in power generation firms, which frequently have limited resources. When financial constraints are severe, pressure to reduce lubricant spending may result in the use of cheaper or lower-quality lubricants.
Power-producing facilities may postpone maintenance tasks to reduce expenses, including equipment service and lubricant changes. This may cause equipment to deteriorate more quickly, necessitating later, more significant, expensive repairs.
Due to financial restrictions, improper lubricant use and maintenance raises the risk of equipment failures and unplanned downtime. These malfunctions may need expensive repairs, lost revenue, and safety risks.
Rapid Shift Toward Renewable Energy Sources
The mechanical components of conventional power generation machinery, such as coal and natural gas power plants, frequently require a large quantity of lubrication. The use of these facilities may be reduced or decommissioned due to the switch to renewable energy sources, which will reduce the need for lubricants.
The maintenance needs of renewable energy technologies, such as wind turbines and solar panels, are often lower than those of conventional power-producing machinery. Further reducing the need for lubricants, renewable energy systems often have little to no lubrication requirements.
Environmental considerations and the requirement to reduce greenhouse gas emissions frequently motivate the transition to renewable energy sources. To reduce the environmental impact, people may choose lubricant-free or low-lubricant solutions, which would further reduce the demand for conventional lubricants.
Key Trends and Opportunities to Look at
Popularity of High-performance Lubricants
High-performance lubricants are designed to offer the best protection and minimise friction in machinery used for power generation. This improves the machinery's efficiency, improving power output and less energy use.
These lubricants increase the life of crucial power production parts, including turbines, generators, and bearings, by providing better wear protection and resilience to harsh circumstances. There will thus be fewer equipment replacements and lower capital expenses.
High-performance lubricants can greatly cut down on unplanned downtime caused by equipment problems. They offer superior lubrication stability, avoiding problems with overheating, wear, and corrosion, which can result in expensive disruptions in power generation operations.
Emphasis on Environmental Sustainability
The usage of biodegradable lubricants in power production equipment has expanded due to strict restrictions and environmental concerns. In spills or leaks, these lubricants degrade organically, minimising the environmental impact.
Environmental standards are very rigorous when it comes to power-producing plants. Employing eco-friendly lubricants aids businesses in complying with these rules, preventing fines and promoting ethical operations.
Manufacturers of lubricants are working to provide low-emission lubricants with lower greenhouse gas emissions. To meet the aims of global sustainability, power generation businesses are utilising these goods to lower their overall carbon footprint.
Advent of Gas Turbine Technologies
Modern gas turbines are built for greater power output and better energy efficiency. They put more strain on lubricants since they work at higher pressures and temperatures. To function effectively under these harsh conditions, the turbines need high-performance lubricants.
Because of advancements in engineering and materials, modern gas turbines frequently have longer maintenance intervals. High-quality lubricants are essential to permitting these prolonged maintenance cycles and saving power generation companies costs by reducing wear and corrosion.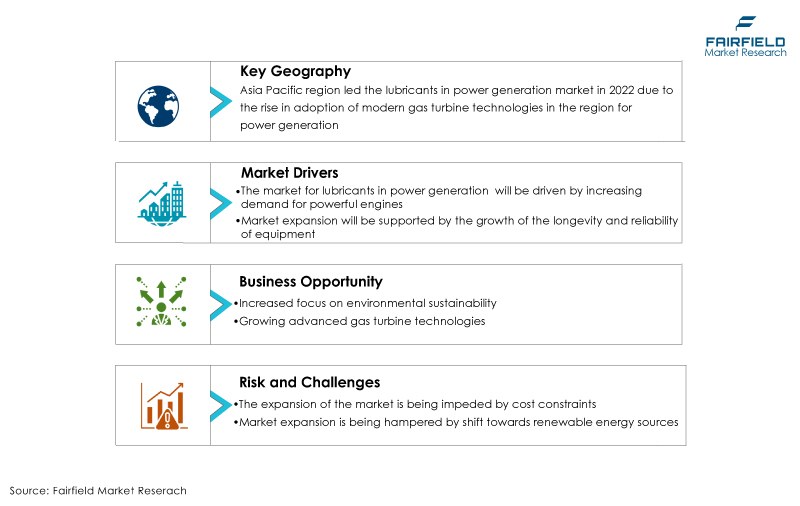 How Does the Regulatory Scenario Shape this Industry?
Over the last three years, the lubricants used in the power generation sector must comply with several regulatory frameworks and requirements to ensure safe and effective operation while minimising negative environmental effects.
Regulating environmental emissions from power production plants is done in the United States by the Environmental Protection Agency (EPA). To help power plants meet pollution limits, makers must create eco-friendly lubricants. In response, eco-friendly lubricants are being developed.
An important legal framework in Europe that sets goals for reducing emissions from power generation is the European Union Emissions Trading System (EU ETS). To help power plants comply with pollution limits, lubricants used in the facilities must adhere to strict environmental regulations. The American Society for Testing and Materials (ASTM) developed and published industry standards for lubricants and lubricant testing.
Power generation businesses frequently consult the American Society for Testing and Materials (ASTM) standards to confirm that their lubricants meet quality and performance standards. Regulatory bodies and standards heavily influence the market for lubricants used in power generation.
To satisfy the needs of power generation facilities while helping promote environmental safety and protection, lubricant producers must ensure that their products comply with these laws and standards.
Fairfield's Ranking Board
Top Segments
Mineral Oil Lubricants Retain Dominance over Synthetic Counterparts
In 2022, the category of mineral oil lubricants in power generation dominated the market. This is due to the varied viscosity grades of mineral oil-based lubricants available to accommodate varied power production equipment and operating conditions. These viscosity ranges provide the right lubrication and defense against wear and friction.
Comparing mineral oil-based lubricants to synthetic alternatives, the former are frequently more affordable. This cost-effectiveness is crucial for power generation firms because they must lubricate various equipment.
Furthermore, the synthetic oil category is anticipated to grow significantly during the projection period. Because of their superior oxidation resistance, synthetic oils can withstand deterioration and keep their qualities even in the presence of oxygen and at high temperatures. This is essential to guarantee lubricants' durability in power generation machinery.
Gear Oil Category Surges Ahead
The gear oil category dominated the market in 2022. Industrial extreme pressure (EP) gear oils are made to offer further defense against deterioration, scoring, and pitting in strongly loaded gear systems. They are excellent for heavy-duty gears and high-load power generation applications, such as those found in coal- and biomass-fired power plants.
High-viscosity gear oils are used in applications with a higher viscosity to maintain effective lubrication under high pressure and load conditions. The hydraulic fluid category is expected to grow significantly during the forecast period.
Phosphate ester hydraulic fluids are used in applications where fire safety is crucial since they are fire-resistant. They are utilised in some gas turbine power plants' hydraulic systems and in the equipment used to generate power for aircraft.
Low-temperature hydraulic fluids are created to operate in very cold temperatures, maintaining proper fluid flow and equipment performance in chilly environments.
Hydropower Generation Leads
The hydropower generation category dominated the market in 2022. Hydropower plants often use large turbines to generate mechanical energy, which is then converted into electricity from water's kinetic energy.
These turbines have several moving components, including bearings, shafts, and gears, which need lubrication to prevent wear and friction. These parts are lubricated using specialised turbine oils to preserve their performance.
The wind power generation category is expected to grow significantly during the forecast period. The rotor and nacelle of a wind turbine are supported by the main bearings, which also allow the turbine to rotate.
These bearings must be properly lubricated to reduce friction, lower the possibility of overheating, and increase bearing lifespan. Main-bearing lubricants must offer long-lasting protection and withstand contamination.
Regional Frontrunners
Asia Pacific in the Leaership Position
Asia Pacific is expected to dominate the lubricants in the power generation market during the forecast period. Asia Pacific nations are making significant investments to increase their power generation capabilities toto fulfill the growing energy demands of their people and industries.
The expansion of this region entails the development of new power plants and the renovation of current ones, both of which necessitate the use of lubricants for effective operation.
India has set ambitious energy goals, including a large expansion in the capacity of renewable energy sources. This covers solar, wind, and hydropower goals, all needing lubricants for different system components.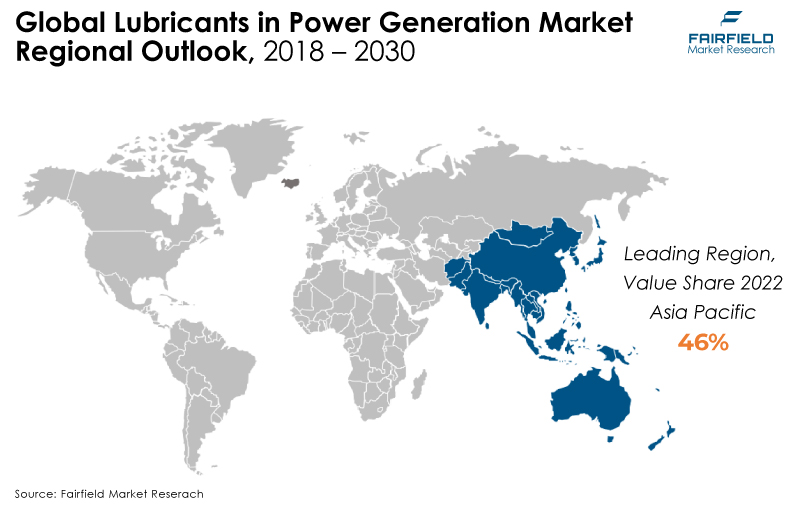 North America Fastest Growing
North America is expected to be the fastest-growing lubricant in the power generation market region. Natural gas power generation has increased due to the shale gas revolution in North America.
To run effectively and dependably, the gas turbines utilised in these facilities require specialised lubricants. The renewable energy industry in North America is expanding significantly, especially in the wind and solar power sectors.
A growing market for lubricant suppliers has been created by the need for lubricants, particularly by wind turbines' gearboxes and bearings. American power-producing plants are being updated to comply with environmental requirements and boost productivity.
High-performance lubricants are essential for modernisation projects using advanced gas turbines and high-efficiency machinery.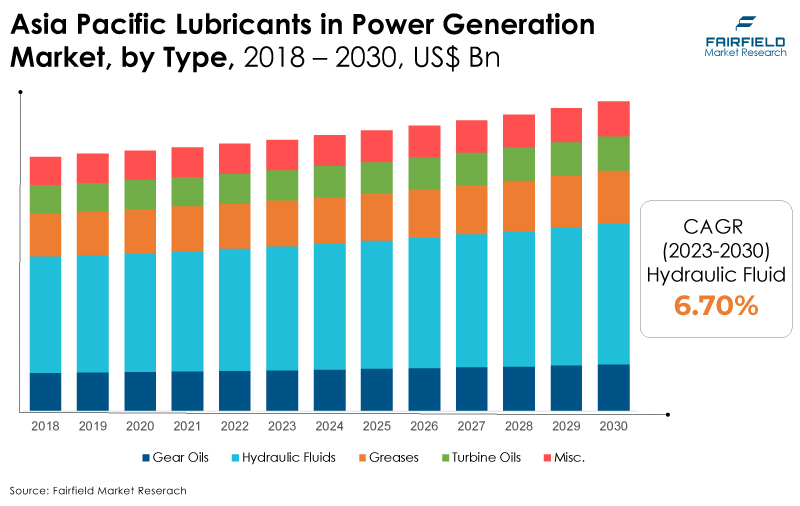 Fairfield's Competitive Landscape Analysis
The global market for lubricants in power generation has some key companies involved, which is consolidated. To improve their presence on a global scale, the big companies are introducing new products and enhancing their distribution networks. According to Fairfield Market Research, additional market consolidation is also anticipated in the upcoming years.
Who are the Leaders in Global Lubricants in the Power Generation Space?
Significant Company Developments
New Product Launches
April 2022: Lubricants by FUCHS New food-grade Renolin SJL Heavy and Renolin SJL Winter lubricants have been made available in South Africa for the sugar processing industry. The new lubricant has advantages, including longer equipment life and improved food safety.
October 2022: The development of a novel approach for cooling the batteries of electric vehicles using a new high-performance dielectric liquid has been disclosed by TotalEnergies and Valeo. This innovation not only makes it easier to drive electric automobiles but also lowers carbon emissions.
April 2021: The first engine oil specifically created to satisfy the special requirements of engines with more than 150,000 miles on the clock was introduced by Valvoline as ValvolineTM High Mileage 150k with MaxLifeTM Plus Technology Synthetic Blend. The product's cutting-edge formula lowers oil consumption in older, high-mileage engines, and its Moly Additive ProtectionTM offers greater wear protection, boosting engine efficiency and output.
Distribution Agreements
May 2022: Extending their strategic partnership for another five years is TotalEnergies and NEXUS Automotive. As a result of this collaboration, TotalEnergies Lubricants will increase its market share in the burgeoning N! community, whose revenues are expected to increase by over EUR 35 billion by the end of 2021 from EUR 7.2 billion in 2015.
October 2021: TotalEnergies automotive lubricants are being sold nationwide due to a partnership between TotalEnergies Specialties USA and Hyperfuels.
An Expert's Eye
Demand and Future Growth
As per Fairfield's Analysis, older power production facilities may require frequent maintenance and refurbishment to maintain a safe and reliable operation. Lubricants are crucial for maintaining and prolonging the life of machinery like turbines, generators, and engines.
Furthermore, lubrication is essential to preventive maintenance programs to minimise downtime and operational disturbances in power generation plants. However, oil is a primary raw material for lubricants, and the price volatility of oil can affect the entire cost of lubricants in power production.
Supply Side of the Market
According to our analysis, Producing, distributing, and selling lubricants to satisfy the needs of power generation facilities is the supply side of the lubricants market in the power generation industry. The main suppliers in the market are lubricant producers. These businesses manufacture various lubricants, including oils and greases, designed to fulfill the particular requirements of machinery used in power generation.
To develop specialised lubricants suited to the particular conditions of power generation equipment, lubricant producers make significant investments in research and development. This entails creating lubricants for gearboxes in wind turbines, steam turbines, and other crucial devices.
Quality control is essential in producing lubricants to ensure that goods fulfill performance requirements and industry standards. Lubricant providers use regular quality assurance procedures. Distribution networks for lubricant suppliers include distributors, dealers, and authorised servicing facilities.
These networks make sure that lubricants are easily accessible to enterprises that produce electricity. A network of lubricant producers, distributors, and service providers collaborates on the supply side of the lubricants market for the power generation industry to create, produce, and deliver high-quality lubricants that support the reliable and efficient operation of power generation machinery.
Global Lubricants in Power Generation Market is Segmented as Below:
By Base Oil:
Synthetic Oil
Mineral Oil
Biodegradable Oil
By Type:
Gear Oils
Hydraulic Fluids
Greases
Turbine Oils
Miscellaneous
By End-use Sector:
Hydropower
Wind Power
Coal-fired Power
Gas Turbine Power
Miscellaneous
By Geographic Coverage:
North America
Europe

Germany
U.K.
France
Italy
Russia
Rest of Europe

Asia Pacific

China
Japan
South Korea
India
Southeast Asia
Rest of Asia Pacific

Latin America

Brazil
Mexico
Rest of Latin America

Middle East & Africa

GCC
South Africa
Rest of Middle East & Africa
1. Executive Summary
1.1. Global Lubricants in Power Generation Market Snapshot
1.2. Future Projections
1.3. Key Market Trends
1.4. Regional Snapshot, by Volume/Value, 2022
1.5. Analyst Recommendations

2. Market Overview
2.1. Market Definitions and Segmentations
2.2. Market Dynamics
2.2.1. Drivers
2.2.2. Restraints
2.2.3. Market Opportunities
2.3. Value Chain Analysis
2.4. Porter's Five Forces Analysis
2.5. Covid-19 Impact Analysis
2.5.1. Supply
2.5.2. Demand
2.6. Impact of Ukraine-Russia Conflict
2.7. Economic Overview
2.7.1. World Economic Projections
2.8. PESTLE Analysis

3. Production Output and Trade Statistics, 2018 - 2022
3.1. Key Highlights
3.2. Global Lubricants Production, by Region, 2018 - 2022
3.2.1. North America
3.2.2. Europe
3.2.3. Asia Pacific
3.2.3.1. China
3.2.4. Latin America
3.2.5. Middle East & Africa

4. Price Trend Analysis, 2018 - 2030
4.1. Key Highlights
4.2. Key Factors Affecting the Prices of Lubricants
4.3. Price by Type
4.4. Price by End-user and Region

5. Global Lubricants in Power Generation Market Outlook, 2018 - 2030
5.1. Global Lubricants in Power Generation Market Outlook, by Base Oil, Volume (Kilo Tons) and Value (US$ Bn), 2018 - 2030
5.1.1. Key Highlights
5.1.1.1. Synthetic Oil
5.1.1.2. Mineral Oil
5.1.1.3. Biodegradable Oil
5.2. Global Lubricants in Power Generation Market Outlook, by Type, Volume (Kilo Tons) and Value (US$ Bn), 2018 - 2030
5.2.1. Key Highlights
5.2.1.1. Gear Oils
5.2.1.2. Hydraulic Fluids
5.2.1.3. Greases
5.2.1.4. Turbine Oils
5.2.1.5. Misc.
5.3. Global Lubricants in Power Generation Market Outlook, by Application, Volume (Kilo Tons) and Value (US$ Bn), 2018 - 2030
5.3.1. Key Highlights
5.3.1.1. Hydropower
5.3.1.2. Wind Power
5.3.1.3. Coal-fired Power
5.3.1.4. Gas Turbine Power
5.3.1.5. Misc.
5.4. Global Lubricants in Power Generation Market Outlook, by Region, Volume (Kilo Tons) and Value (US$ Bn), 2018 - 2030
5.4.1. Key Highlights
5.4.1.1. North America
5.4.1.2. Europe
5.4.1.3. Asia Pacific
5.4.1.4. Latin America
5.4.1.5. Middle East & Africa

6. North America Lubricants in Power Generation Market Outlook, 2018 - 2030
6.1. North America Lubricants in Power Generation Market Outlook, by Base Oil, Volume (Kilo Tons) and Value (US$ Bn), 2018 - 2030
6.1.1. Key Highlights
6.1.1.1. Synthetic Oil
6.1.1.2. Mineral Oil
6.1.1.3. Biodegradable Oil
6.2. North America Lubricants in Power Generation Market Outlook, by Type, Volume (Kilo Tons) and Value (US$ Bn), 2018 - 2030
6.2.1. Key Highlights
6.2.1.1. Gear Oils
6.2.1.2. Hydraulic Fluids
6.2.1.3. Greases
6.2.1.4. Turbine Oils
6.2.1.5. Misc.
6.3. North America Lubricants in Power Generation Market Outlook, by Application, Volume (Kilo Tons) and Value (US$ Bn), 2018 - 2030
6.3.1. Key Highlights
6.3.1.1. Hydropower
6.3.1.2. Wind Power
6.3.1.3. Coal-fired Power
6.3.1.4. Gas Turbine Power
6.3.1.5. Misc.
6.3.2. BPS Analysis/Market Attractiveness Analysis
6.4. North America Lubricants in Power Generation Market Outlook, by Country, Volume (Kilo Tons) and Value (US$ Bn), 2018 - 2030
6.4.1. Key Highlights
6.4.1.1. U.S. Lubricants in Power Generation Market by Base Oil, Volume (Kilo Tons) and Value (US$ Bn), 2018 - 2030
6.4.1.2. U.S. Lubricants in Power Generation Market Type, Volume (Kilo Tons) and Value (US$ Bn), 2018 - 2030
6.4.1.3. U.S. Lubricants in Power Generation Market Application, Volume (Kilo Tons) and Value (US$ Bn), 2018 - 2030
6.4.1.4. Canada Lubricants in Power Generation Market by Base Oil, Volume (Kilo Tons) and Value (US$ Bn), 2018 - 2030
6.4.1.5. Canada Lubricants in Power Generation Market Type, Volume (Kilo Tons) and Value (US$ Bn), 2018 - 2030
6.4.1.6. Canada Lubricants in Power Generation Market Application, Volume (Kilo Tons) and Value (US$ Bn), 2018 - 2030
6.4.2. BPS Analysis/Market Attractiveness Analysis

7. Europe Lubricants in Power Generation Market Outlook, 2018 - 2030
7.1. Europe Lubricants in Power Generation Market Outlook, by Base Oil, Volume (Kilo Tons) and Value (US$ Bn), 2018 - 2030
7.1.1. Key Highlights
7.1.1.1. Synthetic Oil
7.1.1.2. Mineral Oil
7.1.1.3. Biodegradable Oil
7.2. Europe Lubricants in Power Generation Market Outlook, by Type, Volume (Kilo Tons) and Value (US$ Bn), 2018 - 2030
7.2.1. Key Highlights
7.2.1.1. Gear Oils
7.2.1.2. Hydraulic Fluids
7.2.1.3. Greases
7.2.1.4. Turbine Oils
7.2.1.5. Misc.
7.3. Europe Lubricants in Power Generation Market Outlook, by Application, Volume (Kilo Tons) and Value (US$ Bn), 2018 - 2030
7.3.1. Key Highlights
7.3.1.1. Hydropower
7.3.1.2. Wind Power
7.3.1.3. Coal-fired Power
7.3.1.4. Gas Turbine Power
7.3.1.5. Misc.
7.3.2. BPS Analysis/Market Attractiveness Analysis
7.4. Europe Lubricants in Power Generation Market Outlook, by Country, Volume (Kilo Tons) and Value (US$ Bn), 2018 - 2030
7.4.1. Key Highlights
7.4.1.1. Germany Lubricants in Power Generation Market by Base Oil, Volume (Kilo Tons) and Value (US$ Bn), 2018 - 2030
7.4.1.2. Germany Lubricants in Power Generation Market Type, Volume (Kilo Tons) and Value (US$ Bn), 2018 - 2030
7.4.1.3. Germany Lubricants in Power Generation Market Application, Volume (Kilo Tons) and Value (US$ Bn), 2018 - 2030
7.4.1.4. U.K. Lubricants in Power Generation Market by Base Oil, Volume (Kilo Tons) and Value (US$ Bn), 2018 - 2030
7.4.1.5. U.K. Lubricants in Power Generation Market Type, Volume (Kilo Tons) and Value (US$ Bn), 2018 - 2030
7.4.1.6. U.K. Lubricants in Power Generation Market Application, Volume (Kilo Tons) and Value (US$ Bn), 2018 - 2030
7.4.1.7. France Lubricants in Power Generation Market by Base Oil, Volume (Kilo Tons) and Value (US$ Bn), 2018 - 2030
7.4.1.8. France Lubricants in Power Generation Market Type, Volume (Kilo Tons) and Value (US$ Bn), 2018 - 2030
7.4.1.9. France Lubricants in Power Generation Market Application, Volume (Kilo Tons) and Value (US$ Bn), 2018 - 2030
7.4.1.10. Italy Lubricants in Power Generation Market by Base Oil, Volume (Kilo Tons) and Value (US$ Bn), 2018 - 2030
7.4.1.11. Italy Lubricants in Power Generation Market Type, Volume (Kilo Tons) and Value (US$ Bn), 2018 - 2030
7.4.1.12. Italy Lubricants in Power Generation Market Application, Volume (Kilo Tons) and Value (US$ Bn), 2018 - 2030
7.4.1.13. Russia Lubricants in Power Generation Market by Base Oil, Volume (Kilo Tons) and Value (US$ Bn), 2018 - 2030
7.4.1.14. Russia Lubricants in Power Generation Market Type, Volume (Kilo Tons) and Value (US$ Bn), 2018 - 2030
7.4.1.15. Russia Lubricants in Power Generation Market Application, Volume (Kilo Tons) and Value (US$ Bn), 2018 - 2030
7.4.1.16. Rest of Europe Lubricants in Power Generation Market by Base Oil, Volume (Kilo Tons) and Value (US$ Bn), 2018 - 2030
7.4.1.17. Rest of Europe Lubricants in Power Generation Market Type, Volume (Kilo Tons) and Value (US$ Bn), 2018 - 2030
7.4.1.18. Rest of Europe Lubricants in Power Generation Market Application, Volume (Kilo Tons) and Value (US$ Bn), 2018 - 2030
7.4.2. BPS Analysis/Market Attractiveness Analysis

8. Asia Pacific Lubricants in Power Generation Market Outlook, 2018 - 2030
8.1. Asia Pacific Lubricants in Power Generation Market Outlook, by Base Oil, Volume (Kilo Tons) and Value (US$ Bn), 2018 - 2030
8.1.1. Key Highlights
8.1.1.1. Synthetic Oil
8.1.1.2. Mineral Oil
8.1.1.3. Biodegradable Oil
8.2. Asia Pacific Lubricants in Power Generation Market Outlook, by Type, Volume (Kilo Tons) and Value (US$ Bn), 2018 - 2030
8.2.1. Key Highlights
8.2.1.1. Gear Oils
8.2.1.2. Hydraulic Fluids
8.2.1.3. Greases
8.2.1.4. Turbine Oils
8.2.1.5. Misc.
8.3. Asia Pacific Lubricants in Power Generation Market Outlook, by Application, Volume (Kilo Tons) and Value (US$ Bn), 2018 - 2030
8.3.1. Key Highlights
8.3.1.1. Hydropower
8.3.1.2. Wind Power
8.3.1.3. Coal-fired Power
8.3.1.4. Gas Turbine Power
8.3.1.5. Misc.
8.3.2. BPS Analysis/Market Attractiveness Analysis
8.4. Asia Pacific Lubricants in Power Generation Market Outlook, by Country, Volume (Kilo Tons) and Value (US$ Bn), 2018 - 2030
8.4.1. Key Highlights
8.4.1.1. China Lubricants in Power Generation Market by Base Oil, Volume (Kilo Tons) and Value (US$ Bn), 2018 - 2030
8.4.1.2. China Lubricants in Power Generation Market Type, Volume (Kilo Tons) and Value (US$ Bn), 2018 - 2030
8.4.1.3. China Lubricants in Power Generation Market Application, Volume (Kilo Tons) and Value (US$ Bn), 2018 - 2030
8.4.1.4. Japan Lubricants in Power Generation Market by Base Oil, Volume (Kilo Tons) and Value (US$ Bn), 2018 - 2030
8.4.1.5. Japan Lubricants in Power Generation Market Type, Volume (Kilo Tons) and Value (US$ Bn), 2018 - 2030
8.4.1.6. Japan Lubricants in Power Generation Market Application, Volume (Kilo Tons) and Value (US$ Bn), 2018 - 2030
8.4.1.7. South Korea Lubricants in Power Generation Market by Base Oil, Volume (Kilo Tons) and Value (US$ Bn), 2018 - 2030
8.4.1.8. South Korea Lubricants in Power Generation Market Type, Volume (Kilo Tons) and Value (US$ Bn), 2018 - 2030
8.4.1.9. South Korea Lubricants in Power Generation Market Application, Volume (Kilo Tons) and Value (US$ Bn), 2018 - 2030
8.4.1.10. India Lubricants in Power Generation Market by Base Oil, Volume (Kilo Tons) and Value (US$ Bn), 2018 - 2030
8.4.1.11. India Lubricants in Power Generation Market Type, Volume (Kilo Tons) and Value (US$ Bn), 2018 - 2030
8.4.1.12. India Lubricants in Power Generation Market Application, Volume (Kilo Tons) and Value (US$ Bn), 2018 - 2030
8.4.1.13. Southeast Asia Lubricants in Power Generation Market by Base Oil, Volume (Kilo Tons) and Value (US$ Bn), 2018 - 2030
8.4.1.14. Southeast Asia Lubricants in Power Generation Market Type, Volume (Kilo Tons) and Value (US$ Bn), 2018 - 2030
8.4.1.15. Southeast Asia Lubricants in Power Generation Market Application, Volume (Kilo Tons) and Value (US$ Bn), 2018 - 2030
8.4.1.16. Rest of Asia Pacific Lubricants in Power Generation Market by Base Oil, Volume (Kilo Tons) and Value (US$ Bn), 2018 - 2030
8.4.1.17. Rest of Asia Pacific Lubricants in Power Generation Market Type, Volume (Kilo Tons) and Value (US$ Bn), 2018 - 2030
8.4.1.18. Rest of Asia Pacific Lubricants in Power Generation Market Application, Volume (Kilo Tons) and Value (US$ Bn), 2018 - 2030
8.4.2. BPS Analysis/Market Attractiveness Analysis

9. Latin America Lubricants in Power Generation Market Outlook, 2018 - 2030
9.1. Latin America Lubricants in Power Generation Market Outlook, by Base Oil, Volume (Kilo Tons) and Value (US$ Bn), 2018 - 2030
9.1.1. Key Highlights
9.1.1.1. Synthetic Oil
9.1.1.2. Mineral Oil
9.1.1.3. Biodegradable Oil
9.2. Latin America Lubricants in Power Generation Market Outlook, by Type, Volume (Kilo Tons) and Value (US$ Bn), 2018 - 2030
9.2.1. Key Highlights
9.2.1.1. Gear Oils
9.2.1.2. Hydraulic Fluids
9.2.1.3. Greases
9.2.1.4. Turbine Oils
9.2.1.5. Misc.
9.3. Latin America Lubricants in Power Generation Market Outlook, by Application, Volume (Kilo Tons) and Value (US$ Bn), 2018 - 2030
9.3.1. Key Highlights
9.3.1.1. Hydropower
9.3.1.2. Wind Power
9.3.1.3. Coal-fired Power
9.3.1.4. Gas Turbine Power
9.3.1.5. Misc.
9.3.2. BPS Analysis/Market Attractiveness Analysis
9.4. Latin America Lubricants in Power Generation Market Outlook, by Country, Volume (Kilo Tons) and Value (US$ Bn), 2018 - 2030
9.4.1. Key Highlights
9.4.1.1. Brazil Lubricants in Power Generation Market by Base Oil, Volume (Kilo Tons) and Value (US$ Bn), 2018 - 2030
9.4.1.2. Brazil Lubricants in Power Generation Market Type, Volume (Kilo Tons) and Value (US$ Bn), 2018 - 2030
9.4.1.3. Brazil Lubricants in Power Generation Market Application, Volume (Kilo Tons) and Value (US$ Bn), 2018 - 2030
9.4.1.4. Mexico Lubricants in Power Generation Market by Base Oil, Volume (Kilo Tons) and Value (US$ Bn), 2018 - 2030
9.4.1.5. Mexico Lubricants in Power Generation Market Type, Volume (Kilo Tons) and Value (US$ Bn), 2018 - 2030
9.4.1.6. Mexico Lubricants in Power Generation Market Application, Volume (Kilo Tons) and Value (US$ Bn), 2018 - 2030
9.4.1.7. Argentina Lubricants in Power Generation Market by Base Oil, Volume (Kilo Tons) and Value (US$ Bn), 2018 - 2030
9.4.1.8. Argentina Lubricants in Power Generation Market Type, Volume (Kilo Tons) and Value (US$ Bn), 2018 - 2030
9.4.1.9. Argentina Lubricants in Power Generation Market Application, Volume (Kilo Tons) and Value (US$ Bn), 2018 - 2030
9.4.1.10. Rest of Latin America Lubricants in Power Generation Market by Base Oil, Volume (Kilo Tons) and Value (US$ Bn), 2018 - 2030
9.4.1.11. Rest of Latin America Lubricants in Power Generation Market Type, Volume (Kilo Tons) and Value (US$ Bn), 2018 - 2030
9.4.1.12. Rest of Latin America Lubricants in Power Generation Market Application, Volume (Kilo Tons) and Value (US$ Bn), 2018 - 2030
9.4.2. BPS Analysis/Market Attractiveness Analysis

10. Middle East & Africa Lubricants in Power Generation Market Outlook, 2018 - 2030
10.1. Middle East & Africa Lubricants in Power Generation Market Outlook, by Base Oil, Volume (Kilo Tons) and Value (US$ Bn), 2018 - 2030
10.1.1. Key Highlights
10.1.1.1. Synthetic Oil
10.1.1.2. Mineral Oil
10.1.1.3. Biodegradable Oil
10.2. Middle East & Africa Lubricants in Power Generation Market Outlook, by Type, Volume (Kilo Tons) and Value (US$ Bn), 2018 - 2030
10.2.1. Key Highlights
10.2.1.1. Gear Oils
10.2.1.2. Hydraulic Fluids
10.2.1.3. Greases
10.2.1.4. Turbine Oils
10.2.1.5. Misc.
10.3. Middle East & Africa Lubricants in Power Generation Market Outlook, by Application, Volume (Kilo Tons) and Value (US$ Bn), 2018 - 2030
10.3.1. Key Highlights
10.3.1.1. Hydropower
10.3.1.2. Wind Power
10.3.1.3. Coal-fired Power
10.3.1.4. Gas Turbine Power
10.3.1.5. Misc.
10.3.2. BPS Analysis/Market Attractiveness Analysis
10.4. Middle East & Africa Lubricants in Power Generation Market Outlook, by Country, Volume (Kilo Tons) and Value (US$ Bn), 2018 - 2030
10.4.1. Key Highlights
10.4.1.1. GCC Lubricants in Power Generation Market by Base Oil, Volume (Kilo Tons) and Value (US$ Bn), 2018 - 2030
10.4.1.2. GCC Lubricants in Power Generation Market Type, Volume (Kilo Tons) and Value (US$ Bn), 2018 - 2030
10.4.1.3. GCC Lubricants in Power Generation Market Application, Volume (Kilo Tons) and Value (US$ Bn), 2018 - 2030
10.4.1.4. South Africa Lubricants in Power Generation Market by Base Oil, Volume (Kilo Tons) and Value (US$ Bn), 2018 - 2030
10.4.1.5. South Africa Lubricants in Power Generation Market Type, Volume (Kilo Tons) and Value (US$ Bn), 2018 - 2030
10.4.1.6. South Africa Lubricants in Power Generation Market Application, Volume (Kilo Tons) and Value (US$ Bn), 2018 - 2030
10.4.1.7. Rest of Middle East & Africa Lubricants in Power Generation Market by Base Oil, Volume (Kilo Tons) and Value (US$ Bn), 2018 - 2030
10.4.1.8. Rest of Middle East & Africa Lubricants in Power Generation Market Type, Volume (Kilo Tons) and Value (US$ Bn), 2018 - 2030
10.4.1.9. Rest of Middle East & Africa Lubricants in Power Generation Market Application, Volume (Kilo Tons) and Value (US$ Bn), 2018 - 2030
10.4.2. BPS Analysis/Market Attractiveness Analysis

11. Competitive Landscape
11.1. Application vs Application Heatmap
11.2. Manufacturer vs Application Heatmap
11.3. Company Market Share Analysis, 2022
11.4. Competitive Dashboard
11.5. Company Profiles
11.5.1. Chevron Corporation
11.5.1.1. Company Overview
11.5.1.2. Product Portfolio
11.5.1.3. Financial Overview
11.5.1.4. Business Strategies and Development
11.5.2. Petrofer
11.5.2.1. Company Overview
11.5.2.2. Product Portfolio
11.5.2.3. Financial Overview
11.5.2.4. Business Strategies and Development
11.5.3. Royal Dutch Shell Co.
11.5.3.1. Company Overview
11.5.3.2. Product Portfolio
11.5.3.3. Financial Overview
11.5.3.4. Business Strategies and Development
11.5.4. Klüber Lubrication
11.5.4.1. Company Overview
11.5.4.2. Product Portfolio
11.5.4.3. Financial Overview
11.5.4.4. Business Strategies and Development
11.5.5. Philips 66
11.5.5.1. Company Overview
11.5.5.2. Product Portfolio
11.5.5.3. Financial Overview
11.5.5.4. Business Strategies and Development
11.5.6. FUCHS
11.5.6.1. Company Overview
11.5.6.2. Product Portfolio
11.5.6.3. Financial Overview
11.5.6.4. Business Strategies and Development
11.5.7. PETRONAS Lubricants International
11.5.7.1. Company Overview
11.5.7.2. Product Portfolio
11.5.7.3. Financial Overview
11.5.7.4. Business Strategies and Development
11.5.8. TotalEnergies
11.5.8.1. Company Overview
11.5.8.2. Product Portfolio
11.5.8.3. Financial Overview
11.5.8.4. Business Strategies and Development
11.5.9. Exxon Mobil Corporation
11.5.9.1. Company Overview
11.5.9.2. Product Portfolio
11.5.9.3. Business Strategies and Development
11.5.10. BP PLC
11.5.10.1. Company Overview
11.5.10.2. Product Portfolio
11.5.10.3. Financial Overview
11.5.10.4. Business Strategies and Development
11.5.11. Idemitsu Kosan Co. Ltd.
11.5.11.1. Company Overview
11.5.11.2. Product Portfolio
11.5.11.3. Financial Overview
11.5.11.4. Business Strategies and Development
11.5.12. Sinopec Limited
11.5.12.1. Company Overview
11.5.12.2. Product Portfolio
11.5.12.3. Financial Overview
11.5.12.4. Business Strategies and Development
11.5.13. Valvoline
11.5.13.1. Company Overview
11.5.13.2. Product Portfolio
11.5.13.3. Financial Overview
11.5.13.4. Business Strategies and Development

12. Appendix
12.1. Research Methodology
12.2. Report Assumptions
12.3. Acronyms and Abbreviations