Dairy-Free Properties Suitable to Vegan Population Generate Demand for Oat Milk
The global oat milk market is expected to register double-digit growth during the forecast period. The market is expected to reach US$2,668.5 Mn by 2026, surging at a CAGR of 11.5% over the forecast period. In recent years, plant-based milk has gained significant momentum as it does not contain lactose. Its low cholesterol levels and gluten-free qualities for health-conscious consumers. Rich in protein, carbohydrates, and fat along with vitamins and minerals, the demand for plant-derived milk is expected to rise as it substitutes animal milk.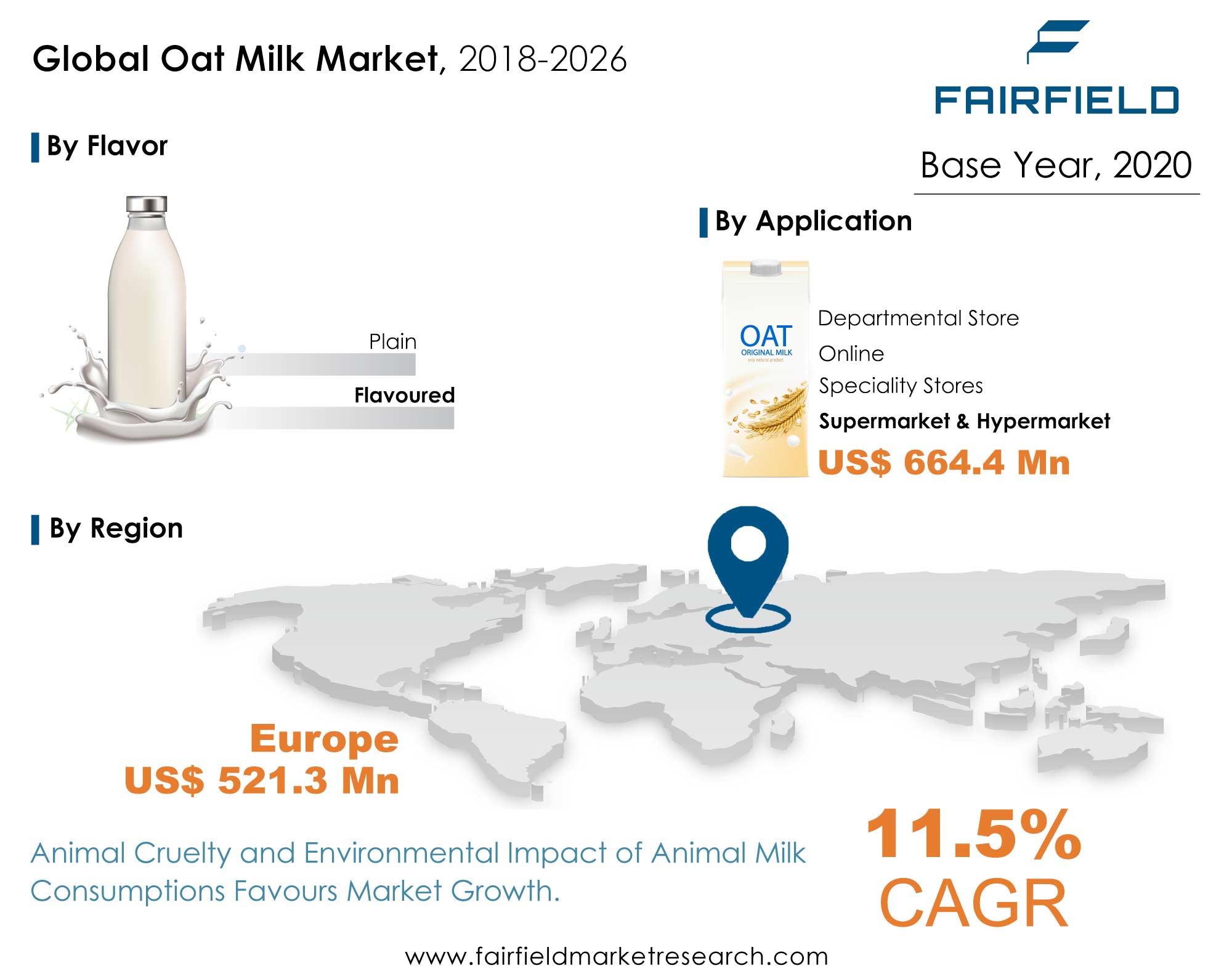 In recent years, oat milk, plant-based milk, has become a popular choice in commercial and household uses driven by the young demographic and growing urban middle-class population. The high nutritional profile of oats–soluble dietary fibre, vitamins and minerals, unsaturated fatty acids, and well-balanced protein composition–has given the global oat milk market a solid ground to grow.
According to different research studies, oat protein has similar qualities to soy protein. This has garnered the attention of consumers who seek products offering additional health benefits, which are not given by other variants.
In addition, there is a rising prevalence of lactose intolerant population with better diagnostics. In 2020, the U.S. alone reported more than 3.3 million people with lactose intolerance. The sensitive and conscious population thus prefer to consume dairy-free products.
Furthermore, environmental concerns and animal healthcare issues have generated the global demand for a vegan diet. In 2018, U.K.'s 7% population was reported to be vegan. Thus, the increased prevalence of lactose intolerance coupled with the rise of the veganism movement is expected to escalate the global demand for oat milk.
Cafés and Food Manufacturers Lead to Mammoth Demand for Oat Milk
The growing vegan trend has moulded numerous café and processed food manufacturers to alter their menus with oat milk as a prime ingredient. For instance, in 2020 Starbucks rolled out oat milk lattes at about 1,300 stores across the U.S. The positive response encouraged the popular coffee chain to launch two new drinks made of oat milk, Iced Brown Sugar Oatmilk Shaken Espresso and the Honey Oatmilk Latte, in March 2021.
The product was targeted towards consumers who prefer buying non-dairy drinks. Following this trend, food manufacturers are also introducing oat milk products. For instance, one of the largest confectionery brands, Cadbury's, owned by Mondelez International, launched the new oat-based milk chocolate brand HiP (Happiness in Plants) in March 2021. The product was introduced in four variants as Smooth & Creamy, Cookies NO Cream, Salted Caramel and Salty Pretzel Flavours. These types of products stated as vegan, lactose-free, dairy-free, clean label is further expected to drive the global oat milk market over the forecast period.
Easy Availability of Conventional Oat Milk to Give the Segment a Leg-up
The global oat milk market is segmented on the basis of nature, end-use, sales channel, and region. Based on nature, the market is segmented as organic and conventional. Among all these segments conventional segment is expected to lead due to its wide availability. Organic oat milk is still at its nascent stage. In 2021 organic oat milk is estimated to account for 33.6% of the value share in 2021. However, considering the consumer influence for organic products, it is expected to boost the demand of organic oat milk over the forecast period.
By end-use the market is segmented as household, food manufacturers and hotels restaurants and café (HoReCa). While by sales channel the market is segmented as business to business and business to consumer segment. Further, business to consumer segment is sub-segmented as supermarkets, departmental stores, speciality outlet, and online.
European Region to Hold Potential Value Share
Globally, Europe and North America are expected to show a quick adoption of oat milk in daily diets. Generally higher awareness about lactose intolerance and normalized attitude towards consumption of packaged items are expected to augment these regional markets. Europe and North America oat milk market will also be driven by a higher disposable income, wider availability of varied flavours of oat milk, strong product penetration, and raging veganism. Europe and North America is collectively expected to account for more than 65% of the value share by 2026.
The demand for oat milk in Europe is largely driven by the vegan population. Rising consumer awareness about animal cruelty and the side effects of consuming dairy products that are derived from animals raised on feed additives and have created a need for substitutes such as oat milk.
The demand for oat milk in Asia Pacific is also expected to see momentum as China and India see a younger population tilt towards cleaner labels amidst a worrying pandemic.
Global Oat Milk Market: Key Players
Some of the major players studied in the global oat milk market are Oatly AB, SunOpta Inc, Danone SA, Sanitarium Health & Wellbeing, WhiteWave Services, Inc. (Silk), HP HOOD LLC (Planet Oat), Pureharvest, Califia Farms, LLC, Otis Oat M!lk and Vitasoy International Holdings Limited.
The Global Oat Milk Market is Segmented as Below:
By Flavour Coverage
Plain
Flavoured
Chocolate
Vanilla
Others
By Nature Coverage
By Packaging Coverage
By Sales Channel Coverage
Supermarket/ Hypermarket
Departmental Stores
Online
Specialty Stores
By Geographical Coverage
North America
Europe

Germany
France
UK
Spain
Italy
Russia
Rest of Europe

Asia Pacific

India
China
Japan
Australia & New Zealand
Rest of Asia Pacific

Latin America

Brazil
Mexico
Rest of Latin America

Middle East & Africa

GCC Countries
South Africa
Rest of Middle East & Africa
Leading Companies
Oatly AB
Happy Planet Foods
Campbell Soup Company
Califia Farms, LLC
RISE Brewing Co.
HP Hood LLC
Danone
Elmhurst Milked Direct LLC
Sanitarium
Arla Foods amba
Inside This Report You Will Find:
1. Executive Summary
2. Market Overview
3. Global Oat Milk Market Outlook, 2018 - 2026
4. North America Oat Milk Market Outlook, 2018 - 2026
5. Europe Oat Milk Market Outlook, 2018 - 2026
6. Asia Pacific Oat Milk Market Outlook, 2018 - 2026
7. Latin America Oat Milk Market Outlook, 2018 - 2026
8. Middle East & Africa Oat Milk Market Outlook, 2018 - 2026
9. Competitive Landscape
10. Appendix

Post Sale Support, Research Updates & Offerings:
We value the trust shown by our customers in Fairfield Market Research. We support our clients through our post sale support, research updates and offerings.
The report will be prepared in a PPT format and will be delivered in a PDF format.
Additionally, Market Estimation and Forecast numbers will be shared in Excel Workbook.
If a report being sold was published over a year ago, we will offer a complimentary copy of the updated research report along with Market Estimation and Forecast numbers within 2-3 weeks' time of the sale.
If we update this research study within the next 2 quarters, post purchase of the report, we will offer a Complimentary copy of the updated Market Estimation and Forecast numbers in Excel Workbook.
If there is a geopolitical conflict, pandemic, recession, and the like which can impact global economic scenario and business activity, which might entirely alter the market dynamics or future projections in the industry, we will create a Research Update upon your request at a nominal charge.
1. Executive Summary
1.1. Global Oat Milk Market Snapshot
1.2. Future Projections
1.3. Market Trends

2. Market Overview
2.1. Market Definitions
2.2. Market Taxonomy
2.3. Market Dynamics
2.3.1. Drivers
2.3.2. Restraints
2.3.3. Threats
2.4. Porter's Five Forces Analysis
2.5. Covid-19 Impact Analysis
2.6. Macroeconomic Factors
2.7. Key Developments

3. Global Oat Milk Market Outlook, 2018 - 2026
3.1. Global Oat Milk Market Outlook, by Flavor, Value (US$ Mn), 2018 - 2026
3.1.1. Key Highlights
3.1.1.1. Plain
3.1.1.2. Flavored
3.1.1.2.1. Chocolate
3.1.1.2.2. Vanilla
3.1.1.2.3. Others
3.1.2. BPS Analysis/Market Attractiveness Analysis
3.2. Global Oat Milk Market Outlook, by Nature, Value (US$ Mn), 2018 - 2026
3.2.1. Key Highlights
3.2.1.1. Organic
3.2.1.2. Conventional
3.2.2. BPS Analysis/Market Attractiveness Analysis
3.3. Global Oat Milk Market Outlook, by Packaging, Value (US$ Mn), 2018 - 2026
3.3.1. Key Highlights
3.3.1.1. Carton
3.3.1.2. Bottle
3.3.2. BPS Analysis/Market Attractiveness Analysis
3.4. Global Oat Milk Market Outlook, by Sales Channel, Value (US$ Mn), 2018 - 2026
3.4.1. Key Highlights
3.4.1.1. Supermarket/ Hypermarket
3.4.1.2. Departmental Stores
3.4.1.3. Online
3.4.1.4. Specialty Stores
3.4.2. BPS Analysis/Market Attractiveness Analysis
3.5. Global Oat Milk Market Outlook, by Region, Value (US$ Mn), 2018 - 2026
3.5.1. Key Highlights
3.5.1.1. North America
3.5.1.2. Europe
3.5.1.3. Asia Pacific
3.5.1.4. Latin America
3.5.1.5. Middle East & Africa
3.5.2. BPS Analysis/Market Attractiveness Analysis

4. North America Oat Milk Market Outlook, 2018 - 2026
4.1. North America Oat Milk Market Outlook, by Country, Value (US$ Mn), 2018 - 2026
4.1.1. Key Highlights
4.1.1.1. U.S. Oat Milk Market by Value (US$ MN), 2018 - 2026
4.1.1.2. Canada Oat Milk Market by Value (US$ Mn), 2018 - 2026
4.1.2. BPS Analysis/Market Attractiveness Analysis
4.2. North America Oat Milk Market Outlook, by Flavor, Value (US$ Mn), 2018 - 2026
4.2.1. Key Highlights
4.2.1.1. Plain
4.2.1.2. Flavored
4.2.1.2.1. Chocolate
4.2.1.2.2. Vanilla
4.2.1.2.3. Others
4.2.2. BPS Analysis/Market Attractiveness Analysis
4.3. North America Oat Milk Market Outlook, by Nature, Value (US$ Mn), 2018 - 2026
4.3.1. Key Highlights
4.3.1.1. Organic
4.3.1.2. Conventional
4.3.2. BPS Analysis/Market Attractiveness Analysis
4.4. North America Oat Milk Market Outlook, by Packaging, Value (US$ Mn), 2018 - 2026
4.4.1. Key Highlights
4.4.1.1. Carton
4.4.1.2. Bottle
4.4.2. BPS Analysis/Market Attractiveness Analysis
4.5. North America Oat Milk Market Outlook, by Sales Channel, Value (US$ Mn), 2018 - 2026
4.5.1. Key Highlights
4.5.1.1. Supermarket/ Hypermarket
4.5.1.2. Departmental Stores
4.5.1.3. Online
4.5.1.4. Specialty Stores
4.5.2. BPS Analysis/Market Attractiveness Analysis

5. Europe Oat Milk Market Outlook, 2018 - 2026
5.1. Europe Oat Milk Market Outlook, by Country, (US$ Mn), 2018 - 2026
5.1.1. Key Highlights
5.1.1.1. Germany Oat Milk Market by Value (US$ Mn), 2018 - 2026
5.1.1.2. France Oat Milk Market by Product, Value (US$ Mn), 2018 - 2026
5.1.1.3. U.K. Oat Milk Market by Value (US$ Mn), 2018 - 2026
5.1.1.4. Italy Oat Milk Market by Value (US$ Mn), 2018 - 2026
5.1.1.5. Spain Oat Milk Market by Product, Value (US$ Mn), 2018 - 2026
5.1.1.6. Russia Oat Milk Market by Product, Value (US$ Mn), 2018 - 2026
5.1.1.7. Rest of Europe Oat Milk Market Value (US$ Mn), 2018 - 2026
5.1.2. BPS Analysis/Market Attractiveness Analysis
5.2. Europe Oat Milk Market Outlook, by Flavor, Value (US$ Mn), 2018 - 2026
5.2.1. Key Highlights
5.2.1.1. Plain
5.2.1.2. Flavored
5.2.1.2.1. Chocolate
5.2.1.2.2. Vanilla
5.2.1.2.3. Others
5.2.2. BPS Analysis/Market Attractiveness Analysis
5.3. Europe Oat Milk Market Outlook, by Nature, Value (US$ Mn), 2018 - 2026
5.3.1. Key Highlights
5.3.1.1. Organic
5.3.1.2. Conventional
5.3.2. BPS Analysis/Market Attractiveness Analysis
5.4. Europe Oat Milk Market Outlook, by Packaging, Value (US$ Mn), 2018 - 2026
5.4.1. Key Highlights
5.4.1.1. Carton
5.4.1.2. Bottle
5.4.2. BPS Analysis/Market Attractiveness Analysis
5.5. Europe Oat Milk Market Outlook, by Sales Channel, Value (US$ MN), 2018 - 2026
5.5.1. Key Highlights
5.5.1.1. Supermarket/ Hypermarket
5.5.1.2. Departmental Stores
5.5.1.3. Online
5.5.1.4. Specialty Stores
5.5.2. BPS Analysis/Market Attractiveness Analysis

6. Asia Pacific Oat Milk Market Outlook, 2018 - 2026
6.1. Asia Pacific Oat Milk Market Outlook, by Country, Value (US$ Mn), 2018 - 2026
6.1.1. Key Highlights
6.1.1.1. India Oat Milk Market by Value (US$ Mn), 2018 - 2026
6.1.1.2. China Oat Milk Market by Value (US$ Mn), 2018 - 2026
6.1.1.3. Japan Oat Milk Market by Value (US$ Mn), 2018 - 2026
6.1.1.4. Australia & New Zealand Oat Milk Market Value (US$ Mn), 2018 - 2026
6.1.1.5. Rest of Asia Pacific Market by Value (US$ MN), 2018 - 2026
6.1.2. BPS Analysis/Market Attractiveness Analysis
6.2. Asia Pacific Oat Milk Market Outlook, by Flavor Value (US$ Mn), 2018 - 2026
6.2.1. Key Highlights
6.2.1.1. Plain
6.2.1.2. Flavored
6.2.1.2.1. Chocolate
6.2.1.2.2. Vanilla
6.2.1.2.3. Others
6.2.2. BPS Analysis/Market Attractiveness Analysis
6.3. Asia Pacific Oat Milk Market Outlook, by Nature, Value (US$ Mn), 2018 - 2026
6.3.1. Key Highlights
6.3.1.1. Organic
6.3.1.2. Conventional
6.3.2. BPS Analysis/Market Attractiveness Analysis
6.4. Asia Pacific Oat Milk Market Outlook, by Packaging, Value (US$ Mn), 2018 - 2026
6.4.1. Key Highlights
6.4.1.1. Carton
6.4.1.2. Bottle
6.4.2. BPS Analysis/Market Attractiveness Analysis
6.5. Asia Pacific Oat Milk Market Outlook, by Sales Channel, Value (US$ Mn), 2018 - 2026
6.5.1. Key Highlights
6.5.1.1. Supermarket/ Hypermarket
6.5.1.2. Departmental Stores
6.5.1.3. Online
6.5.1.4. Specialty Stores
6.5.2. BPS Analysis/Market Attractiveness Analysis

7. Latin America Oat Milk Market Outlook, 2018 - 2026
7.1. Latin America Oat Milk Market Outlook, by Country, Value (US$ Mn), 2018 - 2026
7.1.1. Key Highlights
7.1.1.1. Brazil Oat Milk Market by Value (US$ Mn), 2018 - 2026
7.1.1.2. Mexico Oat Milk Market by Value (US$ Mn), 2018 - 2026
7.1.1.3. Rest of Latin America Oat Milk Market by Value (US$ Mn), 2018 - 2026
7.1.2. BPS Analysis/Market Attractiveness Analysis
7.2. Latin America Oat Milk Market Outlook, by Flavor, Value (US$ Mn), 2018 - 2026
7.2.1. Key Highlights
7.2.1.1. Plain
7.2.1.2. Flavored
7.2.1.2.1. Chocolate
7.2.1.2.2. Vanilla
7.2.1.2.3. Others
7.2.2. BPS Analysis/Market Attractiveness Analysis
7.3. Latin America Oat Milk Market Outlook, by Nature, Value (US$ Mn), 2018 - 2026
7.3.1. Key Highlights
7.3.1.1. Organic
7.3.1.2. Conventional
7.3.2. BPS Analysis/Market Attractiveness Analysis
7.4. Latin America Oat Milk Market Outlook, by Packaging, Value (US$ Mn), 2018 - 2026
7.4.1. Key Highlights
7.4.1.1. Carton
7.4.1.2. Bottle
7.4.2. BPS Analysis/Market Attractiveness Analysis
7.5. Latin America Oat Milk Market Outlook, by Sales Channel, Value (US$ MN), 2018 - 2026
7.5.1. Key Highlights
7.5.1.1. Supermarket/ Hypermarket
7.5.1.2. Departmental Stores
7.5.1.3. Online
7.5.1.4. Specialty Stores
7.5.2. BPS Analysis/Market Attractiveness Analysis

8. Middle East & Africa Oat Milk Market Outlook, 2018 - 2026
8.1. Middle East & Africa Oat Milk Market Outlook, by Country, Value (US$ Mn), 2018 - 2026
8.1.1. Key Highlights
8.1.1.1. GCC Oat Milk Market by Value (US$ Mn), 2018 - 2026
8.1.1.2. South Africa Oat Milk Market by Value (US$ Mn), 2018 - 2026
8.1.1.3. Rest of Middle East & Africa Oat Milk Market by Value (US$ Mn), 2018 - 2026
8.1.2. BPS Analysis/Market Attractiveness Analysis
8.2. Middle East & Africa Oat Milk Market Outlook, by Flavor, Value (US$ Mn), 2018 - 2026
8.2.1. Key Highlights
8.2.1.1. Plain
8.2.1.2. Flavored
8.2.1.2.1. Chocolate
8.2.1.2.2. Vanilla
8.2.1.2.3. Others
8.2.2. BPS Analysis/Market Attractiveness Analysis
8.3. Middle East & Africa Oat Milk Market Outlook, by Nature, Value (US$ Mn), 2018 - 2026
8.3.1. Key Highlights
8.3.1.1. Organic
8.3.1.2. Conventional
8.3.2. BPS Analysis/Market Attractiveness Analysis
8.4. Middle East & Africa Oat Milk Market Outlook, by Packaging, Value (US$ Mn), 2018 - 2026
8.4.1. Key Highlights
8.4.1.1. Carton
8.4.1.2. Bottle
8.4.2. BPS Analysis/Market Attractiveness Analysis
8.5. Middle East & Africa Oat Milk Market Outlook, by Sales Channel, Value (US$ Mn), 2018 - 2026
8.5.1. Key Highlights
8.5.1.1. Supermarket/ Hypermarket
8.5.1.2. Departmental Stores
8.5.1.3. Online
8.5.1.4. Specialty Stores
8.5.2. BPS Analysis/Market Attractiveness Analysis

9. Competitive Landscape
9.1. Company Market Share Analysis, 2019
9.2. Company Profiles
9.2.1. Oatly AB
9.2.1.1. Company Overview
9.2.1.2. Product Offering & its Presence
9.2.1.3. Business Segment Revenue
9.2.1.4. Product Description
9.2.1.5. Regional Presence
9.2.2. Happy Planet Foods
9.2.2.1. Company Overview
9.2.2.2. Product Offering & its Presence
9.2.2.3. Product Description
9.2.2.4. Regional Presence
9.2.3. Campbell Soup Company
9.2.3.1. Company Overview
9.2.3.2. Business Segment Revenue
9.2.3.3. Product Offering & its Presence
9.2.3.4. Product Description
9.2.3.5. Regional Presence
9.2.4. Califia Farms, LLC
9.2.4.1. Company Overview
9.2.4.2. Product Offering & its Presence
9.2.4.3. Product Description
9.2.4.4. Regional Presence
9.2.5. RISE Brewing Co.
9.2.5.1. Company Overview
9.2.5.2. Business Segment Revenue
9.2.5.3. Product Offering & its Presence
9.2.5.4. Product Description
9.2.5.5. Regional Presence
9.2.6. HP Hood LLC
9.2.6.1. Company Overview
9.2.6.2. Business Segment Revenue
9.2.6.3. Product Offering & its Presence
9.2.6.4. Product Description
9.2.6.5. Regional Presence
9.2.7. Danone
9.2.7.1. Company Overview
9.2.7.2. Product Offering & its Presence
9.2.7.3. Business Segment Revenue
9.2.7.4. Product Description
9.2.7.5. Regional Presence
9.2.8. Elmhurst Milked Direct LLC
9.2.8.1. Company Overview
9.2.8.2. Product Offering & its Presence
9.2.8.3. Product Description
9.2.8.4. Regional Presence
9.2.9. Sanitarium
9.2.9.1. Company Overview
9.2.9.2. Product Offering & its Presence
9.2.9.3. Product Description
9.2.9.4. Regional Presence
9.2.10. Arla Foods amba
9.2.10.1. Company Overview
9.2.10.2. Business Segment Revenue
9.2.10.3. Product Offering & its Presence
9.2.10.4. Product Description
9.2.10.5. Regional Presence

10. Appendix
10.1. Research Methodology
10.2. Report Assumptions
10.3. Acronyms and Abbreviations
BASE YEAR

HISTORICAL DATA

FORECAST PERIOD

UNITS

2020

2018 - 2020

2021 - 2026

Value: US$ Million
REPORT FEATURES

DETAILS

Flavour Coverage

Nature Coverage

Packaging Coverage

Sales Channel Coverage

Supermarket/ Hypermarket

Departmental Stores

Online

Specialty Stores

Geographical Coverage

North America

Europe

Germany

France

U.K.

Spain

Italy

Russia

Rest of Europe

Asia Pacific

India

China

Japan

Australia & New Zealand

Rest of Asia Pacific

Latin America

Brazil

Mexico

Rest of Latin America

Middle East & Africa

Leading Companies

Report Highlights

Key Developments, Market Estimates and Forecast, Market Dynamics, Porter's Five Forces Analysis, Key Developments, Industry Trends, Macroeconomic Factors, Competition Landscape, COVID-19 Impact Analysis