Omega 3 Market Outlook
According to Fairfield Market Research, global omega 3 market was valued at around US$4.4 Bn in 2019 and will reach around US$13 Bn by 2027. The market is projected to register a robust CAGR of 14.6% between 2021 and 2027.
Mushrooming Demand for Nutraceuticals to Drive Global Omega 3 Market
Over the coming years, the worldwide omega 3 market will expand owing to the rising need for food fortification, increased application profiling, and novel product innovations. Consumption of omega 3 fatty acids enhances overall physical performance because of the rising trend of mother and new-born nutrition products. During the forecast period, the omega 3 market is anticipated to experience considerable expansion as consumers are becoming more health conscious, creating large demand for omega 3-based dietary supplement items.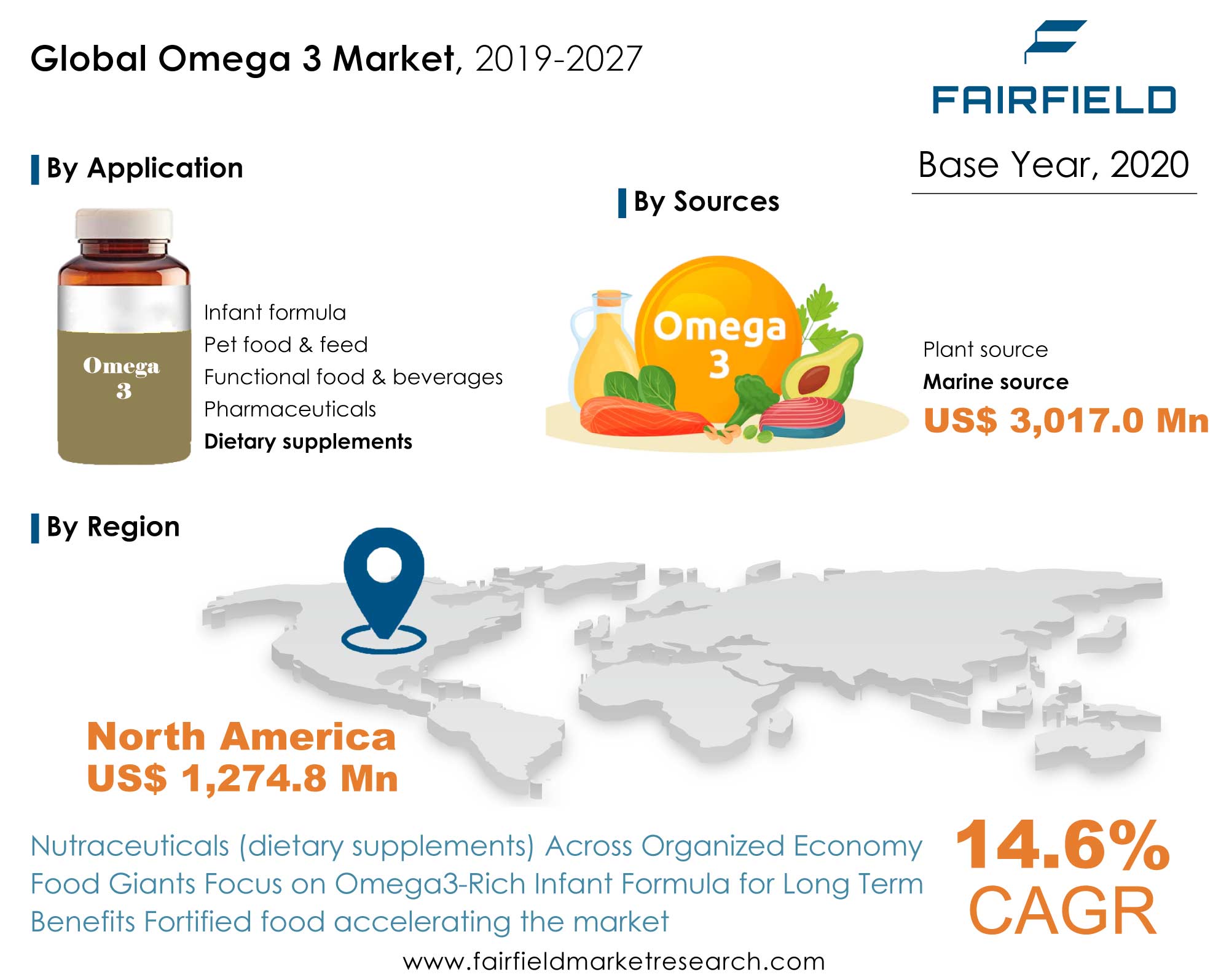 Lack of Clarity Regarding Ideal Daily Intake Remains a Longstanding Challenge Facing Omega 3 Market
The lack of knowledge and awareness among consumers regarding the recommended intake of omega 3 is a significant barrier facing omega 3 market. Although routine intake of omega 3 in the form of dietary supplements, and fortified foods and beverages is widely practiced worldwide, a sizeably large population is unaware of the ideal recommended amount to be consumed on a daily basis. Moreover, although there has been a lot of scientific research, both government and non-government organisations have not been able to determine a precise recommended amount of omega 3 for daily consumption. This will thus remain an important factor influencing the performance of omega 3 market. Omega 3 is a well-known nutritional supplement that can help with a variety of autoimmune diseases, as well as heart-related conditions, and brain function-related ailments. Non-standard dosages may lead to inappropriate dosage, which has very little or no positive effects on health. The situation is more critical in developing countries such as India, China, Brazil, and Argentina, where consumer awareness is low, and they do not have a robust primary healthcare infrastructure.
Increasing Emphasis on Research for Development of Alternative Omega 3 Sources to Influence Omega 3 Market Growth
Consumers worldwide have been paying more attention to items with high omega 3 fatty acid levels, majorly because of the measurably large ageing population, increased risk and prevalence of cardiovascular ailments, and a growing interest in health foods. Dietary supplements are the most alluring, which may be attributed to their conscious consumption as opposed to fatty acids, which are covertly absorbed into meals or beverages. Due to its therapeutic potential to boost immunity and prevent degenerative illnesses like arthritis and inflammatory bowel disease in cats and dogs, omega 3 is also making a comeback in pet nutrition. Fish and farm animals can be fed omega 3 to improve the quality of the meat, eggs, and milk they produce. Omega 3 is also used to enhance animal foods, treats, and supplements. Manufacturers are spending money on goods such as treats, and supplements for pets.
North America Dominant in Global Omega 3 Market, Asia Pacific Reflects the Highest Attractiveness
North America is expected to lead global omega 3 market by the end of 2027. Nonstop product launches, and soaring demand for nutraceuticals are expected to drive North America's omega 3 market. Changing lifestyles and busy schedules, have increased unhealthy habits among consumers in recent years leading to various lifestyle health conditions like inflammatory bowel disease (IBD), and obesity. The market in the US will particularly proliferate on the back of rising consumer base of healthy dietary products, heightening health concerns and awareness among consumers, and widespread availability and accessibility of health food. On the other hand, omega 3 market is rapidly firming up in Asia Pacific and will represent the fastest-growing market anticipating a high CAGR.
Key Competitors in Global Omega 3 Market
The global omega 3 market is highly diversified, and competitive in nature owing to the presence of several local and international manufacturers. Several producers of omega 3 have made huge production facilities available in several countries. Some of the leading players identified in global omega 3 market space include BASF Corporation, Cargill Inc, DSM, Lonza, Corbion, Ingredion Incorporated, Archer-Daniels-Midland Company, Friesland Campina, Kerry PLC, and Olam International Ltd.
The Global Omega 3 Market is Segmented as Below:
Type Coverage
Docosahexaenoic acid (DHA)
Eicosapentaenoic acid (EPA)
Alpha-linolenic acid (ALA)
Application Coverage
Dietary supplements
Functional food & beverages
Pharmaceuticals
Infant formula
Pet food & feed
Sources Coverage
Marine source
Plant source
Geographical Coverage
North America
Europe

Germany
France
UK
Italy
Turkey
Spain
Russia
Rest of Europe

Asia Pacific

China
Japan
South Korea
India
Southeast Asia
Rest of Asia Pacific

Latin America

Brazil
Mexico
Rest of Latin America

Middle East & Africa

GCC
Egypt
Rest of Middle East & Africa
Leading Companies
BASF Corporation
Cargill Inc
DSM
Lonza
Corbion
Ingredion Incorporated
Archer-Daniels-Midland Company
Friesland Campina
Kerry PLC
Olam International Ltd
Inside This Report You Will Find:

1. Executive Summary
2. Market Overview
3. Global Omega 3 Market Outlook, 2019 - 2027
4. North America Omega 3 Market Outlook, 2019 - 2027
5. Europe Omega 3 Market Outlook, 2019 - 2027
6. Asia Pacific Omega 3 Market Outlook, 2019 - 2027
7. Latin America Omega 3 Market Outlook, 2019 - 2027
8. Middle East & Africa Omega 3 Market Outlook, 2019 - 2027
9. Competitive Landscape
10. Appendix
Post Sale Support, Research Updates & Offerings:
We value the trust shown by our customers in Fairfield Market Research. We support our clients through our post sale support, research updates and offerings.
The report will be prepared in a PPT format and will be delivered in a PDF format.
Additionally, Market Estimation and Forecast numbers will be shared in Excel Workbook.
If a report being sold was published over a year ago, we will offer a complimentary copy of the updated research report along with Market Estimation and Forecast numbers within 2-3 weeks' time of the sale.
If we update this research study within the next 2 quarters, post purchase of the report, we will offer a Complimentary copy of the updated Market Estimation and Forecast numbers in Excel Workbook.
If there is a geopolitical conflict, pandemic, recession, and the like which can impact global economic scenario and business activity, which might entirely alter the market dynamics or future projections in the industry, we will create a Research Update upon your request at a nominal charge.
1. Executive Summary
1.1. Global Omega 3 Market Snapshot
1.2. Future Projections
1.3. Key Market Trends
1.4. Analyst Recommendations

2. Market Overview
2.1. Market Definitions
2.2. Market Taxonomy
2.3. Market Dynamics
2.3.1. Drivers
2.3.2. Restraints
2.4. Value Chain Analysis
2.5. Porter's Five Forces Analysis
2.6. COVID-19 Impact Analysis
2.7. Key Patents

3. Global Omega 3 Market Outlook, 2019 - 2027
3.1. Global Omega 3 Market Outlook, by Type, Value (US$ '000), 2019 - 2027
3.1.1. Key Highlights
3.1.1.1. Docosahexaenoic acid (DHA)
3.1.1.2. Eicosapentaenoic acid (EPA)
3.1.1.3. Alpha-linolenic acid (ALA)
3.1.2. BPS Analysis/Market Attractiveness Analysis
3.2. Global Omega 3 Market Outlook, by Sources, Value (US$ '000), 2019 - 2027
3.2.1. Key Highlights
3.2.1.1. Marine source
3.2.1.2. Plant source
3.2.2. BPS Analysis/Market Attractiveness Analysis
3.3. Global Omega 3 Market Outlook, by Application, Value (US$ '000), 2019 - 2027
3.3.1. Key Highlights
3.3.1.1. Dietary supplements
3.3.1.2. Functional food & beverages
3.3.1.3. Pharmaceuticals
3.3.1.4. Infant formula
3.3.1.5. Pet food & feed
3.3.2. BPS Analysis/Market Attractiveness Analysis
3.4. Global Omega 3 Market Outlook, by Region, Value (US$ '000), 2019 - 2027
3.4.1. Key Highlights
3.4.1.1. North America
3.4.1.2. Europe
3.4.1.3. Asia Pacific
3.4.1.4. Latin America
3.4.1.5. Middle East & Africa
3.4.2. BPS Analysis/Market Attractiveness Analysis

4. North America Omega 3 Market Outlook, 2019 - 2027
4.1. North America Omega 3 Market Outlook, by Type, Value (US$ '000), 2019 - 2027
4.1.1. Key Highlights
4.1.1.1. Docosahexaenoic acid (DHA)
4.1.1.2. Eicosapentaenoic acid (EPA)
4.1.1.3. Alpha-linolenic acid (ALA)
4.1.2. BPS Analysis/Market Attractiveness Analysis
4.2. North America Omega 3 Market Outlook, by Sources, Value (US$ '000), 2019 - 2027
4.2.1. Key Highlights
4.2.1.1. Marine source
4.2.1.2. Plant source
4.2.2. BPS Analysis/Market Attractiveness Analysis
4.3. North America Omega 3 Market Outlook, by Application, Value (US$ '000), 2019 - 2027
4.3.1. Key Highlights
4.3.1.1. Dietary supplements
4.3.1.2. Functional food & beverages
4.3.1.3. Pharmaceuticals
4.3.1.4. Infant formula
4.3.1.5. Pet food & feed
4.3.2. BPS Analysis/Market Attractiveness Analysis
4.4. North America Omega 3 Market Outlook, by Country, Value (US$ '000), 2019 - 2027
4.4.1. Key Highlights
4.4.1.1. U.S. Omega 3 Market by Value (US$ '000), 2019 - 2027
4.4.1.2. Canada Omega 3 Market by Value (US$ '000), 2019 - 2027
4.4.2. BPS Analysis/Market Attractiveness Analysis

5. Europe Omega 3 Market Outlook, 2019 - 2027
5.1. Europe Omega 3 Market Outlook, by Type, Value (US$ '000), 2019 - 2027
5.1.1. Key Highlights
5.1.1.1. Docosahexaenoic acid (DHA)
5.1.1.2. Eicosapentaenoic acid (EPA)
5.1.1.3. Alpha-linolenic acid (ALA)
5.1.2. BPS Analysis/Market Attractiveness Analysis
5.2. Europe Omega 3 Market Outlook, by Sources, Value (US$ '000), 2019 - 2027
5.2.1. Key Highlights
5.2.1.1. Marine source
5.2.1.2. Plant source
5.2.2. BPS Analysis/Market Attractiveness Analysis
5.3. Europe Omega 3 Market Outlook, by Application, Value (US$ '000), 2019 - 2027
5.3.1. Key Highlights
5.3.1.1. Dietary supplements
5.3.1.2. Functional food & beverages
5.3.1.3. Pharmaceuticals
5.3.1.4. Infant formula
5.3.1.5. Pet food & feed
5.3.2. BPS Analysis/Market Attractiveness Analysis
5.4. Europe Omega 3 Market Outlook, by Country, Value (US$ '000), 2019 - 2027
5.4.1. Key Highlights
5.4.1.1. Germany Omega 3 Market by Value (US$ '000), 2019 - 2027
5.4.1.2. France Omega 3 Market by Product, Value (US$ '000), 2019 - 2027
5.4.1.3. U.K. Omega 3 Market by Value (US$ '000), 2019 - 2027
5.4.1.4. Italy Omega 3 Market by Value (US$ '000), 2019 - 2027
5.4.1.5. Spain Omega 3 Market by Product, Value (US$ '000), 2019 - 2027
5.4.1.6. Rest of Europe Omega 3 Market Value (US$ '000), 2019 - 2027
5.4.2. BPS Analysis/Market Attractiveness Analysis

6. Asia Pacific Omega 3 Market Outlook, 2019 - 2027
6.1. Asia Pacific Omega 3 Market Outlook, by Type, Value (US$ '000), 2019 - 2027
6.1.1. Key Highlights
6.1.1.1. Docosahexaenoic acid (DHA)
6.1.1.2. Eicosapentaenoic acid (EPA)
6.1.1.3. Alpha-linolenic acid (ALA)
6.1.2. BPS Analysis/Market Attractiveness Analysis
6.2. Asia Pacific Omega 3 Market Outlook, by Sources, Value (US$ '000), 2019 - 2027
6.2.1. Key Highlights
6.2.1.1. Marine source
6.2.1.2. Plant source
6.2.2. BPS Analysis/Market Attractiveness Analysis
6.3. Asia Pacific Omega 3 Market Outlook, by Application, Value (US$ '000), 2019 - 2027
6.3.1. Key Highlights
6.3.1.1. Dietary supplements
6.3.1.2. Functional food & beverages
6.3.1.3. Pharmaceuticals
6.3.1.4. Infant formula
6.3.1.5. Pet food & feed
6.3.2. BPS Analysis/Market Attractiveness Analysis
6.4. Asia Pacific Omega 3 Market Outlook, by Country, Value (US$ '000), 2019 - 2027
6.4.1. Key Highlights
6.4.1.1. India Omega 3 Market by Value (US$ '000), 2019 - 2027
6.4.1.2. China Omega 3 Market by Value (US$ '000), 2019 - 2027
6.4.1.3. Japan Omega 3 Market by Value (US$ '000), 2019 - 2027
6.4.1.4. Australia & New Zealand Omega 3 Market Value (US$ '000), 2019 - 2027
6.4.1.5. Rest of Asia Pacific Market by Value (US$ '000), 2019 - 2027
6.4.2. BPS Analysis/Market Attractiveness Analysis

7. Latin America Omega 3 Market Outlook, 2019 - 2027
7.1. Latin America Omega 3 Market Outlook, by Type, Value (US$ '000), 2019 - 2027
7.1.1. Key Highlights
7.1.1.1. Docosahexaenoic acid (DHA)
7.1.1.2. Eicosapentaenoic acid (EPA)
7.1.1.3. Alpha-linolenic acid (ALA)
7.1.2. BPS Analysis/Market Attractiveness Analysis
7.2. Latin America Omega 3 Market Outlook, by Sources, Value (US$ '000), 2019 - 2027
7.2.1. Key Highlights
7.2.1.1. Marine source
7.2.1.2. Plant source
7.2.2. BPS Analysis/Market Attractiveness Analysis
7.3. Latin America Omega 3 Market Outlook, by Application, Value (US$ '000), 2019 - 2027
7.3.1. Key Highlights
7.3.1.1. Dietary supplements
7.3.1.2. Functional food & beverages
7.3.1.3. Pharmaceuticals
7.3.1.4. Infant formula
7.3.1.5. Pet food & feed
7.3.2. BPS Analysis/Market Attractiveness Analysis
7.4. Latin America Omega 3 Market Outlook, by Country, Value (US$ '000), 2019 - 2027
7.4.1. Key Highlights
7.4.1.1. Brazil Omega 3 Market by Value (US$ '000), 2019 - 2027
7.4.1.2. Mexico Omega 3 Market by Value (US$ '000), 2019 - 2027
7.4.1.3. Rest of Latin America Omega 3 Market by Value (US$ '000), 2019 - 2027
7.4.2. BPS Analysis/Market Attractiveness Analysis

8. Middle East & Africa Omega 3 Market Outlook, 2019 - 2027
8.1. Middle East & Africa Omega 3 Market Outlook, by Type, Value (US$ '000), 2019 - 2027
8.1.1. Key Highlights
8.1.1.1. Docosahexaenoic acid (DHA)
8.1.1.2. Eicosapentaenoic acid (EPA)
8.1.1.3. Alpha-linolenic acid (ALA)
8.1.2. BPS Analysis/Market Attractiveness Analysis
8.2. Middle East & Africa Omega 3 Market Outlook, by Sources, Value (US$ '000), 2019 - 2027
8.2.1. Key Highlights
8.2.1.1. Marine source
8.2.1.2. Plant source
8.2.2. BPS Analysis/Market Attractiveness Analysis
8.3. Middle East & Africa Omega 3 Market Outlook, by Application, Value (US$ '000), 2019 - 2027
8.3.1. Key Highlights
8.3.1.1. Dietary supplements
8.3.1.2. Functional food & beverages
8.3.1.3. Pharmaceuticals
8.3.1.4. Infant formula
8.3.1.5. Pet food & feed
8.3.2. BPS Analysis/Market Attractiveness Analysis
8.4. Middle East & Africa Omega 3 Market Outlook, by Country, Value (US$ '000), 2019 - 2027
8.4.1. Key Highlights
8.4.1.1. GCC Omega 3 Market by Value (US$ '000), 2019 - 2027
8.4.1.2. South Africa Omega 3 Market by Value (US$ '000), 2019 - 2027
8.4.1.3. Rest of Middle East & Africa Omega 3 Market by Value (US$ '000), 2019 - 2027
8.4.2. BPS Analysis/Market Attractiveness Analysis

9. Competitive Landscape
9.1. Company Market Share Analysis, 2021
9.2. Company Profiles
9.2.1. BASF Corporation
9.2.1.1. Company Overview
9.2.1.2. Key Retailing Partners
9.2.1.3. Business Segment Revenue
9.2.1.4. Ingredient Overview
9.2.1.5. Product Offering & its Presence
9.2.1.6. Certifications & Claims
9.2.2. Cargill Inc
9.2.3. DSM
9.2.4. Lonza
9.2.5. Corbion
9.2.6. Ingredion Incorporated
9.2.7. Archer-Daniels-Midland Company
9.2.8. Friesland Campina
9.2.9. Kerry PLC
9.2.10. Olam International Ltd

10. Appendix
10.1. Research Methodology
10.2. Report Assumptions
10.3. Acronyms and Abbreviations
BASE YEAR

HISTORICAL DATA

FORECAST PERIOD

UNITS

2020

2019 - 2020

2021 - 2027

Value: US$ Million
REPORT FEATURES

DETAILS

Type Coverage

Docosahexaenoic acid (DHA)

Eicosapentaenoic acid (EPA)

Alpha-linolenic acid (ALA)

Application Coverage

Sources Coverage

Marine source

Plant source

Geographical Coverage

North America

Europe

Germany

France

U.K.

Italy

Turkey

Spain

Russia

Rest of Europe

Asia Pacific

China

Japan

South Korea

India

Southeast Asia

Rest of Asia Pacific

Latin America

Brazil

Mexico

Rest of Latin America

Middle East & Africa

Leading Companies

Report Highlights

Market Estimates and Forecast, Market Dynamics, Industry Trends, Competition Landscape, Product-, Application-, Region-, Country-wise Trends & Analysis, COVID-19 Impact Analysis, Key Trends