By the end of forecast year 2029, global particle counter market is likely to reach past US$661 Mn. COVID-19 pandemic has rather played out as a major booster to market growth and sales remain on a upswing with growing significance of the quality of air.
Particle Counter Market Picks up Pace as Adoption of Cleanroom Environment Monitoring Process
A particle counter is used for monitoring and diagnosing particle contamination within specific clean media, including air, water, and chemicals. Particle counters are used in a variety of applications in support of clean manufacturing practices, industries include electronic components and assemblies, pharmaceutical drug products and medical devices, and industrial technologies such as oil and gas. Particle counters are aggressively utilised to observe ascending demand with growing application in monitoring of air quality, and contamination of liquids. Research affirms that up from the year-over-year growth of 8% recorded in 2020, global particle counter market registered 10% growth in 2021, which is predominantly attributed to notably soaring demand from healthcare industry, especially for cleanroom monitoring application.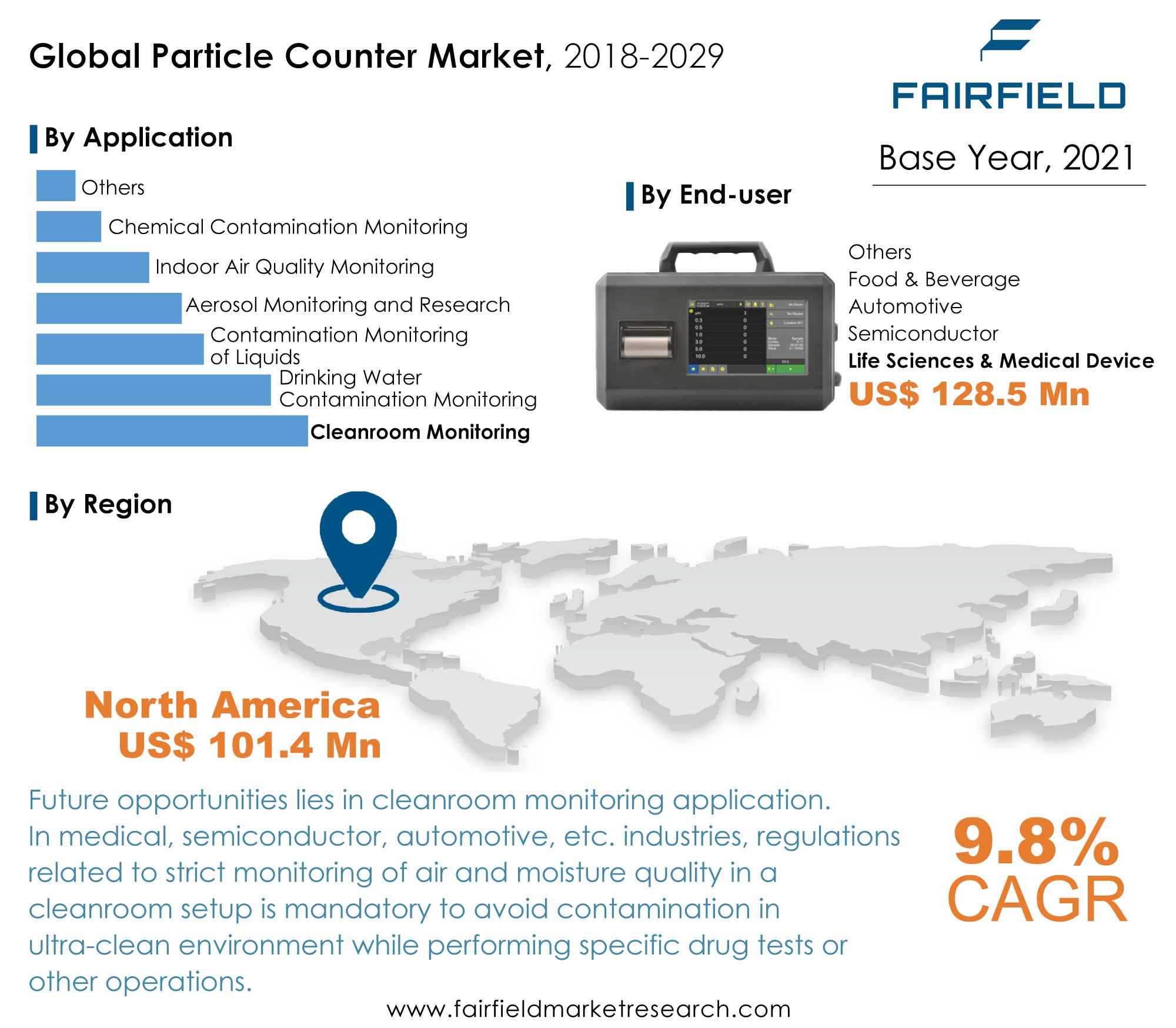 COVID-19 Outbreak Created a Demand Surge in Particle Counter Market
Increasing need for assurance over the integrity of ambient air quality is expected to sustain particle counter sales in future. Rising demand from life sciences, and semiconductor industries will further provide an impetus to sales growth in global market. Regulatory guidelines regarding indoor air quality maintenance continue to push the significance of the knowledge of air particle concentration in cleanroom environments, and other workplaces. This has been recently favouring the progress of particle counter market. While the pandemic situation created a stream of opportunities for particle counter brands worldwide, growing application of particle counter machines in drug development and testing procedures will provide a heavy impetus to particle counter market.
In line with the various mandatory quality certifications provided by authorities like National Safety and Quality Health Standards (NSQHS), and International Organization for Standardization (ISO), the manufacturing sector continues to respond to the regulatory requisites for its products, services, and processes. Other prominent end users, including research laboratories, hospitals, diagnostic centres, medical devices, and speciality centres, and diagnostic centres further strengthen the potential of particle counter market. Airborne particle counters currently register the maximum adoption worldwide, whereas portable particle counters have been witnessing escalating demand from some of the emerging end-use segments like automotive, aerospace, oil and gas, and food and beverages.
Sales of Portable Airborne Particle Counter Lead in Particle Counter Market
In terms of type, airborne particle counters dominated the market and constituted more than 55% in 2021. Airborne particle counter is further segregated into portable, remote, handheld, and condensation/ultrafine. Currently, airborne particle counters represent the most attractive category in particle counter market. Air particle testing is highly dependent on particle counters with precise accuracy. Portable, remote, and handheld particle counters with ultra-high accuracy are being developed to cater to the demand across various end-use industries. High flow rate, and sensitivity are driving demand for airborne portable particle counters across the globe and will follow the same trend over the forecast period. Liquid particle counters are used to determine the quality of the liquid passing through them. The size and the number of particles can determine if the liquid is clean enough to be used for the designed application.
Life Sciences & Medical Devices Hold a Prominent Share in Particle Counter Market Along with Semiconductor Industry
In 2021, life sciences & medical devices segment dominated particle counter market, constituting around 42% share. Particle counters are primarily used in medical/pharmaceutical industry to determine the air quality by counting and sizing the number of particles in the air. Hospitals that are one of the most tightly controlled spaces in terms of monitoring the indoor environment thus remain an important consumer category. Consumers in medical devices, life sciences, and biotechnology sectors continue to register considerably high adoption, contributing heavy shares to global particle counter market. Growing stringency of quality and safety measures associated with the manufacturing of medical devices will remain responsible for pushing the usage of particle counters by medical device makers.
In the face of an increasing number of product recalls in medical device categories, portable particle counters are expected to penetrate deeper to ensure product quality, safety, and integrity. The thriving pharmaceuticals industry, especially an influx of R&D investments, remains one of the key factors driving demand for particle counters worldwide. In semiconductor industry, particle counters are used in a variety of applications in support of clean manufacturing practices, electronic components manufacturing and assembly. Growing concern regarding semiconductor chip shortage in automotive industry is expected to benefit particle counter market over the next few years.
Increasing Demand in Cleanroom Monitoring Application Stimulates Particle Counter Market
In terms of application, cleanroom monitoring dominated particle counter market and constituted over 35% share in 2021. Increasing usage of cleanroom technology across a host of industry verticals is also likely to be an incessant push for particle counter market during the period of forecast. While production of pharmaceutical products involves substantial contamination risks, especially fungal, there is always a chance of compromised integrity, and altered shelf-life of products. Inadequate quality and process control, and lack of testing standardisation prevail, which can be hazardous to the entire process, as well as outcome. This scenario will continue to push the penetration potential of particle counters in pharma domain.
North America Leads while Asia Pacific Promises a Hub of Opportunities Through 2029
North America dominated global particle counter market in 2021. The region constituted 33% share in 2021 by value. The US is the dominant nation active in particle counter market. Using a nationwide network of monitoring sites, EPA has developed ambient air quality trends for particle pollution, also called the Particulate Matter (PM). PM2.5 describes fine inhalable particles, with diameters that are generally 2.5 micrometres and smaller. Under the Clean Air Act, EPA sets and reviews national air quality standards for PM. Air quality monitors major concentrations of PM throughout the country.
In Asia Pacific, especially in China, and India, increasing need for counting airborne particles in the pharmaceutical industry is propelling the growth of particle counter market. Rise in industrialisation is expected to benefit sales of particle counters, especially in R&D centres, and cleanroom monitoring requirements. China has a dominant manufacturing industry. China utilises a majority of airborne particle counters in different end-use industries. India is a dominant player in pharma, and drug development and thus the sales of particle counter in pharma industry in India is expected to rise in the next few years. Pharmaceutical particle counters help maintain ultimate conditions for effective pharmaceutical product manufacturing and development.
Both the Middle East and Africa, and Latin America are expected to register significant growth over the forecast period. In Africa, Air and Lab Products Africa introduced Nano Count Liquid Particle Counters. The Nano Count line of UPW Liquid Particle Counters has the lowest false count rate and is focused on true sensitivity. In the Middle East and Africa, the rise in cost, the stringent regulations imposed, and the cleanroom particle counter being inaccessible to developing countries are the restraints that remain the key hindrances facing particle counter market in terms of long-term growth. Countries in Latin America, especially Brazil, and Argentina represent the emerging markets for sales of particle counters across several end-use industries.
Particle Counter Market Competition Analysis
Some of the key players in global particle counter market include Climet Instruments Company, Palas GmbH, Particle Measuring Systems, Setra System, TSI, Fluke Corporation, PAMAS Partikelmess- und Analysesysteme GmbH, Lighthouse Worldwide Solutions, Kanomax USA, Inc., and RION Co., LTD.
In July 2022, Particle Measuring Systems announced the Ultra DI® 20 Plus for unsurpassed sensitivity, and new applications in ultrapure water contamination monitoring. The same month, TSI Expands its Outdoor Environmental Air Quality Monitor Portfolio with BlueSky™ Model 8145.
The Global Particle Counter Market is Segmented as Below:
By Type Coverage
Airborne Particle Counters

Portable
Remote
Handheld
Condensation/Ultrafine

Liquid Particle Counter
By Application Coverage
Cleanroom Monitoring
Drinking Water Contamination Monitoring
Aerosol Monitoring and Research
Indoor Air Quality Monitoring
Contamination Monitoring of Liquids
Chemical Contamination Monitoring
Others
By End-user Coverage
Life Sciences & Medical Device
Semiconductor
Automotive
Aerospace
Food & Beverage
Others
By Geographical Coverage
North America
Europe

Germany
U.K.
France
Italy
Russia & CIS
Rest of Europe

Asia Pacific

China
Japan
India
Australia
Rest of Asia Pacific

Latin America

Brazil
Argentina
Rest of Latin America

Middle East & Africa

GCC
South Africa
Rest of Middle East & Africa
Leading Companies
Climet Instruments Company
Palas GmbH
Particle Measuring Systems
Setra System
TSI
Fluke Corporation
PAMAS Partikelmess- und Analysesysteme GmbH
Lighthouse Worldwide Solutions
Kanomax USA, Inc.
RION Co., LTD.
Inside This Report You Will Find:
1. Executive Summary
2. Market Overview
3. Price Trends Analysis and Future Projects, 2018 - 2029
4. Global Particle Counter Market Outlook, 2018 - 2029
5. North America Particle Counter Market Outlook, 2018 - 2029
6. Europe Particle Counter Market Outlook, 2018 - 2029
7. Asia Pacific Particle Counter Market Outlook, 2018 - 2029
8. Latin America Particle Counter Market Outlook, 2018 - 2029
9. Middle East & Africa Particle Counter Market Outlook, 2018 - 2029
10. Competitive Landscape
11. Appendix
Post Sale Support, Research Updates & Offerings:
We value the trust shown by our customers in Fairfield Market Research. We support our clients through our post sale support, research updates and offerings.
The report will be prepared in a PPT format and will be delivered in a PDF format.
Additionally, Market Estimation and Forecast numbers will be shared in Excel Workbook.
If a report being sold was published over a year ago, we will offer a complimentary copy of the updated research report along with Market Estimation and Forecast numbers within 2-3 weeks' time of the sale.
If we update this research study within the next 2 quarters, post purchase of the report, we will offer a Complimentary copy of the updated Market Estimation and Forecast numbers in Excel Workbook.
If there is a geopolitical conflict, pandemic, recession, and the like which can impact global economic scenario and business activity, which might entirely alter the market dynamics or future projections in the industry, we will create a Research Update upon your request at a nominal charge.
1. Executive Summary
1.1. Global Particle Counter Market Snapshot
1.2. Future Projections
1.3. Key Market Trends
1.4. Analyst Recommendations

2. Market Overview
2.1. Market Definitions and Segmentations
2.2. Market Dynamics
2.2.1. Drivers
2.2.2. Restraints
2.2.3. Market Opportunities
2.2.4. Economic Trends
2.3. Value Chain Analysis
2.4. Porter's Five Forces Analysis
2.5. Covid-19 Impact
2.5.1. Supply Chain
2.5.2. End-user Customer Impact Analysis

3. Price Trends Analysis and Future Projects, 2018 - 2029

4. Global Particle Counter Market Outlook, 2018 - 2029
4.1. Global Particle Counter Market Outlook, by Type, Volume (Units) and Value (US$ Mn), 2018 - 2029
4.1.1. Key Highlights
4.1.1.1. Airborne Particle Counters
4.1.1.1.1. Portable
4.1.1.1.2. Remote
4.1.1.1.3. Handheld
4.1.1.1.4. Condensation/Ultrafine
4.1.1.2. Liquid Particle Counter
4.1.1.2.1. Online/Inline
4.1.1.2.2. Offline
4.1.2. BPS Analysis/Market Attractiveness Analysis, by Type
4.2. Global Particle Counter Market Outlook, by Application, Volume (Units) and Value (US$ Mn), 2018 - 2029
4.2.1. Key Highlights
4.2.1.1. Cleanroom Monitoring
4.2.1.2. Drinking Water Contamination Monitoring
4.2.1.3. Aerosol Monitoring and Research
4.2.1.4. Indoor Air Quality Monitoring
4.2.1.5. Contamination Monitoring of Liquids
4.2.1.6. Chemical Contamination Monitoring
4.2.1.7. Others
4.2.2. BPS Analysis/Market Attractiveness Analysis, by Application
4.3. Global Particle Counter Market Outlook, by End-user, Volume (Units) and Value (US$ Mn), 2018 - 2029
4.3.1. Key Highlights
4.3.1.1. Life Sciences & Medical Device
4.3.1.2. Semiconductor
4.3.1.3. Automotive
4.3.1.4. Aerospace
4.3.1.5. Food & Beverage
4.3.1.6. Others
4.3.2. BPS Analysis/Market Attractiveness Analysis, by End-user
4.4. Global Particle Counter Market Outlook, by Region, Volume (Units) and Value (US$ Mn), 2018 - 2029
4.4.1. Key Highlights
4.4.1.1. North America
4.4.1.2. Europe
4.4.1.3. Asia Pacific
4.4.1.4. Latin America
4.4.1.5. Middle East & Africa
4.4.2. BPS Analysis/Market Attractiveness Analysis, by Region

5. North America Particle Counter Market Outlook, 2018 - 2029
5.1. North America Particle Counter Market Outlook, by Type, Volume (Units) and Value (US$ Mn), 2018 - 2029
5.1.1. Key Highlights
5.1.1.1. Airborne Particle Counters
5.1.1.1.1. Portable
5.1.1.1.2. Remote
5.1.1.1.3. Handheld
5.1.1.1.4. Condensation/Ultrafine
5.1.1.2. Liquid Particle Counter
5.1.1.2.1. Online/Inline
5.1.1.2.2. Offline
5.2. North America Particle Counter Market Outlook, by Application, Volume (Units) and Value (US$ Mn), 2018 - 2029
5.2.1. Key Highlights
5.2.1.1. Cleanroom Monitoring
5.2.1.2. Drinking Water Contamination Monitoring
5.2.1.3. Aerosol Monitoring and Research
5.2.1.4. Indoor Air Quality Monitoring
5.2.1.5. Contamination Monitoring of Liquids
5.2.1.6. Chemical Contamination Monitoring
5.2.1.7. Others
5.3. North America Particle Counter Market Outlook, by End-user, Volume (Units) and Value (US$ Mn), 2018 - 2029
5.3.1. Key Highlights
5.3.1.1. Life Sciences & Medical Device
5.3.1.2. Semiconductor
5.3.1.3. Automotive
5.3.1.4. Aerospace
5.3.1.5. Food & Beverage
5.3.1.6. Others
5.4. North America Particle Counter Market Outlook, by Country, Volume (Units) and Value (US$ Mn), 2018 - 2029
5.4.1. Key Highlights
5.4.1.1. U.S. Particle Counter Market, Volume (Units) and Value (US$ Mn), by Type, Application, End-user, 2018 - 2029
5.4.1.2. Canada Particle Counter Market, Volume (Units) and Value (US$ Mn), by Type, Application, End-user, 2018 - 2029

6. Europe Particle Counter Market Outlook, 2018 - 2029
6.1. Europe Particle Counter Market Outlook, by Type, Volume (Units) and Value (US$ Mn), 2018 - 2029
6.1.1. Key Highlights
6.1.1.1. Airborne Particle Counters
6.1.1.1.1. Portable
6.1.1.1.2. Remote
6.1.1.1.3. Handheld
6.1.1.1.4. Condensation/Ultrafine
6.1.1.2. Liquid Particle Counter
6.1.1.2.1. Online/Inline
6.1.1.2.2. Offline
6.2. Europe Particle Counter Market Outlook, by Application, Volume (Units) and Value (US$ Mn), 2018 - 2029
6.2.1. Key Highlights
6.2.1.1. Cleanroom Monitoring
6.2.1.2. Drinking Water Contamination Monitoring
6.2.1.3. Aerosol Monitoring and Research
6.2.1.4. Indoor Air Quality Monitoring
6.2.1.5. Contamination Monitoring of Liquids
6.2.1.6. Chemical Contamination Monitoring
6.2.1.7. Others
6.3. Europe Particle Counter Market Outlook, by End-user, Volume (Units) and Value (US$ Mn), 2018 - 2029
6.3.1. Key Highlights
6.3.1.1. Life Sciences & Medical Device
6.3.1.2. Semiconductor
6.3.1.3. Automotive
6.3.1.4. Aerospace
6.3.1.5. Food & Beverage
6.3.1.6. Others
6.4. Europe Particle Counter Market Outlook, by Country, Volume (Units) and Value (US$ Mn), 2018 - 2029
6.4.1. Key Highlights
6.4.1.1. Germany Particle Counter Market, Volume (Units) and Value (US$ Mn), by Type, Application, End-user, 2018 - 2029
6.4.1.2. U.K. Particle Counter Market, Volume (Units) and Value (US$ Mn), by Type, Application, End-user, 2018 - 2029
6.4.1.3. France Particle Counter Market, Volume (Units) and Value (US$ Mn), by Type, Application, End-user, 2018 - 2029
6.4.1.4. Italy Particle Counter Market, Volume (Units) and Value (US$ Mn), by Type, Application, End-user, 2018 - 2029
6.4.1.5. Russia & CIS Particle Counter Market, Volume (Units) and Value (US$ Mn), by Type, Application, End-user, 2018 - 2029
6.4.1.6. Rest of Europe Particle Counter Market, Volume (Units) and Value (US$ Mn), by Type, Application, End-user, 2018 - 2029

7. Asia Pacific Particle Counter Market Outlook, 2018 - 2029
7.1. Asia Pacific Particle Counter Market Outlook, by Type, Volume (Units) and Value (US$ Mn), 2018 - 2029
7.1.1. Key Highlights
7.1.1.1. Airborne Particle Counters
7.1.1.1.1. Portable
7.1.1.1.2. Remote
7.1.1.1.3. Handheld
7.1.1.1.4. Condensation/Ultrafine
7.1.1.2. Liquid Particle Counter
7.1.1.2.1. Online/Inline
7.1.1.2.2. Offline
7.2. Asia Pacific Particle Counter Market Outlook, by Application, Volume (Units) and Value (US$ Mn), 2018 - 2029
7.2.1. Key Highlights
7.2.1.1. Cleanroom Monitoring
7.2.1.2. Drinking Water Contamination Monitoring
7.2.1.3. Aerosol Monitoring and Research
7.2.1.4. Indoor Air Quality Monitoring
7.2.1.5. Contamination Monitoring of Liquids
7.2.1.6. Chemical Contamination Monitoring
7.2.1.7. Others
7.3. Asia Pacific Particle Counter Market Outlook, by End-user, Volume (Units) and Value (US$ Mn), 2018 - 2029
7.3.1. Key Highlights
7.3.1.1. Life Sciences & Medical Device
7.3.1.2. Semiconductor
7.3.1.3. Automotive
7.3.1.4. Aerospace
7.3.1.5. Food & Beverage
7.3.1.6. Others
7.4. Asia Pacific Particle Counter Market Outlook, by Country, Volume (Units) and Value (US$ Mn), 2018 - 2029
7.4.1. Key Highlights
7.4.1.1. China Particle Counter Market, Volume (Units) and Value (US$ Mn), by Type, Application, End-user, 2018 - 2029
7.4.1.2. Japan Particle Counter Market, Volume (Units) and Value (US$ Mn), by Type, Application, End-user, 2018 - 2029
7.4.1.3. India Particle Counter Market, Volume (Units) and Value (US$ Mn), by Type, Application, End-user, 2018 - 2029
7.4.1.4. Australia Particle Counter Market, Volume (Units) and Value (US$ Mn), by Type, Application, End-user, 2018 - 2029
7.4.1.5. Rest of Asia Pacific Particle Counter Market, Volume (Units) and Value (US$ Mn), by Type, Application, End-user, 2018 - 2029


8. Latin America Particle Counter Market Outlook, 2018 - 2029
8.1. Latin America Particle Counter Market Outlook, by Type, Volume (Units) and Value (US$ Mn), 2018 - 2029
8.1.1. Key Highlights
8.1.1.1. Airborne Particle Counters
8.1.1.1.1. Portable
8.1.1.1.2. Remote
8.1.1.1.3. Handheld
8.1.1.1.4. Condensation/Ultrafine
8.1.1.2. Liquid Particle Counter
8.1.1.2.1. Online/Inline
8.1.1.2.2. Offline
8.2. Latin America Particle Counter Market Outlook, by Application, Volume (Units) and Value (US$ Mn), 2018 - 2029
8.2.1. Key Highlights
8.2.1.1. Cleanroom Monitoring
8.2.1.2. Drinking Water Contamination Monitoring
8.2.1.3. Aerosol Monitoring and Research
8.2.1.4. Indoor Air Quality Monitoring
8.2.1.5. Contamination Monitoring of Liquids
8.2.1.6. Chemical Contamination Monitoring
8.2.1.7. Others
8.3. Latin America Particle Counter Market Outlook, by End-user, Volume (Units) and Value (US$ Mn), 2018 - 2029
8.3.1. Key Highlights
8.3.1.1. Life Sciences & Medical Device
8.3.1.2. Semiconductor
8.3.1.3. Automotive
8.3.1.4. Aerospace
8.3.1.5. Food & Beverage
8.3.1.6. Others
8.4. Latin America Particle Counter Market Outlook, by Country, Volume (Units) and Value (US$ Mn), 2018 - 2029
8.4.1. Key Highlights
8.4.1.1. Brazil Particle Counter Market, Volume (Units) and Value (US$ Mn), by Type, Application, End-user, 2018 - 2029
8.4.1.2. Argentina Particle Counter Market, Volume (Units) and Value (US$ Mn), by Type, Application, End-user, 2018 - 2029
8.4.1.3. Rest of Latin America Particle Counter Market, Volume (Units) and Value (US$ Mn), by Type, Application, End-user, 2018 - 2029

9. Middle East & Africa Particle Counter Market Outlook, 2018 - 2029
9.1. Middle East & Africa Particle Counter Market Outlook, by Type, Volume (Units) and Value (US$ Mn), 2018 - 2029
9.1.1. Key Highlights
9.1.1.1. Airborne Particle Counters
9.1.1.1.1. Portable
9.1.1.1.2. Remote
9.1.1.1.3. Handheld
9.1.1.1.4. Condensation/Ultrafine
9.1.1.2. Liquid Particle Counter
9.1.1.2.1. Online/Inline
9.1.1.2.2. Offline
9.2. Middle East & Africa Particle Counter Market Outlook, by Application, Volume (Units) and Value (US$ Mn), 2018 - 2029
9.2.1. Key Highlights
9.2.1.1. Cleanroom Monitoring
9.2.1.2. Drinking Water Contamination Monitoring
9.2.1.3. Aerosol Monitoring and Research
9.2.1.4. Indoor Air Quality Monitoring
9.2.1.5. Contamination Monitoring of Liquids
9.2.1.6. Chemical Contamination Monitoring
9.2.1.7. Others
9.3. Middle East & Africa Particle Counter Market Outlook, by End-user, Volume (Units) and Value (US$ Mn), 2018 - 2029
9.3.1. Key Highlights
9.3.1.1. Life Sciences & Medical Device
9.3.1.2. Semiconductor
9.3.1.3. Automotive
9.3.1.4. Aerospace
9.3.1.5. Food & Beverage
9.3.1.6. Others
9.4. Middle East & Africa Particle Counter Market Outlook, by Country, Volume (Units) and Value (US$ Mn), 2018 - 2029
9.4.1. Key Highlights
9.4.1.1. GCC Particle Counter Market, Volume (Units) and Value (US$ Mn), by Type, Application, End-user, 2018 - 2029
9.4.1.2. South Africa Particle Counter Market, Volume (Units) and Value (US$ Mn), by Type, Application, End-user, 2018 - 2029
9.4.1.3. Rest of Middle East & Africa Particle Counter Market, Volume (Units) and Value (US$ Mn), by Type, Application, End-user, 2018 - 2029

10. Competitive Landscape
10.1. Company Market Share Analysis, 2021
10.2. Strategic Collaborations
10.3. Company Profiles
10.3.1. Climet Instruments Company
10.3.1.1. Company Overview
10.3.1.2. Product Portfolio
10.3.1.3. Financial Overview
10.3.1.4. Business Strategies and Development
10.3.2. Palas GmbH
10.3.2.1. Company Overview
10.3.2.2. Product Portfolio
10.3.2.3. Financial Overview
10.3.2.4. Business Strategies and Development
10.3.3. Particle Measuring Systems
10.3.3.1. Company Overview
10.3.3.2. Product Portfolio
10.3.3.3. Financial Overview
10.3.3.4. Business Strategies and Development
10.3.4. Setra System
10.3.4.1. Company Overview
10.3.4.2. Product Portfolio
10.3.4.3. Financial Overview
10.3.4.4. Business Strategies and Development
10.3.5. TSI
10.3.5.1. Company Overview
10.3.5.2. Product Portfolio
10.3.5.3. Financial Overview
10.3.5.4. Business Strategies and Development
10.3.6. Fluke Corporation
10.3.6.1. Company Overview
10.3.6.2. Product Portfolio
10.3.6.3. Financial Overview
10.3.6.4. Business Strategies and Development
10.3.7. PAMAS Partikelmess- und Analysesysteme GmbH
10.3.7.1. Company Overview
10.3.7.2. Product Portfolio
10.3.7.3. Financial Overview
10.3.7.4. Business Strategies and Development
10.3.8. Lighthouse Worldwide Solutions
10.3.8.1. Company Overview
10.3.8.2. Product Portfolio
10.3.8.3. Financial Overview
10.3.8.4. Business Strategies and Development
10.3.9. Kanomax USA, Inc.
10.3.9.1. Company Overview
10.3.9.2. Product Portfolio
10.3.9.3. Financial Overview
10.3.9.4. Business Strategies and Development
10.3.10. RION Co., LTD.
10.3.10.1. Company Overview
10.3.10.2. Product Portfolio
10.3.10.3. Financial Overview
10.3.10.4. Business Strategies and Development

11. Appendix
11.1. Research Methodology
11.2. Report Assumptions
11.3. Acronyms and Abbreviations
BASE YEAR

HISTORICAL DATA

FORECAST PERIOD

UNITS

2021

2018 - 2020

2022 - 2029

Value: US$ Million

Volume: Units
REPORT FEATURES

DETAILS

Type Coverage

Application Coverage

Cleanroom Monitoring

Drinking Water Contamination Monitoring

Aerosol Monitoring and Research

Indoor Air Quality Monitoring

Contamination Monitoring of Liquids

Chemical Contamination Monitoring

Others

End-user Coverage

Geographical Coverage

North America

Europe

Germany

U.K.

France

Italy

Russia & CIS

Rest of Europe

Asia Pacific

China

Japan

India

Australia

Rest of Asia Pacific

Latin America

Brazil

Argentina

Rest of Latin America

Middle East & Africa

Leading Companies

Palas GmbH

Particle Measuring Systems

Setra System

TSI

Fluke Corporation

PAMAS Partikelmess- und Analysesysteme GmbH

Lighthouse Worldwide Solutions

Kanomax USA, Inc.

RION Co., LTD.

Report Highlights

Key Market Indicators, Macro-micro economic impact analysis, Technological Roadmap, Key Trends, Driver, Restraints, and Future Opportunities & Revenue Pockets, Porter's 5 Forces Analysis, Historical Trend (2018-2029), Price Trend Analysis- 2018-2029, Market Estimates and Forecast, Market Dynamics, Industry Trends, Competition Landscape, Category, Region, Country-wise Trends & Analysis, COVID-19 Impact Analysis (Demand and Supply Chain)