The global perovskite photovoltaics market will rise at a significant pace of 66% CAGR during the period of assessment 2023 - 2030, reaching a market value of around US$2.5 Bn by the end of 2030.
Market Analysis in Brief
The perovskite-structured material acts as the active layer in perovskite photovoltaics, which is based on the solution treated by tin or halide. Perovskite materials have high device efficiencies due to their superior light absorption, charge-carrier mobilities, and lifetimes. They also present prospects to develop a low-cost, commercially viable technology. Additionally, due to their extremely high power conversion efficiency (PCE), perovskite photovoltaics are the field of research that is now gaining the most traction among the several new generation photovoltaic technologies.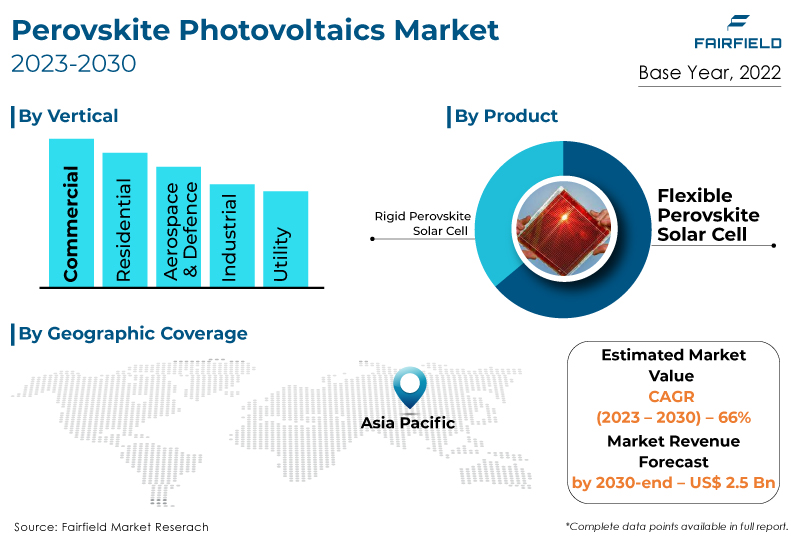 Some of the factors that drive the growth of the perovskite photovoltaics market include rising demand for solar cells due to their flexibility and lightweight, rising number of applications in various industries, growing environmental concerns regarding carbon emission reduction, and the prevalence of alternative energy sources. Furthermore, stepping up R&D efforts and advancing technology can improve various prospects, leading to the market growth over the projection year. However, harmful materials and high product costs may limit the expansion of perovskite photovoltaics market during the anticipated timeframe.
Key Report Findings
The market for perovskite photovoltaics will demonstrate more than 60x expansion in revenue over the decade, i.e., between 2023 and 2030.
One of the key reasons propelling the perovskite photovoltaics market is the rise in demand for solar cells due to its adaptability and lightweight.
The perovskite photovoltaics industry has a higher demand for flexible perovskite solar cell products.
The building-integrated photovoltaics (BIPV) held the highest perovskite photovoltaics market revenue share in 2022.
Asia Pacific will continue to lead, whereas North America perovskite photovoltaics market will experience the strongest growth until 2030.
Growth Drivers
Increased Investments and Funding in Development of Perovskite Solar Cells
In recent years, the solar business has seen several rapid technological advances. Perovskite is a relatively new solar material having a good crystal structure for sunlight absorption. Perovskite cells also perform better than silicon cells in low-light conditions, overcast days, and indoors, resulting in higher conversion efficiency. The fundamental advantage of using perovskite to make solar cells is that the material is cheap and abundant, allowing for low-cost solar power generation. Because perovskite solar cells outperform regular cells, businesses in the solar cell industry are working to develop and commercialise the cell by 2024.
Companies developing perovskite solar cells are raising cash for research and development. Microquanta Semiconductor, for example, announced a Series C investment round in January 2021. Three George Capitals, Quzhou Financial Holding, and Beijing Energy Holding, are among the primary investors. This financing will be used for the expansion of the perovskite tandem project's 100 MW production line. Similarly, in November 2020, the Brandenburg Ministry of Economics supported Oxford PV as part of the EU's Regional Development Programme. The money was utilised to develop perovskite solar cells. Continuous investment in perovskite solar cell research and development opens up new potential for market participants.
Rapid Advancements in Perovskite Solar Cells
The solar panel industry may undergo a revolution thanks to the potential of perovskite solar cells, which promises to convert solar energy. Mono-Si wafer technology now dominates module sales globally, although perovskite technologies have made significant advancements in recent years as silicon-based cells' performance is reaching its physical limits. The crystal-like nature of perovskite materials and their potent light absorption and electric charge characteristics are further benefits. Tandem cells, which combine silicon and perovskite, are regarded as the next stage as solar energy producers strive for higher efficiencies and cheaper energy costs.
In addition, perovskite solar cells can be used as a building material and a source of electricity by being incorporated into the design of buildings, such as windows and facades. With possible end users in a wide range of industries, the market opportunities for these cells are generally vast and varied. Before these solar cells can realise their full market potential, a few technological and financial issues still need to be resolved.
Overview of Key Segments
Flexible Perovskite Solar Cell Represents the Leading Segment
The flexible perovskite solar cell category held the largest share of the market in 2022 due to its attractive and lightweight research-grade technology. The ability to be flexible and bendable is combined with the unique properties of perovskite materials to create flexible perovskite solar cells, a subset of photovoltaic technology. Additionally, flexible perovskite solar cells are meant to be extremely thin and light. This quality makes them suitable for various uses, such as insertion into flexible and curved surfaces.
Instead of conventional rigid solar panels, flexible perovskite solar cells can bend and adapt to various forms and surfaces. Numerous uses are possible thanks to this flexibility, including integration into garments, backpacks, curved building surfaces, and portable electronic gadgets. Additionally, flexible perovskite solar cells provide environmental advantages by using renewable solar energy without releasing greenhouse gases or other pollutants during electricity production, similar to other solar technologies.
Perovskite Photovoltaics Play a Vital Role in BIPV Application
The building-integrated photovoltaics (BIPV) category in application-for electronics led the market in 2022. BIPV serves as the outside of the structure and produces power for local consumption or export to the grid. BIPV systems can lower material and electricity costs, lessen pollution, and improve the aesthetic appeal of a structure. Due to its small weight can be utilised in windows, walls, and roofing tiles without additional structural support.
In addition to various organic substances, including inexpensive silicon plastics and more pricey polymers like acrylic, perovskite is used in BIPV. This lowers expenses by substituting plastic frame constructions for conventional metal framing systems like steel frames. In contrast to other photovoltaic technologies like silicon solar cells, which are characterised by high installation costs because they require additional structural support to prevent stress on the roof system or building envelope, this technology is expected to see increased demand due to its excellent performance and low fabrication cost.
Growth Opportunities Across Regions
Asia Pacific Leads the Pack
The perovskite photovoltaics market will continue to dominate Asia Pacific due to rapid urbanisation, the demand for renewable energy sources to minimise reliance on fossil fuels, and increased government backing in various regions. Furthermore, the region's well-developed consumer electronics industry is aiding market growth.
Moreover, according to global industry players, solar cells are in high demand from nations such as China, Japan, India, and South Korea. Due to their developing solar cell markets, India and China are key contributors to the regional market's growth. Moreover, the growing demand for clean energy and the need to reduce reliance on fossil fuels drive the industry. China is the world's largest manufacturer and user of solar cells, and the government has made significant investments in the development of perovskite solar cells, contributing to the region's market growth.
Furthermore, government assistance and incentives have been critical market drivers in the Asia Pacific area for expanding the perovskite photovoltaics market. These policies and actions attempt to speed the transition to a more sustainable and low-carbon energy system by encouraging the deployment of renewable energy technology. Governments frequently provide financial incentives to encourage the adoption of perovskite photovoltaic systems.
North America Develops a Lucrative Market
The market for perovskite photovoltaics across North America will display a significant CAGR due to increasing demand for the product by end-use industries, the well-developed automotive sector in the area, and the presence of important market players operating in the nations in North America.
Furthermore, the market for perovskite photovoltaics is driven by rising demand for renewable energy and the need to minimise reliance on fossil fuels. The US has been a prominent player in the renewable energy market, with significant development in solar energy installations throughout the years.
However, the US government has also made significant investments in the research and development of perovskite solar cells, contributing to the region's market growth. Perovskite photovoltaics have piqued the interest of researchers due to their potential to boost solar cell efficiency while lowering manufacturing costs.
Moreover, the federal and state governments in the United States have played an important role in promoting the use of renewable energy. Federal tax breaks such as the Investment Tax Credit (ITC), and the Production Tax Credit (PTC) have aided in promoting solar energy projects, especially those utilising perovskite solar cells.
Market Challenges
Instability and Presence of Toxic Materials
Perovskite photovoltaics have a lot of potential for producing solar energy effectively and affordably. However, they are very market-restrictive due to their instability and the inclusion of hazardous ingredients. It is well known that these photovoltaics are fragile and quickly deteriorate in hot and humid environments. The research and development organisations are concentrating on enhancing the functionality and lifetime of the products and attempting to comprehend and enhance their stability.
Despite having the maximum efficiency, lead-based cells are poisonous and could be hazardous to human health and the environment. Contaminating the air, water, and soil can impact the ecosystem. Perovskites also share a crystal structure with the calcium titanium oxide perovskite mineral.
Pbl, hazardous byproducts of perovskite decomposition, can harm the respiratory system. Additionally, established photovoltaics technologies, such as silicon-based solar cells, which have a track record of stability and efficiency, pose a serious threat to this photovoltaics technology. Although these solar cells offer much potential, numerous market limitations must be overcome before becoming a commonly used photovoltaic technology.
Perovskite Photovoltaics Market: Competitive Landscape
Some of the leading players at the forefront in the perovskite photovoltaics market space include First Solar, Ascent Solar, Beijing Yaoneng Technology Co., Ltd., Hanwha Q CELLS, EneCoat Technologies Co. Ltd., Greatcell Energy, Beyond Silicon, Inc., Microquanta Semiconductor, CubicPV, PEROVSKIA SOLAR AG, and Saule Technologies.
Recent Notable Developments
In July 2021, the completion of Oxford Photovoltaics' German production facility was announced. The facility housed Oxford PV's innovative perovskite-on-silicon tandem solar cells' first mass manufacturing line globally, with a 100 MW annual production capacity target.
In May 2022, the collaboration between Saule Technologies, and Columbus Energy and Google Cloud was announced. The businesses had agreed to develop cutting-edge products using perovskite solar cells for industries like distributed energy and the IoT.
In August 2022, the PSC mini-module from Microquanta Semiconductor was evaluated and approved by JET (Japan Electrical Safety & Environment Technology Laboratory), and it also achieved an output efficiency of 21.8% with a total area of 19.35 cm2.
In November 2022, Sun Bing, Secretary of the Municipal Party Committee, and Chen Ping visited Hubei Wandu Solar Co., Ltd., a large-scale test line demonstration project of solar photovoltaic modules in mines.
The Global Perovskite Photovoltaics Market is Segmented as Below:
By Type of Structure
Planar Perovskite Solar Cell
Mesoporous Solar Cell
By Type
Hybrid Perovskite Solar Cell
Multi-Junction Perovskite Solar Cell
By Product
Rigid Perovskite Solar Cell
Flexible Perovskite Solar Cell
By Vertical
Residential
Commercial
Aerospace & Defence
Industrial
Utility
By Geographic Coverage
North America
Europe

United Kingdom
Germany
France
Italy
Spain
Rest of Europe

Asia Pacific

Japan
China
India
Australia
Rest of Asia Pacific

Rest of the World

Latin America
Middle East and Africa
Leading Companies
First Solar
Ascent Solar
Beijing Yaoneng Technology Co., Ltd.
Hanwha Q CELLS
EneCoat Technologies
Greatcell Energy,
Beyond Silicon, Inc.
Microquanta Semiconductor
CubicPV
PEROVSKIA SOLAR AG
Saule Technologies
Halldata Solar
1. Executive Summary
1.1. Global Perovskite Photovoltaics Market Snapshot
1.2. Future Projections
1.3. Key Market Trends
1.4. Regional Snapshot, by Value, 2022
1.5. Analyst Recommendations


2. Market Overview
2.1. Market Definitions and Segmentations
2.2. Market Dynamics
2.2.1. Drivers
2.2.2. Restraints
2.2.3. Market Opportunities
2.3. Value Chain Analysis
2.4. Porter's Five Forces Analysis
2.5. Covid-19 Impact Analysis
2.5.1. Supply
2.5.2. Demand
2.6. Impact of Ukraine-Russia Conflict
2.7. Economic Overview
2.7.1. World Economic Projections
2.8. PESTLE Analysis

3. Global Perovskite Photovoltaics Market Outlook, 2018 - 2030
3.1. Global Perovskite Photovoltaics Market Outlook, by Type of Structure, Value (US$ Mn), 2018 - 2030
3.1.1. Key Highlights
3.1.1.1. Planar Perovskite Solar Cell
3.1.1.2. Mesoporous Solar Cell
3.2. Global Perovskite Photovoltaics Market Outlook, by Type, Value (US$ Mn), 2018 - 2030
3.2.1. Key Highlights
3.2.1.1. Hybrid Perovskite Solar Cell
3.2.1.2. Multi-Junction Perovskite Solar Cell
3.3. Global Perovskite Photovoltaics Market Outlook, by Product, Value (US$ Mn), 2018 - 2030
3.3.1. Key Highlights
3.3.1.1. Rigid Perovskite Solar Cell
3.3.1.2. Flexible Perovskite Solar Cell
3.4. Global Perovskite Photovoltaics Market Outlook, by Vertical, Value (US$ Mn), 2018 - 2030
3.4.1. Key Highlights
3.4.1.1. Residential
3.4.1.2. Commercial
3.4.1.3. Aerospace & Defense
3.4.1.4. Industrial
3.4.1.5. Utility
3.5. Global Perovskite Photovoltaics Market Outlook, by Region, Value (US$ Mn), 2018 - 2030
3.5.1. Key Highlights
3.5.1.1. North America
3.5.1.2. Europe
3.5.1.3. Asia Pacific
3.5.1.4. Latin America
3.5.1.5. Middle East & Africa

4. North America Perovskite Photovoltaics Market Outlook, 2018 - 2030
4.1. North America Perovskite Photovoltaics Market Outlook, by Type of Structure, Value (US$ Mn), 2018 - 2030
4.1.1. Key Highlights
4.1.1.1. Planar Perovskite Solar Cell
4.1.1.2. Mesoporous Solar Cell
4.2. North America Perovskite Photovoltaics Market Outlook, by Type, Value (US$ Mn), 2018 - 2030
4.2.1. Key Highlights
4.2.1.1. Hybrid Perovskite Solar Cell
4.2.1.2. Multi-Junction Perovskite Solar Cell
4.3. North America Perovskite Photovoltaics Market Outlook, by Product, Value (US$ Mn), 2018 - 2030
4.3.1. Key Highlights
4.3.1.1. Rigid Perovskite Solar Cell
4.3.1.2. Flexible Perovskite Solar Cell
4.4. North America Perovskite Photovoltaics Market Outlook, by Vertical, Value (US$ Mn), 2018 - 2030
4.4.1. Key Highlights
4.4.1.1. Residential
4.4.1.2. Commercial
4.4.1.3. Aerospace & Defense
4.4.1.4. Industrial
4.4.1.5. Utility
4.5. North America Perovskite Photovoltaics Market Outlook, by Country, Value (US$ Mn), 2018 - 2030
4.5.1. Key Highlights
4.5.1.1. U.S. Perovskite Photovoltaics Market by Type of Structure, Value (US$ Mn), 2018 - 2030
4.5.1.2. U.S. Perovskite Photovoltaics Market Type, Value (US$ Mn), 2018 - 2030
4.5.1.3. U.S. Perovskite Photovoltaics Market Product, Value (US$ Mn), 2018 - 2030
4.5.1.4. U.S. Perovskite Photovoltaics Market Vertical, Value (US$ Mn), 2018 - 2030
4.5.1.5. Canada Perovskite Photovoltaics Market by Type of Structure, Value (US$ Mn), 2018 - 2030
4.5.1.6. Canada Perovskite Photovoltaics Market Type, Value (US$ Mn), 2018 - 2030
4.5.1.7. Canada Perovskite Photovoltaics Market Product, Value (US$ Mn), 2018 - 2030
4.5.1.8. Canada Perovskite Photovoltaics Market Vertical, Value (US$ Mn), 2018 - 2030
4.5.2. BPS Analysis/Market Attractiveness Analysis

5. Europe Perovskite Photovoltaics Market Outlook, 2018 - 2030
5.1. Europe Perovskite Photovoltaics Market Outlook, by Type of Structure, Value (US$ Mn), 2018 - 2030
5.1.1. Key Highlights
5.1.1.1. Planar Perovskite Solar Cell
5.1.1.2. Mesoporous Solar Cell
5.2. Europe Perovskite Photovoltaics Market Outlook, by Type, Value (US$ Mn), 2018 - 2030
5.2.1. Key Highlights
5.2.1.1. Hybrid Perovskite Solar Cell
5.2.1.2. Multi-Junction Perovskite Solar Cell
5.3. Europe Perovskite Photovoltaics Market Outlook, by Product, Value (US$ Mn), 2018 - 2030
5.3.1. Key Highlights
5.3.1.1. Rigid Perovskite Solar Cell
5.3.1.2. Flexible Perovskite Solar Cell
5.4. Europe Perovskite Photovoltaics Market Outlook, by Vertical, Value (US$ Mn), 2018 - 2030
5.4.1. Key Highlights
5.4.1.1. Residential
5.4.1.2. Commercial
5.4.1.3. Aerospace & Defense
5.4.1.4. Industrial
5.4.1.5. Utility
5.5. Europe Perovskite Photovoltaics Market Outlook, by Country, Value (US$ Mn), 2018 - 2030
5.5.1. Key Highlights
5.5.1.1. Germany Perovskite Photovoltaics Market by Type of Structure, Value (US$ Mn), 2018 - 2030
5.5.1.2. Germany Perovskite Photovoltaics Market Type, Value (US$ Mn), 2018 - 2030
5.5.1.3. Germany Perovskite Photovoltaics Market Product, Value (US$ Mn), 2018 - 2030
5.5.1.4. Germany Perovskite Photovoltaics Market Vertical, Value (US$ Mn), 2018 - 2030
5.5.1.5. U.K. Perovskite Photovoltaics Market by Type of Structure, Value (US$ Mn), 2018 - 2030
5.5.1.6. U.K. Perovskite Photovoltaics Market Type, Value (US$ Mn), 2018 - 2030
5.5.1.7. U.K. Perovskite Photovoltaics Market Product, Value (US$ Mn), 2018 - 2030
5.5.1.8. U.K. Perovskite Photovoltaics Market Vertical, Value (US$ Mn), 2018 - 2030
5.5.1.9. U.K. Perovskite Photovoltaics Market Application, Value (US$ Mn), 2018 - 2030
5.5.1.10. France Perovskite Photovoltaics Market by Type of Structure, Value (US$ Mn), 2018 - 2030
5.5.1.11. France Perovskite Photovoltaics Market Type, Value (US$ Mn), 2018 - 2030
5.5.1.12. France Perovskite Photovoltaics Market Product, Value (US$ Mn), 2018 - 2030
5.5.1.13. France Perovskite Photovoltaics Market Vertical, Value (US$ Mn), 2018 - 2030
5.5.1.14. Italy Perovskite Photovoltaics Market by Type of Structure, Value (US$ Mn), 2018 - 2030
5.5.1.15. Italy Perovskite Photovoltaics Market Type, Value (US$ Mn), 2018 - 2030
5.5.1.16. Italy Perovskite Photovoltaics Market Product, Value (US$ Mn), 2018 - 2030
5.5.1.17. Italy Perovskite Photovoltaics Market Vertical, Value (US$ Mn), 2018 - 2030
5.5.1.18. Spain Perovskite Photovoltaics Market by Type of Structure, Value (US$ Mn), 2018 - 2030
5.5.1.19. Spain Perovskite Photovoltaics Market Type, Value (US$ Mn), 2018 - 2030
5.5.1.20. Spain Perovskite Photovoltaics Market Product, Value (US$ Mn), 2018 - 2030
5.5.1.21. Spain Perovskite Photovoltaics Market Vertical, Value (US$ Mn), 2018 - 2030
5.5.1.22. Russia Perovskite Photovoltaics Market by Type of Structure, Value (US$ Mn), 2018 - 2030
5.5.1.23. Russia Perovskite Photovoltaics Market Type, Value (US$ Mn), 2018 - 2030
5.5.1.24. Russia Perovskite Photovoltaics Market Product, Value (US$ Mn), 2018 - 2030
5.5.1.25. Russia Perovskite Photovoltaics Market Vertical, Value (US$ Mn), 2018 - 2030
5.5.1.26. Rest of Europe Perovskite Photovoltaics Market by Type of Structure, Value (US$ Mn), 2018 - 2030
5.5.1.27. Rest of Europe Perovskite Photovoltaics Market Type, Value (US$ Mn), 2018 - 2030
5.5.1.28. Rest of Europe Perovskite Photovoltaics Market Product, Value (US$ Mn), 2018 - 2030
5.5.1.29. Rest of Europe Perovskite Photovoltaics Market Vertical, Value (US$ Mn), 2018 - 2030
5.5.2. BPS Analysis/Market Attractiveness Analysis

6. Asia Pacific Perovskite Photovoltaics Market Outlook, 2018 - 2030
6.1. Asia Pacific Perovskite Photovoltaics Market Outlook, by Type of Structure, Value (US$ Mn), 2018 - 2030
6.1.1. Key Highlights
6.1.1.1. Planar Perovskite Solar Cell
6.1.1.2. Mesoporous Solar Cell
6.2. Asia Pacific Perovskite Photovoltaics Market Outlook, by Type, Value (US$ Mn), 2018 - 2030
6.2.1. Key Highlights
6.2.1.1. Hybrid Perovskite Solar Cell
6.2.1.2. Multi-Junction Perovskite Solar Cell
6.3. Asia Pacific Perovskite Photovoltaics Market Outlook, by Product, Value (US$ Mn), 2018 - 2030
6.3.1. Key Highlights
6.3.1.1. Rigid Perovskite Solar Cell
6.3.1.2. Flexible Perovskite Solar Cell
6.4. Asia Pacific Perovskite Photovoltaics Market Outlook, by Vertical, Value (US$ Mn), 2018 - 2030
6.4.1. Key Highlights
6.4.1.1. Residential
6.4.1.2. Commercial
6.4.1.3. Aerospace & Defense
6.4.1.4. Industrial
6.4.1.5. Utility
6.5. Asia Pacific Perovskite Photovoltaics Market Outlook, by Country, Value (US$ Mn), 2018 - 2030
6.5.1. Key Highlights
6.5.1.1. China Perovskite Photovoltaics Market by Type of Structure, Value (US$ Mn), 2018 - 2030
6.5.1.2. China Perovskite Photovoltaics Market Type, Value (US$ Mn), 2018 - 2030
6.5.1.3. China Perovskite Photovoltaics Market Product, Value (US$ Mn), 2018 - 2030
6.5.1.4. China Perovskite Photovoltaics Market Vertical, Value (US$ Mn), 2018 - 2030
6.5.1.5. Japan Perovskite Photovoltaics Market by Type of Structure, Value (US$ Mn), 2018 - 2030
6.5.1.6. Japan Perovskite Photovoltaics Market Type, Value (US$ Mn), 2018 - 2030
6.5.1.7. Japan Perovskite Photovoltaics Market Product, Value (US$ Mn), 2018 - 2030
6.5.1.8. Japan Perovskite Photovoltaics Market Vertical, Value (US$ Mn), 2018 - 2030
6.5.1.9. South Korea Perovskite Photovoltaics Market by Type of Structure, Value (US$ Mn), 2018 - 2030
6.5.1.10. South Korea Perovskite Photovoltaics Market Type, Value (US$ Mn), 2018 - 2030
6.5.1.11. South Korea Perovskite Photovoltaics Market Product, Value (US$ Mn), 2018 - 2030
6.5.1.12. South Korea Perovskite Photovoltaics Market Vertical, Value (US$ Mn), 2018 - 2030
6.5.1.13. India Perovskite Photovoltaics Market by Type of Structure, Value (US$ Mn), 2018 - 2030
6.5.1.14. India Perovskite Photovoltaics Market Type, Value (US$ Mn), 2018 - 2030
6.5.1.15. India Perovskite Photovoltaics Market Product, Value (US$ Mn), 2018 - 2030
6.5.1.16. India Perovskite Photovoltaics Market Vertical, Value (US$ Mn), 2018 - 2030
6.5.1.17. Southeast Asia Perovskite Photovoltaics Market by Type of Structure, Value (US$ Mn), 2018 - 2030
6.5.1.18. Southeast Asia Perovskite Photovoltaics Market Type, Value (US$ Mn), 2018 - 2030
6.5.1.19. Southeast Asia Perovskite Photovoltaics Market Product, Value (US$ Mn), 2018 - 2030
6.5.1.20. Southeast Asia Perovskite Photovoltaics Market Vertical, Value (US$ Mn), 2018 - 2030
6.5.1.21. Rest of Asia Pacific Perovskite Photovoltaics Market by Type of Structure, Value (US$ Mn), 2018 - 2030
6.5.1.22. Rest of Asia Pacific Perovskite Photovoltaics Market Type, Value (US$ Mn), 2018 - 2030
6.5.1.23. Rest of Asia Pacific Perovskite Photovoltaics Market Product, Value (US$ Mn), 2018 - 2030
6.5.1.24. Rest of Asia Pacific Perovskite Photovoltaics Market Vertical, Value (US$ Mn), 2018 - 2030
6.5.2. BPS Analysis/Market Attractiveness Analysis

7. Latin America Perovskite Photovoltaics Market Outlook, 2018 - 2030
7.1. Latin America Perovskite Photovoltaics Market Outlook, by Type of Structure, Value (US$ Mn), 2018 - 2030
7.1.1. Key Highlights
7.1.1.1. Planar Perovskite Solar Cell
7.1.1.2. Mesoporous Solar Cell
7.2. Latin America Perovskite Photovoltaics Market Outlook, by Type, Value (US$ Mn), 2018 - 2030
7.2.1. Key Highlights
7.2.1.1. Hybrid Perovskite Solar Cell
7.2.1.2. Multi-Junction Perovskite Solar Cell
7.3. Latin America Perovskite Photovoltaics Market Outlook, by Product, Value (US$ Mn), 2018 - 2030
7.3.1. Key Highlights
7.3.1.1. Rigid Perovskite Solar Cell
7.3.1.2. Flexible Perovskite Solar Cell
7.4. Latin America Perovskite Photovoltaics Market Outlook, by Vertical, Value (US$ Mn), 2018 - 2030
7.4.1. Key Highlights
7.4.1.1. Residential
7.4.1.2. Commercial
7.4.1.3. Aerospace & Defense
7.4.1.4. Industrial
7.4.1.5. Utility
7.5. Latin America Perovskite Photovoltaics Market Outlook, by Country, Value (US$ Mn), 2018 - 2030
7.5.1. Key Highlights
7.5.1.1. Brazil Perovskite Photovoltaics Market by Type of Structure, Value (US$ Mn), 2018 - 2030
7.5.1.2. Brazil Perovskite Photovoltaics Market Type, Value (US$ Mn), 2018 - 2030
7.5.1.3. Brazil Perovskite Photovoltaics Market Product, Value (US$ Mn), 2018 - 2030
7.5.1.4. Brazil Perovskite Photovoltaics Market Vertical, Value (US$ Mn), 2018 - 2030
7.5.1.5. Mexico Perovskite Photovoltaics Market by Type of Structure, Value (US$ Mn), 2018 - 2030
7.5.1.6. Mexico Perovskite Photovoltaics Market Type, Value (US$ Mn), 2018 - 2030
7.5.1.7. Mexico Perovskite Photovoltaics Market Product, Value (US$ Mn), 2018 - 2030
7.5.1.8. Mexico Perovskite Photovoltaics Market Vertical, Value (US$ Mn), 2018 - 2030
7.5.1.9. Rest of Latin America Perovskite Photovoltaics Market by Type of Structure, Value (US$ Mn), 2018 - 2030
7.5.1.10. Rest of Latin America Perovskite Photovoltaics Market Type, Value (US$ Mn), 2018 - 2030
7.5.1.11. Rest of Latin America Perovskite Photovoltaics Market Product, Value (US$ Mn), 2018 - 2030
7.5.1.12. Rest of Latin America Perovskite Photovoltaics Market Vertical, Value (US$ Mn), 2018 - 2030
7.5.2. BPS Analysis/Market Attractiveness Analysis

8. Middle East & Africa Perovskite Photovoltaics Market Outlook, 2018 - 2030
8.1. Middle East & Africa Perovskite Photovoltaics Market Outlook, by Type of Structure, Value (US$ Mn), 2018 - 2030
8.1.1. Key Highlights
8.1.1.1. Planar Perovskite Solar Cell
8.1.1.2. Mesoporous Solar Cell
8.2. Middle East & Africa Perovskite Photovoltaics Market Outlook, by Type, Value (US$ Mn), 2018 - 2030
8.2.1. Key Highlights
8.2.1.1. Hybrid Perovskite Solar Cell
8.2.1.2. Multi-Junction Perovskite Solar Cell
8.3. Middle East & Africa Perovskite Photovoltaics Market Outlook, by Product, Value (US$ Mn), 2018 - 2030
8.3.1. Key Highlights
8.3.1.1. Rigid Perovskite Solar Cell
8.3.1.2. Flexible Perovskite Solar Cell
8.4. Middle East & Africa Perovskite Photovoltaics Market Outlook, by Vertical, Value (US$ Mn), 2018 - 2030
8.4.1. Key Highlights
8.4.1.1. Residential
8.4.1.2. Commercial
8.4.1.3. Aerospace & Defense
8.4.1.4. Industrial
8.4.1.5. Utility
8.5. Middle East & Africa Perovskite Photovoltaics Market Outlook, by Country, Value (US$ Mn), 2018 - 2030
8.5.1. Key Highlights
8.5.1.1. GCC Perovskite Photovoltaics Market by Type of Structure, Value (US$ Mn), 2018 - 2030
8.5.1.2. GCC Perovskite Photovoltaics Market Type, Value (US$ Mn), 2018 - 2030
8.5.1.3. GCC Perovskite Photovoltaics Market Product, Value (US$ Mn), 2018 - 2030
8.5.1.4. GCC Perovskite Photovoltaics Market Vertical, Value (US$ Mn), 2018 - 2030
8.5.1.5. South Africa Perovskite Photovoltaics Market by Type of Structure, Value (US$ Mn), 2018 - 2030
8.5.1.6. South Africa Perovskite Photovoltaics Market Type, Value (US$ Mn), 2018 - 2030
8.5.1.7. South Africa Perovskite Photovoltaics Market Product, Value (US$ Mn), 2018 - 2030
8.5.1.8. South Africa Perovskite Photovoltaics Market Vertical, Value (US$ Mn), 2018 - 2030
8.5.1.9. South Africa Perovskite Photovoltaics Market Application, Value (US$ Mn), 2018 - 2030
8.5.1.10. Rest of Middle East & Africa Perovskite Photovoltaics Market by Type of Structure, Value (US$ Mn), 2018 - 2030
8.5.1.11. Rest of Middle East & Africa Perovskite Photovoltaics Market Type, Value (US$ Mn), 2018 - 2030
8.5.1.12. Rest of Middle East & Africa Perovskite Photovoltaics Market Product, Value (US$ Mn), 2018 - 2030
8.5.1.13. Rest of Middle East & Africa Perovskite Photovoltaics Market Vertical, Value (US$ Mn), 2018 - 2030
8.5.2. BPS Analysis/Market Attractiveness Analysis

9. Competitive Landscape
9.1. Product vs Application Heatmap
9.2. Manufacturer vs Application Heatmap
9.3. Company Market Share Analysis, 2022
9.4. Competitive Dashboard
9.5. Company Profiles
9.5.1. First Solar
9.5.1.1. Company Overview
9.5.1.2. Product Portfolio
9.5.1.3. Financial Overview
9.5.1.4. Business Strategies and Development
9.5.2. Ascent Solar
9.5.2.1. Company Overview
9.5.2.2. Product Portfolio
9.5.2.3. Financial Overview
9.5.2.4. Business Strategies and Development
9.5.3. Beijing Yaoneng Technology Co., Ltd.
9.5.3.1. Company Overview
9.5.3.2. Product Portfolio
9.5.3.3. Financial Overview
9.5.3.4. Business Strategies and Development
9.5.4. Hanwha Q CELLS
9.5.4.1. Company Overview
9.5.4.2. Product Portfolio
9.5.4.3. Financial Overview
9.5.4.4. Business Strategies and Development
9.5.5. CubicPV
9.5.5.1. Company Overview
9.5.5.2. Product Portfolio
9.5.5.3. Financial Overview
9.5.5.4. Business Strategies and Development
9.5.6. EneCoat Technologies Co. Ltd.
9.5.6.1. Company Overview
9.5.6.2. Product Portfolio
9.5.6.3. Financial Overview
9.5.6.4. Business Strategies and Development
9.5.7. Microquanta Semiconductor
9.5.7.1. Company Overview
9.5.7.2. Product Portfolio
9.5.7.3. Financial Overview
9.5.7.4. Business Strategies and Development
9.5.8. Greatcell Energy
9.5.8.1. Company Overview
9.5.8.2. Product Portfolio
9.5.8.3. Financial Overview
9.5.8.4. Business Strategies and Development
9.5.9. Beyond Silicon Inc.
9.5.9.1. Company Overview
9.5.9.2. Product Portfolio
9.5.9.3. Financial Overview
9.5.9.4. Business Strategies and Development
9.5.10. Halldata Solar
9.5.10.1. Company Overview
9.5.10.2. Product Portfolio
9.5.10.3. Financial Overview
9.5.10.4. Business Strategies and Development
9.5.11. PEROVSKIA SOLAR AG
9.5.11.1. Company Overview
9.5.11.2. Product Portfolio
9.5.11.3. Business Strategies and Development
9.5.12. Saule Technologies
9.5.12.1. Company Overview
9.5.12.2. Product Portfolio
9.5.12.3. Financial Overview
9.5.12.4. Business Strategies and Development

10. Appendix
10.1. Research Methodology
10.2. Report Assumptions
10.3. Acronyms and Abbreviations
BASE YEAR

HISTORICAL DATA

FORECAST PERIOD

UNITS

2022

2018 - 2022

2023 - 2030

Value: US$ Million Volume: Million Tons
REPORT FEATURES

DETAILS

Type Coverage

Hybrid Perovskite Solar Cell

Multi-Junction Perovskite Solar Cell

Type of Structure Coverage

Product Coverage

Rigid Perovskite Solar Cell

Flexible Perovskite Solar Cell

Vertical Coverage

Residential

Commercial

Aerospace & Defence

Industrial

Utility

Geographical Coverage

Europe

United Kingdom

Germany

France

Italy

Norway

Russia

Rest of Europe

Asia Pacific

Japan

China

India

South Korea

Southeast Asia

Rest of Asia Pacific

Rest of the World

Latin America

Middle East and Africa

Leading Companies

First Solar

Ascent Solar

Beijing Yaoneng Technology Co., Ltd.

Hanwha Q CELLS

EneCoat Technologies

Greatcell Energy,

Beyond Silicon, Inc.

Microquanta Semiconductor

CubicPV

PEROVSKIA SOLAR AG

Saule Technologies

Halldata Solar

Report Highlights

Key Market Indicators, Macro-micro economic impact analysis, Technological Roadmap, Key Trends, Driver, Restraints, and Future Opportunities & Revenue Pockets, Porter's 5 Forces Analysis, Historical Trend (2019-2021), Price Trend Analysis, Market Estimates and Forecast, Market Dynamics, Industry Trends, Competition Landscape, Category, Region, Country-wise Trends & Analysis, COVID-19 Impact Analysis (Demand and Supply Chain)