Plastic-to-Fuel (PTF) Market Outlook 2023 Update Available Enquire Now
Plastics-to-Fuel Technologies Complement Recycling Initiatives
The global plastic-to-fuel (PTF) market was valued at US$900.3 Mn in 2020 and is anticipated to be worth US$1,884.3 Mn in 2026, registering a CAGR of 13.8% during the forecast period.
Plastic-to-fuel technologies complement plastic recycling initiatives by converting non-recycled plastics into valuable products. These technologies offer the opportunity to reduce greenhouse gas emissions by up to 60%-70% over new forms of crude oil extraction. Companies are transforming used, non-recycled plastics into fuel and petroleum-based products. These plastic-to-fuel technologies are being embraced as a way to recover clean energy from plastics that cannot be economically recycled.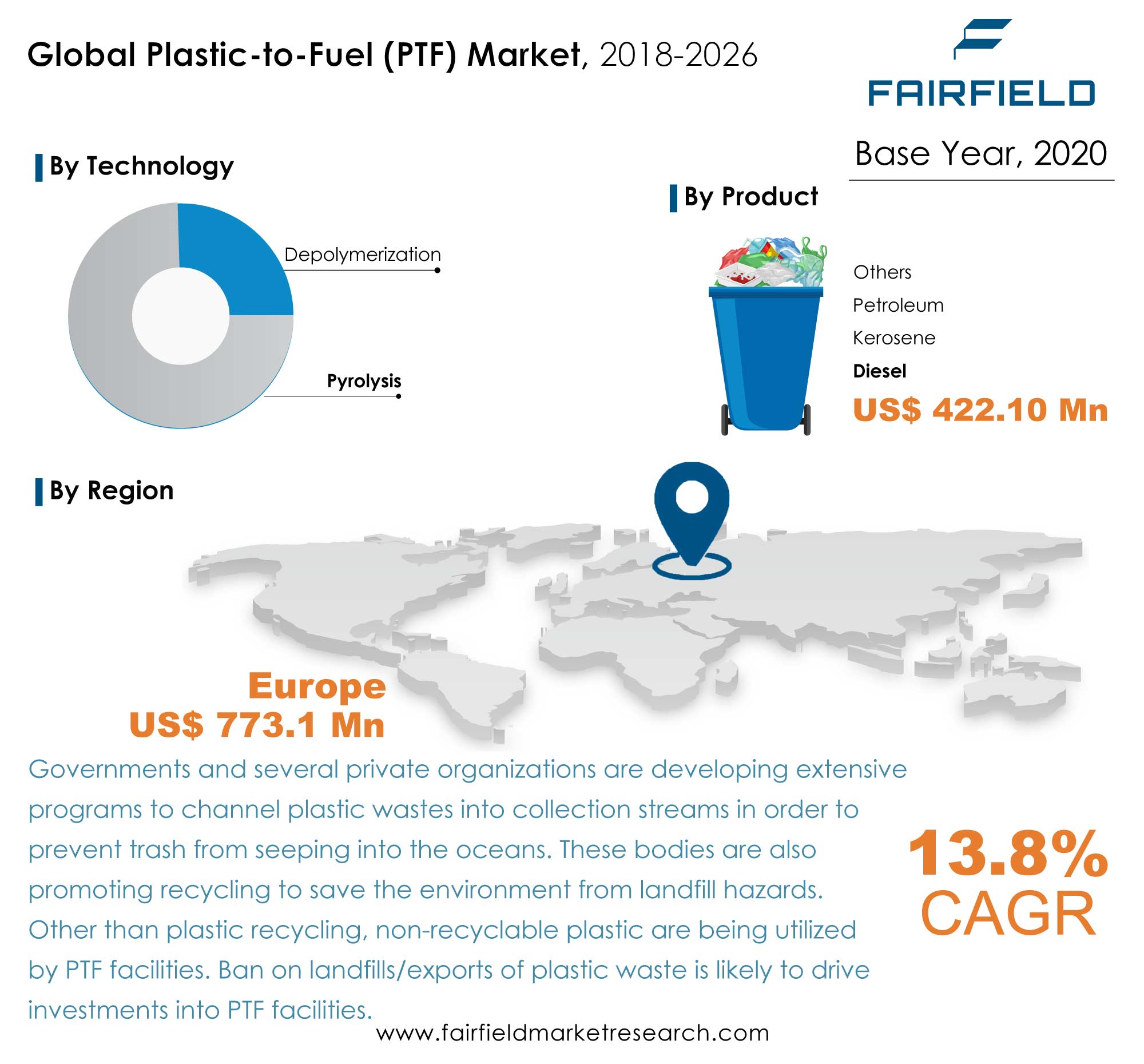 Growing interest and investments in plastic-to-fuel technologies can reduce the amount of waste sent to landfills and generate fuel and other useful products to help power America's transportation system and local economies. The end-of-life management option exists for non-recycled plastics: conversion of scrap plastics to either chemical feedstock or fuel. These conversion technologies rely on the processes of depolymerization and pyrolysis, respectively.
Plastic-to-Fuel (PTF) Market Expands With Efficient Management of Non-Recyclable Plastics
Concerns regarding excess landfilling of plastics, strict regulation on illegal dumping of plastic waste followed by enhancement of plastic recycling rates and government support and funding is expected to drive the demand for PTF technologies. Also, fuel derived from PTF facilities provides an alternate way of generating fossil fuel from waste plastic stream.
Currently, efficient management of non-recyclable plastics such as polystyrene, polyethylene terephthalate (PET), polyvinyl chloride (PVC), etc remains the key concern. More than 90% of plastic are still not recycled and are dumped, landfilled, or simple drained in the ocean. This means only 9-10% of waste plastics has been collected and recycled. This provides immense opportunity of plastic-to-fuel market as recycling of these waste plastics would generate non-recyclable waste plastics which can be utilized in PFT in the near future. Thus, recovery of non-recyclable plastics from recycling facilities and new/landfill sources is expected to boost the demand for PTF facilities.
Fragmented Waste Collection Systems Dissuades Proper Utilization of Plastic-to-Fuel Technologies
Key restraint in the global plastic-to-fuel market includes weak waste collection system and declining prices of crude oil followed by COVID-19 outbreak, which has de-railed several PTF projects across the globe. Strong infrastructure and services required for proper waste collection, segregation, and sorting is still awaited in some nations. Also, segregation of plastics from overall waste generated each year is the key hurdle which may hamper the growth potential of plastic-to-fuel market.
COVID-19 outbreak has impacted the entire supply chain of waste collection, segregation, and disposal. This has created waste plastic accumulation. During the pandemic, personal protective equipment (PPE) led to increased plastic pollution. At the regional and national levels, prioritization of human health over environmental health has led to the delay or reversal of policies aiming to reduce single-use plastic. To add to it, declining prices of crude oil during the pandemic has resulted in lower profit margins for alternate fuel produced through PTF route. Furthermore, due to lower price of crude oil, manufacturers of virgin plastics from fossil fuels became less expensive than recycled plastics. As a result, lower profit margins have led to the demand for plastic recycling along with PTF has dropped, and the environmental footprint of plastics has increased.
Pyrolysis has an Edge Over Other Technologies in Plastic-to-Fuel (PTF) Market
Pyrolysis is regarded as a conventional technology for PTF which constituted more than 56% share in 2020. Also, numerous vendors of system and equipment parts are available in the market which minimizes breakdown and delays in operations. Pyrolysis is a thermal decomposition (normally operating at around 400 to 500°C) process occurring in the absence of oxygen. In pyrolysis, the treated plastic feedstock is often transferred into the pyrolysis reactor by means of a feed screw or a plug, to ensure oxygen is excluded. There are 3 products derived post pyrolysis process; a gas, a liquid and a solid, although the percentage of each can be varied dependent on the temperature and material feedstock.
Europe to Continue Dominance in Global Plastic-to-Fuel (PTF) Market
Europe constituted 85.9% market share of the global plastic-to-fuel market in 2020. In terms of investments in PTF technologies, North America, especially the U.S. has been constantly laying regulations related to non-recyclable waste plastics. The country is expected to add more PTF facilities in the near future. On August 2020, UK's first waste plastic to hydrogen facility near Ellesmere port in Cheshire, has taken a big step forward, with the completion of the front-end engineering design (FEED) phase.
Developed countries, especially those in Europe, have imposed landfill bans on plastic waste in order to recover and recycle plastic wastes. In 2016, 10 countries in the European Union banned the dumping of plastic waste in landfills. These countries recorded significant rise in the plastic recovery rate after the imposition of the ban. The key concern is the disposal of non-recycled plastic recovered after recycling process. The best way is to derive fuel out of the non-recycled plastics rather than landfilling. This is anticipated to drive the regional plastic-to-fuel market throughout the forecast period.
In North America, the U.S. Government has several programs for the collection and sorting of plastic waste. However, the plastic recycling rate in the region is significantly low (below 10%). Thus, the region exhibits a high potential for plastic to fuel technologies in the near future.
Asia Pacific has high potential for P2F technologies. Asia Pacific houses several nations which are dominant producers and illegal dumpers of plastic waste. China is the leader when it comes to improper management of plastic waste. The country also imports tonnes of plastic wastes from other countries.
Global Plastic-to-Fuel (PTF) Market: Competitive Landscape
Key players involved in the global plastic-to-fuel (PTF) market are Peel L&P Holdings (UK) Limited, Cynar Plc, ALTERRA ENERGY, Brightmark, Rudra Environmental Solutions, NEEDA GREEN ENERGY, Plastic2Oil, MK Aromatics, Agilyx, Klean Industries Inc., Johnson Matthey, RESYNERGI, Nexus, Global Renewable. L&P Holdings (UK) Limited is planning to develop 11 facilities across the UK in the next few years and has the option of exclusive rights to the Powerhouse Energy technology in the UK leading to over 70 facilities in total.
The Global Plastic-to-Fuel (PTF) Market is Segmented as Below:
By Technology Coverage
Pyrolysis
Depolymerization
By Feedstock Coverage
Polyethylene (PE)
Polypropylene (PP)
Polyvinylchloride (PVC)
Polyethylene Terephthalate (PET)
Others
By Product Coverage
Diesel
Petroleum
Kerosene
Others (Residue & Produced Gas)
By Geographical Coverage
North America
Europe
Asia Pacific

China
India
Rest of Asia Pacific
Leading Companies
ALTERRA ENERGY
Brightmark
Rudra Environmental Solutions
NEEDA GREEN ENERGY
Plastic2Oil
MK Aromatics
Agilyx
Klean Industries Inc.
Global Renewable
Johnson Matthey
RESYNERGI
Nexus
Peel L&P Holdings (UK) Limited
Cynar Plc
Inside This Report You Will Find:
1. Executive Summary
2. Market Overview
3. Plastic to Fuel (PTF) Facility: Cost Structure Analysis
4. Global Plastic-to-fuel (PTF) Market Outlook, 2018 - 2026
5. North America Plastic-to-fuel (PTF) Market Outlook, 2018 - 2026
6. Europe Plastic-to-fuel (PTF) Market Outlook, 2018 - 2026
7. Asia Pacific Plastic-to-fuel (PTF) Market Outlook, 2018 - 2026
8. Competitive Landscape
9. Appendix
2023 Update Available Enquire Now
Post Sale Support, Research Updates & Offerings:
We value the trust shown by our customers in Fairfield Market Research. We support our clients through our post sale support, research updates and offerings.
The report will be prepared in a PPT format and will be delivered in a PDF format.
Additionally, Market Estimation and Forecast numbers will be shared in Excel Workbook.
If a report being sold was published over a year ago, we will offer a complimentary copy of the updated research report along with Market Estimation and Forecast numbers within 2-3 weeks' time of the sale.
If we update this research study within the next 2 quarters, post purchase of the report, we will offer a Complimentary copy of the updated Market Estimation and Forecast numbers in Excel Workbook.
If there is a geopolitical conflict, pandemic, recession, and the like which can impact global economic scenario and business activity, which might entirely alter the market dynamics or future projections in the industry, we will create a Research Update upon your request at a nominal charge.
1. Executive Summary
1.1. Global Plastic-to-fuel (PTF) Market Snapshot
1.2. Future Projections
1.3. Key Market Trends
1.4. Analyst Recommendations

2. Market Overview
2.1. Market Definitions and Segmentations
2.2. Market Dynamics
2.2.1. Drivers
2.2.2. Restraints
2.2.3. Market Opportunities
2.2.4. Economic Trends
2.3. Value Chain Analysis
2.4. Porter's Five Forces Analysis & PEST Analysis
2.5. Covid-19 Impact
2.5.1. Supply Chain
2.5.2. End-user Customer Impact Analysis

3. Plastic to Fuel (PTF) Facility: Cost Structure Analysis
3.1. Key Highlights
3.2. List of Plastic-to-Fuel Operational Projects (Operator, Technology, Country, Number of Facilities, and Status)

4. Global Plastic-to-fuel (PTF) Market Outlook, 2018 - 2026
4.1. Global Plastic-to-fuel (PTF) Market Outlook, by Technology, Value (US$ Mn), 2018 - 2026
4.1.1. Key Highlights
4.1.1.1. Pyrolysis
4.1.1.2. Depolymerization
4.1.2. BPS Analysis/Market Attractiveness Analysis, by Technology
4.2. Global Plastic-to-fuel (PTF) Market Outlook, by Feedstock, Value (US$ Mn), 2018 - 2026
4.2.1. Key Highlights
4.2.1.1. Polyethylene (PE)
4.2.1.2. Polypropylene (PP)
4.2.1.3. Polyvinylchloride (PVC)
4.2.1.4. Polyethylene Terephthalate (PET)
4.2.1.5. Others
4.2.2. BPS Analysis/Market Attractiveness Analysis, by Feedstock
4.3. Global Plastic-to-fuel (PTF) Market Outlook, by Product, Value (US$ Mn), 2018 - 2026
4.3.1. Key Highlights
4.3.1.1. Diesel
4.3.1.2. Petroleum
4.3.1.3. Kerosene
4.3.1.4. Others
4.3.2. BPS Analysis/Market Attractiveness Analysis, by Product
4.4. Global Plastic-to-fuel (PTF) Market Outlook, by Region, Value (US$ Mn), 2018 - 2026
4.4.1. Key Highlights
4.4.1.1. North America
4.4.1.2. Europe
4.4.1.3. Asia Pacific
4.4.2. BPS Analysis/Market Attractiveness Analysis, by Region

5. North America Plastic-to-fuel (PTF) Market Outlook, 2018 - 2026
5.1. North America Plastic-to-fuel (PTF) Market Outlook, by Technology, Value (US$ Mn), 2018 - 2026
5.1.1. Key Highlights
5.1.1.1. Pyrolysis
5.1.1.2. Depolymerization
5.2. North America Plastic-to-fuel (PTF) Market Outlook, by Feedstock, Value (US$ Mn), 2018 - 2026
5.2.1. Key Highlights
5.2.1.1. Polyethylene (PE)
5.2.1.2. Polypropylene (PP)
5.2.1.3. Polyvinylchloride (PVC)
5.2.1.4. Polyethylene Terephthalate (PET)
5.2.1.5. Others
5.3. North America Plastic-to-fuel (PTF) Market Outlook, by Product, Value (US$ Mn), 2018 - 2026
5.3.1. Key Highlights
5.3.1.1. Diesel
5.3.1.2. Petroleum
5.3.1.3. Kerosene
5.3.1.4. Others
5.4. North America Plastic-to-fuel (PTF) Market Outlook, by Country, Value (US$ Mn), 2018 - 2026
5.4.1. Key Highlights
5.4.1.1. U.S. Plastic-to-fuel (PTF) Market, Value (US$ Mn), 2018 - 2026
5.4.1.2. Canada Plastic-to-fuel (PTF) Market, Value (US$ Mn), 2018 - 2026

6. Europe Plastic-to-fuel (PTF) Market Outlook, 2018 - 2026
6.1. Europe Plastic-to-fuel (PTF) Market Outlook, by Technology, Value (US$ Mn), 2018 - 2026
6.1.1. Key Highlights
6.1.1.1. Pyrolysis
6.1.1.2. Depolymerization
6.2. Europe Plastic-to-fuel (PTF) Market Outlook, by Feedstock, Value (US$ Mn), 2018 - 2026
6.2.1. Key Highlights
6.2.1.1. Polyethylene (PE)
6.2.1.2. Polypropylene (PP)
6.2.1.3. Polyvinylchloride (PVC)
6.2.1.4. Polyethylene Terephthalate (PET)
6.2.1.5. Others
6.3. Europe Plastic-to-fuel (PTF) Market Outlook, by Product, Value (US$ Mn), 2018 - 2026
6.3.1. Key Highlights
6.3.1.1. Diesel
6.3.1.2. Petroleum
6.3.1.3. Kerosene
6.3.1.4. Others
6.4. Europe Plastic-to-fuel (PTF) Market Outlook, by Country, Value (US$ Mn), 2018 - 2026
6.4.1. Key Highlights
6.4.1.1. U.K. Plastic-to-fuel (PTF) Market, Value (US$ Mn), 2018 - 2026
6.4.1.2. Spain Plastic-to-fuel (PTF) Market, Value (US$ Mn), 2018 - 2026
6.4.1.3. Rest of Europe Plastic-to-fuel (PTF) Market, Value (US$ Mn), 2018 - 2026

7. Asia Pacific Plastic-to-fuel (PTF) Market Outlook, 2018 - 2026
7.1. Asia Pacific Plastic-to-fuel (PTF) Market Outlook, by Technology, Value (US$ Mn), 2018 - 2026
7.1.1. Key Highlights
7.1.1.1. Pyrolysis
7.1.1.2. Depolymerization
7.2. Asia Pacific Plastic-to-fuel (PTF) Market Outlook, by Feedstock, Value (US$ Mn), 2018 - 2026
7.2.1. Key Highlights
7.2.1.1. Polyethylene (PE)
7.2.1.2. Polypropylene (PP)
7.2.1.3. Polyvinylchloride (PVC)
7.2.1.4. Polyethylene Terephthalate (PET)
7.2.1.5. Others
7.3. Asia Pacific Plastic-to-fuel (PTF) Market Outlook, by Product, Value (US$ Mn), 2018 - 2026
7.3.1. Key Highlights
7.3.1.1. Diesel
7.3.1.2. Petroleum
7.3.1.3. Kerosene
7.3.1.4. Others
7.4. Asia Pacific Plastic-to-fuel (PTF) Market Outlook, by Country, Value (US$ Mn), 2018 - 2026
7.4.1. Key Highlights
7.4.1.1. China Plastic-to-fuel (PTF) Market, Value (US$ Mn), 2018 - 2026
7.4.1.2. India Plastic-to-fuel (PTF) Market, Value (US$ Mn), 2018 - 2026
7.4.1.3. Rest of Asia Pacific Plastic-to-fuel (PTF) Market, Value (US$ Mn), 2018 - 2026

8. Competitive Landscape
8.1. Company Market Share Analysis, 2019
8.2. Strategic Collaborations
8.3. Company Profiles
8.3.1. ALTERRA ENERGY
8.3.1.1. Company Overview
8.3.1.2. Product Portfolio
8.3.1.3. Financial Overview
8.3.1.4. Business Strategies and Development
8.3.2. Brightmark
8.3.2.1. Company Overview
8.3.2.2. Product Portfolio
8.3.2.3. Financial Overview
8.3.2.4. Business Strategies and Development
8.3.3. Rudra Environmental Solutions
8.3.3.1. Company Overview
8.3.3.2. Product Portfolio
8.3.3.3. Financial Overview
8.3.3.4. Business Strategies and Development
8.3.4. NEEDA GREEN ENERGY
8.3.4.1. Company Overview
8.3.4.2. Product Portfolio
8.3.4.3. Financial Overview
8.3.4.4. Business Strategies and Development
8.3.5. Plastic2Oil
8.3.5.1. Company Overview
8.3.5.2. Product Portfolio
8.3.5.3. Financial Overview
8.3.5.4. Business Strategies and Development
8.3.6. MK Aromatics
8.3.6.1. Company Overview
8.3.6.2. Product Portfolio
8.3.6.3. Financial Overview
8.3.6.4. Business Strategies and Development
8.3.7. Agilyx
8.3.7.1. Company Overview
8.3.7.2. Product Portfolio
8.3.7.3. Financial Overview
8.3.7.4. Business Strategies and Development
8.3.8. Klean Industries Inc.
8.3.8.1. Company Overview
8.3.8.2. Product Portfolio
8.3.8.3. Financial Overview
8.3.8.4. Business Strategies and Development
8.3.9. Global Renewable
8.3.9.1. Company Overview
8.3.9.2. Product Portfolio
8.3.9.3. Financial Overview
8.3.9.4. Business Strategies and Development
8.3.10. Johnson Matthey
8.3.10.1. Company Overview
8.3.10.2. Product Portfolio
8.3.10.3. Financial Overview
8.3.10.4. Business Strategies and Development
8.3.11. RESYNERGI
8.3.11.1. Company Overview
8.3.11.2. Product Portfolio
8.3.11.3. Financial Overview
8.3.11.4. Business Strategies and Development
8.3.12. Nexus
8.3.12.1. Company Overview
8.3.12.2. Product Portfolio
8.3.12.3. Financial Overview
8.3.12.4. Business Strategies and Development
8.3.13. Cynar Plc
8.3.13.1. Company Overview
8.3.13.2. Product Portfolio
8.3.13.3. Financial Overview
8.3.13.4. Business Strategies and Development
8.3.14. Peel L&P Holdings (UK) Limited
8.3.14.1. Company Overview
8.3.14.2. Product Portfolio
8.3.14.3. Financial Overview
8.3.14.4. Business Strategies and Development


9. Appendix
9.1. Research Methodology
9.2. Report Assumptions
9.3. Acronyms and Abbreviations
BASE YEAR

HISTORICAL DATA

FORECAST PERIOD

UNITS

2020

2018 - 2019

2021 - 2026

Value: US$ Million
REPORT FEATURES

DETAILS

Technology Coverage

Pyrolysis

Depolymerization

Feedstock Coverage

Product Coverage

Geographical Coverage

North America

Europe

U.K.

Spain

Rest of Europe

Asia Pacific

China

India

Rest of Asia Pacific

Leading Companies

ALTERRA ENERGY

Brightmark

Rudra Environmental Solutions

NEEDA GREEN ENERGY

Plastic2Oil

MK Aromatics

Agilyx

Klean Industries Inc.

Global Renewable

Johnson Matthey

RESYNERGI

Nexus

Peel L&P Holdings (UK) Limited

Cynar Plc

Report Highlights

Key Market Indicators, Macro-micro economic impact analysis, Technological Roadmap, Key Trends, Driver, Restraints, and Future Opportunities & Revenue Pockets, Porter's 5 Forces Analysis, PEST Analysis, Historical Trend (2018-2019), Cost Structure Analysis, Market Estimates and Forecast, Market Dynamics, Industry Trends, Competition Landscape, Category, Region, Country-wise Trends & Analysis, COVID-19 Impact Analysis (Demand and Supply Chain)