The global polymer additive manufacturing market size is set to reach around US$44 Bn by the end of 2030, demonstrating an estimated CAGR of 24.1% during 2023 - 2030.
Market Analysis in Brief
Fabricating intricate and unique polymer parts is made possible through additive manufacturing, also called 3D printing. Using computer-aided design (CAD) software entails the layer-by-layer deposition of materials to produce three-dimensional things. Numerous benefits are provided by this technique, including shorter lead times, affordable production, design freedom, and the capacity to produce complex geometries. As a result, the market for polymer additive manufacturing has grown significantly in recent years. Since 3D printing technology has become more widely used across industries, the market for polymer additive manufacturing has grown significantly.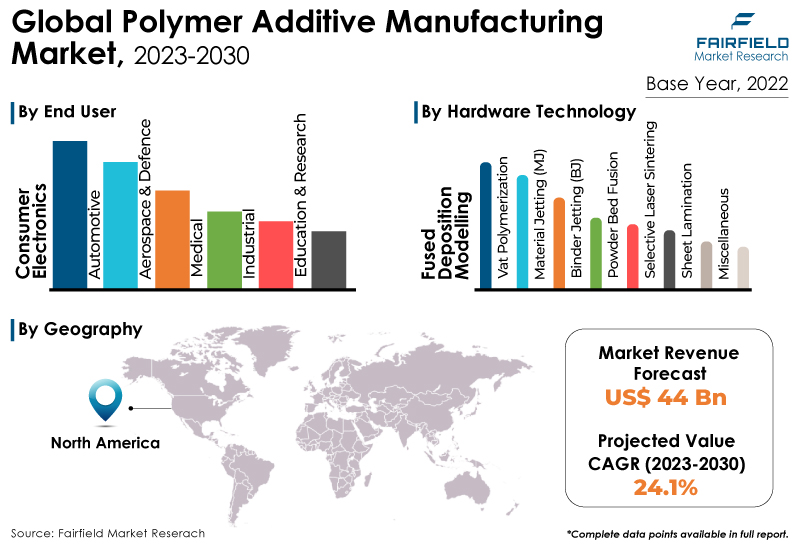 Polymer additive manufacturing has expanded in industries like aerospace and automotive due to the necessity for lightweight, strong, and complicated parts. The market has also grown more due to printing and material technology improvements and cost reductions. Nonetheless, the expansion of the polymer additive manufacturing market is hampered by issues like constrained material options and sluggish manufacturing rates. However, the sector offers great potential for innovation and growth, with the potential to completely transform current manufacturing methods.
Key Report Findings
The market for polymer additive manufacturing will demonstrate substantial expansion in revenue between the years of forecast, 2023 and 2030.
With the boom around lightweighting rising stronger, especially in the automotive industry, the prospects of polymer additive manufacturing will be on an uptrend.
Due to the demand for complex, lightweight, and strong parts, polymer additive manufacturing has become more prevalent in sectors like aerospace and automotive.
Fused deposition modelling (FDM) hardware technology remains the most popular technique in the market.
North America will continue to lead its way, whereas the Asia Pacific market will experience the strongest growth till 2030.
Growth Drivers
Development of Affordable, High-performing 3D Printing Materials
The development of low-cost, high-performance 3D printing materials is driving the expansion of the market for polymer additive manufacturing. Acrylonitrile butadiene styrene, popularly ABS, is a robust, long-lasting plastic. While digital light processing (DLP), and stereolithography (SL) methods mostly use filament made of polylactic acid (PLA), a biodegradable polymer with better strength. However, several manufacturers in the polymer additive manufacturing market have started producing sophisticated polymers due to the sharply rising industrial demand for 3D printing.
The company claims that these polymer resins are best suited for procedures like DLP and SL because of their toughness and impact-resistant qualities. A number of the players are also working with other businesses to create an affordable SLS printing method for high-performance polymers. For instance, in March 2019, the Belgian start-up Aerosint, which operates in the selective powder deposition systems market, and the specialty chemicals and advanced materials manufacturing company Solvay S.A. collaborated to develop an economically viable SLS printing process for high-performance polymers like polyphenylene sulfide (PPS), and polyetheretherketone (PEEK).
Rising Adoption in Automotive Sector is Fueling the Market Growth
The manufacturing of finished automotive parts benefits greatly from 3D printing. Major automotive manufacturers like Volkswagen, BMW, and Ford produce final auto parts using polymer additive technology. The most recent development in 3D printing is called fused filament fabrication, or FFF, and it looks at various materials to see if they have qualities similar to plastics. The necessary components and designs may be produced using a 3D printer, which frees businesses from relying on outside suppliers and further streamlines production procedures. Polymer additive manufacturing enables production without tools and virtually limitless design freedom. Ford automotive, for instance, prints parts using 3D technology.
The organisation is combining AI with 3D technology to enhance its business skills. The industry pioneer in automotive created a robotic system to run 3D printers in March 2022. Through this interface, machines from various suppliers can communicate with one another and run portions of the manufacturing line on their own. By 2035, General Motors wants every car in its fleet to be zero-emission. Developing complex components and light, battery-efficient cars depends heavily on polymer additive manufacturing. Having trouble fabricating a part for the Chevrolet Tahoe in 2022, General Motors resorted to HP's 3D printing technology.
Market Challenges
Climbing Costs of Machinery and Materials
The cost of machinery and materials significantly constrains the polymer additive manufacturing market. The initial investment and recurring costs associated with 3D printing equipment and materials can be a barrier for businesses and organisations contemplating adoption, even though 3D printing has several advantages, including design flexibility, quick prototyping, and decreased material waste.
The price of purchasing 3D printing machinery can be significant, particularly for expensive, industrial-grade 3D printers. Small and medium-sized businesses (SMEs) may find it prohibitively expensive to use advanced 3D printing technology, such as large-format machines or multi-material printers.
Furthermore, compared to conventional production materials, the materials used in 3D printing, particularly specialized filaments and resins, can be more expensive. Costs associated with manufacturing can increase dramatically when high-performance polymers and composite materials are used, which are frequently necessary for particular applications.
Additionally, 3D printing equipment maintenance and operation may call for specialised skills and training. Hiring qualified staff or spending on employee training may necessitate businesses adding to overall costs. Many 3D-printed items need post-processing procedures such as support removal, cleaning, and finishing. These additional stages could extend the production time and raise labour costs.
Overview of Key Segments
FDM Remains a Leading Technology Category
The fused-deposition modelling (FDM) category held the largest share of the market in 2022. Due to its usability, adaptability, and expanding usage across industries, the FDM segment of the polymer additive manufacturing market has seen tremendous expansion over the years. Alongside other technologies like selective laser sintering (SLS), and stereolithography (SLA), FDM is projected to play a significant role in the polymer additive manufacturing industry as 3D printing technology develops. The market will rise due to the continued creation of novel materials, and advancements in FDM technology.
FDM is one of the industry's most well-known and regularly used polymer additive manufacturing technologies. In this specific 3D printing process, the feedstock material is a thermoplastic filament. FDM offers flexibility in material choice depending on individual application requirements by supporting a wide range of thermoplastic materials, such as ABS, PLA, PETG, nylon, and others. In addition, compared to conventional manufacturing techniques, the FDM process uses materials more effectively, producing lesser waste.
Demand from Electronics Industry Rises
The demand from consumer electronics industry led the market in 2022. Various sensors especially are likely to keep the demand for polymer additive materials afloat as they are widely employed to monitor and improve the 3D printing procedure, ensuring improved control, effectiveness, and quality of manufactured objects. During 3D printing, sensors keep track of various variables, including temperature, humidity, print head position, material flow, and build platform placement. Anomalies and deviations are found via real-time monitoring, enabling quick corrections to guarantee successful printing.
Sensors can also evaluate the quality of printed items by checking their dimensions, surface quality, and other important factors. This information helps locate flaws or discrepancies and facilitates quality control and process improvement. Additionally, sensors are employed in some sophisticated 3D printing systems to regulate material parameters while printing. For instance, temperature sensors can control the printing chamber's temperature to prevent warping or ensure correct layer adhesion. Moreover, integrating sensors aligns with the Industry 4.0 idea, in which smart manufacturing systems use data, automation, and connection to increase productivity and product quality.
Growth Opportunities Across Regions
North America- a Hotbed for 3D Printed Polymer Materials
The polymer additive manufacturing market will continue to dominate in North America. North America is home to nations with established economies, like the United States and Canada. These nations' economies are regarded as some of the leading and early adopters of cutting-edge technology. The US has led the way in 3D printing technology development. The region is home to many top 3D printer manufacturers, academic institutions, and technological firms, which fosters creativity and new product development.
According to the 3D Printing Sentiment Index 2021, even though the technology has seen a surge in the US in terms of adoption over the past year, over 60% of American firms might benefit from 3D printing if they do not already use it. This indicates that there will likely be a lot of opportunities in this area in the years to come. Additionally, the market is expected to develop due to increasing government programs and investments in polymer additive manufacturing in the US.
The growing collaboration between research universities in Canada in the area of polymer additive manufacturing also has a measurable impact on market expansion. In the defense industry, polymer additive manufacturing is also used to manufacture parts of vehicles, and weapons. Furthermore, the US is investing heavily in R&D of polymer additive manufacturing, which is expected to hasten the market expansion in this field.
Asia Pacific Has Noteworthy Prospects in Store
The market for polymer additive manufacturing across Asia Pacific will display a significant CAGR over the forecast period. Emerging economies like China, and India are fueling the region's business boom. Polymer additive manufacturing is in high demand, driven by China's aerospace and automotive sectors.
Although the automotive industry employs polymer additive manufacturing to produce sophisticated and lightweight parts for intricate features, the aerospace industry uses it to produce complex parts for aviation engines. It is projected that the market will grow as a result of the government's emphasis on fostering the use of polymer additive manufacturing in the manufacturing industry.
Many nations in the Asia Pacific area have implemented policies and programmes to support innovative manufacturing technologies, including polymer additive manufacturing. Research, development, and acceptance of 3D printing technology have all been accelerated by government backing. The Asia Pacific region's enterprises from various industries have been adopting polymer additive manufacturing for quick prototyping, tooling, and even the production of finished parts as knowledge of the advantages of 3D printing rises.
Polymer Additive Manufacturing Market: Competitive Landscape
Some of the leading players at the forefront in the polymer additive manufacturing market space include 3D Systems, Protolabs, Arkema S.A., Xometry Inc., Covestro AG, DuPont, Inc., EOS GmbH, Hexagon AB, Evonik Industries AG, INTAMSYS, Stratasys Ltd., and Solvay S.A.
Recent Notable Developments
In April 2021, Evonik Industries AG, a manufacturer of specialized chemicals with headquarters in Germany, introduced its new photopolymer product line for 3D printing under the INFINAM name in April 2021.
In May 2021, through its subsidiary company, Makerbot, the American-Israeli 3D printer and 3D production system producer Stratasys Ltd. began supplying its polymers to various addictive manufacturing companies. MakerBot will introduce the METHOD Carbon Fibre Edition material due to the partnership. This product introduction is anticipated to allow engineers to print precise and durable parts for production tools, giving MakerBot a chance to diversify its product line.
The Global Polymer Additive Manufacturing Market is Segmented as Below:
By Hardware Technology
Fused Deposition Modeling (FDM)
Vat Polymerization
Material Jetting (MJ)
Binder Jetting (BJ)
Powder Bed Fusion (PBF)
Selective Laser Sintering (SLS)
Sheet Lamination
Miscellaneous
By Material
Acrylonitrile Butadiene Styrene (ABS)
Polycarbonate (PC)
Nylon
Polyvinyl Alcohol (PVA)
Polylactic Acid (PLA)
Acrylonitrile Styrene Acrylate (ASA)
Others
By End User
Automotive
Aerospace & Defense
Consumer Electronics
Medical
Industrial
Education & Research
Miscellaneous
By Geographic Coverage
North America
Europe

Germany
U.K.
France
Italy
Turkey
Russia
Rest of Europe

Asia Pacific

China
Japan
South Korea
India
Southeast Asia
Rest of Asia Pacific

Latin America

Brazil
Mexico
Rest of Latin America

Middle East & Africa

GCC
South Africa
Rest of Middle East & Africa
Leading Companies
Hexagon AB
Solvay S.A.
EOS GmbH
Evonik Industries AG
INTAMSYS
Protolabs
Stratasys Ltd.
BASF SE
Xometry Inc.
Saudi Basic Industries Corporation (SABIC)
Huntsman International LLC.
1. Executive Summary
1.1. Global Polymer Additive Manufacturing Market Snapshot
1.2. Future Projections
1.3. Key Market Trends
1.4. Regional Snapshot, by Value, 2022
1.5. Analyst Recommendations

2. Market Overview
2.1. Market Definitions and Segmentations
2.2. Market Dynamics
2.2.1. Drivers
2.2.2. Restraints
2.2.3. Market Opportunities
2.3. Value Chain Analysis
2.4. Porter's Five Forces Analysis
2.5. Covid-19 Impact Analysis
2.5.1. Supply
2.5.2. Demand
2.6. Impact of Ukraine-Russia Conflict
2.7. Economic Overview
2.7.1. World Economic Projections
2.8. PESTLE Analysis

3. Global Polymer Additive Manufacturing Market Outlook, 2018 - 2030
3.1. Global Polymer Additive Manufacturing Market Outlook, by Hardware Technology, Value (US$ Bn), 2018 - 2030
3.1.1. Key Highlights
3.1.1.1. Fused Deposition Modeling (FDM)
3.1.1.2. Vat Polymerization
3.1.1.3. Material Jetting (MJ)
3.1.1.4. Binder Jetting (BJ)
3.1.1.5. Powder Bed Fusion (PBF)
3.1.1.6. Selective Laser Sintering (SLS)
3.1.1.7. Sheet Lamination
3.1.1.8. Misc.
3.2. Global Polymer Additive Manufacturing Market Outlook, by Material, Value (US$ Bn), 2018 - 2030
3.2.1. Key Highlights
3.2.1.1. Acrylonitrile Butadiene Styrene (ABS)
3.2.1.2. Acrylonitrile Buta
3.2.1.3. Nylon
3.2.1.4. Polyvinyl Alcohol (PVA)
3.2.1.5. Others
3.3. Global Polymer Additive Manufacturing Market Outlook, by End-user, Value (US$ Bn), 2018 - 2030
3.3.1. Key Highlights
3.3.1.1. Automotive
3.3.1.2. Aerospace & Defence
3.3.1.3. Consumer Electronics
3.3.1.4. Medical
3.3.1.5. Industrial
3.3.1.6. Education & Research
3.3.1.7. Misc.
3.4. Global Polymer Additive Manufacturing Market Outlook, by Region, Value (US$ Bn), 2018 - 2030
3.4.1. Key Highlights
3.4.1.1. North America
3.4.1.2. Europe
3.4.1.3. Asia Pacific
3.4.1.4. Latin America
3.4.1.5. Middle East & Africa

4. North America Polymer Additive Manufacturing Market Outlook, 2018 - 2030
4.1. North America Polymer Additive Manufacturing Market Outlook, by Hardware Technology, Value (US$ Bn), 2018 - 2030
4.1.1. Key Highlights
4.1.1.1. Fused Deposition Modeling (FDM)
4.1.1.2. Vat Polymerization
4.1.1.3. Material Jetting (MJ)
4.1.1.4. Binder Jetting (BJ)
4.1.1.5. Powder Bed Fusion (PBF)
4.1.1.6. Selective Laser Sintering (SLS)
4.1.1.7. Sheet Lamination
4.1.1.8. Misc.
4.2. North America Polymer Additive Manufacturing Market Outlook, by Material, Value (US$ Bn), 2018 - 2030
4.2.1. Key Highlights
4.2.1.1. Acrylonitrile Butadiene Styrene (ABS)
4.2.1.2. Acrylonitrile Buta
4.2.1.3. Nylon
4.2.1.4. Polyvinyl Alcohol (PVA)
4.2.1.5. Others
4.3. North America Polymer Additive Manufacturing Market Outlook, by End-user, Value (US$ Bn), 2018 - 2030
4.3.1. Key Highlights
4.3.1.1. Automotive
4.3.1.2. Aerospace & Defence
4.3.1.3. Consumer Electronics
4.3.1.4. Medical
4.3.1.5. Industrial
4.3.1.6. Education & Research
4.3.1.7. Misc.
4.3.2. Market Attractiveness Analysis
4.4. North America Polymer Additive Manufacturing Market Outlook, by Country, Value (US$ Bn), 2018 - 2030
4.4.1. Key Highlights
4.4.1.1. U.S. Polymer Additive Manufacturing Market by Hardware Technology, Value (US$ Bn), 2018 - 2030
4.4.1.2. U.S. Polymer Additive Manufacturing Market Material, Value (US$ Bn), 2018 - 2030
4.4.1.3. U.S. Polymer Additive Manufacturing Market Application- for Electronics, Value (US$ Bn), 2018 - 2030
4.4.1.4. Canada Polymer Additive Manufacturing Market by Hardware Technology, Value (US$ Bn), 2018 - 2030
4.4.1.5. Canada Polymer Additive Manufacturing Market Material, Value (US$ Bn), 2018 - 2030
4.4.1.6. Canada Polymer Additive Manufacturing Market Application- for Electronics, Value (US$ Bn), 2018 - 2030
4.4.2. BPS Analysis/Market Attractiveness Analysis

5. Europe Polymer Additive Manufacturing Market Outlook, 2018 - 2030
5.1. Europe Polymer Additive Manufacturing Market Outlook, by Hardware Technology, Value (US$ Bn), 2018 - 2030
5.1.1. Key Highlights
5.1.1.1. Fused Deposition Modeling (FDM)
5.1.1.2. Vat Polymerization
5.1.1.3. Material Jetting (MJ)
5.1.1.4. Binder Jetting (BJ)
5.1.1.5. Powder Bed Fusion (PBF)
5.1.1.6. Selective Laser Sintering (SLS)
5.1.1.7. Sheet Lamination
5.1.1.8. Misc.
5.2. Europe Polymer Additive Manufacturing Market Outlook, by Material, Value (US$ Bn), 2018 - 2030
5.2.1. Key Highlights
5.2.1.1. Acrylonitrile Butadiene Styrene (ABS)
5.2.1.2. Acrylonitrile Buta
5.2.1.3. Nylon
5.2.1.4. Polyvinyl Alcohol (PVA)
5.2.1.5. Others
5.3. Europe Polymer Additive Manufacturing Market Outlook, by End-user, Value (US$ Bn), 2018 - 2030
5.3.1. Key Highlights
5.3.1.1. Automotive
5.3.1.2. Aerospace & Defence
5.3.1.3. Consumer Electronics
5.3.1.4. Medical
5.3.1.5. Industrial
5.3.1.6. Education & Research
5.3.1.7. Misc.
5.3.2. BPS Analysis/Market Attractiveness Analysis
5.4. Europe Polymer Additive Manufacturing Market Outlook, by Country, Value (US$ Bn), 2018 - 2030
5.4.1. Key Highlights
5.4.1.1. Germany Polymer Additive Manufacturing Market by Hardware Technology, Value (US$ Bn), 2018 - 2030
5.4.1.2. Germany Polymer Additive Manufacturing Market Material, Value (US$ Bn), 2018 - 2030
5.4.1.3. Germany Polymer Additive Manufacturing Market Application- for Electronics, Value (US$ Bn), 2018 - 2030
5.4.1.4. U.K. Polymer Additive Manufacturing Market by Hardware Technology, Value (US$ Bn), 2018 - 2030
5.4.1.5. U.K. Polymer Additive Manufacturing Market Material, Value (US$ Bn), 2018 - 2030
5.4.1.6. U.K. Polymer Additive Manufacturing Market Application- for Electronics, Value (US$ Bn), 2018 - 2030
5.4.1.7. France Polymer Additive Manufacturing Market by Hardware Technology, Value (US$ Bn), 2018 - 2030
5.4.1.8. France Polymer Additive Manufacturing Market Material, Value (US$ Bn), 2018 - 2030
5.4.1.9. France Polymer Additive Manufacturing Market Application- for Electronics, Value (US$ Bn), 2018 - 2030
5.4.1.10. Italy Polymer Additive Manufacturing Market by Hardware Technology, Value (US$ Bn), 2018 - 2030
5.4.1.11. Italy Polymer Additive Manufacturing Market Material, Value (US$ Bn), 2018 - 2030
5.4.1.12. Italy Polymer Additive Manufacturing Market Application- for Electronics, Value (US$ Bn), 2018 - 2030
5.4.1.13. Turkey Polymer Additive Manufacturing Market by Hardware Technology, Value (US$ Bn), 2018 - 2030
5.4.1.14. Turkey Polymer Additive Manufacturing Market Material, Value (US$ Bn), 2018 - 2030
5.4.1.15. Turkey Polymer Additive Manufacturing Market Application- for Electronics, Value (US$ Bn), 2018 - 2030
5.4.1.16. Russia Polymer Additive Manufacturing Market by Hardware Technology, Value (US$ Bn), 2018 - 2030
5.4.1.17. Russia Polymer Additive Manufacturing Market Material, Value (US$ Bn), 2018 - 2030
5.4.1.18. Russia Polymer Additive Manufacturing Market Application- for Electronics, Value (US$ Bn), 2018 - 2030
5.4.1.19. Rest of Europe Polymer Additive Manufacturing Market by Hardware Technology, Value (US$ Bn), 2018 - 2030
5.4.1.20. Rest of Europe Polymer Additive Manufacturing Market Material, Value (US$ Bn), 2018 - 2030
5.4.1.21. Rest of Europe Polymer Additive Manufacturing Market Application- for Electronics, Value (US$ Bn), 2018 - 2030
5.4.2. BPS Analysis/Market Attractiveness Analysis


6. Asia Pacific Polymer Additive Manufacturing Market Outlook, 2018 - 2030
6.1. Asia Pacific Polymer Additive Manufacturing Market Outlook, by Hardware Technology, Value (US$ Bn), 2018 - 2030
6.1.1. Key Highlights
6.1.1.1. Fused Deposition Modeling (FDM)
6.1.1.2. Vat Polymerization
6.1.1.3. Material Jetting (MJ)
6.1.1.4. Binder Jetting (BJ)
6.1.1.5. Powder Bed Fusion (PBF)
6.1.1.6. Selective Laser Sintering (SLS)
6.1.1.7. Sheet Lamination
6.1.1.8. Misc.
6.2. Asia Pacific Polymer Additive Manufacturing Market Outlook, by Material, Value (US$ Bn), 2018 - 2030
6.2.1. Key Highlights
6.2.1.1. Automotive
6.2.1.2. Aerospace & Defence
6.2.1.3. Consumer Electronics
6.2.1.4. Medical
6.2.1.5. Industrial
6.2.1.6. Education & Research
6.2.1.7. Misc.
6.3. Asia Pacific Polymer Additive Manufacturing Market Outlook, by End-user, Value (US$ Bn), 2018 - 2030
6.3.1. Key Highlights
6.3.1.1. Radio Frequency Components
6.3.1.2. Antenna
6.3.1.3. Sensors
6.3.1.4. PCB's (Printed Circuit Boards)
6.3.1.5. Others
6.3.2. BPS Analysis/Market Attractiveness Analysis
6.4. Asia Pacific Polymer Additive Manufacturing Market Outlook, by Country, Value (US$ Bn), 2018 - 2030
6.4.1. Key Highlights
6.4.1.1. China Polymer Additive Manufacturing Market by Hardware Technology, Value (US$ Bn), 2018 - 2030
6.4.1.2. China Polymer Additive Manufacturing Market Material, Value (US$ Bn), 2018 - 2030
6.4.1.3. China Polymer Additive Manufacturing Market Application- for Electronics, Value (US$ Bn), 2018 - 2030
6.4.1.4. Japan Polymer Additive Manufacturing Market by Hardware Technology, Value (US$ Bn), 2018 - 2030
6.4.1.5. Japan Polymer Additive Manufacturing Market by Material, Value (US$ Bn), 2018 - 2030
6.4.1.6. Japan Polymer Additive Manufacturing Market by End-user, Value (US$ Bn), 2018 - 2030
6.4.1.7. South Korea Polymer Additive Manufacturing Market by Hardware Technology, Value (US$ Bn), 2018 - 2030
6.4.1.8. South Korea Polymer Additive Manufacturing Market by Material, Value (US$ Bn), 2018 - 2030
6.4.1.9. South Korea Polymer Additive Manufacturing Market by End-user, Value (US$ Bn), 2018 - 2030
6.4.1.10. India Polymer Additive Manufacturing Market by Hardware Technology, Value (US$ Bn), 2018 - 2030
6.4.1.11. India Polymer Additive Manufacturing Market by Material, Value (US$ Bn), 2018 - 2030
6.4.1.12. India Polymer Additive Manufacturing Market by End-user, Value (US$ Bn), 2018 - 2030
6.4.1.13. Southeast Asia Polymer Additive Manufacturing Market by Hardware Technology, Value (US$ Bn), 2018 - 2030
6.4.1.14. Southeast Asia Polymer Additive Manufacturing Market by Material, Value (US$ Bn), 2018 - 2030
6.4.1.15. Southeast Asia Polymer Additive Manufacturing Market by End-user, Value (US$ Bn), 2018 - 2030
6.4.1.16. Rest of Asia Pacific Polymer Additive Manufacturing Market by Hardware Technology, Value (US$ Bn), 2018 - 2030
6.4.1.17. Rest of Asia Pacific Polymer Additive Manufacturing Market by Material, Value (US$ Bn), 2018 - 2030
6.4.1.18. Rest of Asia Pacific Polymer Additive Manufacturing Market by End-user, Value (US$ Bn), 2018 - 2030
6.4.2. BPS Analysis/Market Attractiveness Analysis

7. Latin America Polymer Additive Manufacturing Market Outlook, 2018 - 2030
7.1. Latin America Polymer Additive Manufacturing Market Outlook, by Hardware Technology, Value (US$ Bn), 2018 - 2030
7.1.1. Key Highlights
7.1.1.1. Fused Deposition Modeling (FDM)
7.1.1.2. Vat Polymerization
7.1.1.3. Material Jetting (MJ)
7.1.1.4. Binder Jetting (BJ)
7.1.1.5. Powder Bed Fusion (PBF)
7.1.1.6. Selective Laser Sintering (SLS)
7.1.1.7. Sheet Lamination
7.1.1.8. Misc.
7.2. Latin America Polymer Additive Manufacturing Market Outlook, by Material, Value (US$ Bn), 2018 - 2030
7.2.1. Key Highlights
7.2.1.1. Acrylonitrile Butadiene Styrene (ABS)
7.2.1.2. Acrylonitrile Buta
7.2.1.3. Nylon
7.2.1.4. Polyvinyl Alcohol (PVA)
7.2.1.5. Others
7.3. Latin America Polymer Additive Manufacturing Market Outlook, by End-user, Value (US$ Bn), 2018 - 2030
7.3.1. Key Highlights
7.3.1.1. Automotive
7.3.1.2. Aerospace & Defence
7.3.1.3. Consumer Electronics
7.3.1.4. Medical
7.3.1.5. Industrial
7.3.1.6. Education & Research
7.3.1.7. Misc.
7.3.2. BPS Analysis/Market Attractiveness Analysis
7.4. Latin America Polymer Additive Manufacturing Market Outlook, by Country, Value (US$ Bn), 2018 - 2030
7.4.1. Key Highlights
7.4.1.1. Brazil Polymer Additive Manufacturing Market by Hardware Technology, Value (US$ Bn), 2018 - 2030
7.4.1.2. Brazil Polymer Additive Manufacturing Market by Material, Value (US$ Bn), 2018 - 2030
7.4.1.3. Brazil Polymer Additive Manufacturing Market by End-user, Value (US$ Bn), 2018 - 2030
7.4.1.4. Mexico Polymer Additive Manufacturing Market by Hardware Technology, Value (US$ Bn), 2018 - 2030
7.4.1.5. Mexico Polymer Additive Manufacturing Market by Material, Value (US$ Bn), 2018 - 2030
7.4.1.6. Mexico Polymer Additive Manufacturing Market by End-user, Value (US$ Bn), 2018 - 2030
7.4.1.7. Argentina Polymer Additive Manufacturing Market by Hardware Technology, Value (US$ Bn), 2018 - 2030
7.4.1.8. Rest of Latin America Polymer Additive Manufacturing Market by Hardware Technology, Value (US$ Bn), 2018 - 2030
7.4.1.9. Rest of Latin America Polymer Additive Manufacturing Market by Material, Value (US$ Bn), 2018 - 2030
7.4.1.10. Rest of Latin America Polymer Additive Manufacturing Market by End-user, Value (US$ Bn), 2018 - 2030
7.4.2. BPS Analysis/Market Attractiveness Analysis

8. Middle East & Africa Polymer Additive Manufacturing Market Outlook, 2018 - 2030
8.1. Middle East & Africa Polymer Additive Manufacturing Market Outlook, by Hardware Technology, Value (US$ Bn), 2018 - 2030
8.1.1. Key Highlights
8.1.1.1. Fused Deposition Modeling (FDM)
8.1.1.2. Vat Polymerization
8.1.1.3. Material Jetting (MJ)
8.1.1.4. Binder Jetting (BJ)
8.1.1.5. Powder Bed Fusion (PBF)
8.1.1.6. Selective Laser Sintering (SLS)
8.1.1.7. Sheet Lamination
8.1.1.8. Misc.
8.2. Middle East & Africa Polymer Additive Manufacturing Market Outlook, by Material, Value (US$ Bn), 2018 - 2030
8.2.1. Key Highlights
8.2.1.1. Acrylonitrile Butadiene Styrene (ABS)
8.2.1.2. Acrylonitrile Buta
8.2.1.3. Nylon
8.2.1.4. Polyvinyl Alcohol (PVA)
8.2.1.5. Others
8.3. Middle East & Africa Polymer Additive Manufacturing Market Outlook, by End-user, Value (US$ Bn), 2018 - 2030
8.3.1. Key Highlights
8.3.1.1. Automotive
8.3.1.2. Aerospace & Defence
8.3.1.3. Consumer Electronics
8.3.1.4. Medical
8.3.1.5. Industrial
8.3.1.6. Education & Research
8.3.1.7. Misc.
8.3.2. BPS Analysis/Market Attractiveness Analysis
8.4. Middle East & Africa Polymer Additive Manufacturing Market Outlook, by Country, Value (US$ Bn), 2018 - 2030
8.4.1. Key Highlights
8.4.1.1. GCC Polymer Additive Manufacturing Market by Hardware Technology, Value (US$ Bn), 2018 - 2030
8.4.1.2. GCC Polymer Additive Manufacturing Market by Material, Value (US$ Bn), 2018 - 2030
8.4.1.3. GCC Polymer Additive Manufacturing Market by End-user, Value (US$ Bn), 2018 - 2030
8.4.1.4. South Africa Polymer Additive Manufacturing Market by Hardware Technology, Value (US$ Bn), 2018 - 2030
8.4.1.5. South Africa Polymer Additive Manufacturing Market by Material, Value (US$ Bn), 2018 - 2030
8.4.1.6. South Africa Polymer Additive Manufacturing Market by End-user, Value (US$ Bn), 2018 - 2030
8.4.1.7. Rest of Middle East & Africa Polymer Additive Manufacturing Market by Hardware Technology, Value (US$ Bn), 2018 - 2030
8.4.1.8. Rest of Middle East & Africa Polymer Additive Manufacturing Market by Material, Value (US$ Bn), 2018 - 2030
8.4.1.9. Rest of Middle East & Africa Polymer Additive Manufacturing Market by End-user, Value (US$ Bn), 2018 - 2030
8.4.2. BPS Analysis/Market Attractiveness Analysis

9. Competitive Landscape
9.1. Product vs Application- for Electronics Heatmap
9.2. Manufacturer vs Application- for Electronics Heatmap
9.3. Company Market Share Analysis, 2022
9.4. Competitive Dashboard
9.5. Company Profiles
9.5.1. 3D Systems
9.5.1.1. Company Overview
9.5.1.2. Product Portfolio
9.5.1.3. Financial Overview
9.5.1.4. Business Strategies and Development
9.5.2. Arkema S.A.
9.5.2.1. Company Overview
9.5.2.2. Product Portfolio
9.5.2.3. Financial Overview
9.5.2.4. Business Strategies and Development
9.5.3. Solvay S.A.
9.5.3.1. Company Overview
9.5.3.2. Product Portfolio
9.5.3.3. Financial Overview
9.5.3.4. Business Strategies and Development
9.5.4. Covestro AG
9.5.4.1. Company Overview
9.5.4.2. Product Portfolio
9.5.4.3. Financial Overview
9.5.4.4. Business Strategies and Development
9.5.5. DuPont, Inc.
9.5.5.1. Company Overview
9.5.5.2. Product Portfolio
9.5.5.3. Financial Overview
9.5.5.4. Business Strategies and Development
9.5.6. EOS GmbH
9.5.6.1. Company Overview
9.5.6.2. Product Portfolio
9.5.6.3. Financial Overview
9.5.6.4. Business Strategies and Development
9.5.7. Hexagon AB
9.5.7.1. Company Overview
9.5.7.2. Product Portfolio
9.5.7.3. Financial Overview
9.5.7.4. Business Strategies and Development
9.5.8. Evonik Industries AG
9.5.8.1. Company Overview
9.5.8.2. Product Portfolio
9.5.8.3. Financial Overview
9.5.8.4. Business Strategies and Development
9.5.9. Stratasys Ltd.
9.5.9.1. Company Overview
9.5.9.2. Product Portfolio
9.5.9.3. Financial Overview
9.5.9.4. Business Strategies and Development
9.5.10. Sony Corporation
9.5.10.1. Company Overview
9.5.10.2. Product Portfolio
9.5.10.3. Financial Overview
9.5.10.4. Business Strategies and Development
9.5.11. INTAMSYS
9.5.11.1. Company Overview
9.5.11.2. Product Portfolio
9.5.11.3. Financial Overview
9.5.11.4. Business Strategies and Development
9.5.12. Protolabs
9.5.12.1. Company Overview
9.5.12.2. Product Portfolio
9.5.12.3. Financial Overview
9.5.12.4. Business Strategies and Development
9.5.13. BASF SE
9.5.13.1. Company Overview
9.5.13.2. Product Portfolio
9.5.13.3. Financial Overview
9.5.13.4. Business Strategies and Development
9.5.14. Saudi Basic Industries Corporation (SABIC)
9.5.14.1. Company Overview
9.5.14.2. Product Portfolio
9.5.14.3. Financial Overview
9.5.14.4. Business Strategies and Development
9.5.15. Huntsman International LLC.
9.5.15.1. Company Overview
9.5.15.2. Product Portfolio
9.5.15.3. Financial Overview
9.5.15.4. Business Strategies and Development
10. Appendix
10.1. Research Methodology
10.2. Report Assumptions
10.3. Acronyms and Abbreviations
BASE YEAR

HISTORICAL DATA

FORECAST PERIOD

UNITS

2022

2019 - 2022

2023 - 2030

Value: US$ Million
REPORT FEATURES

DETAILS

Hardware Technology Coverage

Fused Deposition Modelling (FDM)

Vat Polymerization

Material Jetting (MJ)

Binder Jetting (BJ)

Powder Bed Fusion (PBF)

Selective Laser Sintering (SLS)

Sheet Lamination

Miscellaneous

Material Coverage

Acrylonitrile Butadiene Styrene (ABS)

Polycarbonate (PC)

Nylon

Polyvinyl Alcohol (PVA)

Polylactic Acid (PLA)

Acrylonitrile Styrene Acrylate (ASA)

Others

End User Coverage

Automotive

Aerospace & Defense

Consumer Electronics

Medical

Industrial

Education & Research

Misc

ellaneous

Geographical Coverage

Europe

Germany

UK

France

Italy

Spain

Rest of EU

Asia Pacific

China

Japan

India

South Korea

Rest of APAC

RoW

Leading Companies

Arkema S.A.

Covestro AG

DuPont, Inc.

Hexagon AB

Solvay S.A.

EOS GmbH

Evonik Industries AG

INTAMSYS

Protolabs

Stratasys Ltd.

BASF SE

Xometry Inc.

Saudi Basic Industries Corporation (SABIC)

Huntsman International LLC.

Report Highlights

Key Market Indicators, Macro-micro economic impact analysis, Technological Roadmap, Key Trends, Driver, Restraints, and Future Opportunities & Revenue Pockets, Porter's 5 Forces Analysis, Historical Trend (2019-2021), Market Estimates and Forecast, Market Dynamics, Industry Trends, Competition Landscape, Category, Region, Country-wise Trends & Analysis, COVID-19 Impact Analysis (Demand and Supply Chain)