The global redox flow battery market will rise at a significant pace of 15% CAGR during the period of assessment 2023 - 2030, reaching a market value of around US$700 Mn by the end of 2030.
Market Analysis in Brief
A battery is a collection of cells that can store energy and release it as needed. A redox flow battery is a form of electrochemical cell where two chemical components create chemical energy that is dissolved in a liquid-contained system and separated by the membrane. This system is called a stack because it contains two electrical components, an anode and a cathode, each of which has a separate tank. The bipolar plate and membrane are additional battery parts. The needed power output dictates the number and size of the stack, which in turn affects the battery's capacity.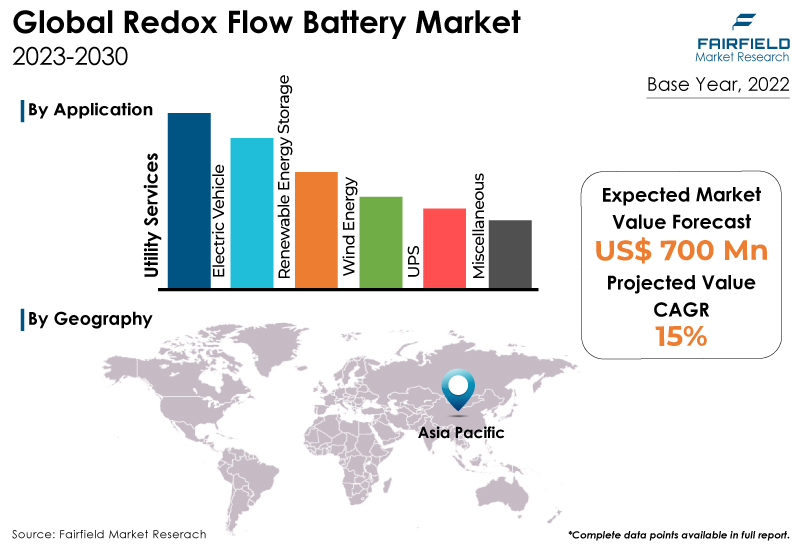 The term trem redox in the redox flow battery refers to a redox reaction, which is a change in the degree of oxidation of a chemical, that is, oxidation and reduction. Electrons are moved from one element to another, and the entire system generates energy. The first stage of an 800 MWh flow battery project in China has been completed, according to VRB Energy. The first part of this project includes a 100MW/400MWh vanadium redox flow battery energy storage technology.
Furthermore, VRB Energy has completed the first stage of an 800 MWh flow battery project in China. The first part of this project includes a 100MW/400MWh vanadium redox flow battery energy storage technology. Additionally, because of technical improvements and developments, the worldwide flow battery market will likely grow quickly throughout the forecast period. Furthermore, the focus on strengthening grid systems will accelerate the growth of this market. Furthermore, the safety features of flow batteries and their ability to store active materials away from the reactive point source will contribute to the market's growth.
Key Report Findings
The market for redox flow batteries will demonstrate noteworthy revenue expansion over the period of projection, i.e., between 2023 and 2030.
Growing financial support for renewable energy sources, as well as an increase in remote telecommunication tower deployments, are some of the drivers driving the flow battery market.
Demand for hybrid redox flow batteries remains higher in the market.
The utility services category held the highest revenue share in the market in 2022.
Asia Pacific will continue to lead, whereas North America's redox flow battery market will experience the strongest growth until 2030.
Growth Drivers
Accelerating Use of Renewable Energy
The growth of renewable energy is driving the market CAGR for flow battery. The importance of energy storage in the power industry is rapidly increasing, owing mostly to rising investment in the renewable energy sector. Although lithium-ion batteries are extensively utilised, flow batteries hold promise for long-term use and applications requiring a continuous daily cycle. Using flow batteries, renewable energy such as wind and solar can be made available for longer periods, alleviating major intermittency issues. Developers are actively investigating these technologies for their ability to provide power for extended periods and to ramp up and down with no degradation.
Renewable energy storage is one of the most important uses of flow batteries. Countries including the India, China, United States, and Japan have updated their energy policies to include a large portion of energy generation from renewable energy sources like wind and solar. Government financial assistance and associated returns are increasing investments in renewable energy worldwide. Renewable energy is increasingly preferred for developing, updating, and modernising global power infrastructure. The Indian government has planned to invest more than US$25 Bn in 2021 to reach a lofty goal of 175 GW for renewable energy output by 2022. Regarding brand-new electricity generation last year, renewable energy sources like wind, solar, biomass and waste, geothermal, small hydro, and marine made up 55.3%. In light of this, the global market for flow batteries is anticipated to expand over the forecast period.
Since utilities deal with the grid penetration of renewable energy sources, they are an early application area for flow batteries. Utility applications employ flow batteries to serve as a buffer between the electricity demand and the grid's energy supply. Long discharge durations in MW scale power increases in utilities are perfect for flow batteries. Additionally, during grid failures, these batteries provide and transfer energy.
Currently, the bulk of flow battery installation projects worldwide are created to satisfy the requirements of utilities. Government and business organisations have been working to upgrade the infrastructure of the electric grid in recent years due to the rising need for electrification in rural and urban areas.
Development of Sophisticated and Innovative Flow Battery Chemistries
Over the forecast period, the global flow battery market is expected to experience strong growth due to the rising development of cutting-edge and unique flow battery chemistries. Due to the continually expanding flow battery market, numerous businesses and academics worldwide are concentrating on researching and developing novel battery chemistries for the flow battery with a better power density and lower cost. For example, researchers from the University of Burgos in Spain, the University of West Bohemia Pilsen in the Czech Republic, the University of Padua in Italy, and the Basque Research and Technology Alliance (BRTA) conducted a detailed analysis of all hybrid redox flow batteries and redox flow batteries in January 2021. We think that these development efforts will lead to expansion prospects.
Numerous chances for expansion are anticipated to come from flow batteries' expanding residential uses. Because they can lower electricity costs and greenhouse gas emissions, solar PV systems have seen a sharp increase in popularity in residential applications during the past few years. However, due to the unpredictable swings in the solar energy harvested due to the intermittent nature of solar irradiation, solar PV systems are occasionally unsuitable for grid Storage. Solar PV systems can be substituted with a battery energy storage system. For homes and small companies, flow batteries provide maximum energy storage, prevent blackouts and lower energy costs. As a result, flow battery use is expanding in residential applications, which will probably lead to market expansion potential.
Market Challenges
Expensive Initial Investment
Lithium-ion batteries and flow batteries provide renewable energy storage options. Using both types of batteries allows for more efficient demand management, resulting in cheaper utility charges and decreased peak electrical demand. The main distinctions between lithium-ion and flow batteries are power density, cost, and space efficiency.
As a result, demand for lithium-ion batteries is increasing, which is projected to impede growth in the worldwide flow battery market throughout the forecast period. However, with advances in flow battery technology, the industry is expected to increase significantly soon. Furthermore, flow batteries have emerged as a possible replacement for traditional batteries such as lead-acid, lithium-ion, and sodium-based batteries.
However, the initial expenditure necessary to manufacture these flow batteries is significant. Material, component, installation, maintenance, and repair costs are all included in the final cost. This can be a significant expenditure for small and medium-sized businesses. As a result, this factor is projected to stifle future expansion in the worldwide flow battery market.
Overview of Key Segments
Hybrid Type Accounts for the Largest Market Share
The redox flow battery market is dominated by hybrid due to the latest generation of flow batteries being hybrid ones, which are not entirely pure. For large-scale energy storage applications, hybrid flow batteries have become more popular recently. They are suitable for grid-scale energy storage, incorporating renewable energy sources and backup power systems due to the fact that they can store a lot of energy quickly release it efficiently. Hybrid flow batteries are also unique from other energy storage technologies because of their architecture, which makes maintenance simple and may result in longer operational lifetimes.
The majority of these ICEV constraints can be overcome by hybrid propulsion, which is more environmentally friendly and energy efficient than traditional ICEVs. Redflow Limited released its Gen3 batteries in July 2022, marking the first possible sale on the open market. As part of the innovative hybrid renewable energy system, the business was awarded a contract to supply 56 Gen3 zinc-bromine flow batteries.
Utility Industry Generates Notable Demand
The utility category will dominate the redox flow battery market over the forecast period. Utility applications are the main application area for redox flow batteries since they are advantageous in energy storage applications. Energy storage devices are routinely needed to store electricity for extended periods since the electric utility sector is involved in responsibilities that involve generating and distributing electricity.
Energy storage technologies that require no maintenance include redox flow batteries. As a result, they are increasingly in need of electric utility services. Electric utility businesses used to operate in the market that the government governs primarily. Still, in recent years, due to privatisation in most nations, these companies have shifted their attention to the commercial market.
Due to their involvement in the grid penetration of renewable energy, utilities are a prime application area for flow batteries. Utility applications use flow batteries to act as a buffer between the demand for electricity and the energy made accessible by the grid. Long discharge durations are perfect for flow batteries in utility MW scale power increases. Additionally, these batteries provide and transfer electricity when the grid is down.
Growth Opportunities Across Regions
Asia Pacific Represents the Most Attractive Regional Market
Asia Pacific will continue to be the frontrunner in the flow battery market of Asia Pacific. The market here has been examined covering the remainder of Asia Pacific, including China, Japan, India, and Australia. The region's growing demand for flow batteries can be ascribed to the widespread use highly developed nations like Australia, and Japan. Flow battery use is quickly increasing in utility, commercial, and industrial applications in these countries.
Furthermore, the region's large-scale industrial expansion the region's flow battery market is expanding as a result of growing nations like China, and India. Furthermore, increased investments to boost the adoption of renewable energy in the region create possibilities for the flow battery market to prosper during the forecast period.
The major producers of carbon emissions are developing nations. Due to technological improvements and environmental concerns, there is an increasing need for sustainable energy. A change in the electrical sector can be seen as the global energy business shifts away from fossil fuels and towards more environmentally friendly energy sources.
Making sure there is a steady supply of renewable energy with significant volatility, like solar or wind power, is the most important factor in ensuring the stability of the power system. This presents an enormous opportunity for market actors. A projected shortage of battery metals combined with significant technological developments in China could be the catalyst for the widespread adoption of this battery technology.
North America to Grow Stronger
The market for redox flow batteries across North America will display a significant CAGR over the forecast period. Due to the growing usage of high-energy storage systems, the North American market had the second-largest revenue share in 2022. According to the US Department of Energy (DOE), this evolving grid-scale energy storage has major economic and energy security benefits.
Unlike lithium-ion batteries, vanadium flow batteries do not degrade with repeated cycling and store energy in an electrolyte solution that is not combustible. They provide 10-hour retention, tens of millions of cycles, and maybe up to 25 years of service life, which is assisting the market in increasing revenues.
Additionally, the cost of installing VRFBs is predicted to range between US$108 and US$576/kWh by 2030. Despite having greater upfront capital costs than other technologies, these batteries have more than 10,000 full cycles, allowing them to make up for the high initial outlay through high energy outputs, driving revenue growth in this region.
Redox Flow Battery Market: Competitive Landscape
Some of the leading players at the forefront in the redox flow battery market space include StorEn Technologies Inc., Avalon Battery Corporation, HydraRedox, Storion Energy, Vionx Energy, H2, Inc., Le System Co., Ltd., Sumitomo Electric Industries, Ltd., redT Energy Plc, and Dalian Rongke Power Co., Ltd.
Recent Notable Developments
In February 2023, Sumitomo Electric Industries, Ltd. announced plans to expand its redox flow battery business in the United States. This expansion will assist the company in determining the feasibility of building a redox flow battery manufacturing system in North America.
In June 2023, OPALCO received 2 MWh of energy storage from Invinity Energy Systems for a solar plus storage project in San Juan County, Washington (US). On San Juan Island, nine Invinity VS3 vanadium flow batteries will be installed beside a 2.75 MWp solar array.
Global Redox Flow Battery Market is Segmented as Below:
By Type
Vanadium Redox Flow Battery
Zinc-bromide Redox Flow Battery
Miscellaneous
By Application
Utility Services
Electric Vehicle
Renewable Energy Storage
UPS
Miscellaneous
By Geographic Coverage
North America
Europe

Germany
U.K.
France
Italy
Russia
Rest of Europe

Asia Pacific

China
Japan
South Korea
India
Southeast Asia
Rest of Asia Pacific

Latin America

Brazil
Mexico
Rest of Latin America

Middle East & Africa

GCC
South Africa
Rest of Middle East & Africa
Leading Companies
Storion Energy
Vionx Energy
H2, Inc.
Le System Co., Ltd.
Sumitomo Electric Industries, Ltd.
redT Energy Plc
Dalian Rongke Power Co., Ltd.
Australian Vanadium Limited
VFlowTech
1. Executive Summary
1.1. Global Redox Flow Battery Market Snapshot
1.2. Future Projections
1.3. Key Market Trends
1.4. Regional Snapshot, by Value, 2022
1.5. Analyst Recommendations

2. Market Overview
2.1. Market Definitions and Segmentations
2.2. Market Dynamics
2.2.1. Drivers
2.2.2. Restraints
2.2.3. Market Opportunities
2.3. Value Chain Analysis
2.4. Porter's Five Forces Analysis
2.5. Covid-19 Impact Analysis
2.5.1. Supply
2.5.2. Demand
2.6. Impact of Ukraine-Russia Conflict
2.7. Global Battery Market - Overview
2.8. Economic Overview
2.8.1. World Economic Projections
2.9. PESTLE Analysis

3. Global Redox Flow Battery Market Outlook, 2018 - 2030
3.1. Global Redox Flow Battery Market Outlook, by Type, Value (US$ Mn), 2018 - 2030
3.1.1. Key Highlights
3.1.1.1. Vanadium Redox Flow Battery
3.1.1.2. Zinc-bromide Redox Flow Battery
3.1.1.3. Misc.
3.2. Global Redox Flow Battery Market Outlook, by Application, Value (US$ Mn), 2018 - 2030
3.2.1. Key Highlights
3.2.1.1. Utility Services
3.2.1.2. Electric Vehicle
3.2.1.3. Renewable Energy Storage
3.2.1.4. UPS
3.2.1.5. Misc.
3.3. Global Redox Flow Battery Market Outlook, by Region, Value (US$ Mn), 2018 - 2030
3.3.1. Key Highlights
3.3.1.1. North America
3.3.1.2. Europe
3.3.1.3. Asia Pacific
3.3.1.4. Latin America
3.3.1.5. Middle East & Africa

4. North America Redox Flow Battery Market Outlook, 2018 - 2030
4.1. North America Redox Flow Battery Market Outlook, by Type, Value (US$ Mn), 2018 - 2030
4.1.1. Key Highlights
4.1.1.1. Vanadium Redox Flow Battery
4.1.1.2. Zinc-bromide Redox Flow Battery
4.1.1.3. Misc.
4.2. North America Redox Flow Battery Market Outlook, by Application, Value (US$ Mn), 2018 - 2030
4.2.1. Key Highlights
4.2.1.1. Utility Services
4.2.1.2. Electric Vehicle
4.2.1.3. Renewable Energy Storage
4.2.1.4. UPS
4.2.1.5. Misc.
4.2.2. Market Attractiveness Analysis
4.3. North America Redox Flow Battery Market Outlook, by Country, Value (US$ Mn), 2018 - 2030
4.3.1. Key Highlights
4.3.1.1. U.S. Redox Flow Battery Market by Type, Value (US$ Mn), 2018 - 2030
4.3.1.2. U.S. Redox Flow Battery Market Application, Value (US$ Mn), 2018 - 2030
4.3.1.3. Canada Redox Flow Battery Market by Type, Value (US$ Mn), 2018 - 2030
4.3.1.4. Canada Redox Flow Battery Market Application, Value (US$ Mn), 2018 - 2030
4.3.2. BPS Analysis/Market Attractiveness Analysis

5. Europe Redox Flow Battery Market Outlook, 2018 - 2030
5.1. Europe Redox Flow Battery Market Outlook, by Type, Value (US$ Mn), 2018 - 2030
5.1.1. Key Highlights
5.1.1.1. Vanadium Redox Flow Battery
5.1.1.2. Zinc-bromide Redox Flow Battery
5.1.1.3. Misc.
5.2. Europe Redox Flow Battery Market Outlook, by Application, Value (US$ Mn), 2018 - 2030
5.2.1. Key Highlights
5.2.1.1. Utility Services
5.2.1.2. Electric Vehicle
5.2.1.3. Renewable Energy Storage
5.2.1.4. UPS
5.2.1.5. Misc.
5.2.2. BPS Analysis/Market Attractiveness Analysis
5.3. Europe Redox Flow Battery Market Outlook, by Country, Value (US$ Mn), 2018 - 2030
5.3.1. Key Highlights
5.3.1.1. Germany Redox Flow Battery Market by Type, Value (US$ Mn), 2018 - 2030
5.3.1.2. Germany Redox Flow Battery Market Application, Value (US$ Mn), 2018 - 2030
5.3.1.3. U.K. Redox Flow Battery Market by Type, Value (US$ Mn), 2018 - 2030
5.3.1.4. U.K. Redox Flow Battery Market Application, Value (US$ Mn), 2018 - 2030
5.3.1.5. France Redox Flow Battery Market by Type, Value (US$ Mn), 2018 - 2030
5.3.1.6. France Redox Flow Battery Market Application, Value (US$ Mn), 2018 - 2030
5.3.1.7. Italy Redox Flow Battery Market by Type, Value (US$ Mn), 2018 - 2030
5.3.1.8. Italy Redox Flow Battery Market Application, Value (US$ Mn), 2018 - 2030
5.3.1.9. Russia Redox Flow Battery Market by Type, Value (US$ Mn), 2018 - 2030
5.3.1.10. Russia Redox Flow Battery Market Application, Value (US$ Mn), 2018 - 2030
5.3.1.11. Rest of Europe Redox Flow Battery Market by Type, Value (US$ Mn), 2018 - 2030
5.3.1.12. Rest of Europe Redox Flow Battery Market Application, Value (US$ Mn), 2018 - 2030
5.3.2. BPS Analysis/Market Attractiveness Analysis

6. Asia Pacific Redox Flow Battery Market Outlook, 2018 - 2030
6.1. Asia Pacific Redox Flow Battery Market Outlook, by Type, Value (US$ Mn), 2018 - 2030
6.1.1. Key Highlights
6.1.1.1. Vanadium Redox Flow Battery
6.1.1.2. Zinc-bromide Redox Flow Battery
6.1.1.3. Misc.
6.2. Asia Pacific Redox Flow Battery Market Outlook, by Application, Value (US$ Mn), 2018 - 2030
6.2.1. Key Highlights
6.2.1.1. Utility Services
6.2.1.2. Electric Vehicle
6.2.1.3. Renewable Energy Storage
6.2.1.4. UPS
6.2.1.5. Misc.
6.2.2. BPS Analysis/Market Attractiveness Analysis
6.3. Asia Pacific Redox Flow Battery Market Outlook, by Country, Value (US$ Mn), 2018 - 2030
6.3.1. Key Highlights
6.3.1.1. China Redox Flow Battery Market by Type, Value (US$ Mn), 2018 - 2030
6.3.1.2. China Redox Flow Battery Market Application, Value (US$ Mn), 2018 - 2030
6.3.1.3. Japan Redox Flow Battery Market by Type, Value (US$ Mn), 2018 - 2030
6.3.1.4. Japan Redox Flow Battery Market by Application, Value (US$ Mn), 2018 - 2030
6.3.1.5. South Korea Redox Flow Battery Market by Type, Value (US$ Mn), 2018 - 2030
6.3.1.6. South Korea Redox Flow Battery Market by Application, Value (US$ Mn), 2018 - 2030
6.3.1.7. India Redox Flow Battery Market by Type, Value (US$ Mn), 2018 - 2030
6.3.1.8. India Redox Flow Battery Market by Application, Value (US$ Mn), 2018 - 2030
6.3.1.9. Southeast Asia Redox Flow Battery Market by Type, Value (US$ Mn), 2018 - 2030
6.3.1.10. Southeast Asia Redox Flow Battery Market by Application, Value (US$ Mn), 2018 - 2030
6.3.1.11. Rest of Asia Pacific Redox Flow Battery Market by Type, Value (US$ Mn), 2018 - 2030
6.3.1.12. Rest of Asia Pacific Redox Flow Battery Market by Application, Value (US$ Mn), 2018 - 2030
6.3.2. BPS Analysis/Market Attractiveness Analysis

7. Latin America Redox Flow Battery Market Outlook, 2018 - 2030
7.1. Latin America Redox Flow Battery Market Outlook, by Type, Value (US$ Mn), 2018 - 2030
7.1.1. Key Highlights
7.1.1.1. Vanadium Redox Flow Battery
7.1.1.2. Zinc-bromide Redox Flow Battery
7.1.1.3. Misc.
7.2. Latin America Redox Flow Battery Market Outlook, by Application, Value (US$ Mn), 2018 - 2030
7.2.1. Key Highlights
7.2.1.1. Utility Services
7.2.1.2. Electric Vehicle
7.2.1.3. Renewable Energy Storage
7.2.1.4. UPS
7.2.1.5. Misc.
7.2.2. BPS Analysis/Market Attractiveness Analysis
7.3. Latin America Redox Flow Battery Market Outlook, by Country, Value (US$ Mn), 2018 - 2030
7.3.1. Key Highlights
7.3.1.1. Brazil Redox Flow Battery Market by Type, Value (US$ Mn), 2018 - 2030
7.3.1.2. Brazil Redox Flow Battery Market by Application, Value (US$ Mn), 2018 - 2030
7.3.1.3. Mexico Redox Flow Battery Market by Type, Value (US$ Mn), 2018 - 2030
7.3.1.4. Mexico Redox Flow Battery Market by Application, Value (US$ Mn), 2018 - 2030
7.3.1.5. Rest of Latin America Redox Flow Battery Market by Type, Value (US$ Mn), 2018 - 2030
7.3.1.6. Rest of Latin America Redox Flow Battery Market by Application, Value (US$ Mn), 2018 - 2030
7.3.2. BPS Analysis/Market Attractiveness Analysis

8. Middle East & Africa Redox Flow Battery Market Outlook, 2018 - 2030
8.1. Middle East & Africa Redox Flow Battery Market Outlook, by Type, Value (US$ Mn), 2018 - 2030
8.1.1. Key Highlights
8.1.1.1. Vanadium Redox Flow Battery
8.1.1.2. Zinc-bromide Redox Flow Battery
8.1.1.3. Misc.
8.2. Middle East & Africa Redox Flow Battery Market Outlook, by Application, Value (US$ Mn), 2018 - 2030
8.2.1. Key Highlights
8.2.1.1. Utility Services
8.2.1.2. Electric Vehicle
8.2.1.3. Renewable Energy Storage
8.2.1.4. UPS
8.2.1.5. Misc.
8.2.2. BPS Analysis/Market Attractiveness Analysis
8.3. Middle East & Africa Redox Flow Battery Market Outlook, by Country, Value (US$ Mn), 2018 - 2030
8.3.1. Key Highlights
8.3.1.1. GCC Redox Flow Battery Market by Type, Value (US$ Mn), 2018 - 2030
8.3.1.2. GCC Redox Flow Battery Market by Application, Value (US$ Mn), 2018 - 2030
8.3.1.3. South Africa Redox Flow Battery Market by Type, Value (US$ Mn), 2018 - 2030
8.3.1.4. South Africa Redox Flow Battery Market by Application, Value (US$ Mn), 2018 - 2030
8.3.1.5. Rest of Middle East & Africa Redox Flow Battery Market by Type, Value (US$ Mn), 2018 - 2030
8.3.1.6. Rest of Middle East & Africa Redox Flow Battery Market by Application, Value (US$ Mn), 2018 - 2030
8.3.2. BPS Analysis/Market Attractiveness Analysis

9. Competitive Landscape
9.1. Product vs Charging Type Heatmap
9.2. Manufacturer vs Charging Type Heatmap
9.3. Company Market Share Analysis, 2022
9.4. Competitive Dashboard
9.5. Company Profiles
9.5.1. StorEn Technologies Inc.
9.5.1.1. Company Overview
9.5.1.2. Product Portfolio
9.5.1.3. Financial Overview
9.5.1.4. Business Strategies and Development
9.5.2. Avalon Battery Corporation
9.5.2.1. Company Overview
9.5.2.2. Product Portfolio
9.5.2.3. Financial Overview
9.5.2.4. Business Strategies and Development
9.5.3. Palo HydraRedox
9.5.3.1. Company Overview
9.5.3.2. Product Portfolio
9.5.3.3. Financial Overview
9.5.3.4. Business Strategies and Development
9.5.4. Storion Energy
9.5.4.1. Company Overview
9.5.4.2. Product Portfolio
9.5.4.3. Financial Overview
9.5.4.4. Business Strategies and Development
9.5.5. Vionx Energy
9.5.5.1. Company Overview
9.5.5.2. Product Portfolio
9.5.5.3. Financial Overview
9.5.5.4. Business Strategies and Development
9.5.6. H2, Inc.
9.5.6.1. Company Overview
9.5.6.2. Product Portfolio
9.5.6.3. Financial Overview
9.5.6.4. Business Strategies and Development
9.5.7. Le System Co., Ltd.
9.5.7.1. Company Overview
9.5.7.2. Product Portfolio
9.5.7.3. Financial Overview
9.5.7.4. Business Strategies and Development
9.5.8. Sumitomo Electric Industries, Ltd.
9.5.8.1. Company Overview
9.5.8.2. Product Portfolio
9.5.8.3. Financial Overview
9.5.8.4. Business Strategies and Development
9.5.9. redT Energy Plc
9.5.9.1. Company Overview
9.5.9.2. Product Portfolio
9.5.9.3. Financial Overview
9.5.9.4. Business Strategies and Development
9.5.10. Dalian Rongke Power Co., Ltd.
9.5.10.1. Company Overview
9.5.10.2. Product Portfolio
9.5.10.3. Financial Overview
9.5.10.4. Business Strategies and Development
9.5.11. Australian Vanadium Limited
9.5.11.1. Company Overview
9.5.11.2. Product Portfolio
9.5.11.3. Financial Overview
9.5.11.4. Business Strategies and Development
9.5.12. VFlowTech
9.5.12.1. Company Overview
9.5.12.2. Product Portfolio
9.5.12.3. Financial Overview
9.5.12.4. Business Strategies and Development

10. Appendix
10.1. Research Methodology
10.2. Report Assumptions
10.3. Acronyms and Abbreviations