Market Analysis in Brief
Global rugby apparel market size to reach the US$2.5 Bn mark in 2030
Worldwide rugby apparel sales to account for 12% revenue growth over 2023 - 2030
Market Analysis in Brief
Rugby gear is in high demand due to the sport's enormous global popularity. Rugby has a devoted following and a long history, making it more than just a sport. This has sparked a need for genuine attire that allows players and fans to show loyalty and passion. Higher demand for official and licensed clothes with club logos and designs has also been brought on by the growing commercialisation of sports and the expansion of international rugby events. The attractiveness of rugby apparel has shifted away from the field thanks to the confluence of fashion and sports. Rugby-inspired patterns have entered the fashion mainstream, sparking the athleisure and athletic trends in everyday attire. Because of this crossover, the market has expanded to include those who may not be ardent rugby fans or players but are drawn to the style and comfort that rugby-inspired clothing offers.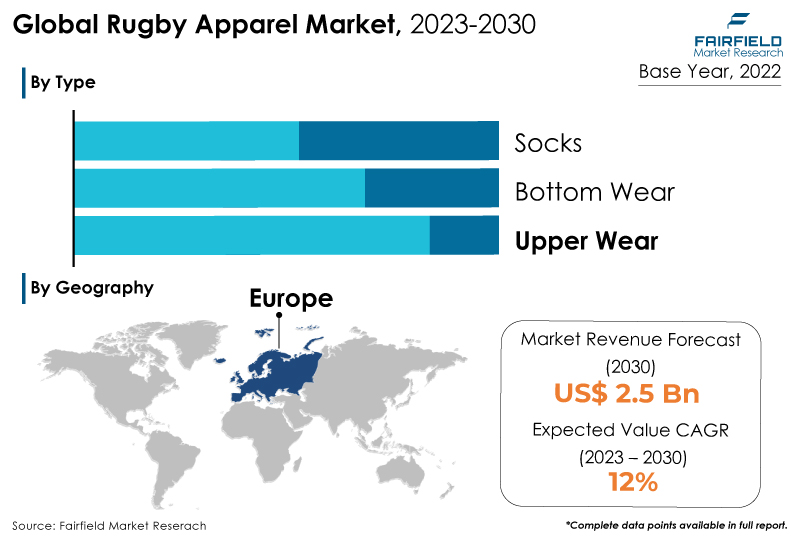 Furthermore, the performance component of rugby apparel has been considerably improved by developments in fabric technology and design innovation. To meet the needs of professional players and fans participating in recreational matches, rugby apparel must now include high-quality materials with moisture-wicking, breathability, and durability. Players' comfort, performance, and injury avoidance are all benefited by these advances in garment technology. Additionally, partnerships and endorsements with well-known rugby players and teams have emerged as key market drivers. Partnerships between apparel companies and sports figures or teams increase brand recognition and impact consumer buying behavior as fans and followers try to imitate their idols by wearing endorsed clothes.
Key Report Findings
The market for rugby apparel will demonstrate significant expansion in revenue over 2023 - 2030
Upper wear is the largest segment, with a sales share of more than 48.6% in 2022. This results from the extensive use of rugby upper wear apparel like jerseys, shirts, and other items since they are cozy, breathable, and versatile.
With a revenue share of more than 36.8% in 2022, Europe will continue to be the leading market for rugby apparel. This is because rugby has a long history in Europe and is becoming increasingly popular among young people there.
On the back of the significant presence of professional rugby teams in the US, and Canada, North America is the second-largest market for rugby apparel.
Growth Drivers
Globalisation of Rugby, and Other International Tournaments
The popularity of international competitions and the globalisation of rugby are two major factors boosting the market for rugby apparel. Rugby, formerly mostly restricted to a few areas, has now broadened its appeal to become a popular sport worldwide.
International competitions like the Rugby World Cup, and the Six Nations Championship have become increasingly common, significantly increasing the sport's visibility and appeal outside its usual fan bases. These occasions draw a large international audience and inspire great fervour among supporters from many racial and ethnic origins. The emotional bond that fans form with their preferred teams and individuals on the international stage has caused the demand for rugby gear to grow.
Within the rugby community, there is a melting pot of cultures and identities because of the broad presence of teams in these competitions, which spans continents and countries. This international fan base fuels the desire for a broad selection of genuine and officially licensed rugby equipment that allows fans to display their devotion publicly.
Sports now have a larger global audience because to the growth of social media and digital platforms, which also allow fans to communicate with their favourite teams and sportsmen from anywhere. The strong demand for rugby apparel across continents is greatly influenced by this global exposure and the sense of community and identity that rugby produces.
Athleisure and Sportswear Fashion Trends
Another important factor influencing the rugby apparel market is blending athleisure and sporty styles with mainstream fashion. The distinction between sportswear and everyday apparel has become hazier as consumers place greater importance on comfort, utility, and versatility in their clothing selections, giving rise to the athleisure movement.
With its dynamic and tough aesthetics, rugby-inspired clothing easily fits into this trend and appeals to people who want to combine their sense of style with an active lifestyle. Customers who respect the fusion of comfort and fashionable aesthetics are drawn to rugby wear because of its genuineness and authenticity.
Rugby jerseys, shirts, and other apparel with striking patterns and team insignias have gained popularity off the field and are now essential in urban wardrobes. The distinctive designs, vivid hues, and sports themes have evolved into fashion statements that convey a spirit of exploration and uniqueness.
Rugby-inspired designs are becoming more prevalent in mainstream fashion lines thanks to partnerships between garment companies and rugby clubs and athlete sponsorships, which help close the gap between sports and lifestyle.
In addition, the trend toward wellness and active living has increased demand for sportswear that easily carries over from workouts to daily activities. Customers look for apparel that reflects their personalities and keeps up with their active lifestyles. The adaptability and authenticity of rugby clothing fit these ideals, encouraging its acceptance as a fashion statement that appeals to sports lovers and fashion-conscious people.
Growth Challenges
Limited Accessibility, and Niche Audience
The intrinsic specialised nature of rugby as a sport, which results in limited accessibility and a comparatively smaller target audience compared to other mainstream sports, is one of the major factors limiting the market for rugby apparel. Although rugby has a devoted and passionate fan base, it has a smaller audience than other big sports like basketball or football.
Due to this niche position, brand awareness, distribution, and market penetration may face difficulties. Rugby clothing is difficult to find, especially in areas where the sport is still relatively unknown. Due to the dearth of specialised retail stores and the lack of consumer knowledge of the sport, it may not be easy to find genuine rugby apparel in these places.
When supply and demand go out of balance, potential buyers may look for alternate clothing options that correspond with more popular sporting activities. To address these restrictions, the industry has concentrated on methods to increase the appeal of rugby apparel outside its core fan base.
To build crossover appeal and draw in a larger audience, partnerships with fashion designers, sponsorships from well-known players, and exploiting the sport's rich history have all been used. Furthermore, the growth of e-commerce and digital platforms has enabled brands to connect with potential customers in areas where rugby may not be as well-known physically.
Overview of Key Segments
Upper Wear Bestseller as Innovations Prevail in Jerseys and Shirts
The upper wear segment is the largest category of the rugby apparel market. Numerous important factors that stimulate the market for rugby upper wear might be credited for this significance.
First, jerseys, shirts, and other clothing items with prominently displayed club emblems, colours, and player numbers fall under the upper wear category. This makes top wear a potent tool for supporters to display their love and loyalty to their preferred rugby teams. When watching from the sidelines or participating in their matches, supporters' emotional attachment to their teams fuels the need for real and official upper wear that makes them feel involved in the game.
In addition, the upper wear market goes beyond sportswear as fashion with rugby influences becomes more popular with the public. The raw aesthetics of rugby shirts and jerseys has started a fashion trend of fusing sportswear with casual clothing. Consumers who value style and practicality in their clothing selections are drawn to upper wear because it combines comfort, durability, and sporting appeal.
On the other hand, the bottom wear segment is the fastest growing subsegment within the rugby apparel market. Several strong drivers are responsible for this rise. Rugby-specific bottom apparel includes shorts and pants that provide players and fans with cozy and adaptable clothes for games and practice sessions.
The requirement for specialised bottom wear that promotes movement, and endurance is essential since the activity places heavy demands on players' mobility and agility. These clothes provide the highest flexibility and durability, enabling players to perform at their peak on the field. Rugby has seen a rise in the importance of player performance and safety, increasing demand for bottom apparel that is not only cozy but also offers cutting-edge features like moisture-wicking, ventilation, and padding for protection.
Growth Opportunities Across Regions
Cultural Root of Rugby Upholds Europe's Leadership Position
Europe stands out as the largest segmented region in the rugby apparel industry. This significance can be due to a confluence of factors that support the region's strong demand for rugby gear. First, rugby has a strong cultural relevance with a loyal following in many European nations.
Rugby is more than just a sport; it is ingrained in the culture of many countries, including England, Ireland, Wales, Scotland, and France. These enduring custom fuels the ongoing need for genuine, premium rugby apparel that enables supporters to show their allegiance and support for their club and national teams.
Additionally, the thriving professional rugby leagues and international competitions held in Europe increase the sport's exposure and appeal. Events like the Rugby World Cup, and the Six Nations Championship attract a lot of interest and involvement, which boosts sales of official rugby apparel. The significant demand for clothing bearing team insignias, colours, and player numbers is largely due to fans' emotional attachment to their teams and pride in representing their countries.
Additionally, blending fashion and sports has resulted in incorporating designs inspired by rugby into regular clothing. Rugby gear's tough and athletic aesthetics have been blended into the larger athleisure movement, which sees athletics components effortlessly incorporated into casual attire. Europe's fashion-conscious customer base values rugby apparel's adaptability and flair, which fuels demand for official team products and rugby-inspired clothing.
Asia Pacific Witnesses Growing Inclination for Rugby
Due to several factors influencing the rapidly expanding demand for rugby apparel, the Asia Pacific region stands out as the market sector with the quickest growth. The broadcasting of international rugby competitions and the rising number of rugby clubs and events in Asia Pacific nations have increased the sport's prominence worldwide.
Rugby clothing is in high demand as more people become aware of the sport and get more interested in it. This growth in interest and passion among spectators and aspiring players fuels the growth of rugby.
In addition, the region's growing urbanisation, and prosperity influence lifestyle adjustments and the uptake of sports and fitness activities. Rugby, formerly considered a niche sport in this area, is becoming more popular as a competitive and recreational activity, which adds to the demand for proper rugby apparel that blends performance and style.
Rugby is becoming more popular among schools, clubs, and fitness centres, which has led to the emergence of a brand-new market for clothing that can handle the sport's demands while looking stylish and contemporary.
Rugby Apparel Market: Competitive Landscape
Some of the leading players at the forefront in the rugby apparel market space include Adidas AG, BADGER RUGBY LTD., Nike Inc., Canterbury, Decathlon SA, Gilburt Rugby, KOOGA, MACRON SPA, Olympus Rugby, and O'Neills Irish International Sports Co. Ltd.
Recent Notable Developments
In May 2023, Canterbury of New Zealand unveiled the All Blacks' new "Home" and "Away" rugby jerseys. New Zealand's history and culture influenced the new jersey design.
In April 2023, Under Armour unveiled its brand-new "UA RUSH" rugby gear line. A variety of jerseys, shorts, and socks are included in the collection, all of which are intended to improve players' performance.
In February 2023, Adidas unveiled its brand-new "Gameday Ready" rugby gear line. The assortment includes a range of jerseys, shorts, and socks made to the highest standards of comfort and performance for athletes.
Global Rugby Apparel Market is Segmented as Below:
By Type
Upper Wear
Bottom Wear
Socks
By Geographic Coverage
North America
Europe

Germany
U.K.
France
Italy
Russia
Rest of Europe

Asia Pacific

China
Japan
South Korea
India
Southeast Asia
Rest of Asia Pacific

Latin America

Brazil
Mexico
Argentina
Rest of Latin America

Middle East & Africa

GCC
South Africa
Rest of Middle East & Africa
1. Executive Summary
1.1. Global Rugby Apparel Market Snapshot
1.2. Future Projections
1.3. Key Market Trends
1.4. Regional Snapshot, by Value, 2022
1.5. Analyst Recommendations

2. Market Overview
2.1. Market Definitions and Segmentations
2.2. Market Dynamics
2.2.1. Drivers
2.2.2. Restraints
2.2.3. Market Opportunities
2.3. Value Chain Analysis
2.4. Porter's Five Forces Analysis
2.5. Covid-19 Impact Analysis
2.5.1. Supply
2.5.2. Demand
2.6. Impact of Ukraine-Russia Conflict
2.7. Economic Overview
2.7.1. World Economic Projections
2.8. PESTLE Analysis

3. Global Rugby Apparel Market Outlook, 2018 - 2030
3.1. Global Rugby Apparel Market Outlook, by Type, Value (US$ Mn), 2018 - 2030
3.1.1. Key Highlights
3.1.1.1. Upper Wear
3.1.1.2. Bottom Wear
3.1.1.3. Socks
3.2. Global Rugby Apparel Market Outlook, by Region, Value (US$ Mn), 2018 - 2030
3.2.1. Key Highlights
3.2.1.1. North America
3.2.1.2. Europe
3.2.1.3. Asia Pacific
3.2.1.4. Latin America
3.2.1.5. Middle East & Africa

4. North America Rugby Apparel Market Outlook, 2018 - 2030
4.1. North America Rugby Apparel Market Outlook, by Type, Value (US$ Mn), 2018 - 2030
4.1.1. Key Highlights
4.1.1.1. Upper Wear
4.1.1.2. Bottom Wear
4.1.1.3. Socks
4.1.2. Market Attractiveness Analysis
4.2. North America Rugby Apparel Market Outlook, by Country, Value (US$ Mn), 2018 - 2030
4.2.1. Key Highlights
4.2.1.1. U.S. Rugby Apparel Market by Type, Value (US$ Mn), 2018 - 2030
4.2.1.2. Canada Rugby Apparel Market by Type, Value (US$ Mn), 2018 - 2030
4.2.2. BPS Analysis/Market Attractiveness Analysis

5. Europe Rugby Apparel Market Outlook, 2018 - 2030
5.1. Europe Rugby Apparel Market Outlook, by Type, Value (US$ Mn), 2018 - 2030
5.1.1. Key Highlights
5.1.1.1. Upper Wear
5.1.1.2. Bottom Wear
5.1.1.3. Socks
5.1.2. BPS Analysis/Market Attractiveness Analysis
5.2. Europe Rugby Apparel Market Outlook, by Country, Value (US$ Mn), 2018 - 2030
5.2.1. Key Highlights
5.2.1.1. Germany Rugby Apparel Market by Type, Value (US$ Mn), 2018 - 2030
5.2.1.2. U.K. Rugby Apparel Market by Type, Value (US$ Mn), 2018 - 2030
5.2.1.3. France Rugby Apparel Market by Type, Value (US$ Mn), 2018 - 2030
5.2.1.4. Italy Rugby Apparel Market by Type, Value (US$ Mn), 2018 - 2030
5.2.1.5. Russia Rugby Apparel Market by Type, Value (US$ Mn), 2018 - 2030
5.2.1.6. Rest of Europe Rugby Apparel Market by Type, Value (US$ Mn), 2018 - 2030
5.2.2. BPS Analysis/Market Attractiveness Analysis

6. Asia Pacific Rugby Apparel Market Outlook, 2018 - 2030
6.1. Asia Pacific Rugby Apparel Market Outlook, by Type, Value (US$ Mn), 2018 - 2030
6.1.1. Key Highlights
6.1.1.1. Upper Wear
6.1.1.2. Bottom Wear
6.1.1.3. Socks
6.1.2. BPS Analysis/Market Attractiveness Analysis
6.2. Asia Pacific Rugby Apparel Market Outlook, by Country, Value (US$ Mn), 2018 - 2030
6.2.1. Key Highlights
6.2.1.1. China Rugby Apparel Market by Type, Value (US$ Mn), 2018 - 2030
6.2.1.2. Japan Rugby Apparel Market by Type, Value (US$ Mn), 2018 - 2030
6.2.1.3. South Korea Rugby Apparel Market by Type, Value (US$ Mn), 2018 - 2030
6.2.1.4. India Rugby Apparel Market by Type, Value (US$ Mn), 2018 - 2030
6.2.1.5. Southeast Asia Rugby Apparel Market by Type, Value (US$ Mn), 2018 - 2030
6.2.1.6. Rest of Asia Pacific Rugby Apparel Market by Type, Value (US$ Mn), 2018 - 2030
6.2.2. BPS Analysis/Market Attractiveness Analysis


7. Latin America Rugby Apparel Market Outlook, 2018 - 2030
7.1. Latin America Rugby Apparel Market Outlook, by Type, Value (US$ Mn), 2018 - 2030
7.1.1. Key Highlights
7.1.1.1. Upper Wear
7.1.1.2. Bottom Wear
7.1.1.3. Socks
7.1.2. BPS Analysis/Market Attractiveness Analysis
7.2. Latin America Rugby Apparel Market Outlook, by Country, Value (US$ Mn), 2018 - 2030
7.2.1. Key Highlights
7.2.1.1. Brazil Rugby Apparel Market by Type, Value (US$ Mn), 2018 - 2030
7.2.1.2. Mexico Rugby Apparel Market by Type, Value (US$ Mn), 2018 - 2030
7.2.1.3. Argentina Rugby Apparel Market by Type, Value (US$ Mn), 2018 - 2030
7.2.1.4. Rest of Latin America Rugby Apparel Market by Type, Value (US$ Mn), 2018 - 2030
7.2.2. BPS Analysis/Market Attractiveness Analysis

8. Middle East & Africa Rugby Apparel Market Outlook, 2018 - 2030
8.1. Middle East & Africa Rugby Apparel Market Outlook, by Type, Value (US$ Mn), 2018 - 2030
8.1.1. Key Highlights
8.1.1.1. Upper Wear
8.1.1.2. Bottom Wear
8.1.1.3. Socks
8.1.2. BPS Analysis/Market Attractiveness Analysis
8.2. Middle East & Africa Rugby Apparel Market Outlook, by Country, Value (US$ Mn), 2018 - 2030
8.2.1. Key Highlights
8.2.1.1. GCC Rugby Apparel Market by Type, Value (US$ Mn), 2018 - 2030
8.2.1.2. South Africa Rugby Apparel Market by Type, Value (US$ Mn), 2018 - 2030
8.2.1.3. Egypt Rugby Apparel Market by Type, Value (US$ Mn), 2018 - 2030
8.2.1.4. Nigeria Rugby Apparel Market by Type, Value (US$ Mn), 2018 - 2030
8.2.1.5. Rest of Middle East & Africa Rugby Apparel Market by Type, Value (US$ Mn), 2018 - 2030
8.2.2. BPS Analysis/Market Attractiveness Analysis

9. Competitive Landscape
9.1. Company Market Share Analysis, 2022
9.2. Competitive Dashboard
9.3. Company Profiles
9.3.1. Adidas AG
9.3.1.1. Company Overview
9.3.1.2. Product Portfolio
9.3.1.3. Financial Overview
9.3.1.4. Business Strategies and Development
9.3.2. Badger Rugby Ltd.
9.3.2.1. Company Overview
9.3.2.2. Product Portfolio
9.3.2.3. Financial Overview
9.3.2.4. Business Strategies and Development
9.3.3. Nike Inc.
9.3.3.1. Company Overview
9.3.3.2. Product Portfolio
9.3.3.3. Financial Overview
9.3.3.4. Business Strategies and Development
9.3.4. BLK
9.3.4.1. Company Overview
9.3.4.2. Product Portfolio
9.3.4.3. Financial Overview
9.3.4.4. Business Strategies and Development
9.3.5. Decathlon SA
9.3.5.1. Company Overview
9.3.5.2. Product Portfolio
9.3.5.3. Financial Overview
9.3.5.4. Business Strategies and Development
9.3.6. Gilburt Rugby
9.3.6.1. Company Overview
9.3.6.2. Product Portfolio
9.3.6.3. Financial Overview
9.3.6.4. Business Strategies and Development
9.3.7. Under Armour Inc.
9.3.7.1. Company Overview
9.3.7.2. Product Portfolio
9.3.7.3. Financial Overview
9.3.7.4. Business Strategies and Development
9.3.8. Macron S.p.A.
9.3.8.1. Company Overview
9.3.8.2. Product Portfolio
9.3.8.3. Financial Overview
9.3.8.4. Business Strategies and Development
9.3.9. Olympus Rugby
9.3.9.1. Company Overview
9.3.9.2. Product Portfolio
9.3.9.3. Financial Overview
9.3.9.4. Business Strategies and Development
9.3.10. ASICS
9.3.10.1. Company Overview
9.3.10.2. Product Portfolio
9.3.10.3. Financial Overview
9.3.10.4. Business Strategies and Development
9.3.11. Alanic Global
9.3.11.1. Company Overview
9.3.11.2. Product Portfolio
9.3.11.3. Financial Overview
9.3.11.4. Business Strategies and Development
9.3.12. Tsunami Sport
9.3.12.1. Company Overview
9.3.12.2. Product Portfolio
9.3.12.3. Financial Overview
9.3.12.4. Business Strategies and Development
9.3.13. Pentland Brands
9.3.13.1. Company Overview
9.3.13.2. Product Portfolio
9.3.13.3. Financial Overview
9.3.13.4. Business Strategies and Development

10. Appendix
10.1. Research Methodology
10.2. Report Assumptions
10.3. Acronyms and Abbreviations