Global Sippy Cups Market Forecast
Sippy cups market revenue likely to reach US$9 Bn by the end of 2030
Revenue growth between 2023 and 2030 projected at a significant CAGR of 5%
Market Analysis in Brief
The sippy cups market is driven by a nexus of significant factors that have supported its steady rise. Modern parents' changing lives, defined by busier schedules and greater mobility, have increased demand for practical and spill-proof kid feeding options. Sippy cups are a practical and mess-free solution to let toddlers self-feed, and they fit into this story perfectly. Additionally, due to parents' growing concern for their children's safety, sippy cups have become more popular because of their ability to limit spillage and lower the likelihood of accidents. Additionally, the market for sippy cups has entered a new era of innovation thanks to developments in product design and materials. These devices have evolved from merely feeding equipment to beautiful accessories that satisfy parental tastes and children's interests because of features like leak-proof technologies, ergonomic designs, and visually appealing aesthetics.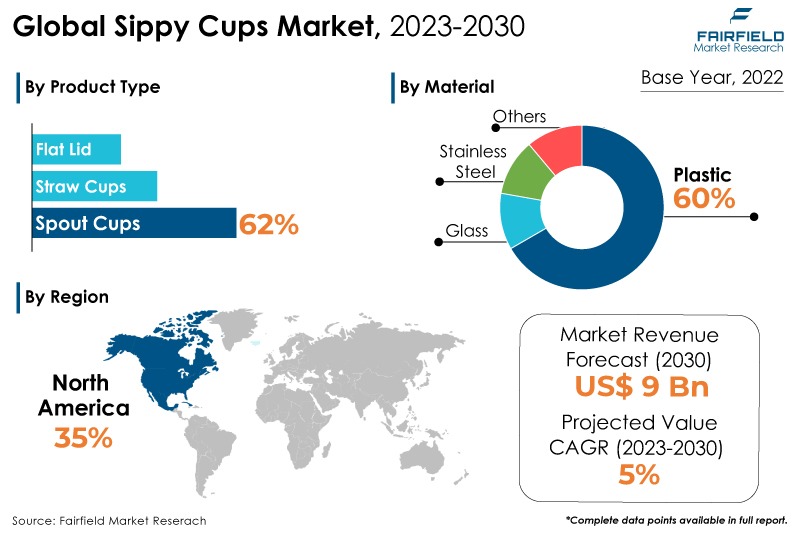 Furthermore, the market for sippy cups has benefited from the global trend toward sustainable and healthy living. Manufacturers have created BPA-free, non-toxic sippy cup choices in response to parents' demands for products that protect their kids' health and well-being. Sippy cups give parents a way to promote healthy drinking habits from a young age, coinciding with the larger health-conscious trend as worries about childhood obesity and related health issues grow.
Key Report Findings
With a market share of more than 62.6%, the spout cups segment is the largest.
The plastic cups segment is the largest, with more than 59.8% market share.
With approximately 35.7% of the market share, North America has the largest sippy cup market. The report attributes this to a number of infants and toddlers, as well as the rising demand for practical and secure feeding options.
The release of novel products also fuels the demand for sippy cups. Manufacturers of sippy cups always come out with brand-new, cutting-edge items that cater to parents, and young children.
Growth Drivers
Urge for Convenience, and Evolving Lifestyles
Modern parents' and caregivers' changing lifestyles are one of the main factors boosting the demand for sippy cups. People are increasingly balancing hectic schedules, career commitments, and family responsibilities in today's fast-paced environment. As a result, there is a rising need for goods that make daily duties easier and more convenient, such as feeding and caring for babies and toddlers.
Sippy cups provide a spill-proof and hassle-free method for kids to sip liquids, fully satisfying this need. Sippy cups are the best choice for usage at home and when traveling because of their spill-proof construction, which reduces messes.
With these cups, parents can securely feed their kids a variety of drinks without being concerned about unforeseen spills interrupting routines or requiring additional cleanup. Parents who are frequently on the go, whether running errands, traveling, or attending multiple events with their kids, find this convenience feature particularly tempting.
Sippy cups allow parents to feed their young children without needing continual supervision, giving them a sense of independence, and helping parents manage their time more effectively. Sippy cups are well-positioned for long-term growth as consumer demand for items focusing on convenience increases.
Safe and Pro-Child Development
More than ever, parents are worried for their children's safety, and this concern extends to the things they select for them. Sippy cups are essential in resolving these issues since they give kids a secure and controlled way to begin drinking independently.
The characteristics of sippy cups that prevent spills and leaks reduce the possibility of unintentional spills that could cause tripping, falling, or even choking dangers. This safety consideration is especially crucial since kids' motor skills and coordination are still developing throughout the switch from baby bottles to open cups.
Sippy cups reduce the risk of mishaps while providing a smooth transition to open cups. Sippy cups are also made simple for little hands to hold, aiding in fine motor skills and hand-eye coordination growth.
Sippy cups come in various designs, including spouts and straws, enabling kids to experiment with and perfect diverse sipping methods. This development component fits well with parents' goals to give their kids the best learning opportunities possible at every stage of development.
Safety and developmental advantages of sippy cups not only reassure parents about their children's safety but also help the market expand as more parents actively look for products that advance the safety and development of their kids.
Growth Challenges
Environmental Concerns Regarding Plastic Materials
Growing concerns about environmental sustainability is a notable market limitation despite the sippy cups industry having experienced significant expansion and demand. The use of conventional plastic sippy cups is coming under fire and facing difficulties as consumers grow more ecologically concerned and governments impose stricter rules on plastic usage and waste management.
The materials used to make traditional sippy cups frequently include non-biodegradable polymers, which can cause long-term ecological harm and environmental contamination. There are worries about the effects on marine life and ecosystems due to the buildup of plastic garbage in landfills and oceans. This increased understanding has changed consumer preferences in favour of more environmentally friendly and sustainably produced products.
Many people are looking for sippy cups made of biodegradable materials or ones that are simple to recycle as a reaction to these worries. Due to this change in customer behavior, manufacturers are spending money on R&D to offer new, eco-friendly sippy cup choices. However, switching to eco-friendly materials can be expensive and difficult, affecting production costs and perhaps impacting sippy cup prices.
Additionally, it takes much work to inform consumers about traditional sippy cups' harm to the environment and encourage them to adopt sustainable alternatives. It takes skilful marketing and awareness efforts to alter customer preferences and habits gradually.
Overview of Key Segments
Sales of Spout Cups Dominant
The spout sippy cups sector is the biggest of the many product categories in the sippy cups market. This is due to this conventional design's great acceptance and appeal among parents and other primary caregivers. Spout sippy cups are popular because they are easy to use, resemble baby bottles, and make the transition from bottles to cups for young children smooth.
Parents who want to control the flow of beverages while reducing mess will appreciate the spill-proof spout design. Furthermore, improvements in spout technology have produced features like anti-leak systems and ergonomic designs, increasing their usefulness and safety. Overall, spout sippy cups' market domination is due to their familiarity, usefulness, and ongoing advancements.
The straw sippy cups sector shows the quickest growth within the sippy cups market. Several things contribute to this expansion. First of all, the straw's shape supports a more natural sipping motion in kids, which may help with the growth of their oral motor abilities. Parents who value their child's developmental milestones will find this appealing.
Straw sippy cups are also great for traveling because they are spill-resistant and allow various sipping positions. Many straw sippy cups contain features like retractable straws and easy-to-clean designs, strengthening their attractiveness as parents increasingly emphasize health and hygiene.
Using ecologically friendly and BPA-free materials in straw, sippy cups is consistent with the expanding movement toward environmentally responsible parenting. Due to the segment's quick expansion due to these considerations, straw sippy cups are the favoured option for contemporary parents looking for a product that offers both practicality and developmental advantages.
Affordability Upholds Popularity of Plastic Cups
The plastic sippy cups segment is the largest of the sippy cups market's material-based segments. This dominance can be ascribed to several elements that have helped plastic sippy cups become so widely used. Plastic cups are frequently more inexpensive and lightweight when compared to other options like glass and stainless steel. The affordability component appeals to budget-conscious parents looking for solutions for their kids that are useful and practical.
In addition, plastic sippy cups come in various colours, patterns, and sizes to suit the various tastes of parents and kids. Plastic's elasticity enables novel features like spill-proof systems and ergonomic designs, which increase their attractiveness. Manufacturers have responded to environmental concerns by providing BPA-free and environmentally friendly plastic choices. Plastic sippy cups monopolise the market thanks to their ease of use, low cost, and ongoing product developments.
The stainless steel sippy cups sector shows the quickest growth within the sippy cups market. Several important variables contribute to its expansion. The first reason is that stainless steel is known for its toughness, making these cups a wise investment for parents. For parents who want to maintain the appropriate temperature for their child's liquids, stainless steel sippy cups also provide exceptional temperature retention, keeping drinks cold or hot for prolonged periods.
Moreover, there is rising demand for materials free of dangerous toxins like BPA due to the growing emphasis on health and safety. Stainless steel offers a non-reactive and hygienic surface, making it a desirable option for parents concerned about their children's health. The recyclability and environmental friendliness of stainless steel aid in the segment's expansion as sustainability considerations gain prominence.
Stainless steel sippy cups are a popular choice for parents looking for a high-quality and long-lasting solution for their children's beverage needs due to their mix of durability, temperature retention, health advantages, and sustainability.
Growth Opportunities Across Regions
North America Secures the Top Spot
North America is the region with the greatest market for sippy cups. North America has consistently monopolised the sippy cups market worldwide regarding income and volume. The area's strong position is due to several factors that have increased the demand for sippy cups there. Growing parental awareness of the value of kid safety and nutrition is a major factor driving North America's sippy cups market.
Sippy cups reduce the danger of accidents and messes by preventing spillage and offering a safer substitute to conventional open cups. Sippy cups are in high demand in the area as parents prioritise their kids' health. Sippy cups have become increasingly popular due to the growing trend of mobile lives and the rise in working parents.
These cups are perfect for busy parents who need to feed their kids while on the go because they are convenient and simple to use. Sippy cups have become a must-have item for parents in North America due to the fast-paced way of life, which has accelerated their market adoption.
In addition, product design and materials innovations have produced creative and appealing sippy cups that appeal to both parents and kids. To meet consumer demands, manufacturers are incorporating spill-proof technologies, ergonomic shapes, and vibrant patterns to make the cups pleasing and practical.
The strict laws and guidelines that North American nations have established regarding children's safety have also significantly increased demand for premium sippy cups. Customers in the area are willing to spend more on products that adhere to safety standards to give their kids dependable and secure sippy cups.
Asian Markets Flourish on Account of Growing Infant Population, and Elevating Lifestyles
The Asia Pacific region has the sippy cups market's quickest growth rate. One of the most lucrative marketplaces worldwide, Asia Pacific has seen a phenomenal increase in the demand for sippy cups over the past few years. The huge number of infants and toddlers in the Asia Pacific area is one of the main factors causing the sippy cups market to expand quickly.
Due to their vast populations, nations like China, and India are going through a baby boom, increasing demand for baby products like sippy cups. Sippy cup sales are increasing due to parents' increased willingness to spend on high-end products that meet their kids' demands as disposable incomes rise in these nations.
In addition, technology and urbanisation in the Asia Pacific area have changed people's choices and lives. The demand for infant items focusing on convenience has increased due to more parents working and a rise in nuclear families. Sippy cups fully meet this criterion thanks to their spill-proof and user-friendly characteristics, which have increased their uptake in the area.
The Asia Pacific region's rising concern for children's health and nutrition has also had a favourable effect on the market for sippy cups. Parents are choosing goods that encourage self-feeding and healthy drinking habits as they become more aware of their kids' eating habits. Sippy cups have become popular for parents worried about their children's well-being because of their controlled flow and BPA-free construction.
In addition, it is now simpler for customers in the Asia Pacific area to acquire and buy these products thanks to the growth of eCommerce and the availability of a wide variety of sippy cup options online. Sippy cups are now more widely available in the area thanks to e-commerce platforms, which also provide a convenient shopping experience and access to products from both national and international brands.
Sippy Cups Market: Competitive Landscape
Some of the leading players at the forefront in the sippy cups market space include Munchkin, Inc., MAM USA Corporation, NUK USA LLC, Zoli, Inc., Koninklijke Philips N.V., Thermos LLC, Lucie's List, Sangenic International Ltd., Gerber, Pigeon Corporation, Green Sprout Inc., TWISTSHAKE, TUM TUM TOTS, Goodbaby International, LOLLALAND, and Dr. Brown's.
Recent Notable Developments
In August 2023, Dr. Brown's announced the release of a new line of sippy cups dubbed "The Original." These cups are constructed of BPA-free materials and have an innovative vent mechanism that helps to reduce spills. They come in a range of hues and patterns and are dishwasher-safe.
In June 2023, Munchkin, Inc. released their brand-new Miracle 360° Trainer Cup in the UK. The cup has a 360-degree spout similar to the Philips Avent cup but also comes in various vibrant colours and patterns. It is dishwasher-safe and composed of BPA-free materials.
In March 2023, Philips Avent will introduce its brand-new Natural Trainer 360° Sippy Cup in the US. The cup has a special 360-degree spout that enables young children to sip from any angle without spilling. It is dishwasher-safe and composed of BPA-free materials.
Global Sippy Cups Market is Segmented as Below:
By Product Type
Spout Cups
Straw Cups
Flat Lid
By Material
Plastic
Glass
Stainless Steel
Others
By Geographic Coverage
North America
Europe

Germany
U.K.
France
Italy
Turkey
Russia
Rest of Europe

Asia Pacific

China
Japan
South Korea
India
Southeast Asia
Rest of Asia Pacific

Latin America

Brazil
Mexico
Argentina
Rest of Latin America

Middle East & Africa

GCC
South Africa
Egypt
Nigeria
Rest of the Middle East & Africa
1. Executive Summary
1.1. Global Sippy Cups Market Snapshot
1.2. Future Projections
1.3. Key Market Trends
1.4. Regional Snapshot, by Value, 2022
1.5. Analyst Recommendations
2. Market Overview
2.1. Market Definitions and Segmentations
2.2. Market Dynamics
2.2.1. Drivers
2.2.2. Restraints
2.2.3. Market Opportunities
2.3. Value Chain Analysis
2.4. Porter's Five Forces Analysis
2.5. COVID-19 Impact Analysis
2.5.1. Supply
2.5.2. Demand
2.6. Impact of Ukraine-Russia Conflict
2.7. Economic Overview
2.7.1. World Economic Projections
2.8. PESTLE Analysis
3. Global Sippy Cups Market Outlook, 2018 - 2030
3.1. Global Sippy Cups Market Outlook, by Product Type, Value (US$ Bn), 2018 - 2030
3.1.1. Key Highlights
3.1.1.1. Spout Cups
3.1.1.2. Straw Cups
3.1.1.3. Flat Lid
3.2. Global Sippy Cups Market Outlook, by Material, Value (US$ Bn), 2018 - 2030
3.2.1. Key Highlights
3.2.1.1. Plastic
3.2.1.2. Glass
3.2.1.3. Stainless Steel
3.2.1.4. Other
3.3. Global Sippy Cups Market Outlook, by Region, Value (US$ Bn), 2018 - 2030
3.3.1. Key Highlights
3.3.1.1. North America
3.3.1.2. Europe
3.3.1.3. Asia Pacific
3.3.1.4. Latin America
3.3.1.5. Middle East & Africa
4. North America Sippy Cups Market Outlook, 2018 - 2030
4.1. North America Sippy Cups Market Outlook, by Product Type, Value (US$ Bn), 2018 - 2030
4.1.1. Key Highlights
4.1.1.1. Spout Cups
4.1.1.2. Straw Cups
4.1.1.3. Flat Lid
4.2. North America Sippy Cups Market Outlook, by Material, Value (US$ Bn), 2018 - 2030
4.2.1. Key Highlights
4.2.1.1. Plastic
4.2.1.2. Glass
4.2.1.3. Stainless Steel
4.2.1.4. Other
4.2.2. Market Attractiveness Analysis
4.3. North America Sippy Cups Market Outlook, by Country, Value (US$ Bn), 2018 - 2030
4.3.1. Key Highlights
4.3.1.1. U.S. Sippy Cups Market by Product Type, Value (US$ Bn), 2018 - 2030
4.3.1.2. U.S. Sippy Cups Market, by Material, Value (US$ Bn), 2018 - 2030
4.3.1.3. Canada Sippy Cups Market by Product Type, Value (US$ Bn), 2018 - 2030
4.3.1.4. Canada Sippy Cups Market, by Material, Value (US$ Bn), 2018 - 2030
4.3.2. BPS Analysis/Market Attractiveness Analysis
5. Europe Sippy Cups Market Outlook, 2018 - 2030
5.1. Europe Sippy Cups Market Outlook, by Product Type, Value (US$ Bn), 2018 - 2030
5.1.1. Key Highlights
5.1.1.1. Spout Cups
5.1.1.2. Straw Cups
5.1.1.3. Flat Lid
5.2. Europe Sippy Cups Market Outlook, by Material, Value (US$ Bn), 2018 - 2030
5.2.1. Key Highlights
5.2.1.1. Plastic
5.2.1.2. Glass
5.2.1.3. Stainless Steel
5.2.1.4. Other
5.2.2. BPS Analysis/Market Attractiveness Analysis
5.3. Europe Sippy Cups Market Outlook, by Country, Value (US$ Bn), 2018 - 2030
5.3.1. Key Highlights
5.3.1.1. Germany Sippy Cups Market by Product Type, Value (US$ Bn), 2018 - 2030
5.3.1.2. Germany Sippy Cups Market, by Material, Value (US$ Bn), 2018 - 2030
5.3.1.3. U.K. Sippy Cups Market by Product Type, Value (US$ Bn), 2018 - 2030
5.3.1.4. U.K. Sippy Cups Market, by Material, Value (US$ Bn), 2018 - 2030
5.3.1.5. France Sippy Cups Market by Product Type, Value (US$ Bn), 2018 - 2030
5.3.1.6. France Sippy Cups Market, by Material, Value (US$ Bn), 2018 - 2030
5.3.1.7. Italy Sippy Cups Market by Product Type, Value (US$ Bn), 2018 - 2030
5.3.1.8. Italy Sippy Cups Market, by Material, Value (US$ Bn), 2018 - 2030
5.3.1.9. Turkey Sippy Cups Market by Product Type, Value (US$ Bn), 2018 - 2030
5.3.1.10. Turkey Sippy Cups Market, by Material, Value (US$ Bn), 2018 - 2030
5.3.1.11. Russia Sippy Cups Market by Product Type, Value (US$ Bn), 2018 - 2030
5.3.1.12. Russia Sippy Cups Market, by Material, Value (US$ Bn), 2018 - 2030
5.3.1.13. Rest of Europe Sippy Cups Market by Product Type, Value (US$ Bn), 2018 - 2030
5.3.1.14. Rest of Europe Sippy Cups Market, by Material, Value (US$ Bn), 2018 - 2030
5.3.2. BPS Analysis/Market Attractiveness Analysis
6. Asia Pacific Sippy Cups Market Outlook, 2018 - 2030
6.1. Asia Pacific Sippy Cups Market Outlook, by Product Type, Value (US$ Bn), 2018 - 2030
6.1.1. Key Highlights
6.1.1.1. Spout Cups
6.1.1.2. Straw Cups
6.1.1.3. Flat Lid
6.2. Asia Pacific Sippy Cups Market Outlook, by Material, Value (US$ Bn), 2018 - 2030
6.2.1. Key Highlights
6.2.1.1. Plastic
6.2.1.2. Glass
6.2.1.3. Stainless Steel
6.2.1.4. Other
6.2.2. BPS Analysis/Market Attractiveness Analysis
6.3. Asia Pacific Sippy Cups Market Outlook, by Country, Value (US$ Bn), 2018 - 2030
6.3.1. Key Highlights
6.3.1.1. China Sippy Cups Market by Product Type, Value (US$ Bn), 2018 - 2030
6.3.1.2. China Sippy Cups Market, by Material, Value (US$ Bn), 2018 - 2030
6.3.1.3. Japan Sippy Cups Market by Product Type, Value (US$ Bn), 2018 - 2030
6.3.1.4. Japan Sippy Cups Market, by Material, Value (US$ Bn), 2018 - 2030
6.3.1.5. South Korea Sippy Cups Market by Product Type, Value (US$ Bn), 2018 - 2030
6.3.1.6. South Korea Sippy Cups Market, by Material, Value (US$ Bn), 2018 - 2030
6.3.1.7. India Sippy Cups Market by Product Type, Value (US$ Bn), 2018 - 2030
6.3.1.8. India Sippy Cups Market, by Material, Value (US$ Bn), 2018 - 2030
6.3.1.9. Southeast Asia Sippy Cups Market by Product Type, Value (US$ Bn), 2018 - 2030
6.3.1.10. Southeast Asia Sippy Cups Market, by Material, Value (US$ Bn), 2018 - 2030
6.3.1.11. Rest of Asia Pacific Sippy Cups Market by Product Type, Value (US$ Bn), 2018 - 2030
6.3.1.12. Rest of Asia Pacific Sippy Cups Market, by Material, Value (US$ Bn), 2018 - 2030
6.3.2. BPS Analysis/Market Attractiveness Analysis
7. Latin America Sippy Cups Market Outlook, 2018 - 2030
7.1. Latin America Sippy Cups Market Outlook, by Product Type, Value (US$ Bn), 2018 - 2030
7.1.1. Key Highlights
7.1.1.1. Spout Cups
7.1.1.2. Straw Cups
7.1.1.3. Flat Lid
7.2. Latin America Sippy Cups Market Outlook, by Material, Value (US$ Bn), 2018 - 2030
7.2.2. BPS Analysis/Market Attractiveness Analysis
7.2.1.1. Plastic
7.2.1.2. Glass
7.2.1.3. Stainless Steel
7.2.1.4. Other
7.3. Latin America Sippy Cups Market Outlook, by Country, Value (US$ Bn), 2018 - 2030
7.3.1. Key Highlights
7.3.1.1. Brazil Sippy Cups Market by Product Type, Value (US$ Bn), 2018 - 2030
7.3.1.2. Brazil Sippy Cups Market, by Material, Value (US$ Bn), 2018 - 2030
7.3.1.3. Mexico Sippy Cups Market by Product Type, Value (US$ Bn), 2018 - 2030
7.3.1.4. Mexico Sippy Cups Market, by Material, Value (US$ Bn), 2018 - 2030
7.3.1.5. Argentina Sippy Cups Market by Product Type, Value (US$ Bn), 2018 - 2030
7.3.1.6. Argentina Sippy Cups Market, by Material, Value (US$ Bn), 2018 - 2030
7.3.1.7. Rest of Latin America Sippy Cups Market by Product Type, Value (US$ Bn), 2018 - 2030
7.3.1.8. Rest of Latin America Sippy Cups Market, by Material, Value (US$ Bn), 2018 - 2030
7.3.2. BPS Analysis/Market Attractiveness Analysis
8. Middle East & Africa Sippy Cups Market Outlook, 2018 - 2030
8.1. Middle East & Africa Sippy Cups Market Outlook, by Product Type, Value (US$ Bn), 2018 - 2030
8.1.1. Key Highlights
8.1.1.1. Spout Cups
8.1.1.2. Straw Cups
8.1.1.3. Flat Lid
8.2. Middle East & Africa Sippy Cups Market Outlook, by Material, Value (US$ Bn), 2018 - 2030
8.2.1. Key Highlights
8.2.1.1. Plastic
8.2.1.2. Glass
8.2.1.3. Stainless Steel
8.2.1.4. Other
8.2.2. BPS Analysis/Market Attractiveness Analysis
8.3. Middle East & Africa Sippy Cups Market Outlook, by Country, Value (US$ Bn), 2018 - 2030
8.3.1. Key Highlights
8.3.1.1. GCC Sippy Cups Market by Product Type, Value (US$ Bn), 2018 - 2030
8.3.1.2. GCC Sippy Cups Market, by Material, Value (US$ Bn), 2018 - 2030
8.3.1.3. South Africa Sippy Cups Market by Product Type, Value (US$ Bn), 2018 - 2030
8.3.1.4. South Africa Sippy Cups Market, by Material, Value (US$ Bn), 2018 - 2030
8.3.1.5. Egypt Sippy Cups Market by Product Type, Value (US$ Bn), 2018 - 2030
8.3.1.6. Egypt Sippy Cups Market, by Material, Value (US$ Bn), 2018 - 2030
8.3.1.7. Nigeria Sippy Cups Market by Product Type, Value (US$ Bn), 2018 - 2030
8.3.1.8. Nigeria Sippy Cups Market, by Material, Value (US$ Bn), 2018 - 2030
8.3.1.9. Rest of Middle East & Africa Sippy Cups Market by Product Type, Value (US$ Bn), 2018 - 2030
8.3.1.10. Rest of Middle East & Africa Sippy Cups Market, by Material, Value (US$ Bn), 2018 - 2030
8.3.2. BPS Analysis/Market Attractiveness Analysis
9. Competitive Landscape
9.1. Product Type vs Material Heatmap
9.2. Manufacturer vs Product type Heatmap
9.3. Company Market Share Analysis, 2022
9.4. Competitive Dashboard
9.5. Company Profiles
9.5.1. Munchkin Inc
9.5.1.1. Company Overview
9.5.1.2. Product Type Portfolio
9.5.1.3. Financial Overview
9.5.1.4. Business Strategies and Development
9.5.2. MAM USA Corporation
9.5.2.1. Company Overview
9.5.2.2. Product Type Portfolio
9.5.2.3. Financial Overview
9.5.2.4. Business Strategies and Development
9.5.3. NUK USA LLC
9.5.3.1. Company Overview
9.5.3.2. Product Type Portfolio
9.5.3.3. Financial Overview
9.5.3.4. Business Strategies and Development
9.5.4. Zoli, Inc.
9.5.4.1. Company Overview
9.5.4.2. Product Type Portfolio
9.5.4.3. Financial Overview
9.5.4.4. Business Strategies and Development
9.5.5. Koninklijke Philips N.V.
9.5.5.1. Company Overview
9.5.5.2. Product Type Portfolio
9.5.5.3. Financial Overview
9.5.5.4. Business Strategies and Development
9.5.6. Thermos LLC
9.5.6.1. Company Overview
9.5.6.2. Product Type Portfolio
9.5.6.3. Financial Overview
9.5.6.4. Business Strategies and Development
9.5.7. Lucie's List
9.5.7.1. Company Overview
9.5.7.2. Product Type Portfolio
9.5.7.3. Financial Overview
9.5.7.4. Business Strategies and Development
9.5.8. Gerber
9.5.8.1. Company Overview
9.5.8.2. Product Type Portfolio
9.5.8.3. Financial Overview
9.5.8.4. Business Strategies and Development
9.5.9. Pigeon Corporation
9.5.9.1. Company Overview
9.5.9.2. Product Type Portfolio
9.5.9.3. Financial Overview
9.5.9.4. Business Strategies and Development
9.5.10. Sangenic International Ltd
9.5.10.1. Company Overview
9.5.10.2. Product Type Portfolio
9.5.10.3. Financial Overview
9.5.10.4. Business Strategies and Development
9.5.11. Green Sprout Inc.
9.5.11.1. Company Overview
9.5.11.2. Product Type Portfolio
9.5.11.3. Financial Overview
9.5.11.4. Business Strategies and Development
9.5.12. TWISTSHAKE
9.5.12.1. Company Overview
9.5.12.2. Product Type Portfolio
9.5.12.3. Financial Overview
9.5.12.4. Business Strategies and Development
9.5.13. Goodbaby International
9.5.13.1. Company Overview
9.5.13.2. Product Type Portfolio
9.5.13.3. Financial Overview
9.5.13.4. Business Strategies and Development
10. Appendix
10.1. Research Methodology
10.2. Report Assumptions
10.3. Acronyms and Abbreviations