Small Modular Reactor (SMR) Market
The global small modular reactor (SMR) market size is poised to reach the revenue of US$9 Bn toward the end of 2030. The report projects nearly 9.5% growth for the market between 2023 and 2030.
Market Analysis in Brief
According to research, nuclear power accounted for more than 17% of the global energy mix in 1996. The proportion of nuclear electricity has, however, significantly decreased to 10–11% in 2019. Due to the conventional nuclear industry's capital-intensive nature and subsequent rise in investments in green energy, there has been a decline in interest in nuclear power. In essence, the nuclear industry is starting to refocus its attention on small and medium-sized nuclear power reactors, also known as small modular reactors (SMRs), which can offset the effects of capital costs and supply electricity independent of huge grid systems. These SMRs potentially lead the small, secure, and safe nuclear power revolution, which is expected to drive the growth of global small modular reactor market in long term.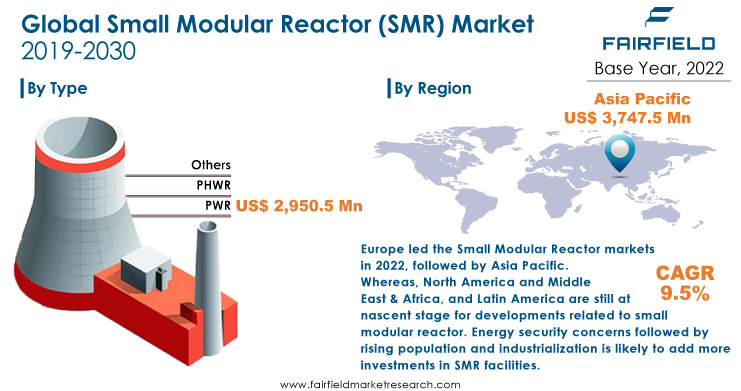 Key Report Findings
By 2030 end, global small modular reactor market is poised to attain the valuation of US$9 Bn
In 2022, there were 5 operational small modular reactors: CNP-300 (China), PHWR-220 (India), EGP-6 (Siberia), KLT-40S (Russia), and RITM-200 (Russia)
There are several small modular reactors coming forward requiring fuel enriched at the top end of what is defined as low-enriched uranium (LEU) - 20% U-235
PWR segment accounted for more than 66% revenue share in global SMR market
Asia Pacific's hegemony prevails with over 80% value share
Growth Drivers
The Energy Security Crisis
Energy security is currently lacking on the planet. Crude oil, natural gas, and coal are examples of finite resources that have been depleted as a result of a high reliance on fossil fuels. Other sources of energy have been used to generate electricity because there is not enough of a supply of fossil fuels to meet future demand. In the upcoming years, this would propel the nuclear energy sector, particularly through SMRs, boding well for the small modular reactor market.
Recent Advances in SMR Projects
SMRs, which are conventional nuclear reactors that are portable, are more affordable and safer than traditional reactors. SMRs are nuclear reactors with a capacity of 300 MWe or less. One of the most popular candidates for producing district heat without CO2 is the small modular nuclear reactor. It is capable of taking the place of combined heat and power (CHP) facilities. Small modular reactor projects have advanced significantly over the past few years, and there are currently two reactors being built: the CAREM-25 (a prototype) in Argentina and the KLT-40S in the Russian Federation. Once in operation, this would increase global investments in SMR technology, in turn elevating the prospects of small modular reactor market.
Lower Capital Costs, and Lesser Carbon Emissions
Small modular reactors may be benefitted by the high development costs of conventional nuclear power stations. Rising interest in SMRs is majorly due to the need to reduce the total capital costs of nuclear power plants and to provide uninterrupted power supply to smart cities and infrastructural projects through small grid-connected systems. This, in turn, leading to more designs reaching advanced stages of development. The overall CAPEX of SMR plants is 3-5 times lower than traditional nuclear power plants. The total cost per kW of electricity generated by a 114-MW small modular reactor unit is US$2,653 compared to US$4,764 per kW for a conventional pressurised water reactor unit of 1,144 MW.
Growing Need for Nuclear Power Facility Decommissioning Procedures
Decommissioning, and rising costs and delays associated with traditional large nuclear reactors have severely limited the deployment of nuclear power around the world. This has paved the way for alternatives such as SMR technology. A normal nuclear power plant can run for up to 35 years and typically lasts 30 to 35 years. The nuclear power facility will go through a decommissioning procedure, which entails the removal of nuclear reactors and the disposal of radioactive waste, if licences are not renewed.
Concerns about the creation of safe and secure nuclear reactors have been raised as a result of the shutdown of outdated nuclear reactors and accidents that occurred in traditional nuclear reactors that were already in operation. This has given SMR producers access to an entirely new market, thereby contributing heavily toward the progression of small modular reactor market.
Greater Flexibility to Connect with Renewables
Customers are becoming more interested in small modular reactors as the demand for dependable, clean, and flexible baseload electricity increases. SMRs will also be necessary in the near future as a lot of baseload generation retires. These reactors offer flexibility to connect with renewables, and can repower sites of decommissioned fossil plants, making them a better match to meet demand at reduced upfront capital costs. SMRs can produce extremely dependable baseload electricity. If there is an increase in demand for carbon-free generation, SMRs will become even more significant, favoring the expansion of small modular reactor market further.
Limelight on Affordable Power Generation Appeals Investors
Growing concerns around energy security at an affordable rate, coupled with growing preference for safer, and more efficient systems is expected to add more capacities of SMR's by 2030. Growing investments in affordable power generation systems which can solve energy security issues are expected to drive the demand for SMR's across the globe. Furthermore, power supply shortage due to decommissioning of existing/old traditional nuclear reactors can be met through the deployment of SMR's. This has set the stage for numerous planned and near-term deployment SMR projects across the globe, in turn boosting revenue growth of the small modular reactor market.
Overview of Key Segments
Sales of Pressurized Water Reactors Dominant
In terms of reactor type, the global small modular reactor market has been segregated into pressurized water reactor (PWR), pressurized heavy water reactor (PHWR), and others. In 2022, pressurized water reactors (PWR) constituted 66.7% share of the global SMR market. The dominance of PWR is attributed to its high operational stability followed by low-cost compared to other configured reactor types available in the market. Also, PWR reactors are safe to operate as the chances of water contamination with radioactive materials is low due to separate primary and secondary loops. PHWR follows behind PWR and is expected to grab additional share owing to planned and near-term deployment projects by 2025.
Growth Opportunities Across Regions
Asia Pacific Leads with the Highest Installed Capacity
As of April 2023, there were about 440 nuclear power reactors operational in 32 countries including Taiwan, with a combined capacity of about 390 GWe. In 2021 these provided 2653 TWh, about 10% of the world's electricity. About 60 power reactors are currently being constructed in 15 countries, notably China, India, and Russia. Most reactors currently planned are in the Asian region, as the region boasts fast-growing economies that are generating high demand for electricity.
In 2023, globally there were five operational SMRs with an overall capacity of more than 600 MWe. Of these, three are installed in Russia & CIS. The remaining in Asia Pacific, i.e., China, and India. Also, Russia & CIS combined have a few more SMRs lined-up for near-term deployment.
In 2022, Asia Pacific dominated the global small modular reactor market and constituted more than 80% share. In Asia Pacific, China dominated the SMR market. China has CNP-300 SMR with 300 MWe installed capacity. Countries in Asia Pacific, especially China, are the key consumers of electricity, giving nuclear power generators significantly shot in the arm. Currently, China has one operational SMR while two under construction.
North America Surges Ahead in Terms of R&D
In North America, NuScalePower has had the first-ever SMR design certification application accepted for review by the US nuclear regulator in March 2017. Thus, in research & development-front, the US is expected to lead the global small modular reactor market. Canada's Small Modular Reactor Action Plan is Canada's plan for the development, demonstration, and deployment of SMRs for multiple applications at home and abroad. Canada's SMR Action Plan brings together essential enabling partners, leveraging their strengths to lock-in these benefits and lead the world on SMRs.
Russia Upholds Europe's Growth Prospects
In Europe, Russia has been the key end-user of SMR and has been active in R&D activities related to SMR. Russia's 35 MWe-PWR, KLT-40S small modular reactor from OKBM Afrikantov is derived from the KLT-40 reactor well proven in icebreakers and now with low-enriched fuel proposed for wider use in desalination and, on barges, for remote area power supply.
Apart from Russia, Serbia has also shown interest in small modular reactor technology. In December 2019 CEZ in the Czech Republic said it was focusing on 11 SMR designs including these seven: Rosatom's RITM-200, GE Hitachi Nuclear Energy's BWRX-300, NuScale Power's SMR, China National Nuclear Corporation's ACP100, Argentina's CAREM, the South Korean SMART, and Holtec International's SMR-160.
Global Small Modular Reactor Market: Competitive Landscape
Key players involved in small modular reactor market include Bechtel Corporation, BWX Technologies Inc., GE, China National Nuclear Corporation, Mitsubishi Heavy Industries, Ltd., Holtec International, General Atomics, Rolls Royce, Nuclear Power Corporation of India Limited (NPCIL), NuScale Power, LLC., and Korea Electric Power Corporation.
Recent Notable Developments
In January 2023, Holtec International has applied for a patent for multi-stage compressors that would enable any coal-fired plant to be repurposed by replacing its coal-fired boiler with clean steam from the SMR-160 small modular reactor
In March 2023, Britain's Rolls-Royce SMR has signed memorandums of understanding (MoUs) to explore the deployment of its small modular reactor in Finland and Sweden, as well as to help post-war recovery in Ukraine
The Global Small Modular Reactor Market is Segmented as Below:
By Type Coverage
Pressurized Water Reactor (PWR)
Pressurized Heavy Water Reactor (PHWR)
Others
By Geographical Coverage
North America
Europe
Asia Pacific

China
India
Rest of Asia Pacific

Rest of the World
Leading Companies
Bechtel Corporation
China National Nuclear Corporation
BWX Technologies Inc.
GE
Mitsubishi Heavy Industries, Ltd.
Holtec International
General Atomics
Rolls Royce
Nuclear Power Corporation of India Limited (NPCIL)
NuScale Power, LLC.
Korea Electric Power Corporation
China National Nuclear Corporation
Inside This Report You Will Find:
1. Executive Summary
2. Market Overview
3. Small Modular Reactor - Existing and Upcoming Project Details
4. Global Small Modular Reactor (SMR) Market Outlook, 2019 - 2030
5. North America Small Modular Reactor (SMR) Market Outlook, 2019 - 2030
6. Europe Small Modular Reactor (SMR) Market Outlook, 2019 - 2030
7. Asia Pacific Small Modular Reactor (SMR) Market Outlook, 2019 - 2030
8. Rest of the World (RoW) Small Modular Reactor (SMR) Market Outlook, 2019 - 2030
9. Competitive Landscape
10. Appendix
Post Sale Support, Research Updates & Offerings:
We value the trust shown by our customers in Fairfield Market Research. We support our clients through our post sale support, research updates and offerings.
The report will be prepared in a PPT format and will be delivered in a PDF format.
Additionally, Market Estimation and Forecast numbers will be shared in Excel Workbook.
If a report being sold was published over a year ago, we will offer a complimentary copy of the updated research report along with Market Estimation and Forecast numbers within 2-3 weeks' time of the sale.
If we update this research study within the next 2 quarters, post purchase of the report, we will offer a Complimentary copy of the updated Market Estimation and Forecast numbers in Excel Workbook.
If there is a geopolitical conflict, pandemic, recession, and the like which can impact global economic scenario and business activity, which might entirely alter the market dynamics or future projections in the industry, we will create a Research Update upon your request at a nominal charge.
1. Executive Summary
1.1. Global Small Modular Reactor (SMR) Market Snapshot
1.2. Future Projections
1.3. Key Market Trends
1.4. Analyst Recommendations

2. Market Overview
2.1. Market Definitions and Segmentations
2.2. Market Dynamics
2.2.1. Drivers
2.2.2. Restraints
2.2.3. Market Opportunities
2.2.4. Economic Trends
2.3. Value Chain Analysis
2.4. SWOT Analysis
2.5. Porter's Five Forces Analysis
2.6. COVID-19 & Russia-Ukraine War Impacts
2.6.1. Supply Chain
2.6.2. End-user Customer Impact Analysis
3. Small Modular Reactor- Existing and Upcoming Project Details

4. Global Small Modular Reactor (SMR) Market Outlook, 2019 - 2030
4.1. Global Small Modular Reactor (SMR) Market Outlook, by Configuration, Value (US$ Mn) & Capacity (MW), 2019 - 2030
4.1.1. Key Highlights
4.1.1.1. Pressurized Water Reactor (PWR)
4.1.1.2. Pressurized Heavy Water Reactor (PHWR)
4.1.1.3. Others
4.1.2. BPS Analysis/Market Attractiveness Analysis, by Configuration
4.2. Global Small Modular Reactor (SMR) Market Outlook, by Region, Value (US$ Mn) & Capacity (MW), 2019 - 2030
4.2.1. Key Highlights
4.2.1.1. North America
4.2.1.2. Europe
4.2.1.3. Asia Pacific
4.2.1.4. Rest of the World
4.2.2. BPS Analysis/Market Attractiveness Analysis, by Region

5. North America Small Modular Reactor (SMR) Market Outlook, 2019 - 2030
5.1. North America Small Modular Reactor (SMR) Market Outlook, by Configuration, Value (US$ Mn) & Capacity (MW), 2019 - 2030
5.1.1. Key Highlights
5.1.1.1. Pressurized Water Reactor (PWR)
5.1.1.2. Pressurized Heavy Water Reactor (PHWR)
5.1.1.3. Others
5.2. North America Small Modular Reactor (SMR) Market Outlook, by Country, Value (US$ Mn) & Capacity (MW), 2019 - 2030
5.2.1. Key Highlights
5.2.1.1. U.S. Small Modular Reactor (SMR) Market, Value (US$ Mn) & Capacity (MW), 2019 - 2030
5.2.1.2. Canada Small Modular Reactor (SMR) Market, Value (US$ Mn) & Capacity (MW), 2019 - 2030

6. Europe Small Modular Reactor (SMR) Market Outlook, 2019 - 2030
6.1. Europe Small Modular Reactor (SMR) Market Outlook, by Configuration, Value (US$ Mn) & Capacity (MW), 2019 - 2030
6.1.1. Key Highlights
6.1.1.1. Pressurized Water Reactor (PWR)
6.1.1.2. Pressurized Heavy Water Reactor (PHWR)
6.1.1.3. Others
6.2. Europe Small Modular Reactor (SMR) Market Outlook, by Country, Value (US$ Mn) & Capacity (MW), 2019 - 2030
6.2.1. Key Highlights
6.2.1.1. Russia Small Modular Reactor (SMR) Market, Value (US$ Mn) & Capacity (MW), 2019 - 2030
6.2.1.2. Rest of Europe Small Modular Reactor (SMR) Market, Value (US$ Mn) & Capacity (MW), 2019 - 2030

7. Asia Pacific Small Modular Reactor (SMR) Market Outlook, 2019 - 2030
7.1. Asia Pacific Small Modular Reactor (SMR) Market Outlook, by Configuration, Value (US$ Mn) & Capacity (MW), 2019 - 2030
7.1.1. Key Highlights
7.1.1.1. Pressurized Water Reactor (PWR)
7.1.1.2. Pressurized Heavy Water Reactor (PHWR)
7.1.1.3. Others
7.2. Asia Pacific Small Modular Reactor (SMR) Market Outlook, by Country, Value (US$ Mn) & Capacity (MW), 2019 - 2030
7.2.1. Key Highlights
7.2.1.1. China Small Modular Reactor (SMR) Market, Value (US$ Mn) & Capacity (MW), 2019 - 2030
7.2.1.2. India Small Modular Reactor (SMR) Market, Value (US$ Mn) & Capacity (MW), 2019 - 2030
7.2.1.3. Rest of Asia Pacific Small Modular Reactor (SMR) Market, Value (US$ Mn) & Capacity (MW), 2019 - 2030

8. Rest of the World (RoW) Small Modular Reactor (SMR) Market Outlook, 2019 - 2030
8.1. Rest of the World (RoW) Small Modular Reactor (SMR) Market Outlook, by Configuration, Value (US$ Mn) & Capacity (MW), 2019 - 2030
8.1.1. Key Highlights
8.1.1.1. Pressurized Water Reactor (PWR)
8.1.1.2. Pressurized Heavy Water Reactor (PHWR)
8.1.1.3. Others
8.2. Rest of the World (RoW) Small Modular Reactor (SMR) Market Outlook, by Country, Value (US$ Mn) & Capacity (MW), 2019 - 2030
8.2.1. Key Highlights
8.2.1.1. Saudi Arabia Small Modular Reactor (SMR) Market, Value (US$ Mn) & Capacity (MW), 2019 - 2030
8.2.1.2. Brazil Small Modular Reactor (SMR) Market, Value (US$ Mn) & Capacity (MW), 2019 - 2030
8.2.1.3. UAE Small Modular Reactor (SMR) Market, Value (US$ Mn) & Capacity (MW), 2019 - 2030
8.2.1.4. Kuwait Small Modular Reactor (SMR) Market, Value (US$ Mn) & Capacity (MW), 2019 - 2030
8.2.1.5. Others Small Modular Reactor (SMR) Market, Value (US$ Mn) & Capacity (MW), 2019 - 2030

9. Competitive Landscape
9.1. Company Market Share Analysis, 2022
9.2. Strategic Collaborations
9.3. Company Profiles
9.3.1. Bechtel Corporation
9.3.1.1. Company Overview
9.3.1.2. Product Portfolio
9.3.1.3. Financial Overview
9.3.1.4. Business Strategies and Development
9.3.2. BWX Technologies Inc.
9.3.2.1. Company Overview
9.3.2.2. Product Portfolio
9.3.2.3. Financial Overview
9.3.2.4. Business Strategies and Development
9.3.3. GE
9.3.3.1. Company Overview
9.3.3.2. Product Portfolio
9.3.3.3. Financial Overview
9.3.3.4. Business Strategies and Development
9.3.4. Mitsubishi Heavy Industries, Ltd
9.3.4.1. Company Overview
9.3.4.2. Product Portfolio
9.3.4.3. Financial Overview
9.3.4.4. Business Strategies and Development
9.3.5. Holtec International
9.3.5.1. Company Overview
9.3.5.2. Product Portfolio
9.3.5.3. Financial Overview
9.3.5.4. Business Strategies and Development
9.3.6. General Atomics
9.3.6.1. Company Overview
9.3.6.2. Product Portfolio
9.3.6.3. Financial Overview
9.3.6.4. Business Strategies and Development
9.3.7. Rolls Royce
9.3.7.1. Company Overview
9.3.7.2. Product Portfolio
9.3.7.3. Financial Overview
9.3.7.4. Business Strategies and Development
9.3.8. Nuclear Power Corporation of India Limited (NPCIL)
9.3.8.1. Company Overview
9.3.8.2. Product Portfolio
9.3.8.3. Financial Overview
9.3.8.4. Business Strategies and Development
9.3.9. NuScale Power, LLC.
9.3.9.1. Company Overview
9.3.9.2. Product Portfolio
9.3.9.3. Financial Overview
9.3.9.4. Business Strategies and Development
9.3.10. Korea Electric Power Corporation
9.3.10.1. Company Overview
9.3.10.2. Product Portfolio
9.3.10.3. Financial Overview
9.3.10.4. Business Strategies and Development
9.3.11. China National Nuclear Corporation
9.3.11.1. Company Overview
9.3.11.2. Product Portfolio
9.3.11.3. Financial Overview
9.3.11.4. Business Strategies and Development

10. Appendix
10.1. Research Methodology
10.2. Report Assumptions
10.3. Acronyms and Abbreviations