Stevia Market Outlook
Global stevia market was valued at US$780 Mn in 2021 and is likely to reach the valuation of US$1,621 Mn by 2029 end. The study expects the market to register a CAGR of 9.6 % between the forecast years of 2022 to 2029.
Ascending Demand for Nutraceuticals to Drive Global Stevia Market
Early on, stevia was first embraced by manufacturers in product categories that were on the front lines of the sugar reduction fallout – chiefly beverages, including juices, flavoured water varieties, and sodas. Stevia leaf extracts have become so popular in these categories that close to one in four global beverage launches now contain stevia-based sweeteners. These success stories, coupled with the advances in stevia sweeteners, have prompted further use of the ingredients across many product categories, in turn accelerating the growth of stevia market.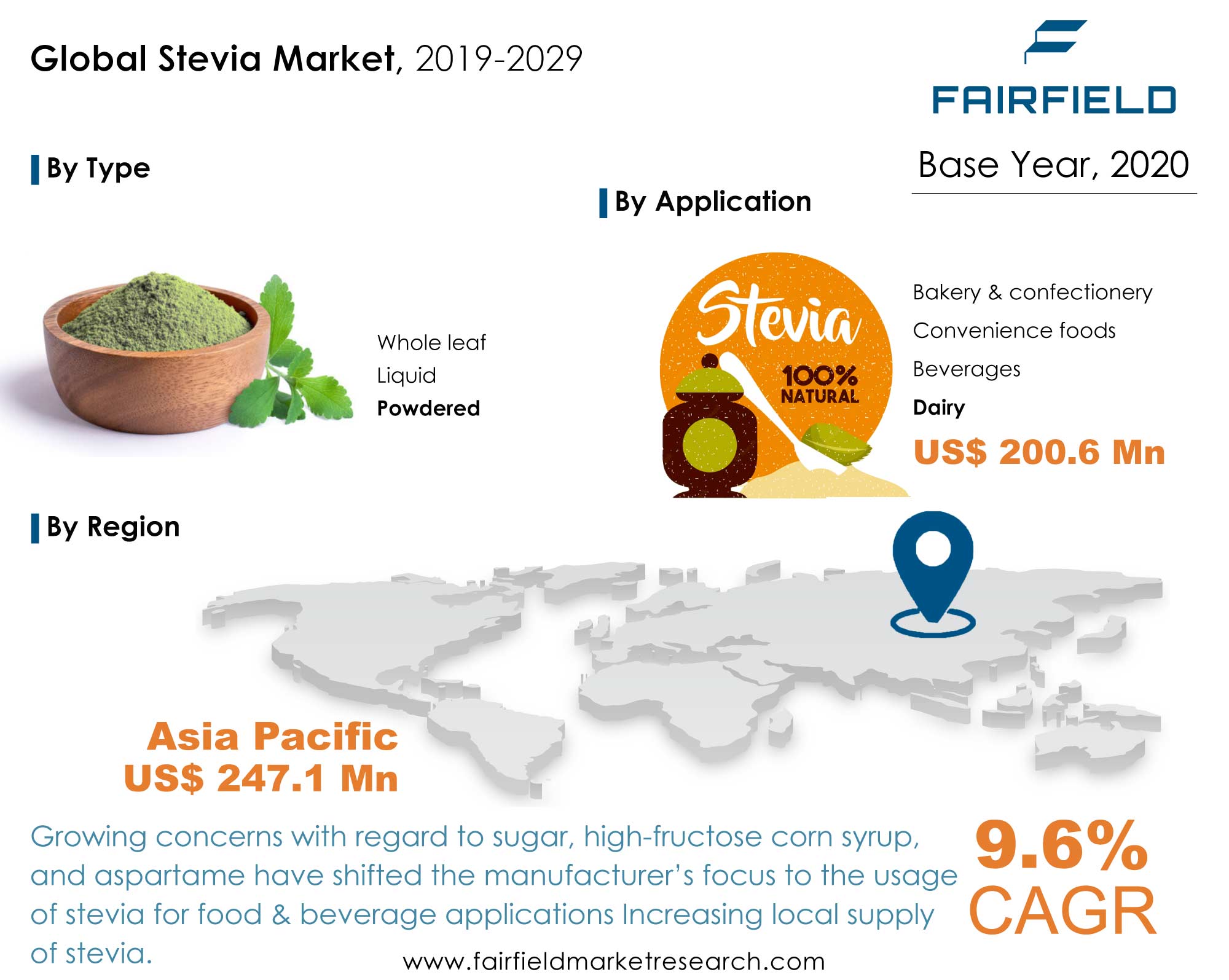 Stevia Market Makes Inroads into F&B on the Back of Growing Health Concerns Around Conventional Sweetening Agents
Dairy industry has been strongly influenced by the advantages of using stevia. In an effort to reduce childhood obesity and boost milk sales, the International Dairy Association (IDEA) and the National Milk Producers Federation (NMPF) petitioned the FDA to change the definition of "milk" and 17 other dairy products, including sour cream and yogurt. This change would allow the dairy industry to add aspartame, and other sweeteners such as stevia to products without including prominent labels for consumers. The most sought-after sweeteners, sucrose, dextrose (glucose), and corn syrups are fundamental in the production of confectionery items such as hard candy, caramel, taffy, chewing gum, chocolate, and gummed candies. In addition to their function in these items, they are widely used due to their low cost, wide availability, and ease of use during processing. The formulations of many sweetened confections are centered on the properties of stevia, which predominantly drives stevia market expansion. Depending on the confection, stevia helps provide sweetness, improved mouthfeel, crystallization, texture, form, extended shelf life, flavor, and colour to the final product.
Frequent Fluctuation of Stevia Leaf Prices Remains a Major Impediment for Stevia Market
The price volatility of the stevia leaf acts as a major restraining factor for the growth of the stevia industry. Stevia leaf availability depends on seasonal fluctuations and crop yield. According to the Global Stevia Institute, China is currently the leading producer and major exporter of stevia around the world. GLG Life Tech (one of the key players) estimates that the amount of stevia plant grown in China has decreased significantly. The fall in stevia cultivation is expected to impact the growing demand for stevia, which may result in a supply crunch in stevia market, leading to a price hike during the forecast period. Stevia is an emerging crop in many countries with a wide range of varieties, which also vary widely in their wholesale and retail prices.
In general, stevia is more expensive than the other conventionally used artificial sweeteners such as saccharin, aspartame, and sucralose. According to the African Export Association, international prices for refined stevia (at least 97% steviol glycoside by weight) range from US$00 per kg to US$150 per kg (2.2 lbs.), while dried stevia leaves range from US$2.00 per kg to US$4.00 per kg. The fluctuations in price and availability pose difficulty in production planning and sourcing for processors and the food and beverages industry. One of the major challenges for stevia extract manufacturers is the taste offering. Traditional sugar continues to have preference over sugar substitutes such as stevia in terms of taste profile. Initially, the product offerings were made with highly purified rebaudioside A (one of the steviol glycosides present in stevia extract, which is responsible for its sweetness), which in some instances has a bitter aftertaste, which has limited its preference as an alternative to sugar.
However, advanced farming methods, conventional plan breeding programs, advancement in extraction technologies and methods, and optimizing solutions for newer food and beverage applications have resulted in newer and better-tasting stevia extract sweeteners with no bitter aftertaste. These advanced methods make the extraction of such stevia varieties more expensive. With more efficient methods, stevia extracts with more acceptable taste profiles will thus have more prominent presence in stevia market. With its calorific benefits, this advancement presents a high potential for stevia in the sugar substitutes category. This in turn fuels the growth of stevia market.
Stevia Market Flourishes in Asia Pacific as Health Food Sales Gain Momentum
Globally, Asia Pacific is expected to lead the global stevia market by the end of 2027. Nonstop product launches, and demands for nutraceuticals are expected to drive these regional markets. Changing lifestyles and busy schedules, have increased unhealthy habits among consumers in recent years leading to various health-related problems like IBD, and obesity. As a result, rising preference for healthy food, and heightened health concerns among consumers are anticipated to be the primary drivers for stevia markets over the forecast period. The stevia market has been discovering strong growth prospects across Asia Pacific and will be the fastest growing market anticipating a noteworthy CAGR.
Global Stevia Market: Competitive Landscape
The global stevia market is highly diversified and competitive in nature owing to the presence of large number of local and international manufacturers, globally. Moreover, numerous producers of stevia have made huge production facilities available in several countries. Some of the leading market players identified are Cargill Inc, Ingredion Incorporated, and Archer-Daniels-Midland Company. While the stevia market continues to witness strong competition, several players are acquiring or merging with small and large manufacturers to sustain in this highly competitive market.
Recent Notable Developments
In 2022, PureCircle has announced the goal is to lower production costs and increase the accessibility of these sweet ingredients with improved flavour with StarLeaf, a stevia variety with 20 times the concentration of Reb D and Reb M, which the business had identified as having a more sugar-like sweetness


In 2021, Amyris is looking into the prospect of cheaper Reb M, however it produces the sweetener through fermentation rather than plant extraction. The provider has a contract with Ingredion to produce and sell its ingredient produced from fermentation


Reb B, Reb D, Reb E, and Reb M are just a few of the stevia-derived sweeteners that Sweegen supplies. According to company spokeswoman Ana Arakelian, clearance for Reb M in Europe is "around the corner." In 2019, the European Food Safety Authority (EFSA) discovered no safety issues with Reb M, and a decision is soon anticipated
The Global Stevia Market is Segmented as Below:
By Extract Type Coverage
Whole leaf
Powdered
Liquid
By Application Coverage
Dairy
Bakery & confectionery
Tabletop sweeteners
Beverages
Convenience foods
Others
By Form Coverage
By Geographical Coverage
North America
Europe

Germany
France
UK
Italy
Turkey
Spain
Russia
Rest of Europe

Asia Pacific

China
Japan
South Korea
India
Southeast Asia
Rest of Asia Pacific

Latin America

Brazil
Mexico
Rest of Latin America

Middle East & Africa

GCC
Egypt
Rest of Middle East & Africa
Leading Companies
Cargill
Ingredion Incorporated
Tate & Lyle Plc
PureCircle Ltd
GLG Life Tech Corporation
Archer Daniels Midland Company
Südzucker AG
Sunwin Stevia International Inc
ORITA KAGAKU KOGYO CO., LTD.
The Real Stevia Company AB
Inside This Report You Will Find:
1. Executive Summary
2. Market Overview
3. Global Stevia Market Outlook, 2019 - 2029
4. North America Stevia Market Outlook, 2019 - 2029
5. Europe Stevia Market Outlook, 2019 - 2029
6. Asia Pacific Stevia Market Outlook, 2019 - 2029
7. Latin America Stevia Market Outlook, 2019 - 2029
8. Middle East & Africa Stevia Market Outlook, 2019 - 2029
9. Competitive Landscape
10. Appendix
Post Sale Support, Research Updates & Offerings:
We value the trust shown by our customers in Fairfield Market Research. We support our clients through our post sale support, research updates and offerings.
The report will be prepared in a PPT format and will be delivered in a PDF format.
Additionally, Market Estimation and Forecast numbers will be shared in Excel Workbook.
If a report being sold was published over a year ago, we will offer a complimentary copy of the updated research report along with Market Estimation and Forecast numbers within 2-3 weeks' time of the sale.
If we update this research study within the next 2 quarters, post purchase of the report, we will offer a Complimentary copy of the updated Market Estimation and Forecast numbers in Excel Workbook.
If there is a geopolitical conflict, pandemic, recession, and the like which can impact global economic scenario and business activity, which might entirely alter the market dynamics or future projections in the industry, we will create a Research Update upon your request at a nominal charge.
1. Executive Summary
1.1. Global Stevia Market Snapshot
1.2. Future Projections
1.3. Key Market Trends
1.4. Analyst Recommendations

2. Market Overview
2.1. Market Definitions
2.2. Market Taxonomy
2.3. Market Dynamics
2.3.1. Drivers
2.3.2. Restraints
2.4. Value Chain Analysis
2.5. Porter's Five Forces Analysis
2.6. COVID-19 Impact Analysis
2.7. Key Patents

3. Global Stevia Market Outlook, 2019 - 2029
3.1. Global Stevia Market Outlook, by Form, Value (US$ '000), 2019 - 2029
3.1.1. Key Highlights
3.1.1.1. Liquid
3.1.1.2. Dry
3.1.2. BPS Analysis/Market Attractiveness Analysis
3.2. Global Stevia Market Outlook, by Extract, Value (US$ '000), 2019 - 2029
3.2.1. Key Highlights
3.2.1.1. Whole leaf
3.2.1.2. Powdered
3.2.1.3. Liquid
3.2.2. BPS Analysis/Market Attractiveness Analysis
3.3. Global Stevia Market Outlook, by Application, Value (US$ '000), 2019 - 2029
3.3.1. Key Highlights
3.3.1.1. Dairy
3.3.1.2. Bakery & confectionery
3.3.1.3. Tabletop sweeteners
3.3.1.4. Beverages
3.3.1.5. Convenience foods
3.3.1.6. Others
3.3.2. BPS Analysis/Market Attractiveness Analysis
3.4. Global Stevia Market Outlook, by Region, Value (US$ '000), 2019 - 2029
3.4.1. Key Highlights
3.4.1.1. North America
3.4.1.2. Europe
3.4.1.3. Asia Pacific
3.4.1.4. Latin America
3.4.1.5. Middle East & Africa
3.4.2. BPS Analysis/Market Attractiveness Analysis

4. North America Stevia Market Outlook, 2019 - 2029
4.1. North America Stevia Market Outlook, by Form, Value (US$ '000), 2019 - 2029
4.1.1. Key Highlights
4.1.1.1. Liquid
4.1.1.2. Dry
4.1.2. BPS Analysis/Market Attractiveness Analysis
4.2. North America Stevia Market Outlook, by Extract, Value (US$ '000), 2019 - 2029
4.2.1. Key Highlights
4.2.1.1. Whole leaf
4.2.1.2. Powdered
4.2.1.3. Liquid
4.2.2. BPS Analysis/Market Attractiveness Analysis
4.3. North America Stevia Market Outlook, by Application, Value (US$ '000), 2019 - 2029
4.3.1. Key Highlights
4.3.1.1. Dairy
4.3.1.2. Bakery & confectionery
4.3.1.3. Tabletop sweeteners
4.3.1.4. Beverages
4.3.1.5. Convenience foods
4.3.1.6. Others
4.3.2. BPS Analysis/Market Attractiveness Analysis
4.4. North America Stevia Market Outlook, by Country, Value (US$ '000), 2019 - 2029
4.4.1. Key Highlights
4.4.1.1. U.S. Stevia Market by Value (US$ '000), 2019 - 2029
4.4.1.2. Canada Stevia Market by Value (US$ '000), 2019 - 2029
4.4.2. BPS Analysis/Market Attractiveness Analysis

5. Europe Stevia Market Outlook, 2019 - 2029
5.1. Europe Stevia Market Outlook, by Form, Value (US$ '000), 2019 - 2029
5.1.1. Key Highlights
5.1.1.1. Liquid
5.1.1.2. Dry
5.1.2. BPS Analysis/Market Attractiveness Analysis
5.2. Europe Stevia Market Outlook, by Extract, Value (US$ '000), 2019 - 2029
5.2.1. Key Highlights
5.2.1.1. Whole leaf
5.2.1.2. Powdered
5.2.1.3. Liquid
5.2.2. BPS Analysis/Market Attractiveness Analysis
5.3. Europe Stevia Market Outlook, by Application, Value (US$ '000), 2019 - 2029
5.3.1. Key Highlights
5.3.1.1. Dairy
5.3.1.2. Bakery & confectionery
5.3.1.3. Tabletop sweeteners
5.3.1.4. Beverages
5.3.1.5. Convenience foods
5.3.1.6. Others
5.3.2. BPS Analysis/Market Attractiveness Analysis
5.4. Europe Stevia Market Outlook, by Country, Value (US$ '000), 2019 - 2029
5.4.1. Key Highlights
5.4.1.1. Germany Stevia Market by Value (US$ '000), 2019 - 2029
5.4.1.2. France Stevia Market by Product, Value (US$ '000), 2019 - 2029
5.4.1.3. U.K. Stevia Market by Value (US$ '000), 2019 - 2029
5.4.1.4. Italy Stevia Market by Value (US$ '000), 2019 - 2029
5.4.1.5. Spain Stevia Market by Product, Value (US$ '000), 2019 - 2029
5.4.1.6. Rest of Europe Stevia Market Value (US$ '000), 2019 - 2029
5.4.2. BPS Analysis/Market Attractiveness Analysis

6. Asia Pacific Stevia Market Outlook, 2019 - 2029
6.1. Asia Pacific Stevia Market Outlook, by Form, Value (US$ '000), 2019 - 2029
6.1.1. Key Highlights
6.1.1.1. Liquid
6.1.1.2. Dry
6.1.2. BPS Analysis/Market Attractiveness Analysis
6.2. Asia Pacific Stevia Market Outlook, by Extract, Value (US$ '000), 2019 - 2029
6.2.1. Key Highlights
6.2.1.1. Whole leaf
6.2.1.2. Powdered
6.2.1.3. Liquid
6.2.2. BPS Analysis/Market Attractiveness Analysis
6.3. Asia Pacific Stevia Market Outlook, by Application, Value (US$ '000), 2019 - 2029
6.3.1. Key Highlights
6.3.1.1. Dairy
6.3.1.2. Bakery & confectionery
6.3.1.3. Tabletop sweeteners
6.3.1.4. Beverages
6.3.1.5. Convenience foods
6.3.1.6. Others
6.3.2. BPS Analysis/Market Attractiveness Analysis
6.4. Asia Pacific Stevia Market Outlook, by Country, Value (US$ '000), 2019 - 2029
6.4.1. Key Highlights
6.4.1.1. India Stevia Market by Value (US$ '000), 2019 - 2029
6.4.1.2. China Stevia Market by Value (US$ '000), 2019 - 2029
6.4.1.3. Japan Stevia Market by Value (US$ '000), 2019 - 2029
6.4.1.4. Australia & New Zealand Stevia Market Value (US$ '000), 2019 - 2029
6.4.1.5. Rest of Asia Pacific Market by Value (US$ '000), 2019 - 2029
6.4.2. BPS Analysis/Market Attractiveness Analysis

7. Latin America Stevia Market Outlook, 2019 - 2029
7.1. Latin America Stevia Market Outlook, by Form, Value (US$ '000), 2019 - 2029
7.1.1. Key Highlights
7.1.1.1. Liquid
7.1.1.2. Dry
7.1.2. BPS Analysis/Market Attractiveness Analysis
7.2. Latin America Stevia Market Outlook, by Extract, Value (US$ '000), 2019 - 2029
7.2.1. Key Highlights
7.2.1.1. Whole leaf
7.2.1.2. Powdered
7.2.1.3. Liquid
7.2.2. BPS Analysis/Market Attractiveness Analysis
7.3. Latin America Stevia Market Outlook, by Application, Value (US$ '000), 2019 - 2029
7.3.1. Key Highlights
7.3.1.1. Dairy
7.3.1.2. Bakery & confectionery
7.3.1.3. Tabletop sweeteners
7.3.1.4. Beverages
7.3.1.5. Convenience foods
7.3.1.6. Others
7.3.2. BPS Analysis/Market Attractiveness Analysis
7.4. Latin America Stevia Market Outlook, by Country, Value (US$ '000), 2019 - 2029
7.4.1. Key Highlights
7.4.1.1. Brazil Stevia Market by Value (US$ '000), 2019 - 2029
7.4.1.2. Mexico Stevia Market by Value (US$ '000), 2019 - 2029
7.4.1.3. Rest of Latin America Stevia Market by Value (US$ '000), 2019 - 2029
7.4.2. BPS Analysis/Market Attractiveness Analysis

8. Middle East & Africa Stevia Market Outlook, 2019 - 2029
8.1. Middle East & Africa Stevia Market Outlook, by Form, Value (US$ '000), 2019 - 2029
8.1.1. Key Highlights
8.1.1.1. Liquid
8.1.1.2. Dry
8.1.2. BPS Analysis/Market Attractiveness Analysis
8.2. Middle East & Africa Stevia Market Outlook, by Extract, Value (US$ '000), 2019 - 2029
8.2.1. Key Highlights
8.2.1.1. Whole leaf
8.2.1.2. Powdered
8.2.1.3. Liquid
8.2.2. BPS Analysis/Market Attractiveness Analysis
8.3. Middle East & Africa Stevia Market Outlook, by Application, Value (US$ '000), 2019 - 2029
8.3.1. Key Highlights
8.3.1.1. Dairy
8.3.1.2. Bakery & confectionery
8.3.1.3. Tabletop sweeteners
8.3.1.4. Beverages
8.3.1.5. Convenience foods
8.3.1.6. Others
8.3.2. BPS Analysis/Market Attractiveness Analysis
8.4. Middle East & Africa Stevia Market Outlook, by Country, Value (US$ '000), 2019 - 2029
8.4.1. Key Highlights
8.4.1.1. GCC Stevia Market by Value (US$ '000), 2019 - 2029
8.4.1.2. South Africa Stevia Market by Value (US$ '000), 2019 - 2029
8.4.1.3. Rest of Middle East & Africa Stevia Market by Value (US$ '000), 2019 - 2029
8.4.2. BPS Analysis/Market Attractiveness Analysis

9. Competitive Landscape
9.1. Company Market Share Analysis, 2021
9.2. Company Profiles
9.2.1. Cargill
9.2.1.1. Company Overview
9.2.1.2. Key Retailing Partners
9.2.1.3. Business Segment Revenue
9.2.1.4. Ingredient Overview
9.2.1.5. Product Offering & its Presence
9.2.1.6. Certifications & Claims
9.2.2. Ingredion Incorporated
9.2.3. Tate & Lyle Plc
9.2.4. PureCircle Ltd
9.2.5. GLG Life Tech Corporation
9.2.6. Archer Daniels Midland Company
9.2.7. Südzucker AG
9.2.8. Sunwin Stevia International Inc
9.2.9. ORITA KAGAKU KOGYO CO., LTD.
9.2.10. The Real Stevia Company ABL

10. Appendix
10.1. Research Methodology
10.2. Report Assumptions
10.3. Acronyms and Abbreviations
BASE YEAR

HISTORICAL DATA

FORECAST PERIOD

UNITS

2021

2019 - 2021

2022 - 2029

Value: US$ Million
REPORT FEATURES

DETAILS

Extract Type Coverage

Whole leaf

Powdered

Liquid

Application Coverage

Dairy

Bakery & confectionery

Tabletop sweeteners

Beverages

Convenience foods

Others

Form Coverage

Geographical Coverage

North America

Europe

Germany

France

U.K.

Italy

Turkey

Spain

Russia

Rest of Europe

Asia Pacific

China

Japan

South Korea

India

Southeast Asia

Rest of Asia Pacific

Latin America

Brazil

Mexico

Rest of Latin America

Middle East & Africa

Leading Companies

Cargill

Ingredion Incorporated

Tate & Lyle Plc

PureCircle Ltd

GLG Life Tech Corporation

Archer Daniels Midland Company

Südzucker AG

Sunwin Stevia International Inc

ORITA KAGAKU KOGYO CO., LTD.

The Real Stevia Company AB

Report Highlights

Market Estimates and Forecast, Market Dynamics, Industry Trends, Competition Landscape, Product-, Application-, Region-, Country-wise Trends & Analysis, COVID-19 Impact Analysis, Key Trends