This study intends to analyse diverse aspects of the global thermal energy storage market. The insights offered in this report are expected to aid in market growth examination over the forecast timeline.
Market Analysis in Brief
There continues to be great demand for energy around the world on account of heightened urbanization, and industrialization. As global population grows and application areas expand, the need for more efficient energy storage systems is expected to increase. The use of thermal energy storage (TES) systems aids in overcoming the challenges of intermittency and provides a more stable and flexible energy supply. Given the extensive application of this technology in the region, Europe will especially be the largest thermal energy storage market in the years ahead, shows research.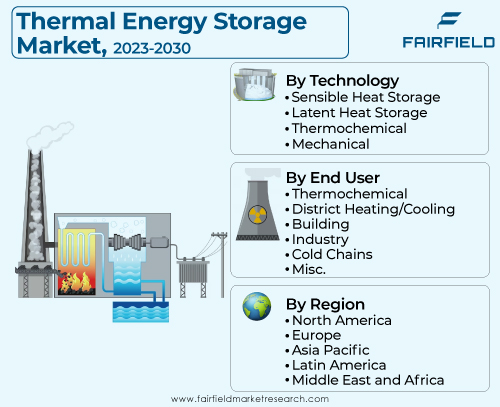 Key Report Findings
The thermal energy storage market is expected to achieve a valuation of over US$8 Bn by 2026
The largest global thermal energy storage company is EnergyNest, based in Norway
The molten salt TES system is the most widely used technology
The commercial and industrial sector is expected to be the largest application segment of thermal energy storage industry
Europe to account for the majority market share over the forecast period
Growth Drivers
Increasing Demand for Solar Energy Generation
Decarbonization of the energy sector, and carbon emission reductions to limit global climate change are among the most dominant goals for various governments, as well as energy and utilities authorities around the world. According to the International Renewable Energy Agency (IRENA), accelerating renewable energy deployment, as well as electrification and improving electric grid energy efficiency, can aid in achieving over 90% of the energy-related CO2 emission reductions needed to reach the Paris Climate goals by 2050. As the boom around solar energy grows intensely, the global thermal energy storage market is expected to experience notable growth in the future.
The global renewable energy installed capacity was 176 GW higher in 2020 than it was in 2019, a surge of 7.4% according to the International Renewable Energy Agency (IRENA). Due to a recovery in the hydropower sector, energy generation growth has regressed to its long-term pattern. Solar power continues to increase rapidly; in the coming years, it is expected to surpass biofuels as the third-largest source of renewable electricity generation. In 2021, solar and wind energy generation climbed by 28% and 11%, respectively. These two sources of energy have dominated renewable energy generation since 2019, accounting for 73% of growth.
Favorable Policy Structure
Strong federal policy mechanisms encourage the adoption of solar energy systems such as the Investment Tax Credit for solar power, and the increasing demand for clean energy from both the public and private sectors across all major economies in North America, Europe, and the Asia Pacific regions. Thermal energy storage involves the cooling or heating of a storage medium, such as sand, rocks, water, or molten salt, to store solar thermal energy for eventual use in cooling and heating applications, as well as in power generation. Thermal energy storage is critical for electricity storage in concentrating solar power plants, where solar heat may be stored and used to generate electricity when the sun is not shining. This allows CSP plants to run without interruption. This continues to favor the expansion of thermal energy storage market.
Increased Use of Sensible Heat Storage
Sensible heat storage is expected to be the fastest-growing segment of the thermal energy storage market over the forecast period. The specific heat of a storage medium, which is kept in storage tanks with good thermal insulation, is used to store thermal energy in the form of sensible heat. Molten salt is the most often used commercial heat storage medium, with a variety of commercial and industrial applications. Moten salts offer outstanding thermal characteristics and have been employed in over half of all operational thermal energy projects to date.
Furthermore, when it comes to economies of scale, sensible heat storage technology is the most cost-effective. This is due to increased demand for solar thermal systems, as well as its usefulness in large-scale HVAC systems. A crucial characteristic of this technology is the ability to reversibly charge and discharge for an endless number of cycles, which is expected to help increase product penetration. Sensible heat storage material has a poor storage capacity per unit of storage volume.
Growth Challenges
High Initial Costs, and Availability of Alternative Technologies
The cost of materials, installation, and maintenance of thermal energy storage systems can be rather high. This fact could deter its implementation by certain businesses. Moreover, a lack of awareness of the benefits associated with thermal energy storage systems could also deter their adoption. Additionally, the availability of alternative technologies, such as pumped hydro storage and battery storage, which may be a bit more familiar for customers and have lower initial costs, are also elements that could potentially hinder the further expansion of the global thermal energy storage market in the years ahead.
Overview of Key Segments
The single-tank thermocline system, two-tank indirect system, and two-tank direct system are three of the most common CSP thermal energy storage technologies. Better reliability increases overall efficiency, lower investment and operating expenses, and cost-effective operations are all advantages of thermal energy storage in CSP facilities. It can also help to minimise carbon dioxide emissions. As a result, growth of the thermal energy storage market is projected to be fuelled by the integration of thermal energy storage solutions in CSP systems.
Growth Opportunities Across Regions
Europe Leads with Greater Reliance on Renewable Energy
Europe was the leading region for renewable energy in 2021. Spain was the largest contributor to the thermal energy storage market in this region with its vast number of operational TES projects, as well as the presence of key players like Abengoa Solar. For over a decade, Europe has been implementing various thermal energy storage systems throughout urban areas, in countries such as Spain, Austria, as well as in Northern and Central Europe. High energy use during the wintry months and the exploration of renewable district heating methods are the main drivers of this market. To accommodate ever-increasing seasonal and short-term storage demand, this region has even more planned large-scale thermal storage projects, the majority of which will use molten salt technology and subsurface hot water tanks. These projects will most likely act as multifunctional energy centres for future district heating sources, among other uses.
The Sun2Store thermal energy storage project in Spain was awarded to Malta Inc., a grid-scale thermal energy storage provider, by the European Union and the European Investment Bank in January 2022. It's a 1,000-MWh/ten-hour energy storage device that combines molten salt and pumped heat technology. The idea will be developed in collaboration with Alfa. Such advances are expected to have a substantial impact on Europe's thermal energy storage industry.
Key Market Players – Thermal Energy Storage Landscape
Some key companies in the global thermal energy storage market include BrightSource Energy Inc., SolarReserve LL, Vantaa Energy, Ice Energy, Abengoa SA (Stand Alone), Caldwell Energy, Vast Solar Pty, Baltimore Aircoil Company, Terrafore Technologies LLC, Cryogel, and Steffes Corporation, to name a few. To gain a competitive edge, various established industry players are now more focused on new product launches, partnerships, collaborations, acquisitions, and alliances.
Recent Notable Developments
In July 2021, Vantaa Energy announced intentions to build a seasonal thermal energy storage plant in Vantaa, Finland. Hot water tunnels roughly 60 metres deep in bedrock will be part of the 90-GWh million cubic metre storage plant. The project is expected to be completed in 2026, according to the business and its project partners AFRY, and YIT


In August 2021, The Vast Solar CSP Power Plant with Thermal Energy Storage is making progress, according to Vast Solar Pty. The 30,000-kilowatt project is currently under construction in Australia. The project is scheduled to be completed in 2022
Regional Classification of the Global Thermal Energy Storage Market is Listed Below:
North America
Europe
Germany
France
Spain
U.K.
Italy
Russia
Rest of Europe
Asia Pacific
China
Japan
India
Southeast Asia
Rest of Asia Pacific
Latin America
Brazil
Mexico
Rest of Latin America
Middle East and Africa
GCC
South Africa
Rest of Middle East & Africa
*Regions and countries are subject to change based on data availability.
Key Elements Included In The Study: Global Thermal Energy Storage Market
Thermal Energy Storage Market by Product/Technology/Grade, Application/End-user, and Region
Executive Summary (Opportunity Analysis and Key Trends)
Historical Market Size and Estimates, Value, 2018 - 2022
Market Value at Regional and Country Level, 2023 - 2030
Market Dynamics and Economic Overview
Market Size in Value, Growth Rates, and Forecast Figures, 2023 - 2030
Competitive Intelligence with Financials, Key Developments, and Portfolio of Leading Companies
Regional and Product/Grade/Application/End-user Price Trends Analysis
Value Chain and Five Force's Analysis
Regional/Sub-region/Country Market Size and Trend Analysis
Company Market Share Analysis and Key Player Profiles
Post Sale Support, Research Updates & Offerings
We value the trust shown by our customers in Fairfield Market Research. We support our clients through our post sale support, research updates and offerings.
The report will be prepared in a PPT format and will be delivered in a PDF format.
Additionally, Market Estimation and Forecast numbers will be shared in Excel Workbook.
If a report being sold was published over a year ago, we will offer a complimentary copy of the updated research report along with Market Estimation and Forecast numbers within 2-3 weeks' time of the sale.
If we update this research study within the next 2 quarters, post purchase of the report, we will offer a Complimentary copy of the updated Market Estimation and Forecast numbers in Excel Workbook.
If there is a geopolitical conflict, pandemic, recession, and the like which can impact global economic scenario and business activity, which might entirely alter the market dynamics or future projections in the industry, we will create a Research Update upon your request at a nominal charge.
1. Executive Summary
1.1. Global Thermal Energy Storage Market Snapshot
1.2. Key Market Trends
1.3. Future Projections
1.4. Analyst Recommendations

2. Market Overview
2.1. Market Definitions and Segmentations
2.2. Market Dynamics
2.2.1. Drivers
2.2.1.1. Driver A
2.2.1.2. Driver B
2.2.1.3. Driver C
2.2.2. Restraints
2.2.2.1. Restraint 1
2.2.2.2. Restraint 2
2.2.3. Market Opportunities Matrix
2.3. Value Chain Analysis
2.4. Porter's Five Forces Analysis
2.5. Covid-19 Impact Analysis
2.5.1. Supply
2.5.2. Demand
2.6. Government Regulations and Polices
2.7. Energy Storage Market – Overview
2.8. Economic Analysis
2.9. PESTLE

3. Installed Capacity Analysis
3.1. Installed Capacity, by Region
3.1.1. North America
3.1.2. Europe
3.1.3. Asia Pacific
3.1.4. Rest of the World

4. Price Trends Analysis
4.1. Key Highlights
4.2. Prominent Factors Affecting Prices
4.3. Prices By Region

5. Global Thermal Energy Storage Market Outlook, 2019 - 2030
5.1. Global Thermal Energy Storage Market Outlook, by Technology, Value (US$ Mn) and Installed Capacity (GWh), 2019 - 2030
5.1.1. Key Highlights
5.1.1.1. Sensible Heat Storage
5.1.1.1.1. Molten Salts
5.1.1.1.2. Solid-state
5.1.1.1.3. Tank Thermal Energy Storage
5.1.1.1.4. Misc.
5.1.1.2. Latent Heat Storage
5.1.1.2.1. Phase Change Materials
5.1.1.2.2. Ice-based Energy Storage
5.1.1.3. Thermochemical
5.1.1.4. Mechanical
5.2. Global Thermal Energy Storage Market Outlook, by End-user, Value (US$ Mn) and Installed Capacity (GWh), 2019 - 2030
5.2.1. Key Highlights
5.2.1.1. Power Generation
5.2.1.2. District Heating/Cooling
5.2.1.3. Building
5.2.1.4. Industry
5.2.1.5. Cold Chains
5.2.1.6. Misc.
5.2.2. BPS Analysis/Market Attractiveness Analysis
5.3. Global Thermal Energy Storage Market Outlook, by Region, Value (US$ Mn) and Installed Capacity (GWh), 2019 - 2030
5.3.1. Key Highlights
5.3.1.1. North America
5.3.1.2. Europe
5.3.1.3. Asia Pacific
5.3.1.4. Latin America
5.3.1.5. Middle East & Africa
5.3.2. BPS Analysis/Market Attractiveness Analysis

6. North America Thermal Energy Storage Market Outlook, 2019 - 2030
6.1. North America Thermal Energy Storage Market Outlook, by Technology, Value (US$ Mn) and Installed Capacity (GWh), 2019 - 2030
6.1.1. Key Highlights
6.1.1.1. Sensible Heat Storage
6.1.1.1.1. Molten Salts
6.1.1.1.2. Solid-state
6.1.1.1.3. Tank Thermal Energy Storage
6.1.1.1.4. Misc.
6.1.1.2. Latent Heat Storage
6.1.1.2.1. Phase Change Materials
6.1.1.2.2. Ice-based Energy Storage
6.1.1.3. Thermochemical
6.1.1.4. Mechanical
6.2. North America Thermal Energy Storage Market Outlook, by End-user, Value (US$ Mn) and Installed Capacity (GWh), 2019 - 2030
6.2.1. Key Highlights
6.2.1.1. Power Generation
6.2.1.2. District Heating/Cooling
6.2.1.3. Building
6.2.1.4. Industry
6.2.1.5. Cold Chains
6.2.1.6. Misc.
6.2.2. BPS Analysis/Market Attractiveness Analysis
6.3. North America Thermal Energy Storage Market Outlook, by Country, Value (US$ Mn) and Installed Capacity (GWh), 2019 - 2030
6.3.1. Key Highlights
6.3.1.1. U.S.
6.3.1.2. Canada
6.3.2. BPS Analysis/Market Attractiveness Analysis

7. Europe Thermal Energy Storage Market Outlook, 2019 - 2030
7.1. Europe Thermal Energy Storage Market Outlook, by Technology, Value (US$ Mn) and Installed Capacity (GWh), 2019 - 2030
7.1.1. Key Highlights
7.1.1.1. Sensible Heat Storage
7.1.1.1.1. Molten Salts
7.1.1.1.2. Solid-state
7.1.1.1.3. Tank Thermal Energy Storage
7.1.1.1.4. Misc.
7.1.1.2. Latent Heat Storage
7.1.1.2.1. Phase Change Materials
7.1.1.2.2. Ice-based Energy Storage
7.1.1.3. Thermochemical
7.1.1.4. Mechanical
7.2. Europe Thermal Energy Storage Market Outlook, by End-user, Value (US$ Mn) and Installed Capacity (GWh), 2019 - 2030
7.2.1. Key Highlights
7.2.1.1. Power Generation
7.2.1.2. District Heating/Cooling
7.2.1.3. Building
7.2.1.4. Industry
7.2.1.5. Cold Chains
7.2.1.6. Misc.
7.2.2. BPS Analysis/Market Attractiveness Analysis
7.3. Europe Thermal Energy Storage Market Outlook, by Country, Value (US$ Mn) and Installed Capacity (GWh), 2019 - 2030
7.3.1. Key Highlights
7.3.1.1. Germany
7.3.1.2. France
7.3.1.3. U.K.
7.3.1.4. Russia
7.3.1.5. Rest of Europe
7.3.2. BPS Analysis/Market Attractiveness Analysis

8. Asia Pacific Thermal Energy Storage Market Outlook, 2019 - 2030
8.1. Asia Pacific Thermal Energy Storage Market Outlook, by Technology, Value (US$ Mn) and Installed Capacity (GWh), 2019 - 2030
8.1.1. Key Highlights
8.1.1.1. Sensible Heat Storage
8.1.1.1.1. Molten Salts
8.1.1.1.2. Solid-state
8.1.1.1.3. Tank Thermal Energy Storage
8.1.1.1.4. Misc.
8.1.1.2. Latent Heat Storage
8.1.1.2.1. Phase Change Materials
8.1.1.2.2. Ice-based Energy Storage
8.1.1.3. Thermochemical
8.1.1.4. Mechanical
8.2. Asia Pacific Thermal Energy Storage Market Outlook, by End-user, Value (US$ Mn) and Installed Capacity (GWh), 2019 - 2030
8.2.1. Key Highlights
8.2.1.1. Power Generation
8.2.1.2. District Heating/Cooling
8.2.1.3. Building
8.2.1.4. Industry
8.2.1.5. Cold Chains
8.2.1.6. Misc.
8.2.2. BPS Analysis/Market Attractiveness Analysis
8.3. Asia Pacific Thermal Energy Storage Market Outlook, by Country, Value (US$ Mn) and Installed Capacity (GWh), 2019 - 2030
8.3.1. Key Highlights
8.3.1.1. China
8.3.1.2. South Korea
8.3.1.3. Japan
8.3.1.4. India
8.3.1.5. Southeast Asia
8.3.1.6. Rest of Asia Pacific
8.3.2. BPS Analysis/Market Attractiveness Analysis

9. Latin America Thermal Energy Storage Market Outlook, 2019 - 2030
9.1. Latin America Thermal Energy Storage Market Outlook, by Technology, Value (US$ Mn) and Installed Capacity (GWh), 2019 - 2030
9.1.1. Key Highlights
9.1.1.1. Sensible Heat Storage
9.1.1.1.1. Molten Salts
9.1.1.1.2. Solid-state
9.1.1.1.3. Tank Thermal Energy Storage
9.1.1.1.4. Misc.
9.1.1.2. Latent Heat Storage
9.1.1.2.1. Phase Change Materials
9.1.1.2.2. Ice-based Energy Storage
9.1.1.3. Thermochemical
9.1.1.4. Mechanical
9.2. Latin America Thermal Energy Storage Market Outlook, by End-user, Value (US$ Mn) and Installed Capacity (GWh), 2019 - 2030
9.2.1. Key Highlights
9.2.1.1. Power Generation
9.2.1.2. District Heating/Cooling
9.2.1.3. Building
9.2.1.4. Industry
9.2.1.5. Cold Chains
9.2.1.6. Misc.
9.2.2. BPS Analysis/Market Attractiveness Analysis
9.3. Latin America Thermal Energy Storage Market Outlook, by Country, Value (US$ Mn) and Installed Capacity (GWh), 2019 - 2030
9.3.1. Key Highlights
9.3.1.1. Brazil
9.3.1.2. Mexico
9.3.1.3. Rest of Latin America
9.3.2. BPS Analysis/Market Attractiveness Analysis

10. Middle East & Africa Thermal Energy Storage Market Outlook, 2019 - 2030
10.1. Middle East & Africa Thermal Energy Storage Market Outlook, by Technology, Value (US$ Mn) and Installed Capacity (GWh), 2019 - 2030
10.1.1. Key Highlights
10.1.1.1. Sensible Heat Storage
10.1.1.1.1. Molten Salts
10.1.1.1.2. Solid-state
10.1.1.1.3. Tank Thermal Energy Storage
10.1.1.1.4. Misc.
10.1.1.2. Latent Heat Storage
10.1.1.2.1. Phase Change Materials
10.1.1.2.2. Ice-based Energy Storage
10.1.1.3. Thermochemical
10.1.1.4. Mechanical
10.2. Middle East & Africa Thermal Energy Storage Market Outlook, by End-user, Value (US$ Mn) and Installed Capacity (GWh), 2019 - 2030
10.2.1. Key Highlights
10.2.1.1. Power Generation
10.2.1.2. District Heating/Cooling
10.2.1.3. Building
10.2.1.4. Industry
10.2.1.5. Cold Chains
10.2.1.6. Misc.
10.2.2. BPS Analysis/Market Attractiveness Analysis
10.3. Middle East & Africa Thermal Energy Storage Market Outlook, by Country, Value (US$ Mn) and Installed Capacity (GWh), 2019 - 2030
10.3.1. Key Highlights
10.3.1.1. GCC
10.3.1.2. South Africa
10.3.1.3. Rest of Middle East & Africa
10.3.2. BPS Analysis/Market Attractiveness Analysis

11. Competitive Landscape
11.1. Company Market Share Analysis, 2022
11.2. Competitive Dashboard
11.3. Product vs Application Heatmap
11.4. Startups and New Technologies
11.5. Company Profiles
11.5.1. ABB
11.5.1.1. Company Overview
11.5.1.2. Product Portfolio
11.5.1.3. Financial Overview
11.5.1.4. Business Strategies and Development
11.5.2. Siemens
11.5.3. Calmac
11.5.4. MGA Thermal
11.5.5. Trane
11.5.6. Terrafore Technology
11.5.7. Baltimore Aircoil Company
11.5.8. Abengoa S.A.
11.5.9. Highview Power
11.5.10. Caldwell Energy
11.5.11. E2S Power AG
11.5.12. Axiom Energy Group
11.5.13. EVAPCO

12. Appendix
12.1. Research Methodology
12.2. Report Assumptions
12.3. Acronyms and Abbreviations