Titanium Alloy Market Outlook
The global titanium alloy market was valued at US$4.3 Bn in 2021 and is projected to reach US$8.4 Bn by the end of 2029, exhibiting a healthy CAGR of 6.5% between 2022 and 2029. By 2029 end, the global titanium alloy market is poised to expand by around 1.6x as compared to 2022.
Market Analysis in Brief
In the world of materials - and the myriad industries that depend on them - there are apparently infinite number of unique (metal) types, alloys, and applications. It is impossible to put any one metal into one universal generalization. Titanium alloys is one of the most ubiquitous and extremely significant metals to the modern engineering. Not just airplanes account for its widespread use - titanium alloys are also used in industrial equipment (such as reactors, and desalination plants) as well. In addition, automotive and shipbuilding applications, power generation, orthopedic implants, sporting goods and equipment, and military applications are expectedly to collectively drive the revenue growth of global titanium alloy market.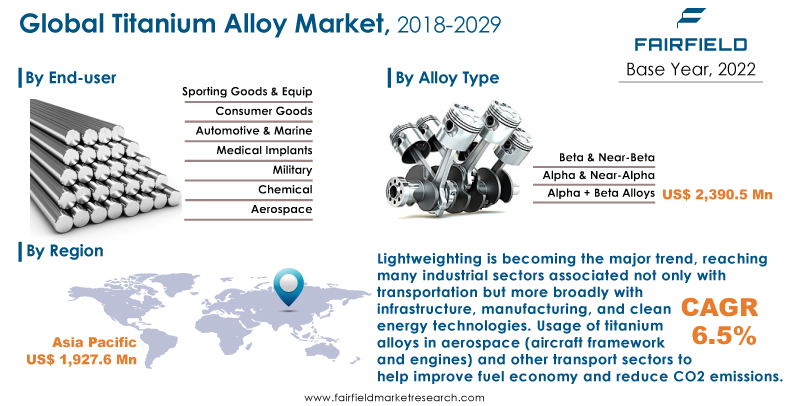 Key Report Findings
Titanium alloys are fondly referred to as the workhorse and future of modern engineering
Alpha + Beta Alloy group accounts for over half the overall titanium alloy consumption
Application in aerospace and military industry makes up for more than 50% of total demand
The US retains global lead, whereas China reflects exceptional growth potential
VSMPO-AVISMA Corporation remains the global leader in titanium alloy market space
Growth Drivers
Expanding Application Base Across Industries
Titanium alloys are widely used in the construction of aerospace framework as well as engines. Titanium alloys offer the various advantages such as weight savings, increased aircraft range, composite compatibility, and space limitations. Moreover, growing demand for titanium alloys for use in equipment like electric tanks, heat exchangers, and reactors will further supplement revenue generation in the global titanium alloy market. The flourishing medical implants market is also poised to offer a strong impetus to revenue expansion of the titanium alloy industry.
Overview of Key Segments
Alpha + Beta Alloys Sought-after Grade
In 2021, Alpha + Beta Alloy group was the most widely consumed titanium alloy grade and accounted for more than 50% of the total titanium alloy market in volume terms. Grade 5 (Ti-6Al-4V) also known as 'workhorse' of the titanium industry belongs to this group. Alpha + Beta alloys exhibits high strength, low density, and good corrosion resistance, thus making it a popular grade in a range of industries such as aerospace, military, chemical, sporting goods, and power generation.
Beta & Near-Beta alloys are expected to be the fastest growing titanium alloy group. These alloy grades are readily heat treatable and offer high strength up to intermediate temperature levels. These alloys also offer cost-competitive fabricated components compared to conventional titanium alloys such as Alpha + Beta alloys.
Owing to the biocompatibility and high strength at elevated temperature levels their demand is expected to rise especially from medical implants, power generation, and aerospace engine & structural applications. Beta & Near-Beta alloys are expected to grow with a CAGR of 7.5% between 2022 and 2029, accounting over 1/5th of the titanium alloy revenue share by 2029.
Aerospace and Military Applications Major Contributor
Titanium alloys have remained the most overwhelming metal choice for commercial aircraft, and military applications. This alloy remains the most sought-after metal, backed by notable consumption in the key end-use sectors such as aerospace, military chemical, power generation, consumer goods, and medical implants. More than 50% of the titanium alloys are consumed in aerospace and military applications that prominently drive titanium alloy market growth.
Next-generation models of engine, as well as aircraft are forecast to have 2-3x the titanium alloys as compared to legacy engines. Till 2019, the aerospace industry used to command more than half of the titanium alloys; however, the demand took a blip due to double whammy of grounding of Boeing 737 Max in 2019 and COVID-19 pandemic in early 2020. In 2021, the industry showed signs of recovery with rise in aircraft deliveries. In 2022, there was a substantial rise in air passenger traffic globally and recovered more than 60% of 2019 revenue passenger kilometers (RPKs).
Demand from Medical Implants Category Grows Fastest
In terms of volume, chemical is expected to account for around 18% of the titanium alloy market by 2029. Region wide acceptance of titanium alloys in chemical equipment such as heat exchangers, reactors, and electric tanks has been crucial to the titanium alloys.
On the other hand, global orthopedic implants market is expected to reach around US$80 Bn by 2030, with a staggering CAGR of 8.2% between 2022 and 2030. The fastest growing segment will be extremity implants (ankles, digits, elbow, shoulder), building on the success of hip and knee implants. Titanium alloys are attractive as implant materials owing to their high biocompatibility. The demand for titanium alloys in medical implants is forecasted to reach US$480 Mn by 2029, growing a CAGR of 6.7% between 2022 and 2029.
Growth Opportunities Across Regions
North America, and Asia Pacific Grow Prominent
Several countries such as China, and India are now investing substantial sums in creating their own aerospace industries for a wide range of purposes, be it space exploration or otherwise. As titanium alloys are extensively used in the manufacturing of various components in this industry, this factor is expected to have a profound influence on the titanium alloy market over time. While North America is considered a dominant force in the aerospace market, Asia Pacific region is expected to index immense growth over the forecast period.
China's Burgeoning Demand
Asia Pacific is the leading region in the global titanium alloy market that currently accounts for more than 35% of the market. In 2022, China was one of the largest producers and consumers of titanium alloys worldwide and accounted for more than 1/4th of the global titanium alloy industry. Corrosion chemicals such as chlorine hydroxide, chloride, metal chlorides, and chlorinated sulphuric acid accounted for more than 60% of the total titanium alloy consumption in the chemical industry.
Growing domestic and international travel, driven by increasing tourism, business activity and rising incomes, has resulted in a robust domestic commercial aviation industry in China. According to the International Air Transport Association (IATA), China is poised to overthrow the US as the largest aviation market. In revenue terms, the demand for titanium alloys for aerospace and military applications is projected to reach US$13.5 Bn by 2029.
North America's Reliance on Russian Imports
North America was the most impacted region owing to the twofold blow of COVID-19 pandemic and 737 Max grounding. The US aerospace industry has started to recover and is expected to reach pre-covid levels by 2024-2025. However, there are a few setbacks such labor shortages, uptick in the interest rates, and inflation that will hamper the growth of titanium alloy market. The US has been dependent on the titanium sponge, and titanium alloys (aerospace grade) on countries such Russia, and Japan.
Traditionally, Russia has been the largest supplier of aerospace grade titanium alloys worldwide, especially to the aircraft and engine OEMs as Boeing, Airbus, Safran, and Embraer. Amid the geopolitical tensions between Russia, and Ukraine, rises the opportunity for countries such as Japan, Kazakhstan, and the US to supply aerospace grade titanium alloys worldwide.
Competition Landscape - Titanium Alloy Market
Strategic Alliances and Partnerships Trend
VSMPO-AVISMA Corporation, the global market leader, has been reaping the benefit of an extensive integrated business and distribution network worldwide. The company has strong presence across Asia, Europe, as well as American markets. The titanium alloy market is highly consolidated with top 7 players (VSMPO, Baoji, ATI, WST, PCC, Kobelco, WMM) accounting for over 65% of the total titanium alloy market in 2021. These companies are focusing on long-term agreements/contracts with aircraft & engine OEMs to secure businesses in the current turbulent conditions.
In 2022, VSMPO-AVISMA and Aernnova Aerospace signed a long-term titanium supply agreement until 2028. Under the terms of the agreement, VSMPO-AVISMA will keep on delivery of titanium die forgings intended for Airbus A350 aircraft structures to Aernnova Aerospace. Aernnova works with aerospace customers such as Embraer, Airbus, Bell Helicopters, Boeing, Northrop Grumman, Sikorsky, and Space X.
The Global Titanium Alloy Market is Segmented as Below:
By Alloy Type Coverage
Alpha & Near-Alpha Titanium Alloy
Alpha + Beta Titanium Alloy
Beta & Near-Beta Titanium Alloy
By End-user Coverage
Aerospace
Military
Chemical
Power Generation
Automotive & Marine
Medical Implants
Consumer Goods
Sporting Goods & Equipment
Misc. (Jewellery, Construction, etc.)
By Geographical Coverage
North America
Europe

Germany
France
U.K.
Italy
Spain
Russia
Rest of Europe

Asia Pacific

China
Japan
South Korea
India
Southeast Asia
Rest of Asia Pacific

Latin America

Brazil
Mexico
Rest of Latin America

Middle East & Africa

GCC
South Africa
Rest of Middle East & Africa
Leading Companies
Allegheny Technologies Incorporated (ATI)
Baoji Titanium Co. Ltd.
Western Superconducting Technologies Co, Ltd. (WST)
Kobe Steel, Ltd.
Western Metal Materials Co. Ltd. (WMM)
Precision Castparts Corp. (PCC)
UKTMP JSC
Toho Titanium Co., Ltd.
Hermith GmbH
Howmet Aerospace Inc.
Mishra Dhatu Nigam Limited (MIDHANI)
ERAMET Group
Xinjiang Xiangsheng New Material Technology Co., Ltd.
Oric Italiana S.r.l.
C.M.A. S.A.
ZTMC Ltd.
Inside This Report You Will Find:
1. Executive Summary
2. Market Overview
3. Production Output and Trade Statistics
4. Price Trends Analysis and Future Projects, 2018 - 2029
5. Global Titanium Alloy Market Outlook, 2018 - 2029
6. North America Titanium Alloy Market Outlook, 2018 - 2029
7. Europe Titanium Alloy Market Outlook, 2018 - 2029
8. Asia Pacific Titanium Alloy Market Outlook, 2018 - 2029
9. Latin America Titanium Alloy Market Outlook, 2018 - 2029
10. Middle East & Africa Titanium Alloy Market Outlook, 2018 - 2029
11. Competitive Landscape
12. Appendix
Post Sale Support, Research Updates & Offerings:
We value the trust shown by our customers in Fairfield Market Research. We support our clients through our post sale support, research updates and offerings.
The report will be prepared in a PPT format and will be delivered in a PDF format.
Additionally, Market Estimation and Forecast numbers will be shared in Excel Workbook.
If a report being sold was published over a year ago, we will offer a complimentary copy of the updated research report along with Market Estimation and Forecast numbers within 2-3 weeks' time of the sale.
If we update this research study within the next 2 quarters, post purchase of the report, we will offer a Complimentary copy of the updated Market Estimation and Forecast numbers in Excel Workbook.
If there is a geopolitical conflict, pandemic, recession, and the like which can impact global economic scenario and business activity, which might entirely alter the market dynamics or future projections in the industry, we will create a Research Update upon your request at a nominal charge.
1. Executive Summary
1.1. Global Titanium Alloy Market Snapshot
1.2. Future Projections
1.3. Key Market Trends
1.4. Regional Snapshot, by Volume, 2021
1.5. Analyst Recommendations

2. Market Overview
2.1. Market Definitions and Segmentations
2.2. Market Dynamics
2.2.1. Drivers
2.2.1.1. Titanium Alloys is the Overwhelming Choice for Commercial Aircraft, and Spacecraft
2.2.1.2. China Continuous Dominance Changing the Face of the Titanium Alloy Market
2.2.2. Restraints
2.2.2.1. Recycling Challenges and High Buy-to-Fly Ratio to Hinder the Market Growth
2.2.3. Market Opportunities
2.2.4. Additive Manufacturing: Will it Be a Game Changer for Titanium?
2.3. Value Chain Analysis
2.4. Supply Chain Interpretation
2.5. Porter's Five Forces Analysis
2.6. Covid-19 Impact Analysis
2.6.1. Supply
2.6.2. Demand
2.6.3. COVID-19: Industry Heatmap Analysis
2.7. Impact of Ukraine-Russia Conflict
2.8. Economic Overview
2.8.1. GDP per Capita, 2021
2.8.2. World Economic Projections
2.8.3. Aircraft Engine OEMs Forecast, 2015 - 2040
2.8.4. Long-term Passenger Traffic Forecast, 2019 - 2050
2.8.5. Commercial Aircraft Deliveries, by OEMs, 2017 - 2022
2.9. PESTLE Analysis

3. Production Output and Trade Statistics
3.1. Global Sponge Capacity, Kilo Tons, 2021
3.2. Global Titanium Alloys Production, 2018 - 2022
3.3. Titanium Alloys Import Statistics, 2018 - 2022

4. Price Trends Analysis and Future Projects, 2018 - 2029
4.1. Global Average Price Analysis, by Alloy Type, US$ per Kg
4.2. Prominent Factors Affecting Titanium Alloys Prices
4.3. Global Average Price Analysis, by Region, US$ per Kg

5. Global Titanium Alloy Market Outlook, 2018 - 2029
5.1. Global Titanium Alloy Market Outlook, by Alloy Type, Volume (Tons) and Value (US$ Mn), 2018 - 2029
5.1.1. Key Highlights
5.1.1.1. Alpha & Near-Alpha Alloys
5.1.1.2. Alpha + Beta Alloys
5.1.1.3. Beta Alloys & Near-Beta Alloys
5.2. Global Titanium Alloy Market Outlook, by End Users, Volume (Tons) and Value (US$ Mn), 2018 - 2029
5.2.1. Key Highlights
5.2.1.1. Aerospace
5.2.1.2. Military
5.2.1.3. Chemical
5.2.1.4. Power Generation
5.2.1.5. Automotive & Marine
5.2.1.6. Medical Implants
5.2.1.7. Consumer Goods
5.2.1.8. Sporting Goods & Equipment
5.2.1.9. Misc. (Jewelry, Construction, etc.)
5.3. Global Titanium Alloy Market Outlook, by Region, Volume (Tons) and Value (US$ Mn), 2018 - 2029
5.3.1. Key Highlights
5.3.2. Titanium Alloy Market, Region vs Application Analysis, by Value, 2022
5.3.2.1. North America
5.3.2.2. Europe
5.3.2.3. Asia Pacific
5.3.2.4. Latin America
5.3.2.5. Middle East & Africa

6. North America Titanium Alloy Market Outlook, 2018 - 2029
6.1. North America Titanium Alloy Market Outlook, by Alloy Type, Volume (Tons) and Value (US$ Mn), 2018 - 2029
6.1.1. Key Highlights
6.1.1.1. Alpha & Near-Alpha Alloys
6.1.1.2. Alpha + Beta Alloys
6.1.1.3. Beta Alloys & Near-Beta Alloys
6.2. North America Titanium Alloy Market Outlook, by End Users, Volume (Tons) and Value (US$ Mn), 2018 - 2029
6.2.1. Key Highlights
6.2.1.1. Aerospace
6.2.1.2. Military
6.2.1.3. Chemical
6.2.1.4. Power Generation
6.2.1.5. Automotive & Marine
6.2.1.6. Medical Implants
6.2.1.7. Consumer Goods
6.2.1.8. Sporting Goods & Equipment
6.2.1.9. Misc. (Jewelry, Construction, etc.)
6.2.2. Market Attractiveness Analysis
6.3. North America Titanium Alloy Market Outlook, by Country, Volume (Tons) and Value (US$ Mn), 2018 - 2029
6.3.1. Key Highlights
6.3.1.1. U.S. Titanium Alloy Market by Alloy Type, Volume (Tons) and Value (US$ Mn), 2018 - 2029
6.3.1.2. U.S. Titanium Alloy Market by End User, Volume (Tons) and Value (US$ Mn), 2018 - 2029
6.3.1.3. Canada Titanium Alloy Market by Alloy Type, Volume (Tons) and Value (US$ Mn), 2018 - 2029
6.3.1.4. Canada Titanium Alloy Market by End User, Volume (Tons) and Value (US$ Mn), 2018 - 2029
6.3.2. BPS Analysis/Market Attractiveness Analysis

7. Europe Titanium Alloy Market Outlook, 2018 - 2029
7.1. Europe Titanium Alloy Market Outlook, by Alloy Type, Volume (Tons) and Value (US$ Mn), 2018 - 2029
7.1.1. Key Highlights
7.1.1.1. Alpha & Near-Alpha Alloys
7.1.1.2. Alpha + Beta Alloys
7.1.1.3. Beta Alloys & Near-Beta Alloys
7.2. Europe Titanium Alloy Market Outlook, by End Users, Volume (Tons) and Value (US$ Mn), 2018 - 2029
7.2.1. Key Highlights
7.2.1.1. Aerospace
7.2.1.2. Military
7.2.1.3. Chemical
7.2.1.4. Power Generation
7.2.1.5. Automotive & Marine
7.2.1.6. Medical Implants
7.2.1.7. Consumer Goods
7.2.1.8. Sporting Goods & Equipment
7.2.1.9. Misc. (Jewelry, Construction, etc.)
7.2.2. BPS Analysis/Market Attractiveness Analysis
7.3. Europe Titanium Alloy Market Outlook, by Country, Volume (Tons) and Value (US$ Mn), 2018 - 2029
7.3.1. Key Highlights
7.3.1.1. Germany Titanium Alloy Market by Alloy Type, Volume (Tons) and Value (US$ Mn), 2018 - 2029
7.3.1.2. Germany Titanium Alloy Market by End User, Volume (Tons) and Value (US$ Mn), 2018 - 2029
7.3.1.3. U.K. Titanium Alloy Market by Alloy Type, Volume (Tons) and Value (US$ Mn), 2018 - 2029
7.3.1.4. U.K. Titanium Alloy Market by End User, Volume (Tons) and Value (US$ Mn), 2018 - 2029
7.3.1.5. France Titanium Alloy Market by Alloy Type, Volume (Tons) and Value (US$ Mn), 2018 - 2029
7.3.1.6. France Titanium Alloy Market by End User, Volume (Tons) and Value (US$ Mn), 2018 - 2029
7.3.1.7. Italy Titanium Alloy Market by Alloy Type, Volume (Tons) and Value (US$ Mn), 2018 - 2029
7.3.1.8. Italy Titanium Alloy Market by End User, Volume (Tons) and Value (US$ Mn), 2018 - 2029
7.3.1.9. Russia Titanium Alloy Market by Alloy Type, Volume (Tons) and Value (US$ Mn), 2018 - 2029
7.3.1.10. Russia Titanium Alloy Market by End User, Volume (Tons) and Value (US$ Mn), 2018 - 2029
7.3.1.11. Rest of Europe Titanium Alloy Market by Alloy Type, Volume (Tons) and Value (US$ Mn), 2018 - 2029
7.3.1.12. Rest of Europe Titanium Alloy Market by End User, Volume (Tons) and Value (US$ Mn), 2018 - 2029
7.3.2. BPS Analysis/Market Attractiveness Analysis

8. Asia Pacific Titanium Alloy Market Outlook, 2018 - 2029
8.1. Asia Pacific Titanium Alloy Market Outlook, by Alloy Type, Volume (Tons) and Value (US$ Mn), 2018 - 2029
8.1.1. Key Highlights
8.1.1.1. Alpha & Near-Alpha Alloys
8.1.1.2. Alpha + Beta Alloys
8.1.1.3. Beta Alloys & Near-Beta Alloys
8.2. Asia Pacific Titanium Alloy Market Outlook, by End Users, Volume (Tons) and Value (US$ Mn), 2018 - 2029
8.2.1. Key Highlights
8.2.1.1. Aerospace
8.2.1.2. Military
8.2.1.3. Chemical
8.2.1.4. Power Generation
8.2.1.5. Automotive & Marine
8.2.1.6. Medical Implants
8.2.1.7. Consumer Goods
8.2.1.8. Sporting Goods & Equipment
8.2.1.9. Misc. (Jewelry, Construction, etc.)
8.2.2. BPS Analysis/Market Attractiveness Analysis
8.3. Asia Pacific Titanium Alloy Market Outlook, by Country, Volume (Tons) and Value (US$ Mn), 2018 - 2029
8.3.1. Key Highlights
8.3.1.1. China Titanium Alloy Market by Alloy Type, Volume (Tons) and Value (US$ Mn), 2018 - 2029
8.3.1.2. China Titanium Alloy Market by End User, Volume (Tons) and Value (US$ Mn), 2018 - 2029
8.3.1.3. Japan Titanium Alloy Market by Alloy Type, Volume (Tons) and Value (US$ Mn), 2018 - 2029
8.3.1.4. Japan Titanium Alloy Market by End User, Volume (Tons) and Value (US$ Mn), 2018 - 2029
8.3.1.5. South Korea Titanium Alloy Market by Alloy Type, Volume (Tons) and Value (US$ Mn), 2018 - 2029
8.3.1.6. South Korea Titanium Alloy Market by End User, Volume (Tons) and Value (US$ Mn), 2018 - 2029
8.3.1.7. India Titanium Alloy Market by Alloy Type, Volume (Tons) and Value (US$ Mn), 2018 - 2029
8.3.1.8. India Titanium Alloy Market by End User, Volume (Tons) and Value (US$ Mn), 2018 - 2029
8.3.1.9. Southeast Asia Titanium Alloy Market by Alloy Type, Volume (Tons) and Value (US$ Mn), 2018 - 2029
8.3.1.10. Southeast Asia Titanium Alloy Market by End User, Volume (Tons) and Value (US$ Mn), 2018 - 2029
8.3.1.11. Rest of Asia Pacific Titanium Alloy Market by Alloy Type, Volume (Tons) and Value (US$ Mn), 2018 - 2029
8.3.1.12. Rest of Asia Pacific Titanium Alloy Market by End User, Volume (Tons) and Value (US$ Mn), 2018 - 2029
8.3.2. BPS Analysis/Market Attractiveness Analysis

9. Latin America Titanium Alloy Market Outlook, 2018 - 2029
9.1. Latin America Titanium Alloy Market Outlook, by Alloy Type, Volume (Tons) and Value (US$ Mn), 2018 - 2029
9.1.1. Key Highlights
9.1.1.1. Alpha & Near-Alpha Alloys
9.1.1.2. Alpha + Beta Alloys
9.1.1.3. Beta Alloys & Near-Beta Alloys
9.2. Latin America Titanium Alloy Market Outlook, by End Users, Volume (Tons) and Value (US$ Mn), 2018 - 2029
9.2.1. Key Highlights
9.2.1.1. Aerospace
9.2.1.2. Military
9.2.1.3. Chemical
9.2.1.4. Power Generation
9.2.1.5. Automotive & Marine
9.2.1.6. Medical Implants
9.2.1.7. Consumer Goods
9.2.1.8. Sporting Goods & Equipment
9.2.1.9. Misc. (Jewelry, Construction, etc.)
9.2.2. BPS Analysis/Market Attractiveness Analysis
9.3. Latin America Titanium Alloy Market Outlook, by Country, Volume (Tons) and Value (US$ Mn), 2018 - 2029
9.3.1. Key Highlights
9.3.1.1. Brazil Titanium Alloy Market by Alloy Type, Volume (Tons) and Value (US$ Mn), 2018 - 2029
9.3.1.2. Brazil Titanium Alloy Market by End User, Volume (Tons) and Value (US$ Mn), 2018 - 2029
9.3.1.3. Mexico Titanium Alloy Market by Alloy Type, Volume (Tons) and Value (US$ Mn), 2018 - 2029
9.3.1.4. Mexico Titanium Alloy Market by End User, Volume (Tons) and Value (US$ Mn), 2018 - 2029
9.3.1.5. Rest of Latin America Titanium Alloy Market by Alloy Type, Volume (Tons) and Value (US$ Mn), 2018 - 2029
9.3.1.6. Rest of Latin America Titanium Alloy Market by End User, Volume (Tons) and Value (US$ Mn), 2018 - 2029
9.3.2. BPS Analysis/Market Attractiveness Analysis

10. Middle East & Africa Titanium Alloy Market Outlook, 2018 - 2029
10.1. Middle East & Africa Titanium Alloy Market Outlook, by Alloy Type, Volume (Tons) and Value (US$ Mn), 2018 - 2029
10.1.1. Key Highlights
10.1.1.1. Alpha & Near-Alpha Alloys
10.1.1.2. Alpha + Beta Alloys
10.1.1.3. Beta Alloys & Near-Beta Alloys
10.2. Middle East & Africa Titanium Alloy Market Outlook, by End Users, Volume (Tons) and Value (US$ Mn), 2018 - 2029
10.2.1. Key Highlights
10.2.1.1. Aerospace
10.2.1.2. Military
10.2.1.3. Chemical
10.2.1.4. Power Generation
10.2.1.5. Automotive & Marine
10.2.1.6. Medical Implants
10.2.1.7. Consumer Goods
10.2.1.8. Sporting Goods & Equipment
10.2.1.9. Misc. (Jewelry, Construction, etc.)
10.3. Middle East & Africa Titanium Alloy Market Outlook, by Country, Volume (Tons) and Value (US$ Mn), 2018 - 2029
10.3.1. Key Highlights
10.3.1.1. GCC Titanium Alloy Market by Alloy Type, Volume (Tons) and Value (US$ Mn), 2018 - 2029
10.3.1.2. GCC Titanium Alloy Market by End User, Volume (Tons) and Value (US$ Mn), 2018 - 2029
10.3.1.3. South Africa Titanium Alloy Market by Alloy Type, Volume (Tons) and Value (US$ Mn), 2018 - 2029
10.3.1.4. South Africa Titanium Alloy Market by End User, Volume (Tons) and Value (US$ Mn), 2018 - 2029
10.3.1.5. Rest of Middle East & Africa Titanium Alloy Market by Alloy Type, Volume (Tons) and Value (US$ Mn), 2018 - 2029
10.3.1.6. Rest of Middle East & Africa Titanium Alloy Market by End User, Volume (Tons) and Value (US$ Mn), 2018 - 2029
10.3.2. BPS Analysis/Market Attractiveness Analysis

11. Competitive Landscape
11.1. Alloy Type vs End User Heatmap
11.2. Titanium Alloy Types, Grades, and Major End Users
11.3. Company Market Share Analysis, 2021
11.4. Competitive Dashboard
11.5. Company Profiles
11.5.1. VSMPO-AVISMA Corporation
11.5.1.1. Company Overview
11.5.1.2. Product Portfolio
11.5.1.3. Financial Overview
11.5.1.4. Business Strategies and Development
11.5.2. Allegheny Technologies Incorporated (ATI)
11.5.2.1. Company Overview
11.5.2.2. Product Portfolio
11.5.2.3. Financial Overview
11.5.2.4. Business Strategies and Development
11.5.3. Baoji Titanium Industry Co., Ltd.
11.5.3.1. Company Overview
11.5.3.2. Product Portfolio
11.5.3.3. Financial Overview
11.5.3.4. Business Strategies and Development
11.5.4. Western Superconducting Technologies Co, Ltd. (WST)
11.5.4.1. Company Overview
11.5.4.2. Product Portfolio
11.5.4.3. Financial Overview
11.5.4.4. Business Strategies and Development
11.5.5. Kobe Steel, Ltd.
11.5.5.1. Company Overview
11.5.5.2. Product Portfolio
11.5.5.3. Financial Overview
11.5.5.4. Business Strategies and Development
11.5.6. Western Metal Materials Co. Ltd. (WMM)
11.5.6.1. Company Overview
11.5.6.2. Product Portfolio
11.5.6.3. Financial Overview
11.5.6.4. Business Strategies and Development
11.5.7. Precision Castparts Corp. (PCC)
11.5.7.1. Company Overview
11.5.7.2. Product Portfolio
11.5.7.3. Financial Overview
11.5.7.4. Business Strategies and Development
11.5.8. UKTMP JSC
11.5.8.1. Company Overview
11.5.8.2. Product Portfolio
11.5.8.3. Business Strategies and Development
11.5.9. Toho Titanium Co., Ltd.
11.5.9.1. Company Overview
11.5.9.2. Product Portfolio
11.5.9.3. Financial Overview
11.5.9.4. Business Strategies and Development
11.5.10. Hermith GmbH
11.5.10.1. Company Overview
11.5.10.2. Product Portfolio
11.5.10.3. Business Strategies and Development
11.5.11. Howmet Aerospace Inc.
11.5.11.1. Company Overview
11.5.11.2. Product Portfolio
11.5.11.3. Financial Overview
11.5.11.4. Business Strategies and Development
11.5.12. Mishra Dhatu Nigam Limited (MIDHANI)
11.5.12.1. Company Overview
11.5.12.2. Product Portfolio
11.5.12.3. Financial Overview
11.5.12.4. Business Strategies and Development
11.5.13. ERAMET Group
11.5.13.1. Company Overview
11.5.13.2. Product Portfolio
11.5.13.3. Financial Overview
11.5.13.4. Business Strategies and Development
11.5.14. Xinjiang Xiangsheng New Material Technology Co., Ltd.
11.5.14.1. Company Overview
11.5.14.2. Product Portfolio
11.5.14.3. Business Strategies and Development
11.5.15. Oric Italiana S.r.l.
11.5.15.1. Company Overview
11.5.15.2. Product Portfolio
11.5.15.3. Financial Overview
11.5.16. L.C.M.A. S.A.
11.5.16.1. Company Overview
11.5.16.2. Product Portfolio
11.5.17. ZTMC Ltd.
11.5.17.1. Company Overview
11.5.17.2. Product Portfolio

12. Appendix
12.1. Research Methodology
12.2. Report Assumptions
12.3. Acronyms and Abbreviations
BASE YEAR

HISTORICAL DATA

FORECAST PERIOD

UNITS

2021

2018 - 2021

2022 - 2029

Value: US$ Mn Volume: Tons
REPORT FEATURES

DETAILS

Alloy Type Coverage

Alpha & Near-Alpha Titanium Alloy

Alpha + Beta Titanium Alloy

Beta & Near-Beta Titanium Alloy

End-user Coverage

Aerospace

Military

Chemical

Power Generation

Automotive & Marine

Medical Implants

Consumer Goods

Sporting Goods & Equipment

Misc. (Jewellery, Construction, etc.)

Geographical Coverage

North America

Europe

Germany

France

U.K.

Italy

Spain

Russia

Rest of Europe

Asia Pacific

China

Japan

South Korea

India

Southeast Asia

Rest of Asia Pacific

Latin America

Brazil

Mexico

Rest of Latin America

Middle East & Africa

Leading Companies

Allegheny Technologies Incorporated (ATI)

Baoji Titanium Co. Ltd.

Western Superconducting Technologies Co, Ltd. (WST)

Kobe Steel, Ltd.

Western Metal Materials Co. Ltd. (WMM)

Precision Castparts Corp. (PCC)

UKTMP JSC

Toho Titanium Co., Ltd.

Hermith GmbH

Howmet Aerospace Inc.

Mishra Dhatu Nigam Limited (MIDHANI)

ERAMET Group

Xinjiang Xiangsheng New Material Technology Co., Ltd.

Oric Italiana S.r.l.

L.C.M.A. S.A.

ZTMC Ltd.

Report Highlights

Market Estimates and Forecast, Market Dynamics, Industry Trends, Production Output, Trade Statistics, Prices Trend Analysis, Competition Landscape, Alloy Type-, End-user-, Region-, Country-wise Trends & Analysis, COVID-19 Impact Analysis (Demand and Supply), Key Market Trends