This study intends to analyse diverse aspects of the global vegetable seeds market. The insights offered in this report are expected to aid in market growth examination over the forecast timeline.
Market Analysis in Brief
Over the last decade, there has been a steady increase in the demand for vegetable seeds on a global scale. This can be attributed to favourable policies by respective governments promoting the adoption of better-quality seeds to ensure higher yields, improved pest management, and the likelihood to reduce diseases. Additionally, innovations in seed technology are also promoting the use of modified seeds to ensure better outcomes as well as better resistance to various environmental factors. The growth trajectory of the global vegetable seeds market is expected to be augmented by these favourable elements.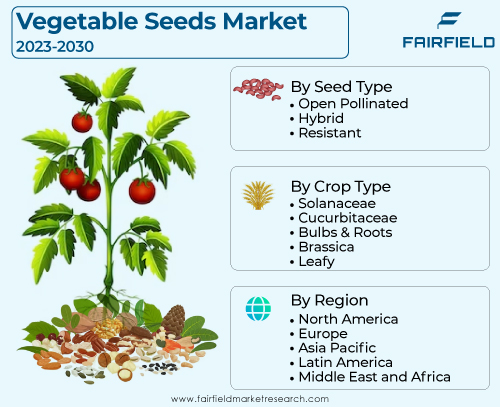 Key Report Findings
The global vegetable seeds market was valued at approximately US$6 Bn in 2020
Asia Pacific to account for the majority share over the forecast period
The Svalbard Global Seed Vault can store up to 4.5 million seed samples
India has the highest number of vegetarians in the world
Growth Drivers
Adoption of Dietary Diversification
Dietary diversification has gained significant importance in recent times owing to the health benefits it offers in terms of effective nutrient supply. Diversification in diets balances daily intake by facilitating the adequate supply of crucial micronutrients. This is carried out by including vegetables that fight nutritional deficiencies, and illnesses. This factor is triggering a higher consumption of vegetables, calling for a surge in production of these consumables. This is expected to boost the vegetable seeds industry.
In addition, according to the World Health Organization (WHO), around 1.7 million fatalities worldwide occur due to a lack of inclusion and consumption of vegetables. Adequate consumption of vegetables can prevent non-communicable diseases, which is a key aspect driving the production of vegetables. Growing awareness of health advantages such as this is slated to positively boost the demand for vegetables, both in emerging and developed economies, augmenting growth for the vegetable seeds market.
Innovations in Seed Technology
Innovation in seed technology has led to the development of hybridization and the advent of genetically modified seeds, thus influencing seed industry growth. Genetically modified vegetable seeds aid in multiplying the yield of crops and in the cultivation of enhanced crop variants. Apart from improving functional properties, the use of genetically engineered technology also enables a noteworthy reduction in greenhouse gas emissions. In addition, decreasing arable land coupled with the need for increased production has given an impetus to the use of genetic engineering in vegetable seeds to gain high yields or returns. Such functional enhancements in vegetable seeds are an apt substitute for chemical invigoration treatments on seeds. This factor continues to remain instrumental in driving the growth trajectory of the vegetable seeds market.
Increasing Demand for Hybrid Seeds
The demand for hybrid vegetable seeds has seen significant growth due to greater awareness about their consumption. These seeds allow a wide range of characteristics such as good taste, better yield, adaptability, size and shape, better nutrition and flavour, and higher shelf life. Planting hybrid vegetable seeds also supports crop health and prevents the adverse effects of environment changes, as well as insect and crop-related diseases. Moreover, they are cost efficient as they offer consistent performance during the year with potentially higher yields. This has resulted in farmers opting for hybrid seeds, thus creating immense growth opportunities for the players engaged in the vegetable seeds market globally.
Growth Challenges
Environmental Factors
There are several factors that could hinder the further progression of the global vegetable seeds market. Changes in climate and extreme weather events such as droughts, storms, floods, etc., could affect the yield and availability of vegetable seeds. Moreover, there is also a lack of arable land and quality soil, and the presence of pests and diseases that could reduce yield, damage crops, and increase overall production costs, are also major factors that could hinder the expansion of the vegetable seeds market.
Growth Opportunities Across Regions
Asia Pacific to Remain a Lucrative Regional Market
The sale of vegetable seeds across emerging economies in the Asia Pacific is likely to soar at a rapid pace in the coming years. A growing agriculture sector, increasing awareness about the consumption of vegetables and their advantages to human health, as well as booming population figures that drive the need for increased production, in turn bolstering growth for the vegetable seeds market. The consumption of vegetables in countries such as India and China have increased significantly, backed by the growing demand for organic food. This has resulted in the increased plantation of vegetable seeds in this region, and industry players can expect to reap potential growth opportunities in the years to come.
On the other hand, Europe is also poised to exhibit higher attractiveness. Considering the increasing demand for organic vegetables, the European Commission has mandated the adoption of organically grown vegetables, which has boosted the production of organic vegetable seeds. Moreover, in 2020, an announcement made by the European Commission with regards to the mandatory use of organic seeds has augured well for seed manufacturers as the sales from their organic divisions indexed an upswing. This is expected to translate to long term opportunities for seed manufacturers in Europe, thus fuelling growth for the vegetable seeds market.
Key Market Players – Vegetable Seeds Landscape
Some key companies in the global vegetable seeds market include BASF SE, Bayer Crop Science, Syngenta International AG, Enza Zaden, Bejo Zaden, Takii, Rijk Zwaan, East-West Seed, Groupe Limagrain, and Sakata Seed Corporation, to name a few. To gain a competitive edge, various established industry players are now more focused on new product launches, partnerships, collaborations, acquisitions, and alliances.
Recent Notable Developments
In February 2023, Rijk Zwaan, a Dutch vegetable seed company, is launching two Romaine lettuce varieties in the US market, both of which are resistant to the Impatiens Necrotic Spot Virus (INSV)


In April 2022, East-West Seed acquired Hortec Tecnologia de Sementes Ltd., a Brazilian vegetable seeds company based in Braganca Paulista, Sao Paulo. This allowed them to establish a strong foothold in Brazil


In March 2022, Grazine, a crisp lettuce which is suitable for open field, and tolerant to bolting and tip burn


In January 2021, Bayer showcased four new varieties of seeds – Anshuman, SVHA9093, Bazlet, and Himgauri at an event (Pragati Diwas) in Chikaballapur, near Bengaluru, India
Regional Classification of the Global Vegetable Seeds Market is Listed Below:
North America
Europe
Germany
France
Spain
U.K.
Italy
Russia
Rest of Europe
Asia Pacific
China
Japan
India
Southeast Asia
Rest of Asia Pacific
Latin America
Brazil
Mexico
Rest of Latin America
Middle East and Africa
GCC
South Africa
Rest of Middle East & Africa
*Regions and countries are subject to change based on data availability.
Key Elements Included In The Study: Global Vegetable Seeds Market
Vegetable Seeds Market by Product/Technology/Grade, Application/End-user, and Region
Executive Summary (Opportunity Analysis and Key Trends)
Historical Market Size and Estimates, Value, 2019 - 2022
Market Value at Regional and Country Level, 2023 - 2030
Market Dynamics and Economic Overview
Market Size in Value, Growth Rates, and Forecast Figures, 2023 - 2030
Competitive Intelligence with Financials, Key Developments, and Portfolio of Leading Companies
Regional and Product/Grade/Application/End-user Price Trends Analysis
Value Chain and Five Force's Analysis
Regional/Sub-region/Country Market Size and Trend Analysis
Company Market Share Analysis and Key Player Profiles
Post Sale Support, Research Updates & Offerings
We value the trust shown by our customers in Fairfield Market Research. We support our clients through our post sale support, research updates and offerings.
The report will be prepared in a PPT format and will be delivered in a PDF format.
Additionally, Market Estimation and Forecast numbers will be shared in Excel Workbook.
If a report being sold was published over a year ago, we will offer a complimentary copy of the updated research report along with Market Estimation and Forecast numbers within 2-3 weeks' time of the sale.
If we update this research study within the next 2 quarters, post purchase of the report, we will offer a Complimentary copy of the updated Market Estimation and Forecast numbers in Excel Workbook.
If there is a geopolitical conflict, pandemic, recession, and the like which can impact global economic scenario and business activity, which might entirely alter the market dynamics or future projections in the industry, we will create a Research Update upon your request at a nominal charge.
1. Executive Summary
1.1. Global Vegetable Seeds Market Snapshot
1.2. Key Market Trends
1.3. Future Projections
1.4. Analyst Recommendations

2. Market Overview
2.1. Market Definitions and Segmentations
2.2. Market Dynamics
2.2.1. Drivers
2.2.1.1. Driver A
2.2.1.2. Driver B
2.2.1.3. Driver C
2.2.2. Restraints
2.2.2.1. Restraint 1
2.2.2.2. Restraint 2
2.2.3. Market Opportunities Matrix
2.3. Value Chain Analysis
2.4. Porter's Five Forces Analysis
2.5. Supply Chain Interpretation and Regulatory Analysis
2.6. Covid-19 Impact Analysis
2.6.1. Pre-covid and Post-covid Scenario
2.6.2. Supply Impact
2.6.3. Demand Impact
2.7. Government Regulations
2.8. Global Seeds Market – Overview
2.9. Economic Analysis
2.10. PESTLE

3. Production Output and Trade Statistics, 2019 - 2022
3.1. Vegetable Seeds Supply-Demand Analysis
3.2. Regional Production Statistics
3.2.1. North America
3.2.2. Europe
3.2.3. Asia Pacific
3.2.4. Latin America
3.2.5. Middle East & Africa

4. Price Trends Analysis and Future Projects, 2019 - 2030
4.1. Key Highlights
4.2. Prominent Factors Affecting Prices
4.3. By Product and By End-users
4.4. By Region

5. Global Vegetable Seeds Market Outlook, 2019 - 2030
5.1. Global Vegetable Seeds Market Outlook, by Seed Type, Volume (Kilo Tons) and Value (US$ Mn), 2019 - 2030
5.1.1. Key Highlights
5.1.1.1. Open Pollinated
5.1.1.2. Hybrid
5.1.1.3. Resistant
5.2. Global Vegetable Seeds Market Outlook, by Crop Type, Volume (Kilo Tons) and Value (US$ Mn), 2019 - 2030
5.2.1. Key Highlights
5.2.1.1. Solanaceae
5.2.1.2. Cucurbitaceae
5.2.1.3. Bulbs & Roots
5.2.1.4. Brassica
5.2.1.5. Leafy
5.2.1.6. Large Seed Vegetables (Beans, Peas, etc.)
5.2.1.7. Misc.
5.3. Global Vegetable Seeds Market Outlook, by Region, Volume (Kilo Tons) and Value (US$ Mn), 2019 - 2030
5.3.1. Key Highlights
5.3.1.1. North America
5.3.1.2. Europe
5.3.1.3. Asia Pacific
5.3.1.4. Latin America
5.3.1.5. Middle East & Africa
5.3.2. BPS Analysis/Market Attractiveness Analysis

6. North America Vegetable Seeds Market Outlook, 2019 - 2030
6.1. North America Vegetable Seeds Market Outlook, by Seed Type, Volume (Kilo Tons) and Value (US$ Mn), 2019 - 2030
6.1.1. Key Highlights
6.1.1.1. Open Pollinated
6.1.1.2. Hybrid
6.1.1.3. Resistant
6.2. North America Vegetable Seeds Market Outlook, by Crop Type, Volume (Kilo Tons) and Value (US$ Mn), 2019 - 2030
6.2.1. Key Highlights
6.2.1.1. Solanaceae
6.2.1.2. Cucurbitaceae
6.2.1.3. Bulbs & Roots
6.2.1.4. Brassica
6.2.1.5. Leafy
6.2.1.6. Large Seed Vegetables (Beans, Peas, etc.)
6.2.1.7. Misc.
6.3. North America Vegetable Seeds Market Outlook, by Country, Volume (Kilo Tons) and Value (US$ Mn), 2019 - 2030
6.3.1. Key Highlights
6.3.1.1. U.S.
6.3.1.2. Canada
6.3.2. BPS Analysis/Market Attractiveness Analysis

7. Europe Vegetable Seeds Market Outlook, 2019 - 2030
7.1. Europe Vegetable Seeds Market Outlook, by Seed Type, Volume (Kilo Tons) and Value (US$ Mn), 2019 - 2030
7.1.1. Key Highlights
7.1.1.1. Open Pollinated
7.1.1.2. Hybrid
7.1.1.3. Resistant
7.2. Europe Vegetable Seeds Market Outlook, by Crop Type, Volume (Kilo Tons) and Value (US$ Mn), 2019 - 2030
7.2.1. Key Highlights
7.2.1.1. Solanaceae
7.2.1.2. Cucurbitaceae
7.2.1.3. Bulbs & Roots
7.2.1.4. Brassica
7.2.1.5. Leafy
7.2.1.6. Large Seed Vegetables (Beans, Peas, etc.)
7.2.1.7. Misc.
7.3. Europe Vegetable Seeds Market Outlook, by Country, Volume (Kilo Tons) and Value (US$ Mn), 2019 - 2030
7.3.1. Key Highlights
7.3.1.1. Germany
7.3.1.2. France
7.3.1.3. U.K.
7.3.1.4. Italy
7.3.1.5. Spain
7.3.1.6. Turkey
7.3.1.7. Russia
7.3.1.8. Rest of Europe
7.3.2. BPS Analysis/Market Attractiveness Analysis

8. Asia Pacific Vegetable Seeds Market Outlook, 2019 - 2030
8.1. Asia Pacific Vegetable Seeds Market Outlook, by Seed Type, Volume (Kilo Tons) and Value (US$ Mn), 2019 - 2030
8.1.1. Key Highlights
8.1.1.1. Open Pollinated
8.1.1.2. Hybrid
8.1.1.3. Resistant
8.2. Asia Pacific Vegetable Seeds Market Outlook, by Crop Type, Volume (Kilo Tons) and Value (US$ Mn), 2019 - 2030
8.2.1. Key Highlights
8.2.1.1. Solanaceae
8.2.1.2. Cucurbitaceae
8.2.1.3. Bulbs & Roots
8.2.1.4. Brassica
8.2.1.5. Leafy
8.2.1.6. Large Seed Vegetables (Beans, Peas, etc.)
8.2.1.7. Misc.
8.3. Asia Pacific Vegetable Seeds Market Outlook, by Country, Volume (Kilo Tons) and Value (US$ Mn), 2019 - 2030
8.3.1. Key Highlights
8.3.1.1. China
8.3.1.2. Japan
8.3.1.3. South Korea
8.3.1.4. India
8.3.1.5. Southeast Asia
8.3.1.6. Rest of Asia Pacific
8.3.2. BPS Analysis/Market Attractiveness Analysis

9. Latin America Vegetable Seeds Market Outlook, 2019 - 2030
9.1. Latin America Vegetable Seeds Market Outlook, by Seed Type, Volume (Kilo Tons) and Value (US$ Mn), 2019 - 2030
9.1.1. Key Highlights
9.1.1.1. Open Pollinated
9.1.1.2. Hybrid
9.1.1.3. Resistant
9.2. Latin America Vegetable Seeds Market Outlook, by Crop Type, Volume (Kilo Tons) and Value (US$ Mn), 2019 - 2030
9.2.1. Key Highlights
9.2.1.1. Solanaceae
9.2.1.2. Cucurbitaceae
9.2.1.3. Bulbs & Roots
9.2.1.4. Brassica
9.2.1.5. Leafy
9.2.1.6. Large Seed Vegetables (Beans, Peas, etc.)
9.2.1.7. Misc.
9.3. Latin America Vegetable Seeds Market Outlook, by Country, Volume (Kilo Tons) and Value (US$ Mn), 2019 - 2030
9.3.1. Key Highlights
9.3.1.1. Brazil
9.3.1.2. Mexico
9.3.1.3. Rest of Latin America
9.3.2. BPS Analysis/Market Attractiveness Analysis

10. Middle East & Africa Vegetable Seeds Market Outlook, 2019 - 2030
10.1. Middle East & Africa Vegetable Seeds Market Outlook, by Seed Type, Volume (Kilo Tons) and Value (US$ Mn), 2019 - 2030
10.1.1. Key Highlights
10.1.1.1. Open Pollinated
10.1.1.2. Hybrid
10.1.1.3. Resistant
10.2. Middle East & Africa Vegetable Seeds Market Outlook, by Crop Type, Volume (Kilo Tons) and Value (US$ Mn), 2019 - 2030
10.2.1. Key Highlights
10.2.1.1. Solanaceae
10.2.1.2. Cucurbitaceae
10.2.1.3. Bulbs & Roots
10.2.1.4. Brassica
10.2.1.5. Leafy
10.2.1.6. Large Seed Vegetables (Beans, Peas, etc.)
10.2.1.7. Misc.
10.2.2. BPS Analysis/Market Attractiveness Analysis
10.3. Middle East & Africa Vegetable Seeds Market Outlook, by Country, Volume (Kilo Tons) and Value (US$ Mn), 2019 - 2030
10.3.1. Key Highlights
10.3.1.1. GCC
10.3.1.2. South Africa
10.3.1.3. Rest of Middle East & Africa
10.3.2. BPS Analysis/Market Attractiveness Analysis

11. Competitive Landscape
11.1. Company Market Share Analysis, 2022
11.2. Competitive Dashboard
11.3. Product vs Application Heatmap
11.4. Company Manufacturing Footprint Analysis
11.5. Company Profiles
11.5.1. Vilmorin
11.5.1.1. Company Overview
11.5.1.2. Product Portfolio
11.5.1.3. Financial Overview
11.5.1.4. Business Strategies and Development
(*Note: Above details would be available for below list of companies based on availability)
11.5.2. Bayer AG
11.5.3. Syngenta AG
11.5.4. Rijk Zwaan Zaadteelt en Zaadhandel B.V.
11.5.5. Takii & Co., Ltd.
11.5.6. BASF SE
11.5.7. Sakata
11.5.8. Enza Zaden
11.5.9. Bejo Seeds
11.5.10. Corteva
11.5.11. East-West Seed
11.5.12. KWS SAAT SE & Co. KGaA
11.5.13. Limagrain

12. Appendix
12.1. Research Methodology
12.2. Report Assumptions
12.3. Acronyms and Abbreviations
BASE YEAR

HISTORICAL DATA

FORECAST PERIOD

UNITS

2022

2019 - 2022

2023 - 2030

Value: US$ Mn Volume: Kilo Tons
REPORT FEATURES

DETAILS

Seed Type Coverage

Open Pollinated

Hybrid

Resistant

Crop Type Coverage

Geographical Coverage

Europe

Germany

France

U.K.

Italy

Spain

Russia

Rest of Europe

Asia Pacific

China

Japan

South Korea

India

Southeast Asia

Rest of Asia Pacific

Latin America

Brazil

Mexico

Rest of Latin America

Middle East & Africa

Leading Companies

Report Highlights

Market Estimates and Forecast, Market Dynamics, Industry Trends, Production Output, Trade Statistics, Prices Trend Analysis, Competition Landscape, Seed Type -, Crop Type-, Region-, Country-wise Trends & Analysis, COVID-19 Impact Analysis (Demand and Supply), Key Market Trends