Global Waste-to-Energy (WtE) Market Finds Opportunities as World Looks for Green Power Solutions
Demand for energy is increasing despite excess depletion of oil and gas reserves. Waste-to-energy (WtE) provides a secondary route for energy generation. It is a process in which energy is generated from the treatment of waste, thus turning waste into a source of power generation.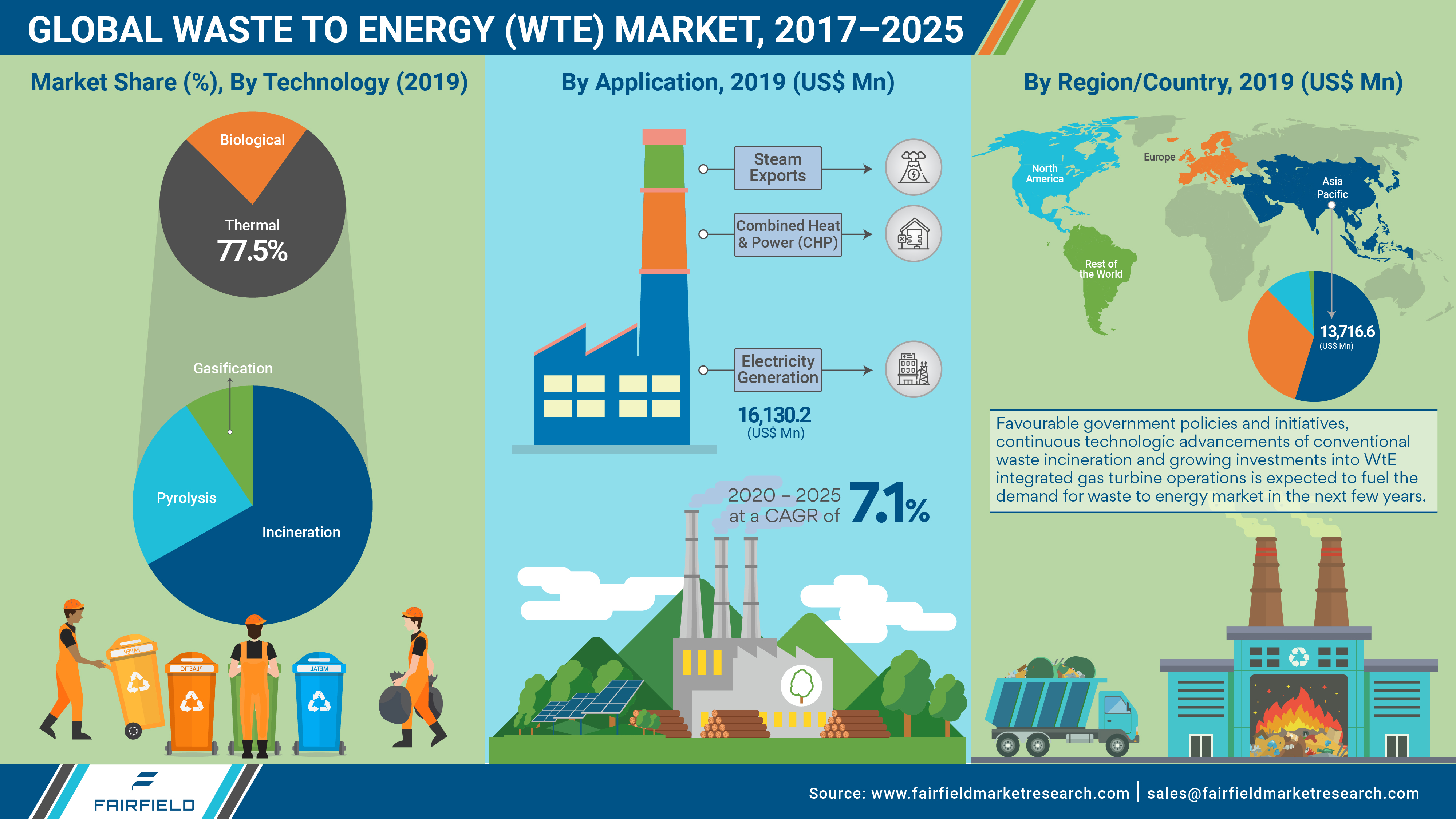 According to the World Bank estimates, the world's waste generation is projected to nearly double in volume by 2025 and reach 6 million tons of waste per day. Several countries are opting for alternate sources of energy due to restricted land filling, growing environmental issues, and high volatility in fuel prices.
Waste-to-energy not only solves environmental problems related to waste by reducing the volume but also decreases the greenhouse gas emissions in the long run. Hence, the potential to make waste useful will boost the growth of the market in the coming years. According to Fairfield Market Research, the global waste-to-energy (WtE) market was valued at US$25.7 Bn in 2020 and is anticipated to be worth US$36.2 Bn in 2025, registering a CAGR of 7.1% during the forecast period.
Stringent MSW Management Regulations to Drive Electricity Generation through Alternate Routes
Factors such as rising investments in renewable energy, Paris climate change agreement, and growing concerns regarding disposal of waste ecologically are expected to drive the waste-to-energy market across the globe. Government subsidies and environmental regulations in Europe, Asia Pacific, and North America are projected to help entrants to establish themselves in the waste-to-energy market.
The major restraint for waste-to-energy market is the initial high capital cost. According to the Waste to Energy Research and Technology Council (WtERT), a plant with a capacity to process a thousand tons of waste every day can cost between US$110 Mn to US$140 Mn to begin with.
Furthermore, natural gas is positioned as a substitute for renewable gases due to its lower cost. This pricing and positioning have been identified as a threat to the waste-to-energy market. In addition, it also a challenge to other external substitutions of energy generation alternatives such as wind, solar, and geothermal. Also, various countries and regions are investing in renewable sources of energy other than waste-to-energy plants.
In recent years, increased waste generation and narrowed prospects for landfill have brought strong growth prospects for the waste-to-energy market. Not only is the world population growing but it is also becoming increasingly urbanised. This leads to greater levels of waste being generated globally in more concentrated levels and in closer proximity to large urban areas. These issues have brought attention on waste management frameworks, with increased interest in alternatives to landfill.
As a result, municipalities worldwide are considering the functionality of waste to energy plants to help deal with mounting waste being generated. This serves as the key opportunity for development of waste to energy facilities across the globe.
Thermal Conversion Technology Stands Out; Biological Conversion to Follow Suit
Currently, in terms of technology, the thermal segment dominated the global waste-to-energy market and constituted more than 77.0% share in 2020. Incineration is an extensively adopted process due to its ability to reduce the volume of waste to about 90% and weight by approximately 75% percent of the original waste, thus reducing the amount of waste in landfills. The bottom ash produced from incineration plants is used by construction companies, which, in turn, reduces the burden on landfills.
Currently, incineration is the only waste-to-energy technology that is economically viable and operationally feasible at a commercial scale. Heat recovered from the incineration process can be further used either for direct water and space heating purposes or to power turbines for the generation of electricity.
Europe Lead Waste-to-Energy Market in Terms of Installed Capacity
Globally, more than 400 MTPA capacity of waste-to-energy facilities were operational in 2019 with more than 1,100 active waste-to-energy plants. However, data indicates that Europe dominates the market in terms of installed capacity of waste-to-energy plants.
Meanwhile, Asia Pacific accounted for a large share of 54.4% in the global waste-to-energy market in 2020. China, Japan, South Korea and Australia are the major markets in Asia Pacific in terms of waste-to-energy facilities. In India, the Ministry of New and Renewable Energy, is implementing a programme to provide subsidy of around US$310 thousand per MW (maximum US$ 1.55 Mn per project) for five new MSW waste-to-energy plants.
In addition, China has laid down an ambitious sustainable waste treatment and landfill avoidance goals. Its 13th Five-Year Plan calls for approximately 600,000 tonnes per day of energy from waste (EfW) capacity by the end of 2020. Considering these policies, over 200 new EfW facilities are expected to be built in China between 2020 and 2030. This is expected to benefit the demand for WtE in Asia Pacific.
On the other hand, North America has the huge potential for waste-to-energy market. The U.S. is the leading country in North America in terms of waste-to-energy plant installations. The number of countries accepting the Paris Climate Change Agreement has been increasing significantly across the globe. This agreement enforces countries to increase the share of renewable sources of energy in their total power generation, thereby providing ample of opportunities for the adoption of the waste-to-energy technology.
The goals of the European climate and energy policy of creating an energy system are characterized by less dependence on fossil fuels. This creates a stronger market pull for waste-to-energy technologies, especially to produce biogas and biofuels.
Global Waste-to-Energy (WtE) Market: Competitive Landscape
Key players involved in waste-to-energy (WtE) market are Covanta Energy Corporation, Veolia, Seuz Environment, China Everbright International Limited, EDF, AVR, EQT AB, Wheelabrator, Hitachi Zosen Inova AG, Babcock & Wilcox Vφlund A/S, Viridor, Ramboll Group and GCL Poly. In December 2019, Covanta Holding Corporation signs concession agreement to build new energy-from-waste facility in Zhao County, China.
The Global Waste-to-Energy (WtE) Market is Segmented as Below:
Technology Coverage
Thermal

Incineration
Pyrolysis
Gasification

Biological
Application Coverage
Electricity Generation
Steam Exports
Combined Heat & Power (CHP)
Geographical Coverage
North America
Europe

UK
Poland
Ireland
Denmark
Finland
Italy
Sweden
France
Germany
Czech Republic
Rest of Europe

Asia Pacific

China
Japan
India
Singapore
New Zealand
Australia
Rest of Asia Pacific

Rest of the World (RoW)
Leading Companies
Veolia
Covanta Energy Corporation
Seuz
Sembcorp Industries
China Everbright Environment Group Limited
AVR
EQT AB
Wheelabrator Technologies Inc.
Hitachi Zosen Inova AG
Babcock & Wilcox Enterprises, Inc.
Viridor
Ramboll Group
Inside This Report You Will Find:
1. Executive Summary
2. Market Overview
3. Price Trends Analysis and Future Projects, 2017 - 2025
4. Global Waste to Energy (WtE) Market Outlook, 2017 - 2025
5. North America Waste to Energy (WtE) Market Outlook, 2017 - 2025
6. Europe Waste to Energy (WtE) Market Outlook, 2017 - 2025
7. Asia Pacific Waste to Energy (WtE) Market Outlook, 2017 - 2025
8. Rest of the World (RoW)Waste to Energy (WtE) Market Outlook, 2017 - 2025
9. Competitive Landscape
10. Appendix
Post Sale Support, Research Updates & Offerings:
We value the trust shown by our customers in Fairfield Market Research. We support our clients through our post sale support, research updates and offerings.
The report will be prepared in a PPT format and will be delivered in a PDF format.
Additionally, Market Estimation and Forecast numbers will be shared in Excel Workbook.
If a report being sold was published over a year ago, we will offer a complimentary copy of the updated research report along with Market Estimation and Forecast numbers within 2-3 weeks' time of the sale.
If we update this research study within the next 2 quarters, post purchase of the report, we will offer a Complimentary copy of the updated Market Estimation and Forecast numbers in Excel Workbook.
If there is a geopolitical conflict, pandemic, recession, and the like which can impact global economic scenario and business activity, which might entirely alter the market dynamics or future projections in the industry, we will create a Research Update upon your request at a nominal charge.
1. Executive Summary
1.1. Global Waste to Energy (WtE) Market Snapshot
1.2. Future Projections
1.3. Key Market Trends
1.4. Analyst Recommendations


2. Market Overview
2.1. Market Definitions and Segmentations
2.2. Market Dynamics
2.2.1. Drivers
2.2.2. Restraints
2.2.3. Market Opportunities
2.3. Value Chain Analysis
2.4. Porter's Five Forces Analysis
2.5. Covid-19 Impact Analysis
2.5.1. Supply Chain
2.5.2. Demand
2.6. Economic Overview
2.6.1. Microeconomic Trends
2.6.2. Macroeconomic Trends
2.7. Raw Materials Impact Analysis


3. Price Trends Analysis and Future Projects, 2017 - 2025
3.1. Key Highlights
3.2. By Technology/By Application
3.3. By Region


4. Global Waste to Energy (WtE) Market Outlook, 2017 - 2025
4.1. Global Waste to Energy (WtE) Market Outlook, by Technology, Volume (Million Tons) and Value (US$ Mn) 2017 - 2025
4.1.1. Key Highlights
4.1.1.1. Thermal
4.1.1.1.1. Incineration
4.1.1.1.2. Pyrolysis
4.1.1.1.3. Gasification
4.1.1.2. Biological
4.1.2. BPS Analysis/Market Attractiveness Analysis
4.2. Global Waste to Energy (WtE) Market Outlook, by Application, Volume (Million Tons) and Value (US$ Mn) 2017 - 2025
4.2.1. Key Highlights
4.2.1.1. Electricity Generation
4.2.1.2. Steam Exports
4.2.1.3. Combined Heat & Power (CHP)
4.2.2. BPS Analysis/Market Attractiveness Analysis
4.3. Global Waste to Energy (WtE) Market Outlook, by Region, Volume (Million Tons) and Value (US$ Mn) 2017 - 2025
4.3.1. Key Highlights
4.3.1.1. North America
4.3.1.2. Europe
4.3.1.3. Asia Pacific
4.3.1.4. Rest of the World (RoW)
4.3.2. BPS Analysis/Market Attractiveness Analysis


5. North America Waste to Energy (WtE) Market Outlook, 2017 - 2025
5.1. North America Waste to Energy (WtE) Market Outlook, by Technology, Volume (Million Tons) and Value (US$ Mn) 2017 - 2025
5.1.1. Key Highlights
5.1.1.1. Thermal
5.1.1.1.1. Incineration
5.1.1.1.2. Pyrolysis
5.1.1.1.3. Gasification
5.1.1.2. Biological
5.1.2. BPS Analysis/Market Attractiveness Analysis
5.2. North America Waste to Energy (WtE) Market Outlook, by Application, Volume (Million Tons) and Value (US$ Mn) 2017 - 2025
5.2.1. Key Highlights
5.2.1.1. Electricity Generation
5.2.1.2. Steam Exports
5.2.1.3. Combined Heat & Power (CHP)
5.2.2. BPS Analysis/Market Attractiveness Analysis
5.3. North America Waste to Energy (WtE) Market Outlook, by Country, Volume (Million Tons) and Value (US$ Mn) 2017 - 2025
5.3.1. Key Highlights
5.3.1.1. U.S. Waste to Energy (WtE) Market by Technology, Volume (Million Tons) and Value (US$ Mn) 2017 - 2025
5.3.1.2. U.S. Waste to Energy (WtE) Market by Application, Volume (Million Tons) and Value (US$ Mn) 2017 - 2025
5.3.1.3. Canada Waste to Energy (WtE) Market by Technology, Volume (Million Tons) and Value (US$ Mn) 2017 - 2025
5.3.1.4. Canada Waste to Energy (WtE) Market by Application, Volume (Million Tons) and Value (US$ Mn) 2017 - 2025
5.3.2. BPS Analysis/Market Attractiveness Analysis


6. Europe Waste to Energy (WtE) Market Outlook, 2017 - 2025
6.1. Europe Waste to Energy (WtE) Market Outlook, by Technology, Volume (Million Tons) and Value (US$ Mn) 2017 - 2025
6.1.1. Key Highlights
6.1.1.1. Thermal
6.1.1.1.1. Incineration
6.1.1.1.2. Pyrolysis
6.1.1.1.3. Gasification
6.1.1.2. Biological
6.1.2. BPS Analysis/Market Attractiveness Analysis
6.2. Europe Waste to Energy (WtE) Market Outlook, by Application, Volume (Million Tons) and Value (US$ Mn) 2017 - 2025
6.2.1. Key Highlights
6.2.1.1. Electricity Generation
6.2.1.2. Steam Exports
6.2.1.3. Combined Heat & Power (CHP)
6.2.2. BPS Analysis/Market Attractiveness Analysis
6.3. Europe Waste to Energy (WtE) Market Outlook, by Country, Volume (Million Tons) and Value (US$ Mn) 2017 - 2025
6.3.1. Key Highlights
6.3.1.1. U.K. Waste to Energy (WtE) Market by Technology, Volume (Million Tons) and Value (US$ Mn) 2017 - 2025
6.3.1.2. U.K. Waste to Energy (WtE) Market by Application, Volume (Million Tons) and Value (US$ Mn) 2017 - 2025
6.3.1.3. Poland Waste to Energy (WtE) Market by Technology, Volume (Million Tons) and Value (US$ Mn) 2017 - 2025
6.3.1.4. Poland Waste to Energy (WtE) Market by Application, Volume (Million Tons) and Value (US$ Mn) 2017 - 2025
6.3.1.5. Ireland Waste to Energy (WtE) Market by Technology, Volume (Million Tons) and Value (US$ Mn) 2017 - 2025
6.3.1.6. Ireland Waste to Energy (WtE) Market by Application, Volume (Million Tons) and Value (US$ Mn) 2017 - 2025
6.3.1.7. Denmark Waste to Energy (WtE) Market by Technology, Volume (Million Tons) and Value (US$ Mn) 2017 - 2025
6.3.1.8. Denmark Waste to Energy (WtE) Market by Application, Volume (Million Tons) and Value (US$ Mn) 2017 - 2025
6.3.1.9. Finland Waste to Energy (WtE) Market by Technology, Volume (Million Tons) and Value (US$ Mn) 2017 - 2025
6.3.1.10. Finland Waste to Energy (WtE) Market by Application, Volume (Million Tons) and Value (US$ Mn) 2017 - 2025
6.3.1.11. Italy Waste to Energy (WtE) Market by Technology, Volume (Million Tons) and Value (US$ Mn) 2017 - 2025
6.3.1.12. Italy Waste to Energy (WtE) Market by Application, Volume (Million Tons) and Value (US$ Mn) 2017 - 2025
6.3.1.13. Sweden Waste to Energy (WtE) Market by Technology, Volume (Million Tons) and Value (US$ Mn) 2017 - 2025
6.3.1.14. Sweden Waste to Energy (WtE) Market by Application, Volume (Million Tons) and Value (US$ Mn) 2017 - 2025
6.3.1.15. France Waste to Energy (WtE) Market by Technology, Volume (Million Tons) and Value (US$ Mn) 2017 - 2025
6.3.1.16. France Waste to Energy (WtE) Market by Application, Volume (Million Tons) and Value (US$ Mn) 2017 - 2025
6.3.1.17. Germany Waste to Energy (WtE) Market by Technology, Volume (Million Tons) and Value (US$ Mn) 2017 - 2025
6.3.1.18. Germany Waste to Energy (WtE) Market by Application, Volume (Million Tons) and Value (US$ Mn) 2017 - 2025
6.3.1.19. Czech Republic Waste to Energy (WtE) Market by Technology, Volume (Million Tons) and Value (US$ Mn) 2017 - 2025
6.3.1.20. Czech Republic Waste to Energy (WtE) Market by Application, Volume (Million Tons) and Value (US$ Mn) 2017 - 2025
6.3.1.21. Rest of Europe Waste to Energy (WtE) Market by Technology, Volume (Million Tons) and Value (US$ Mn) 2017 - 2025
6.3.1.22. Rest of Europe Waste to Energy (WtE) Market by Application, Volume (Million Tons) and Value (US$ Mn) 2017 - 2025
6.3.2. BPS Analysis/Market Attractiveness Analysis


7. Asia Pacific Waste to Energy (WtE) Market Outlook, 2017 - 2025
7.1. Asia Pacific Waste to Energy (WtE) Market Outlook, by Technology, Volume (Million Tons) and Value (US$ Mn) 2017 - 2025
7.1.1. Key Highlights
7.1.1.1. Thermal
7.1.1.1.1. Incineration
7.1.1.1.2. Pyrolysis
7.1.1.1.3. Gasification
7.1.1.2. Biological
7.1.2. BPS Analysis/Market Attractiveness Analysis
7.2. Asia Pacific Waste to Energy (WtE) Market Outlook, by Application, Volume (Million Tons) and Value (US$ Mn) 2017 - 2025
7.2.1. Key Highlights
7.2.1.1. Electricity Generation
7.2.1.2. Steam Exports
7.2.1.3. Combined Heat & Power (CHP)
7.2.2. BPS Analysis/Market Attractiveness Analysis
7.3. Asia Pacific Waste to Energy (WtE) Market Outlook, by Country, Volume (Million Tons) and Value (US$ Mn) 2017 - 2025
7.3.1. Key Highlights
7.3.1.1. China Waste to Energy (WtE) Market by Technology, Volume (Million Tons) and Value (US$ Mn) 2017 - 2025
7.3.1.2. China Waste to Energy (WtE) Market by Application, Volume (Million Tons) and Value (US$ Mn) 2017 - 2025
7.3.1.3. Japan Waste to Energy (WtE) Market by Technology, Volume (Million Tons) and Value (US$ Mn) 2017 - 2025
7.3.1.4. Japan Waste to Energy (WtE) Market by Application, Volume (Million Tons) and Value (US$ Mn) 2017 - 2025South Korea
7.3.1.5. India Waste to Energy (WtE) Market by Technology, Volume (Million Tons) and Value (US$ Mn) 2017 - 2025
7.3.1.6. India Waste to Energy (WtE) Market by Application, Volume (Million Tons) and Value (US$ Mn) 2017 - 2025
7.3.1.7. Singapore Waste to Energy (WtE) Market by Technology, Volume (Million Tons) and Value (US$ Mn) 2017 - 2025
7.3.1.8. Singapore Waste to Energy (WtE) Market by Application, Volume (Million Tons) and Value (US$ Mn) 2017 - 2025
7.3.1.9. New Zealand Waste to Energy (WtE) Market by Technology, Volume (Million Tons) and Value (US$ Mn) 2017 - 2025
7.3.1.10. New Zealand Waste to Energy (WtE) Market by Application, Volume (Million Tons) and Value (US$ Mn) 2017 - 2025
7.3.1.11. Australia Waste to Energy (WtE) Market by Technology, Volume (Million Tons) and Value (US$ Mn) 2017 - 2025
7.3.1.12. Australia Waste to Energy (WtE) Market by Application, Volume (Million Tons) and Value (US$ Mn) 2017 - 2025
7.3.1.13. Rest of Asia Pacific Waste to Energy (WtE) Market by Technology, Volume (Million Tons) and Value (US$ Mn) 2017 - 2025
7.3.1.14. Rest of Asia Pacific Waste to Energy (WtE) Market by Application, Volume (Million Tons) and Value (US$ Mn) 2017 - 2025
7.3.2. BPS Analysis/Market Attractiveness Analysis


8. Rest of the World (RoW)Waste to Energy (WtE) Market Outlook, 2017 - 2025
8.1. Rest of the World (RoW)Waste to Energy (WtE) Market Outlook, by Technology, Volume (Million Tons) and Value (US$ Mn) 2017 - 2025
8.1.1. Key Highlights
8.1.1.1. Thermal
8.1.1.1.1. Incineration
8.1.1.1.2. Pyrolysis
8.1.1.1.3. Gasification
8.1.1.2. Biological
8.1.2. BPS Analysis/Market Attractiveness Analysis
8.2. Rest of the World (RoW)Waste to Energy (WtE) Market Outlook, by Application, Volume (Million Tons) and Value (US$ Mn) 2017 - 2025
8.2.1. Key Highlights
8.2.1.1. Electricity Generation
8.2.1.2. Steam Exports
8.2.1.3. Combined Heat & Power (CHP)
8.2.2. BPS Analysis/Market Attractiveness Analysis
8.3. Rest of the World (RoW)Waste to Energy (WtE) Market Outlook, by Country, Volume (Million Tons) and Value (US$ Mn) 2017 - 2025
8.3.1. Key Highlights
8.3.1.1. UAE Waste to Energy (WtE) Market by Technology, Volume (Million Tons) and Value (US$ Mn) 2017 - 2025
8.3.1.2. UAE Waste to Energy (WtE) Market by Application, Volume (Million Tons) and Value (US$ Mn) 2017 - 2025
8.3.1.3. Mexico Waste to Energy (WtE) Market by Technology, Volume (Million Tons) and Value (US$ Mn) 2017 - 2025
8.3.1.4. Mexico Waste to Energy (WtE) Market by Application, Volume (Million Tons) and Value (US$ Mn) 2017 - 2025
8.3.1.5. Others Waste to Energy (WtE) Market by Technology, Volume (Million Tons) and Value (US$ Mn) 2017 - 2025
8.3.1.6. Others Waste to Energy (WtE) Market by Application, Volume (Million Tons) and Value (US$ Mn) 2017 - 2025
8.3.2. BPS Analysis/Market Attractiveness Analysis


9. Competitive Landscape
9.1. Company Market Share Analysis, 2019
9.2. Product Heatmap
9.3. Strategic Collaborations
9.4. Company Profiles
9.4.1. Veolia
9.4.1.1. Company Overview
9.4.1.2. Product Portfolio
9.4.1.3. Financial Overview
9.4.1.4. Business Strategies and Development
9.4.2. Covanta Energy Corporation
9.4.2.1. Company Overview
9.4.2.2. Product Portfolio
9.4.2.3. Financial Overview
9.4.2.4. Business Strategies and Development
9.4.3. Seuz Environment
9.4.3.1. Company Overview
9.4.3.2. Product Portfolio
9.4.3.3. Financial Overview
9.4.3.4. Business Strategies and Development
9.4.4. China Everbright International Limited
9.4.4.1. Company Overview
9.4.4.2. Product Portfolio
9.4.4.3. Financial Overview
9.4.4.4. Business Strategies and Development
9.4.5. Sembcorp Industries
9.4.5.1. Company Overview
9.4.5.2. Product Portfolio
9.4.5.3. Financial Overview
9.4.5.4. Business Strategies and Development
9.4.6. AVR
9.4.6.1. Company Overview
9.4.6.2. Product Portfolio
9.4.6.3. Financial Overview
9.4.6.4. Business Strategies and Development
9.4.7. Wheelabrator
9.4.7.1. Company Overview
9.4.7.2. Product Portfolio
9.4.7.3. Financial Overview
9.4.7.4. Business Strategies and Development
9.4.8. Hitachi Zosen Inova AG
9.4.8.1. Company Overview
9.4.8.2. Product Portfolio
9.4.8.3. Financial Overview
9.4.8.4. Business Strategies and Development
9.4.9. Babcock & Wilcox Vφlund A/S
9.4.9.1. Company Overview
9.4.9.2. Product Portfolio
9.4.9.3. Financial Overview
9.4.9.4. Business Strategies and Development
9.4.10. Viridor
9.4.10.1. Company Overview
9.4.10.2. Product Portfolio
9.4.10.3. Financial Overview
9.4.10.4. Business Strategies and Development
9.4.11. Ramboll Group
9.4.11.1. Company Overview
9.4.11.2. Product Portfolio
9.4.11.3. Financial Overview
9.4.11.4. Business Strategies and Development
9.4.12. GCL Poly
9.4.12.1. Company Overview
9.4.12.2. Product Portfolio
9.4.12.3. Financial Overview
9.4.12.4. Business Strategies and Development


10. Appendix
10.1. Research Methodology
10.2. Report Assumptions
10.3. Acronyms and Abbreviations
BASE YEAR

HISTORICAL DATA

FORECAST PERIOD

UNITS

2019

2017 - 2019

2020 - 2025

Value: US$ Million

Volume: Million Tons
REPORT FEATURES

DETAILS

Technology Coverage

Thermal

Incineration

Pyrolysis

Gasification

Biological

Application Coverage

Geographical Coverage

North America

Europe

U.K.

Poland

Ireland

Denmark

Finland

Italy

Sweden

France

Germany

Czech Republic

Rest of Europe

Asia Pacific

China

Japan

India

Singapore

New Zealand

Australia

Rest of Asia Pacific

Rest of the World (RoW)

Leading Companies

Veolia

Covanta Energy Corporation

Seuz

Sembcorp Industries

China Everbright Environment Group Limited

AVR

EQT AB

Wheelabrator Technologies Inc.

Hitachi Zosen Inova AG

Babcock & Wilcox Enterprises, Inc.

Viridor

Ramboll Group

Report Highlights

Key Market Indicators, Macro-micro economic impact analysis, Technological Roadmap, Key Trends, Driver, Restraints, and Future Opportunities & Revenue Pockets, Porter's 5 Forces Analysis, Historical Trend (2017-2019), Price Trend Analysis- 2019-2025, Market Estimates and Forecast, Market Dynamics, Industry Trends, Competition Landscape, Category, Region, Country-wise Trends & Analysis, COVID-19 Impact Analysis (Demand and Supply Chain)