Wheat Flour Market Outlook
The global wheat flour market was valued at US$212.6 Bn in 2019 and will reach a valuation of US$274.5 Bn by 2026, registering a CAGR of 3.8% between the forecast years of 2021 - 2026.
Rise in Demand for Convenience Food Boosts Prospects of Wheat Flour Market
Wheat flour consumption pattern has undergone a sea change as consumers show a preference for processed or convenience food items, which primarily drives wheat flour market. Wheat flour is used in a variety of convenience meals, including bakery and confectionery items, snacks, and ready-to-eat foods. The flour enhances the texture and flavour of the cuisine. Because of the rising food and beverage industry and better economic situations, consumers in both developed and developing countries are more inclined toward convenience foods. Retail establishments and supermarkets have also begun to sell convenience meals as a result of the diversification of distribution channels.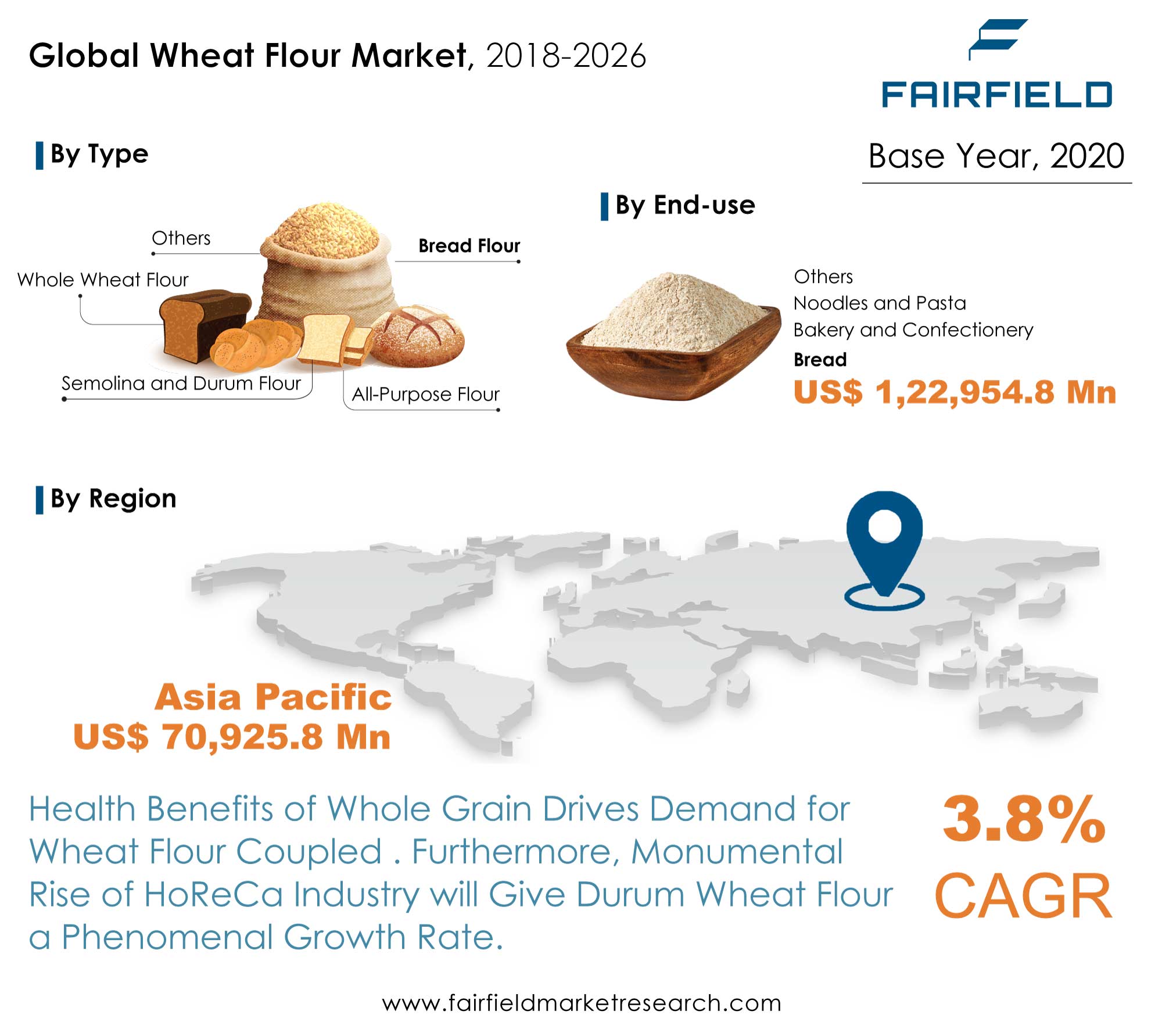 Changes in working demographics and a hectic lifestyle are also contributing to the rise in demand for convenience foods. The rise of convenience foods in the modern diet is a result of society's urbanisation. Organic wheat flour's availability boosts its uses in baking and confectionery, as well as other industries. In addition, expanding population, rising economic standards, rising disposable incomes, and diversification of eating patterns are all driving demand for convenient foods. To address these demands, businesses are developing higher-quality wheat flour and implementing efficient distribution channels to reach a larger customer base, thereby pushing the growth prospects of wheat flour market.
Focus on Flour Fortification to Bridge Nutritional Gaps Stokes Wheat Flour Market Growth
Widening nutritional gap has led to an increased focus on fortifying flour with minerals and vitamins. Role of flour in meal programs has created an excellent opportunity for creating preventative measures through fortification. Analysts anticipate consumption of flour in staple diets will contribute towards averting chances of anaemia and neural tube defects. Maximizing health benefits through addition of vitamins and minerals to wheat has been a cost-effective solution for tackling malnutrition. During the assessment period, rising demand for fortified flour across the world is predicted to support the overall growth of the global wheat flour market. Several mills across the country have implemented fortification techniques to boost the nutritional value of their products. Furthermore, focuses on public health has given wheat flour fortification has grown in popularity in recent years. Influx of flour brands has also led to product differentiation through fortification, thereby creating opportunities in wheat flour market.
Rise in Awareness About Gluten-free Products to Impact Wheat Flour Market Growth
Gluten intolerance or the Celiac disease is an autoimmune disorder, which damages the small intestine lining and prevents the absorption of nutrients from consumed food items. This damage is majorly a reaction to eating foods with gluten, a type of wheat protein which is also found in barley, rye, and oats. However, some individuals may also experience discomfort in their stomach despite not having the Celiac disease. Amylase-trypsin-inhibitors or ATIs, are a group of proteins found in wheat, which could trigger an immune response, and contribute to the development of non-celiac gluten sensitivity (NCGS). This will continue to influence the growth of wheat flour market.
Wheat Flour Market Competitive Landscape
Globally, Asia-pacific, wheat flour market is developing strong and will be the fastest growing market anticipating a high volume. Increasing population, rising spending capacity on staple food, high demand for fast food and escalating disposable income in consumers are major factors for future growth in the region. North America and Europe are expected to lead the global wheat flour market in terms of CAGR by the end of 2026. Nonstop product launches, and demand for healthy snacks are expected to drive wheat flour market across these regions. Moreover, increasing population and escalating numbers of restaurants will fuel the wheat flour market growth in the region.
The following companies are the global leaders in wheat flour market Archer Daniels Midland Company, Acarsan Holding, Allied Pinnacle, Ardent Mills, General Mills Inc, George Weston Foods Limited, ITC Limited, The King Arthur Baking Company, KORFEZ Flour Group and Manildra Group. Mergers and acquisitions, and research and development are commonly adopted strategies by companies to expand their footprint worldwide. The wheat flour market players such as Archer Daniels Midland Company, FoodMaven, and ITC Limited have been implementing these strategies to enlarge the customer base and to gain significant market share in the world, which also allows them to maintain their brand name globally.
The Global Wheat Flour Market is Segmented as Below:
By Nature Coverage
By Type Coverage
All-Purpose Flour
Bread Flour
Semolina and Durum Flour
Whole Wheat Flour
Others
By Distribution Coverage
Hypermarket
Convenience Store
Online Retail
Other Retail
By End-Use Coverage
Noodles and Pasta
Bakery and Confectionery
Bread
Others
By Geographical Coverage
North America
Europe

Germany
France
UK
Italy
Turkey
Spain
Russia
Rest of Europe

Asia Pacific

China
Japan
South Korea
India
Southeast Asia
Rest of Asia Pacific

Latin America

Brazil
Mexico
Rest of Latin America

Middle East & Africa

GCC
Egypt
Rest of Middle East & Africa
Leading Companies
Archer Daniels Midland Company
Ardent Mills, LLC
General Mills, Inc
King Arthur Flour Co.
Grain Craft
North Dakota Mill
Bob's Red Mill Natural Foods
Italgrani USA
Miller Milling
Minot Milling
Inside This Report You Will Find:
1. Executive Summary
2. Market Overview
3. Global Wheat Flour Market Outlook, 2018 - 2026
4. North America Wheat Flour Market Outlook, 2018 - 2026
5. Europe Wheat Flour Market Outlook, 2018 - 2026
6. Asia Pacific Wheat Flour Market Outlook, 2018 - 2026
7. Latin America Wheat Flour Market Outlook, 2018 - 2026
8. Middle East & Africa Wheat Flour Market Outlook, 2018 - 2026
9. Competitive Landscape
10. Appendix
Post Sale Support, Research Updates & Offerings:
We value the trust shown by our customers in Fairfield Market Research. We support our clients through our post sale support, research updates and offerings.
The report will be prepared in a PPT format and will be delivered in a PDF format.
Additionally, Market Estimation and Forecast numbers will be shared in Excel Workbook.
If a report being sold was published over a year ago, we will offer a complimentary copy of the updated research report along with Market Estimation and Forecast numbers within 2-3 weeks' time of the sale.
If we update this research study within the next 2 quarters, post purchase of the report, we will offer a Complimentary copy of the updated Market Estimation and Forecast numbers in Excel Workbook.
If there is a geopolitical conflict, pandemic, recession, and the like which can impact global economic scenario and business activity, which might entirely alter the market dynamics or future projections in the industry, we will create a Research Update upon your request at a nominal charge.
1. Executive Summary
1.1. Global Wheat Flour Market Snapshot
1.2. Future Projections
1.3. Key Market Trends
1.4. Analyst Recommendations

2. Market Overview
2.1. Market Definitions
2.2. Market Taxonomy
2.3. Market Dynamics
2.3.1. Drivers
2.3.2. Restraints
2.4. Value Chain Analysis
2.5. Porter's Five Forces Analysis
2.6. Covid-19 Impact Analysis
2.7. Key Patents

3. Global Wheat Flour Market Outlook, 2018 - 2026
3.1. Global Wheat Flour Market Outlook, by Type (US$ '000), 2018 - 2026
3.1.1. Key Highlights
3.1.1.1. All-Purpose Flour
3.1.1.2. Bread Flour
3.1.1.3. Semolina and Durum Flour
3.1.1.4. Whole Wheat Flour
3.1.1.5. Others
3.1.2. BPS Analysis/Market Attractiveness Analysis
3.2. Global Wheat Flour Market Outlook, by Nature, Value (US$ '000), 2018 - 2026
3.2.1. Key Highlights
3.2.1.1. Organic
3.2.1.2. Conventional
3.2.2. BPS Analysis/Market Attractiveness Analysis
3.3. Global Wheat Flour Market Outlook, by End User, Value (US$ '000), 2018 - 2026
3.3.1. Key Highlights
3.3.1.1. Noodles and Pasta
3.3.1.2. Bakery and Confectionery
3.3.1.3. Bread
3.3.1.4. Others
3.3.2. BPS Analysis/Market Attractiveness Analysis
3.4. Global Wheat Flour Market Outlook, by Distribution Channel, Value (US$ '000), 2018 - 2026
3.4.1. Key Highlights
3.4.1.1. Hypermarket
v3.4.1.2. Convenience Store
3.4.1.3. Online Retail
3.4.1.4. Other Retail
3.4.2. BPS Analysis/Market Attractiveness Analysis
3.5. Global Wheat Flour Market Outlook, by Region, Value (US$ '000), 2018 - 2026
3.5.1. Key Highlights
3.5.1.1. North America
3.5.1.2. Europe
3.5.1.3. Asia Pacific
3.5.1.4. Latin America
3.5.1.5. Middle East & Africa
3.5.2. BPS Analysis/Market Attractiveness Analysis

4. North America Wheat Flour Market Outlook, 2018 - 2026
4.1. North America Wheat Flour Market Outlook, by Type (US$ '000), 2018 - 2026
4.1.1. Key Highlights
4.1.1.1. All-Purpose Flour
4.1.1.2. Bread Flour
4.1.1.3. Semolina and Durum Flour
4.1.1.4. Whole Wheat Flour
4.1.1.5. Others
4.1.2. BPS Analysis/Market Attractiveness Analysis
4.2. North America Wheat Flour Market Outlook, by Nature, Value (US$ '000), 2018 - 2026
4.2.1. Key Highlights
4.2.1.1. Organic
4.2.1.2. Conventional
4.2.2. BPS Analysis/Market Attractiveness Analysis
4.3. North America Wheat Flour Market Outlook, by End User, Value (US$ '000), 2018 - 2026
4.3.1. Key Highlights
4.3.1.1. Noodles and Pasta
4.3.1.2. Bakery and Confectionery
4.3.1.3. Bread
4.3.1.4. Others
4.3.2. BPS Analysis/Market Attractiveness Analysis
4.4. North America Wheat Flour Market Outlook, by Distribution Channel, Value (US$ '000), 2018 - 2026
4.4.1. Key Highlights
4.4.1.1. Hypermarket
4.4.1.2. Convenience Store
4.4.1.3. Online Retail
4.4.1.4. Other Retail
4.4.2. BPS Analysis/Market Attractiveness Analysis
4.5. North America Wheat Flour Market Outlook, by Country, Value (US$ '000), 2018 - 2026
4.5.1. Key Highlights
4.5.1.1. U.S. Wheat Flour Market by Value (US$ '000), 2018 - 2026
4.5.1.2. Canada Wheat Flour Market by Value (US$ '000), 2018 - 2026
4.5.2. BPS Analysis/Market Attractiveness Analysis

5. Europe Wheat Flour Market Outlook, 2018 - 2026
5.1. Europe Wheat Flour Market Outlook, by Type (US$ '000), 2018 - 2026
5.1.1. Key Highlights
5.1.1.1. All-Purpose Flour
5.1.1.2. Bread Flour
5.1.1.3. Semolina and Durum Flour
5.1.1.4. Whole Wheat Flour
5.1.1.5. Others
5.1.2. BPS Analysis/Market Attractiveness Analysis
5.2. Europe Wheat Flour Market Outlook, by Nature, Value (US$ '000), 2018 - 2026
5.2.1. Key Highlights
5.2.1.1. Organic
5.2.1.2. Conventional
5.2.2. BPS Analysis/Market Attractiveness Analysis
5.3. Europe Wheat Flour Market Outlook, by End User, Value (US$ '000), 2018 - 2026
5.3.1. Key Highlights
5.3.1.1. Noodles and Pasta
5.3.1.2. Bakery and Confectionery
5.3.1.3. Bread
5.3.1.4. Others
5.3.2. BPS Analysis/Market Attractiveness Analysis
5.4. Europe Wheat Flour Market Outlook, by Distribution Channel, Value (US$ '000), 2018 - 2026
5.4.1. Key Highlights
5.4.1.1. Hypermarket
5.4.1.2. Convenience Store
5.4.1.3. Online Retail
5.4.1.4. Other Retail
5.4.2. BPS Analysis/Market Attractiveness Analysis
5.5. Europe Wheat Flour Market Outlook, by Country, Value (US$ '000), 2018 - 2026
5.5.1. Key Highlights
5.5.1.1. Germany Wheat Flour Market by Value (US$ '000), 2018 - 2026
5.5.1.2. France Wheat Flour Market by Product, Value (US$ '000), 2018 - 2026
5.5.1.3. U.K. Wheat Flour Market by Value (US$ '000), 2018 - 2026
5.5.1.4. Italy Wheat Flour Market by Value (US$ '000), 2018 - 2026
5.5.1.5. Spain Wheat Flour Market by Product, Value (US$ '000), 2018 - 2026
5.5.1.6. Rest of Europe Wheat Flour Market Value (US$ '000), 2018 - 2026
5.5.2. BPS Analysis/Market Attractiveness Analysis

6. Asia Pacific Wheat Flour Market Outlook, 2018 - 2026
6.1. Asia Pacific Wheat Flour Market Outlook, by Type (US$ '000), 2018 - 2026
6.1.1. Key Highlights
6.1.1.1. All-Purpose Flour
6.1.1.2. Bread Flour
6.1.1.3. Semolina and Durum Flour
6.1.1.4. Whole Wheat Flour
6.1.1.5. Others
6.1.2. BPS Analysis/Market Attractiveness Analysis
6.2. Asia Pacific Wheat Flour Market Outlook, by Nature, Value (US$ '000), 2018 - 2026
6.2.1. Key Highlights
6.2.1.1. Organic
6.2.1.2. Conventional
6.2.2. BPS Analysis/Market Attractiveness Analysis
6.3. Asia Pacific Wheat Flour Market Outlook, by End User, Value (US$ '000), 2018 - 2026
6.3.1. Key Highlights
6.3.1.1. Noodles and Pasta
6.3.1.2. Bakery and Confectionery
6.3.1.3. Bread
6.3.1.4. Others
6.3.2. BPS Analysis/Market Attractiveness Analysis
6.4. Asia Pacific Wheat Flour Market Outlook, by Distribution Channel, Value (US$ '000), 2018 - 2026
6.4.1. Key Highlights
6.4.1.1. Hypermarket
6.4.1.2. Convenience Store
6.4.1.3. Online Retail
6.4.1.4. Other Retail
6.4.2. BPS Analysis/Market Attractiveness Analysis
6.5. Asia Pacific Wheat Flour Market Outlook, by Country, Value (US$ '000), 2018 - 2026
6.5.1. Key Highlights
6.5.1.1. India Wheat Flour Market by Value (US$ '000), 2018 - 2026
6.5.1.2. China Wheat Flour Market by Value (US$ '000), 2018 - 2026
6.5.1.3. Japan Wheat Flour Market by Value (US$ '000), 2018 - 2026
6.5.1.4. Australia & New Zealand Wheat Flour Market Value (US$ '000), 2018 - 2026
6.5.1.5. Rest of Asia Pacific Market by Value (US$ '000), 2018 - 2026
6.5.2. BPS Analysis/Market Attractiveness Analysis

7. Latin America Wheat Flour Market Outlook, 2018 - 2026
7.1. Latin America Wheat Flour Market Outlook, by Type (US$ '000), 2018 - 2026
7.1.1. Key Highlights
7.1.1.1. All-Purpose Flour
7.1.1.2. Bread Flour
7.1.1.3. Semolina and Durum Flour
7.1.1.4. Whole Wheat Flour
7.1.1.5. Others
7.1.2. BPS Analysis/Market Attractiveness Analysis
7.2. Latin America Wheat Flour Market Outlook, by Nature, Value (US$ '000), 2018 - 2026
7.2.1. Key Highlights
7.2.1.1. Organic
7.2.1.2. Conventional
7.2.2. BPS Analysis/Market Attractiveness Analysis
7.3. Latin America Wheat Flour Market Outlook, by End User, Value (US$ '000), 2018 - 2026
7.3.1. Key Highlights
7.3.1.1. Noodles and Pasta
7.3.1.2. Bakery and Confectionery
7.3.1.3. Bread
7.3.1.4. Others
7.3.2. BPS Analysis/Market Attractiveness Analysis
7.4. Latin America Wheat Flour Market Outlook, by Distribution Channel, Value (US$ '000), 2018 - 2026
7.4.1. Key Highlights
7.4.1.1. Hypermarket
7.4.1.2. Convenience Store
7.4.1.3. Online Retail
7.4.1.4. Other Retail
7.4.2. BPS Analysis/Market Attractiveness Analysis
7.5. Latin America Wheat Flour Market Outlook, by Country, Value (US$ '000), 2018 - 2026
7.5.1. Key Highlights
7.5.1.1. Brazil Wheat Flour Market by Value (US$ '000), 2018 - 2026
7.5.1.2. Mexico Wheat Flour Market by Value (US$ '000), 2018 - 2026
7.5.1.3. Rest of Latin America Wheat Flour Market by Value (US$ '000), 2018 - 2026
7.5.2. BPS Analysis/Market Attractiveness Analysis

8. Middle East & Africa Wheat Flour Market Outlook, 2018 - 2026
8.1. Middle East & Africa Wheat Flour Market Outlook, by Type (US$ '000), 2018 - 2026
8.1.1. Key Highlights
8.1.1.1. All-Purpose Flour
8.1.1.2. Bread Flour
8.1.1.3. Semolina and Durum Flour
8.1.1.4. Whole Wheat Flour
8.1.1.5. Others
8.1.2. BPS Analysis/Market Attractiveness Analysis
8.2. Middle East & Africa Wheat Flour Market Outlook, by Nature, Value (US$ '000), 2018 - 2026
8.2.1. Key Highlights
8.2.1.1. Organic
8.2.1.2. Conventional
8.2.2. BPS Analysis/Market Attractiveness Analysis
8.3. Middle East & Africa Wheat Flour Market Outlook, by End User, Value (US$ '000), 2018 - 2026
8.3.1. Key Highlights
8.3.1.1. Noodles and Pasta
8.3.1.2. Bakery and Confectionery
8.3.1.3. Bread
8.3.1.4. Others
8.3.2. BPS Analysis/Market Attractiveness Analysis
8.4. Middle East & Africa Wheat Flour Market Outlook, by Distribution Channel, Value (US$ '000), 2018 - 2026
8.4.1. Key Highlights
8.4.1.1. Hypermarket
8.4.1.2. Convenience Store
8.4.1.3. Online Retail
8.4.1.4. Other Retail
8.4.2. BPS Analysis/Market Attractiveness Analysis
8.5. Middle East & Africa Wheat Flour Market Outlook, by Country, Value (US$ '000), 2018 - 2026
8.5.1. Key Highlights
8.5.1.1. GCC Wheat Flour Market by Value (US$ '000), 2018 - 2026
8.5.1.2. South Africa Wheat Flour Market by Value (US$ '000), 2018 - 2026
8.5.1.3. Rest of Middle East & Africa Wheat Flour Market by Value (US$ '000), 2018 - 2026
8.5.2. BPS Analysis/Market Attractiveness Analysis

9. Competitive Landscape
9.1. Company Market Share Analysis, 2019
9.2. Company Profiles
9.2.1. Archer Daniels Midland Company
9.2.1.1. Company Overview
9.2.1.2. Key Retailing Partners
9.2.1.3. Business Segment Revenue
9.2.1.4. Ingredient Overview
9.2.1.5. Product Offering & its Presence
9.2.1.6. Certifications & Claims
9.2.2. Ardent Mills, LLC
9.2.3. General Mills, Inc
9.2.4. King Arthur Flour Co.
9.2.5. Grain Craft
9.2.6. North Dakota Mill
9.2.7. Bob's Red Mill Natural Foods
9.2.8. Italgrani USA
9.2.9. Miller Milling
9.2.10. Minot Milling

10. Appendix
10.1. Research Methodology
10.2. Report Assumptions
10.3. Acronyms and Abbreviations
BASE YEAR

HISTORICAL DATA

FORECAST PERIOD

UNITS

2020

2018 - 2020

2021 - 2026

Value: US$ Million
REPORT FEATURES

DETAILS

Nature Coverage

Type Coverage

All-Purpose Flour

Bread Flour

Semolina and Durum Flour

Whole Wheat Flour

Others

Distribution Coverage

Hypermarket

Convenience Store

Online Retail

Other Retail

End-Use Coverage

Noodles and Pasta

Bakery and Confectionery

Bread

Others

Geographical Coverage

North America

Europe

Germany

France

U.K.

Italy

Turkey

Spain

Russia

Rest of Europe

Asia Pacific

China

Japan

South Korea

India

Southeast Asia

Rest of Asia Pacific

Latin America

Brazil

Mexico

Rest of Latin America

Middle East & Africa

Leading Companies

Archer Daniels Midland Company

Ardent Mills, LLC

General Mills, Inc

King Arthur Flour Co.

Grain Craft

North Dakota Mill

Bob's Red Mill Natural Foods

Italgrani USA

Miller Milling

Minot Milling

Report Highlights

Market Estimates and Forecast, Market Dynamics, Industry Trends, Competition Landscape, Product-, Application-, Region-, Country-wise Trends & Analysis, COVID-19 Impact Analysis, Key Trends