The 5G infrastructure market revenue crossed the US$5 Bn mark in 2022 and is expected to witness a strong CAGR in terms of value through the end of forecast period.
Market Analysis in Brief
The global 5G infrastructure market is anticipated to witness significant growth in terms of revenue from 2021 to 2027, due to its various benefits such as improved network performance and capacity, enhanced data speeds, and reduced latency. The global demand for this infrastructure will rise exponentially, given the continuous increase in mobile broadband penetration owing to the launch of high-end smartphones, and other wireless devices. Many companies are thus working on developing a solid subscriber base through expansion plans by offering additional value-added services coupled with lower tariffs.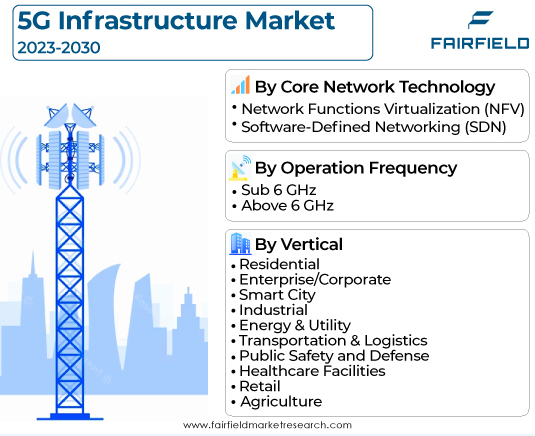 Key Report Findings
Global 5G infrastructure market size hit US$5 Bn mark in 2022
The market will most likely display a high, double-digit CAGR through the end of forecast year
Mounting high-speed data connections drive 5G infrastructure market to a large extent
Asia Pacific promises excellent opportunity despite North America's sustained lead
Nokia, Erocsson, Huawei, Cisco, and NEC remain the top five of 5G infrastructure industry
Growth Drivers
Industry 4.0 to Play a Key Role
5G not only means faster data transfer rates but also brings significant improvements to overall spectral efficiency – making it possible for more users and devices to connect simultaneously without compromising quality – as well as reduced latency. As 5G supports wider bandwidths (up to 1 Gbps), it can serve even more customers with multiple services beyond wireless communications. This is expected to drive the revenue growth of 5G infrastructure market.
5G-ready ICT (information and communication technology) and 5G software and applications will power the next wave of automation, bringing benefits to several industries: from manufacturing, transportation, and farming to healthcare. More importantly, they will also enable new business models such as the 'Industry 4.0' – which is based on collaborative networking (also known as cyber-physical systems or CPS), smart homes, smart factories, and connected/autonomous cars among others – leading to improved customer satisfaction, reduced costs for operators and faster response times.
The enormous amount of data generated by every device within the 5G infrastructure cannot be processed adequately by humans alone. According to IDC reports, Artificial Intelligence (AI)-driven automation and analytics have already been adopted by almost half of the organizations for use in the IoT environment. Most of these companies (58%) consider cognitive computing as a key element that will help them derive maximum value from their IoT environments and applications.
A Mass Shift from 2G/3G/4G Underway
Technological advancements have been made by operators in recent years across all geographies which have led them to introduce 4G LTE networks that support data speeds up to 300 Mbps. To retain their customers and attract new ones, operators are continuously upgrading their existing networks to 5G through the process of equipment upgrades. There is an underlying shift from 2G/3G/4G technologies towards 5G in most regions due to the increasing penetration of smartphones and other wireless devices among consumers. The increasing of smartphones and internet of things (IoT) devices is expected to bolster the growth of the 5G infrastructure market.
Massive Growth in Demand for High-speed Connections
Most of the 5G connected devices will be installed on roads and cities, where networks today are patchy at best. To upgrade their infrastructure, telecoms companies need to install fiber optic cables more frequently than before-in addition to radio systems like 4G LTE. And by the end of 2021, IoT devices are estimated to generate 2.9 quintillion bytes of data every single day. That is a massive amount of information. And with 5G data speeds almost 100 times faster than 4G LTE, this data could move in milliseconds. This huge demand for high-speed connections has led companies like Huawei, and ZTE to develop chipsets aimed primarily at IoT devices, with speeds up to 10 Gbps (bits per second), thereby widening the scope of growth for 5G infrastructure market space.
Telecom Companies Seek High-speed Broadband
The telecom companies are keen to invest in this segment due to the increasing demand for high-speed broadband. The operators are upgrading their existing networks to cater to both voice and data services at higher speeds by introducing 5G, which is set to revolutionize the mobile industry. Operators, including Dutch telco KPN and the US wireless carrier Verizon have already introduced 5G in a limited number of cities in their respective countries. Such developments will continue to complement the pace of 5G infrastructure market.
Growth Challenges
There are several challenges before the technology will become mainstream. Early adopters may likely have to wait until 2025 to experience next-generation connectivity speeds-the same time when current 4G networks may consequently become obsolete.
Growth Opportunities Across Regions
North America's Lead Prevails
The North American 5G infrastructure market is expected to account for a major share of the global 5G infrastructure market from 2021 to 2027 due to the presence of leading telecom operators such as AT&T Inc., Sprint Corporation, T-Mobile US Inc., and Verizon Communications Inc., which are striving hard to upgrade their existing networks to 5G across various cities using advanced equipment. In addition, many companies operating in this market offers network connectivity solutions under a managed service model that allow to migrate towards 100% cloud-based storage data centers.
Opportunities Flourish in Asia Pacific
Furthermore, the Asia Pacific's 5G infrastructure market is expected to show tremendous growth in this market owing to the increasing penetration of smartphones, and other wireless devices among consumers. The widespread presence of 4G LTE networks across major countries, such as China, Japan, Australia, Korea, and India will contribute to the development of 5G infrastructure in the Asia Pacific region during the forecast timeframe.
Players on Deployment of 5G Standalone Infrastructure
Industry analysts have been speculating about the possibility of an initial 5G launch for a few years now. The initial deployment of standalone 5G will occur rather than deploying "5G" as another antenna/radio version of LTE. We are likely to see initial launches in 2020 and 2021 that operate with standalone radios. Our checks suggest equipment makers and operators see value in launching 5G initially with stand-alone features (SA) versus the more advanced options, potentially opening higher returns and demand sooner. We think early technology deployments could use SA radio tech combined with 4G core network enablers, which may simplify the early 5G use cases and equipment design. This will significantly influence the growth of 5G infrastructure market growth.
The launch of LTE-Advanced (LTE-A) multiple carrier aggregation (MC) has led to rapid adoption by global carriers as it provides a significant speed boost over traditional LTE technologies and offers lower latencies than other radio access technologies for an enhanced user experience. We expect operators will be nervous about deploying this technology without first having 4G core enablers in place to secure their business case and reduce capex exposure. Nonetheless, we believe many will take a wait-and-see approach on SA 4G enablers before deciding to deploy SA MC. For those that do, demand for standalone radio units could be strong given those vendors have already launched pre-standards 5G air interfaces in preparation for 2020/2021 launches.
We believe the initial SA equipment market could be about $1bn across RAN, backhaul, and Fronthaul, split around equally between RAN and core network enablers. This would be higher than an LTE-A MC deployment due to the requirement of independent cells (rather than aggregating multiple carriers over time slots within a single cell), which we expect will require dedicated radio channel bandwidths. We also believe this technology will enable more mobile edge computing applications, such as AI and VR/AR, forcing operators to upgrade their networks with speed and latency requirements that allow for real-time processing of data delivered from the radio access network.
Demand for standalone units could be more than two-thirds of the overall SA equipment market, with RAN accounting for 60% and Fronthaul/Backhaul accounting for 40%. We expect Qualcomm (QCOM), Ericsson (ERIC), Nokia (NOK), and Huawei to be well-positioned in this new 5G radio space given their current technology portfolio and lead over the competition. Other potential winners include Samsung (OTC:SSNLF) and China's Unigroup Spreadtrum (UNTD).
5G Infrastructure Market Competition
In the US, there is a global race for 5G wireless technology. In early February 2017, AT&T announced it would acquire Straight Path Communications to strengthen its position in this technology. This move came shortly after Verizon filed a lawsuit against Straight Path accusing it of infringing on several wireless patents before selling off the company. This trend was further boosted by news that China will set up large-scale 5G test sites covering all city levels by 2020 and has started to evaluate mobile phones with integrated 5G chipsets. The Chinese government has also reportedly applied pressure on national smartphone manufacturers to speed up the development of mobile devices compatible with 5G infrastructure. Globally, there are currently only two commercialized chipsets that support an interface between 4G and 5G.
The evolution to higher frequency bands (the millimeter wave) and the introduction of new network architecture will drive radical changes in wireless communication networks. The capacity, performance, and potential applications of this technology are expected to take a huge leap forward, in turn bolstering the 5G infrastructure market. However, the total cost for all operators worldwide is estimated to reach $300 billion between 2016 and 2025 – yet another motivation for global expansion and escalating competition among existing players.
Vendor Landscape
The key players operating in the global 5G infrastructure market include Nokia Corporation (Finland), Cisco Systems, Incorporated (US), Ericsson AB (Sweden), Huawei Technologies Co., Ltd. (China), NEC Corporation (Japan), Qualcomm Incorporated (US), and ZTE Corporation (China) among others.
Regional Classification of Global 5G Infrastructure Market Can be Given as Below:
North America
Europe
Germany
France
Spain
U.K.
Italy
Russia
Rest of Europe
Asia Pacific
China
Japan
India
Southeast Asia
Rest of Asia Pacific
Latin America
Brazil
Mexico
Rest of Latin America
Middle East and Africa
GCC
South Africa
Rest of Middle East and Africa
*Regions and countries are subject to change based on data availability.
Key Elements Included In The Study: Global 5G Infrastructure Market
5G Infrastructure Market by Product/Technology/Grade, Application/End-user, and Region
Executive Summary (Opportunity Analysis and Key Trends)
Historical Market Size and Estimates, Value, 2019 - 2022
Market Value at Regional and Country Level, 2023 - 2030
Market Dynamics and Economic Overview
Market Size in Value, Growth Rates, and Forecast Figures, 2023 - 2030
Competitive Intelligence with Financials, Key Developments, and Portfolio of Leading Companies
Regional and Product/Grade/Application/End-user Price Trends Analysis
Value Chain and Five Force's Analysis
Regional/Sub-region/Country Market Size and Trend Analysis
Company Market Share Analysis and Key Player Profiles
Post Sale Support, Research Updates & Offerings
We value the trust shown by our customers in Fairfield Market Research. We support our clients through our post sale support, research updates and offerings.
The report will be prepared in a PPT format and will be delivered in a PDF format.
Additionally, Market Estimation and Forecast numbers will be shared in Excel Workbook.
If a report being sold was published over a year ago, we will offer a complimentary copy of the updated research report along with Market Estimation and Forecast numbers within 2-3 weeks' time of the sale.
If we update this research study within the next 2 quarters, post purchase of the report, we will offer a Complimentary copy of the updated Market Estimation and Forecast numbers in Excel Workbook.
If there is a geopolitical conflict, pandemic, recession, and the like which can impact global economic scenario and business activity, which might entirely alter the market dynamics or future projections in the industry, we will create a Research Update upon your request at a nominal charge.
1. Executive Summary
1.1. Global 5G Infrastructure Market: Snapshot
1.2. Future Projections, 2023 - 2030, (US$ Mn)
1.3. Key Segment Analysis and Competitive Insights
1.4. Premium Insights

2. Market Overview
2.1. Market Definitions and Segmentation
2.2. Market Dynamics
2.2.1. Driver
2.2.2. Restraint
2.2.3. Industry Challenges & Opportunities
2.3. Market Forces Analysis
2.3.1. Value Chain Analysis
2.3.2. Porters Five Forces Analysis
2.4. Challenges and Solutions
2.5. Supply Chain Impact Analysis
2.6. COVID-19 Impact Analysis
2.6.1. Pre and Post Covid-19 Analysis
2.7. Regulatory Scenario
2.8. Economic Analysis

3. Global 5G Infrastructure Market Outlook, 2019 - 2030
3.1. Global 5G Infrastructure Market Outlook, by Communications Infrastructure, Value (US$ Mn), 2019 - 2030
3.1.1. Key Highlights
3.1.2. Small Cell
3.1.3. Macro Cell
3.2. Global 5G Infrastructure Market Outlook, by Core Network Technology, Value (US$ Mn), 2019 - 2030
3.2.1. Key Highlights
3.2.1.1. Network Functions Virtualization (NFV)
3.2.1.2. Software-Defined Networking (SDN)
3.3. Global 5G Infrastructure Market Outlook, by Network Architecture, Value (US$ Mn), 2019 - 2030
3.3.1. Key Highlights
3.3.1.1. 5G NR Non-Standalone (LTE Combined)
3.3.1.2. 5G Standalone (NR + Core)
3.4. Global 5G Infrastructure Market Outlook, by Verticals, Value (US$ Mn), 2019 - 2030
3.4.1. Key Highlights
3.4.1.1. Residential
3.4.1.2. Enterprise/Corporate
3.4.1.3. Smart City
3.4.1.4. Industrial
3.4.1.5. Energy & Utility
3.4.1.6. Transportation & Logistics
3.4.1.7. Public Safety and Defense
3.4.1.8. Healthcare Facilities
3.4.1.9. Retail
3.4.1.10. Agriculture
3.5. Others Global 5G Infrastructure Market Outlook, by Operation Frequency, Value (US$ Mn), 2019 - 2030
3.5.1. Key Highlights
3.5.1.1. Sub 6 GHz
3.5.1.2. Above 6 GHz
3.6. Global 5G Infrastructure Market Outlook, by End-user, Value (US$ Mn), 2019 - 2030
3.6.1. Key Highlights
3.6.1.1. Residential
3.6.1.2. Commercial
3.6.1.3. Industrial
3.6.1.4. Government
3.7. Global 5G Infrastructure Market Outlook, by Region, Value (US$ Mn), 2019 - 2030
3.7.1. Key Highlights
3.7.1.1. North America
3.7.1.2. Europe
3.7.1.3. Asia Pacific
3.7.1.4. Latin America
3.7.1.5. Middle East & Africa
3.7.2. Market Attractiveness Analysis

4. North America 5G Infrastructure Market Outlook, 2019 - 2030
4.1. North America 5G Infrastructure Market Outlook, by Communications Infrastructure, Value (US$ Mn), 2019 - 2030
4.1.1. Key Highlights
4.1.2. Small Cell
4.1.3. Macro Cell
4.2. North America 5G Infrastructure Market Outlook, by Core Network Technology, Value (US$ Mn), 2019 - 2030
4.2.1. Key Highlights
4.2.1.1. Network Functions Virtualization (NFV)
4.2.1.2. Software-Defined Networking (SDN)
4.3. North America 5G Infrastructure Market Outlook, by Network Architecture, Value (US$ Mn), 2019 - 2030
4.3.1. Key Highlights
4.3.1.1. 5G NR Non-Standalone (LTE Combined)
4.3.1.2. 5G Standalone (NR + Core)
4.4. North America 5G Infrastructure Market Outlook, by Verticals, Value (US$ Mn), 2019 - 2030
4.4.1. Key Highlights
4.4.1.1. Residential
4.4.1.2. Enterprise/Corporate
4.4.1.3. Smart City
4.4.1.4. Industrial
4.4.1.5. Energy & Utility
4.4.1.6. Transportation & Logistics
4.4.1.7. Public Safety and Defense
4.4.1.8. Healthcare Facilities
4.4.1.9. Retail
4.4.1.10. Agriculture
4.4.1.11. Others
4.5. North America 5G Infrastructure Market Outlook, by Operation Frequency, Value (US$ Mn), 2019 - 2030
4.5.1. Key Highlights
4.5.1.1. Sub 6 GHz
4.5.1.2. Above 6 GHz
4.6. North America 5G Infrastructure Market Outlook, by End-user, Value (US$ Mn), 2019 - 2030
4.6.1. Key Highlights
4.6.1.1. Residential
4.6.1.2. Commercial
4.6.1.3. Industrial
4.6.1.4. Government
4.7. North America 5G Infrastructure Market Outlook, by Country, Value (US$ Mn), 2019 - 2030
4.7.1. Key Highlights
4.7.1.1. U.S.
4.7.1.2. Canada

5. Europe 5G Infrastructure Market Outlook, 2019 - 2030
5.1. Europe 5G Infrastructure Market Outlook, by Communications Infrastructure, Value (US$ Mn), 2019 - 2030
5.1.1. Key Highlights
5.1.2. Small Cell
5.1.3. Macro Cell
5.2. Europe 5G Infrastructure Market Outlook, by Core Network Technology, Value (US$ Mn), 2019 - 2030
5.2.1. Key Highlights
5.2.1.1. Network Functions Virtualization (NFV)
5.2.1.2. Software-Defined Networking (SDN)
5.3. Europe 5G Infrastructure Market Outlook, by Network Architecture, Value (US$ Mn), 2019 - 2030
5.3.1. Key Highlights
5.3.1.1. 5G NR Non-Standalone (LTE Combined)
5.3.1.2. 5G Standalone (NR + Core)
5.4. Europe 5G Infrastructure Market Outlook, by Verticals, Value (US$ Mn), 2019 - 2030
5.4.1. Key Highlights
5.4.1.1. Residential
5.4.1.2. Enterprise/Corporate
5.4.1.3. Smart City
5.4.1.4. Industrial
5.4.1.5. Energy & Utility
5.4.1.6. Transportation & Logistics
5.4.1.7. Public Safety and Defense
5.4.1.8. Healthcare Facilities
5.4.1.9. Retail
5.4.1.10. Agriculture
5.4.1.11. Others
5.5. Europe 5G Infrastructure Market Outlook, by Operation Frequency, Value (US$ Mn), 2019 - 2030
5.5.1. Key Highlights
5.5.1.1. Sub 6 GHz
5.5.1.2. Above 6 GHz
5.6. Europe 5G Infrastructure Market Outlook, by End-user, Value (US$ Mn), 2019 - 2030
5.6.1. Key Highlights
5.6.1.1. Residential
5.6.1.2. Commercial
5.6.1.3. Industrial
5.6.1.4. Government
5.7. Europe 5G Infrastructure Market Outlook, by Country, Value (US$ Mn), 2019 - 2030
5.7.1. Key Highlights
5.7.1.1. Germany
5.7.1.2. France
5.7.1.3. U.K.
5.7.1.4. Italy
5.7.1.5. Rest of Europe
5.7.2. BPS Analysis/Market Attractiveness Analysis

6. Asia Pacific 5G Infrastructure Market Outlook, 2019 - 2030
6.1. Asia Pacific 5G Infrastructure Market Outlook, by Communications Infrastructure, Value (US$ Mn), 2019 - 2030
6.1.1. Key Highlights
6.1.2. Small Cell
6.1.3. Macro Cell
6.2. Asia Pacific 5G Infrastructure Market Outlook, by Core Network Technology, Value (US$ Mn), 2019 - 2030
6.2.1. Key Highlights
6.2.1.1. Network Functions Virtualization (NFV)
6.2.1.2. Software-Defined Networking (SDN)
6.3. Asia Pacific 5G Infrastructure Market Outlook, by Network Architecture, Value (US$ Mn), 2019 - 2030
6.3.1. Key Highlights
6.3.1.1. 5G NR Non-Standalone (LTE Combined)
6.3.1.2. 5G Standalone (NR + Core)
6.4. Asia Pacific 5G Infrastructure Market Outlook, by Verticals, Value (US$ Mn), 2019 - 2030
6.4.1. Key Highlights
6.4.1.1. Residential
6.4.1.2. Enterprise/Corporate
6.4.1.3. Smart City
6.4.1.4. Industrial
6.4.1.5. Energy & Utility
6.4.1.6. Transportation & Logistics
6.4.1.7. Public Safety and Defense
6.4.1.8. Healthcare Facilities
6.4.1.9. Retail
6.4.1.10. Agriculture
6.4.1.11. Others
6.5. Asia Pacific 5G Infrastructure Market Outlook, by Operation Frequency, Value (US$ Mn), 2019 - 2030
6.5.1. Key Highlights
6.5.1.1. Sub 6 GHz
6.5.1.2. Above 6 GHz
6.6. Asia Pacific 5G Infrastructure Market Outlook, by End-user, Value (US$ Mn), 2019 - 2030
6.6.1. Key Highlights
6.6.1.1. Residential
6.6.1.2. Commercial
6.6.1.3. Industrial
6.6.1.4. Government
6.7. Asia Pacific 5G Infrastructure Market Outlook, by Country, Value (US$ Mn), 2019 - 2030
6.7.1. Key Highlights
6.7.1.1. China
6.7.1.2. Japan
6.7.1.3. South Korea
6.7.1.4. India
6.7.1.5. Rest of Asia Pacific
6.7.2. BPS Analysis/Market Attractiveness Analysis

7. Latin America 5G Infrastructure Market Outlook, 2019 - 2030
7.1. Latin America 5G Infrastructure Market Outlook, by Communications Infrastructure, Value (US$ Mn), 2019 - 2030
7.1.1. Key Highlights
7.1.2. Small Cell
7.1.3. Macro Cell
7.2. Latin America 5G Infrastructure Market Outlook, by Core Network Technology, Value (US$ Mn), 2019 - 2030
7.2.1. Key Highlights
7.2.1.1. Network Functions Virtualization (NFV)
7.2.1.2. Software-Defined Networking (SDN)
7.3. Latin America 5G Infrastructure Market Outlook, by Network Architecture, Value (US$ Mn), 2019 - 2030
7.3.1. Key Highlights
7.3.1.1. 5G NR Non-Standalone (LTE Combined)
7.3.1.2. 5G Standalone (NR + Core)
7.4. Latin America 5G Infrastructure Market Outlook, by Verticals, Value (US$ Mn), 2019 - 2030
7.4.1. Key Highlights
7.4.1.1. Residential
7.4.1.2. Enterprise/Corporate
7.4.1.3. Smart City
7.4.1.4. Industrial
7.4.1.5. Energy & Utility
7.4.1.6. Transportation & Logistics
7.4.1.7. Public Safety and Defense
7.4.1.8. Healthcare Facilities
7.4.1.9. Retail
7.4.1.10. Agriculture
7.4.1.11. Others
7.5. Latin America 5G Infrastructure Market Outlook, by Operation Frequency, Value (US$ Mn), 2019 - 2030
7.5.1. Key Highlights
7.5.1.1. Sub 6 GHz
7.5.1.2. Above 6 GHz
7.6. Latin America 5G Infrastructure Market Outlook, by End-user, Value (US$ Mn), 2019 - 2030
7.6.1. Key Highlights
7.6.1.1. Residential
7.6.1.2. Commercial
7.6.1.3. Industrial
7.6.1.4. Government
7.7. Latin America 5G Infrastructure Market Outlook, by Country, Value (US$ Mn), 2019 - 2030
7.7.1. Key Highlights
7.7.1.1. Brazil
7.7.1.2. Mexico
7.7.1.3. Rest of Latin America
7.7.2. BPS Analysis/Market Attractiveness Analysis

8. Middle East & Africa 5G Infrastructure Market Outlook, 2019 - 2030
8.1. Middle East & Africa 5G Infrastructure Market Outlook, by Communications Infrastructure, Value (US$ Mn), 2019 - 2030
8.1.1. Key Highlights
8.1.2. Small Cell
8.1.3. Macro Cell
8.2. Middle East & Africa 5G Infrastructure Market Outlook, by Core Network Technology, Value (US$ Mn), 2019 - 2030
8.2.1. Key Highlights
8.2.1.1. Network Functions Virtualization (NFV)
8.2.1.2. Software-Defined Networking (SDN)
8.3. Middle East & Africa 5G Infrastructure Market Outlook, by Network Architecture, Value (US$ Mn), 2019 - 2030
8.3.1. Key Highlights
8.3.1.1. 5G NR Non-Standalone (LTE Combined)
8.3.1.2. 5G Standalone (NR + Core)
8.4. Middle east & Africa 5G Infrastructure Market Outlook, by Verticals, Value (US$ Mn), 2019 - 2030
8.4.1. Key Highlights
8.4.1.1. Residential
8.4.1.2. Enterprise/Corporate
8.4.1.3. Smart City
8.4.1.4. Industrial
8.4.1.5. Energy & Utility
8.4.1.6. Transportation & Logistics
8.4.1.7. Public Safety and Defense
8.4.1.8. Healthcare Facilities
8.4.1.9. Retail
8.4.1.10. Agriculture
8.4.1.11. Others
8.5. Middle East & Africa 5G Infrastructure Market Outlook, by Operation Frequency, Value (US$ Mn), 2019 - 2030
8.5.1. Key Highlights
8.5.1.1. Sub 6 GHz
8.5.1.2. Above 6 GHz
8.6. Middle East & Africa 5G Infrastructure Market Outlook, by End-user, Value (US$ Mn), 2019 - 2030
8.6.1. Key Highlights
8.6.1.1. Residential
8.6.1.2. Commercial
8.6.1.3. Industrial
8.6.1.4. Government
8.7. Middle East & Africa 5G Infrastructure Market Outlook, by Country, Value (US$ Mn), 2019 - 2030
8.7.1. Key Highlights
8.7.1.1. GCC
8.7.1.2. South Africa
8.7.1.3. Rest of Middle East & Africa
8.7.2. BPS Analysis/Market Attractiveness Analysis

9. Competitive Landscape
9.1. Company Market Share Analysis, 2021
9.2. Competition Matrix (By Tier and Size of companies)
9.3. Strategic Collaborations
9.3.1. Joint Ventures
9.3.2. Mergers & Acquisitions
9.4. Company Profiles
9.4.1. Huawei
9.4.1.1. Company Overview
9.4.1.2. Product Portfolio
9.4.1.3. Financial Overview
9.4.1.4. Business Strategies and Development
(*Note: Above details would be available for below list of companies based on availability)
9.4.2. Samsung Electronics Co., Ltd.
9.4.3. Nokia Corporation
9.4.4. Telefonaktiebolaget LM Ericsson
9.4.5. ZTE Corporation
9.4.6. NEC Corporation
9.4.7. Cisco Systems, Inc.
9.4.8. Fujitsu Limited
9.4.9. CommScope Inc.
9.4.10. Comba Telecom Systems Holdings Ltd.
9.4.11. Altiostar
9.4.12. Airspan Networks
9.4.13. Casa Systems
9.4.14. Hewlett Packard Enterprise Development LP
9.4.15. Mavenir
9.4.16. Parallel Wireless
9.4.17. JMA Wireless
9.4.18. Ceragon
9.4.19. Aviat Networks, Inc.

10. Appendix
10.1. Acronyms and Abbreviations
10.2. Research Scope & Assumptions
10.3. Research Methodology and Information Sources