Global agricultural micronutrients market surpassed the valuation of US$4 Bn in 2022 and will most likely maintain a stable growth trajectory throughout the period of projection.
Market Analysis in Brief
Micronutrient deficiency in soil is a common problem across the globe. However, it differs depending on factors such as soil condition, atmospheric changes, deforestation, and rainfall. Soil erosion, a negative by-product of farming, results in depletion of micronutrients from soil, which is driving need for agricultural micronutrients. Moreover, fertilization through use of excess phosphate also contributes to scarcity of micronutrients as phosphate reduces supply of agricultural micronutrients such as zinc, copper, and iron to crops through soil. This is primarily driving the need of using agricultural micronutrients, in turn favoring the growth of global agricultural micronutrients market.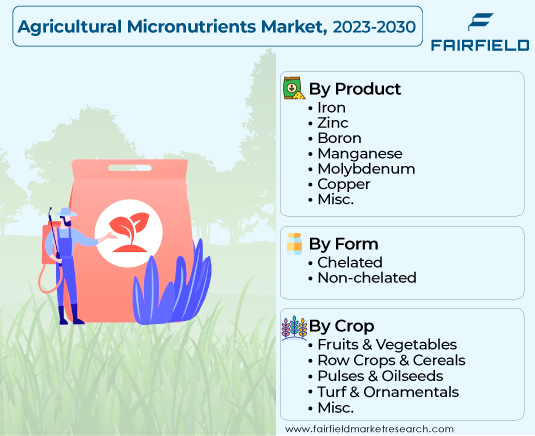 Key Report Findings
The approximately US$4 Bn agricultural micronutrients market (as of 2022) is poised to observe steady growth by 2030
Crop fortification initiatives of governments will majorly contribute toward market expansion
Bio-fortification of grains gathers momentum, zinc bio-fortification gains traction
Asia Pacific represents a significant market while China, and India spearhead the regional agricultural micronutrients market
Growth Drivers
Supportive Government Initiatives
Concerns regarding crop and human health have pushed industry professionals worldwide to mull over fortifying crops with essential agricultural micronutrients. Governments are working towards battling micronutrient deficiency by promoting fortification of crops in a bid to provide healthy yield and quality output. For instance, Indian government, under PM Kisan scheme, will provide INR 6000 every year in three instalments to marginal and small farmer families to promote agriculture. This motivated farmers to focus on producing quality yield using different techniques such as fortifying crops with the necessary micronutrients, thereby pushing the prospects of agricultural micronutrients market up.
During 2019-2020 around 16.40 lakh hectares of land has been treated with agricultural micronutrients. Adding agricultural micronutrients not only enhance water uptake and crop yield but also results in stronger and healthier crops. Underpinned by their intrinsic benefits combined with favorable government support, agricultural micronutrients are likely to witness significant demand in the coming years.
Growth Challenges
Lack of Adequate Knowledge and Awareness
Levels of awareness, however, will be an important aspect that is likely to hinder growth of the global agricultural micronutrients market. Lower awareness of agricultural micronutrient benefits, as compared to macronutrients is resulting in barriers with respect to their usage. Additionally, inadequate knowledge of dosage and proper application of micronutrients coupled with availability of counterfeit products is another challenge likely to impede the growth of the global agricultural micronutrients market.
Overview of Key Segments
Zinc Bio-fortification Gains Strong Ground
Zinc bio-fortification has been gaining high ground as an alternative to treat zinc deficiencies in human beings. Bio-fortification of agricultural micronutrients such as zinc is added as foliar and is injected in soil to enhance cereal-based nutrition. Moreover, declining underground water table, and micronutrient deficiency in soil has given a boost to inject zinc. Additionally, absence of agricultural micronutrients such as zinc has a negative impact on crop output, in turn questioning the food security. This is expected to create a strong breeding ground for the agricultural micronutrients market.
Importance of zinc in enhancing human immunity is yet another aspect fuelling zinc bio-fortification. Zinc deficiency has resulted into large number of deaths worldwide, among adults as well as children. For instance, According to WHO, around 8,000,000 individuals die every year due to deficiency of zinc, among which about 4,50,000 are children. UNICEF analysis shows that deaths from pneumonia and diarrhea are mainly due to zinc deficiency.
In this backdrop, government bodies are promoting bio-fortification of zinc to boost immunity. For instance, Indian government recently announced to supply bio-fortified grains to indigent people - a remarkable move to boost nutrition security, which is expected to boost zinc bio-fortification in the country, in turn bolstering the agricultural micronutrients market here.
Growth Opportunities Across Regions
Asia Pacific Reflects Rapid Growth Potential
Demand for agricultural micronutrients in emerging economies of Asia Pacific is expected to witness a spike in the years to follow on the back of increasing need of food security, and immunity boost. Moreover, micronutrient deprivation is another factor fuelling demand for agricultural micronutrients across the region.
Emerging economies such as China, and India are likely to account for a significant share in the Asia Pacific's agricultural micronutrients market. Increasing population count coupled with rising need of nutritional output from crop yield is expected to translate into to a significant jump in sales of agricultural micronutrients in the coming years.
Indian Government Initiates Rice Fortification Programs
India, on the other hand, is showing increased inclination towards use of agricultural micronutrients. Rice fortification in the country has increased since past few years in a bid to battle anemia. Government of India has made it mandatory to fortify rice by adding agricultural micronutrients such as B12, folic acid and iron across all Social Safety Net Schemes by end of 2024. This process being cost-efficient, effective and a preventive method, it is being considered as a complementary strategy to reduce nutritional problem of the country. This factor is likely to shape the market for agricultural micronutrients in Asia Pacific, making it a lucrative region with potential growth opportunities.
Leading Players in Global Agricultural Micronutrients Market
Some of the key players in the global agricultural micronutrients market include Compass Minerals, BASF SE, Haifa Group, Nufarm, BMS Micro-Nutrients, Yara International, and AkzoNobel N.V.
Regional Classification of the Global Agricultural Micronutrients Market is Described Below:
North America
Europe
Germany
France
Spain
U.K.
Italy
Russia
Rest of Europe
Asia Pacific
China
Japan
India
Southeast Asia
Rest of Asia Pacific
Latin America
Brazil
Mexico
Rest of Latin America
Middle East and Africa
GCC
South Africa
Rest of Middle East and Africa
*Regions and countries are subject to change based on data availability
Key Elements Included In The Study: Global Agricultural Micronutrients Market
Agricultural Micronutrients Market by Product/Technology/Grade, Application/End-user, and Region
Executive Summary (Opportunity Analysis and Key Trends)
Historical Market Size and Estimates, Value and Volume, 2018 - 2022
Volume Consumption at Regional and Country Level, 2023 - 2030
Market Dynamics and Economic Overview
Market Size in Value and Volume, Growth Rates, and Forecast Figures, 2023 - 2030
Competitive Intelligence with Financials, Key Developments, and Portfolio of Leading Companies
Regional and Product/Grade/Application/End-user Price Trends Analysis
Production Output Analysis (Major Producing Regions)
Value Chain and Five Force's Analysis
Regional/Sub-region/Country Market Size and Trend Analysis
Company Market Share Analysis and Key Player Profiles
Post Sale Support, Research Updates & Offerings
We value the trust shown by our customers in Fairfield Market Research. We support our clients through our post sale support, research updates and offerings.
The report will be prepared in a PPT format and will be delivered in a PDF format.
Additionally, Market Estimation and Forecast numbers will be shared in Excel Workbook.
If a report being sold was published over a year ago, we will offer a complimentary copy of the updated research report along with Market Estimation and Forecast numbers within 2-3 weeks' time of the sale.
If we update this research study within the next 2 quarters, post purchase of the report, we will offer a Complimentary copy of the updated Market Estimation and Forecast numbers in Excel Workbook.
If there is a geopolitical conflict, pandemic, recession, and the like which can impact global economic scenario and business activity, which might entirely alter the market dynamics or future projections in the industry, we will create a Research Update upon your request at a nominal charge.
1. Executive Summary
1.1. Global Agricultural Micronutrients Market Snapshot
1.2. Key Market Trends
1.3. Future Projections
1.4. Analyst Recommendations

2. Market Overview
2.1. Market Definitions and Segmentations
2.2. Market Dynamics
2.2.1. Drivers
2.2.1.1. Driver A
2.2.1.2. Driver B
2.2.1.3. Driver C
2.2.2. Restraints
2.2.2.1. Restraint 1
2.2.2.2. Restraint 2
2.2.3. Market Opportunities Matrix
2.3. Value Chain Analysis
2.4. Porter's Five Forces Analysis
2.5. Covid-19 Impact Analysis
2.5.1. Pre-covid and Post-covid Scenario
2.5.2. Supply Impact
2.5.3. Demand Impact
2.6. Government Regulations
2.7. Technology Landscape
2.8. Packaging Market – Overview and Trends
2.9. Economic Analysis
2.10. PESTLE

3. Price Trends Analysis and Future Projects, 2018 - 2030
3.1. Key Highlights
3.2. Prominent Factors Affecting Prices
3.3. By Product
3.4. By Region

4. Global Agricultural Micronutrients Market Outlook, 2018 - 2030
4.1. Global Agricultural Micronutrients Market Outlook, by Product, Volume (Tons) and Value (US$ Mn), 2018 - 2030
4.1.1. Key Highlights
4.1.1.1. Iron
4.1.1.2. Zinc
4.1.1.3. Boron
4.1.1.4. Manganese
4.1.1.5. Molybdenum
4.1.1.6. Copper
4.1.1.7. Misc.
4.2. Global Agricultural Micronutrients Market Outlook, by Mode of Application, Volume (Tons) and Value (US$ Mn), 2018 - 2030
4.2.1. Key Highlights
4.2.1.1. Foliar
4.2.1.2. Soil
4.2.1.3. Fertigation
4.2.1.4. Seed Treatment
4.2.1.5. Misc.
4.3. Global Agricultural Micronutrients Market Outlook, by Form, Volume (Tons) and Value (US$ Mn), 2018 - 2030
4.3.1. Key Highlights
4.3.1.1. Chelated
4.3.1.2. Non-chelated
4.4. Global Agricultural Micronutrients Market Outlook, by Crop Type, Volume (Tons) and Value (US$ Mn), 2018 - 2030
4.4.1. Key Highlights
4.4.1.1. Fruits & Vegetables
4.4.1.2. Row Crops & Cereals
4.4.1.3. Pulses & Oilseeds
4.4.1.4. Turf & Ornamentals
4.4.1.5. Misc.
4.4.2. BPS Analysis/Market Attractiveness Analysis
4.5. Global Agricultural Micronutrients Market Outlook, by Region, Volume (Tons) and Value (US$ Mn), 2018 - 2030
4.5.1. Key Highlights
4.5.1.1. North America
4.5.1.2. Europe
4.5.1.3. Asia Pacific
4.5.1.4. Latin America
4.5.1.5. Middle East & Africa
4.5.2. BPS Analysis/Market Attractiveness Analysis

5. North America Agricultural Micronutrients Market Outlook, 2018 - 2030
5.1. North America Agricultural Micronutrients Market Outlook, by Product, Volume (Tons) and Value (US$ Mn), 2018 - 2030
5.1.1. Key Highlights
5.1.1.1. Iron
5.1.1.2. Zinc
5.1.1.3. Boron
5.1.1.4. Manganese
5.1.1.5. Molybdenum
5.1.1.6. Copper
5.1.1.7. Misc.
5.2. North America Agricultural Micronutrients Market Outlook, by Mode of Application, Volume (Tons) and Value (US$ Mn), 2018 - 2030
5.2.1. Key Highlights
5.2.1.1. Foliar
5.2.1.2. Soil
5.2.1.3. Fertigation
5.2.1.4. Seed Treatment
5.2.1.5. Misc.
5.3. North America Agricultural Micronutrients Market Outlook, by Form, Volume (Tons) and Value (US$ Mn), 2018 - 2030
5.3.1. Key Highlights
5.3.1.1. Chelated
5.3.1.2. Non-chelated
5.4. North America Agricultural Micronutrients Market Outlook, by Crop Type, Volume (Tons) and Value (US$ Mn), 2018 - 2030
5.4.1. Key Highlights
5.4.1.1. Fruits & Vegetables
5.4.1.2. Row Crops & Cereals
5.4.1.3. Pulses & Oilseeds
5.4.1.4. Turf & Ornamentals
5.4.1.5. Misc.
5.5. North America Agricultural Micronutrients Market Outlook, by Country, Volume (Tons) and Value (US$ Mn), 2018 - 2030
5.5.1. Key Highlights
5.5.1.1. U.S.
5.5.1.2. Canada
5.5.2. BPS Analysis/Market Attractiveness Analysis

6. Europe Agricultural Micronutrients Market Outlook, 2018 - 2030
6.1. Europe Agricultural Micronutrients Market Outlook, by Product, Volume (Tons) and Value (US$ Mn), 2018 - 2030
6.1.1. Key Highlights
v6.1.1.1. Iron
6.1.1.2. Zinc
6.1.1.3. Boron
6.1.1.4. Manganese
6.1.1.5. Molybdenum
6.1.1.6. Copper
6.1.1.7. Misc.
6.2. Europe Agricultural Micronutrients Market Outlook, by Mode of Application, Volume (Tons) and Value (US$ Mn), 2018 - 2030
6.2.1. Key Highlights
6.2.1.1. Foliar
6.2.1.2. Soil
6.2.1.3. Fertigation
6.2.1.4. Seed Treatment
6.2.1.5. Misc.
6.3. Europe Agricultural Micronutrients Market Outlook, by Form, Volume (Tons) and Value (US$ Mn), 2018 - 2030
6.3.1. Key Highlights
6.3.1.1. Chelated
6.3.1.2. Non-chelated
6.4. Europe Agricultural Micronutrients Market Outlook, by Crop Type, Volume (Tons) and Value (US$ Mn), 2018 - 2030
6.4.1. Key Highlights
6.4.1.1. Fruits & Vegetables
6.4.1.2. Row Crops & Cereals
6.4.1.3. Pulses & Oilseeds
6.4.1.4. Turf & Ornamentals
6.4.1.5. Misc.
6.5. Europe Agricultural Micronutrients Market Outlook, by Country, Volume (Tons) and Value (US$ Mn), 2018 - 2030
6.5.1. Key Highlights
6.5.1.1. Germany
6.5.1.2. France
6.5.1.3. U.K.
6.5.1.4. Italy
6.5.1.5. Spain
6.5.1.6. Russia
6.5.1.7. Rest of Europe
6.5.2. BPS Analysis/Market Attractiveness Analysis

7. Asia Pacific Agricultural Micronutrients Market Outlook, 2018 - 2030
7.1. Asia Pacific Agricultural Micronutrients Market Outlook, by Product, Volume (Tons) and Value (US$ Mn), 2018 - 2030
7.1.1. Key Highlights
7.1.1.1. Iron
7.1.1.2. Zinc
7.1.1.3. Boron
7.1.1.4. Manganese
7.1.1.5. Molybdenum
7.1.1.6. Copper
7.1.1.7. Misc.
7.2. Asia Pacific Agricultural Micronutrients Market Outlook, by Mode of Application, Volume (Tons) and Value (US$ Mn), 2018 - 2030
7.2.1. Key Highlights
7.2.1.1. Foliar
7.2.1.2. Soil
7.2.1.3. Fertigation
7.2.1.4. Seed Treatment
7.2.1.5. Misc.
7.3. Asia Pacific Agricultural Micronutrients Market Outlook, by Form, Volume (Tons) and Value (US$ Mn), 2018 - 2030
7.3.1. Key Highlights
7.3.1.1. Chelated
7.3.1.2. Non-chelated
7.4. Asia Pacific Agricultural Micronutrients Market Outlook, by Crop Type, Volume (Tons) and Value (US$ Mn), 2018 - 2030
7.4.1. Key Highlights
7.4.1.1. Fruits & Vegetables
7.4.1.2. Row Crops & Cereals
7.4.1.3. Pulses & Oilseeds
7.4.1.4. Turf & Ornamentals
7.4.1.5. Misc.
7.5. Asia Pacific Agricultural Micronutrients Market Outlook, by Country, Volume (Tons) and Value (US$ Mn), 2018 - 2030
7.5.1. Key Highlights
7.5.1.1. China
7.5.1.2. Japan
7.5.1.3. South Korea
7.5.1.4. India
7.5.1.5. Southeast Asia
7.5.1.6. Rest of Asia Pacific
7.5.2. BPS Analysis/Market Attractiveness Analysis

8. Latin America Agricultural Micronutrients Market Outlook, 2018 - 2030
8.1. Latin America Agricultural Micronutrients Market Outlook, by Product, Volume (Tons) and Value (US$ Mn), 2018 - 2030
8.1.1. Key Highlights
8.1.1.1. Iron
8.1.1.2. Zinc
8.1.1.3. Boron
8.1.1.4. Manganese
8.1.1.5. Molybdenum
8.1.1.6. Copper
8.1.1.7. Misc.
8.2. Latin America Agricultural Micronutrients Market Outlook, by Mode of Application, Volume (Tons) and Value (US$ Mn), 2018 - 2030
8.2.1. Key Highlights
8.2.1.1. Foliar
8.2.1.2. Soil
8.2.1.3. Fertigation
8.2.1.4. Seed Treatment
8.2.1.5. Misc.
8.3. Latin America Agricultural Micronutrients Market Outlook, by Form, Volume (Tons) and Value (US$ Mn), 2018 - 2030
8.3.1. Key Highlights
8.3.1.1. Chelated
8.3.1.2. Non-chelated
8.4. Latin America Agricultural Micronutrients Market Outlook, by Crop Type, Volume (Tons) and Value (US$ Mn), 2018 - 2030
8.4.1. Key Highlights
8.4.1.1. Fruits & Vegetables
8.4.1.2. Row Crops & Cereals
8.4.1.3. Pulses & Oilseeds
8.4.1.4. Turf & Ornamentals
8.4.1.5. Misc.
8.5. Latin America Agricultural Micronutrients Market Outlook, by Country, Volume (Tons) and Value (US$ Mn), 2018 - 2030
8.5.1. Key Highlights
8.5.1.1. Brazil
8.5.1.2. Mexico
8.5.1.3. Rest of Latin America
8.5.2. BPS Analysis/Market Attractiveness Analysis

9. Middle East & Africa Agricultural Micronutrients Market Outlook, 2018 - 2030
9.1. Middle East & Africa Agricultural Micronutrients Market Outlook, by Product, Volume (Tons) and Value (US$ Mn), 2018 - 2030
9.1.1. Key Highlights
9.1.1.1. Iron
9.1.1.2. Zinc
9.1.1.3. Boron
9.1.1.4. Manganese
9.1.1.5. Molybdenum
9.1.1.6. Copper
9.1.1.7. Misc.
9.2. Middle East & Africa Agricultural Micronutrients Market Outlook, by Mode of Application, Volume (Tons) and Value (US$ Mn), 2018 - 2030
9.2.1. Key Highlights
9.2.1.1. Foliar
9.2.1.2. Soil
9.2.1.3. Fertigation
9.2.1.4. Seed Treatment
9.2.1.5. Misc.
9.3. Middle East & Africa Agricultural Micronutrients Market Outlook, by Form, Volume (Tons) and Value (US$ Mn), 2018 - 2030
9.3.1. Key Highlights
9.3.1.1. Chelated
9.3.1.2. Non-chelated
9.4. Middle East & Africa Agricultural Micronutrients Market Outlook, by Crop Type, Volume (Tons) and Value (US$ Mn), 2018 - 2030
9.4.1. Key Highlights
9.4.1.1. Fruits & Vegetables
9.4.1.2. Row Crops & Cereals
9.4.1.3. Pulses & Oilseeds
9.4.1.4. Turf & Ornamentals
9.4.1.5. Misc.
9.5. Middle East & Africa Agricultural Micronutrients Market Outlook, by Country, Volume (Tons) and Value (US$ Mn), 2018 - 2030
9.5.1. Key Highlights
9.5.1.1. GCC
9.5.1.2. South Africa
9.5.1.3. Rest of Middle East & Africa
9.5.2. BPS Analysis/Market Attractiveness Analysis

10. Competitive Landscape
10.1. Company Market Share Analysis, 2022
10.2. Competitive Dashboard
10.3. Company Profiles
10.3.1. Agrium Inc.
10.3.1.1. Company Overview
10.3.1.2. Mode of Application Portfolio
10.3.1.3. Financial Overview
10.3.1.4. Business Strategies and Development
(*Note: Above details would be available for below list of companies based on availability)
10.3.2. BASF SE
10.3.3. Nouryon
10.3.4. Bayer CropScience
10.3.5. Nufarm
10.3.6. Haifa Group
10.3.7. Yara International ASA
10.3.8. The Mosaic Company
10.3.9. Sumitomo Chemical Co. Ltd.
10.3.10. Syngenta International
10.3.11. Valagro
10.3.12. Koch Agronomic Services
10.3.13. RyPax

11. Appendix
11.1. Research Methodology
11.2. Report Assumptions
11.3. Acronyms and Abbreviations