Artificial Intelligence Market Outlook
Up from the valuation of more than US$29.9 Bn attained in 2019, the global artificial intelligence market is expected to be worth US$718.7 Bn by 2029. Between the years of 2022 and 2030, the global market is anticipated to register a staggering CAGR of 31.2%.
Market Analysis in Brief
As artificial intelligence is one of the fastest progressing and expanding technologies with a wealth of potential application across several industries worldwide, the technology plays a crucial role in influencing the global economy to a large extent. It also has been identified as an exceptional tech aid in national security. The global artificial intelligence market eyes a stellar growth outlook between the years of forecast. Global behemoths like Amazon, Google, Apple, IBM, Microsoft, and Facebook amplifying their investments in R&D of AI will serve a vital role in shaping up the market in long run.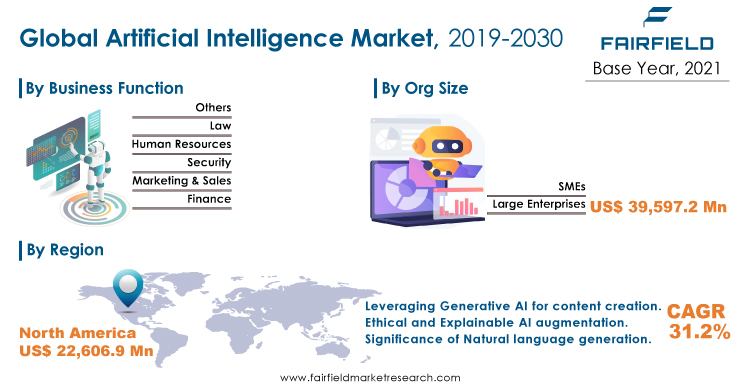 Key Report Findings
Worldwide AI market size likely to exceed US$718.7 Bn in 2030
Service-based models remain at the core of the developmental strategies of key industry participants
Research expects the largest economic gains from AI technology in North America, and China
AI consumption by BFSI segment equals over 28% of total market valuation
North America's artificial intelligence market accounts for over 29% of global industry revenue
Growth Drivers
An Influx of Investments
The International Trade Administration (ITA)'s Global artificial intelligence Market Report indicates twofold growth in global AI funding in the year 2021 over the previous one. Around 65 AI companies have already hit the billion-dollar mark. And while these statistics point to a massive AI wave worldwide, a large number of governments, as well as organizations are soon to embrace AI as a crucial aid in their business journey. The rate of investment flow points to the colossal growth of AI industry has especially taken off between 2020 and 2022 in form of the rise in total annual corporate global AI investments in startups by nearly US$5 Bn. The artificial intelligence market is thus poised to witness notable growth over the long term.
Rising Demand from Healthcare Industry
AI possesses is being employed for scanning of the pre-existing medications to later redesign their usage to combat specific diseases. While this application potentially brings down the drug development costs, ample opportunity exists when it comes to using this for taking customized healthcare services one level up. In addition to better patient outcome, and improved accessibility of the AI-enabled chatbots can completely assist. As such AI-based solutions can provide end-to-end assistance throughout the process without compromising security and safety amidst the risks of fraud, demand will most likely rise high across healthcare industry. This will push the artificial intelligence market to a large extent.
Growth Challenges
Inadequate Expertise to Operate AI
The field of data science continues to struggle with the desired expertise and the gap further aggravates with deepening penetration of automation technologies that take over data processes. Besides data science, AI, and machine learning also remain challenged by the critically growing need for having comprehensive capabilities. This factor is expected to continue posing a growth challenge in front of the artificial intelligence market through the end of 2030.
Overview of Key Segments
Adoption Highest in BFSI Sector
With more than 28% revenue share in the global artificial intelligence market, the BFSI segment will continue to surge ahead in long term. Widening uptake of the AI technology for FinTech applications, risk assessment, financial analysis, portfolio or investment management, and regulatory compliance is expected to drive top performance of the BFSI industry in terms of AI consumption in the worldwide AI industry. Rampant e-Commerce expansion represents a strong factor underpinning the next key positioning of e-Commerce segment in uplifting the prospects of AI market. Along with retail, the segment currently accounts for over 19% market share, shows report.
Healthcare to Emerge Lucrative
Adoption across healthcare is likely to surge in line with a growing number of potential use cases in segments like hospital workflow management, robotic surgeries, nursing and medication assistance, clinical trials, and primary diagnosis. The other key business verticals include automotive and transportation, retail, agriculture, healthcare, manufacturing, and e-Commerce. The high opportunity bearers, i.e., manufacturing industry and government & defense, together contribute more than 25% revenue to the global AI market value.
Growth Opportunities Across Regions
North America's Primacy Intact
Banking on higher spending of governments, as well as public sector on AI technology, North America that currently spearheads the global artificial intelligence market will retain its leading position in the long run, foresees the report. The region accounts for more than 29% share in the overall market valuation, followed by Asia Pacific, and Europe. The markets of North America, and Europe collectively hold over 55%.
The US market continues to enjoy the first-mover's advantage and the report marks a crucial factor complementing the key position of the US in global artificial intelligence industry. The American AI Initiative that was launched in the year 2019 by the then president with an intent to reaffirm America's leadership in AI. Under this initiative, the Federal agencies had formed a set of guidelines for public over the development and real-life implementation of AI-enabled systems. This has been a major booster to the North American market.
Asia Pacific All Set for an AI-ready Future
With sizeable investments flowing in, the Asia Pacific artificial intelligence market will demonstrate significant growth in revenue through the end of forecast period. The region is also likely to benefit largely from the thriving start-up sector, improving funds, and growing inclination toward process automation and greater efficiency. Asia Pacific's AI market represents more than a fourth of the global market valuation.
Key Players in AI Industry
Microsoft Corporation, Cisco Systems, Sailpoint Technologies, IBM, Oracle, DELL, CA Technologies, HITACHI, and Okta constitute some of the leading companies steering the competitive landscape of artificial intelligence market. The report provides insight into the detailed strategic analysis and profiling of some of these companies.
Recent Notable Developments
In 2019, Intel Corporation's acquisition of Habana Labs Ltd. was accomplished that empowered the former's AI portfolio to surge in AI silicon
In 2019, IBM Watson Health had announced its agreement with a French medical imaging company Guerbet, over an AI software solution development that potentially aids in the field of cancer diagnostics and monitoring
In 2019, Intel Corporation had declared partnership with China's Alibaba Group Holding Limited over the co-development of an AI-enabled tracking technology. It was especially developed for the Olympic Games to be held by the country in 2020
In 2022, Cadbury announce a novel initiative that involves the use of AI-enabled AD creation (for free) with voice and face of a celebrity, especially targeting small business owners
Notable AI Developments During Pandemic
In 2020, Lunit launched an AI solution for the chest's X-ray analysis as a part of facilitation of the management of COVID-19 cases
In 2020, Google LLC launched an AI-enabled chatbot for call centers, named Rapid Response Virtual Agent, to assist customers during COVID-19 outbreak
In 2020, Zebra Medical Vision announced its collaboration with TELUS Ventures to achieve enhancements in AI solutions for clinical care settings
In 2020, McDonald's announced a whopping US$300 Mn investment in acquisition of an emerging AI start-up in Tel Aviv. The deal was intended to take personalized customer experience to next level through AI
The Global Artificial Intelligence Market is Segmented as Below:
By Deployment Coverage
By Organization Size Coverage
Small and Medium Enterprises
Large Enterprises
By Vertical Coverage
BFSI
Government & Defense
Manufacturing
Healthcare
Retail & E commerce
Transportation & Logistics
Others
By Business Function Coverage
Finance
Security
Human Resources
Law
Marketing & Sales
Others
By Offerings Coverage
Hardware
Software
Services
By Technology Coverage
ML
Natural Language Processing
Context-Aware Computing
Computer Vision
By Geographical Coverage
North America
Europe

Germany
France
U.K.
Italy
Turkey
Spain
Russia
Rest of Europe

Asia Pacific

China
Japan
South Korea
India
Southeast Asia
Rest of Asia Pacific

Latin America

Brazil
Mexico
Rest of Latin America

Middle East & Africa

GCC
Egypt
Rest of Middle East & Africa
Leading Companies
Cisco Systems
Microsoft Corporation
Sailpoint Technologies
Oracle
DELL
IBM
HITACHI
CA Technologies
Okta
Micro Focus
Centrify Corp
Inside This Report You Will Find:
1. Executive Summary
2. Market Overview
3. Global Artificial Intelligence Market Outlook, 2019 - 2030
4. North America Artificial Intelligence Market Outlook, 2019 - 2030
5. Europe Artificial Intelligence Market Outlook, 2019 - 2030
6. Asia Pacific Artificial Intelligence Market Outlook, 2019 - 2030
7. Latin America Artificial Intelligence Market Outlook, 2019 - 2030
8. Middle East & Africa Artificial Intelligence Market Outlook, 2019 - 2030
9. Competitive Landscape
10. Appendix

Post Sale Support, Research Updates & Offerings:
We value the trust shown by our customers in Fairfield Market Research. We support our clients through our post sale support, research updates and offerings.
The report will be prepared in a PPT format and will be delivered in a PDF format.
Additionally, Market Estimation and Forecast numbers will be shared in Excel Workbook.
If a report being sold was published over a year ago, we will offer a complimentary copy of the updated research report along with Market Estimation and Forecast numbers within 2-3 weeks' time of the sale.
If we update this research study within the next 2 quarters, post purchase of the report, we will offer a Complimentary copy of the updated Market Estimation and Forecast numbers in Excel Workbook.
If there is a geopolitical conflict, pandemic, recession, and the like which can impact global economic scenario and business activity, which might entirely alter the market dynamics or future projections in the industry, we will create a Research Update upon your request at a nominal charge.
1. Executive Summary
1.1. Global Artificial Intelligence Market Snapshot
1.2. Future Projections
1.3. Key Market Trends
1.4. Analyst Recommendations

2. Market Overview
2.1. Market Definitions
2.2. Market Taxonomy
2.3. Market Dynamics
2.3.1. Drivers
2.3.2. Restraints
2.4. Value Chain Analysis
2.5. Porter's Five Forces Analysis
2.6. COVID-19 Impact Analysis
2.7. Key Patents

3. Global Artificial Intelligence Market Outlook, 2019 - 2030
3.1. Global Artificial Intelligence Market Outlook, by offerings (US$ Mn), 2019 - 2030
3.1.1. Key Highlights
3.1.1.1. Hardware
3.1.1.2. Software
3.1.1.3. Services
3.1.2. BPS Analysis/Market Attractiveness Analysis
3.2. Global Artificial Intelligence Market Outlook, by Technology, Value (US$ Mn), 2019 - 2030
3.2.1. Key Highlights
3.2.1.1. ML
3.2.1.2. Natural Language Processing
3.2.1.3. Context-Aware Computing
3.2.1.4. Computer Vision
3.2.2. BPS Analysis/Market Attractiveness Analysis
3.3. Global Artificial Intelligence Market Outlook, by Deployment, Value (US$ Mn), 2019 - 2030
3.3.1. Key Highlights
3.3.1.1. On-Premises
3.3.1.2. Cloud
3.3.2. BPS Analysis/Market Attractiveness Analysis
3.4. Global Artificial Intelligence Market Outlook, by Org Size, Value (US$ Mn), 2019 - 2030
3.4.1. Key Highlights
3.4.1.1. Small and Medium-Sized Enterprises
3.4.1.2. Large Enterprises
3.4.2. BPS Analysis/Market Attractiveness Analysis
3.5. Global Artificial Intelligence Market Outlook, by Business Function, Value (US$ Mn), 2019 - 2030
3.5.1. Key Highlights
3.5.1.1. Finance
3.5.1.2. Security
3.5.1.3. Human Resources
3.5.1.4. Law
3.5.1.5. Marketing & Sales
3.5.1.6. Others
3.5.2. BPS Analysis/Market Attractiveness Analysis
3.6. Global Artificial Intelligence Market Outlook, by Verticals, Value (US$ Mn), 2019 - 2030
3.6.1. Key Highlights
3.6.1.1. BFSI
3.6.1.2. Government & Defense
3.6.1.3. Manufacturing
3.6.1.4. Healthcare
3.6.1.5. Retail & E commerce
3.6.1.6. Transportation & Logistics
3.6.1.7. Others
3.6.2. BPS Analysis/Market Attractiveness Analysis
3.7. Global Artificial Intelligence Market Outlook, by Region, Value (US$ Mn), 2019 - 2030
3.7.1. Key Highlights
3.7.1.1. North America
3.7.1.2. Europe
3.7.1.3. Asia Pacific
3.7.1.4. Latin America
3.7.1.5. Middle East & Africa
3.7.2. BPS Analysis/Market Attractiveness Analysis

4. North America Artificial Intelligence Market Outlook, 2019 - 2030
4.1. North America Artificial Intelligence Market Outlook, by offerings (US$ Mn), 2019 - 2030
4.1.1. Key Highlights
4.1.1.1. Hardware
4.1.1.2. Software
4.1.1.3. Services
4.1.2. BPS Analysis/Market Attractiveness Analysis
4.2. North America Artificial Intelligence Market Outlook, by Technology, Value (US$ Mn), 2019 - 2030
4.2.1. Key Highlights
4.2.1.1. ML
4.2.1.2. Natural Language Processing
4.2.1.3. Context-Aware Computing
4.2.1.4. Computer Vision
4.2.2. BPS Analysis/Market Attractiveness Analysis
4.3. North America Artificial Intelligence Market Outlook, by Deployment, Value (US$ Mn), 2019 - 2030
4.3.1. Key Highlights
4.3.1.1. On-Premises
4.3.1.2. Cloud
4.3.2. BPS Analysis/Market Attractiveness Analysis
4.4. North America Artificial Intelligence Market Outlook, by Org Size, Value (US$ Mn), 2019 - 2030
4.4.1. Key Highlights
4.4.1.1. Small and Medium-Sized Enterprises
4.4.1.2. Large Enterprises
4.4.2. BPS Analysis/Market Attractiveness Analysis
4.5. North America Artificial Intelligence Market Outlook, by Business Function, Value (US$ Mn), 2019 - 2030
4.5.1. Key Highlights
4.5.1.1. Finance
4.5.1.2. Security
4.5.1.3. Human Resources
4.5.1.4. Law
4.5.1.5. Marketing & Sales
4.5.1.6. Others
4.5.2. BPS Analysis/Market Attractiveness Analysis
4.6. North America Artificial Intelligence Market Outlook, by Verticals, Value (US$ Mn), 2019 - 2030
4.6.1. Key Highlights
4.6.1.1. BFSI
4.6.1.2. Government & Defense
4.6.1.3. Manufacturing
4.6.1.4. Healthcare
4.6.1.5. Retail & E commerce
4.6.1.6. Transportation & Logistics
4.6.1.7. Others
4.6.1.8. BPS Analysis/Market Attractiveness Analysis
4.7. North America Artificial Intelligence Market Outlook, by Country, Value (US$ Mn), 2019 - 2030
4.7.1. Key Highlights
4.7.1.1. U.S. Artificial Intelligence Market by Value (US$ Mn), 2019 - 2030
4.7.1.2. Canada Artificial Intelligence Market by Value (US$ Mn), 2019 - 2030
4.7.2. BPS Analysis/Market Attractiveness Analysis

5. Europe Artificial Intelligence Market Outlook, 2019 - 2030
5.1. Europe Artificial Intelligence Market Outlook, by offerings (US$ Mn), 2019 - 2030
5.1.1. Key Highlights
5.1.1.1. Hardware
5.1.1.2. Software
5.1.1.3. Services
5.1.2. BPS Analysis/Market Attractiveness Analysis
5.2. Europe Artificial Intelligence Market Outlook, by Technology, Value (US$ Mn), 2019 - 2030
5.2.1. Key Highlights
5.2.1.1. ML
5.2.1.2. Natural Language Processing
5.2.1.3. Context-Aware Computing
5.2.1.4. Computer Vision
5.2.2. BPS Analysis/Market Attractiveness Analysis
5.3. Europe Artificial Intelligence Market Outlook, by Deployment, Value (US$ Mn), 2019 - 2030
5.3.1. Key Highlights
5.3.1.1. On-Premises
5.3.1.2. Cloud
5.3.2. BPS Analysis/Market Attractiveness Analysis
5.4. Europe Artificial Intelligence Market Outlook, by Org Size, Value (US$ Mn), 2019 - 2030
5.4.1. Key Highlights
5.4.1.1. Small and Medium-Sized Enterprises
5.4.1.2. Large Enterprises
5.4.2. BPS Analysis/Market Attractiveness Analysis
5.5. Europe Artificial Intelligence Market Outlook, by Business Function, Value (US$ Mn), 2019 - 2030
5.5.1. Key Highlights
5.5.1.1. Finance
5.5.1.2. Security
5.5.1.3. Human Resources
5.5.1.4. Law
5.5.1.5. Marketing & Sales
5.5.1.6. Others
5.5.2. BPS Analysis/Market Attractiveness Analysis
5.6. Europe Artificial Intelligence Market Outlook, by Verticals, Value (US$ Mn), 2019 - 2030
5.6.1. Key Highlights
5.6.1.1. BFSI
5.6.1.2. Government & Defense
5.6.1.3. Manufacturing
5.6.1.4. Healthcare
5.6.1.5. Retail & E commerce
5.6.1.6. Transportation & Logistics
5.6.1.7. Others
5.6.2. BPS Analysis/Market Attractiveness Analysis
5.7. Europe Artificial Intelligence Market Outlook, by Country, Value (US$ Mn), 2019 - 2030
5.7.1. Key Highlights
5.7.1.1. Germany Artificial Intelligence Market by Value (US$ Mn), 2019 - 2030
5.7.1.2. France Artificial Intelligence Market by Product, Value (US$ Mn), 2019 - 2030
5.7.1.3. U.K. Artificial Intelligence Market by Value (US$ Mn), 2019 - 2030
5.7.1.4. Italy Artificial Intelligence Market by Value (US$ Mn), 2019 - 2030
5.7.1.5. Spain Artificial Intelligence Market by Product, Value (US$ Mn), 2019 - 2030
5.7.1.6. Rest of Europe Artificial Intelligence Market Value (US$ Mn), 2019 - 2030
5.7.2. BPS Analysis/Market Attractiveness Analysis

6. Asia Pacific Artificial Intelligence Market Outlook, 2019 - 2030
6.1. Asia Pacific Artificial Intelligence Market Outlook, by offerings (US$ Mn), 2019 - 2030
6.1.1. Key Highlights
6.1.1.1. Hardware
6.1.1.2. Software
6.1.1.3. Services
6.1.2. BPS Analysis/Market Attractiveness Analysis
6.2. Asia Pacific Artificial Intelligence Market Outlook, by Technology, Value (US$ Mn), 2019 - 2030
6.2.1. Key Highlights
6.2.1.1. ML
6.2.1.2. Natural Language Processing
6.2.1.3. Context-Aware Computing
6.2.1.4. Computer Vision
6.2.2. BPS Analysis/Market Attractiveness Analysis
6.3. Asia Pacific Artificial Intelligence Market Outlook, by Deployment, Value (US$ Mn), 2019 - 2030
6.3.1. Key Highlights
6.3.1.1. On-Premises
6.3.1.2. Cloud
6.3.2. BPS Analysis/Market Attractiveness Analysis
6.4. Asia Pacific Artificial Intelligence Market Outlook, by Org Size, Value (US$ Mn), 2019 - 2030
6.4.1. Key Highlights
6.4.1.1. Small and Medium-Sized Enterprises
6.4.1.2. Large Enterprises
6.4.2. BPS Analysis/Market Attractiveness Analysis
6.5. Asia Pacific Artificial Intelligence Market Outlook, by Business Function, Value (US$ Mn), 2019 - 2030
6.5.1. Key Highlights
6.5.1.1. Finance
6.5.1.2. Security
6.5.1.3. Human Resources
6.5.1.4. Law
6.5.1.5. Marketing & Sales
6.5.1.6. Others
6.5.2. BPS Analysis/Market Attractiveness Analysis
6.6. Asia Pacific Artificial Intelligence Market Outlook, by Verticals, Value (US$ Mn), 2019 - 2030
6.6.1. Key Highlights
6.6.1.1. BFSI
6.6.1.2. Government & Defense
6.6.1.3. Manufacturing
6.6.1.4. Healthcare
6.6.1.5. Retail & E commerce
6.6.1.6. Transportation & Logistics
6.6.1.7. Others
6.6.2. BPS Analysis/Market Attractiveness Analysis
6.7. Asia Pacific Artificial Intelligence Market Outlook, by Country, Value (US$ Mn), 2019 - 2030
6.7.1. Key Highlights
6.7.1.1. India Artificial Intelligence Market by Value (US$ Mn), 2019 - 2030
6.7.1.2. China Artificial Intelligence Market by Value (US$ Mn), 2019 - 2030
6.7.1.3. Japan Artificial Intelligence Market by Value (US$ Mn), 2019 - 2030
6.7.1.4. Australia & New Zealand Artificial Intelligence Market Value (US$ Mn), 2019 - 2030
6.7.1.5. Rest of Asia Pacific Market by Value (US$ Mn), 2019 - 2030
6.7.2. BPS Analysis/Market Attractiveness Analysis

7. Latin America Artificial Intelligence Market Outlook, 2019 - 2030
7.1. Latin America Artificial Intelligence Market Outlook, by offerings (US$ Mn), 2019 - 2030
7.1.1. Key Highlights
7.1.1.1. Hardware
7.1.1.2. Software
7.1.1.3. Services
7.1.2. BPS Analysis/Market Attractiveness Analysis
7.2. Latin America Artificial Intelligence Market Outlook, by Technology, Value (US$ Mn), 2019 - 2030
7.2.1. Key Highlights
7.2.1.1. ML
7.2.1.2. Natural Language Processing
7.2.1.3. Context-Aware Computing
7.2.1.4. Computer Vision
7.2.2. BPS Analysis/Market Attractiveness Analysis
7.3. Latin America Artificial Intelligence Market Outlook, by Deployment, Value (US$ Mn), 2019 - 2030
7.3.1. Key Highlights
7.3.1.1. On-Premises
7.3.1.2. Cloud
7.3.2. BPS Analysis/Market Attractiveness Analysis
7.4. Latin America Artificial Intelligence Market Outlook, by Org Size, Value (US$ Mn), 2019 - 2030
7.4.1. Key Highlights
7.4.1.1. Small and Medium-Sized Enterprises
7.4.1.2. Large Enterprises
7.4.2. BPS Analysis/Market Attractiveness Analysis
7.5. Latin America Artificial Intelligence Market Outlook, by Business Function, Value (US$ Mn), 2019 - 2030
7.5.1. Key Highlights
7.5.1.1. Finance
7.5.1.2. Security
7.5.1.3. Human Resources
7.5.1.4. Law
7.5.1.5. Marketing & Sales
7.5.1.6. Others
7.5.2. BPS Analysis/Market Attractiveness Analysis
7.6. Latin America Artificial Intelligence Market Outlook, by Verticals, Value (US$ Mn), 2019 - 2030
7.6.1. Key Highlights
7.6.1.1. BFSI
7.6.1.2. Government & Defense
7.6.1.3. Manufacturing
7.6.1.4. Healthcare
7.6.1.5. Retail & E-commerce
7.6.1.6. Transportation & Logistics
7.6.1.7. Others
7.6.2. BPS Analysis/Market Attractiveness Analysis
7.7. Latin America Artificial Intelligence Market Outlook, by Country, Value (US$ Mn), 2019 - 2030
7.7.1. Key Highlights
7.7.1.1. Brazil Artificial Intelligence Market by Value (US$ Mn), 2019 - 2030
7.7.1.2. Mexico Artificial Intelligence Market by Value (US$ Mn), 2019 - 2030
7.7.1.3. Rest of Latin America Artificial Intelligence Market by Value (US$ Mn), 2019 - 2030
7.7.2. BPS Analysis/Market Attractiveness Analysis

8. Middle East & Africa Artificial Intelligence Market Outlook, 2019 - 2030
8.1. Middle East & Africa Artificial Intelligence Market Outlook, by offerings (US$ Mn), 2019 - 2030
8.1.1. Key Highlights
8.1.1.1. Hardware
8.1.1.2. Software
8.1.1.3. Services
8.1.2. BPS Analysis/Market Attractiveness Analysis
8.2. Middle East & Africa Artificial Intelligence Market Outlook, by Technology, Value (US$ Mn), 2019 - 2030
8.2.1. Key Highlights
8.2.1.1. ML
8.2.1.2. Natural Language Processing
8.2.1.3. Context-Aware Computing
8.2.1.4. Computer Vision
8.2.2. BPS Analysis/Market Attractiveness Analysis
8.3. Middle East & Africa Artificial Intelligence Market Outlook, by Deployment, Value (US$ Mn), 2019 - 2030
8.3.1. Key Highlights
8.3.1.1. On-Premises
8.3.1.2. Cloud
8.3.2. BPS Analysis/Market Attractiveness Analysis
8.4. Middle East & Africa Artificial Intelligence Market Outlook, by Org Size, Value (US$ Mn), 2019 - 2030
8.4.1. Key Highlights
8.4.1.1. Small and Medium-Sized Enterprises
8.4.1.2. Large Enterprises
8.4.2. BPS Analysis/Market Attractiveness Analysis
8.5. Middle East & Africa Artificial Intelligence Market Outlook, by Business Function, Value (US$ Mn), 2019 - 2030
8.5.1. Key Highlights
8.5.1.1. Finance
8.5.1.2. Security
8.5.1.3. Human Resources
8.5.1.4. Law
8.5.1.5. Marketing & Sales
8.5.1.6. Others
8.5.2. BPS Analysis/Market Attractiveness Analysis
8.6. Middle East & Africa Artificial Intelligence Market Outlook, by Verticals, Value (US$ Mn), 2019 - 2030
8.6.1. Key Highlights
8.6.1.1. BFSI
8.6.1.2. Government & Defense
8.6.1.3. Manufacturing
8.6.1.4. Healthcare
8.6.1.5. Retail & E commerce
8.6.1.6. Transportation & Logistics
8.6.1.7. Others
8.6.2. BPS Analysis/Market Attractiveness Analysis
8.7. Middle East & Africa Artificial Intelligence Market Outlook, by Country, Value (US$ Mn), 2019 - 2030
8.7.1. Key Highlights
8.7.1.1. GCC Artificial Intelligence Market by Value (US$ Mn), 2019 - 2030
8.7.1.2. South Africa Artificial Intelligence Market by Value (US$ Mn), 2019 - 2030
8.7.1.3. Rest of Middle East & Africa Artificial Intelligence Market by Value (US$ Mn), 2019 - 2030
8.7.2. BPS Analysis/Market Attractiveness Analysis

9. Competitive Landscape
9.1. Company Market Share Analysis, 2019
9.2. Company Profiles
9.2.1. Cisco Systems
9.2.1.1. Company Overview
9.2.1.2. Key Retailing Partners
9.2.1.3. Business Segment Revenue
9.2.1.4. Ingredient Overview
9.2.1.5. Product Offering & its Presence
9.2.1.6. Certifications & Claims
9.2.2. Microsoft Corporation
9.2.3. Sailpoint Technologies
9.2.4. Oracle
9.2.5. DELL
9.2.6. IBM
9.2.7. HITACHI
9.2.8. CA Technologies
9.2.9. Okta
9.2.10. Micro Focus
9.2.11. Centrify Corp
9.2.12. Centrify Corp

10. Appendix
10.1. Research Methodology
10.2. Report Assumptions
10.3. Acronyms and Abbreviations
BASE YEAR

HISTORICAL DATA

FORECAST PERIOD

UNITS

2022

2019 - 2022

2023 - 2030

Value: US$ Million
REPORT FEATURES

DETAILS

Deployment Coverage

Organization Size Coverage

Vertical Coverage

Business Function Coverage

Finance

Security

Human Resources

Law

Marketing & Sales

Others

Offerings Coverage

Hardware

Software

Services

Technology Coverage

Geographical Coverage

North America

Europe

Germany

France

U.K.

Italy

Turkey

Spain

Russia

Rest of Europe

Asia Pacific

China

Japan

South Korea

India

Southeast Asia

Rest of Asia Pacific

Latin America

Brazil

Mexico

Rest of Latin America

Middle East & Africa

Leading Companies

Cisco Systems

Microsoft Corporation

Sailpoint Technologies

Oracle

DELL

IBM

HITACHI

CA Technologies

Okta

Micro Focus

Centrify Corp

Report Highlights

Market Estimates and Forecast, Market Dynamics, Industry Trends, Competition Landscape, Product-, Application-, Region-, Country-wise Trends & Analysis, COVID-19 Impact Analysis, Key Trends