AUV & ROV Market Outlook
Poised to reach the revenue worth US$7 Bn by the end of 2030, worldwide AUV & ROV market is all set for a strong CAGR of nearly 7.8% between 2023 and 2030.
Market Analysis in Brief
Massive investments have been made in the quick advancement of autonomous underwater vehicle (AUV), and remotely operated vehicles (ROV) technologies as this trend picks up steam. Increasing use of AUVs and ROVs for offshore equipment maintenance and repair, particularly for subsea sites used for production and exploration. This is anticipated to primarily fuel the expansion of AUV & ROV market. On the other hand, oil and gas businesses are still working to recover from the COVID-19 pandemic's effects on project delays, price restraints, and some technological limitations. The market for ROVs is far larger and more developed than that for AUVs, but the latter is anticipated to experience rapid growth in the near future. AUVs are mostly used in military and academic research.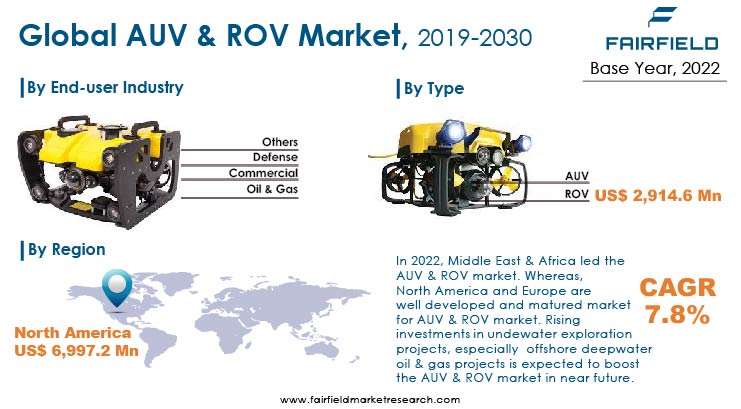 Key Report Findings
The global AUV & ROV market slated to demonstrate 7.8% growth in revenue by 2030
By the end of forecast year 2030, the AUV & ROV industry will possibly hit US$7 Bn mark
The proliferating offshore oil and gas sector to create strong tailwinds for market expansion
The Middle Eastern and African markets likely to remain at the forefront
The top 10 industry players hold a lion's share of over half the market revenue
Growth Drivers
AUV and ROV Technologies Garner Attention at Subsea Sites
The increasing demand for efficient offshore equipment repair and maintenance is projected to encourage the use of technology like AUVs, and ROV. The world's oil and gas production are fast shifting to subsea locations, which represents a considerable departure from traditional production methods, and this shift is likely to give the AUV and ROV business a boost. The underwater environment is occasionally the most isolated and uncharted region of the planet. Working in this setting presents special difficulties and makes monitoring and intervention much more complex.
Increased Investments in Offshore Oil and Gas Projects
Increasing offshore oil and gas investments as well as investments in the wind energy sector, followed by a growth in offshore oil and gas decommissioning activities, ocean data, and mapping, continue to be the major reasons supporting the performance of the AUV & ROV market. AUVs and ROVs now have more capabilities thanks to technological improvements in offshore systems that have also opened new horizons and made operations safer. The participants in the worldwide AUV & ROV industry might anticipate new opportunities as a result of potential oil and gas reserve finds in deep and ultra-deep oceans.
Greater Emphasis on Environmental Regulatory Compliance
While keeping in mind the requirements of environmental regulations, the security of offshore equipment has been tightened. The oil and gas unmanned vehicles industry will continue to flourish as a result of the quick advancements in technology. Smart devices will make it possible to control risks and operations more effectively. Using cutting-edge materials would enable safer operations in hazardous areas, presenting another significant potential for the top competitors in the global AUV & ROV market.
Soaring Preference for Smaller ROVs
As instrumentation progresses, the typical size of a ROV is decreasing globally. Keeping everything else the same, smaller ROVs are preferred over their larger counterparts because the former have superior manoeuvrability and enable cost-efficiency deployment. AUVs' expanded functionality, as well as the demand for remote fields and floating oil production systems, have all been touted as the major factors promoting AUV & ROV market prospects.
Overview of Key Segments
Dominance of ROVs Prevails
In terms of type, AUV & ROV market is segregated into ROVs and AUVs. In 2022, ROVs lead the market constituting more than 75% share due to their wide application in different phases of offshore oilfield developments such as drilling support and vessel-based services, equipment installation, construction, pipeline inspection, survey and facilities inspection, maintenance, and repair. Hybrid ROVs (HROVs) are an interesting trend in the ROV market, which have tether-optional configurations that allow the vehicle to conduct programmed missions free from the tether. HROV configurations are expected to be an option increasingly offered by ROV manufacturers, particularly in the mini and small ROV markets. On the other hand, AUV market is smaller than the ROV market.
Electric and Hybrid Propulsion Systems to Thrive by 2030
In terms of propulsion AUV & ROV market is segregated into mechanical system, electrical system, hybrid system, and other. In 2022, electrical and hybrid system constituted more than 70% share of the global AUV & ROV industry.
The electric propulsion system is widely used in commercial ships and for naval destroyers. The hybrid propulsion system is expected to grow in the near future due to its combined benefit of the mechanical and Electric propulsion systems. In order to achieve its benefit, a suitable design of the hybrid propulsion system is required.
Oil and Gas Industry to Lead in Demand
In terms of propulsion AUV & ROV market is segregated into oil and gas, commercial, defense, and other. In 2022, oil and gas segment constituted more than 50% share of the global market. Growing offshore deep and ultra-deep-water exploration activities is likely to boost the demand for AUVs and ROVs.
The oil and gas industry segment accounted for significant share of the global offshore ROV market in 2022. While the defense and military segment accounted for major share of the global AUV market in 2022.
Growth Opportunities Across Regions
Middle East and Africa Reign Supreme
In 2022, Middle East and Africa dominated the market. In 2021, ECA GROUP was awarded a contract to deliver a H300V ROV system to a Middle Eastern Public Institution to perform Search & Rescue (SAR) operations. In the Middle East and Africa, Saudi Aramco inaugurated a torpedo shaped AUV at Dhahran, Saudi Arabia in 2017. The AUV is designed to perform surveys to identify seabed clearance and potential debris around offshore platforms.
Collaboration is playing a key role in helping the industry develop technologies and solutions to increase autonomy and remote residency of the subsea systems. Oil and gas giants are also forming strategic alliances with AUV and ROV technology providers to minimise overall spending.
Sales Climb up in North America, and Europe
In Europe, Norway, and the UK have been especially witnessing surge in investments offshore wind power projects. In June 2020, Kongsberg Maritime signed its first contract with Ocean Infinity for a new type of ROV launch and recovery system (LARS), designed to handle ROVs and AUVs from unmanned vessels. Furthermore, Europe connected 502 new offshore wind turbines to the grid across 10 projects in 2019. This brought 3,627 MW of new capacity addition.
Key Regions Flourish with Rise in Offshore Oil and Gas Interventions
A series of recent oil well discoveries in offshore eastern Canada has brought in a new wave of E&P spending in the past six months. Oil majors such as ExxonMobil, Chevron, Equinor, and CNOOC are committed to spending US$1.7 Bn by 2021. BP Canada, Navitas Petroleum, Nexen Energy and Husky have committed to spending US$763 Mn by 2022. Furthermore, by 2024, BHP, Equinor, and Suncor plan to invest US$1.4 Bn in exploration. These discoveries along with development and investment plans are expected to boost the demand for AUVs, and ROVs in North America over the forecast period.
Global AUV & ROV Market: Competition Landscape
The top 10 companies hold more than 50% of global AUV & ROV market. Some of the key industry players include SUBSEA7, Oceaneering International, Inc., Argeo, Fugro, Saab AB, Atlas Elektronik Gmbh, BIRNS, Inc., Technip fmc, Stapem Offshore, and Kongsberg Maritime. The rise in number of new potential players will remain the key driving force for intensifying competition in the market.
Recent Notable Developments
In 2022, Oceaneering International, Inc. announced that its Subsea Robotics segment won multiple contracts during the third quarter of 2022, with anticipated aggregate revenue of US$300 Mn. These contracts are primarily for remotely operated vehicle (ROV) services delivered from floating drilling rigs and vessels for subsea equipment support, subsea intervention, and construction. Also included among the contracted work scopes are ROV tooling, survey, positioning and autonomous underwater vehicle (AUV) services


In 2022, Argeo secured the first contract for its vessel Argeo Searcher and both SeaRaptor autonomous underwater vehicles (AUVs) which will see them deployed for ultra-deep-water work in the North Atlantic
The Global AUV & ROV Market is Segmented as Below:
By Type Coverage
By Propulsion Coverage
Mechanical System
Electric System
Hybrid Systems
Others
By End-user Industry Coverage
Oil & Gas
Commercial
Defense
Others
By Geographical Coverage
North America
Europe

Germany
France
U.K.
Italy
Rest of Europe

Asia Pacific

China
Japan
India
ASEAN
Rest of Asia Pacific

Latin America

Brazil
Mexico
Rest of Latin America

Middle East & Africa

GCC
South Africa
Rest of Middle East & Africa
Leading Companies
SUBSEA7
Oceaneering International, Inc.
Argeo
Fugro
Saab AB
Atlas Elektronik Gmbh
BIRNS, Inc.
Technip fmc
Stapem Offshore
Kongsberg Maritime
Inside This Report You Will Find:
1. Executive Summary
2. Market Overview
3. Price Trends Analysis
4. Global AUV & ROV Market Outlook, 2019 - 2030
5. North America AUV & ROV Market Outlook, 2019 - 2030
6. Europe AUV & ROV Market Outlook, 2019 - 2030
7. Asia Pacific AUV & ROV Market Outlook, 2019 - 2030
8. Latin America AUV & ROV Market Outlook, 2019 - 2030
9. Middle East & Africa AUV & ROV Market Outlook, 2019 - 2030
10. Competitive Landscape
11. Appendix

Post Sale Support, Research Updates & Offerings:
We value the trust shown by our customers in Fairfield Market Research. We support our clients through our post sale support, research updates and offerings.
The report will be prepared in a PPT format and will be delivered in a PDF format.
Additionally, Market Estimation and Forecast numbers will be shared in Excel Workbook.
If a report being sold was published over a year ago, we will offer a complimentary copy of the updated research report along with Market Estimation and Forecast numbers within 2-3 weeks' time of the sale.
If we update this research study within the next 2 quarters, post purchase of the report, we will offer a Complimentary copy of the updated Market Estimation and Forecast numbers in Excel Workbook.
If there is a geopolitical conflict, pandemic, recession, and the like which can impact global economic scenario and business activity, which might entirely alter the market dynamics or future projections in the industry, we will create a Research Update upon your request at a nominal charge.
1. Executive Summary
1.1. Global AUV & ROV Market Snapshot
1.2. Future Projections
1.3. Key Market Trends
1.4. Analyst Recommendations

2. Market Overview
2.1. Market Definitions and Segmentations
2.2. Market Dynamics
2.2.1. Drivers
2.2.2. Restraints
2.2.3. Market Opportunities
2.2.4. Economic Trends
2.3. Value Chain Analysis
2.4. Porter's Five Forces Analysis
2.5. COVID-19 Impact
2.5.1. Supply Chain
2.5.2. End-user Industry Customer Impact Analysis

3. Price Trends Analysis

4. Global AUV & ROV Market Outlook, 2019 - 2030
4.1. Global AUV & ROV Market Outlook, by Type, Value (US$ Mn), 2019 - 2030
4.1.1. Key Highlights
4.1.1.1. ROVs
4.1.1.2. AUVs
4.1.2. BPS Analysis/Market Attractiveness Analysis, by Type
4.2. Global AUV & ROV Market Outlook, by Propulsion, Value (US$ Mn), 2019 - 2030
4.2.1. Key Highlights
4.2.1.1. Mechanical System
4.2.1.2. Electric System
4.2.1.3. Hybrid System
4.2.1.4. Others
4.2.2. BPS Analysis/Market Attractiveness Analysis, by Propulsion
4.3. Global AUV & ROV Market Outlook, by End-user Industry, Value (US$ Mn), 2019 - 2030
4.3.1. Key Highlights
4.3.1.1. Oil & Gas
4.3.1.2. Commercial
4.3.1.3. Defense
4.3.1.4. Others
4.3.2. BPS Analysis/Market Attractiveness Analysis, by End-user Industry
4.4. Global AUV & ROV Market Outlook, by Region, Value (US$ Mn), 2019 - 2030
4.4.1. Key Highlights
4.4.1.1. North America
4.4.1.2. Europe
4.4.1.3. Asia Pacific
4.4.1.4. Latin America
4.4.1.5. Middle East & Africa
4.4.2. BPS Analysis/Market Attractiveness Analysis, by Region

5. North America AUV & ROV Market Outlook, 2019 - 2030
5.1. North America AUV & ROV Market Outlook, by Type, Value (US$ Mn), 2019 - 2030
5.1.1. Key Highlights
5.1.1.1. ROVs
5.1.1.2. AUVs
5.2. North America AUV & ROV Market Outlook, by Propulsion, Value (US$ Mn), 2019 - 2030
5.2.1. Key Highlights
5.2.1.1. Mechanical System
5.2.1.2. Electric System
5.2.1.3. Hybrid System
5.2.1.4. Others
5.3. North America AUV & ROV Market Outlook, by End-user Industry, Value (US$ Mn), 2019 - 2030
5.3.1. Key Highlights
5.3.1.1. Oil & Gas
5.3.1.2. Commercial
5.3.1.3. Defense
5.3.1.4. Others
5.4. North America AUV & ROV Market Outlook, by Country, Value (US$ Mn), 2019 - 2030
5.4.1. Key Highlights
5.4.1.1. U.S. AUV & ROV Market, Value (US$ Mn), by Type, Propulsion, End-user Industry, 2019 - 2030
5.4.1.2. Canada AUV & ROV Market, Value (US$ Mn), by Type, Propulsion, End-user Industry, 2019 - 2030

6. Europe AUV & ROV Market Outlook, 2019 - 2030
6.1. Europe AUV & ROV Market Outlook, by Type, Value (US$ Mn), 2019 - 2030
6.1.1. Key Highlights
6.1.1.1. ROVs
6.1.1.2. AUVs
6.2. Europe AUV & ROV Market Outlook, by Propulsion, Value (US$ Mn), 2019 - 2030
6.2.1. Key Highlights
6.2.1.1. Mechanical System
6.2.1.2. Electric System
6.2.1.3. Hybrid System
6.2.1.4. Others
6.3. Europe AUV & ROV Market Outlook, by End-user Industry, Value (US$ Mn), 2019 - 2030
6.3.1. Key Highlights
6.3.1.1. Oil & Gas
6.3.1.2. Commercial
6.3.1.3. Defense
6.3.1.4. Others
6.4. Europe AUV & ROV Market Outlook, by Country, Value (US$ Mn), 2019 - 2030
6.4.1. Key Highlights
6.4.1.1. Germany AUV & ROV Market, Value (US$ Mn), by Type, Propulsion, End-user Industry, 2019 - 2030
6.4.1.2. France AUV & ROV Market, Value (US$ Mn), by Type, Propulsion, End-user Industry, 2019 - 2030
6.4.1.3. U.K. AUV & ROV Market, Value (US$ Mn), by Type, Propulsion, End-user Industry, 2019 - 2030
6.4.1.4. Italy AUV & ROV Market, Value (US$ Mn), by Type, Propulsion, End-user Industry, 2019 - 2030
6.4.1.5. Rest of Europe AUV & ROV Market, Value (US$ Mn), by Type, Propulsion, End-user Industry, 2019 - 2030

7. Asia Pacific AUV & ROV Market Outlook, 2019 - 2030
7.1. Asia Pacific AUV & ROV Market Outlook, by Type, Value (US$ Mn), 2019 - 2030
7.1.1. Key Highlights
7.1.1.1. ROVs
7.1.1.2. AUVs
7.2. Asia Pacific AUV & ROV Market Outlook, by Propulsion, Value (US$ Mn), 2019 - 2030
7.2.1. Key Highlights
7.2.1.1. Mechanical System
7.2.1.2. Electric System
7.2.1.3. Hybrid System
7.2.1.4. Others
7.3. Asia Pacific AUV & ROV Market Outlook, by End-user Industry, Value (US$ Mn), 2019 - 2030
7.3.1. Key Highlights
7.3.1.1. Oil & Gas
7.3.1.2. Commercial
7.3.1.3. Defense
7.3.1.4. Others
7.4. Asia Pacific AUV & ROV Market Outlook, by Country, Value (US$ Mn), 2019 - 2030
7.4.1. Key Highlights
7.4.1.1. China AUV & ROV Market, Value (US$ Mn), by Type, Propulsion, End-user Industry, 2019 - 2030
7.4.1.2. Japan AUV & ROV Market, Value (US$ Mn), by Type, Propulsion, End-user Industry, 2019 - 2030
7.4.1.3. India AUV & ROV Market, Value (US$ Mn), by Type, Propulsion, End-user Industry, 2019 - 2030
7.4.1.4. ASEAN AUV & ROV Market, Value (US$ Mn), by Type, Propulsion, End-user Industry, 2019 - 2030
7.4.1.5. Rest of Asia Pacific AUV & ROV Market, Value (US$ Mn), by Type, Propulsion, End-user Industry, 2019 - 2030

8. Latin America AUV & ROV Market Outlook, 2019 - 2030
8.1. Latin America AUV & ROV Market Outlook, by Type, Value (US$ Mn), 2019 - 2030
8.1.1. Key Highlights
8.1.1.1. ROVs
8.1.1.2. AUVs
8.2. Latin America AUV & ROV Market Outlook, by Propulsion, Value (US$ Mn), 2019 - 2030
8.2.1. Key Highlights
8.2.1.1. Mechanical System
8.2.1.2. Electric System
8.2.1.3. Hybrid System
8.2.1.4. Others
8.3. Latin America AUV & ROV Market Outlook, by End-user Industry, Value (US$ Mn), 2019 - 2030
8.3.1. Key Highlights
8.3.1.1. Oil & Gas
8.3.1.2. Commercial
8.3.1.3. Defense
8.3.1.4. Others
8.4. Latin America AUV & ROV Market Outlook, by Country, Value (US$ Mn), 2019 - 2030
8.4.1. Key Highlights
8.4.1.1. Brazil AUV & ROV Market, Value (US$ Mn), by Type, Propulsion, End-user Industry, 2019 - 2030
8.4.1.2. Mexico AUV & ROV Market, Value (US$ Mn), by Type, Propulsion, End-user Industry, 2019 - 2030
8.4.1.3. Rest of Latin America AUV & ROV Market, Value (US$ Mn), by Type, Propulsion, End-user Industry, 2019 - 2030

9. Middle East & Africa AUV & ROV Market Outlook, 2019 - 2030
9.1. Middle East & Africa AUV & ROV Market Outlook, by Type, Value (US$ Mn), 2019 - 2030
9.1.1. Key Highlights
9.1.1.1. ROVs
9.1.1.2. AUVs
9.2. Middle East & Africa AUV & ROV Market Outlook, by Propulsion, Value (US$ Mn), 2019 - 2030
9.2.1. Key Highlights
9.2.1.1. Mechanical System
9.2.1.2. Electric System
9.2.1.3. Hybrid System
9.2.1.4. Others
9.3. Middle East & Africa AUV & ROV Market Outlook, by End-user Industry, Value (US$ Mn), 2019 - 2030
9.3.1. Key Highlights
9.3.1.1. Oil & Gas
9.3.1.2. Commercial
9.3.1.3. Defense
9.3.1.4. Others
9.4. Middle East & Africa AUV & ROV Market Outlook, by Country, Value (US$ Mn), 2019 - 2030
9.4.1. Key Highlights
9.4.1.1. GCC AUV & ROV Market, Value (US$ Mn), by Type, Propulsion, End-user Industry, 2019 - 2030
9.4.1.2. South Africa AUV & ROV Market, Value (US$ Mn), by Type, Propulsion, End-user Industry, 2019 - 2030
9.4.1.3. Rest of Middle East & Africa AUV & ROV Market, Value (US$ Mn), by Type, Propulsion, End-user Industry, 2019 - 2030

10. Competitive Landscape
10.1. Company Market Share Analysis, 2022
10.2. Strategic Collaborations
10.3. Company Profiles
10.3.1. SUBSEA7
10.3.1.1. Company Overview
10.3.1.2. Product Portfolio
10.3.1.3. Financial Overview
10.3.1.4. Business Strategies and Development
10.3.2. Oceaneering International, Inc.
10.3.2.1. Company Overview
10.3.2.2. Product Portfolio
10.3.2.3. Financial Overview
10.3.2.4. Business Strategies and Development
10.3.3. Argeo
10.3.3.1. Company Overview
10.3.3.2. Product Portfolio
10.3.3.3. Financial Overview
10.3.3.4. Business Strategies and Development
10.3.4. Fugro
10.3.4.1. Company Overview
10.3.4.2. Product Portfolio
10.3.4.3. Financial Overview
10.3.4.4. Business Strategies and Development
10.3.5. Saab AB
10.3.5.1. Company Overview
10.3.5.2. Product Portfolio
10.3.5.3. Financial Overview
10.3.5.4. Business Strategies and Development
10.3.6. Atlas Elektronik Gmbh
10.3.6.1. Company Overview
10.3.6.2. Product Portfolio
10.3.6.3. Financial Overview
10.3.6.4. Business Strategies and Development
10.3.7. BIRNS, Inc.
10.3.7.1. Company Overview
10.3.7.2. Product Portfolio
10.3.7.3. Financial Overview
10.3.7.4. Business Strategies and Development
10.3.8. Technip fmc
10.3.8.1. Company Overview
10.3.8.2. Product Portfolio
10.3.8.3. Financial Overview
10.3.8.4. Business Strategies and Development
10.3.9. Stapem Offshore
10.3.9.1. Company Overview
10.3.9.2. Product Portfolio
10.3.9.3. Financial Overview
10.3.9.4. Business Strategies and Development
10.3.10. Kongsberg Maritime
10.3.10.1. Company Overview
10.3.10.2. Product Portfolio
10.3.10.3. Financial Overview
10.3.10.4. Business Strategies and Development

11. Appendix
11.1. Research Methodology
11.2. Report Assumptions
11.3. Acronyms and Abbreviations
BASE YEAR

HISTORICAL DATA

FORECAST PERIOD

UNITS

2022

2019 - 2022

2023 - 2030

Value: US$ Million
REPORT FEATURES

DETAILS

Type Coverage

Propulsion Coverage

Mechanical System

Electric System

Hybrid Systems

Others

End-user Industry Coverage

Oil & Gas

Commercial

Defense

Others

Geographical Coverage

North America

Europe

Germany

France

U

.

K

.

Italy

Rest of Europe

Asia Pacific

China

Japan

India

ASEAN

Rest of Asia Pacific

Latin America

Brazil

Mexico

Rest of Latin America

Middle East & Africa

Leading Companies

Report Highlights

Key Market Indicators, Macro-micro economic impact analysis, Technological Roadmap, Key Trends, Driver, Restraints, and Future Opportunities & Revenue Pockets, Porter's 5 Forces Analysis, Historical Trend (2019-2021), Price Trend Analysis, Market Estimates and Forecast, Market Dynamics, Industry Trends, Competition Landscape, Category, Region, Country-wise Trends & Analysis, COVID-19 Impact Analysis (Demand and Supply Chain)