Global Ayurveda Medicine Market Forecast
Global market for ayurveda medicine worth US$6 Bn in 2022 poised to more than double by 2030, reaching around US$14 Bn
Market valuation projected for a notable CAGR of 12% between 2023 and 2030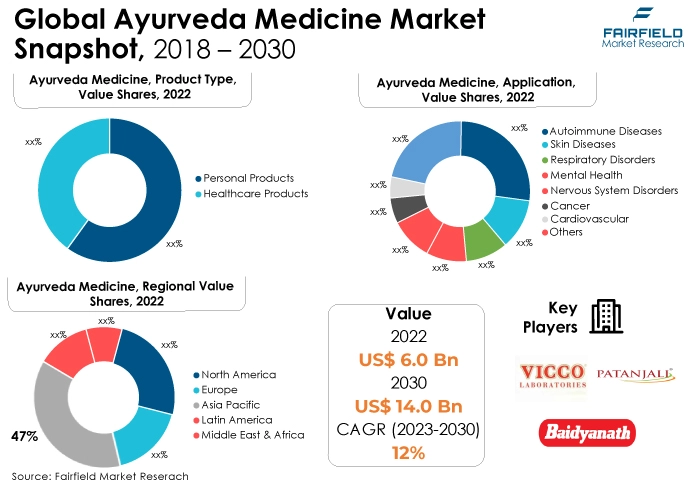 Quick Report Digest
Ayurveda medicine is expanding rapidly as people become more aware of the negative side effects of allopathic medications.
A favourable impact element on market expansion is being driven by the items' ease of availability and rising consumer awareness of their benefits.
Stringent regulations, a lack of effective therapies, and a lack of competitiveness in the ayurveda medicine market are some of the major roadblocks to the overall expansion of the global ayurveda medicine market.
In 2022, the personal product category dominated the industry. The demand for this market sector is being driven by shifting consumption habits and lifestyles, rising female spending power, and improved consumer awareness of personal care products.
In terms of market share for ayurveda medicine globally, the skin disease segment is anticipated to dominate because ayurveda is now more frequently used to treat skin issues like allergens and inherited allergies.
In 2022, the supermarket category controlled the market. Ayurvedic items or services are sold to clients through a variety of distribution channels in supermarkets in an effort to turn a profit. They meet demand that has been tracked down through a supply chain.
The market for ayurvedic medicines is expected to be dominated by the Asia-Pacific region. Herbal medicines have been used for a very long time in nations like India, Indonesia, Myanmar, Sri Lanka, and others. The market in the Asia Pacific region would grow as a result of well-established ayurvedic manufacturing facilities, powerful governmental efforts, and continuing projects.
The market for ayurveda medicine is expanding in North America. The growing green movement is influencing people's views on natural cosmetics. This is because patients are believed to be negatively affected by alternative treatments.
A Look Back and a Look Forward - Comparative Analysis
The increase in health concerns brought on by the side effects of Western drugs and the growing understanding of the benefits of natural and organic medicines are two major factors influencing the market's expansion. Additionally, the growing acceptance of ayurveda medicine as a healthy and safe substitute for synthetic chemicals and pharmaceuticals is fostering market expansion.
The market witnessed staggered growth during the historical period 2018 - 2022. The market for organic skincare products grew even more, and now they are taking a firm hold. Ayurveda anti-wrinkle and anti-aging creams fuelled market expansion in order to broaden the consumer base. Additionally, the rising medical tourism fueled the expansion of the global ayurveda medicine market.
Technology's ongoing advancements, ayurveda medicine's application in modern treatment, and the unrealised potential of emerging markets all present promising growth prospects. This, together with increasing investments in various research and development (R&D) projects for creating new formulations, improving manufacturing processes, and incorporating contemporary technology into the production of ayurvedic medicine, is producing a good market outlook.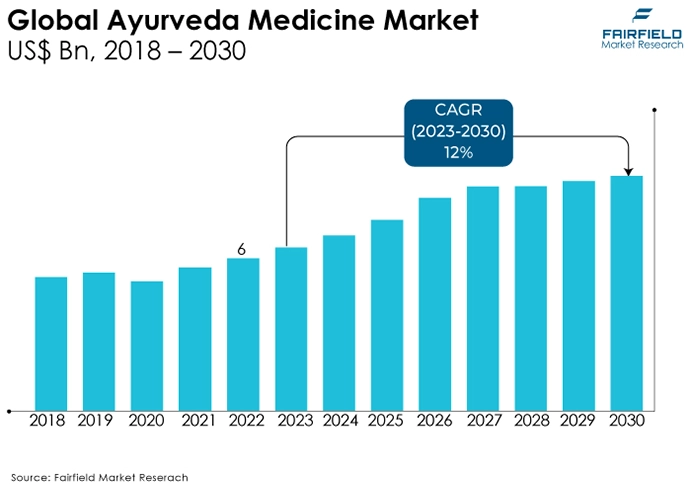 Key Growth Determinants
Minimal Side Effects Unlike Other Counterpart Medicines
The medicines from this medical system have few side effects, which is one of the key drivers of the ayurveda medicine market's expansion. On the global market, the demand for ayurveda medicine that boosts immunity has greatly increased. People are urged to choose meals and beverages that can boost immunity due to the increased prevalence of obesity and chronic health problems.
The concept rather places a significant emphasis on adopting healthy lifestyle choices like massage, meditation, yoga, dietary modifications, and ayurveda medicine in order to preserve good health and prevent and treat illness. Ayurvedic medications only comprise plant and herbal extracts, in contrast to the chemical-filled allopathic remedies.
Cosmetic Industry's Increasing Investments in Herbal Ingredients
The cosmetics industry is seeing an increase in demand for ayurveda medicine. The growing consumer interest in natural cosmetics and the increased emphasis on providing natural ayurveda medicine for synthetic components by cosmetics companies are the main drivers driving this demand.
During the projected period, this trend is anticipated to continue as consumer demand for natural components in cosmetics and toiletry products grows. Natural components are being used in place of synthetic chemicals by makers of cosmetic products.
The major reasons for doing this are to satisfy consumer demand and to move towards sustainable raw materials. The demand from consumers for non-chemical personal care, cosmetics, and toiletries is anticipated to support the expansion of the ayurveda medicine.
Visibly Growing Demand from Developing Countries
In many impoverished nations, ayurveda medicine forms an essential component of medical care. Nearly all mild illnesses are treated with natural remedies and ayurveda medicine. In developed and lower-income countries, visits to competent medical professionals or pharmacies that fill prescriptions are often infrequent and considered to be saved for serious ailments.
Herbs used for medical purposes in poor nations are whole or sliced, dried, unprocessed plants or plant components. Herbs are prepared as teas (and sporadically as pills or capsules) for internal use, as well as salves and poultices for external application.
The expansion of the industry in developing countries is anticipated to prove to be one of the driving forces for the business because the majority of developing countries have limited regulations linked to the use of herbs as medicines.
Major Growth Barriers
Strict Guidelines Related to the Use of Ayurveda Medicine
For the usage of ayurveda and natural goods abroad, each nation has its own set of rules and laws. According to the WHO, a number of countries lack the following: political will, a legal framework, the capacity to monitor the safety of the product and its use, mechanisms for patient referral between ayurvedic and Western medical practitioners, information systems, analysis of herbal ingredients, and integration of ayurvedic products into health systems.
Due to the aforementioned factors, suppliers and producers of ayurveda products have challenges while attempting to enter various product marketplaces.
Inadequate Knowledge About Usage of Ayurveda Medicine
The efficacy of many ayurveda medicines has been shown; however, despite the fact that therapies using these chemicals have shown substantial promise, many of them are still untested, and their use is either poorly supervised or not examined at all.
To promote the safe and acceptable use of these medicines, insufficient knowledge exists regarding their mode of action, potential adverse reactions, contraindications, and combinations with currently available conventional pharmaceuticals and functional foods.
Key Trends and Opportunities to Look at
Heightened Consumption of Ayurveda-based Dietary Supplements
Over the past ten years, there has been an increase in the usage of alternative antibiotic medications, such as ayurveda medicine. Ayurvedic products are gaining popularity with both patients and medical professionals.
The primary benefit of taking ayurveda medicine is that it offers greater immunity than synthetic medications. The only accessible and economical therapeutic option in underdeveloped nations like China, Japan, India, Vietnam, South Africa, and Bangladesh is occasionally ayurveda medicine.
Increasing Strategic Entry of Large-scale Pharma Players
The global economy is observing a rising trend of increased interest from pharmaceutical giants making their way into the ayurveda medicine market by strategically collaborating with domestically available producers or by launching their own range of ayurvedic medicines with extensive advertising and marketing initiatives, which may provide multiple growth opportunities for the global market.
Growing Inclination Toward Ayurveda and Natural Products
Natural goods like ayurveda medicine and health supplements are popular among young people and those who are getting close to retirement. As a result, healthcare spending has changed as more senior citizens use ayurveda medications to maintain their active lifestyles.
The global market for ayurveda medicine has grown as a result of the COVID-19 epidemic, which has been spreading across the globe. Most people were unable to go to fitness facilities like gyms and sports clubs to improve their fitness and immunity because of the lockdown limitations.
Because of the growing emphasis on developing immunity against COVID-19, the market for ayurveda medicine grew.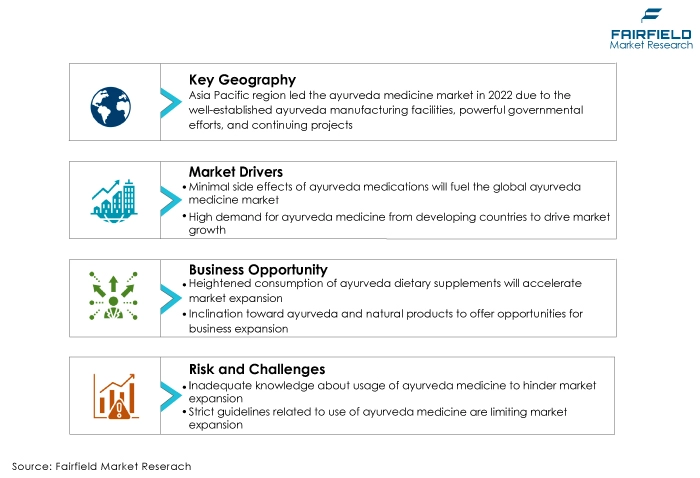 How Does the Regulatory Scenario Shape this Industry?
Ayurveda is a traditional medical system that the World Health Organisation (WHO) has recognised alongside other mainstream medical systems from various nations. A project collaboration agreement (PCS) between the WHO and the Indian government's Ministry of Ayush has been inked. When providing services relating to conventional and complementary medicine, the agreement was made to promote quality, effectiveness, and safety.
The Ministry of India has signed 13 Memorandums of Understanding (MoUs) to establish AYUSH Academic Chairs with foreign Universities and institutes in order to advance the teaching of the Indian System of Medicine and Ayurveda around the world. Under these agreements, AYUSH experts are deputed to reputable Universities and institutes to conduct teaching, training, and research activities.
Ayurvedic study and practice are not significantly regulated in the United States, and no state mandates that practitioners hold a license. Metals, minerals, and stones are used in some Ayurvedic treatments. The US FDA recently published a warning for a number of ayurvedic products due to the inclusion of metals.
Special procedures, including quality dossiers, safety and efficacy assessments, and specialised labeling standards, are needed for the sale of ayurvedic medicines in China. The Drug Administration Laws require the approval of new ayurvedic medications.
Fairfield's Ranking Board
Top Segments
Personal Products Category Continues to Dominate
The personal products segment dominated the market in 2022. Due to established Ayurvedic production facilities, the personal care industry is anticipated to expand as a result of rising consumer awareness of personal care products, changes in consumption and lifestyle habits, and increased purchasing power among women. The major factors behind the rising demand for herbal raw ingredients in the beauty industry are the benefits over the long term for hair, face, and skin.
Furthermore, the healthcare products category is projected to experience the fastest market growth. This is explained by the significant demand for herbal raw materials from the alternative medicine and nutritional supplement industries.
After learning about the long-term advantages of herbal goods, consumers are turning away from synthetic medications and towards those made from herbs. In the nutraceutical sector, dietary supplements, including herbal protein powders and anti-aging treatments, are common product categories.
Skin Diseases Will Surge Ahead Through 2030
In 2022, the skin diseases category dominated the industry. Even while numerous effective herbs and ointments offer momentary relief for wounds, skin irritation, or blemishes, in order to assist the patient in restoring their body to a healthy balance and curing the symptoms of skin illness, Ayurveda always aims to address the underlying cause.
Ayurveda can heal chronic skin conditions, including eczema and dermatitis. The autoimmune diseases category is anticipated to grow substantially throughout the projected period.
Restoring balance and bolstering the body's natural immunity are the main goals of the ayurvedic approach to treating autoimmune disorders. Additionally, a personalised combination of treatments, medications, diets, and lifestyle advice works on the entire issue.
Supermarkets Bring in the Maximum Revenue
The supermarket segment dominated the market in 2022. In order to make money, ayurvedic products or services are offered to customers through a variety of distribution channels in supermarkets. They satisfy the demand that has been located via a supply chain.
The internet retailing category is expected to experience the fastest growth within the forecast time frame. Due to increased awareness, increased use of mobile devices with internet access, and the potential to reach out to small towns and villages, the internet retailing channel is expected to experience rapid expansion over the projection year.
More importantly, it is a cost-effective channel because there are undoubtedly fewer intermediaries.
Regional Frontrunners
Asia Pacific at the Forefront
The ayurveda medicine adoption is anticipated to dominate in the Asia Pacific region because nations like Indonesia, India, Sri Lanka, and Myanmar have a long history of developing ayurveda medicine.
The sector in the Asia Pacific region will be supported by robust governmental initiatives, ongoing projects, and established ayurvedic manufacturing facilities. For instance, the Ministry of AYUSH signed Memorandums of Understanding (MoUs) for Country-to-Country Cooperation in Traditional Medicine and Homoeopathy with 18 countries in April 2021.
The Ministry also agreed to the signing of Memorandums of Understanding for Academic and Cooperative Research Collaboration and Memorandums of Understanding for the Appointment of Academic Chairs in AYUSH Systems in International Universities with Locations in 28 Countries. These contracts were signed in order to spread AYUSH practices over the world.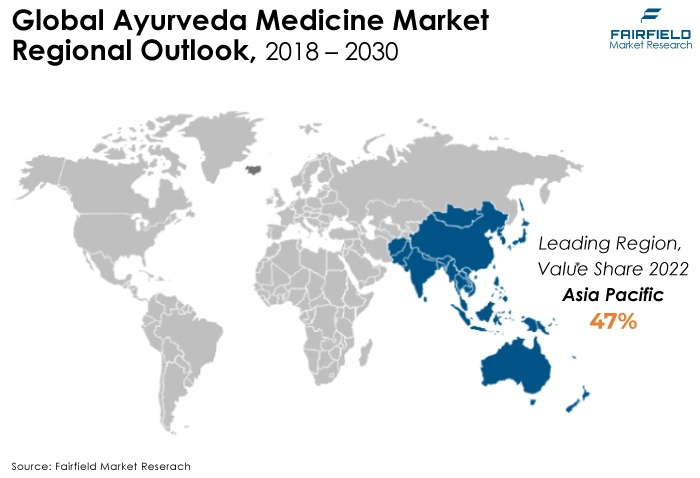 North America Likely to Witness the Significant Growth in Sales During Forecast Period
This industry will experience significant growth in the North American ayurveda medicine market because more customers are becoming health-conscious. The growing green movement is influencing people's views on natural cosmetics. This is because patients are believed to be negatively affected by alternative treatments. This has aided the product's growth in the US market.
Additionally, as more people become aware of the therapeutic benefits and minimal side effects of ayurvedic medicines, the market for ayurveda medicine is expected to grow throughout the forecasted period. The increased awareness of how sustainable and environmentally advantageous Ayurvedic practices and products are has an impact on the demand for ayurveda medicine in the region.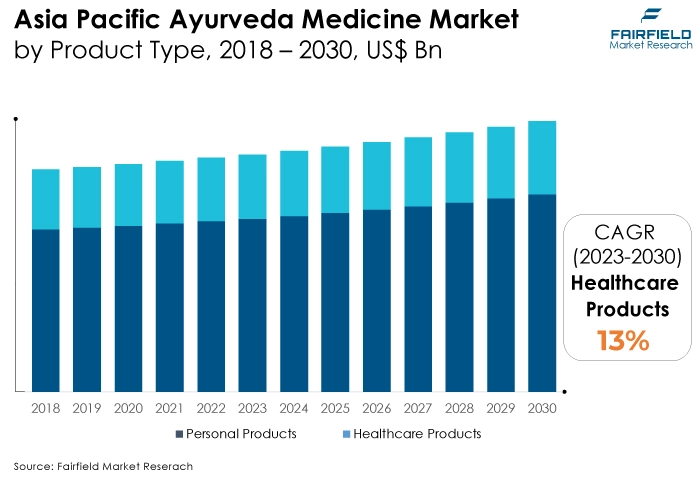 Fairfield's Competitive Landscape Analysis
The market for ayurvedic medicines is condensed and has few significant companies existing worldwide. To increase their global footprint, the major firms are launching new items and enhancing their distribution networks. In addition, Fairfield Market Research anticipates that during the next few years, there will be further market consolidation.
Who are the Leaders in Global Ayurveda Medicine Space?
Significant Company Developments
New Product Launches
May 2022: The Ayurveda Company (T.A.C), one of the fastest-growing D2C companies in the natural beauty and wellness space, has expanded its product portfolio with the launch of T.A.C Junior, an exclusive baby care line comprised entirely of Ayurvedic goods. TAC baby care products provide safe sustenance for children and are manufactured from 100 percent natural components that have been expertly mixed to keep a baby's skin healthy and protected from the start.
February 2022: Zeon Lifesciences research team has created science-based botanical medicines with various ayurvedic formulations for the prevention and management of cancer using a multidirectional approach. In April 2022, the business expects to launch its first anti-cancer and pro-immunity medicine. By 2023, the goods will be available throughout PAN India, and foreign markets will be sought to extend nutraceutical wellness rotation globally.
May 2021: Dabur India Limited announced the launch of the 'Dabur Kovi Rakshak Kit' on Monday, a collection of time-tested Ayurvedic medicines that aid in the recovery from persistent respiratory infections. Dabur KoviRakshak Kit was developed and launched in accordance with Indian Council of Medical Research norms and after extensive research on infected individuals.
Acquisition Agreementes
September 2023: Emami, one of India's top personal care and healthcare corporations, is entering the fruit juice market with a 6% interest in Axiom Ayurveda. The ayurveda company is valued at roughly Rs 400 crore after a Rs 100-crore acquisition. Axiom sells beverages under the name "AloFrut."
November 2022: Mankind Pharma Ltd. has acquired a controlling stake in Upakarma Ayurveda Pvt Ltd through one of its subsidiaries for an unknown value. As a result of the equity transaction, Upakarma Ayurveda will be able to develop its product line, enter the market, and leverage Mankind's distribution network.
An Expert's Eye
Demand and Future Growth
As per Fairfield's Analysis, the growing trend of consuming natural products is driving the market. The rising demand for chemical-free medicine due to its major side effects may result in a growth in plant-based medicine, especially in the case of skin disorders, increasing the need for ayurveda medicine.
Furthermore, technological developments have greatly aided the growth and development of various ayurveda medicines for various diseases. However, the ayurveda medicine market is expected to face considerable challenges because of strict regulations imposed on ayurvedic medicine.
Supply Side of the Market
According to our analysis, the manufacturers present in the ayurveda medicine market are focusing on enhancing the medicine benefits by introducing new medicines, especially for autoimmune diseases, which will help the patients to use the benefits of ayurveda medicine at an effective rate.
India is the biggest exporter and consumer of ayurveda medicine in the world. In the fiscal year 2021-2022, India exported Ayush and herbal items for a total of $612.1 million. In the last two years (2021-2022 to 2022-23), India exported Ayush and herbal items for a total of US$1,240.6 Mn.
Further, the availability of ayurveda medicinal plants in the region will increase the manufacturing of ayurveda medicine in the region. India is home to between 3,000 and 5,000 different types of medicinal plants, with about 1,000 of them facing extinction. More than 2,400 plant species have been identified among these for use as medicines.
Besides, the US is the fastest-growing nation in the ayurveda medicine market. This growth can increase awareness regarding plant-based medicine. Adult Americans who practice Ayurvedic medicine number about 240,000.
Global Ayurveda Medicine Market is Segmented as Below:
By Product Type:
Healthcare Products
Ayurvedic Nutraceuticals
Ayurvedic Medicines
Dietary Supplements
Personal Products
Oral Care
Hair Care & Fragrances
Cosmetics and skin care
By Application:
Skin Diseases
Cardiovascular
Autoimmune Diseases
Cancer
Mental Health
Nervous System Disorders
Respiratory Disorders
Other Applications
By Distribution Channels:
Supermarkets
Pharmacy & Drug Stores
Direct Selling
Beauty Salons
Specialty Stores
Online
Other Distribution Channels
By Geographic Coverage:
North America
Europe

Germany
U.K.
France
Italy
Turkey
Russia
Rest of Europe

Asia Pacific

China
Japan
South Korea
India
Southeast Asia
Rest of Asia Pacific

Latin America

Brazil
Mexico
Argentina
Rest of Latin America

Middle East & Africa

GCC
South Africa
Egypt
Nigeria
Rest of Middle East & Africa
1. Executive Summary
1.1. Global Ayurveda Medicine Market Snapshot
1.2. Future Projections
1.3. Key Market Trends
1.4. Regional Snapshot, by Value, 2022
1.5. Analyst Recommendations

2. Market Overview
2.1. Market Definitions and Segmentations
2.2. Market Dynamics
2.2.1. Drivers
2.2.2. Restraints
2.2.3. Market Opportunities
2.3. Value Chain Analysis
2.4. Porter's Five Forces Analysis
2.5. Covid-19 Impact Analysis
2.5.1. Supply
2.5.2. Demand
2.6. Impact of Ukraine-Russia Conflict
2.7. Economic Overview
2.7.1. World Economic Projections
2.8. PESTLE Analysis

3. Global Ayurveda Medicine Market Outlook, 2018 - 2030
3.1. Global Ayurveda Medicine Market Outlook, by Product Type, Value (US$ Mn), 2018 - 2030
3.1.1. Key Highlights
3.1.1.1. Healthcare Products
3.1.1.1.1. Ayurvedic Nutraceuticals
3.1.1.1.2. Ayurvedic Medicines
3.1.1.1.3. Dietary Supplements
3.1.1.2. Personal Products
3.1.1.2.1. Oral Care
3.1.1.2.2. Hair Care & Fragrances
3.1.1.2.3. Cosmetics & Skincare
3.2. Global Ayurveda Medicine Market Outlook, by Application, Value (US$ Mn), 2018 - 2030
3.2.1. Key Highlights
3.2.1.1. Skin Diseases
3.2.1.2. Cardiovascular
3.2.1.3. Autoimmune Diseases
3.2.1.4. Cancer
3.2.1.5. Mental Health
3.2.1.6. Nervous System Disorders
3.2.1.7. Respiratory Disorders
3.2.1.8. Other Applications
3.3. Global Ayurveda Medicine Market Outlook, by Distribution Channels, Value (US$ Mn), 2018 - 2030
3.3.1. Key Highlights
3.3.1.1. Supermarkets
3.3.1.2. Pharmacy & Drug Stores
3.3.1.3. Direct Selling
3.3.1.4. Beauty Salons
3.3.1.5. Specialty Stores
3.3.1.6. Online
3.3.1.7. Other
3.4. Global Ayurveda Medicine Market Outlook, by Region, Value (US$ Mn), 2018 - 2030
3.4.1. Key Highlights
3.4.1.1. North America
3.4.1.2. Europe
3.4.1.3. Asia Pacific
3.4.1.4. Latin America
3.4.1.5. Middle East & Africa

4. North America Ayurveda Medicine Market Outlook, 2018 - 2030
4.1. North America Ayurveda Medicine Market Outlook, by Product Type, Value (US$ Mn), 2018 - 2030
4.1.1. Key Highlights
4.1.1.1. Healthcare Products
4.1.1.1.1. Ayurvedic Nutraceuticals
4.1.1.1.2. Ayurvedic Medicines
4.1.1.1.3. Dietary Supplements
4.1.1.2. Personal Products
4.1.1.2.1. Oral Care
4.1.1.2.2. Hair Care & Fragrances
4.1.1.2.3. Cosmetics & Skin care
4.2. North America Ayurveda Medicine Market Outlook, by Application, Value (US$ Mn), 2018 - 2030
4.2.1. Key Highlights
4.2.1.1. Skin Diseases
4.2.1.2. Cardiovascular
4.2.1.3. Autoimmune Diseases
4.2.1.4. Cancer
4.2.1.5. Mental Health
4.2.1.6. Nervous System Disorders
4.2.1.7. Respiratory Disorders
4.2.1.8. Other Applications
4.3. North America Ayurveda Medicine Market Outlook, by Distribution Channels, Value (US$ Mn), 2018 - 2030
4.3.1. Key Highlights
4.3.1.1. Supermarkets
4.3.1.2. Pharmacy & Drug Stores
4.3.1.3. Direct Selling
4.3.1.4. Beauty Salons
4.3.1.5. Specialty Stores
4.3.1.6. Online
4.3.1.7. Other
4.3.2. BPS Analysis/Market Attractiveness Analysis
4.4. North America Ayurveda Medicine Market Outlook, by Country, Value (US$ Mn), 2018 - 2030
4.4.1. Key Highlights
4.4.1.1. U.S. Ayurveda Medicine Market by Product Type, Value (US$ Mn), 2018 - 2030
4.4.1.2. U.S. Ayurveda Medicine Market by Application, Value (US$ Mn), 2018 - 2030
4.4.1.3. U.S. Ayurveda Medicine Market by Distribution Channels, Value (US$ Mn), 2018 - 2030
4.4.1.4. Canada Ayurveda Medicine Market by Product Type, Value (US$ Mn), 2018 - 2030
4.4.1.5. Canada Ayurveda Medicine Market by Application, Value (US$ Mn), 2018 - 2030
4.4.1.6. Canada Ayurveda Medicine Market by Distribution Channels, Value (US$ Mn), 2018 - 2030
4.4.2. BPS Analysis/Market Attractiveness Analysis

5. Europe Ayurveda Medicine Market Outlook, 2018 - 2030
5.1. Europe Ayurveda Medicine Market Outlook, by Product Type, Value (US$ Mn), 2018 - 2030
5.1.1. Key Highlights
5.1.1.1. Healthcare Products
5.1.1.1.1. Ayurvedic Nutraceuticals
5.1.1.1.2. Ayurvedic Medicines
5.1.1.1.3. Dietary Supplements
5.1.1.2. Personal Products
5.1.1.2.1. Oral Care
5.1.1.2.2. Hair Care & Fragrances
5.1.1.2.3. Cosmetics & Skin care
5.2. Europe Ayurveda Medicine Market Outlook, by Application, Value (US$ Mn), 2018 - 2030
5.2.1. Key Highlights
5.2.1.1. Skin Diseases
5.2.1.2. Cardiovascular
5.2.1.3. Autoimmune Diseases
5.2.1.4. Cancer
5.2.1.5. Mental Health
5.2.1.6. Nervous System Disorders
5.2.1.7. Respiratory Disorders
5.2.1.8. Other Applications
5.3. Europe Ayurveda Medicine Market Outlook, by Distribution Channels, Value (US$ Mn), 2018 - 2030
5.3.1. Key Highlights
5.3.1.1. Supermarkets
5.3.1.2. Pharmacy & Drug Stores
5.3.1.3. Direct Selling
5.3.1.4. Beauty Salons
5.3.1.5. Specialty Stores
5.3.1.6. Online
5.3.1.7. Other
5.3.2. BPS Analysis/Market Attractiveness Analysis
5.4. Europe Ayurveda Medicine Market Outlook, by Country, Value (US$ Mn), 2018 - 2030
5.4.1. Key Highlights
5.4.1.1. Germany Ayurveda Medicine Market by Product Type, Value (US$ Mn), 2018 - 2030
5.4.1.2. Germany Ayurveda Medicine Market by Application, Value (US$ Mn), 2018 - 2030
5.4.1.3. Germany Ayurveda Medicine Market by Distribution Channels, Value (US$ Mn), 2018 - 2030
5.4.1.4. U.K. Ayurveda Medicine Market by Product Type, Value (US$ Mn), 2018 - 2030
5.4.1.5. U.K. Ayurveda Medicine Market by Application, Value (US$ Mn), 2018 - 2030
5.4.1.6. U.K. Ayurveda Medicine Market by Distribution Channels, Value (US$ Mn), 2018 - 2030
5.4.1.7. France Ayurveda Medicine Market by Product Type, Value (US$ Mn), 2018 - 2030
5.4.1.8. France Ayurveda Medicine Market by Application, Value (US$ Mn), 2018 - 2030
5.4.1.9. France Ayurveda Medicine Market by Distribution Channels, Value (US$ Mn), 2018 - 2030
5.4.1.10. Italy Ayurveda Medicine Market by Product Type, Value (US$ Mn), 2018 - 2030
5.4.1.11. Italy Ayurveda Medicine Market by Application, Value (US$ Mn), 2018 - 2030
5.4.1.12. Italy Ayurveda Medicine Market by Distribution Channels, Value (US$ Mn), 2018 - 2030
5.4.1.13. Turkey Ayurveda Medicine Market by Product Type, Value (US$ Mn), 2018 - 2030
5.4.1.14. Turkey Ayurveda Medicine Market by Application, Value (US$ Mn), 2018 - 2030
5.4.1.15. Turkey Ayurveda Medicine Market by Distribution Channels, Value (US$ Mn), 2018 - 2030
5.4.1.16. Russia Ayurveda Medicine Market by Product Type, Value (US$ Mn), 2018 - 2030
5.4.1.17. Russia Ayurveda Medicine Market by Application, Value (US$ Mn), 2018 - 2030
5.4.1.18. Russia Ayurveda Medicine Market by Distribution Channels, Value (US$ Mn), 2018 - 2030
5.4.1.19. Rest of Europe Ayurveda Medicine Market by Product Type, Value (US$ Mn), 2018 - 2030
5.4.1.20. Rest of Europe Ayurveda Medicine Market by Application, Value (US$ Mn), 2018 - 2030
5.4.1.21. Rest of Europe Ayurveda Medicine Market by Distribution Channels, Value (US$ Mn), 2018 - 2030
5.4.2. BPS Analysis/Market Attractiveness Analysis

6. Asia Pacific Ayurveda Medicine Market Outlook, 2018 - 2030
6.1. Asia Pacific Ayurveda Medicine Market Outlook, by Product Type, Value (US$ Mn), 2018 - 2030
6.1.1. Key Highlights
6.1.1.1. Healthcare Products
6.1.1.1.1. Ayurvedic Nutraceuticals
6.1.1.1.2. Ayurvedic Medicines
6.1.1.1.3. Dietary Supplements
6.1.1.2. Personal Products
6.1.1.2.1. Oral Care
6.1.1.2.2. Hair Care & Fragrances
6.1.1.2.3. Cosmetics & Skin care
6.2. Asia Pacific Ayurveda Medicine Market Outlook, by Application, Value (US$ Mn), 2018 - 2030
6.2.1. Key Highlights
6.2.1.1. Skin Diseases
6.2.1.2. Cardiovascular
6.2.1.3. Autoimmune Diseases
6.2.1.4. Cancer
6.2.1.5. Mental Health
6.2.1.6. Nervous System Disorders
6.2.1.7. Respiratory Disorders
6.2.1.8. Other Applications
6.3. Asia Pacific Ayurveda Medicine Market Outlook, by Distribution Channels, Value (US$ Mn), 2018 - 2030
6.3.1. Key Highlights
6.3.1.1. Supermarkets
6.3.1.2. Pharmacy & Drug Stores
6.3.1.3. Direct Selling
6.3.1.4. Beauty Salons
6.3.1.5. Specialty Stores
6.3.1.6. Online
6.3.1.7. Other
6.3.2. BPS Analysis/Market Attractiveness Analysis
6.4. Asia Pacific Ayurveda Medicine Market Outlook, by Country, Value (US$ Mn), 2018 - 2030
6.4.1. Key Highlights
6.4.1.1. China Ayurveda Medicine Market by Product Type, Value (US$ Mn), 2018 - 2030
6.4.1.2. China Ayurveda Medicine Market by Application, Value (US$ Mn), 2018 - 2030
6.4.1.3. China Ayurveda Medicine Market by Distribution Channels, Value (US$ Mn), 2018 - 2030
6.4.1.4. Japan Ayurveda Medicine Market by Product Type, Value (US$ Mn), 2018 - 2030
6.4.1.5. Japan Ayurveda Medicine Market by Application, Value (US$ Mn), 2018 - 2030
6.4.1.6. Japan Ayurveda Medicine Market by Distribution Channels, Value (US$ Mn), 2018 - 2030
6.4.1.7. South Korea Ayurveda Medicine Market by Product Type, Value (US$ Mn), 2018 - 2030
6.4.1.8. South Korea Ayurveda Medicine Market by Application, Value (US$ Mn), 2018 - 2030
6.4.1.9. South Korea Ayurveda Medicine Market by Distribution Channels, Value (US$ Mn), 2018 - 2030
6.4.1.10. India Ayurveda Medicine Market by Product Type, Value (US$ Mn), 2018 - 2030
6.4.1.11. India Ayurveda Medicine Market by Application, Value (US$ Mn), 2018 - 2030
6.4.1.12. India Ayurveda Medicine Market by Distribution Channels, Value (US$ Mn), 2018 - 2030
6.4.1.13. Southeast Asia Ayurveda Medicine Market by Product Type, Value (US$ Mn), 2018 - 2030
6.4.1.14. Southeast Asia Ayurveda Medicine Market by Application, Value (US$ Mn), 2018 - 2030
6.4.1.15. Southeast Asia Ayurveda Medicine Market by Distribution Channels, Value (US$ Mn), 2018 - 2030
6.4.1.16. Rest of Asia Pacific Ayurveda Medicine Market by Product Type, Value (US$ Mn), 2018 - 2030
6.4.1.17. Rest of Asia Pacific Ayurveda Medicine Market by Application, Value (US$ Mn), 2018 - 2030
6.4.1.18. Rest of Asia Pacific Ayurveda Medicine Market by Distribution Channels, Value (US$ Mn), 2018 - 2030
6.4.2. BPS Analysis/Market Attractiveness Analysis

7. Latin America Ayurveda Medicine Market Outlook, 2018 - 2030
7.1. Latin America Ayurveda Medicine Market Outlook, by Product Type, Value (US$ Mn), 2018 - 2030
7.1.1. Key Highlights
7.1.1.1. Healthcare Products
7.1.1.1.1. Ayurvedic Nutraceuticals
7.1.1.1.2. Ayurvedic Medicines
7.1.1.1.3. Dietary Supplements
7.1.1.2. Personal Products
7.1.1.2.1. Oral Care
7.1.1.2.2. Hair Care & Fragrances
7.1.1.2.3. Cosmetics & Skin care
7.2. Latin America Ayurveda Medicine Market Outlook, by Application, Value (US$ Mn), 2018 - 2030
7.2.1. Key Highlights
7.2.1.1. Skin Diseases
7.2.1.2. Cardiovascular
7.2.1.3. Autoimmune Diseases
7.2.1.4. Cancer
7.2.1.5. Mental Health
7.2.1.6. Nervous System Disorders
7.2.1.7. Respiratory Disorders
7.2.1.8. Other Applications
7.3. Latin America Ayurveda Medicine Market Outlook, by Distribution Channels, Value (US$ Mn), 2018 - 2030
7.3.1. Key Highlights
7.3.1.1. Supermarkets
7.3.1.2. Pharmacy & Drug Stores
7.3.1.3. Direct Selling
7.3.1.4. Beauty Salons
7.3.1.5. Specialty Stores
7.3.1.6. Online
7.3.1.7. Other
7.3.2. BPS Analysis/Market Attractiveness Analysis
7.4. Latin America Ayurveda Medicine Market Outlook, by Country, Value (US$ Mn), 2018 - 2030
7.4.1. Key Highlights
7.4.1.1. Brazil Ayurveda Medicine Market by Product Type, Value (US$ Mn), 2018 - 2030
7.4.1.2. Brazil Ayurveda Medicine Market by Application, Value (US$ Mn), 2018 - 2030
7.4.1.3. Brazil Ayurveda Medicine Market by Distribution Channels, Value (US$ Mn), 2018 - 2030
7.4.1.4. Mexico Ayurveda Medicine Market by Product Type, Value (US$ Mn), 2018 - 2030
7.4.1.5. Mexico Ayurveda Medicine Market by Application, Value (US$ Mn), 2018 - 2030
7.4.1.6. Mexico Ayurveda Medicine Market by Distribution Channels, Value (US$ Mn), 2018 - 2030
7.4.1.7. Argentina Ayurveda Medicine Market by Product Type, Value (US$ Mn), 2018 - 2030
7.4.1.8. Argentina Ayurveda Medicine Market by Application, Value (US$ Mn), 2018 - 2030
7.4.1.9. Argentina Ayurveda Medicine Market by Distribution Channels, Value (US$ Mn), 2018 - 2030
7.4.1.10. Rest of Latin America Ayurveda Medicine Market by Product Type, Value (US$ Mn), 2018 - 2030
7.4.1.11. Rest of Latin America Ayurveda Medicine Market by Application, Value (US$ Mn), 2018 - 2030
7.4.1.12. Rest of Latin America Ayurveda Medicine Market by Distribution Channels, Value (US$ Mn), 2018 - 2030
7.4.2. BPS Analysis/Market Attractiveness Analysis

8. Middle East & Africa Ayurveda Medicine Market Outlook, 2018 - 2030
8.1. Middle East & Africa Ayurveda Medicine Market Outlook, by Product Type, Value (US$ Mn), 2018 - 2030
8.1.1. Key Highlights
8.1.1.1. Healthcare Products
8.1.1.1.1. Ayurvedic Nutraceuticals
8.1.1.1.2. Ayurvedic Medicines
8.1.1.1.3. Dietary Supplements
8.1.1.2. Personal Products
8.1.1.2.1. Oral Care
8.1.1.2.2. Hair Care & Fragrances
8.1.1.2.3. Cosmetics & Skin care
8.2. Middle East & Africa Ayurveda Medicine Market Outlook, by Application, Value (US$ Mn), 2018 - 2030
8.2.1. Key Highlights
8.2.1.1. Skin Diseases
8.2.1.2. Cardiovascular
8.2.1.3. Autoimmune Diseases
8.2.1.4. Cancer
8.2.1.5. Mental Health
8.2.1.6. Nervous System Disorders
8.2.1.7. Respiratory Disorders
8.2.1.8. Other Applications
8.3. Middle East & Africa Ayurveda Medicine Market Outlook, by Distribution Channels, Value (US$ Mn), 2018 - 2030
8.3.1. Key Highlights
8.3.1.1. Supermarkets
8.3.1.2. Pharmacy & Drug Stores
8.3.1.3. Direct Selling
8.3.1.4. Beauty Salons
8.3.1.5. Specialty Stores
8.3.1.6. Online
8.3.1.7. Other
8.3.2. BPS Analysis/Market Attractiveness Analysis
8.4. Middle East & Africa Ayurveda Medicine Market Outlook, by Country, Value (US$ Mn), 2018 - 2030
8.4.1. Key Highlights
8.4.1.1. GCC Ayurveda Medicine Market by Product Type, Value (US$ Mn), 2018 - 2030
8.4.1.2. GCC Ayurveda Medicine Market by Application, Value (US$ Mn), 2018 - 2030
8.4.1.3. GCC Ayurveda Medicine Market by Distribution Channels, Value (US$ Mn), 2018 - 2030
8.4.1.4. South Africa Ayurveda Medicine Market by Product Type, Value (US$ Mn), 2018 - 2030
8.4.1.5. South Africa Ayurveda Medicine Market by Application, Value (US$ Mn), 2018 - 2030
8.4.1.6. South Africa Ayurveda Medicine Market by Distribution Channels, Value (US$ Mn), 2018 - 2030
8.4.1.7. Egypt Ayurveda Medicine Market by Product Type, Value (US$ Mn), 2018 - 2030
8.4.1.8. Egypt Ayurveda Medicine Market by Application, Value (US$ Mn), 2018 - 2030
8.4.1.9. Egypt Ayurveda Medicine Market by Distribution Channels, Value (US$ Mn), 2018 - 2030
8.4.1.10. Nigeria Ayurveda Medicine Market by Product Type, Value (US$ Mn), 2018 - 2030
8.4.1.11. Nigeria Ayurveda Medicine Market by Application, Value (US$ Mn), 2018 - 2030
8.4.1.12. Nigeria Ayurveda Medicine Market by Distribution Channels, Value (US$ Mn), 2018 - 2030
8.4.1.13. Rest of Middle East & Africa Ayurveda Medicine Market by Product Type, Value (US$ Mn), 2018 - 2030
8.4.1.14. Rest of Middle East & Africa Ayurveda Medicine Market by Application, Value (US$ Mn), 2018 - 2030
8.4.1.15. Rest of Middle East & Africa Ayurveda Medicine Market by Distribution Channels, Value (US$ Mn), 2018 - 2030
8.4.2. BPS Analysis/Market Attractiveness Analysis

9. Competitive Landscape
9.1. Manufacturer vs Product/Application Heatmap
9.2. Company Market Share Analysis, 2022
9.3. Competitive Dashboard
9.4. Company Profiles
9.4.1. Baidyanath
9.4.1.1. Company Overview
9.4.1.2. Product Portfolio
9.4.1.3. Financial Overview
9.4.1.4. Business Strategies and Development
9.4.2. Charak Pharma Pvt. Ltd.
9.4.2.1. Company Overview
9.4.2.2. Product Portfolio
9.4.2.3. Financial Overview
9.4.2.4. Business Strategies and Development
9.4.3. Chinese Herbs Direct
9.4.3.1. Company Overview
9.4.3.2. Product Portfolio
9.4.3.3. Financial Overview
9.4.3.4. Business Strategies and Development
9.4.4. Dabur India Ltd
9.4.4.1. Company Overview
9.4.4.2. Product Portfolio
9.4.4.3. Financial Overview
9.4.4.4. Business Strategies and Development
9.4.5. Doctor Green's
9.4.5.1. Company Overview
9.4.5.2. Product Portfolio
9.4.5.3. Financial Overview
9.4.5.4. Business Strategies and Development
9.4.6. E3 Live
9.4.6.1. Company Overview
9.4.6.2. Product Portfolio
9.4.6.3. Financial Overview
9.4.6.4. Business Strategies and Development
9.4.7. ELZAC Herbals
9.4.7.1. Company Overview
9.4.7.2. Product Portfolio
9.4.7.3. Financial Overview
9.4.7.4. Business Strategies and Development
9.4.8. Emami
9.4.8.1. Company Overview
9.4.8.2. Product Portfolio
9.4.8.3. Financial Overview
9.4.8.4. Business Strategies and Development
9.4.9. Hamdard Laboratories
9.4.9.1. Company Overview
9.4.9.2. Product Portfolio
9.4.9.3. Financial Overview
9.4.9.4. Business Strategies and Development
9.4.10. Kairali Ayurvedic Group
9.4.10.1. Company Overview
9.4.10.2. Product Portfolio
9.4.10.3. Financial Overview
9.4.10.4. Business Strategies and Development
9.4.11. Native Remedies
9.4.11.1. Company Overview
9.4.11.2. Product Portfolio
9.4.11.3. Financial Overview
9.4.11.4. Business Strategies and Development
9.4.12. Naturally Direct
9.4.12.1. Company Overview
9.4.12.2. Product Portfolio
9.4.12.3. Financial Overview
9.4.12.4. Business Strategies and Development
9.4.13. Nutricore Biosciences
9.4.13.1. Company Overview
9.4.13.2. Product Portfolio
9.4.13.3. Financial Overview
9.4.13.4. Business Strategies and Development
9.4.14. Patanjali Ayurveda
9.4.14.1. Company Overview
9.4.14.2. Product Portfolio
9.4.14.3. Financial Overview
9.4.14.4. Business Strategies and Development
9.4.15. Sandu Pharmaceuticals Ltd.
9.4.15.1. Company Overview
9.4.15.2. Product Portfolio
9.4.15.3. Financial Overview
9.4.15.4. Business Strategies and Development

10. Appendix
10.1. Research Methodology
10.2. Report Assumptions
10.3. Acronyms and Abbreviations