Battery Management System Market Outlook
Global battery management system market was valued at US$4.6 Bn in 2019 and is expected to be worth US$28.4 Bn by 2029 end. Between the years of projection 2022 and 2029, the battery management system market size is anticipated to register a robust CAGR of 19.8%.
Climbing EV and HEV Sales Boost Rate of Adoption for Battery Management System Market
Utilizing green energy is becoming increasingly important and electric vehicles (EVs) are presently the most environmentally beneficial choice for both private transportation and public transportation. Due to their high energy and current densities, lithium-ion batteries are a typical part of electric cars. Unfortunately, lithium-ion batteries can be dangerous if used outside of their safety operation area. Every lithium-ion battery must consequently include a battery management system, especially EV batteries, and those used in hybrid electric vehicles (HEVs). The main duty of a battery management system is to ensure that the energy stored in the battery that powers the portable device is used as effectively as possible while reducing the possibility of battery damage, which is achieved by monitoring and controlling the battery's charging and discharging processes. Increasing demand for efficient performance at a minimal risk of battery damage is expected to drive the growth of battery management system market.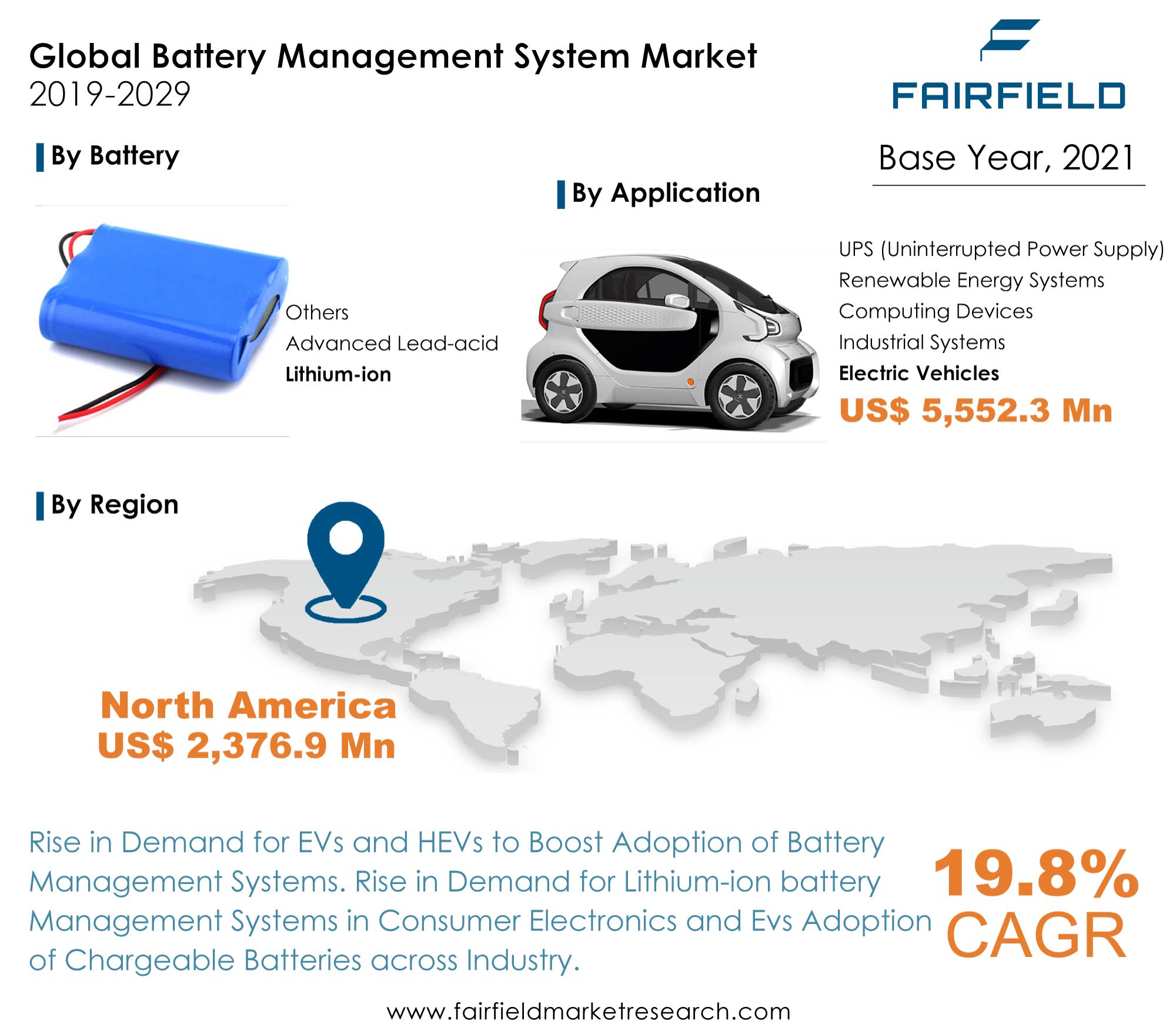 Modern batteries produce a lot of current while maintaining a constant voltage, which could lead to a runaway scenario if the battery catches fire. Since the chemicals used to make batteries are quite flammable, a battery can catch fire if it is accidentally punctured. Temperature readings are used for more than only determining safety; they may also be used to determine whether charging or discharging a battery is preferable. A temperature sensor is present in each cell of an energy storage system or in a group of cells in a more compact, portable application. The temperature of each circuit is typically monitored using thermocouples driven by an internal ADC voltage reference. The internal voltage reference is utilized to lessen temperature reading errors caused by variations in the outside temperature. These advantages are likely to fuel the expansion of battery management system market.
Modular Topology Preferred in Battery Management System Market, Li-ion Battery Leading Battery Type Segment
With rising application across all end-use industries, lithium-ion batteries will dominate the battery management system market in terms of battery type during the projected period. Demand will however remain the maximum within automotive industry. Compared to other typical batteries like lead acid, and nickel, lithium batteries remain the most sought-after among auto manufacturers due to their higher charge density, and lighter weight. Based on its topology, the battery management system can be categorized into modular, centralized, and distributed systems. On the other hand, the modular topology component of this system is expected to witness demand growth at the fastest rate. Many manufacturers employ modular topology since it has excellent processing power and does not require huge wire harnesses. Ascending demand for components for electric cars, commercial drones, medical mobility vehicles, and energy storage systems will further heighten the prospects of growth for modular topology segment.
Depending on the application, the battery management system market has been segmented into energy storage, automotive, consumer electronics, healthcare, telecommunication, renewable, and military and defense. Research indicates estimated dominance of the automotive battery management systems segment throughout the forecast period. The big players rely on UPSs and generators, which are predominantly utilized in the telecom industries for power generation, in addition to employing battery in the event of a power outage. The communications and power generation sectors will control the markets for the systems. Along with the demand for electric and hybrid vehicles, a growth in the need for battery systems is projected. Electric car stationary energy storage systems use high voltage battery packs.
Dominance of North America Intact in Global Battery Management System Market, Ample Opportunity Spotted in Asia Pacific
With the biggest market share, North America dominated the industry in 2020. Numerous significant participants in global battery management system market like Texas Instrument and other well-known companies, as well as of small and medium-sized businesses are based in North America, which is encouraging for the expanding uptake of battery management systems in the local market. The battery management system market in North America has been significantly impacted by the growing use of EVs, HEVs, and the favorable government initiatives. For the development of HEVs, the government is offering a variety of financial and encouraging incentives. The rise of the battery management system market can be attributed to an increase in car sales.
Battery management system market in Asia Pacific is predicted to grow at the fastest CAGR between 2022 and 2029. The expansion of the market here may be linked to businesses in Asia Pacific nations like China, and India showing an increasing demand for cutting-edge technical solutions. To reduce carbon dioxide emissions, the government continually places a focus on EVs, and HEVs. Public transportation has been witnessing a revolutionary change in the wake of the increase in air pollution. Industry players are switching to renewable energy to comply with government regulations. Batteries are widely used in the consumer electronics, telecom, and automotive industries.
Leading Vendors in Global Battery Management System Market
The battery management system market vendors have implemented various types of organic and inorganic growth strategies, such as new product launches, product upgradations, partnerships and agreements, business expansions, and mergers and acquisitions to strengthen their offerings in the market. Several companies steering the global battery management system market are also pursuing several other strategic initiatives, including joint ventures, and new product launches, and striking contracts and agreements to strengthen their position in the market. Some of the major vendors considered for strategic profiling in the report include Analog Devices, Eberspächer, Elithion Inc, Johnson Matthey, Leclanché SA, Marelli Holdings Co., Ltd, Navitas System, LLC, Nidec Motor Corporation, Nuvation Energy, Panasonic Industry Co., Ltd, Sedemac, and Texas Instruments.
Recent Notable Developments
In May 2022, Marelli Holdings Co., Ltd. expanded its battery management technologies for electric vehicles by launching Wireless Distributed Battery Management System (wBMS). This technology eliminates wired physical connections that are required in other battery management system architecture, thus ensuring greater flexibility, increased efficiency, improved reliability, and reduced costs


In September 2020, Analog Devices, Inc. launched a wireless battery monitoring system that helps improve design flexibility and manufacturability without sacrificing range and accuracy during the battery's lifespan. This can save up to 90% of the wiring and up to 15% of the volume of the battery pack. These features enable automakers to scale up the production of electric vehicle fleets across a wide range of vehicle classes
The Global Battery Management System Market is Segmented as Below:
By Battery Coverage
Lithium-ion
Advanced Lead-acid
Others
By Topology Coverage
Centralized
Distributed
Modular
By Application Coverage
Electric Vehicles
Computing Devices
Renewable Energy Systems
UPS (Uninterrupted Power Supply)
Industrial Systems
Others (Personal Mobility Instruments, Robotic Boats & ROVs, etc.)
By End Use Coverage
Automotive & Transportation
Military & Defense
Energy & Utility
Healthcare
Consumer Electronics
Telecommunications
Others (Industrial, Marine, etc.)
By Geographical Coverage
North America
Europe

Germany
France
UK
Italy
Turkey
Spain
Russia
Rest of Europe

Asia Pacific

China
Japan
South Korea
India
Southeast Asia
Rest of Asia Pacific

Latin America

Brazil
Mexico
Rest of Latin America

Middle East & Africa

GCC
Egypt
Rest of Middle East & Africa
Leading Companies
Analog Devices
Eberspächer
Elithion Inc
Johnson Matthey
Leclanché SA
Marelli Holdings Co., Ltd
Navitas System, LLC
Nidec Motor Corporation
Nuvation Energy
Panasonic Industry Co., Ltd
Inside This Report You Will Find:
1. Executive Summary
2. Market Overview
3. Global Battery Management System Market Outlook, 2019 - 2029
4. North America Battery Management System Market Outlook, 2019 - 2029
5. Europe Battery Management System Market Outlook, 2019 - 2029
6. Asia Pacific Battery Management System Market Outlook, 2019 - 2029
7. Latin America Battery Management System Market Outlook, 2019 - 2029
8. Middle East & Africa Battery Management System Market Outlook, 2019 - 2029
9. Competitive Landscape
10. Appendix
Post Sale Support, Research Updates & Offerings:
We value the trust shown by our customers in Fairfield Market Research. We support our clients through our post sale support, research updates and offerings.
The report will be prepared in a PPT format and will be delivered in a PDF format.
Additionally, Market Estimation and Forecast numbers will be shared in Excel Workbook.
If a report being sold was published over a year ago, we will offer a complimentary copy of the updated research report along with Market Estimation and Forecast numbers within 2-3 weeks' time of the sale.
If we update this research study within the next 2 quarters, post purchase of the report, we will offer a Complimentary copy of the updated Market Estimation and Forecast numbers in Excel Workbook.
If there is a geopolitical conflict, pandemic, recession, and the like which can impact global economic scenario and business activity, which might entirely alter the market dynamics or future projections in the industry, we will create a Research Update upon your request at a nominal charge.
1. Executive Summary
1.1. Global Battery Management System Market Snapshot
1.2. Future Projections
1.3. Key Market Trends
1.4. Analyst Recommendations

2. Market Overview
2.1. Market Definitions
2.2. Market Taxonomy
2.3. Market Dynamics
2.3.1. Drivers
2.3.2. Restraints
2.4. Value Chain Analysis
2.5. Porter's Five Forces Analysis
2.6. Covid-19 Impact Analysis
2.7. Key Patents

3. Global Battery Management System Market Outlook, 2019 - 2029
3.1. Global Battery Management System Market Outlook, by Battery (US$ '000), 2019 - 2029
3.1.1. Key Highlights
3.1.1.1. Lithium-ion
3.1.1.2. Advanced Lead-acid
3.1.1.3. Others
3.1.2. BPS Analysis/Market Attractiveness Analysis
3.2. Global Battery Management System Market Outlook, by End user, Value (US$ '000), 2019 - 2029
3.2.1. Key Highlights
3.2.1.1. Automotive & Transportation
3.2.1.2. Military & Defense
3.2.1.3. Energy & Utility
3.2.1.4. Healthcare
3.2.1.5. Consumer Electronics
3.2.1.6. Telecommunications
3.2.1.7. Others (Industrial, Marine, etc.)
3.2.2. BPS Analysis/Market Attractiveness Analysis
3.3. Global Battery Management System Market Outlook, by Topology, Value (US$ '000), 2019 - 2029
3.3.1. Key Highlights
3.3.1.1. Centralized
3.3.1.2. Distributed
3.3.1.3. Modular
3.3.2. BPS Analysis/Market Attractiveness Analysis
3.4. Global Battery Management System Market Outlook, by Application, Value (US$ '000), 2019 - 2029
3.4.1. Key Highlights
3.4.1.1. Electric Vehicles
3.4.1.2. Computing Devices
3.4.1.3. Renewable Energy Systems
3.4.1.4. UPS (Uninterrupted Power Supply)
3.4.1.5. Industrial Systems
3.4.1.6. Others (Personal Mobility Instruments, Robotic Boats & ROVs, etc.)
3.4.2. BPS Analysis/Market Attractiveness Analysis
3.5. Global Battery Management System Market Outlook, by Region, Value (US$ '000), 2019 - 2029
3.5.1. Key Highlights
3.5.1.1. North America
3.5.1.2. Europe
3.5.1.3. Asia Pacific
3.5.1.4. Latin America
3.5.1.5. Middle East & Africa
3.5.2. BPS Analysis/Market Attractiveness Analysis

4. North America Battery Management System Market Outlook, 2019 - 2029
4.1. North America Battery Management System Market Outlook, by Battery (US$ '000), 2019 - 2029
4.1.1. Key Highlights
4.1.1.1. Lithium-ion
4.1.1.2. Advanced Lead-acid
4.1.1.3. Others
4.1.2. BPS Analysis/Market Attractiveness Analysis
4.2. North America Battery Management System Market Outlook, by End user, Value (US$ '000), 2019 - 2029
4.2.1. Key Highlights
4.2.1.1. Automotive & Transportation
4.2.1.2. Military & Defense
4.2.1.3. Energy & Utility
4.2.1.4. Healthcare
4.2.1.5. Consumer Electronics
4.2.1.6. Telecommunications
4.2.1.7. Others (Industrial, Marine, etc.)
4.2.2. BPS Analysis/Market Attractiveness Analysis
4.3. North America Battery Management System Market Outlook, by Topology, Value (US$ '000), 2019 - 2029
4.3.1. Key Highlights
4.3.1.1. Centralized
4.3.1.2. Distributed
4.3.1.3. Modular
4.3.2. BPS Analysis/Market Attractiveness Analysis
4.4. North America Battery Management System Market Outlook, by Application, Value (US$ '000), 2019 - 2029
4.4.1. Key Highlights
4.4.1.1. Electric Vehicles
4.4.1.2. Computing Devices
4.4.1.3. Renewable Energy Systems
4.4.1.4. UPS (Uninterrupted Power Supply)
4.4.1.5. Industrial Systems
4.4.1.6. Others (Personal Mobility Instruments, Robotic Boats & ROVs, etc.)
4.4.1.7. BPS Analysis/Market Attractiveness Analysis
4.5. North America Battery Management System Market Outlook, by Country, Value (US$ '000), 2019 - 2029
4.5.1. Key Highlights
4.5.1.1. U.S. Battery Management System Market by Value (US$ '000), 2019 - 2029
4.5.1.2. Canada Battery Management System Market by Value (US$ '000), 2019 - 2029
4.5.2. BPS Analysis/Market Attractiveness Analysis

5. Europe Battery Management System Market Outlook, 2019 - 2029
5.1. Europe Battery Management System Market Outlook, by Battery (US$ '000), 2019 - 2029
5.1.1. Key Highlights
5.1.1.1. Lithium-ion
5.1.1.2. Advanced Lead-acid
5.1.1.3. Others
5.1.2. BPS Analysis/Market Attractiveness Analysis
5.2. Europe Battery Management System Market Outlook, by End user, Value (US$ '000), 2019 - 2029
5.2.1. Key Highlights
5.2.1.1. Automotive & Transportation
5.2.1.2. Military & Defense
5.2.1.3. Energy & Utility
5.2.1.4. Healthcare
5.2.1.5. Consumer Electronics
5.2.1.6. Telecommunications
5.2.1.7. Others (Industrial, Marine, etc.)
5.2.2. BPS Analysis/Market Attractiveness Analysis
5.3. Europe Battery Management System Market Outlook, by Topology, Value (US$ '000), 2019 - 2029
5.3.1. Key Highlights
5.3.1.1. Centralized
5.3.1.2. Distributed
5.3.1.3. Modular
5.3.2. BPS Analysis/Market Attractiveness Analysis
5.4. Europe Battery Management System Market Outlook, by Application, Value (US$ '000), 2019 - 2029
5.4.1. Key Highlights
5.4.1.1. Electric Vehicles
5.4.1.2. Computing Devices
5.4.1.3. Renewable Energy Systems
5.4.1.4. UPS (Uninterrupted Power Supply)
5.4.1.5. Industrial Systems
5.4.1.6. Others (Personal Mobility Instruments, Robotic Boats & ROVs, etc.)
5.4.2. BPS Analysis/Market Attractiveness Analysis
5.5. Europe Battery Management System Market Outlook, by Country, Value (US$ '000), 2019 - 2029
5.5.1. Key Highlights
5.5.1.1. Germany Battery Management System Market by Value (US$ '000), 2019 - 2029
5.5.1.2. France Battery Management System Market by Product, Value (US$ '000), 2019 - 2029
5.5.1.3. U.K. Battery Management System Market by Value (US$ '000), 2019 - 2029
5.5.1.4. Italy Battery Management System Market by Value (US$ '000), 2019 - 2029
5.5.1.5. Spain Battery Management System Market by Product, Value (US$ '000), 2019 - 2029
5.5.1.6. Rest of Europe Battery Management System Market Value (US$ '000), 2019 - 2029
5.5.2. BPS Analysis/Market Attractiveness Analysis

6. Asia Pacific Battery Management System Market Outlook, 2019 - 2029
6.1. Asia Pacific Battery Management System Market Outlook, by Battery (US$ '000), 2019 - 2029
6.1.1. Key Highlights
6.1.1.1. Lithium-ion
6.1.1.2. Advanced Lead-acid
6.1.1.3. Others
6.1.2. BPS Analysis/Market Attractiveness Analysis
6.2. Asia Pacific Battery Management System Market Outlook, by End user, Value (US$ '000), 2019 - 2029
6.2.1. Key Highlights
6.2.1.1. Automotive & Transportation
6.2.1.2. Military & Defense
6.2.1.3. Energy & Utility
6.2.1.4. Healthcare
6.2.1.5. Consumer Electronics
6.2.1.6. Telecommunications
6.2.1.7. Others (Industrial, Marine, etc.)
6.2.2. BPS Analysis/Market Attractiveness Analysis
6.3. Asia Pacific Battery Management System Market Outlook, by Topology, Value (US$ '000), 2019 - 2029
6.3.1. Key Highlights
6.3.1.1. Centralized
6.3.1.2. Distributed
6.3.1.3. Modular
6.3.2. BPS Analysis/Market Attractiveness Analysis
6.4. Asia Pacific Battery Management System Market Outlook, by Application, Value (US$ '000), 2019 - 2029
6.4.1. Key Highlights
6.4.1.1. Electric Vehicles
6.4.1.2. Computing Devices
6.4.1.3. Renewable Energy Systems
6.4.1.4. UPS (Uninterrupted Power Supply)
6.4.1.5. Industrial Systems
6.4.1.6. Others (Personal Mobility Instruments, Robotic Boats & ROVs, etc.)
6.4.2. BPS Analysis/Market Attractiveness Analysis
6.5. Asia Pacific Battery Management System Market Outlook, by Country, Value (US$ '000), 2019 - 2029
6.5.1. Key Highlights
6.5.1.1. India Battery Management System Market by Value (US$ '000), 2019 - 2029
6.5.1.2. China Battery Management System Market by Value (US$ '000), 2019 - 2029
6.5.1.3. Japan Battery Management System Market by Value (US$ '000), 2019 - 2029
6.5.1.4. Australia & New Zealand Battery Management System Market Value (US$ '000), 2019 - 2029
6.5.1.5. Rest of Asia Pacific Market by Value (US$ '000), 2019 - 2029
6.5.2. BPS Analysis/Market Attractiveness Analysis

7. Latin America Battery Management System Market Outlook, 2019 - 2029
7.1. Global Battery Management System Market Outlook, by Battery (US$ '000), 2019 - 2029
7.1.1. Key Highlights
7.1.1.1. Lithium-ion
7.1.1.2. Advanced Lead-acid
7.1.1.3. Others
7.1.2. BPS Analysis/Market Attractiveness Analysis
7.2. Latin America Battery Management System Market Outlook, by End user, Value (US$ '000), 2019 - 2029
7.2.1. Key Highlights
7.2.1.1. Automotive & Transportation
7.2.1.2. Military & Defense
7.2.1.3. Energy & Utility
7.2.1.4. Healthcare
7.2.1.5. Consumer Electronics
7.2.1.6. Telecommunications
7.2.1.7. Others (Industrial, Marine, etc.)
7.2.2. BPS Analysis/Market Attractiveness Analysis
7.3. Latin America Battery Management System Market Outlook, by Topology, Value (US$ '000), 2019 - 2029
7.3.1. Key Highlights
7.3.1.1. Centralized
7.3.1.2. Distributed
7.3.1.3. Modular
7.3.2. BPS Analysis/Market Attractiveness Analysis
7.4. Latin America Battery Management System Market Outlook, by Application, Value (US$ '000), 2019 - 2029
7.4.1. Key Highlights
7.4.1.1. Electric Vehicles
7.4.1.2. Computing Devices
7.4.1.3. Renewable Energy Systems
7.4.1.4. UPS (Uninterrupted Power Supply)
7.4.1.5. Industrial Systems
7.4.1.6. Others (Personal Mobility Instruments, Robotic Boats & ROVs, etc.)
7.4.2. BPS Analysis/Market Attractiveness Analysis
7.5. Latin America Battery Management System Market Outlook, by Country, Value (US$ '000), 2019 - 2029
7.5.1. Key Highlights
7.5.1.1. Brazil Battery Management System Market by Value (US$ '000), 2019 - 2029
7.5.1.2. Mexico Battery Management System Market by Value (US$ '000), 2019 - 2029
7.5.1.3. Rest of Latin America Battery Management System Market by Value (US$ '000), 2019 - 2029
7.5.2. BPS Analysis/Market Attractiveness Analysis

8. Middle East & Africa Battery Management System Market Outlook, 2019 - 2029
8.1. Middle East & Africa Battery Management System Market Outlook, by Battery (US$ '000), 2019 - 2029
8.1.1. Key Highlights
8.1.1.1. Lithium-ion
8.1.1.2. Advanced Lead-acid
8.1.1.3. Others
8.1.2. BPS Analysis/Market Attractiveness Analysis
8.2. Middle East & Africa Battery Management System Market Outlook, by End user, Value (US$ '000), 2019 - 2029
8.2.1. Key Highlights
8.2.1.1. Automotive & Transportation
8.2.1.2. Military & Defense
8.2.1.3. Energy & Utility
8.2.1.4. Healthcare
8.2.1.5. Consumer Electronics
8.2.1.6. Telecommunications
8.2.1.7. Others (Industrial, Marine, etc.)
8.2.2. BPS Analysis/Market Attractiveness Analysis
8.3. Middle East & Africa Battery Management System Market Outlook, by Topology, Value (US$ '000), 2019 - 2029
8.3.1. Key Highlights
8.3.1.1. Centralized
8.3.1.2. Distributed
8.3.1.3. Modular
8.3.2. BPS Analysis/Market Attractiveness Analysis
8.4. Middle East & Africa Battery Management System Market Outlook, by Application, Value (US$ '000), 2019 - 2029
8.4.1. Key Highlights
8.4.1.1. Electric Vehicles
8.4.1.2. Computing Devices
8.4.1.3. Renewable Energy Systems
8.4.1.4. UPS (Uninterrupted Power Supply)
8.4.1.5. Industrial Systems
8.4.1.6. Others (Personal Mobility Instruments, Robotic Boats & ROVs, etc.)
8.4.2. BPS Analysis/Market Attractiveness Analysis
8.5. Middle East & Africa Battery Management System Market Outlook, by Country, Value (US$ '000), 2019 - 2029
8.5.1. Key Highlights
8.5.1.1. GCC Battery Management System Market by Value (US$ '000), 2019 - 2029
8.5.1.2. South Africa Battery Management System Market by Value (US$ '000), 2019 - 2029
8.5.1.3. Rest of Middle East & Africa Battery Management System Market by Value (US$ '000), 2019 - 2029
8.5.2. BPS Analysis/Market Attractiveness Analysis

9. Competitive Landscape
9.1. Company Market Share Analysis, 2019
9.2. Company Profiles
9.2.1. Analog Devices
9.2.1.1. Company Overview
9.2.1.2. Key Retailing Partners
9.2.1.3. Business Segment Revenue
9.2.1.4. Ingredient Overview
9.2.1.5. Product Offering & its Presence
9.2.1.6. Certifications & Claims
9.2.2. Eberspächer
9.2.3. Elithion Inc
9.2.4. Johnson Matthey
9.2.5. Leclanché SA
9.2.6. Marelli Holdings Co., Ltd
9.2.7. Navitas System, LLC
9.2.8. Nidec Motor Corporation
9.2.9. Nuvation Energy
9.2.10. Panasonic Industry Co., Ltd
9.2.11. Sedemac

10. Appendix
10.1. Research Methodology
10.2. Report Assumptions
10.3. Acronyms and Abbreviations
BASE YEAR

HISTORICAL DATA

FORECAST PERIOD

UNITS

2021

2019 - 2021

2022 - 2029

Value: US$ Million
REPORT FEATURES

DETAILS

Battery Coverage

Lithium-ion

Advanced Lead-acid

Others

Topology Coverage

Centralized

Distributed

Modular

Application Coverage

Electric Vehicles

Computing Devices

Renewable Energy Systems

UPS (Uninterrupted Power Supply)

Industrial Systems

Others (Personal Mobility Instruments, Robotic Boats & ROVs, etc.)

End Use Coverage

Automotive & Transportation

Military & Defense

Energy & Utility

Healthcare

Consumer Electronics

Telecommunications

Others (Industrial, Marine, etc.)

Geographical Coverage

North America

Europe

Germany

France

U.K.

Italy

Turkey

Spain

Russia

Rest of Europe

Asia Pacific

China

Japan

South Korea

India

Southeast Asia

Rest of Asia Pacific

Latin America

Brazil

Mexico

Rest of Latin America

Middle East & Africa

Leading Companies

Analog Devices

Eberspächer

Elithion Inc

Johnson Matthey

Leclanché SA

Marelli Holdings Co., Ltd

Navitas System, LLC

Nidec Motor Corporation

Nuvation Energy

Panasonic Industry Co., Ltd

Report Highlights

Market Estimates and Forecast, Market Dynamics, Industry Trends, Competition Landscape, Product-, Application-, Region-, Country-wise Trends & Analysis, COVID-19 Impact Analysis, Key Trends