Big Data Market Outlook
Big data market was valued at US$133 Bn in 2019 and is expected to be worth US$ 395.8 Bn by 2029 end. Between the years of 2022 and 2029, the global market is anticipated to register a CAGR of 11.5%.
Big Data Market Awaits Significant Expansion in the Wake of Rising Significance of Data Analytics
Mounting adoption of Internet of Things (IoT), and the rise in demand for large-scale data analysis collectively drive the growth of global big data market. During the forecast period, the global big data market is anticipated to experience significant expansion. A significant factor for enhancing the growth possibilities for big data market between 2022 and 2029 is also considered as the increasing importance of data analytics among numerous business verticals globally to reach their target audience. Big data analytics is used to analyse structured and unstructured data to understand and provide insights based on correlation, hidden patterns, changing market trends, and other factors. Big data specifically focuses on the volume, velocity, and variety of data to give effective outcomes and greatly assists the end users. For technologies like big data, the wave of digital transformation has shown to be a growth accelerator. The need for big data is expected to increase significantly as a result of the rapid data exchange throughout the globe caused by the digitalization of diverse regions. This is likely to hold a significant impact on the performance of big data market in long run.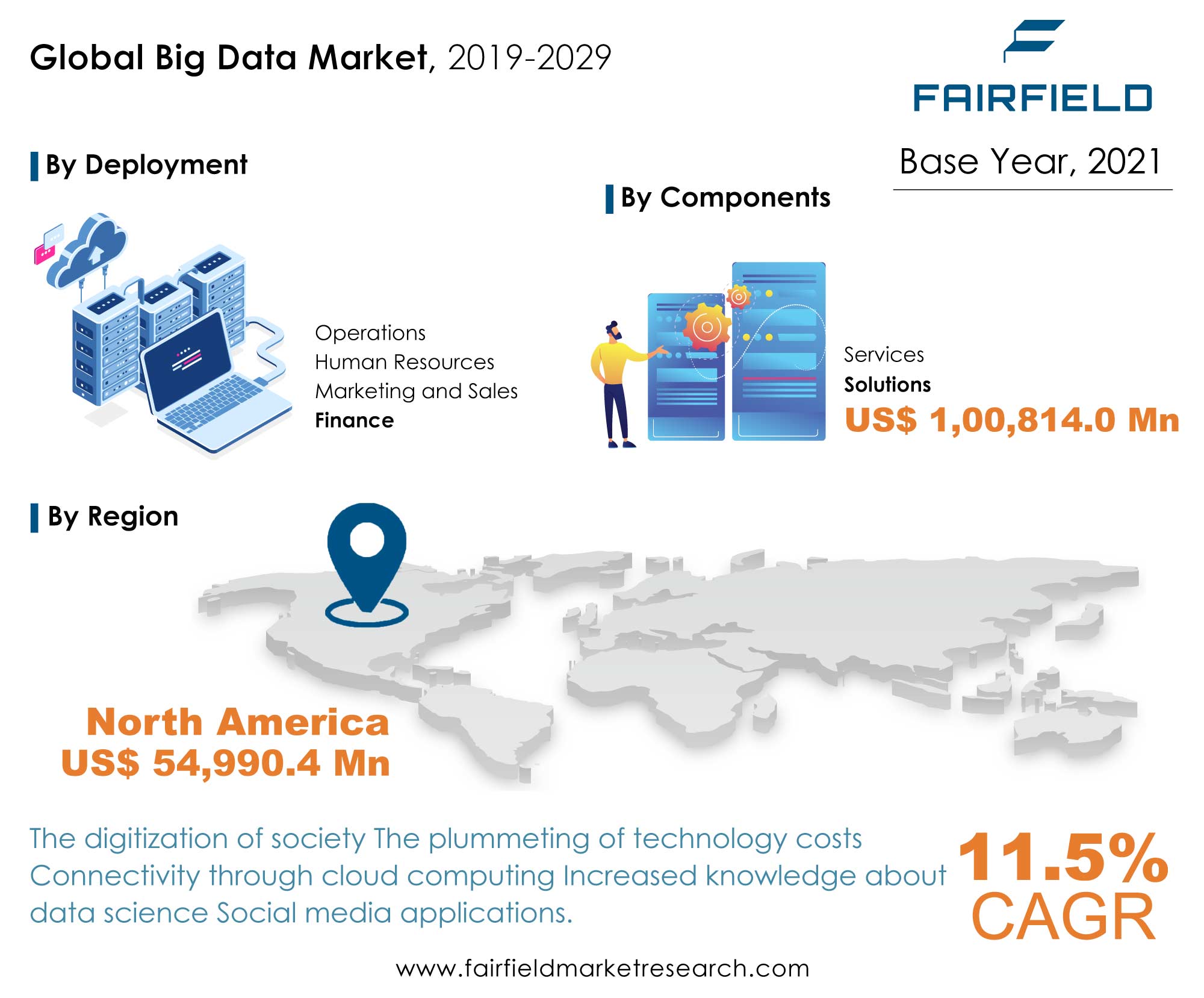 Demand in Big Data Market Soars with Thriving Remote Working Culture, and Unprecedented Growth of Smart Devices
Social media have been producing a sea of data every moment. The normalized virtual office culture has also been creating voluminous data, including resources, information, communication, sharing, services, and much more. The swelling data volumes are predominantly propelling revenue growth of big data market. The report further says that the adoption of smart devices has been spiralling over the recent past. Demand for the various mobile devices has also been on the rise consistently. In addition to this, increasing usage of applications further heighten the demand for data analytics, thereby pushing the growth prospects of big data market. With more organizations seeking effective, and efficient management of huge data chunks, big data solutions tend to provide them with both efficiency and quality in managing voluminous raw information while eyeing the benefit of cost reduction. This is expected to account for the growth of big data market.
Adoption in Big Data Market Remains Significant Across BFSI as Organizations Seek More Efficient Data Management
The aggressively swelling structured and unstructured data accompanies with it the need for effective management. The need for efficient management of substantial volumes of organizational data is paving the way for big data market. Among the key end-use industries, i.e., BFSI, IT and telecom, and retail, BFSI sector is likely to remain the leading segment in big data market. While companies tend to prefer big data solutions for better data traffic management, and efficient operational optimization, the report identifies significant opportunity lying in areas like relationship management, predictive analytics, and brand reputation. Given the benefits of big data solutions besides operational efficiency and reduced costs, organizations across several verticals like healthcare, gaming, and media and entertainment are also realizing the potential of big data solutions.
Global Big Data Market Continues to See North America's Dominance, Asia Pacific to Turn Most Lucrative Regional Pocket
North America is anticipated to remain the leading region in global big data market throughout the period of projection. While the region recorded a market value share of more than 29% in the year 2021, attributing to climbing adoption of big data across the enterprise sector. The thriving start-up ecosystem across North America, especially the US, is further likely to create opportunities in big data market. In terms of revenue and expanding the customer base, many new players are beginning to change the game. For instance, an emerging start-up Gigasheet is awarded a patent for its exceptional data management potential when the volume is massive. Its capability of data management in a cloud-oriented spreadsheet is being perceived as a significant contributor to market growth in future. Europe closely follows North America's big data market, and the report indicates the fact that this progress has been on the back of growing demand for enhanced operational efficiency across both the administrative and government sectors. With the anticipated rise in adoption of big data, the market here will remain on an uptrend. Furthermore, Asia Pacific that currently accounts for over 25% share in global big data market value will possibly outperform the other two, exhibiting an exceptional growth trajectory over the next few years.
Global Big Data Market - Competition Analysis
Some of the major vendors in the global big data market include IBM, SAS Institute, Salesforce, EXL, GlobalStep, Catapult, HCL, ChyronHego, Stats Perform, TruMedia Network, DataArt, Orreco, Quant4Sport, Zebra Technologies, and Exasol.
Recent Notable Developments
In February 2022, Exasol announced the launch of a DBaaS on AWS that allows users to gather data from multiple sources, including event data streaming or APIs


In May 2021, Stats Perform introduced an all-in-one online platform solution, PressBox, with an aim to deliver results at a faster pace. The newly launched platform is intended to boost revenue by increasing subscriptions, and fostering fan engagement


In February 2020, Stats Perform announced the launch of the most intuitive, fully customisable multimedia graphics tool - OPTA Graphics
The Global Big Data Market is Segmented as Below:
By Components Coverage
By Deployment Coverage
By Verticals Coverage
BFSI
Government and Defense
Healthcare and Life Sciences
Manufacturing
Retail and Consumer Goods
Media and Entertainment
Telecommunications and IT
Transportation and Logistics
Other Verticals (real estate, energy and utilities, travel and hospitality, and education and research)
By Application Coverage
Finance
Marketing and Sales
Human Resources
Operations
By Org Size Coverage
Small and Medium-sized Enterprises
Large Enterprises
By Geographical Coverage
North America
Europe

Germany
France
UK
Italy
Turkey
Spain
Russia
Rest of Europe

Asia Pacific

China
Japan
South Korea
India
Southeast Asia
Rest of Asia Pacific

Latin America

Brazil
Mexico
Rest of Latin America

Middle East & Africa

GCC
Egypt
Rest of Middle East & Africa
Leading Companies
IBM
Google
Oracle
Microsoft
SAS
Teradata
AWS
Salesforce
Accenture
Inside This Report You Will Find:
1. Executive Summary
2. Market Overview
3. Global Big Data Market Outlook, 2019 - 2029
4. North America Big Data Market Outlook, 2019 - 2029
5. Europe Big Data Market Outlook, 2019 - 2029
6. Asia Pacific Big Data Market Outlook, 2019 - 2029
7. Middle East & Africa Big Data Market Outlook, 2019 - 2029
8. Middle East & Africa Big Data Market Outlook, 2019 - 2029
9. Competitive Landscape
10. Appendix
Post Sale Support, Research Updates & Offerings:
We value the trust shown by our customers in Fairfield Market Research. We support our clients through our post sale support, research updates and offerings.
The report will be prepared in a PPT format and will be delivered in a PDF format.
Additionally, Market Estimation and Forecast numbers will be shared in Excel Workbook.
If a report being sold was published over a year ago, we will offer a complimentary copy of the updated research report along with Market Estimation and Forecast numbers within 2-3 weeks' time of the sale.
If we update this research study within the next 2 quarters, post purchase of the report, we will offer a Complimentary copy of the updated Market Estimation and Forecast numbers in Excel Workbook.
If there is a geopolitical conflict, pandemic, recession, and the like which can impact global economic scenario and business activity, which might entirely alter the market dynamics or future projections in the industry, we will create a Research Update upon your request at a nominal charge.
1. Executive Summary
1.1. Global Big Data Market Snapshot
1.2. Future Projections
1.3. Key Market Trends
1.4. Analyst Recommendations

2. Market Overview
2.1. Market Definitions
2.2. Market Taxonomy
2.3. Market Dynamics
2.3.1. Drivers
2.3.2. Restraints
2.4. Value Chain Analysis
2.5. Porter's Five Forces Analysis
2.6. COVID-19 Impact Analysis
2.7. Key Patents

3. Global Big Data Market Outlook, 2019 - 2029
3.1. Global Big Data Market Outlook, by Components (US$ '000), 2019 - 2029
3.1.1. Key Highlights
3.1.1.1. Solutions
3.1.1.2. Services
3.1.2. BPS Analysis/Market Attractiveness Analysis
3.2. Global Big Data Market Outlook, by Verticals, Value (US$ '000), 2019 - 2029
3.2.1. Key Highlights
3.2.1.1. BFSI
3.2.1.2. Government and Defense
3.2.1.3. Healthcare and Life Sciences
3.2.1.4. Manufacturing
3.2.1.5. Retail and Consumer Goods
3.2.1.6. Media and Entertainment
3.2.1.7. Telecommunications and IT
3.2.1.8. Transportation and Logistics
3.2.1.9. Other Verticals (real estate, energy and utilities, travel and hospitality, and education and research)
3.2.2. BPS Analysis/Market Attractiveness Analysis
3.3. Global Big Data Market Outlook, by Deployment, Value (US$ '000), 2019 - 2029
3.3.1. Key Highlights
3.3.1.1. Cloud
3.3.1.2. On-premises
3.3.2. BPS Analysis/Market Attractiveness Analysis
3.4. Global Big Data Market Outlook, by Business Function, Value (US$ '000), 2019 - 2029
3.4.1. Key Highlights
3.4.1.1. Finance
3.4.1.2. Marketing and Sales
3.4.1.3. Human Resources
3.4.1.4. Operations
3.4.2. BPS Analysis/Market Attractiveness Analysis
3.5. Global Big Data Market Outlook, by Org Size, Value (US$ '000), 2019 - 2029
3.5.1. Key Highlights
3.5.1.1. Small and Medium-Sized Enterprises
3.5.1.2. Large Enterprises
3.5.2. BPS Analysis/Market Attractiveness Analysis
3.6. Global Big Data Market Outlook, by Region, Value (US$ '000), 2019 - 2029
3.6.1. Key Highlights
3.6.1.1. North America
3.6.1.2. Europe
3.6.1.3. Asia Pacific
3.6.1.4. Latin America
3.6.1.5. Middle East & Africa
3.6.2. BPS Analysis/Market Attractiveness Analysis

4. North America Big Data Market Outlook, 2019 - 2029
4.1. North America Big Data Market Outlook, by Components (US$ '000), 2019 - 2029
4.1.1. Key Highlights
4.1.1.1. Solutions
4.1.1.2. Services
4.1.2. BPS Analysis/Market Attractiveness Analysis
4.2. North America Big Data Market Outlook, by Verticals, Value (US$ '000), 2019 - 2029
4.2.1. Key Highlights
4.2.1.1. BFSI
4.2.1.2. Government and Defense
4.2.1.3. Healthcare and Life Sciences
4.2.1.4. Manufacturing
4.2.1.5. Retail and Consumer Goods
4.2.1.6. Media and Entertainment
4.2.1.7. Telecommunications and IT
4.2.1.8. Transportation and Logistics
4.2.1.9. Other Verticals (real estate, energy and utilities, travel and hospitality, and education and research)
4.2.2. BPS Analysis/Market Attractiveness Analysis
4.3. North America Big Data Market Outlook, by Deployment, Value (US$ '000), 2019 - 2029
4.3.1. Key Highlights
4.3.1.1. Cloud
4.3.1.2. On-premises
4.3.2. BPS Analysis/Market Attractiveness Analysis
4.4. North America Big Data Market Outlook, by Business Function, Value (US$ '000), 2019 - 2029
4.4.1. Key Highlights
4.4.1.1. Finance
4.4.1.2. Marketing and Sales
4.4.1.3. Human Resources
4.4.1.4. Operations
4.4.2. BPS Analysis/Market Attractiveness Analysis
4.5. North America Big Data Market Outlook, by Org Size, Value (US$ '000), 2019 - 2029
4.5.1. Key Highlights
4.5.1.1. Small and Medium-Sized Enterprises
4.5.1.2. Large Enterprises
4.5.1.3. BPS Analysis/Market Attractiveness Analysis
4.6. North America Big Data Market Outlook, by Country, Value (US$ '000), 2019 - 2029
4.6.1. Key Highlights
4.6.1.1. U.S. Big Data Market by Value (US$ '000), 2019 - 2029
4.6.1.2. Canada Big Data Market by Value (US$ '000), 2019 - 2029
4.6.2. BPS Analysis/Market Attractiveness Analysis

5. Europe Big Data Market Outlook, 2019 - 2029
5.1. Europe Big Data Market Outlook, by Components (US$ '000), 2019 - 2029
5.1.1. Key Highlights
5.1.1.1. Solutions
5.1.1.2. Services
5.1.2. BPS Analysis/Market Attractiveness Analysis
5.2. Europe Big Data Market Outlook, by Verticals, Value (US$ '000), 2019 - 2029
5.2.1. Key Highlights
5.2.1.1. BFSI
5.2.1.2. Government and Defense
5.2.1.3. Healthcare and Life Sciences
5.2.1.4. Manufacturing
5.2.1.5. Retail and Consumer Goods
5.2.1.6. Media and Entertainment
5.2.1.7. Telecommunications and IT
5.2.1.8. Transportation and Logistics
5.2.1.9. Other Verticals (real estate, energy and utilities, travel and hospitality, and education and research)
5.2.2. BPS Analysis/Market Attractiveness Analysis
5.3. Europe Big Data Market Outlook, by Deployment, Value (US$ '000), 2019 - 2029
5.3.1. Key Highlights
5.3.1.1. Cloud
5.3.1.2. On-premises
5.3.2. BPS Analysis/Market Attractiveness Analysis
5.4. Europe Big Data Market Outlook, by Business Function, Value (US$ '000), 2019 - 2029
5.4.1. Key Highlights
5.4.1.1. Finance
5.4.1.2. Marketing and Sales
5.4.1.3. Human Resources
5.4.1.4. Operations
5.4.2. BPS Analysis/Market Attractiveness Analysis
5.5. Europe Big Data Market Outlook, by Org Size, Value (US$ '000), 2019 - 2029
5.5.1. Key Highlights
5.5.1.1. Small and Medium-Sized Enterprises
5.5.1.2. Large Enterprises
5.5.2. BPS Analysis/Market Attractiveness Analysis
5.6. Europe Big Data Market Outlook, by Country, Value (US$ '000), 2019 - 2029
5.6.1. Key Highlights
5.6.1.1. Germany Big Data Market by Value (US$ '000), 2019 - 2029
5.6.1.2. France Big Data Market by Product, Value (US$ '000), 2019 - 2029
5.6.1.3. U.K. Big Data Market by Value (US$ '000), 2019 - 2029
5.6.1.4. Italy Big Data Market by Value (US$ '000), 2019 - 2029
5.6.1.5. Spain Big Data Market by Product, Value (US$ '000), 2019 - 2029
5.6.1.6. Rest of Europe Big Data Market Value (US$ '000), 2019 - 2029
5.6.2. BPS Analysis/Market Attractiveness Analysis

6. Asia Pacific Big Data Market Outlook, 2019 - 2029
6.1. Asia Pacific Big Data Market Outlook, by Components (US$ '000), 2019 - 2029
6.1.1. Key Highlights
6.1.1.1. Solutions
6.1.1.2. Services
6.1.2. BPS Analysis/Market Attractiveness Analysis
6.2. Asia Pacific Big Data Market Outlook, by Verticals, Value (US$ '000), 2019 - 2029
6.2.1. Key Highlights
6.2.1.1. BFSI
6.2.1.2. Government and Defense
6.2.1.3. Healthcare and Life Sciences
6.2.1.4. Manufacturing
6.2.1.5. Retail and Consumer Goods
6.2.1.6. Media and Entertainment
6.2.1.7. Telecommunications and IT
6.2.1.8. Transportation and Logistics
6.2.1.9. Other Verticals (real estate, energy and utilities, travel and hospitality, and education and research)
6.2.2. BPS Analysis/Market Attractiveness Analysis
6.3. Asia Pacific Big Data Market Outlook, by Deployment, Value (US$ '000), 2019 - 2029
6.3.1. Key Highlights
6.3.1.1. Cloud
6.3.1.2. On-premises
6.3.2. BPS Analysis/Market Attractiveness Analysis
6.4. Asia Pacific Big Data Market Outlook, by Business Function, Value (US$ '000), 2019 - 2029
6.4.1. Key Highlights
6.4.1.1. Finance
6.4.1.2. Marketing and Sales
6.4.1.3. Human Resources
6.4.1.4. Operations
6.4.2. BPS Analysis/Market Attractiveness Analysis
6.5. Asia Pacific Big Data Market Outlook, by Org Size, Value (US$ '000), 2019 - 2029
6.5.1. Key Highlights
6.5.1.1. Small and Medium-Sized Enterprises
6.5.1.2. Large Enterprises
6.5.2. BPS Analysis/Market Attractiveness Analysis
6.6. Asia Pacific Big Data Market Outlook, by Country, Value (US$ '000), 2019 - 2029
6.6.1. Key Highlights
6.6.1.1. India Big Data Market by Value (US$ '000), 2019 - 2029
6.6.1.2. China Big Data Market by Value (US$ '000), 2019 - 2029
6.6.1.3. Japan Big Data Market by Value (US$ '000), 2019 - 2029
6.6.1.4. Australia & New Zealand Big Data Market Value (US$ '000), 2019 - 2029
6.6.1.5. Rest of Asia Pacific Market by Value (US$ '000), 2019 - 2029
6.6.2. BPS Analysis/Market Attractiveness Analysis

7. Middle East & Africa Big Data Market Outlook, 2019 - 2029
7.1. Latin America Big Data Market Outlook, by Components (US$ '000), 2019 - 2029
7.1.1. Key Highlights
7.1.1.1. Solutions
7.1.1.2. Services
7.1.2. BPS Analysis/Market Attractiveness Analysis
7.2. Latin America Big Data Market Outlook, by Verticals, Value (US$ '000), 2019 - 2029
7.2.1. Key Highlights
7.2.1.1. BFSI
7.2.1.2. Government and Defense
7.2.1.3. Healthcare and Life Sciences
7.2.1.4. Manufacturing
7.2.1.5. Retail and Consumer Goods
7.2.1.6. Media and Entertainment
7.2.1.7. Telecommunications and IT
7.2.1.8. Transportation and Logistics
7.2.1.9. Other Verticals (real estate, energy and utilities, travel and hospitality, and education and research)
7.2.2. BPS Analysis/Market Attractiveness Analysis
7.3. Latin America Big Data Market Outlook, by Deployment, Value (US$ '000), 2019 - 2029
7.3.1. Key Highlights
7.3.1.1. Cloud
7.3.1.2. On-premises
7.3.2. BPS Analysis/Market Attractiveness Analysis
7.4. Latin America Big Data Market Outlook, by Business Function, Value (US$ '000), 2019 - 2029
7.4.1. Key Highlights
7.4.1.1. Finance
7.4.1.2. Marketing and Sales
7.4.1.3. Human Resources
7.4.1.4. Operations
7.4.2. BPS Analysis/Market Attractiveness Analysis
7.5. Latin America Big Data Market Outlook, by Org Size, Value (US$ '000), 2019 - 2029
7.5.1. Key Highlights
7.5.1.1. Small and Medium-Sized Enterprises
7.5.1.2. Large Enterprises
7.5.2. BPS Analysis/Market Attractiveness Analysis
7.6. Latin America Big Data Market Outlook, by Country, Value (US$ '000), 2019 - 2029
7.6.1. Key Highlights
7.6.1.1. Brazil Big Data Market by Value (US$ '000), 2019 - 2029
7.6.1.2. Mexico Big Data Market by Value (US$ '000), 2019 - 2029
7.6.1.3. Rest of Latin America Big Data Market by Value (US$ '000), 2019 - 2029
7.6.2. BPS Analysis/Market Attractiveness Analysis

8. Middle East & Africa Big Data Market Outlook, 2019 - 2029
8.1. Middle East & Africa Big Data Market Outlook, by Components (US$ '000), 2019 - 2029
8.1.1. Key Highlights
8.1.1.1. Solutions
8.1.1.2. Services
8.1.2. BPS Analysis/Market Attractiveness Analysis
8.2. Middle East & Africa Big Data Market Outlook, by Verticals, Value (US$ '000), 2019 - 2029
8.2.1. Key Highlights
8.2.1.1. BFSI
8.2.1.2. Government and Defense
8.2.1.3. Healthcare and Life Sciences
8.2.1.4. Manufacturing
8.2.1.5. Retail and Consumer Goods
8.2.1.6. Media and Entertainment
8.2.1.7. Telecommunications and IT
8.2.1.8. Transportation and Logistics
8.2.1.9. Other Verticals (real estate, energy and utilities, travel and hospitality, and education and research)
8.2.2. BPS Analysis/Market Attractiveness Analysis
8.3. Middle East & Africa Big Data Market Outlook, by Deployment, Value (US$ '000), 2019 - 2029
8.3.1. Key Highlights
8.3.1.1. Cloud
8.3.1.2. On-premises
8.3.2. BPS Analysis/Market Attractiveness Analysis
8.4. Middle East & Africa Big Data Market Outlook, by Business Function, Value (US$ '000), 2019 - 2029
8.4.1. Key Highlights
8.4.1.1. Finance
8.4.1.2. Marketing and Sales
8.4.1.3. Human Resources
8.4.1.4. Operations
8.4.2. BPS Analysis/Market Attractiveness Analysis
8.5. Middle East & Africa Big Data Market Outlook, by Org Size, Value (US$ '000), 2019 - 2029
8.5.1. Key Highlights
8.5.1.1. Small and Medium-Sized Enterprises
8.5.1.2. Large Enterprises
8.5.2. BPS Analysis/Market Attractiveness Analysis
8.6. Middle East & Africa Big Data Market Outlook, by Country, Value (US$ '000), 2019 - 2029
8.6.1. Key Highlights
8.6.1.1. GCC Big Data Market by Value (US$ '000), 2019 - 2029
8.6.1.2. South Africa Big Data Market by Value (US$ '000), 2019 - 2029
8.6.1.3. Rest of Middle East & Africa Big Data Market by Value (US$ '000), 2019 - 2029
8.6.2. BPS Analysis/Market Attractiveness Analysis

9. Competitive Landscape
9.1. Company Market Share Analysis, 2019
9.2. Company Profiles
9.2.1. IBM
9.2.1.1. Company Overview
9.2.1.2. Key Retailing Partners
9.2.1.3. Business Segment Revenue
9.2.1.4. Ingredient Overview
9.2.1.5. Product Offering & its Presence
9.2.1.6. Certifications & Claims
9.2.2. Google
9.2.3. Oracle
9.2.4. Microsoft
9.2.5. SAS
9.2.6. Teradata
9.2.7. AWS
9.2.8. Salesforce
9.2.9. Accenture

10. Appendix
10.1. Research Methodology
10.2. Report Assumptions
10.3. Acronyms and Abbreviations