Corn Flour Market Outlook
"According to Fairfield Market Research, the global corn flour market was valued at US$16.2 Bn in 2019 and will reach a valuation of US$28.2 Bn by 2026, registering a CAGR of 8.2% between the forecast years of 2021 to 2026."
Demand for Healthier Snacks to Drive Global Corn Flour Market
The global corn flour market is gaining momentum with changing customer tastes for healthy snacks. A multitude of health benefits linked with maize will boost the cornflour market as the range of food products alters on retail shelves. Minerals like magnesium, iron, manganese, copper, phosphorus, and zinc are found in maize that help to improve bone strength, renal function, maintain a healthy heart rate, and regulate regular growth. It also helps with both types of diabetes by maintaining blood sugar levels. All of the above factors will boost the global corn flour market among health-conscious customers during the forecast years of 2021 to 2026.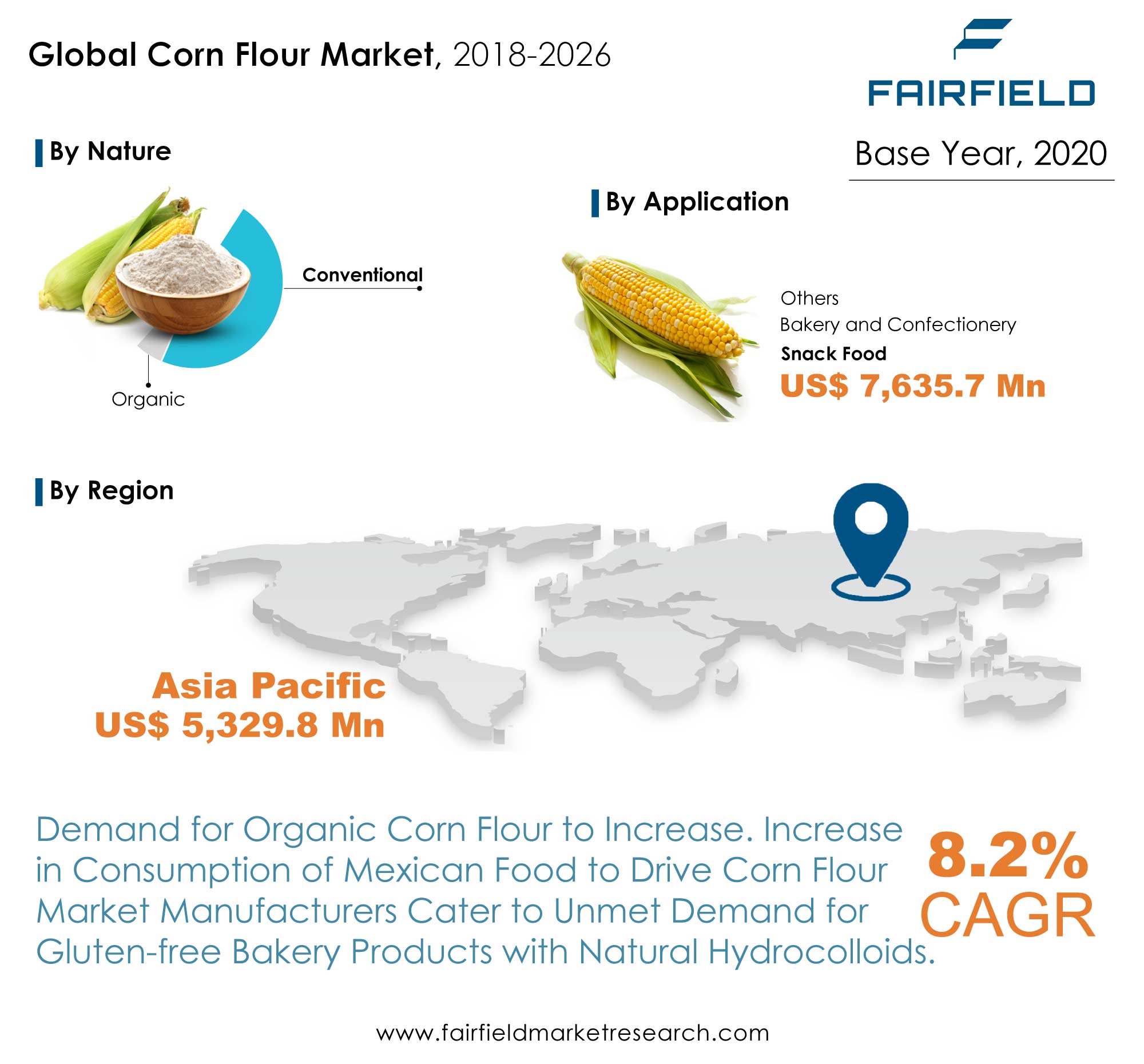 Manufacturers Cater to Unmet Demand for Gluten-Free Bakery Products as Dietary Preferences Shift
Gluten-free corn flour is becoming increasingly popular in the precooked corn flour market. As this trend intensifies, industry participants have been obliged to improve gluten-free bread and cake qualities. Among all uses in the precooked corn flour industry, bread items account for the most volume. The bakery and confectionary segment held a share of about 42% in 2021 and analysts anticipate the segment will continue dominate throughout the forecast period.
Gluten-free goods are in high demand due to the rising prevalence of autoimmune digestive illnesses caused by gluten consumption. Companies in the precooked corn flour market are employing gums as gluten substitutes to simulate the viscoelastic properties of gluten in order to stay competitive. Gums are often used by manufacturers to improve dough performance and alter cake qualities. Low-phenylalanine bread for phenylketonuria sufferers is made with xanthan and carboxy methyl cellulose gums in corn starch. Apart from maize, precooked corn flour manufacturers are expanding their gluten-free bread products to include rice and buckwheat.
Lack of Proper Storage in Developing Counties Acts as a Hindrance to Corn Flour Market
The FAO says nearly half the globally produced food ends up in waste bins each year on account of the inadequacy of proficient facilities for storage, handling, and transportation. The fast-developing economies like India, China, and Brazil are found majorly responsible for the loss of food. Although these nations represent the world's leading producers of grain crops, they remain at the forefront when it comes to food wastage due to the lack of contemporary infrastructure, and waste management systems. For instance, the Food Corporation of India (FCI) reported more than 194,500 MT food wastage between 2005 and March 2013. Similarly, Brazil recorded nearly 10% wastage of its total grain crop produce in the year 2013. Poor management and infrastructure will thus remain a challenge facing the corn flour market expansion in developing economies.
North America and Europe Emerge as Key Regional Markets in Global Corn Flour Market
Another major factor that bolsters corn flour sales across the region is increasing number of Hispanic groups, and growing prominence of corn flour-based products, especially in the US. The market here will further gain from the expanding regional population, and a growing number of restaurants including corn-based cuisines on their menus. The corn flour market of Asia Pacific is growing strong and will most likely demonstrate the fastest rate of growth over the upcoming years. The market here largely benefits from the expanding population, growing expenditure on staple food, and shooting fast food consumption.
Global Corn Flour Market: Competitive Landscape
The global corn flour market is highly diversified and competitive in nature owing to the presence of large number of local and international manufacturers, globally. Also, numerous producers of corn flour have made huge production facilities available in several countries. Some of the leading market players identified are Bunge, BASF, Cargill, Gruma, Clariant, Solvay, Grain Millers, Evonik and Glen Miller. Some other key vendors present in the market are W.R. Grace, Buffaloe Milling, Minsa Corp, C.H Guenther and sons, Grupo Bimbo, Shaff Farms, SEMO Milling and Ingredion Lifeline Foods. Product market is witnessing a strong competition, globally. Many market players are acquiring or merging with small and large manufacturers to sustain in this competitive market.
In 2021, United States Grains Council collaborated with Egyptian corn starch company. This collaboration was aimed towards creating efficient operations and improving plant profitability.


In 2020, Ingredion launched a new organic native corn starch namely, PURITY Bio 201 in United States and Canada. This corn starch is certified and helps the manufacturer to replace the undesirable ingredients in existing products, and manufacture products having short ingredient list, with familiar names of ingredients.


In 2020, Ingredion started the building of new facility in China, to double its capacity of modified starch. This investment was in line with the growth of the company in Asia-Pacific region.
The Global Corn Flour Market is Segmented as Below:
By Nature Coverage
By Application Coverage
Bakery and Confectionary
Snack Food
Others
By Distribution Coverage
By Geographical Coverage
North America
Europe

Germany
France
UK
Italy
Turkey
Spain
Russia
Rest of Europe

Asia Pacific

China
Japan
South Korea
India
Southeast Asia
Rest of Asia Pacific

Latin America

Brazil
Mexico
Rest of Latin America

Middle East & Africa

GCC
Egypt
Rest of Middle East & Africa
Leading Companies
Archer Daniels Midland Company
Ardent Mills, LLC
General Mills, Inc
King Arthur Flour Co.
Grain Craft
North Dakota Mill
Bob's Red Mill Natural Foods
Italgrani USA
Miller MillingArcher-Daniels-Midland Company
General Mills, Inc
King Arthur Flour Co.
Bob's Red Mill Natural Foods
Minsa Corp
Hopkinsville Milling Co
Buffaloe Milling CO Inc
BASF
Inside This Report You Will Find:
1. Executive Summary
2. Market Overview
3. Global Corn Flour Market Outlook, 2018 - 2026
4. North America Corn Flour Market Outlook, 2018 - 2026
5. Europe Corn Flour Market Outlook, 2018 - 2026
6. Asia Pacific Corn Flour Market Outlook, 2018 - 2026
7. Latin America Corn Flour Market Outlook, 2018 - 2026
8. Middle East & Africa Corn Flour Market Outlook, 2018 - 2026
9. Competitive Landscape
10. Appendix
Post Sale Support, Research Updates & Offerings:
We value the trust shown by our customers in Fairfield Market Research. We support our clients through our post sale support, research updates and offerings.
The report will be prepared in a PPT format and will be delivered in a PDF format.
Additionally, Market Estimation and Forecast numbers will be shared in Excel Workbook.
If a report being sold was published over a year ago, we will offer a complimentary copy of the updated research report along with Market Estimation and Forecast numbers within 2-3 weeks' time of the sale.
If we update this research study within the next 2 quarters, post purchase of the report, we will offer a Complimentary copy of the updated Market Estimation and Forecast numbers in Excel Workbook.
If there is a geopolitical conflict, pandemic, recession, and the like which can impact global economic scenario and business activity, which might entirely alter the market dynamics or future projections in the industry, we will create a Research Update upon your request at a nominal charge.
1. Executive Summary
1.1. Global Corn Flour Market Snapshot
1.2. Future Projections
1.3. Key Market Trends
1.4. Analyst Recommendations

2. Market Overview
2.1. Market Definitions
2.2. Market Taxonomy
2.3. Market Dynamics
2.3.1. Drivers
2.3.2. Restraints
2.4. Value Chain Analysis
2.5. Porter's Five Forces Analysis
2.6. Covid-19 Impact Analysis
2.7. Key Patents

3. Global Corn Flour Market Outlook, 2018 - 2026
3.1. Global Corn Flour Market Outlook, by Distribution Channel (US$ '000), 2018 - 2026
3.1.1. Key Highlights
3.1.1.1. Direct
3.1.1.2. Indirect
3.1.2. BPS Analysis/Market Attractiveness Analysis
3.2. Global Corn Flour Market Outlook, by Nature, Value (US$ '000), 2018 - 2026
3.2.1. Key Highlights
3.2.1.1. Organic
3.2.1.2. Conventional
3.2.2. BPS Analysis/Market Attractiveness Analysis
3.3. Global Corn Flour Market Outlook, by Application, Value (US$ '000), 2018 - 2026
3.3.1. Key Highlights
3.3.1.1. Bakery and Confectionary
3.3.1.2. Snack Food
3.3.1.3. Others
3.3.2. BPS Analysis/Market Attractiveness Analysis
3.4. Global Corn Flour Market Outlook, by Region, Value (US$ '000), 2018 - 2026
3.4.1. Key Highlights
3.4.1.1. North America
3.4.1.2. Europe
3.4.1.3. Asia Pacific
3.4.1.4. Latin America
3.4.1.5. Middle East & Africa
3.4.2. BPS Analysis/Market Attractiveness Analysis

4. North America Corn Flour Market Outlook, 2018 - 2026
4.1. North America Corn Flour Market Outlook, by Distribution Channel (US$ '000), 2018 - 2026
4.1.1. Key Highlights
4.1.1.1. Direct
4.1.1.2. Indirect
4.1.2. BPS Analysis/Market Attractiveness Analysis
4.2. North America Corn Flour Market Outlook, by Nature, Value (US$ '000), 2018 - 2026
4.2.1. Key Highlights
4.2.1.1. Organic
4.2.1.2. Conventional
4.2.2. BPS Analysis/Market Attractiveness Analysis
4.3. North America Corn Flour Market Outlook, by Application, Value (US$ '000), 2018 - 2026
4.3.1. Key Highlights
4.3.1.1. Bakery and Confectionary
4.3.1.2. Snack Food
4.3.1.3. Others
4.3.2. BPS Analysis/Market Attractiveness Analysis
4.4. North America Corn Flour Market Outlook, by Country, Value (US$ '000), 2018 - 2026
4.4.1. Key Highlights
4.4.1.1. U.S. Corn Flour Market by Value (US$ '000), 2018 - 2026
4.4.1.2. Canada Corn Flour Market by Value (US$ '000), 2018 - 2026
4.4.2. BPS Analysis/Market Attractiveness Analysis

5. Europe Corn Flour Market Outlook, 2018 - 2026
5.1. Europe Corn Flour Market Outlook, by Distribution Channel (US$ '000), 2018 - 2026
5.1.1. Key Highlights
5.1.1.1. Direct
5.1.1.2. Indirect
5.1.2. BPS Analysis/Market Attractiveness Analysis
5.2. Europe Corn Flour Market Outlook, by Nature, Value (US$ '000), 2018 - 2026
5.2.1. Key Highlights
5.2.1.1. Organic
5.2.1.2. Conventional
5.2.2. BPS Analysis/Market Attractiveness Analysis
5.3. Europe Corn Flour Market Outlook, by Application, Value (US$ '000), 2018 - 2026
5.3.1. Key Highlights
5.3.1.1. Bakery and Confectionary
5.3.1.2. Snack Food
5.3.1.3. Others
5.3.2. BPS Analysis/Market Attractiveness Analysis
5.4. Europe Corn Flour Market Outlook, by Country, Value (US$ '000), 2018 - 2026
5.4.1. Key Highlights
5.4.1.1. Germany Corn Flour Market by Value (US$ '000), 2018 - 2026
5.4.1.2. France Corn Flour Market by Product, Value (US$ '000), 2018 - 2026
5.4.1.3. U.K. Corn Flour Market by Value (US$ '000), 2018 - 2026
5.4.1.4. Italy Corn Flour Market by Value (US$ '000), 2018 - 2026
5.4.1.5. Spain Corn Flour Market by Product, Value (US$ '000), 2018 - 2026
5.4.1.6. Rest of Europe Corn Flour Market Value (US$ '000), 2018 - 2026
5.4.2. BPS Analysis/Market Attractiveness Analysis

6. Asia Pacific Corn Flour Market Outlook, 2018 - 2026
6.1. Asia Pacific Corn Flour Market Outlook, by Distribution Channel (US$ '000), 2018 - 2026
6.1.1. Key Highlights
6.1.1.1. Direct
6.1.1.2. Indirect
6.1.2. BPS Analysis/Market Attractiveness Analysis
6.2. Asia Pacific Corn Flour Market Outlook, by Nature, Value (US$ '000), 2018 - 2026
6.2.1. Key Highlights
6.2.1.1. Organic
6.2.1.2. Conventional
6.2.2. BPS Analysis/Market Attractiveness Analysis
6.3. Asia Pacific Corn Flour Market Outlook, by Application, Value (US$ '000), 2018 - 2026
6.3.1. Key Highlights
6.3.1.1. Bakery and Confectionary
6.3.1.2. Snack Food
6.3.1.3. Others
6.3.2. BPS Analysis/Market Attractiveness Analysis
6.4. Asia Pacific Corn Flour Market Outlook, by Country, Value (US$ '000), 2018 - 2026
6.4.1. Key Highlights
6.4.1.1. India Corn Flour Market by Value (US$ '000), 2018 - 2026
6.4.1.2. China Corn Flour Market by Value (US$ '000), 2018 - 2026
6.4.1.3. Japan Corn Flour Market by Value (US$ '000), 2018 - 2026
6.4.1.4. Australia & New Zealand Corn Flour Market Value (US$ '000), 2018 - 2026
6.4.1.5. Rest of Asia Pacific Market by Value (US$ '000), 2018 - 2026
6.4.2. BPS Analysis/Market Attractiveness Analysis

7. Latin America Corn Flour Market Outlook, 2018 - 2026
7.1. Latin America Corn Flour Market Outlook, by Distribution Channel (US$ '000), 2018 - 2026
7.1.1. Key Highlights
7.1.1.1. Direct
7.1.1.2. Indirect
7.1.2. BPS Analysis/Market Attractiveness Analysis
7.2. Latin America Corn Flour Market Outlook, by Nature, Value (US$ '000), 2018 - 2026
7.2.1. Key Highlights
7.2.1.1. Organic
7.2.1.2. Conventional
7.2.2. BPS Analysis/Market Attractiveness Analysis
7.3. Latin America Corn Flour Market Outlook, by Application, Value (US$ '000), 2018 - 2026
7.3.1. Key Highlights
7.3.1.1. Bakery and Confectionary
7.3.1.2. Snack Food
7.3.1.3. Others
7.3.2. BPS Analysis/Market Attractiveness Analysis
7.4. Latin America Corn Flour Market Outlook, by Country, Value (US$ '000), 2018 - 2026
7.4.1. Key Highlights
7.4.1.1. Brazil Corn Flour Market by Value (US$ '000), 2018 - 2026
7.4.1.2. Mexico Corn Flour Market by Value (US$ '000), 2018 - 2026
7.4.1.3. Rest of Latin America Corn Flour Market by Value (US$ '000), 2018 - 2026
7.4.2. BPS Analysis/Market Attractiveness Analysis

8. Middle East & Africa Corn Flour Market Outlook, 2018 - 2026
8.1. Middle East & Africa Corn Flour Market Outlook, by Distribution Channel (US$ '000), 2018 - 2026
8.1.1. Key Highlights
8.1.1.1. Direct
8.1.1.2. Indirect
8.1.2. BPS Analysis/Market Attractiveness Analysis
8.2. Middle East & Africa Corn Flour Market Outlook, by Nature, Value (US$ '000), 2018 - 2026
8.2.1. Key Highlights
8.2.1.1. Organic
8.2.1.2. Conventional
8.2.2. BPS Analysis/Market Attractiveness Analysis
8.3. Middle East & Africa Corn Flour Market Outlook, by Application, Value (US$ '000), 2018 - 2026
8.3.1. Key Highlights
8.3.1.1. Bakery and Confectionary
8.3.1.2. Snack Food
8.3.1.3. Others
8.3.2. BPS Analysis/Market Attractiveness Analysis
8.4. Middle East & Africa Corn Flour Market Outlook, by Country, Value (US$ '000), 2018 - 2026
8.4.1. Key Highlights
8.4.1.1. GCC Corn Flour Market by Value (US$ '000), 2018 - 2026
8.4.1.2. South Africa Corn Flour Market by Value (US$ '000), 2018 - 2026
8.4.1.3. Rest of Middle East & Africa Corn Flour Market by Value (US$ '000), 2018 - 2026
8.4.2. BPS Analysis/Market Attractiveness Analysis

9. Competitive Landscape
9.1. Company Market Share Analysis, 2019
9.2. Company Profiles
9.2.1. Archer Daniels Midland Company
9.2.1.1. Company Overview
9.2.1.2. Key Retailing Partners
9.2.1.3. Business Segment Revenue
9.2.1.4. Ingredient Overview
9.2.1.5. Product Offering & its Presence
9.2.1.6. Certifications & Claims
9.2.2. General Mills, Inc
9.2.3. King Arthur Flour Co.
9.2.4. Bob's Red Mill Natural Foods
9.2.5. Minsa Corp
9.2.6. Hopkinsville Milling Co
9.2.7. Buffaloe Milling CO Inc
9.2.8. BASF

10. Appendix
10.1. Research Methodology
10.2. Report Assumptions
10.3. Acronyms and Abbreviations
BASE YEAR

HISTORICAL DATA

FORECAST PERIOD

UNITS

2020

2018 - 2020

2021 - 2026

Value: US$ Million
REPORT FEATURES

DETAILS

Nature Coverage

Application Coverage

Bakery and Confectionary

Snack Food

Others

Distribution Coverage

Geographical Coverage

North America

Europe

Germany

France

U.K.

Italy

Turkey

Spain

Russia

Rest of Europe

Asia Pacific

China

Japan

South Korea

India

Southeast Asia

Rest of Asia Pacific

Latin America

Brazil

Mexico

Rest of Latin America

Middle East & Africa

Leading Companies

Archer Daniels Midland Company

Ardent Mills, LLC

General Mills, Inc

King Arthur Flour Co.

Grain Craft

North Dakota Mill

Bob's Red Mill Natural Foods

Italgrani USA

Miller Milling

Minsa Corp

Hopkinsville Milling Co

Buffaloe Milling CO Inc

BASF

Report Highlights

Market Estimates and Forecast, Market Dynamics, Industry Trends, Competition Landscape, Product-, Application-, Region-, Country-wise Trends & Analysis, COVID-19 Impact Analysis, Key Trends