Curcumin Market Outlook
Antioxidant-rich Profile Gains Profits for Curcumin Market as Western Medicine Validates Benefits
Turmeric, a well-known spice, is made up of curcuminoids, of which curcumin is the most significant one. Curcumin is the principal dynamic ingredient in turmeric and is best known for its anti-inflammatory and cancer prevention properties. It is predominantly used in Indian cuisine for its peculiar bright yellow shade and distinct taste. In recent years, Western medicine has begun to back up what Indians have known for quite a while-turmeric truly contains medicinal properties. This is expected to bolster the growth of global curcumin market. Curcumin, considered a natural ingredient, is rich in antioxidants. Considering this, it has gained tremendous popularity in the cosmetic industry. It is used by Ayurveda as a necessary ingredient, especially in skincare products. These functional properties are expected to fuel the global curcumin market growth over the forecast period. Fairfield Market Research indicates that the global curcumin market is expected to reach US$112.6 Mn between 2021 and 2025.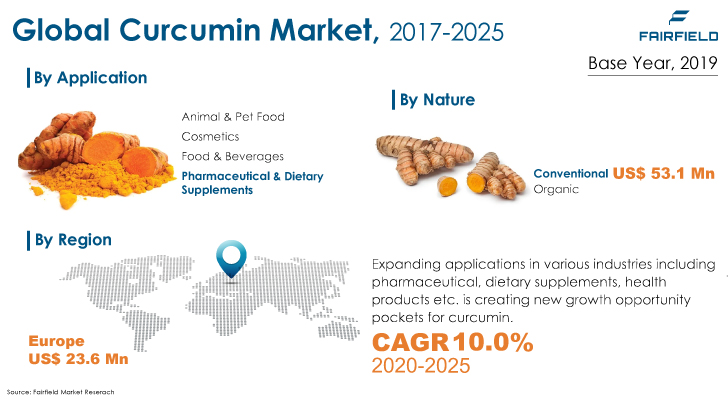 However, the presence of cheaper synthetic food colorants and formulation challenges in curcumin-based products affect the growth of global curcumin market. In addition, the U.S. FDA has approved curcumin as a natural coloring agent and not recognized for its medicinal properties, which may create a bit of grey area for curcumin as a functional ingredient.
A Shift Toward Plant-based Ingredients Drives Global Curcumin Market
Rise in consumer demand for natural or plant-based ingredients is expected to drive the global curcumin market growth. Popularity of clean labels, prompting buyers to consume plant-based food products, is significantly pushing the demand for curcumin in the upward direction. Analysts anticipate synthetic ingredients will be gradually replaced by curcumin due to its unique colour and taste lending capability that are entirely natural.
According to a recent study by DuPont Nutrition & Health, 52% of the consumers in the U.S. are consuming more plant-based foods and beverages. Speaking in global terms, the number stands at 65%. Research indicates that curcumin could be an active ingredient against lifestyle diseases and conditions, and a range of gastrointestinal and cardiovascular disorders. Growing awareness about the incredible benefits of consuming curcumin by adding turmeric to food preparations is expected to stoke demand in curcumin market.
Organic Segment to Stand out in Curcumin Market as Demand for Non-GMO Seeds Receives Attention
The global curcumin market is segmented on the basis of nature and application. Of these, Fairfield Market Research predicts that the organic segment is expected to create an incremental dollar opportunity of US$9,201.9 Mn over the forecast period. A consensus towards higher use of organic spices and non-GMO seeds is expected to drive this segment in global curcumin market. This has brought an acute focus on product adulteration to ensure consumers receive a superior quality. Demand for organic curcumin will be raised as seeking natural remedies amidst a health-conscious population becomes a norm. Based on application, the pharmaceutical and dietary supplements segment is estimated to account for the largest share of the pie in curcumin market. Increased application of curcumin as an immunity booster, as well as rising use of curcumin for cancer treatment is expected to boost the growth of this segment in curcumin market in the near future.
India Sets a Precedent as Curcumin's Cultural Context Remains Strong
Globally, India is one of the largest producers and exporter of turmeric and thus plays a key role in the global curcumin market. In 2015, the country's production share was approximately 77.6%. Use of ginger and turmeric, both rich sources of curcumin, are expected to keep India in the lead as they remain indispensable to native cuisine. Production of turmeric in the smallest of arable lands owned by farmers, mostly across the various states, will allow India to set a strong precedent. Moreover, the dominant role of turmeric in the cultural context of this densely populated country will ensure that the national curcumin market will flourish at an unprecedented rate. Meanwhile, Europe is one of the largest consumers of curcumin and the curcumin market in the region is driven by a growing focus on the consumption of natural food products. Also, awareness about ill-effects of synthetic colors has generated the demand for natural colors, which is expected to fuel the curcumin market across the globe.
Players in Global Curcumin Market Launch Clean Labels to Lure in Consumers
Some of the major players considered in the curcumin market report includes Arjuna Natural Extracts Ltd, Sabinsa Corporation, Synthite Industries Ltd, Wacker Chemie AG, BioMax Lifesciences Ltd, Akay Group, SV Agro Food, Hindustan Mint & Agro Products Pvt. Ltd, Rosun Groups and Konark Herbals. Ingredient manufacturers are continuously innovating and developing new product offerings.
Recent Notable Developments
For instance, In November 2020, Robertet Group released clean-process curcumin with increased bioavailability. The product was launched under the brand name of curcuRouge. It claims to be highly soluble in water and has a minimum curcumin concentration of 40%, allowing use at low doses (225-450 mg/day). According to the research, the ingredient has shown an absorption 93 times greater as compared to that of a traditional extract. The ingredient can be used in nutraceutical and functional food and beverage products


In 2019, Lipofoods, a functional food ingredient manufacturer introduced microencapsulated curcumin ingredient under the brand name of Crushshine. The newly launched product claims to be natural, vegan, and highly soluble in nature. Crushshine can be easily incorporated with nutricosmetics and beauty drinks, which is expected to widen its application areas
The Global Curcumin Market is Segmented as Below:
By Nature Coverage
By Application Coverage
Pharmaceutical & Dietary Supplements
Cosmetics
Food & Beverages
Animal & Pet Food
By Geographical Coverage
North America
Europe

Germany
France
UK
Spain
Italy
Netherlands
Poland
Rest of Europe

Asia Pacific

India
China
Japan
ASEAN
Australia
Rest of Asia Pacific

Latin America

Brazil
Mexico
Rest of Latin America

Middle East & Africa

GCC
South Africa
Rest of Middle East & Africa
Leading Companies
Arjuna Natural Extracts Ltd
Sabinsa Corporation
Synthite Industries Ltd
Wacker Chemie AG
BioMax Lifesciences Ltd
Akay Group
SV Agro Food
Hindustan Mint & Agro Products Pvt. Ltd
Rosun Groups
DolCas Biotech
Konark Herbals
Gencor - Pharmako Biotechnologies
Inside This Report You Will Find:
1. Executive Summary
2. Market Overview
3. Global Turmeric Production & Trade Statistics
4. Global Curcumin Market Outlook, 2017 - 2025
5. North America Curcumin Market Outlook, 2017 - 2025
6. Europe Curcumin Market Outlook, 2017 - 2025
7. Asia Pacific Curcumin Market Outlook, 2017 - 2025
8. Latin America Curcumin Market Outlook, 2017 - 2025
9. Middle East & Africa Curcumin Market Outlook, 2017 - 2025
10. Competitive Landscape
11. Appendix
Post Sale Support, Research Updates & Offerings:
We value the trust shown by our customers in Fairfield Market Research. We support our clients through our post sale support, research updates and offerings.
The report will be prepared in a PPT format and will be delivered in a PDF format.
Additionally, Market Estimation and Forecast numbers will be shared in Excel Workbook.
If a report being sold was published over a year ago, we will offer a complimentary copy of the updated research report along with Market Estimation and Forecast numbers within 2-3 weeks' time of the sale.
If we update this research study within the next 2 quarters, post purchase of the report, we will offer a Complimentary copy of the updated Market Estimation and Forecast numbers in Excel Workbook.
If there is a geopolitical conflict, pandemic, recession, and the like which can impact global economic scenario and business activity, which might entirely alter the market dynamics or future projections in the industry, we will create a Research Update upon your request at a nominal charge.
1. Executive Summary
1.1. Global Curcumin Market Snapshot
1.2. Key Market Trends
1.3. Analyst Recommendations


2. Market Overview
2.1. Market Definitions
2.2. Market Taxonomy
2.3. Market Dynamics
2.3.1. Drivers
2.3.2. Restraints
2.4. Value Chain Analysis
2.4.1. Local Market
2.4.2. International Market
2.5. Porter's Five Forces Analysis
2.6. Covid-19 Impact Analysis
2.7. Macro-Economic Factors
2.8. Key Developments
2.9. Key Regulations
2.10. Key Patents
2.11. Key Technological Advancement


3. Global Turmeric Production & Trade Statistics
3.1. Global & India Turmeric Production Overview
3.2. Global Turmeric Export Overview
3.3. Global Import Overview
3.4. Turmeric Import Regulations


4. Global Curcumin Market Outlook, 2017 - 2025
4.1. Global Curcumin Market Outlook, by Region, Volume (Tons) and Value (US$ Mn), 2017 - 2025
4.1.1. Key Highlights
4.1.1.1. North America
4.1.1.2. Europe
4.1.1.3. Asia Pacific
4.1.1.4. Latin America
4.1.1.5. Middle East & Africa
4.1.2. BPS Analysis - 2020 - 2025
4.2. Global Curcumin Market Outlook, by Nature, Volume (Tons) and Value (US$ Mn), 2017 - 2025
4.2.1. Key Highlights
4.2.1.1. Organic
4.2.1.2. Conventional
4.2.2. BPS Analysis - 2020 - 2025
4.3. Global Curcumin Market Outlook, by Application, Volume (Tons) and Value (US$ Mn), 2017 - 2025
4.3.1. Key Highlights
4.3.1.1. Pharmaceutical & Dietary Supplements
4.3.1.2. Cosmetics
4.3.1.3. Food & Beverages
4.3.1.4. Animal & Pet Food
4.3.2. BPS Analysis - 2020 - 2025


5. North America Curcumin Market Outlook, 2017 - 2025
5.1. North America Curcumin Market Outlook, by Country, Volume (Tons) and Value (US$ Mn), 2017 - 2025
5.1.1. Key Highlights
5.1.1.1. U.S. Curcumin Market by Volume (Tons) and Value (US$ Mn), 2017 - 2025
5.1.1.2. Canada Curcumin Market by Volume (Tons) and Value (US$ Mn), 2017 - 2025
5.1.2. BPS Analysis - 2020 - 2025
5.2. North America Curcumin Market Outlook, by Nature, Volume (Tons) and Value (US$ Mn), 2017 - 2025
5.2.1. Key Highlights
5.2.1.1. Organic
5.2.1.2. Conventional
5.2.2. BPS Analysis - 2020 - 2025
5.3. North America Curcumin Market Outlook, by Application, Volume (Tons) and Value (US$ Mn), 2017 - 2025
5.3.1. Key Highlights
5.3.1.1. Pharmaceutical & Dietary Supplements
5.3.1.2. Cosmetics
5.3.1.3. Food & Beverages
5.3.1.4. Animal & Pet Food
5.3.2. BPS Analysis - 2020 - 2025


6. Europe Curcumin Market Outlook, 2017 - 2025
6.1. Europe Curcumin Market Outlook, by Country, Volume (Tons) and Value (US$ Mn), 2017 - 2025
6.1.1. Key Highlights
6.1.1.1. Germany Curcumin Market by Volume (Tons) and Value (US$ Mn), 2017 - 2025
6.1.1.2. France Curcumin Market by Product, Volume (Tons) and Value (US$ Mn), 2017 - 2025
6.1.1.3. U.K. Curcumin Market by Volume (Tons) and Value (US$ Mn), 2017 - 2025
6.1.1.4. Italy Curcumin Market by Volume (Tons) and Value (US$ Mn), 2017 - 2025
6.1.1.5. Spain Curcumin Market by Product, Volume (Tons) and Value (US$ Mn), 2017 - 2025
6.1.1.6. Netherland Curcumin Market by Volume (Tons) and Value (US$ Mn), 2017 - 2025
6.1.1.7. Poland Curcumin Market by Volume (Tons) and Value (US$ Mn), 2017 - 2025
6.1.1.8. Rest of Europe Curcumin Market Volume (Tons) and Value (US$ Mn), 2017 - 2025
6.1.2. BPS Analysis - 2020 - 2025
6.2. Europe Curcumin Market Outlook, by Nature, Volume (Tons) and Value (US$ Mn), 2017 - 2025
6.2.1. Key Highlights
6.2.1.1. Organic
6.2.1.2. Conventional
6.2.2. BPS Analysis - 2020 - 2025
6.3. Europe Curcumin Market Outlook, by Application, Volume (Tons) and Value (US$ Mn), 2017 - 2025
6.3.1. Key Highlights
6.3.1.1. Pharmaceutical & Dietary Supplements
6.3.1.2. Cosmetics
6.3.1.3. Food & Beverages
6.3.1.4. Animal & Pet Food
6.3.2. BPS Analysis - 2020 - 2025


7. Asia Pacific Curcumin Market Outlook, 2017 - 2025
7.1. Asia Pacific Curcumin Market Outlook, by Country, Volume (Tons) and Value (US$ Mn), 2017 - 2025
7.1.1. Key Highlights
7.1.1.1. India Curcumin Market by Volume (Tons) and Value (US$ Mn), 2017 - 2025
7.1.1.2. China Curcumin Market by Volume (Tons) and Value (US$ Mn), 2017 - 2025
7.1.1.3. Japan Curcumin Market by Volume (Tons) and Value (US$ Mn), 2017 - 2025
7.1.1.4. ASEAN Curcumin Market by Volume (Tons) and Value (US$ Mn), 2017 - 2025
7.1.1.5. Australia Curcumin Market Volume (Tons) and Value (US$ Mn), 2017 - 2025
7.1.1.6. Rest of Asia Pacific Market by Volume (Tons) and Value (US$ Mn), 2017 - 2025
7.1.2. BPS Analysis - 2020 - 2025
7.2. Asia Pacific Curcumin Market Outlook, by Nature Volume (Tons) and Value (US$ Mn), 2017 - 2025
7.2.1. Key Highlights
7.2.1.1. Organic
7.2.1.2. Conventional
7.2.2. BPS Analysis
7.3. Asia Pacific Curcumin Market Outlook, by Application, Volume (Tons) and Value (US$ Mn), 2017 - 2025
7.3.1. Key Highlights
7.3.1.1. Pharmaceutical & Dietary Supplements
7.3.1.2. Cosmetics
7.3.1.3. Food & Beverages
7.3.1.4. Animal & Pet Food
7.3.2. BPS Analysis - 2020 - 2025


8. Latin America Curcumin Market Outlook, 2017 - 2025
8.1. Latin America Curcumin Market Outlook, by Country, Volume (Tons) and Value (US$ Mn), 2017 - 2025
8.1.1. Key Highlights
8.1.1.1. Brazil Curcumin Market by Volume (Tons) and Value (US$ Mn), 2017 - 2025
8.1.1.2. Mexico Curcumin Market by Volume (Tons) and Value (US$ Mn), 2017 - 2025
8.1.1.3. Rest of Latin America Curcumin Market by Volume (Tons) and Value (US$ Mn), 2017 - 2025
8.1.2. BPS Analysis - 2020 - 2025
8.2. Latin America Curcumin Market Outlook, by Nature, Volume (Tons) and Value (US$ Mn), 2017 - 2025
8.2.1. Key Highlights
8.2.1.1. Organic
8.2.1.2. Conventional
8.2.2. BPS Analysis - 2020 - 2025
8.3. Latin America Curcumin Market Outlook, by Application, Volume (Tons) and Value (US$ Mn), 2017 - 2025
8.3.1. Key Highlights
8.3.1.1. Pharmaceutical & Dietary Supplements
8.3.1.2. Cosmetics
8.3.1.3. Food & Beverages
8.3.1.4. Animal & Pet Food
8.3.2. BPS Analysis - 2020 - 2025


9. Middle East & Africa Curcumin Market Outlook, 2017 - 2025
9.1. Middle East & Africa Curcumin Market Outlook, by Country, Volume (Tons) and Value (US$ Mn), 2017 - 2025
9.1.1. Key Highlights
9.1.1.1. GCC Curcumin Market by Volume (Tons) and Value (US$ Mn), 2017 - 2025
9.1.1.2. South Africa Curcumin Market by Volume (Tons) and Value (US$ Mn), 2017 - 2025
9.1.1.3. Rest of Middle East & Africa Curcumin Market by Volume (Tons) and Value (US$ Mn), 2017 - 2025
9.1.2. BPS Analysis - 2020 - 2025
9.2. Middle East & Africa Curcumin Market Outlook, by Nature, Volume (Tons) and Value (US$ Mn), 2017 - 2025
9.2.1. Key Highlights
9.2.1.1. Organic
9.2.1.2. Conventional
9.2.2. BPS Analysis - 2020 - 2025
9.3. Middle East & Africa Curcumin Market Outlook, by Application, Volume (Tons) and Value (US$ Mn), 2017 - 2025
9.3.1. Key Highlights
9.3.1.1. Pharmaceutical & Dietary Supplements
9.3.1.2. Cosmetics
9.3.1.3. Food & Beverages
9.3.1.4. Animal & Pet Food
9.3.2. BPS Analysis - 2020 - 2025


10. Competitive Landscape
10.1. Company Market Share Analysis, 2019
10.2. Company Profiles
10.2.1. Arjuna Natural Extracts Ltd
10.2.1.1. Company Overview
10.2.1.2. Regional Presence & Revenue
10.2.1.3. Product Portfolio
10.2.2. Sabinsa Corporation
10.2.2.1. Company Overview
10.2.2.2. Regional Presence & Revenue
10.2.2.3. Product Portfolio
10.2.3. Synthite Industries Ltd
10.2.3.1. Company Overview
10.2.3.2. Regional Presence & Revenue
10.2.3.3. Product Portfolio
10.2.4. Wacker Chemie AG
10.2.4.1. Company Overview
10.2.4.2. Regional Presence & Revenue
10.2.4.3. Business Segment Revenue
10.2.4.4. Product Portfolio
10.2.5. BioMax Lifesciences Ltd
10.2.5.1. Company Overview
10.2.5.2. Regional Presence & Revenue
10.2.5.3. Product Portfolio
10.2.6. Akay Group
10.2.6.1. Company Overview
10.2.6.2. Product Portfolio
10.2.7. SV Agro Food
10.2.7.1. Company Overview
10.2.7.2. Product Portfolio
10.2.8. Hindustan Mint & Agro Products Pvt. Ltd.
10.2.8.1. Company Overview
10.2.8.2. Product Portfolio
10.2.9. Rosun Groups
10.2.9.1. Company Overview
10.2.9.2. Product Portfolio
10.2.10. DolCas Biotech
10.2.10.1. Company Overview
10.2.10.2. Regional Presence
10.2.10.3. Product Portfolio
10.2.11. Konark Herbals
10.2.11.1. Company Overview
10.2.11.2. Product Portfolio
10.2.12. Gencor - Pharmako Biotechnologies
10.2.12.1. Company Overview
10.2.12.2. Regional Presence
10.2.12.3. Product Portfolio


11. Appendix
11.1. Research Methodology
11.2. Report Assumptions
11.3. Acronyms and Abbreviations