Global Dark Fiber Network Market Forecast
Global dark fiber network market size to be worth more than US$13 Bn by 2030-end
Market revenue likely to experience a CAGR of 9.8% during the forecast period 2023-2030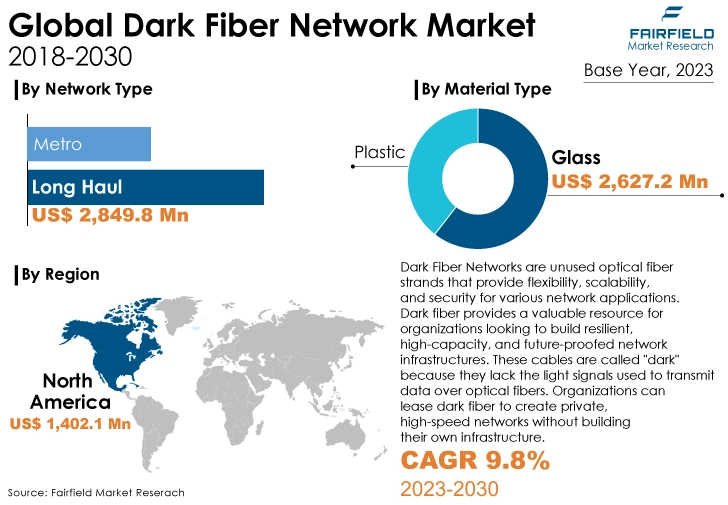 Quick Report Digest
Dark fiber networks are unused optical fiber strands that provide flexibility, scalability, and security for various network applications. Dark fiber provides a valuable resource to organisations looking to build resilient, high-capacity, and future-proofed network infrastructures.
The market continues to experience steady growth driven by increasing demand for high-speed and reliable data transmission.
Growing data-intensive applications, including 5G, cloud computing, and IoT, are fueling the need for dark fiber to meet rising bandwidth requirements.
Telecommunications companies remain the primary consumers and providers of dark fiber, with a significant share of the market.
Enterprises are increasingly investing in dark fiber networks to secure dedicated and scalable network infrastructure for their data needs.
The market for dark fiber network is witnessing significant expansion in regions like Asia Pacific, and Latin America as they catch up with the frontrunners like North America, and Europe in dark fiber adoption.
Ongoing advancements in optical networking technologies and increased availability of cost-effective equipment are driving market growth.
The market is marked by both competition and consolidation, as companies seek to expand their network reach through acquisitions and partnerships.
Despite the growth, the dark fiber network market faces challenges such as regulatory hurdles, infrastructure development costs, and environmental concerns as it continues to evolve.
Major Growth Determinants
Rapid Expansion of 5G Networks
The deployment of 5G networks requires high capacity and low-latency connectivity, meaning that large amounts of data need to be transferred quickly and with minimal delay. Dark fiber has the capability to meet this demand globally. Dark fiber offers high capacity and low-latency connectivity because it provides a dedicated and direct connection between two points without any intermediate equipment or network traffic.
With the increasing adoption of 5G technology, the demand for dark fiber networks has surged. 5G networks require greater bandwidth and lower latency than previous generations of networks due to the vast amount of data that needs to be transferred in real-time for applications such as autonomous vehicles, smart cities, and IoT devices. Dark fiber provides the necessary infrastructure to support these requirements by offering an abundant supply of fiber optic cables that can be leased or owned by network operators.
This factor has resulted in a growing dark fiber network market as network providers seek to expand their capacities and meet the demands of 5G connectivity. Additionally, dark fiber offers scalability, as organisations can upgrade their network equipment to increase data transfer speeds without the need for additional physical infrastructure.
Increasing data traffic refers to the rising volume of digital information that is transmitted over networks, such as the internet or private data connections. The surge in data traffic is expected to contribute to the growth of the global dark fiber network market. With the advent of the digital age and the widespread use of the internet, data consumption has skyrocketed.
This has been driven by various factors, including the increasing number of internet users, the rise of connected devices such as smartphones, tablets, IoT devices, and the growing demand for bandwidth-intensive applications such as video streaming, online gaming, cloud computing, and data storage. This is putting a strain on existing communication networks and creating a need for new and more scalable network infrastructure. Dark fiber networks are well-suited to meet this need, which is why the dark fiber network market is expected to grow significantly in the coming years.
Enterprises are generating and exchanging more data for various purposes, including customer transactions, analytics, and communication. This data traffic often takes place over private networks and dark fiber enables the creation of private networks, meeting the needs of various sectors.
As data traffic continues to increase, existing telecommunication networks may face congestion and bandwidth limitations. This is where the dark fiber network market comes into play. By leveraging these unused fiber optic cables, telecommunication companies can expand their network capacity and support the growing demand for data transmission.
The COVID-19 Impact
The COVID-19 pandemic has had a mixed impact on the dark fiber network market. On the one hand, with more people working from home, there was a surge in demand for internet connectivity. This led to increased usage of online services, video conferencing, and streaming, which in turn drove up the demand for dark fiber infrastructure to support higher bandwidth requirements.
As schools and universities transitioned to online learning, the need for robust internet infrastructure became critical. Dark fiber networks played a crucial role in ensuring that students and educators had access to stable, high-bandwidth connections for virtual classrooms and remote learning.
Furthermore, some governments introduced funding and initiatives to expand broadband access to underserved areas during the pandemic. Dark fiber networks were often a part of these initiatives to improve connectivity. Telecommunication companies faced the challenge of ensuring that their networks could handle the increased traffic during the pandemic.
Many invested in expanding and upgrading their network infrastructure, including dark fiber deployments, to meet the heightened demand for connectivity. The pandemic highlighted the importance of remote monitoring and management in various sectors, including healthcare and manufacturing. Dark fiber played a role in supporting the connectivity needs of remote monitoring systems and IoT devices.
On the other hand, the pandemic has also caused some disruptions to the supply chain for dark fiber networks and equipment. This has led to delays in some projects and increased costs.
Additionally, some businesses have delayed their investment in dark fiber due to the uncertainty caused by the pandemic. In addition to this, lockdowns, social distancing measures, and labour shortages affected the ability to lay new fiber-optic cables or complete ongoing projects.
Furthermore, some businesses, especially small and medium-sized enterprises (SMEs), faced financial challenges during the pandemic, which may have led to reduced spending on IT infrastructure, including dark fiber installations.
Major Trends and Opportunities to Look at
The rollout of 5G networks is a significant driver for the dark fiber market. 5G technology demands higher bandwidth, low latency, and robust connectivity, which can be efficiently provided by dark fiber networks. The proliferation of 5G infrastructure, including small cell deployments, is increasing the demand for dark fiber to support the required backhaul and fronthaul connectivity.
Dark fiber providers are likely to discover a sizeable revenue generation opportunity in this as they can capitalise on the growth of 5G networks by offering dedicated and high-capacity fiber connections to wireless carriers. Leasing dark fiber for 5G backhaul and fronthaul connectivity is a lucrative revenue source, as it provides the necessary infrastructure for the 5G ecosystem to thrive.
Edge Computing, and IoT Connectivity
Edge computing, driven by the IoT, is becoming increasingly important. IoT devices generate vast amounts of data that require real-time processing and analysis, which is best achieved at the edge of the network.
Dark fiber facilitates low-latency, high-speed data transmission, making it crucial for connecting edge computing facilities and IoT devices. Dark fiber providers can offer specialised connections for edge data centers, ensuring low latency and high reliability.
Additionally, they can develop tailored solutions for IoT connectivity, including dedicated links for smart cities, industrial IoT, and other IoT applications. These services can generate revenue by meeting the unique connectivity demands of IoT and edge computing deployments.
How is the Regulatory Scenario Shaping this Industry?
The regulatory scenario exerts a significant influence on the dark fiber network market, shaping various aspects of its operation. Access regulations determine who can use dark fiber networks, the terms of access, and how they can be leased, with open access regulations promoting competition through multiple service providers. Net neutrality rules play a role in ensuring fair access to dark fiber networks for all content providers, preventing discrimination against specific data or services.
Spectrum allocation decisions made by regulatory agencies can impact the demand for dark fiber, especially in the context of wireless backhaul. Environmental regulations may affect the construction and maintenance of dark fiber networks, impacting their cost and feasibility. Privacy and data security regulations influence the types of data transmitted over dark fiber networks.
Moreover, mergers and acquisitions in the dark fiber sector often require regulatory approval, affecting market consolidation and competition. Government incentives, subsidies, and universal service obligations can also incentivise dark fiber network expansion, especially in underserved areas.
Spectrum licensing and compliance with data retention and security laws also play a role in determining the design and costs of dark fiber networks. Given the evolving nature of regulatory environments, close monitoring and adaptation to these changes are crucial for companies in the dark fiber market.
Fairfield's Ranking Board
Top Segments
Single-mode Fiber Accounts for the Lion's Share
By type, the single mode fiber segment is expected to hold the largest market share during the forecast period. Single mode fiber is preferred for long-haul networks and applications that require high bandwidth and data transmission rates.
It is also more resistant to signal attenuation, making it ideal for carrying large amounts of data over long distances. However, multimode fiber is expected to have a smaller market share than single mode fiber in the global dark fiber network market.
Long Haul Network Type Dominates
By network type, the long haul network segment dominated the global dark fiber market in 2022 and is expected to continue to grow at a faster rate than the metro segment during the forecast period. This is due to the increasing demand for high-speed, reliable, and secure networks for connecting data centers and other critical infrastructure across long distances.
Furthermore, the metro segment is also expected to grow significantly, driven by the increasing demand for high-speed internet and cloud computing services in urban areas.
IT & Telecom Brings in the Maximum Revenue
IT and Telecom is the largest segment of the dark fiber market, accounting for more than 40% of the global market share in 2022. The telecommunications industry is using dark fiber to build out its own networks and to provide services to its customers. The IT & Telecom industry segment has accounted for a market share of over 40% in 2022.
The BFSI industry is the second largest industry in the global dark fiber network market and will remain the same during the forecast period. The BFSI sector heavily relies on secure, high-speed data transmission for activities like electronic trading, online banking, real-time transaction processing, and data backup and recovery.
Dark fiber networks can provide the necessary infrastructure to meet these requirements. The military & aerospace segment is also expected to grow at a significant growth rate during the forecast period, as governments invest in dark fiber to improve their networks and provide better services to citizens and businesses.
Regional Frontrunners
Market in Asia Pacific Awaits the Fastest Revenue Growth
Asia Pacific is the fastest-growing region in the global dark fiber network market due to the growth of the rapid growth of the digital economy in the region, especially in emerging economies such as India, China, and Japan. The region has accounted for a market share of over 24% in 2022.
China's market is expected to be the largest dark fiber network market in Asia Pacific during the forecast period. This is due to the large size of the Chinese economy and the government's investment in infrastructure. The Indian market is expected to be the fastest-growing dark fiber network market in Asia Pacific during the forecast period. This is due to the increasing demand for high-speed internet connectivity from the growing middle class and the government's initiatives to promote digital transformation.
Europe is projected to grow at a CAGR of 9.0% during the forecast period. Germany is the largest market for dark fiber in Europe, with a market share of 25% in 2022. The growth of the market in the Germany is driven by the increasing demand for dark fiber from telecom operators, cloud service providers, and enterprises.
Fairfield's Competitive Landscape Analysis
The global dark fiber network market is consolidated, with fewer major players present globally. The key players are introducing new products and working on the distribution channels to enhance their worldwide presence. Moreover, Fairfield Market Research expects more consolidation over the coming years.
Companies within the market are implementing various strategies such as partnerships, mergers & acquisitions, collaborations, and innovations in order to improve their product portfolios and establish a long-term competitive edge in the dark fiber network market. The top 10 vendors have accounted for more than 60% market share in 2022.
Who are the Leaders in the Global Dark Fiber Network Space?
Significant Company Developments
In May 2020, a collaborative dark fiber network initiative was successfully concluded between Nextgenaccess, a UK provider specialisng in custom and wholesale full fiber network infrastructure, and Next Generation Data (NGD). This project established a connection between Bradley Stoke in Bristol and NGD's hyperscale data center facility.
In June 2020, Cityfiber initiated the construction of a new fiber-to-the-home (FTTH) network capable of delivering speeds up to 1Gbps, with an investment of $50 million. This expansion was integrated into their existing dark fiber network, supporting their ongoing expansion plans.
In 2021, Colt Technology Services signed a 25-year contract with Getlink to implement the Colt IQ Network within the Getlink's Channel Tunnel. This infrastructure enables the transfer of data at speeds of terabits per second per fiber, enhancing connectivity across the tunnel.
In November 2022, a Chicago-based company specialising in fiber optic infrastructure ownership, operation, and development made its public debut. This newly established company focuses on creating on-demand fiber optic networks, providing secure, widespread, and scalable infrastructure with customised routes that connect data centers and other entities strategically.
In May 2023, EU Networks completed the acquisition of the dark fiber division of a Belgian utility company. Following this acquisition, EU Networks confirmed that the integration of the duct-based network, comprising 1,660 kilometers of fiber distributed through specialised routes in Brussels and long-haul routes across Belgium, is already in progress.
The Global Dark Fiber Network Market is Segmented as Below:
Type Coverage
Single-mode Fiber
Multi-mode Fiber
Network Type Coverage
Material Type Coverage
Industry Coverage
IT & Telecom
BFSI
Military & Aerospace
Oil & Gas
Healthcare
Railway
Others
By Geographic Coverage:
North America
Europe

Germany
U.K.
France
Italy
Russia
Rest of Europe

Asia Pacific

China
Japan
South Korea
India
Southeast Asia
Rest of Asia Pacific

Latin America

Brazil
Mexico
Rest of Latin America

Middle East & Africa

GCC
South Africa
Rest of the Middle East & Africa
1. Executive Summary
1.1. Global Dark Fiber Network Market, Snapshot 2022 and 2030
1.2. Global Dark Fiber Network Market, Regional Analysis, 2022
1.3. Global Dark Fiber Network Market, Revenue Analysis

2. Market Overview
2.1. Market Dynamics
2.1.1. Driver
2.1.2. Restraint
2.1.3. Opportunity
2.2. COVID-19 Impact
2.3. Eco-System Analysis
2.4. Dark Fiber Network Vendor Landscape
2.5. Porters Five Forces
2.6. Dark Fiber Network Timelines
2.7. Dark Fiber Network End User Analysis
2.8. Market Trends
2.9. Dark Fiber Network Development


3. Global Dark Fiber Network Market Outlook, 2018 - 2030
3.1. Overview
3.2. Dark Fiber Network Revenue (US$ Mn) by Type
3.2.1. Single-mode Fiber
3.2.2. Multi-mode Fiber
3.3. Dark Fiber Network Revenue (US$ Mn) by Network Type
3.3.1. Long Haul
3.3.2. Metro
3.4. Dark Fiber Network Revenue (US$ Mn) by Material Type
3.4.1. Glass
3.4.2. Plastic
3.5. Dark Fiber Network Revenue (US$ Mn) by Industry
3.5.1. IT & Telecom
3.5.2. BFSI
3.5.3. Military & Aerospace
3.5.4. Oil & Gas
3.5.5. Healthcare
3.5.6. Railway
3.5.7. Others
3.6. Dark Fiber Network Revenue (US$ Mn) by Region
3.6.1. North America
3.6.2. Europe
3.6.3. Asia Pacific
3.6.4. Latin America
3.6.5. Middle East & Africa

4. North America Dark Fiber Network Market Outlook, 2018 - 2030
4.1. Overview
4.2. Dark Fiber Network Revenue (US$ Mn) by Type
4.2.1. Single-mode Fiber
4.2.2. Multi-mode Fiber
4.3. Dark Fiber Network Revenue (US$ Mn) by Network Type
4.3.1. Long Haul
4.3.2. Metro
4.4. Dark Fiber Network Revenue (US$ Mn) by Material Type
4.4.1. Glass
4.4.2. Plastic
4.5. Dark Fiber Network Revenue (US$ Mn) by Industry
4.5.1. IT & Telecom
4.5.2. BFSI
4.5.3. Military & Aerospace
4.5.4. Oil & Gas
4.5.5. Healthcare
4.5.6. Railway
4.5.7. Others
4.6. Dark Fiber Network Revenue (US$ Mn) by Country
4.6.1. The U.S.
4.6.2. Canada

5. Europe Dark Fiber Network Market Outlook, 2018 - 2030
5.1. Overview
5.2. Dark Fiber Network Revenue (US$ Mn) by Type
5.2.1. Single-mode Fiber
5.2.2. Multi-mode Fiber
5.3. Dark Fiber Network Revenue (US$ Mn) by Network Type
5.3.1. Long Haul
5.3.2. Metro
5.4. Dark Fiber Network Revenue (US$ Mn) by Material Type
5.4.1. Glass
5.4.2. Plastic
5.5. Dark Fiber Network Revenue (US$ Mn) by Industry
5.5.1. IT & Telecom
5.5.2. BFSI
5.5.3. Military & Aerospace
5.5.4. Oil & Gas
5.5.5. Healthcare
5.5.6. Railway
5.5.7. Others
5.6. Dark Fiber Network Revenue (US$ Mn) by Country
5.6.1. Germany
5.6.2. U.K.
5.6.3. Italy
5.6.4. France
5.6.5. Spain
5.6.6. Rest of Europe

6. Asia Pacific Dark Fiber Network Market Outlook, 2018 - 2030
6.1. Overview
6.2. Dark Fiber Network Revenue (US$ Mn) by Type
6.2.1. Single-mode Fiber
6.2.2. Multi-mode Fiber
6.3. Dark Fiber Network Revenue (US$ Mn) by Network Type
6.3.1. Long Haul
6.3.2. Metro
6.4. Dark Fiber Network Revenue (US$ Mn) by Material Type
6.4.1. Glass
6.4.2. Plastic
6.5. Dark Fiber Network Revenue (US$ Mn) by Industry
6.5.1. IT & Telecom
6.5.2. BFSI
6.5.3. Military & Aerospace
6.5.4. Oil & Gas
6.5.5. Healthcare
6.5.6. Railway
6.5.7. Others
6.6. Dark Fiber Network Revenue (US$ Mn) by Country
6.6.1. China
6.6.2. India
6.6.3. Japan
6.6.4. South Korea
6.6.5. Rest of Asia Pacific

7. Latin America Dark Fiber Network Market Outlook, 2018 - 2030
7.1. Overview
7.2. Dark Fiber Network Revenue (US$ Mn) by Type
7.2.1. Single-mode Fiber
7.2.2. Multi-mode Fiber
7.3. Dark Fiber Network Revenue (US$ Mn) by Network Type
7.3.1. Long Haul
7.3.2. Metro
7.4. Dark Fiber Network Revenue (US$ Mn) by Material Type
7.4.1. Glass
7.4.2. Plastic
7.5. Dark Fiber Network Revenue (US$ Mn) by Industry
7.5.1. IT & Telecom
7.5.2. BFSI
7.5.3. Military & Aerospace
7.5.4. Oil & Gas
7.5.5. Healthcare
7.5.6. Railway
7.5.7. Others
7.6. Dark Fiber Network Revenue (US$ Mn) by Country
7.6.1. Brazil
7.6.2. Rest of Latin America

8. Middle East & Africa Dark Fiber Network Market Outlook, 2018 - 2030
8.1. Overview
8.2. Dark Fiber Network Revenue (US$ Mn) by Type
8.2.1. Single-mode Fiber
8.2.2. Multi-mode Fiber
8.3. Dark Fiber Network Revenue (US$ Mn) by Network Type
8.3.1. Long Haul
8.3.2. Metro
8.4. Dark Fiber Network Revenue (US$ Mn) by Material Type
8.4.1. Glass
8.4.2. Plastic
8.5. Dark Fiber Network Revenue (US$ Mn) by Industry
8.5.1. IT & Telecom
8.5.2. BFSI
8.5.3. Military & Aerospace
8.5.4. Oil & Gas
8.5.5. Healthcare
8.5.6. Railway
8.5.7. Others
8.6. MEA Dark Fiber Network Revenue (US$ Mn) by Country
8.6.1. UAE
8.6.2. South Africa
8.6.3. Rest of Middle East & Africa

9. Competitive Landscape
9.1. Dark Fiber Network Vendor Assessment
9.2. Dark Fiber Network Vendor Analysis
9.3. Dark Fiber Network Market Share Analysis 2022
9.4. List of Key Fiber Providers, by Region
9.4.1. North America
9.4.2. Europe
9.4.3. Asia Pacific
9.4.4. Latin America
9.4.5. Middle East & Africa
9.5. Company Profile
9.5.1. Lumen Technologies
9.5.1.1. Company Overview
9.5.1.2. Business Overview
9.5.1.3. Financial Overview
9.5.1.4. Strategic Overview
9.5.2. Verizon Communications
9.5.2.1. Company Overview
9.5.2.2. Business Overview
9.5.2.3. Strategic Overview
9.5.2.4. Key Development
9.5.3. AT&T, Inc.
9.5.3.1. Company Overview
9.5.3.2. Business Overview
9.5.3.3. Strategic Overview
9.5.3.4. Key Development
9.5.4. Colt Technology
9.5.4.1. Company Overview
9.5.4.2. Business Overview
9.5.4.3. Strategic Overview
9.5.4.4. Key Development
9.5.5. GTT Communications
9.5.5.1. Company Overview
9.5.5.2. Business Overview
9.5.5.3. Financial Overview
9.5.5.4. Strategic Overview
9.5.6. NTT Communications
9.5.6.1. Company Overview
9.5.6.2. Business Overview
9.5.6.3. Financial Overview
9.5.6.4. Strategic Overview
9.5.7. euNetworks
9.5.7.1. Company Overview
9.5.7.2. Business Overview
9.5.7.3. Strategic Overview
9.5.7.4. Key Development
9.5.8. Eurofiber
9.5.8.1. Company Overview
9.5.8.2. Business Overview
9.5.8.3. Strategic Overview
9.5.8.4. Key Development
9.5.9. Windstream Communication
9.5.9.1. Company Overview
9.5.9.2. Business Overview
9.5.9.3. Strategic Overview
9.5.9.4. Key Development
9.5.10. Zayo Group
9.5.10.1. Company Overview
9.5.10.2. Business Overview
9.5.10.3. Strategic Overview
9.5.10.4. Key Development
9.5.11. GlobalConnect
9.5.11.1. Company Overview
9.5.11.2. Business Overview
9.5.11.3. Strategic Overview
9.5.11.4. Key Development
9.5.12. Arelion
9.5.12.1. Company Overview
9.5.12.2. Business Overview
9.5.12.3. Strategic Overview
9.5.12.4. Key Development
9.5.13. Segra
9.5.13.1. Company Overview
9.5.13.2. Business Overview
9.5.13.3. Strategic Overview
9.5.13.4. Key Development
9.5.14. GasLINE
9.5.14.1. Company Overview
9.5.14.2. Business Overview
9.5.14.3. Strategic Overview
9.5.14.4. Key Development
9.5.15. Neos Networks
9.5.15.1. Company Overview
9.5.15.2. Business Overview
9.5.15.3. Strategic Overview
9.5.15.4. Key Development
9.5.16. EXA Infrastructure
9.5.16.1. Company Overview
9.5.16.2. Business Overview
9.5.16.3. Strategic Overview
9.5.16.4. Key Development
9.5.17. Sipartech
9.5.17.1. Company Overview
9.5.17.2. Business Overview
9.5.17.3. Strategic Overview
9.5.17.4. Key Development

10. Appendix
10.1. Research Methodology
10.2. Glossary
10.3. Acronyms and Abbreviations