Global E-Nose Market Forecast
Global e-nose market will rise at a significant CAGR of around 15% over the period of assessment, 2023 - 2030
Market revenue likely to reach more than US$50 Bn by the end of 2030
Market Analysis in Brief
The e-nose market refers to the industry associated with electronic nose technology. An electronic nose, or e-nose, is a sensory device replicating the human sense of smell. It uses sensors to detect and analyse the environment's complex odours and volatile compounds or a sample. E-noses are used in various applications, such as food and beverage quality control, environmental monitoring, medical diagnostics, and industrial process control. These devices use sensor arrays that respond to different odour molecules, generating a unique pattern of responses. Advanced data analysis techniques, often involving machine learning and artificial intelligence, are used to interpret these patterns and identify specific odours or compounds. E-noses have gained attention for their ability to quickly and objectively detect odours and provide insights that traditional analytical methods might miss.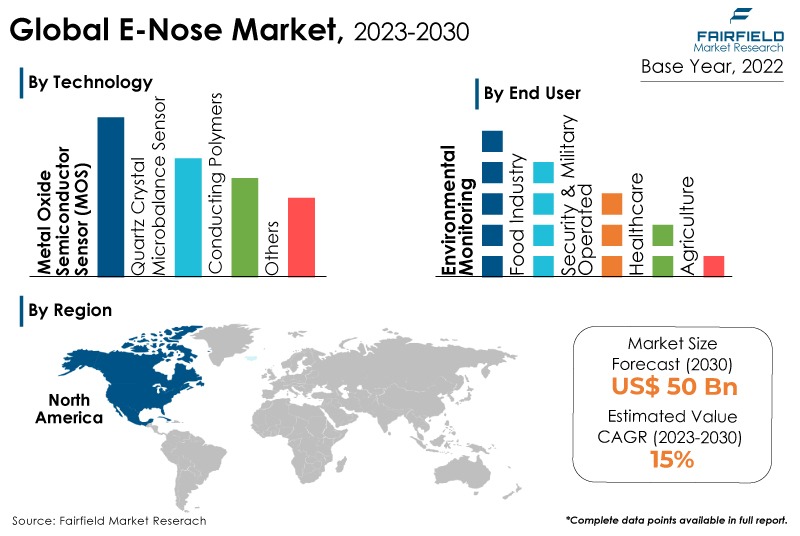 The E-nose market is driven by factors such as the need for quality control and safety assurance in industries like food, beverages, and pharmaceuticals, as well as the growing interest in environmental monitoring and healthcare applications. E-noses are expected to find new applications as technology advances and contribute to improved sensing capabilities in various sectors.
Key Report Findings
Over the next decade, the e-nose market will grow significantly in value.
The metal oxide semiconductor sensor (MOS) demand increases the market for e-nose.
Demand for environmental monitoring applications remains higher in the e-nose market.
North America will continue to lead its way, whereas the Asia Pacific e-nose market will experience the strongest growth till 2030.
Growth Drivers
Increased Adoption in Quality Control and Assurance
The increased adoption of electronic nose (e-nose) technology in quality control and assurance across various industries can be attributed to several factors. E-noses offer efficient and reliable solutions for detecting and analysing odours, volatile compounds, and aromas, which are crucial product quality and safety indicators.
E-noses provide rapid and real-time results, enabling quick assessments of product quality. This speed is especially beneficial in industries with high-volume production and short shelf lives, where timely quality checks are essential.
E-nose technology offers objective and consistent odour analysis, reducing the potential for human error and subjectivity in quality assessments. This enhances the accuracy and reliability of quality control processes. E-noses can detect a wide range of volatile compounds and odours, even those that are difficult to identify using traditional methods. This comprehensive sensing capability ensures a thorough assessment of product characteristics.
E-noses allow non-destructive testing, meaning that products can be evaluated without altering their physical properties, making them suitable for quality control in various industries. E-noses can identify subtle changes in odour profiles that might indicate early stages of spoilage, contamination, or deviations from desired characteristics. This early detection helps prevent larger quality issues.
E-nose technology aids in meeting regulatory standards for product quality and safety in industries such as food, beverages, pharmaceuticals, and cosmetics. E-nose technology's versatility, speed, accuracy, and cost-effectiveness make it a valuable tool for quality control and assurance, contributing to its growing adoption in various industries seeking to ensure product quality, safety, and consumer satisfaction.
Demand for Healthcare and Diagnostics
Electronic noses (e-noses) play a significant role in healthcare and diagnostics by leveraging their ability to detect and analyse odours and volatile compounds associated with various medical conditions. E-noses can identify unique odour patterns associated with specific diseases or medical conditions. For example, they have been used to detect diseases like diabetes, lung cancer, and various infections based on patients' distinct volatile organic compounds (VOCs).
E-noses offer non-invasive and painless methods of disease screening. E-noses can provide early disease indications without requiring invasive procedures by analysing breath, urine, or other bodily fluids. E-noses can detect disease-related odours early, allowing for timely intervention and treatment. This is particularly crucial for conditions where early detection can significantly improve outcomes.
E-noses provide objective and quantitative measurements of odour profiles, reducing subjectivity in diagnosis and improving the consistency of results. E-noses can track changes in odour profiles over time, helping healthcare providers monitor the effectiveness of treatments and adjust therapies accordingly.
By analysing individual odour profiles, e-noses can contribute to developing personalised treatment plans tailored to a patient's specific needs. E-noses can detect specific odours related to respiratory ailments like chronic obstructive pulmonary disease (COPD), assisting in diagnosis and disease management.
Research and development (R&D) efforts in e-noses significantly contribute to advancements in healthcare and diagnostics. E-noses contribute to research in understanding the olfactory system, disease-specific odours, and biomarkers, which can lead to advancements in diagnostics and treatment. The synergy between research and development in E-nose technology and healthcare and diagnostics is paving the way for innovative solutions that have the potential to transform disease detection, patient care, and medical research.
Growth Challenges
Sensor Limitations
Sensor limitations are critical when discussing e-noses, as sensors are at the core of these devices. While e-noses offer a powerful approach to odour detection and analysis, various sensor limitations can impact their accuracy, reliability, and performance. E-nose sensors might not always exhibit the required sensitivity to detect trace amounts of certain compounds or the selectivity to distinguish between similar odour profiles.
Many e-nose sensors respond to multiple odour compounds, leading to cross-sensitivity. This can result in challenges when identifying specific odours within complex mixtures. Some e-nose sensors might have relatively slow response times, affecting real-time monitoring of rapidly changing odour environments.
Cross-sensitivity is a significant challenge in e-noses, and it refers to the phenomenon where a sensor responds to multiple odour compounds or gases, making it difficult to differentiate between different odours accurately. Cross-sensitivity can lead to false positive or false negative results, impacting the reliability and specificity of odour detection and analysis.
Many real-world environments contain complex odours, and cross-sensitivity can make it difficult to identify and quantify individual compounds within these mixtures accurately. Moreover, different odour compounds can trigger similar responses in certain sensors due to shared chemical properties, leading to overlaps in sensor signals. These factors are expected to limit the growth of the e-nose market during the forecast period.
Overview of Key Segments
Metal Oxide Semiconductor Sensors in Demand
Metal oxide semiconductor (MOS) sensors are widely used in electronic nose technology for their numerous advantages. These sensors are developed to detect changes in the metal oxide's electrical conductivity in the presence of specific gases or volatile compounds. MOS sensors exhibit high sensitivity to a wide range of volatile organic compounds (VOCs), making them effective for detecting even trace amounts of odourous substances. They can be tailored to detect specific gases or groups of compounds by modifying the sensor's surface coatings. This versatility allows them to target a wide variety of odour sources.
MOS sensors offer quick response times, allowing for near real-time detection of changes in odour or gas concentrations. This rapid response is crucial for dynamic environments and continuous monitoring. These non-destructive sensors allow samples to be analysed without altering their composition or properties. This makes them suitable for quality control and non-invasive diagnostics.
MOS sensors are compact and can be integrated into portable devices and wearable technologies, facilitating on-site or on-person odour analysis. These innovative sensors are relatively cost-effective to produce and can be used in array configurations to enhance detection capabilities without significant cost increases. With proper calibration and maintenance, MOS sensors can maintain stability and accuracy over extended periods, making them suitable for continuous monitoring applications.
MOS sensors can be easily integrated into various systems, including industrial processes, healthcare devices, and environmental monitoring setups. MOS sensors typically have low power requirements, enabling energy-efficient operation, particularly in portable and battery-operated devices.
The advantages of metal oxide semiconductor sensors, such as their sensitivity, selectivity, speed, and adaptability, make them valuable for building electronic noses capable of detecting and analysing various odours and volatile compounds in various settings.
Environmental Monitoring Key Application Area
Electronic noses (e-noses) play a crucial role in environmental monitoring by offering a versatile and efficient method for detecting and analysing odours and volatile compounds in the air. This technology can enhance our understanding of air quality, pollution levels, and environmental changes. These devices detect pollutants, including volatile organic compounds (VOCs) and gases emitted from industrial processes, vehicles, and other sources. Early detection allows prompt action to mitigate the pollution.
E-noses provide real-time or near-real-time data on odour profiles and gas concentrations, enabling continuous monitoring of environmental conditions. They can pinpoint the sources of odours or pollutants by analysing distinct odour patterns emitted by different emission points.
E-noses can trigger automatic alerts or notifications when certain odour or pollutant thresholds are exceeded, facilitating timely response and preventive measures. These revolutionary devices are used to monitor emissions from industrial facilities, enabling compliance with environmental regulations and reducing the impact of industrial processes on air quality. E-noses assist in urban planning by assessing air quality in different areas of a city, helping to identify pollution hotspots and optimise urban development.
Electronic noses are pivotal in ensuring regulatory compliance in environmental monitoring. These advanced sensing devices are instrumental in detecting and analysing odours, VOCs, and gases, which are vital for assessing air quality and pollution levels.
E-noses can be strategically placed near emission sources, such as industrial facilities, to monitor the release of odourous compounds and pollutants continuously. This data is crucial for ensuring compliance with emission limits set by environmental regulations. These factors are anticipated to fuel market growth during the forecast period.
Growth Opportunities Across Regions
North America in the Bandwagon
North America stands at the forefront of the global e-nose market, asserting its leadership position in adopting and advancing this innovative technology. This prominence can be attributed to several key factors contributing to North America's leading role in the e-nose market. North America is known for its technological prowess and innovation hubs, fostering the development and integration of cutting-edge e-nose technologies.
Universities, research institutions, and tech companies in the region drive advancements in e-nose design, sensor technologies, and data analysis methods. The region's emphasis on research and development efforts leads to the creation of advanced e-nose systems with improved capabilities, sensitivity, and specificity. Collaborations between academia and industry accelerate the evolution of e-nose applications.
North American industries, including food and beverages, pharmaceuticals, environmental monitoring, and healthcare, recognise the value of e-nose technology for quality control, safety assurance, and process optimisation. The diverse range of applications drives demand for e-noses in the market. North America's advanced healthcare sector significantly contributes to adopting e-noses for medical diagnostics, personalised medicine, and disease detection. The region's focus on cutting-edge medical technologies enhances the integration of e-noses into healthcare practices.
North America's technological leadership, strong industrial presence, collaborative ecosystem, and focus on innovation collectively position the region as a global leader in the electronic nose market. The adoption of e-noses across diverse applications and industries highlights North America's pivotal role in shaping the trajectory of this transformative technology.
Asia Pacific Leads its Way
The Asia Pacific region is developing as a highly promising and lucrative e-noses market owing to several key factors contributing to its development and growth in this field. The Asia Pacific region is experiencing significant industrialisation across various sectors, including manufacturing, food and beverages, pharmaceuticals, and petrochemicals. This industrial growth creates a strong demand for e-noses to enhance quality control, process optimisation, and safety measures.
Rising environmental awareness and increasing pollution levels in many Asian countries have led to a greater emphasis on environmental monitoring and pollution control. E-noses are being adopted to monitor air quality, detect pollutants, and ensure compliance with environmental regulations. The region's large agriculture and food sectors benefit from e-noses for assessing produce quality, detecting spoilage, and monitoring freshness.
E-noses help minimise food wastage and ensure product quality throughout the supply chain. The growing healthcare industry in the Asia Pacific is adopting e-noses for medical diagnostics, disease detection, and personalised medicine. E-noses offer non-invasive and efficient methods for early disease identification and patient care.
Some countries in the region are implementing government initiatives to promote technological innovation and adoption. These initiatives encourage the development and adoption of e-noses for various applications. Moreover, the region's growing population translates into increased demand for food, healthcare, and other consumer goods, spurring the need for e-nose technology in various sectors.
E-nose Market: Competitive Landscape
Some of the leading players at the forefront in the e-nose market space include Alpha MOS, E-nose Pty Ltd, The eNose Company, Electronic Sensor Technology, Scent Science Corporation, Airsense Analytics GmbH, Scentsational Technologies LLC, Scensive Technologies Limited, Envirosuite Limited, RoboScientific Ltd., Chromatotec, and Intelligent Optical Systems, Inc.
Recent Notable Developments
In July 2023, E-noses are being installed in Germany to help sniff out forest fires at the earliest stage of smoldering and prevent major disasters. These devices come fitted with ultra-sensitive sensors and powered with AI learning, which can differentiate between smoke of various types and alert authorities accordingly. These devices were created by Berlin-based startup Dryad Networks and can detect and help put out the fire within 10-15 minutes of initial smoldering.
In February 2023, A team of researchers from South Korea developed a low-power-consuming "electronic nose" sensor that can detect and analyse gases in real-time. Because the sensor uses micro light emitting diodes (LEDs) for the detection of gases, the sensor consumes about 0.01 percent of electricity compared to conventional gas sensors.
In November 2022, SGS announced its strategic alliance agreement with one of the world's most advanced environmental intelligence technology companies, Envirosuite Limited. The agreement outlined the conditions for collaboration between Envirosuite and SGS, aiming to promote, market jointly, and offer packaged services integrating SGS's testing, inspection, and certification solutions with Envirosuite's EVS Omnis environmental intelligence platform.
In March 2021, Alpha MOS announced its participation in the research program of the Brazilian agrifood giant New Max. Alpha MOS and New Max Industrial have worked together successfully for several years. New Max uses the HERACLES electronic nose from Alpha MOS for its sensory analyses.
The Global E-nose Market is Segmented as Below:
By Technology
Metal Oxide Semiconductor Sensor (MOS)
Quartz Crystal Microbalance Sensor (QCM)
Conducting Polymers
Others
By End User
Food Industry
Security & Military
Environmental Monitoring
Healthcare
Agriculture
Others
By Geographic Coverage
North America
Europe

Germany
U.K.
France
Italy
Turkey
Russia
Rest of Europe

Asia Pacific

China
Japan
South Korea
India
Southeast Asia
Rest of Asia Pacific

Latin America

Brazil
Mexico
Argentina
Rest of Latin America

Middle East & Africa

GCC
South Africa
Egypt
Nigeria
Rest of the Middle East & Africa
1. Executive Summary
1.1. Global E-Nose Market Snapshot
1.2. Future Projections
1.3. Key Market Trends
1.4. Regional Snapshot, by Value, 2022
1.5. Analyst Recommendations
2. Market Overview
2.1. Market Definitions and Segmentations
2.2. Market Dynamics
2.2.1. Drivers
2.2.2. Restraints
2.2.3. Market Opportunities
2.3. Value Chain Analysis
2.4. Porter's Five Forces Analysis
2.5. Covid-19 Impact Analysis
2.5.1. Supply
2.5.2. Demand
2.6. Impact of Ukraine-Russia Conflict
2.7. Economic Overview
2.7.1. World Economic Projections
2.8. PESTLE Analysis
3. Global E-Nose Market Outlook, 2018 - 2030
3.1. Global E-Nose Market Outlook, by Technology, Value (US$ Bn), 2018 - 2030
3.1.1. Key Highlights
3.1.1.1. Metal Oxide Semi-Conductor Sensor (MOS)
3.1.1.2. Quartz Crystal Microbalance Sensor (QCM)
3.1.1.3. Conducting Polymers Sensor
3.1.1.4. Others
3.2. Global E-Nose Market Outlook, by Application, Value (US$ Bn), 2018 - 2030
3.2.1. Key Highlights
3.2.1.1. Food and Beverages Industry
3.2.1.2. Environmental Monitoring
3.2.1.3. Healthcare
3.2.1.4. Others
3.3. Global E-Nose Market Outlook, by Region, Value (US$ Bn), 2018 - 2030
3.3.1. Key Highlights
3.3.1.1. North America
3.3.1.2. Europe
3.3.1.3. Asia Pacific
3.3.1.4. Latin America
3.3.1.5. Middle East & Africa
4. North America E-Nose Market Outlook, 2018 - 2030
4.1. North America E-Nose Market Outlook, by Technology, Value (US$ Bn), 2018 - 2030
4.1.1. Key Highlights
4.1.1.1. Metal Oxide Semi-Conductor Sensor (MOS)
4.1.1.2. Quartz Crystal Microbalance Sensor (QCM)
4.1.1.3. Conducting Polymers Sensor
4.1.1.4. Others
4.2. North America E-Nose Market Outlook, by Application, Value (US$ Bn), 2018 - 2030
4.2.1. Key Highlights
4.2.1.1. Food Industry
4.2.1.2. Security & Military
4.2.1.3. Environmental Monitoring
4.2.1.4. Healthcare
4.2.1.5. Agriculture
4.2.1.6. Others
4.2.2. Market Attractiveness Analysis
4.3. North America E-Nose Market Outlook, by Country, Value (US$ Bn), 2018 - 2030
4.3.1. Key Highlights
4.3.1.1. U.S. E-Nose Market by Technology, Value (US$ Bn), 2018 - 2030
4.3.1.2. U.S. E-Nose Market Application, Value (US$ Bn), 2018 - 2030
4.3.1.3. Canada E-Nose Market by Technology, Value (US$ Bn), 2018 - 2030
4.3.1.4. Canada E-Nose Market Application, Value (US$ Bn), 2018 - 2030
4.3.2. BPS Analysis/Market Attractiveness Analysis
5. Europe E-Nose Market Outlook, 2018 - 2030
5.1. Europe E-Nose Market Outlook, by Technology, Value (US$ Bn), 2018 - 2030
5.1.1. Key Highlights
5.1.1.1. Metal Oxide Semi-Conductor Sensor (MOS)
5.1.1.2. Quartz Crystal Microbalance Sensor (QCM)
5.1.1.3. Conducting Polymers Sensor
5.1.1.4. Others
5.2. Europe E-Nose Market Outlook, by Application, Value (US$ Bn), 2018 - 2030
5.2.1. Key Highlights
5.2.1.1. Food Industry
5.2.1.2. Security & Military
5.2.1.3. Environmental Monitoring
5.2.1.4. Healthcare
5.2.1.5. Agriculture
5.2.1.6. Others
5.2.2. BPS Analysis/Market Attractiveness Analysis
5.3. Europe E-Nose Market Outlook, by Country, Value (US$ Bn), 2018 - 2030
5.3.1. Key Highlights
5.3.1.1. Germany E-Nose Market by Technology, Value (US$ Bn), 2018 - 2030
5.3.1.2. Germany E-Nose Market Application, Value (US$ Bn), 2018 - 2030
5.3.1.3. U.K. E-Nose Market by Technology, Value (US$ Bn), 2018 - 2030
5.3.1.4. U.K. E-Nose Market Application, Value (US$ Bn), 2018 - 2030
5.3.1.5. France E-Nose Market by Technology, Value (US$ Bn), 2018 - 2030
5.3.1.6. France E-Nose Market Application, Value (US$ Bn), 2018 - 2030
5.3.1.7. Italy E-Nose Market by Technology, Value (US$ Bn), 2018 - 2030
5.3.1.8. Italy E-Nose Market Application, Value (US$ Bn), 2018 - 2030
5.3.1.9. Turkey E-Nose Market by Technology, Value (US$ Bn), 2018 - 2030
5.3.1.10. Turkey E-Nose Market Application, Value (US$ Bn), 2018 - 2030
5.3.1.11. Russia E-Nose Market by Technology, Value (US$ Bn), 2018 - 2030
5.3.1.12. Russia E-Nose Market Application, Value (US$ Bn), 2018 - 2030
5.3.1.13. Rest of Europe E-Nose Market by Technology, Value (US$ Bn), 2018 - 2030
5.3.1.14. Rest of Europe E-Nose Market Application, Value (US$ Bn), 2018 - 2030
5.3.2. BPS Analysis/Market Attractiveness Analysis
6. Asia Pacific E-Nose Market Outlook, 2018 - 2030
6.1. Asia Pacific E-Nose Market Outlook, by Technology, Value (US$ Bn), 2018 - 2030
6.1.1. Key Highlights
6.1.1.1. Metal Oxide Semi-Conductor Sensor (MOS)
6.1.1.2. Quartz Crystal Microbalance Sensor (QCM)
6.1.1.3. Conducting Polymers Sensor
6.1.1.4. Others
6.2. Asia Pacific E-Nose Market Outlook, by Application, Value (US$ Bn), 2018 - 2030
6.2.1. Key Highlights
6.2.1.1. Food Industry
6.2.1.2. Security & Military
6.2.1.3. Environmental Monitoring
6.2.1.4. Healthcare
6.2.1.5. Agriculture
6.2.1.6. Others
6.2.2. BPS Analysis/Market Attractiveness Analysis
6.3. Asia Pacific E-Nose Market Outlook, by Country, Value (US$ Bn), 2018 - 2030
6.3.1. Key Highlights
6.3.1.1. China E-Nose Market by Technology, Value (US$ Bn), 2018 - 2030
6.3.1.2. China E-Nose Market Application, Value (US$ Bn), 2018 - 2030
6.3.1.3. Japan E-Nose Market by Technology, Value (US$ Bn), 2018 - 2030
6.3.1.4. Japan E-Nose Market Application, Value (US$ Bn), 2018 - 2030
6.3.1.5. South Korea E-Nose Market by Technology, Value (US$ Bn), 2018 - 2030
6.3.1.6. South Korea E-Nose Market Application, Value (US$ Bn), 2018 - 2030
6.3.1.7. India E-Nose Market by Technology, Value (US$ Bn), 2018 - 2030
6.3.1.8. India E-Nose Market Application, Value (US$ Bn), 2018 - 2030
6.3.1.9. Southeast Asia E-Nose Market by Technology, Value (US$ Bn), 2018 - 2030
6.3.1.10. Southeast Asia E-Nose Market Application, Value (US$ Bn), 2018 - 2030
6.3.1.11. Rest of Asia Pacific E-Nose Market by Technology, Value (US$ Bn), 2018 - 2030
6.3.1.12. Rest of Asia Pacific E-Nose Market Application, Value (US$ Bn), 2018 - 2030
6.3.2. BPS Analysis/Market Attractiveness Analysis
7. Latin America E-Nose Market Outlook, 2018 - 2030
7.1. Latin America E-Nose Market Outlook, by Technology, Value (US$ Bn), 2018 - 2030
7.1.1. Key Highlights
7.1.1.1. Metal Oxide Semi-Conductor Sensor (MOS)
7.1.1.2. Quartz Crystal Microbalance Sensor (QCM)
7.1.1.3. Conducting Polymers Sensor
7.1.1.4. Others
7.2. Latin America E-Nose Market Outlook, by Application, Value (US$ Bn), 2018 - 2030
7.2.1.1. Food Industry
7.2.1.2. Security & Military
7.2.1.3. Environmental Monitoring
7.2.1.4. Healthcare
7.2.1.5. Agriculture
7.2.1.6. Others
7.2.2. BPS Analysis/Market Attractiveness Analysis
7.3. Latin America E-Nose Market Outlook, by Country, Value (US$ Bn), 2018 - 2030
7.3.1. Key Highlights
7.3.1.1. Brazil E-Nose Market by Technology, Value (US$ Bn), 2018 - 2030
7.3.1.2. Brazil E-Nose Market Application, Value (US$ Bn), 2018 - 2030
7.3.1.3. Mexico E-Nose Market by Technology, Value (US$ Bn), 2018 - 2030
7.3.1.4. Mexico E-Nose Market Application, Value (US$ Bn), 2018 - 2030
7.3.1.5. Argentina E-Nose Market by Technology, Value (US$ Bn), 2018 - 2030
7.3.1.6. Argentina E-Nose Market Application, Value (US$ Bn), 2018 - 2030
7.3.1.7. Rest of Latin America E-Nose Market by Technology, Value (US$ Bn), 2018 - 2030
7.3.1.8. Rest of Latin America E-Nose Market Application, Value (US$ Bn), 2018 - 2030
7.3.2. BPS Analysis/Market Attractiveness Analysis
8. Middle East & Africa E-Nose Market Outlook, 2018 - 2030
8.1. Middle East & Africa E-Nose Market Outlook, by Technology, Value (US$ Bn), 2018 - 2030
8.1.1. Key Highlights
8.1.1.1. Metal Oxide Semi-Conductor Sensor (MOS)
8.1.1.2. Quartz Crystal Microbalance Sensor (QCM)
8.1.1.3. Conducting Polymers Sensor
8.1.1.4. Others
8.2. Middle East & Africa E-Nose Market Outlook, by Application, Value (US$ Bn), 2018 - 2030
8.2.1. Key Highlights
8.2.1.1. Food Industry
8.2.1.2. Security & Military
8.2.1.3. Environmental Monitoring
8.2.1.4. Healthcare
8.2.1.5. Agriculture
8.2.1.6. Others
8.2.2. BPS Analysis/Market Attractiveness Analysis
8.3. Middle East & Africa E-Nose Market Outlook, by Country, Value (US$ Bn), 2018 - 2030
8.3.1. Key Highlights
8.3.1.1. GCC E-Nose Market by Technology, Value (US$ Bn), 2018 - 2030
8.3.1.2. GCC E-Nose Market Application, Value (US$ Bn), 2018 - 2030
8.3.1.3. South Africa E-Nose Market by Technology, Value (US$ Bn), 2018 - 2030
8.3.1.4. South Africa E-Nose Market Application, Value (US$ Bn), 2018 - 2030
8.3.1.5. Egypt E-Nose Market by Technology, Value (US$ Bn), 2018 - 2030
8.3.1.6. Egypt E-Nose Market Application, Value (US$ Bn), 2018 - 2030
8.3.1.7. Nigeria E-Nose Market by Technology, Value (US$ Bn), 2018 - 2030
8.3.1.8. Nigeria E-Nose Market Application, Value (US$ Bn), 2018 - 2030
8.3.1.9. Rest of Middle East & Africa E-Nose Market by Technology, Value (US$ Bn), 2018 - 2030
8.3.1.10. Rest of Middle East & Africa E-Nose Market Application, Value (US$ Bn), 2018 - 2030
8.3.2. BPS Analysis/Market Attractiveness Analysis
9. Competitive Landscape
9.1. Technology vs Application Heatmap
9.2. Manufacturer vs Application Heatmap
9.3. Company Market Share Analysis, 2022
9.4. Competitive Dashboard
9.5. Company Profiles
9.5.1. Alpha MOS
9.5.1.1. Company Overview
9.5.1.2. Technology Portfolio
9.5.1.3. Financial Overview
9.5.1.4. Business Strategies and Development
9.5.2. E-Nose Pty Ltd
9.5.2.1. Company Overview
9.5.2.2. Technology Portfolio
9.5.2.3. Financial Overview
9.5.2.4. Business Strategies and Development
9.5.3. The eNose Company
9.5.3.1. Company Overview
9.5.3.2. Technology Portfolio
9.5.3.3. Financial Overview
9.5.3.4. Business Strategies and Development
9.5.4. Electronic Sensor technology
9.5.4.1. Company Overview
9.5.4.2. Technology Portfolio
9.5.4.3. Financial Overview
9.5.4.4. Business Strategies and Development
9.5.5. Scent Science Corporation
9.5.5.1. Company Overview
9.5.5.2. Technology Portfolio
9.5.5.3. Financial Overview
9.5.5.4. Business Strategies and Development
9.5.6. Airsense Analytics GmbH
9.5.6.1. Company Overview
9.5.6.2. Technology Portfolio
9.5.6.3. Financial Overview
9.5.6.4. Business Strategies and Development
9.5.7. Scentsational Technologies LLC
9.5.7.1. Company Overview
9.5.7.2. Technology Portfolio
9.5.7.3. Financial Overview
9.5.7.4. Business Strategies and Development
9.5.8. Scensive Technologies Limited
9.5.8.1. Company Overview
9.5.8.2. Technology Portfolio
9.5.8.3. Business Strategies and Development
9.5.9. Envirosuite Limited
9.5.9.1. Company Overview
9.5.9.2. Technology Portfolio
9.5.9.3. Financial Overview
9.5.9.4. Business Strategies and Development
9.5.9.5. RoboScientific Ltd.
9.5.9.6. Company Overview
9.5.9.7. Technology Portfolio
9.5.9.8. Financial Overview
9.5.9.9. Business Strategies and Development
9.5.10. Chromatotec
9.5.10.1. Company Overview
9.5.10.2. Technology Portfolio
9.5.10.3. Financial Overview
9.5.10.4. Business Strategies and Development
9.5.11. Intelligent Optical Systems, Inc.
9.5.11.1. Company Overview
9.5.11.2. Technology Portfolio
9.5.11.3. Financial Overview
9.5.11.4. Business Strategies and Development
10. Appendix
10.1. Research Methodology
10.2. Report Assumptions
10.3. Acronyms and Abbreviations