EdTech and Smart Classroom Market Outlook
In the recent study conducted by Fairfield Market Research, the global EdTech and smart classroom market was valued at US$72.1 Bn in 2018 and it is expected to reach US$188.8 Bn by 2026, registering a whopping CAGR of 14.5% between 2021 and 2026.
Emergence of Personalized Teaching Solutions Veers Parents, and Students Toward Online Education, Boosting EdTech and Smart Classroom Market
The ability to scale personalized learning has been a major factor in EdTech and smart classroom market's rise to prominence. It is not a one-size-fits-all issue when it comes to studying, connecting with classmates and professors, and maintaining excitement about the same subjects. Students learn at varying speeds and in their own manner. EdTech technologies make it easier for teachers to design tailored lesson plans to bring in learning experiences that promote inclusion and improve the learning capacities of all students, regardless of age or ability. This nuanced premise of the global EdTech and smart classroom market is expected to revolutionize classroom learning. As technology becomes an indispensable part of the classrooms, 92% of teachers feel that it will have a significant impact on how they teach in the foreseeable future. As a result, it's critical to comprehend the advantages of EdTech and smart classroom market that will redefine communication, collaboration, and improve overall educational quality.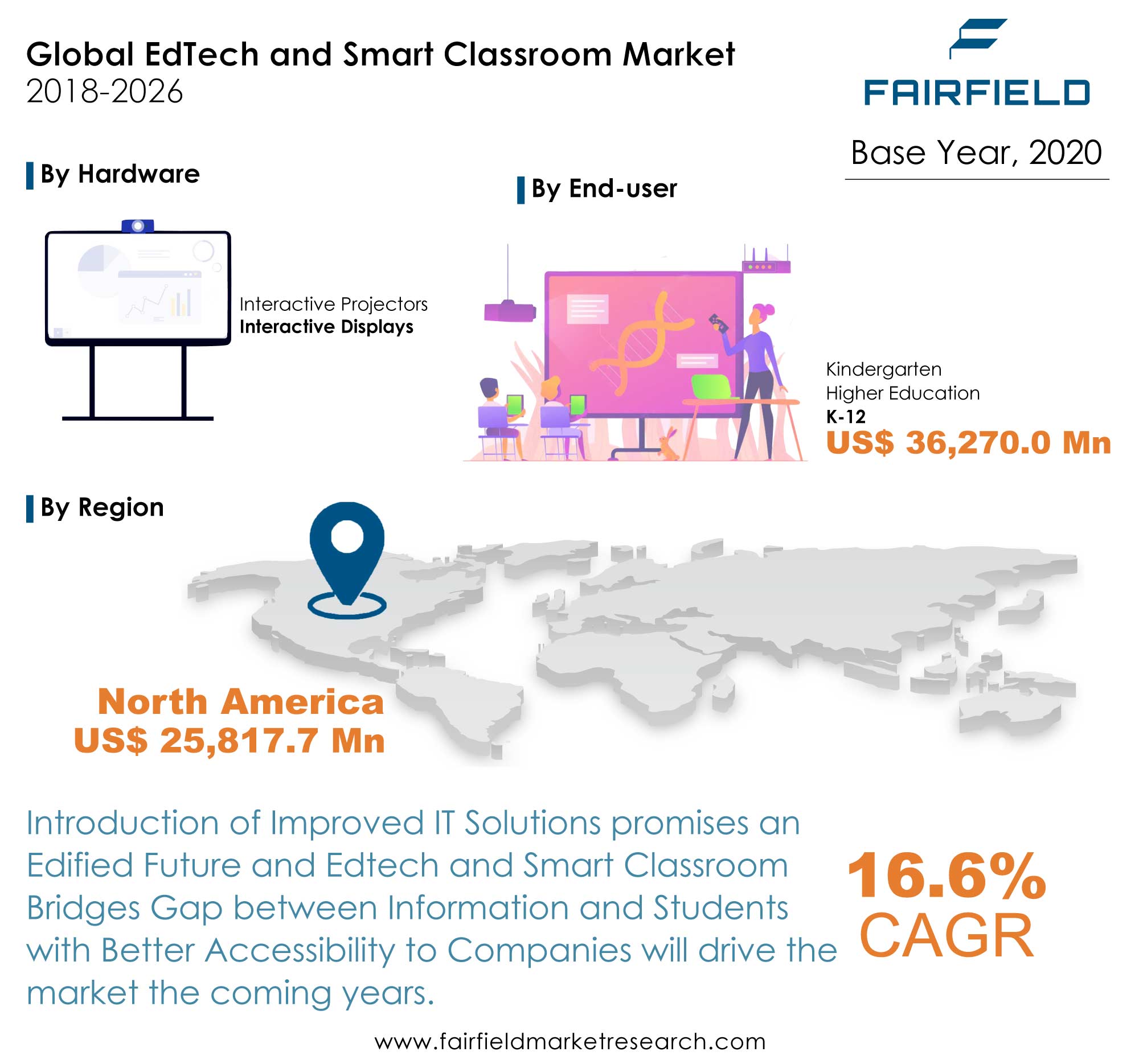 Interactive Displays Become Necessary for K-12, Higher Education, and Business Trainings, Reign Supreme in EdTech and Smart Classroom Market
The interactive display is a hardware device that allows users to engage with content, primarily technological content, in ways that are difficult to achieve with traditional textbook-based learning. The appearance of an interactive display can have a variety of effects on learning, including increasing learner engagement, inspiring students, and encouraging excitement for learning. Interactive displays are increasingly being considered as a necessary component of teaching in K-12, higher education, and business.
These are cutting-edge, next-generation displays that make use of wireless technologies. Interactive displays are completely technologically equipped and are widely employed in the EdTech and smart classroom market. This gear is extensively used around the world because it helps businesses to efficiently analyse and present data. Content such as photos, videos, and video calls are displayed on interactive screens. The education industry has been the slowest to implement interactive displays, owing to positive feedback from trainers, students, and teachers.
Learning System Management to Showcase the Fastest CAGR in EdTech and Smart Classroom Market
The learning system management (LMS) programs are used for eLearning application supervision, certification, tracking, and offering. These systems are generally used to keep track of classroom instructions, automate learning administrations, and provide content management and creation capabilities. They enable educational institutions to access online instructional information, allowing students to see materials via a web browser. There are numerous systems that deal with management training and educational records, as well as blended and online courses that allow teachers and students to collaborate.
Europe is an important EdTech and smart classroom market as industrialized and modernized countries such as Germany, the United Kingdom, France, Italy, Norway, and Sweden have large education budgets and strong investments in EdTech businesses. This region is also a suitable market for EdTech and smart classrooms due to the widespread usage of new technology in numerous industries. The COVID-19 outbreak is currently affecting Russia, the United Kingdom, Spain, Italy, Germany, Turkey, and France, to name a few important European countries. Governments of these countries have imposed lockdowns/movement restrictions and closed the educational institutions to contain the outbreak. Despite the negative impact of COVID-19 outbreak on economies of these countries, the demand for EdTech and smart classroom solutions has seen an upward trend owing to increasing demand for e-learning, virtual classrooms, and other digital technology solutions for uninterrupted delivery of education to students across Europe. The sudden adjustments in education systems and processes in the wake of ongoing pandemic is pushing stakeholders to invest in modern technologies and adapt to the evolving technology landscape in the education sector.
Companies Emphasize Interoperability Integration to Make a Mark in EdTech and Smart Classroom Market
The global EdTech and smart classroom market is diversified with multinational companies such as Apple Inc., IBM Corporation, Alphabet Inc., Cisco Systems Inc., Learning Technologies Gr, Amazon.com Inc, Microsoft Corporation, SMART Technologies ULC, Dell Inc., and Cornerstone On-demand Inc. EdTech and Smart Classroom Corporation and many others. Currently, these companies face tough competition from regional players who have a strong influence. Leaders in the global EdTech and smart classroom market are leading the way in interoperability integration, which is expected to the upcoming trend.
Recent Notable Developments
For instance, In May 2020, IBM launched Open P-TECH, a platform focused on workplace learning and skills. The newly launched platform will provide students and educators access to digital learning in AI, cloud computing, and cybersecurity, among other areas


In April 2020, Blackboard launched Blackboard Unite for K-12, a remote learning solution. The solution comprises a virtual classroom, learning management system, accessibility tool, mobile app, and services and implementation kit to help districts launch their remote learning efforts
The Global EdTech and Smart Classroom Market is Segmented as Below:
By Education System Coverage
Learning Management System
Student Information System
Classroom Assessment System
Classroom Collaboration System
Classroom Management System
Document Management System
Student Response System
Talent Management System
By Enabling Technology Coverage
Gamification
Analytics
ERP
Security
Advanced Technology* (AI, AR, VR, Robotics, and Blockchain)
By End-Use Coverage
Kindergarten
K-12
Higher Education
By Deployments Coverage
By Hardware
Interactive Displays
Interactive Projectors
By Geographical Coverage
North America
Europe

Germany
France
UK
Italy
Turkey
Spain
Russia
Rest of Europe

Asia Pacific

China
Japan
South Korea
India
Southeast Asia
Rest of Asia Pacific

Latin America

Brazil
Mexico
Rest of Latin America

Middle East & Africa

GCC
Egypt
Rest of Middle East & Africa
Leading Companies
Apple Inc.
IBM Corporation
Alphabet Inc.
Cisco Systems Inc.
Learning Technologies Gr
com Inc
Microsoft Corporation
SMART Technologies ULC
Dell Inc.
Cornerstone On-demand Inc. Trek
Inside This Report You Will Find:
1. Executive Summary
2. Market Overview
3. Global EdTech and Smart Classroom Market Outlook, 2018 - 2026
4. North America EdTech and Smart Classroom Market Outlook, 2018 - 2026
5. Europe EdTech and Smart Classroom Market Outlook, 2018 - 2026
6. Asia Pacific EdTech and Smart Classroom Market Outlook, 2018 - 2026
7. Latin America EdTech and Smart Classroom Market Outlook, 2018 - 2026
8. MEA EdTech and Smart Classroom Market Outlook, 2018 - 2026
9. Competitive Landscape
10. Appendix
Post Sale Support, Research Updates & Offerings:
We value the trust shown by our customers in Fairfield Market Research. We support our clients through our post sale support, research updates and offerings.
The report will be prepared in a PPT format and will be delivered in a PDF format.
Additionally, Market Estimation and Forecast numbers will be shared in Excel Workbook.
If a report being sold was published over a year ago, we will offer a complimentary copy of the updated research report along with Market Estimation and Forecast numbers within 2-3 weeks' time of the sale.
If we update this research study within the next 2 quarters, post purchase of the report, we will offer a Complimentary copy of the updated Market Estimation and Forecast numbers in Excel Workbook.
If there is a geopolitical conflict, pandemic, recession, and the like which can impact global economic scenario and business activity, which might entirely alter the market dynamics or future projections in the industry, we will create a Research Update upon your request at a nominal charge.
1. Executive Summary
1.1. Global EdTech and Smart Classroom Market Snapshot
1.2. Future Projections
1.3. Key Market Trends
1.4. Analyst Recommendations

2. Market Overview
2.1. Market Definitions
2.2. Market Taxonomy
2.3. Market Dynamics
2.3.1. Drivers
2.3.2. Restraints
2.4. Value Chain Analysis
2.5. Porter's Five Forces Analysis
2.6. Covid-19 Impact Analysis
2.7. Key Patents

3. Global EdTech and Smart Classroom Market Outlook, 2018-2026
3.1. Global EdTech and Smart Classroom Market Outlook, by Hardware, Value (US$ '000), 2018-2026
3.1.1. Key Highlights
3.1.1.1. Interactive Displays
3.1.1.2. Interactive Projectors
3.1.2. BPS Analysis/Market Attractiveness Analysis
3.2. Global EdTech and Smart Classroom Market Outlook, by Enabling Technology, Value (US$ '000), 2018-2026
3.2.1. Key Highlights
3.2.1.1. Gamification
3.2.1.2. Analytics
3.2.1.3. ERP
3.2.1.4. Security
3.2.1.5. Advanced Technology* (AI, AR, VR, Robotics, and Blockchain)
3.2.2. BPS Analysis/Market Attractiveness Analysis
3.3. Global EdTech and Smart Classroom Market Outlook, by End-User, Value (US$ '000), 2018-2026
3.3.1. Key Highlights
3.3.1.1. Kindergarten
3.3.1.2. K-12
3.3.1.3. Higher Education
3.3.2. BPS Analysis/Market Attractiveness Analysis
3.4. Global EdTech and Smart Classroom Market Outlook, by Education System, Value (US$ '000), 2018-2026
3.4.1. Key Highlights
3.4.1.1. Learning Management System
3.4.1.2. Student Information System
3.4.1.3. Classroom Assessment System
3.4.1.4. Classroom Collaboration System
3.4.1.5. Classroom Management System
3.4.1.6. Document Management System
3.4.1.7. Student Response System
3.4.1.8. Talent Management System
3.4.2. BPS Analysis/Market Attractiveness Analysis
3.5. Global EdTech and Smart Classroom Market Outlook, by Deployments, Value (US$ '000), 2018-2026
3.5.1. Key Highlights
3.5.1.1. Cloud
3.5.1.2. On-Premises
3.5.2. BPS Analysis/Market Attractiveness Analysis
3.6. Global EdTech and Smart Classroom Market Outlook, by Region, Value (US$ '000), 2018-2026
3.6.1. Key Highlights
3.6.1.1. North America
3.6.1.2. Europe
3.6.1.3. Asia Pacific
3.6.1.4. Latin America
3.6.1.5. Middle East & Africa
3.6.2. BPS Analysis/Market Attractiveness Analysis

4. North America EdTech and Smart Classroom Market Outlook, 2018-2026
4.1. North America EdTech and Smart Classroom Market Outlook, by Deployments, Value (US$ '000), 2018-2026
4.1.1. Key Highlights
4.1.1.1. Cloud
4.1.1.2. On-Premises
4.1.2. BPS Analysis/Market Attractiveness Analysis
4.2. North America EdTech and Smart Classroom Market Outlook, by Enabling Technology, Value (US$ '000), 2018-2026
4.2.1. Key Highlights
4.2.1.1. Gamification
4.2.1.2. Analytics
4.2.1.3. ERP
4.2.1.4. Security
4.2.2. Advanced Technology* (AI, AR, VR, Robotics, and Blockchain)
4.2.3. BPS Analysis/Market Attractiveness Analysis
4.3. North America EdTech and Smart Classroom Market Outlook, by End-User, Value (US$ '000), 2018-2026
4.3.1. Key Highlights
4.3.1.1. Kindergarten
4.3.1.2. K-12
4.3.1.3. Higher Education
4.3.2. BPS Analysis/Market Attractiveness Analysis
4.4. North America EdTech and Smart Classroom Market Outlook, by Hardware, Value (US$ '000), 2018-2026
4.4.1. Key Highlights
4.4.1.1. Interactive Displays
4.4.1.2. Interactive Projectors
4.4.2. BPS Analysis/Market Attractiveness Analysis
4.5. North America EdTech and Smart Classroom Market Outlook, by Education System, Value (US$ '000), 2018-2026
4.5.1. Key Highlights
4.5.1.1. Learning Management System
4.5.1.2. Student Information System
4.5.1.3. Classroom Assessment System
4.5.1.4. Classroom Collaboration System
4.5.1.5. Classroom Management System
4.5.1.6. Document Management System
4.5.1.7. Student Response System
4.5.1.8. Talent Management System
4.5.2. BPS Analysis/Market Attractiveness Analysis
4.6. North America EdTech and Smart Classroom Market Outlook, by Country, Value (US$ '000), 2018-2026
4.6.1. Key Highlights
4.6.1.1. U.S. EdTech and Smart Classroom Market by Value (US$ '000), 2018-2026
4.6.1.2. Canada EdTech and Smart Classroom Market by Value (US$ '000), 2018-2026
4.6.2. BPS Analysis/Market Attractiveness Analysis

5. Europe EdTech and Smart Classroom Market Outlook, 2018-2026
5.1. Europe EdTech and Smart Classroom Market Outlook, by Deployments, Value (US$ '000), 2018-2026
5.1.1. Key Highlights
5.1.1.1. Cloud
5.1.1.2. On-Premises
5.1.2. BPS Analysis/Market Attractiveness Analysis
5.2. Europe EdTech and Smart Classroom Market Outlook, by Enabling Technology, Value (US$ '000), 2018-2026
5.2.1. Key Highlights
5.2.1.1. Gamification
5.2.1.2. Analytics
5.2.1.3. ERP
5.2.1.4. Security
5.2.2. Advanced Technology* (AI, AR, VR, Robotics, and Blockchain)
5.2.3. BPS Analysis/Market Attractiveness Analysis
5.3. Europe EdTech and Smart Classroom Market Outlook, by End-User, Value (US$ '000), 2018-2026
5.3.1. Key Highlights
5.3.1.1. Kindergarten
5.3.1.2. K-12
5.3.1.3. Higher Education
5.3.2. BPS Analysis/Market Attractiveness Analysis
5.4. Europe EdTech and Smart Classroom Market Outlook, by Hardware, Value (US$ '000), 2018-2026
5.4.1. Key Highlights
5.4.1.1. Interactive Displays
5.4.1.2. Interactive Projectors
5.4.2. BPS Analysis/Market Attractiveness Analysis
5.5. Europe EdTech and Smart Classroom Market Outlook, by Education System, Value (US$ '000), 2018-2026
5.5.1. Key Highlights
5.5.1.1. Learning Management System
5.5.1.2. Student Information System
5.5.1.3. Classroom Assessment System
5.5.1.4. Classroom Collaboration System
5.5.1.5. Classroom Management System
5.5.1.6. Document Management System
5.5.1.7. Student Response System
5.5.1.8. Talent Management System
5.5.2. BPS Analysis/Market Attractiveness Analysis
5.6. Europe EdTech and Smart Classroom Market Outlook, by Country, Value (US$ '000), 2018-2026
5.6.1. Key Highlights
5.6.1.1. Germany EdTech and Smart Classroom Market by Value (US$ '000), 2018-2026
5.6.1.2. France EdTech and Smart Classroom Market by Product, Value (US$ '000), 2018-2026
5.6.1.3. U.K. EdTech and Smart Classroom Market by Value (US$ '000), 2018-2026
5.6.1.4. Italy EdTech and Smart Classroom Market by Value (US$ '000), 2018-2026
5.6.1.5. Spain EdTech and Smart Classroom Market by Product, Value (US$ '000), 2018-2026
5.6.1.6. Rest of Europe EdTech and Smart Classroom Market Value (US$ '000), 2018-2026
5.6.2. BPS Analysis/Market Attractiveness Analysis

6. Asia Pacific EdTech and Smart Classroom Market Outlook, 2018-2026
6.1. Asia Pacific EdTech and Smart Classroom Market Outlook, by Deployments, Value (US$ '000), 2018-2026
6.1.1. Key Highlights
6.1.1.1. Cloud
6.1.1.2. On-Premises
6.1.2. BPS Analysis/Market Attractiveness Analysis
6.2. Asia Pacific EdTech and Smart Classroom Market Outlook, by Enabling Technology, Value (US$ '000), 2018-2026
6.2.1. Key Highlights
6.2.1.1. Gamification
6.2.1.2. Analytics
6.2.1.3. ERP
6.2.1.4. Security
6.2.2. Advanced Technology* (AI, AR, VR, Robotics, and Blockchain)
6.2.3. BPS Analysis/Market Attractiveness Analysis
6.3. Asia Pacific EdTech and Smart Classroom Market Outlook, by End-User, Value (US$ '000), 2018-2026
6.3.1. Key Highlights
6.3.1.1. Kindergarten
6.3.1.2. K-12
6.3.1.3. Higher Education
6.3.2. BPS Analysis/Market Attractiveness Analysis
6.4. Asia Pacific EdTech and Smart Classroom Market Outlook, by Hardware, Value (US$ '000), 2018-2026
6.4.1. Key Highlights
6.4.1.1. Interactive Displays
6.4.1.2. Interactive Projectors
6.4.2. BPS Analysis/Market Attractiveness Analysis
6.5. Asia Pacific EdTech and Smart Classroom Market Outlook, by Education System, Value (US$ '000), 2018-2026
6.5.1. Key Highlights
6.5.1.1. Learning Management System
6.5.1.2. Student Information System
6.5.1.3. Classroom Assessment System
6.5.1.4. Classroom Collaboration System
6.5.1.5. Classroom Management System
6.5.1.6. Document Management System
6.5.1.7. Student Response System
6.5.1.8. Talent Management System
6.5.2. BPS Analysis/Market Attractiveness Analysis
6.6. Asia Pacific EdTech and Smart Classroom Market Outlook, by Country, Value (US$ '000), 2018-2026
6.6.1. Key Highlights
6.6.1.1. India EdTech and Smart Classroom Market by Value (US$ '000), 2018-2026
6.6.1.2. China EdTech and Smart Classroom Market by Value (US$ '000), 2018-2026
6.6.1.3. Japan EdTech and Smart Classroom Market by Value (US$ '000), 2018-2026
6.6.1.4. Australia & New Zealand EdTech and Smart Classroom Market Value (US$ '000), 2018-2026
6.6.1.5. Rest of Asia Pacific Market by Value (US$ '000), 2018-2026
6.6.2. BPS Analysis/Market Attractiveness Analysis

7. Latin America EdTech and Smart Classroom Market Outlook, 2018-2026
7.1. Latin America EdTech and Smart Classroom Market Outlook, by Deployments, Value (US$ '000), 2018-2026
7.1.1. Key Highlights
7.1.1.1. Cloud
7.1.1.2. On-Premises
7.1.2. BPS Analysis/Market Attractiveness Analysis
7.2. Latin America EdTech and Smart Classroom Market Outlook, by Enabling Technology, Value (US$ '000), 2018-2026
7.2.1. Key Highlights
7.2.1.1. Gamification
7.2.1.2. Analytics
7.2.1.3. ERP
7.2.1.4. Security
7.2.2. Advanced Technology* (AI, AR, VR, Robotics, and Blockchain)
7.2.3. BPS Analysis/Market Attractiveness Analysis
7.3. Latin America EdTech and Smart Classroom Market Outlook, by End-User, Value (US$ '000), 2018-2026
7.3.1. Key Highlights
7.3.1.1. Kindergarten
7.3.1.2. K-12
7.3.1.3. Higher Education
7.3.2. BPS Analysis/Market Attractiveness Analysis
7.4. Latin America EdTech and Smart Classroom Market Outlook, by Hardware, Value (US$ '000), 2018-2026
7.4.1. Key Highlights
7.4.1.1. Interactive Displays
7.4.1.2. Interactive Projectors
7.4.2. BPS Analysis/Market Attractiveness Analysis
7.5. Latin America EdTech and Smart Classroom Market Outlook, by Education System, Value (US$ '000), 2018-2026
7.5.1. Key Highlights
7.5.1.1. Learning Management System
7.5.1.2. Student Information System
7.5.1.3. Classroom Assessment System
7.5.1.4. Classroom Collaboration System
7.5.1.5. Classroom Management System
7.5.1.6. Document Management System
7.5.1.7. Student Response System
7.5.1.8. Talent Management System
7.5.2. BPS Analysis/Market Attractiveness Analysis

8. MEA EdTech and Smart Classroom Market Outlook, 2018-2026
8.1. MEA EdTech and Smart Classroom Market Outlook, by Deployments, Value (US$ '000), 2018-2026
8.1.1. Key Highlights
8.1.1.1. Cloud
8.1.1.2. On-Premises
8.1.2. BPS Analysis/Market Attractiveness Analysis
8.2. MEA EdTech and Smart Classroom Market Outlook, by Enabling Technology, Value (US$ '000), 2018-2026
8.2.1. Key Highlights
8.2.1.1. Gamification
8.2.1.2. Analytics
8.2.1.3. ERP
8.2.1.4. Security
8.2.2. Advanced Technology* (AI, AR, VR, Robotics, and Blockchain)
8.2.3. BPS Analysis/Market Attractiveness Analysis
8.3. MEA EdTech and Smart Classroom Market Outlook, by End-User, Value (US$ '000), 2018-2026
8.3.1. Key Highlights
8.3.1.1. Kindergarten
8.3.1.2. K-12
8.3.1.3. Higher Education
8.3.2. BPS Analysis/Market Attractiveness Analysis
8.4. MEA EdTech and Smart Classroom Market Outlook, by Hardware, Value (US$ '000), 2018-2026
8.4.1. Key Highlights
8.4.1.1. Interactive Displays
8.4.1.2. Interactive Projectors
8.4.2. BPS Analysis/Market Attractiveness Analysis
8.5. MEA EdTech and Smart Classroom Market Outlook, by Education System, Value (US$ '000), 2018-2026
8.5.1. Key Highlights
8.5.1.1. Learning Management System
8.5.1.2. Student Information System
8.5.1.3. Classroom Assessment System
8.5.1.4. Classroom Collaboration System
8.5.1.5. Classroom Management System
8.5.1.6. Document Management System
8.5.1.7. Student Response System
8.5.1.8. Talent Management System
8.5.2. BPS Analysis/Market Attractiveness Analysis
8.6. Middle East & Africa EdTech and Smart Classroom Market Outlook, by Country, Value (US$ '000), 2018-2026
8.6.1. Key Highlights
8.6.1.1. GCC EdTech and Smart Classroom Market by Value (US$ '000), 2018-2026
8.6.1.2. South Africa EdTech and Smart Classroom Market by Value (US$ '000), 2018-2026
8.6.1.3. Rest of Middle East & Africa EdTech and Smart Classroom Market by Value (US$ '000), 2018-2026
8.6.2. BPS Analysis/Market Attractiveness Analysis

9. Competitive Landscape
9.1. Company Market Share Analysis, 2019
9.2. Company Profiles
9.2.1. Apple Inc.
9.2.1.1. Company Overview
9.2.1.2. Key Retailing Partners
9.2.1.3. Business Segment Revenue
9.2.1.4. Ingredient Overview
9.2.1.5. Product Offering & its Presence
9.2.1.6. Certifications & Claims
9.2.2. IBM Corporation
9.2.2.1. Company Overview
9.2.2.2. Key Retailing Partners
9.2.2.3. Business Segment Revenue
9.2.2.4. Ingredient Overview
9.2.2.5. Product Offering & its Presence
9.2.2.6. Certifications & Claims
9.2.3. Alphabet Inc.
9.2.3.1. Company Overview
9.2.3.2. Key Retailing Partners
9.2.3.3. Business Segment Revenue
9.2.3.4. Ingredient Overview
9.2.3.5. Product Offering & its Presence
9.2.3.6. Certifications & Claims
9.2.4. Cisco Systems Inc.
9.2.4.1. Company Overview
9.2.4.2. Key Retailing Partners
9.2.4.3. Business Segment Revenue
9.2.4.4. Ingredient Overview
9.2.4.5. Product Offering & its Presence
9.2.4.6. Certifications & Claims
9.2.5. Learning Technologies Gr
9.2.5.1. Company Overview
9.2.5.2. Key Retailing Partners
9.2.5.3. Business Segment Revenue
9.2.5.4. Ingredient Overview
9.2.5.5. Product Offering & its Presence
9.2.5.6. Certifications & Claims
9.2.6. Amazon.com Inc.
9.2.6.1. Company Overview
9.2.6.2. Key Retailing Partners
9.2.6.3. Business Segment Revenue
9.2.6.4. Ingredient Overview
9.2.6.5. Product Offering & its Presence
9.2.6.6. Certifications & Claims
9.2.7. Microsoft Corporation
9.2.7.1. Company Overview
9.2.7.2. Key Retailing Partners
9.2.7.3. Business Segment Revenue
9.2.7.4. Ingredient Overview
9.2.7.5. Product Offering & its Presence
9.2.7.6. Certifications & Claims
9.2.8. SMART Technologies ULC
9.2.8.1. Company Overview
9.2.8.2. Key Retailing Partners
9.2.8.3. Business Segment Revenue
9.2.8.4. Ingredient Overview
9.2.8.5. Product Offering & its Presence
9.2.8.6. Certifications & Claims
9.2.9. Dell Inc.
9.2.9.1. Company Overview
9.2.9.2. Key Retailing Partners
9.2.9.3. Business Segment Revenue
9.2.9.4. Ingredient Overview
9.2.9.5. Product Offering & its Presence
9.2.9.6. Certifications & Claims
9.2.10. Cornerstone On-demand Inc.
9.2.10.1. Company Overview
9.2.10.2. Key Retailing Partners
9.2.10.3. Business Segment Revenue
9.2.10.4. Ingredient Overview
9.2.10.5. Product Offering & its Presence
9.2.10.6. Certifications & Claims

10. Appendix
10.1. Research Methodology
10.2. Report Assumptions
10.3. Acronyms and Abbreviations