Global Electric Wheelchair Market Forecast
Global electric wheelchair market value set to witness 10% CAGR between 2023 and 2030
Market valuation likely to reach US$7.5 Bn by the end of 2030
Market Analysis in Brief
Electric wheelchair refers to a motorised wheelchair or a power chair. An electrically powered power source, often motors and batteries, propels any seating surface with wheels attached to it. Using a joystick is necessary to steer the wheelchair. The base of the electric wheelchair, which offers mobility, and the seating system, which provides postural support, are separated into two halves. Power tilt and reclining systems and customisable performance settings were two of those mechanical and electrical breakthroughs. The most fundamental and common controls for electric wheelchairs are joysticks, which mimic the controllers for video game consoles. Technology advancements are now necessary due to the rise in demand for electric wheelchairs. This is explained by the necessity for equipment to be stronger and more resilient to support the weight of fat people.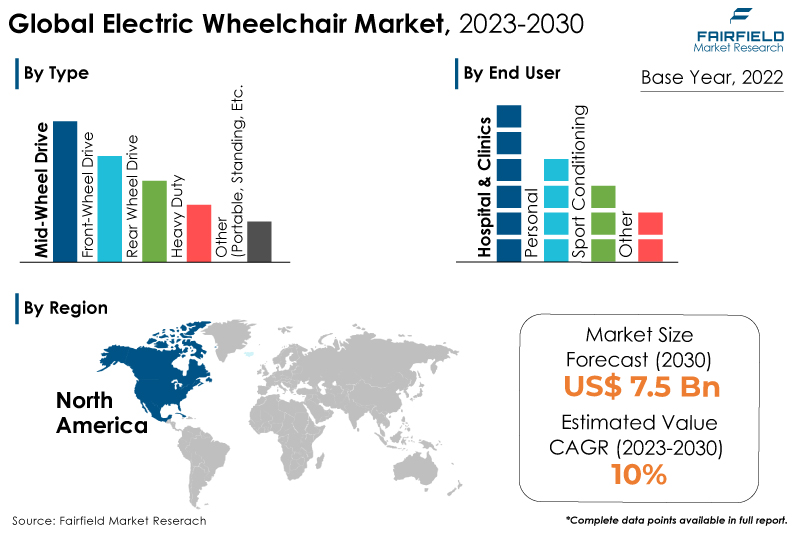 Additionally, because of technological advancements, fewer carers now manually intervene in patients' movements. The device is controlled by a handheld device or automatic controls that are integrated immediately into the wheelchair, and the patient can quickly modify the wheelchair seat. Moreover, AI-enhanced wheelchairs have been introduced to the electric wheelchair market, allowing people with impairments to control them by making various facial expressions like raising their eyebrows and sticking out their tongues.
Key Report Findings
The increasing prevalence of neurological disorders correlates with the rising senior population, which is more susceptible to orthopaedic illnesses, and is one of the main drivers fuelling market expansion.
Demand for centre/mid-wheel drive type remains higher in the electric wheelchair market.
The hospital sector held the highest electric wheelchair market revenue share in 2022.
North America will continue to lead its way, whereas the Asia Pacific electric wheelchair market will experience significant growth till 2030.
Growth Drivers
Growing Burden of Disabilities
Health issues like blindness, dementia, and spinal cord injuries interact with environmental or individual variables to cause disability. Around 1.3 billion individuals (or roughly 16% of the population), according to research released by the World Health Organisation (WHO) in December 2022, have major disabilities. Disability is becoming more common due to rising noncommunicable diseases and increased life expectancy.
Additionally, several reasons can result in impairment, including trauma, accidents, injuries, hereditary disorders, and injuries. Wheelchair demand has increased due to the growing burden of these diseases. Additionally, hospitals and healthcare institutions are spending on expanding their infrastructure and implementing cutting-edge technologies like electric wheelchairs. These developments are fuelling the market's expansion during the anticipated timeframe.
The need for wheelchairs in home care settings is growing as the senior population is more prone to different orthopaedic ailments. Growing incidents of trauma and accidents are also projected to drive the CAGR of the global market for electric wheelchairs in the future. However, businesses in the industry are always creating and innovating to improve the items in the market to meet the growing demand. Another factor boosting the revenue from the sale of electric wheelchairs is the numerous launches of these devices.
Increasing Life Expectancy
The number of elderly people is increasing rapidly in every nation on Earth. The enormous increase in the senior population is anticipated throughout the projection period to spur demand for electric wheelchairs due to co-morbid conditions, chronic illnesses, and other disabilities.
The elderly comprise 13% of the global population, according to World Population Prospects in 2017. Globally, the number of those 60 and over is growing at a pace of about 3% a year, with Europe having the highest percentage of people over 60 at about 25%. The world's population of elderly people is expected to reach 1.4 billion in 2030, 2.1 billion in 2050, and maybe 3.1 billion in 2100.
Throughout the forecasted period, the global market for electric wheelchairs is anticipated to increase due to the increasing number of product releases and approvals. For instance, the Invacare AVIVA FX Power Wheelchair was introduced by the home medical device manufacturer Invacare Corporation in March 2020. The wheels, hubs, gearboxes, and motors of the AVIVA FX Power Wheelchair may all be readily taken off.
Growth Challenges
High Price Point
One of the main factors affecting pricing is the wide range of motorised wheelchair models, from lightweight to bariatric. For instance, light electric wheelchairs cost less on average, but insurance is less likely to pay for them. Bariatric power wheelchairs, on the other hand, weigh more and are typically covered by insurance because they are seen as medically necessary.
The high cost of electric wheelchairs relative to manual wheelchairs is anticipated to impede the development of the electric wheelchairs market in developing nations where healthcare expenditures are considerably lower than in industrialised countries.
However, there are additional costs for maintaining electric mobility aids in addition to the initial price, such as battery maintenance, servicing, and other costs for ongoing use. This makes using electric wheelchairs more challenging.
Overview of Key Segments
Mid-Wheel Drive Type Dominant
In terms of market share, mid/centre-wheel drive leads the electric wheelchair segment. This is due to the small turning radius of the wheel, light front tires, ease of manoeuvring through tight spaces, and improved wheel stability. Centre-wheel drive assists in moving all wheels with the same torque. This helps in maintaining good balance and stability in the wheelchair. It is also more durable than other types of systems.
The wheel provides a small turning radius while turning. The centre wheel drives the electric wheelchair. This makes it much easier to manoeuvre in tight spaces such as doorways. The front tire weight of the electric wheelchair is very light. It can move through narrow pathways.
The fastest growing type is the front-wheel drive because of its rapid market adoption. The front-wheel drive offers more power efficiency due to its mechanism. Its weight is quite heavy because of the mechanism followed by the front wheels. Front-wheel drive power wheelchair has a lower seat-to-floor height. This makes it easier for wheelchair users to fit under standard-size tables and desks, making it more inclusive and social for wheelchair users.
A front-wheel-drive design is good for the inside as it can easily navigate the tight corners inside the house. Another advantage of front-wheel drive is that the wheelchair user's feet can be placed easily because there is no front caster wheel on the motorised wheelchair. The feet can be placed closer to the user's body for comfort and convenience. You can also add 90-degree footrests.
Hospitals Create Ample Opportunity
The hospital segment has dominated the market due to the quick supply and demand cycles encountered in this industry. Following an accident or handicap, patients typically attend a hospital. For the patient, this is the first location where a wheelchair is recommended. Hospitals may thus have access to electric wheelchairs.
These items regularly transport patients from one area to another to assure their comfort and safety. The market demand and sales for electric wheelchairs have increased due to the stringent criteria developed for standardising hospitals and healthcare facilities.
By 2022, the personal segment is anticipated to grow at a significant rate. Most individuals with chronic diseases limit their movement and remain at home. Choosing home care has advantages, including increased comfort, individualised care, family involvement, and companionship, among others.
A home care plan is tailored to the family's needs rather than following the schedules and routines of a care facility. A home care facility can offer partial or full-time care depending on the patient's demand for help. Therefore, the personal segment will fuel industry growth during the study period due to the numerous benefits.
Growth Opportunities Across Regions
North America Spearheads
The developed healthcare system in the nation is to blame for the high market share. Improved patient awareness, product availability diversity, and access to high-quality healthcare. The US is home to significant manufacturers, increasing the range of goods offered here. Additionally, over 5 million Americans need wheelchairs for movement, and older patients are four times more likely than other patients to do so, per a published research paper.
Moreover, nearly 2.8 million kids under the age of 12 currently require wheelchairs. These variables, which contribute to the demand for electric wheelchairs in North America, are therefore anticipated to impact regional market statistics during the forecast period significantly.
The government's provision of modern healthcare facilities has increased public demand for contemporary medical equipment so that the facilities can always be up to date. This group is given special consideration in the senior living facilities and the best services. The demand for electric wheelchairs has expanded significantly along with the frequency of traffic accidents.
Asia Pacific to Grow Stronger
During the projection period, Asia Pacific is anticipated to experience the fastest growth rate. The region is supported by a sizable population in nations like China and India, advancements in medical facilities, and expanding government initiatives to provide top-notch mobility equipment. The population of this region has expanded dramatically, which has raised the demand for modern infrastructure.
People in emerging countries may buy cutting-edge technologies thanks to their rising disposable income. The most populous nations in the Asia-Pacific area are China and India. Since over 241 million Chinese citizens are over 60, China is viewed as an aging economy. In addition, because of its key players and centres for aluminium production, China produces around 75% of the electric wheelchairs used worldwide.
India, with a total population of about 1.40 billion, is the second most populous nation in the world. About 30% of the population has a mobility issue and requires assistance, making up about 2% of the total. When it comes to traffic accidents, India tops all other nations.
As per the data from the National Crime Records Bureau, there were 422659 accidents in India in 2021, which resulted in 155000 fatalities and 371000 injuries. Therefore, it is likely that the rise of the electric wheelchair market in India will be fuelled by the rising number of injuries brought on by increasing traffic accidents.
Electric Wheelchair: Competitive Landscape
Some of the leading players at the forefront in the electric wheelchair market space include Sunrise Medical Limited, Invacare Corporation, Permobil AB, OttoBock Healthcare, Pride Mobility Products Corp., Drive Medical Ltd, LEVO Ag, MEYRA GmbH, Karman Healthcare, GF Health Products, and Golden Technologies.
Recent Notable Developments
In January 2023, KT Skylife, a satellite broadcasting provider affiliated with South Korea's major telecom company KT, rolled out a lightweight electric wheelchair that would help reduce the inconvenience of people with mobility problems. The smart wheelchair can travel up to 45 kilometers (27.9 miles) on a single charge and can be loaded into a small passenger car's trunk.
Gulf Coast VA, in the same month of January 2023, completed its collaboration with Braze Mobility to further design and develop an innovative navigating blind sensor system for power wheelchair users. The blind spot sensors enable Veterans to avoid the embarrassment, damage, or injury that can occur when moving around via a wheelchair.
In December 2022, Global Auto Components Major MOBIS partners with IIT Madras-incubated Start-up NeoMotion to fund personalised motorised wheelchairs for 500 people with disabilities. The motorised wheelchair developed by NeoMotion is a completely indigenous 'Made in India' device that has been designed factoring in the Indian conditions to be a high-quality yet affordable product.
In January 2022, Scewo, a Swiss startup, unveiled Scewo BRO, a new electric wheelchair designed to help persons with mobility impairments climb stairs. According to reports, the electric wheelchair is the first of its kind to climb stairs with just two wheels. It has digital steering functions and will be further developed in the future for autonomous driving. Sensor technology monitors the environment and allows users to travel smoothly over rough terrain. The accompanying app allows smartphone users to navigate the wheelchair not only up and down stairs but also directly into the boot of their automobile.
In December 2021, Meyra Gmbh introduced the iChair Meylife, an intelligent power wheelchair. The high-quality iCHAIR MEYLIFE is excellent for difficult medical problems; extra options are available for retrofit. Its great degree of modularity allows for fine customisation to the user's specific demands. Permanent, all-day use indoors and out allows for autonomous mobility. The multipurpose iCHAIR MEYLIFE motorised wheelchair has a newly developed round tube back idea and a biomechanical seat and back unit for highly complex installations.
Global Electric Wheelchair Market is Segmented as Below:
By Type
Front-Wheel Drive
Mid-Wheel Drive
Rear Wheel Drive
Heavy Duty
Other (Portable, Standing, Etc.)
By End User
Personal
Hospital & Clinics
Sport Conditioning
Other
By Geographic Coverage
North America
Europe

Germany
U.K.
France
Italy
Turkey
Russia
Rest of Europe

Asia Pacific

China
Japan
South Korea
India
Southeast Asia
Rest of Asia Pacific

Latin America

Brazil
Mexico
Argentina
Rest of Latin America

Middle East & Africa

GCC
South Africa
Egypt
Nigeria
Rest of Middle East & Africa
1. Executive Summary
1.1. Global Electric Wheelchair Market Snapshot
1.2. Future Projections
1.3. Key Market Trends
1.4. Regional Snapshot, by Volume/Value, 2022
1.5. Analyst Recommendations

2. Market Overview
2.1. Market Definitions and Segmentations
2.2. Market Dynamics
2.2.1. Drivers
2.2.2. Restraints
2.2.3. Market Opportunities
2.3. Value Chain Analysis
2.4. Porter's Five Forces Analysis
2.5. COVID-19 Impact Analysis
2.5.1. Supply
2.5.2. Demand
2.6. Impact of Ukraine-Russia Conflict
2.7. Economic Overview
2.7.1. World Economic Projections
2.8. PESTLE Analysis

3. Global Electric Wheelchair Market Outlook, 2018 - 2030
3.1. Global Electric Wheelchair Market Outlook, by Type, Value (US$ Mn), 2018 - 2030
3.1.1. Key Highlights
3.1.1.1. Front-Wheel Drive
3.1.1.2. Mid-Wheel Drive
3.1.1.3. Rear-Wheel Drive
3.1.1.4. Heavy Duty
3.1.1.5. Other (Portable, Standing, Etc.)
3.2. Global Electric Wheelchair Market Outlook, by End-User, Value (US$ Mn), 2018 - 2030
3.2.1. Key Highlights
3.2.1.1. Personal
3.2.1.2. Hospital & Clinics
3.2.1.3. Sport Conditioning
3.2.1.4. Others
3.3. Global Electric Wheelchair Market Outlook, by Region, Value (US$ Mn), 2018 - 2030
3.3.1. Key Highlights
3.3.1.1. North America
3.3.1.2. Europe
3.3.1.3. Asia Pacific
3.3.1.4. Latin America
3.3.1.5. Middle East & Africa

4. North America Electric Wheelchair Market Outlook, 2018 - 2030
4.1. North America Electric Wheelchair Market Outlook, by Type, Value (US$ Mn), 2018 - 2030
4.1.1. Key Highlights
4.1.1.1. Front-Wheel Drive
4.1.1.2. Mid-Wheel Drive
4.1.1.3. Rear-Wheel Drive
4.1.1.4. Heavy Duty
4.1.1.5. Other (Portable, Standing, Etc.)
4.2. North America Electric Wheelchair Market Outlook, by End-User, Value (US$ Mn), 2018 - 2030
4.2.1. Key Highlights
4.2.1.1. Personal
4.2.1.2. Hospital & Clinics
4.2.1.3. Sport Conditioning
4.2.1.4. Others
4.2.2. Market Attractiveness Analysis
4.3. North America Electric Wheelchair Market Outlook, by Country, Value (US$ Mn), 2018 - 2030
4.3.1. Key Highlights
4.3.1.1. U.S. Electric Wheelchair Market by Type, Value (US$ Mn), 2018 - 2030
4.3.1.2. U.S. Electric Wheelchair Market by End-User, Value (US$ Mn), 2018 - 2030
4.3.1.3. Canada Electric Wheelchair Market by Type, Value (US$ Mn), 2018 - 2030
4.3.1.4. Canada Electric Wheelchair Market by End-User, Value (US$ Mn), 2018 - 2030
4.3.2. BPS Analysis/Market Attractiveness Analysis

5. Europe Electric Wheelchair Market Outlook, 2018 - 2030
5.1. Europe Electric Wheelchair Market Outlook, by Type, Value (US$ Mn), 2018 - 2030
5.1.1. Key Highlights
5.1.1.1. Front-Wheel Drive
5.1.1.2. Mid-Wheel Drive
5.1.1.3. Rear-Wheel Drive
5.1.1.4. Heavy Duty
5.1.1.5. Other (Portable, Standing, Etc.)
5.2. Europe Electric Wheelchair Market Outlook, by End-User, Value (US$ Mn), 2018 - 2030
5.2.1. Key Highlights
5.2.1.1. Personal
5.2.1.2. Hospital & Clinics
5.2.1.3. Sport Conditioning
5.2.1.4. Others
5.2.2. BPS Analysis/Market Attractiveness Analysis
5.3. Europe Electric Wheelchair Market Outlook, by Country, Value (US$ Mn), 2018 - 2030
5.3.1. Key Highlights
5.3.1.1. Germany Electric Wheelchair Market by Type, Value (US$ Mn), 2018 - 2030
5.3.1.2. Germany Electric Wheelchair Market by End-User, Value (US$ Mn), 2018 - 2030
5.3.1.3. U.K. Electric Wheelchair Market by Type, Value (US$ Mn), 2018 - 2030
5.3.1.4. U.K. Electric Wheelchair Market by End-User, Value (US$ Mn), 2018 - 2030
5.3.1.5. France Electric Wheelchair Market by Type, Value (US$ Mn), 2018 - 2030
5.3.1.6. France Electric Wheelchair Market by End-User, Value (US$ Mn), 2018 - 2030
5.3.1.7. Italy Electric Wheelchair Market by Type, Value (US$ Mn), 2018 - 2030
5.3.1.8. Italy Electric Wheelchair Market by End-User, Value (US$ Mn), 2018 - 2030
5.3.1.9. Turkey Electric Wheelchair Market by Type, Value (US$ Mn), 2018 - 2030
5.3.1.10. Turkey Electric Wheelchair Market by End-User, Value (US$ Mn), 2018 - 2030
5.3.1.11. Russia Electric Wheelchair Market by Type, Value (US$ Mn), 2018 - 2030
5.3.1.12. Russia Electric Wheelchair Market by End-User, Value (US$ Mn), 2018 - 2030
5.3.1.13. Rest of Europe Electric Wheelchair Market by Type, Value (US$ Mn), 2018 - 2030
5.3.1.14. Rest of Europe Electric Wheelchair Market by End-User, Value (US$ Mn), 2018 - 2030
5.3.2. BPS Analysis/Market Attractiveness Analysis

6. Asia Pacific Electric Wheelchair Market Outlook, 2018 - 2030
6.1. Asia Pacific Electric Wheelchair Market Outlook, by Type, Value (US$ Mn), 2018 - 2030
6.1.1. Key Highlights
6.1.1.1. Front-Wheel Drive
6.1.1.2. Mid-Wheel Drive
6.1.1.3. Rear-Wheel Drive
6.1.1.4. Heavy Duty
6.1.1.5. Other (Portable, Standing, Etc.)
6.2. Asia Pacific Electric Wheelchair Market Outlook, by by End-User, Value (US$ Mn), 2018 - 2030
6.2.1. Key Highlights
6.2.1.1. Personal
6.2.1.2. Hospital & Clinics
6.2.1.3. Sport Conditioning
6.2.1.4. Others
6.2.2. BPS Analysis/Market Attractiveness Analysis
6.3. Asia Pacific Electric Wheelchair Market Outlook, by Country, Value (US$ Mn), 2018 - 2030
6.3.1. Key Highlights
6.3.1.1. China Electric Wheelchair Market by Type, Value (US$ Mn), 2018 - 2030
6.3.1.2. China Electric Wheelchair Market by End-User, Value (US$ Mn), 2018 - 2030
6.3.1.3. Japan Electric Wheelchair Market by Type, Value (US$ Mn), 2018 - 2030
6.3.1.4. Japan Electric Wheelchair Market by End-User, Value (US$ Mn), 2018 - 2030
6.3.1.5. South Korea Electric Wheelchair Market by Type, Value (US$ Mn), 2018 - 2030
6.3.1.6. South Korea Electric Wheelchair Market by End-User, Value (US$ Mn), 2018 - 2030
6.3.1.7. India Electric Wheelchair Market by Type, Value (US$ Mn), 2018 - 2030
6.3.1.8. India Electric Wheelchair Market by End-User, Value (US$ Mn), 2018 - 2030
6.3.1.9. Southeast Asia Electric Wheelchair Market by Type, Value (US$ Mn), 2018 - 2030
6.3.1.10. Southeast Asia Electric Wheelchair Market by End-User, Value (US$ Mn), 2018 - 2030
6.3.1.11. Rest of Asia Pacific Electric Wheelchair Market by Type, Value (US$ Mn), 2018 - 2030
6.3.1.12. Rest of Asia Pacific Electric Wheelchair Market by End-User, Value (US$ Mn), 2018 - 2030
6.3.2. BPS Analysis/Market Attractiveness Analysis

7. Latin America Electric Wheelchair Market Outlook, 2018 - 2030
7.1. Latin America Electric Wheelchair Market Outlook, by Type, Value (US$ Mn), 2018 - 2030
7.1.1. Key Highlights
7.1.1.1. Front-Wheel Drive
7.1.1.2. Mid-Wheel Drive
7.1.1.3. Rear-Wheel Drive
7.1.1.4. Heavy Duty
7.1.1.5. Other (Portable, Standing, Etc.)
7.2. Latin America Electric Wheelchair Market Outlook, by by End-User, Value (US$ Mn), 2018 - 2030
7.2.1. Key Highlights
7.2.1.1. Personal
7.2.1.2. Hospital & Clinics
7.2.1.3. Sport Conditioning
7.2.1.4. Others
7.2.2. BPS Analysis/Market Attractiveness Analysis
7.3. Latin America Electric Wheelchair Market Outlook, by Country, Value (US$ Mn), 2018 - 2030
7.3.1. Key Highlights
7.3.1.1. Brazil Electric Wheelchair Market by Type, Value (US$ Mn), 2018 - 2030
7.3.1.2. Brazil Electric Wheelchair Market by End-User, Value (US$ Mn), 2018 - 2030
7.3.1.3. Mexico Electric Wheelchair Market by Type, Value (US$ Mn), 2018 - 2030
7.3.1.4. Mexico Electric Wheelchair Market by End-User, Value (US$ Mn), 2018 - 2030
7.3.1.5. Argentina Electric Wheelchair Market by Type, Value (US$ Mn), 2018 - 2030
7.3.1.6. Argentina Electric Wheelchair Market by End-User, Value (US$ Mn), 2018 - 2030
7.3.1.7. Rest of Latin America Electric Wheelchair Market by Type, Value (US$ Mn), 2018 - 2030
7.3.1.8. Rest of Latin America Electric Wheelchair Market by End-User, Value (US$ Mn), 2018 - 2030
7.3.2. BPS Analysis/Market Attractiveness Analysis

8. Middle East & Africa Electric Wheelchair Market Outlook, 2018 - 2030
8.1. Middle East & Africa Electric Wheelchair Market Outlook, by Type, Value (US$ Mn), 2018 - 2030
8.1.1. Key Highlights
8.1.1.1. Front-Wheel Drive
8.1.1.2. Mid-Wheel Drive
8.1.1.3. Rear-Wheel Drive
8.1.1.4. Heavy Duty
8.1.1.5. Other (Portable, Standing, Etc.)
8.2. Middle East & Africa Electric Wheelchair Market Outlook, by by End-User, Value (US$ Mn), 2018 - 2030
8.2.1. Key Highlights
8.2.1.1. Personal
8.2.1.2. Hospital & Clinics
8.2.1.3. Sport Conditioning
8.2.1.4. Others
8.2.2. BPS Analysis/Market Attractiveness Analysis
8.3. Middle East & Africa Electric Wheelchair Market Outlook, by Country, Value (US$ Mn), 2018 - 2030
8.3.1. Key Highlights
8.3.1.1. GCC Electric Wheelchair Market by Type, Value (US$ Mn), 2018 - 2030
8.3.1.2. GCC Electric Wheelchair Market by End-User, Value (US$ Mn), 2018 - 2030
8.3.1.3. South Africa Electric Wheelchair Market by Type, Value (US$ Mn), 2018 - 2030
8.3.1.4. South Africa Electric Wheelchair Market by End-User, Value (US$ Mn), 2018 - 2030
8.3.1.5. Egypt Electric Wheelchair Market by Type, Value (US$ Mn), 2018 - 2030
8.3.1.6. Egypt Electric Wheelchair Market by End-User, Value (US$ Mn), 2018 - 2030
8.3.1.7. Nigeria Electric Wheelchair Market by Type, Value (US$ Mn), 2018 - 2030
8.3.1.8. Nigeria Electric Wheelchair Market by End-User, Value (US$ Mn), 2018 - 2030
8.3.1.9. Rest of Middle East & Africa Electric Wheelchair Market by Type, Value (US$ Mn), 2018 - 2030
8.3.1.10. Rest of Middle East & Africa Electric Wheelchair Market by End-User, Value (US$ Mn), 2018 - 2030
8.3.2. BPS Analysis/Market Attractiveness Analysis

9. Competitive Landscape
9.1. Manufacturer vs Type Heatmap
9.2. Company Market Share Analysis, 2022
9.3. Competitive Dashboard
9.4. Company Profiles
9.4.1. Sunrise Medical Limited
9.4.1.1. Company Overview
9.4.1.2. Product Portfolio
9.4.1.3. Financial Overview
9.4.1.4. Business Strategies and Development
9.4.2. Invacare Corporation
9.4.2.1. Company Overview
9.4.2.2. Product Portfolio
9.4.2.3. Financial Overview
9.4.2.4. Business Strategies and Development
9.4.3. Permobil AB
9.4.3.1. Company Overview
9.4.3.2. Product Portfolio
9.4.3.3. Financial Overview
9.4.3.4. Business Strategies and Development
9.4.4. OttoBock Healthcare
9.4.4.1. Company Overview
9.4.4.2. Product Portfolio
9.4.4.3. Financial Overview
9.4.4.4. Business Strategies and Development
9.4.5. Pride Mobility Products Corp.
9.4.5.1. Company Overview
9.4.5.2. Product Portfolio
9.4.5.3. Financial Overview
9.4.5.4. Business Strategies and Development
9.4.6. Drive Medical Ltd
9.4.6.1. Company Overview
9.4.6.2. Product Portfolio
9.4.6.3. Financial Overview
9.4.6.4. Business Strategies and Development
9.4.7. LEVO Ag
9.4.7.1. Company Overview
9.4.7.2. Product Portfolio
9.4.7.3. Financial Overview
9.4.7.4. Business Strategies and Development
9.4.8. MEYRA GmbH
9.4.8.1. Company Overview
9.4.8.2. Product Portfolio
9.4.8.3. Financial Overview
9.4.8.4. Business Strategies and Development
9.4.9. Karman Healthcare
9.4.9.1. Company Overview
9.4.9.2. Product Portfolio
9.4.9.3. Financial Overview
9.4.9.4. Business Strategies and Development
9.4.10. GF Health Products
9.4.10.1. Company Overview
9.4.10.2. Product Portfolio
9.4.10.3. Financial Overview
9.4.10.4. Business Strategies and Development
9.4.11. Golden Technologies
9.4.11.1. Company Overview
9.4.11.2. Product Portfolio
9.4.11.3. Financial Overview
9.4.11.4. Business Strategies and Development

10. Appendix
10.1. Research Methodology
10.2. Report Assumptions
10.3. Acronyms and Abbreviations