Embedded Security Market Outlook
"According to Fairfield Market Research, the global embedded security market was valued at US$5.8 Bn in 2019 and is expected to be worth over US$9.8 Bn by 2026. Between the years of 2021 and 2026, the global market is anticipated to register a CAGR of 8.1% during the forecast period."

Side-Channel Attacks on Embedded System Devices Boost Demand for Security Solutions

Side-channel attacks take processed data from a chip or system and utilise it to derive sensitive data like cryptographic keys and communications, among other things. In side channel analysis, an embedded security system employs many types of security to discover potential embedded security threats. It also has security features for systems engineering that effectively prohibit hackers from engaging with the software. Users, service providers, and manufacturers are all vulnerable to side-channel assaults. End-to-end threat analysis, design and test for security, security testing, securing programmes, and real-time computing data are all aspects that embedded security solutions can handle, making them perfect for usage in a range of applications. These factors are anticipated to contribute to the growth of the embedded security market in the coming years.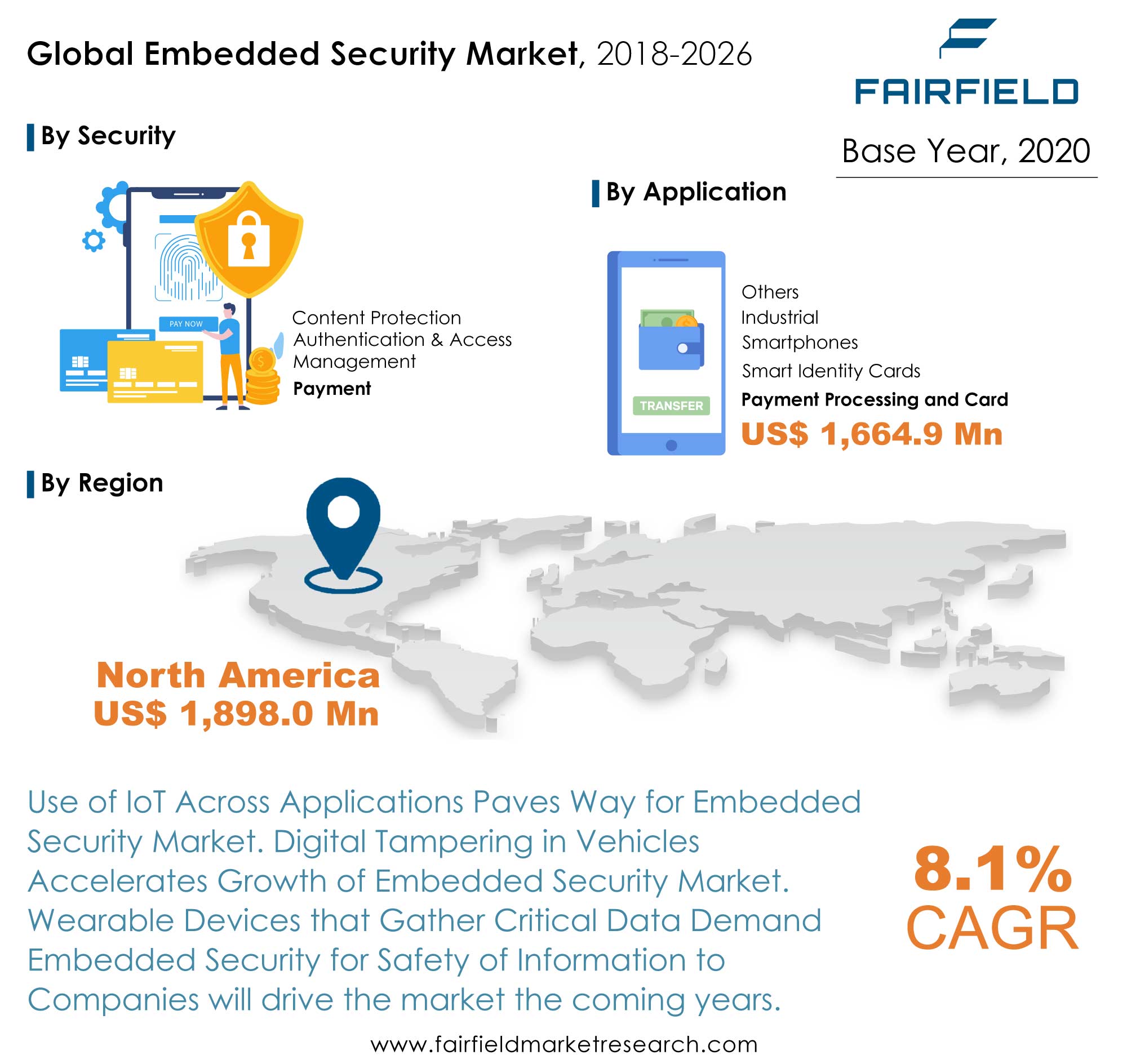 Inclusion of Payment Functionality in Wearables Stokes Global Embedded Security Market
Clothing, smart glasses, jewellery, and virtual reality (VR) equipment (such as the Oculus Rift) are all examples of wearable technology that are expanding and developing. Fitness tracking, navigation, and health monitoring are just a few of the possibilities for smart wearable technology. Apps such as payments and smart home control, require user consent to avoid misuse. To suit this niche market, embedded security solution providers are introducing new embedded security solutions. STMicroelectronics (Switzerland), for example, provides secure wearable solutions for a number of applications such as payment, transit, and contactless transactions. Axis Bank and Thales Group teamed up to introduce "Wear N Pay," a line of contactless payment gadgets. Such offerings are expected to bode well for the global embedded security market.
Embedded Security for Retail, Medical, and Critical Infrastructure to Propel Sales
Consumers and system makers are both protected by secure authentication and anti-counterfeit technologies. These characteristics include intuitive card handling, fully-integrated one-module solutions created for standard high-volume card manufacture with the highest security, and other features for retail, medical, and critical infrastructure. For threat analysis and encryption, simplified protection, and regulatory compliance applications, the demand for embedded security solutions is growing.
Shortage in Supply of Semiconductors Negatively Impacts Embedded Security Solutions Market
Embedded systems require a lot of semiconductors. The 'trade war' between the United States and China has disrupted the global supply chain. The two countries imposed tariffs and limitations on each other, disrupting demand and supply. Multiple industries have been hit by supply chain interruptions, resulting in a semiconductor shortage. The COVID-19 outbreak disrupted the semiconductor supply chain as well. China is a key semiconductor supplier and the political volatility in the country has negatively impacted the global embedded security market.
Susceptibility of Embedded Systems to Cyber Threats and Security Breaches
The security of embedded devices is one of the primary concerns impeding the growth of the embedded security market. Information kept in embedded devices such as memory may be used by military forces, banks, data centres, and healthcare facilities. As a result, safeguarding these devices against cyber-attacks and data breaches is essential. Embedded systems are vulnerable to cyberattacks due to infrequent security updates, a long device lifecycle, remote deployment, and attack replication. As a result of its vulnerability to cyber-attacks and security breaches, the market's growth is projected to be impeded.
Asia Pacific Set to Dominate Global Embedded Security Market During Forecast Period
Asia Pacific is the largest-growing market for the embedded security market. Many of the region's emerging economies, including India, China, Singapore, and Japan are dealing with growing cybersecurity concerns. In terms of overall DNS hijackings, India ranks fifth in the globe, with tremendous growth in cybercrime registrations. Security is a major concern in the APAC region, which contains highly sensitive data and billions of devices connected to loT. The Asia Pacific cybersecurity market is expected to grow significantly as a result of the recent outbreak of COVID-19 as there is an increasing trend of cyber-attacks via malware and ransomware in the context of COVID-19, forcing organizations to adopt cybersecurity solutions as many have shifted to remote work environments amid lockdown in various countries. According to Microsoft. between February and May 2020, 19 million ransomware and phishing attacks were identified in Asia. North America and Europe consists of more than 50% of market share in terms of revenue.
Global Embedded Security Market: Competitive Landscape
The key players profiled in the embedded security market are Cisco Systems, Inc., Infineon Technologies AG, STMicroelectronics N.V., NXP Semiconductors N.V., Texas Instruments, Inc., Renesas Electronics Corporation, Qualcomm Incorporated, Microchip Technology Inc, Samsung Electronics Co., Ltd., Morpho S.A.S (IDEMIA), and Escrypt GmbH (ETAS Group).
In January 2022, Thales Group delivered SafeNet MobilePASS+ 2.2 which is a mobile authenticator for android and windows. With a single swipe, approve push authentication requests and generate secure one-time passcodes. Authenticators can be unlocked via fingerprint or face recognition. Self-enrolment is simple and quick with QR code activation.


In May 2021, Microchip launched Trust Platform Design Suite (TPDS) which is a software platform for device configuration and onboarding to Microchip secure provisioning services.


In February 2021, NXP Semiconductor delivered the EdgeLock 2GO which is designed for zero-touch, secure deployment, and security maintenance of IoT devices.
The Global Embedded Security Market is Segmented as Below:
By Offerings Coverage
Hardware
Software
Services
By Security Type Coverage
Authentication And Access Management
Payment
Content Protection
By Application Coverage
Wearables
Smartphones
Automotive
Smart Identity Cards
Industrial
Payment Processing And Card
Others
By Geographical Coverage
North America
Europe

Germany
France
UK
Italy
Turkey
Spain
Russia
Rest of Europe

Asia Pacific

China
Japan
South Korea
India
Southeast Asia
Rest of Asia Pacific

Latin America

Brazil
Mexico
Rest of Latin America

Middle East & Africa

GCC
Egypt
Rest of Middle East & Africa
Leading Companies
Infineon
STMicroelectronics
NXP
Qualcomm
Thales Group
Microchip Technology
Samsung
Texas Instruments
IDEMIA
Renesas
Inside This Report You Will Find:
1. Executive Summary
2. Market Overview
3. Global Embedded Security Market Outlook, 2018 - 2026
4. North America Embedded Security Market Outlook, 2018 - 2026
5. Europe Embedded Security Market Outlook, 2018 - 2026
6. Asia Pacific Embedded Security Market Outlook, 2018 - 2026
7. Latin America Embedded Security Market Outlook, 2018 - 2026
8. Middle East & Africa Embedded Security Market Outlook, 2018 - 2026
9. Competitive Landscape
10. Appendix
Post Sale Support, Research Updates & Offerings:
We value the trust shown by our customers in Fairfield Market Research. We support our clients through our post sale support, research updates and offerings.
The report will be prepared in a PPT format and will be delivered in a PDF format.
Additionally, Market Estimation and Forecast numbers will be shared in Excel Workbook.
If a report being sold was published over a year ago, we will offer a complimentary copy of the updated research report along with Market Estimation and Forecast numbers within 2-3 weeks' time of the sale.
If we update this research study within the next 2 quarters, post purchase of the report, we will offer a Complimentary copy of the updated Market Estimation and Forecast numbers in Excel Workbook.
If there is a geopolitical conflict, pandemic, recession, and the like which can impact global economic scenario and business activity, which might entirely alter the market dynamics or future projections in the industry, we will create a Research Update upon your request at a nominal charge.
1. Executive Summary
1.1. Global Embedded Security Market Snapshot
1.2. Future Projections
1.3. Key Market Trends
1.4. Analyst Recommendations

2. Market Overview
2.1. Market Definitions
2.2. Market Taxonomy
2.3. Market Dynamics
2.3.1. Drivers
2.3.2. Restraints
2.4. Value Chain Analysis
2.5. Porter's Five Forces Analysis
2.6. Covid-19 Impact Analysis
2.7. Key Patents


3. Global Embedded Security Market Outlook, 2018 - 2026
3.1. Global Embedded Security Market Outlook, by Offerings Type, Value (US$ '000), 2018 - 2026
3.1.1. Key Highlights
3.1.1.1. Hardware
3.1.1.2. Software
3.1.1.3. Services
3.1.2. BPS Analysis/Market Attractiveness Analysis
3.2. Global Embedded Security Market Outlook, by Security Type, Value (US$ '000), 2018 - 2026
3.2.1. Key Highlights
3.2.1.1. Authentication And Access Management
3.2.1.2. Payment
3.2.1.3. Content Protection
3.2.2. BPS Analysis/Market Attractiveness Analysis
3.3. Global Embedded Security Market Outlook, by Application, Value (US$ '000), 2018 - 2026
3.3.1. Key Highlights
3.3.1.1. Wearables
3.3.1.2. Smartphones
3.3.1.3. Automotive
3.3.1.4. Smart Identity Cards
3.3.1.5. Industrial
3.3.1.6. Payment Processing And Card
3.3.1.7. Others
3.3.2. BPS Analysis/Market Attractiveness Analysis
3.4. Global Embedded Security Market Outlook, by Region, Value (US$ '000), 2018 - 2026
3.4.1. Key Highlights
3.4.1.1. North America
3.4.1.2. Europe
3.4.1.3. Asia Pacific
3.4.1.4. Latin America
3.4.1.5. Middle East & Africa
3.4.2. BPS Analysis/Market Attractiveness Analysis

4. North America Embedded Security Market Outlook, 2018 - 2026
4.1. North America Embedded Security Market Outlook, by Offerings Type, Value (US$ '000), 2018 - 2026
4.1.1. Key Highlights
4.1.1.1. Hardware
4.1.1.2. Software
4.1.1.3. Services
4.1.2. BPS Analysis/Market Attractiveness Analysis
4.2. North America Embedded Security Market Outlook, by Security Type, Value (US$ '000), 2018 - 2026
4.2.1. Key Highlights
4.2.1.1. Authentication And Access Management
4.2.1.2. Payment
4.2.1.3. Content Protection
4.2.2. BPS Analysis/Market Attractiveness Analysis
4.3. North America Embedded Security Market Outlook, by Application, Value (US$ '000), 2018 - 2026
4.3.1. Key Highlights
4.3.1.1. Wearables
4.3.1.2. Smartphones
4.3.1.3. Automotive
4.3.1.4. Smart Identity Cards
4.3.1.5. Industrial
4.3.1.6. Payment Processing And Card
4.3.1.7. Others
4.3.2. BPS Analysis/Market Attractiveness Analysis
4.4. North America Embedded Security Market Outlook, by Country, Value (US$ '000), 2018 - 2026
4.4.1. Key Highlights
4.4.1.1. U.S. Embedded Security Market by Value (US$ '000), 2018 - 2026
4.4.1.2. Canada Embedded Security Market by Value (US$ '000), 2018 - 2026
4.4.2. BPS Analysis/Market Attractiveness Analysis

5. Europe Embedded Security Market Outlook, 2018 - 2026
5.1. Europe Embedded Security Market Outlook, by Offerings Type, Value (US$ '000), 2018 - 2026
5.1.1. Key Highlights
5.1.1.1. Hardware
5.1.1.2. Software
5.1.1.3. Services
5.1.2. BPS Analysis/Market Attractiveness Analysis
5.2. Europe Embedded Security Market Outlook, by Security Type, Value (US$ '000), 2018 - 2026
5.2.1. Key Highlights
5.2.1.1. Authentication And Access Management
5.2.1.2. Payment
5.2.1.3. Content Protection
5.2.2. BPS Analysis/Market Attractiveness Analysis
5.3. Europe Embedded Security Market Outlook, by Application, Value (US$ '000), 2018 - 2026
5.3.1. Key Highlights
5.3.1.1. Wearables
5.3.1.2. Smartphones
5.3.1.3. Automotive
5.3.1.4. Smart Identity Cards
5.3.1.5. Industrial
5.3.1.6. Payment Processing And Card
5.3.1.7. Others
5.3.2. BPS Analysis/Market Attractiveness Analysis
5.4. Europe Embedded Security Market Outlook, by Country, Value (US$ '000), 2018 - 2026
5.4.1. Key Highlights
5.4.1.1. Germany Embedded Security Market by Value (US$ '000), 2018 - 2026
5.4.1.2. France Embedded Security Market by Product, Value (US$ '000), 2018 - 2026
5.4.1.3. U.K. Embedded Security Market by Value (US$ '000), 2018 - 2026
5.4.1.4. Italy Embedded Security Market by Value (US$ '000), 2018 - 2026
5.4.1.5. Spain Embedded Security Market by Product, Value (US$ '000), 2018 - 2026
5.4.1.6. Rest of Europe Embedded Security Market Value (US$ '000), 2018 - 2026
5.4.2. BPS Analysis/Market Attractiveness Analysis


6. Asia Pacific Embedded Security Market Outlook, 2018 - 2026
6.1. Asia Pacific Embedded Security Market Outlook, by Offerings Type, Value (US$ '000), 2018 - 2026
6.1.1. Key Highlights
6.1.1.1. Hardware
6.1.1.2. Software
6.1.1.3. Services
6.1.2. BPS Analysis/Market Attractiveness Analysis
6.2. Asia Pacific Embedded Security Market Outlook, by Security Type, Value (US$ '000), 2018 - 2026
6.2.1. Key Highlights
6.2.1.1. Authentication And Access Management
6.2.1.2. Payment
6.2.1.3. Content Protection
6.2.2. BPS Analysis/Market Attractiveness Analysis
6.3. Asia Pacific Embedded Security Market Outlook, by Application, Value (US$ '000), 2018 - 2026
6.3.1. Key Highlights
6.3.1.1. Wearables
6.3.1.2. Smartphones
6.3.1.3. Automotive
6.3.1.4. Smart Identity Cards
6.3.1.5. Industrial
6.3.1.6. Payment Processing And Card
6.3.1.7. Others
6.3.2. BPS Analysis/Market Attractiveness Analysis
6.4. Asia Pacific Embedded Security Market Outlook, by Country, Value (US$ '000), 2018 - 2026
6.4.1. Key Highlights
6.4.1.1. India Embedded Security Market by Value (US$ '000), 2018 - 2026
6.4.1.2. China Embedded Security Market by Value (US$ '000), 2018 - 2026
6.4.1.3. Japan Embedded Security Market by Value (US$ '000), 2018 - 2026
6.4.1.4. Australia & New Zealand Embedded Security Market Value (US$ '000), 2018 - 2026
6.4.1.5. Rest of Asia Pacific Market by Value (US$ '000), 2018 - 2026
6.4.2. BPS Analysis/Market Attractiveness Analysis


7. Latin America Embedded Security Market Outlook, 2018 - 2026
7.1. Latin America Embedded Security Market Outlook, by Offerings Type, Value (US$ '000), 2018 - 2026
7.1.1. Key Highlights
7.1.1.1. Hardware
7.1.1.2. Software
7.1.1.3. Services
7.1.2. BPS Analysis/Market Attractiveness Analysis
7.2. Latin America Embedded Security Market Outlook, by Security Type, Value (US$ '000), 2018 - 2026
7.2.1. Key Highlights
7.2.1.1. Authentication And Access Management
7.2.1.2. Payment
7.2.1.3. Content Protection
7.2.2. BPS Analysis/Market Attractiveness Analysis
7.3. Latin America Embedded Security Market Outlook, by Application, Value (US$ '000), 2018 - 2026
7.3.1. Key Highlights
7.3.1.1. Wearables
7.3.1.2. Smartphones
7.3.1.3. Automotive
7.3.1.4. Smart Identity Cards
7.3.1.5. Industrial
7.3.1.6. Payment Processing And Card
7.3.1.7. Others
7.3.2. BPS Analysis/Market Attractiveness Analysis
7.4. Latin America Embedded Security Market Outlook, by Country, Value (US$ '000), 2018 - 2026
7.4.1. Key Highlights
7.4.1.1. Brazil Embedded Security Market by Value (US$ '000), 2018 - 2026
7.4.1.2. Mexico Embedded Security Market by Value (US$ '000), 2018 - 2026
7.4.1.3. Rest of Latin America Embedded Security Market by Value (US$ '000), 2018 - 2026
7.4.2. BPS Analysis/Market Attractiveness Analysis

8. Middle East & Africa Embedded Security Market Outlook, 2018 - 2026
8.1. Middle East & Africa Embedded Security Market Outlook, by Offerings Type, Value (US$ '000), 2018 - 2026
8.1.1. Key Highlights
8.1.1.1. Hardware
8.1.1.2. Software
8.1.1.3. Services
8.1.2. BPS Analysis/Market Attractiveness Analysis
8.2. Middle East & Africa Embedded Security Market Outlook, by Security Type, Value (US$ '000), 2018 - 2026
8.2.1. Key Highlights
8.2.1.1. Authentication And Access Management
8.2.1.2. Payment
8.2.1.3. Content Protection
8.2.2. BPS Analysis/Market Attractiveness Analysis
8.2.3. Middle East & Africa Embedded Security Market Outlook, by Application, Value (US$ '000), 2018 - 2026
8.2.4. Key Highlights
8.2.4.1. Wearables
8.2.4.2. Smartphones
8.2.4.3. Automotive
8.2.4.4. Smart Identity Cards
8.2.4.5. Industrial
8.2.4.6. Payment Processing And Card
8.2.4.7. Others
8.2.5. BPS Analysis/Market Attractiveness Analysis
8.3. Middle East & Africa Embedded Security Market Outlook, by Country, Value (US$ '000), 2018 - 2026
8.3.1. Key Highlights
8.3.1.1. GCC Embedded Security Market by Value (US$ '000), 2018 - 2026
8.3.1.2. South Africa Embedded Security Market by Value (US$ '000), 2018 - 2026
8.3.1.3. Rest of Middle East & Africa Embedded Security Market by Value (US$ '000), 2018 - 2026
8.3.2. BPS Analysis/Market Attractiveness Analysis

9. Competitive Landscape
9.1. Company Market Share Analysis, 2019
9.2. Company Profiles
9.2.1. Microsoft Corporation
9.2.1.1. Company Overview
9.2.1.2. Key Retailing Partners
9.2.1.3. Business Segment Revenue
9.2.1.4. Ingredient Overview
9.2.1.5. Product Offering & its Presence
9.2.1.6. Certifications & Claims
9.2.2. Zoom Video Communications
9.2.2.1. Company Overview
9.2.2.2. Key Retailing Partners
9.2.2.3. Business Segment Revenue
9.2.2.4. Ingredient Overview
9.2.2.5. Product Offering & its Presence
9.2.2.6. Certifications & Claims
9.2.3. CISCO
9.2.3.1. Company Overview
9.2.3.2. Key Retailing Partners
9.2.3.3. Business Segment Revenue
9.2.3.4. Ingredient Overview
9.2.3.5. Product Offering & its Presence
9.2.3.6. Certifications & Claims
9.2.4. ADOBE
9.2.4.1. Company Overview
9.2.4.2. Key Retailing Partners
9.2.4.3. Business Segment Revenue
9.2.4.4. Ingredient Overview
9.2.4.5. Product Offering & its Presence
9.2.4.6. Certifications & Claims
9.2.5. Google LLC
9.2.5.1. Company Overview
9.2.5.2. Key Retailing Partners
9.2.5.3. Business Segment Revenue
9.2.5.4. Ingredient Overview
9.2.5.5. Product Offering & its Presence
9.2.5.6. Certifications & Claims

10. Appendix
10.1. Research Methodology
10.2. Report Assumptions
10.3. Acronyms and Abbreviations
BASE YEAR

HISTORICAL DATA

FORECAST PERIOD

UNITS

2020

2018 - 2020

2021 - 2026

Value: US$ Million
REPORT FEATURES

DETAILS

Offerings Coverage

Hardware

Software

Services

Security Type Coverage

Application Coverage

Geographical Coverage

North America

Europe

Germany

France

U.K.

Italy

Turkey

Spain

Russia

Rest of Europe

Asia Pacific

China

Japan

South Korea

India

Southeast Asia

Rest of Asia Pacific

Latin America

Brazil

Mexico

Rest of Latin America

Middle East & Africa

Leading Companies

Infineon

STMicroelectronics

NXP

Qualcomm

Thales Group

Microchip Technology

Samsung

Texas Instruments

IDEMIA

Renesas

Report Highlights

Market Estimates and Forecast, Market Dynamics, Industry Trends, Competition Landscape, Product-, Application-, Region-, Country-wise Trends & Analysis, COVID-19 Impact Analysis, Key Trends