Event Management Software Market Outlook

Global event management software market was valued at US$5.6 Bn in 2019 and is expected to be worth US$18.4 Bn by 2029 end. Between 2022 and 2029, the market is anticipated to register a CAGR of 12.9%.
Prospects of Event Management Software Market Rise High as Event Planners and Organizers Increasingly Rely on Gamification as an Engagement Tool
Gamification of events enables organizers to enhance the overall experience for the event attendees. The tool of gamification works on the basic mechanism of tailoring the benefits to meet consumer sentiments. This allows them to foster the confidence of attendees, create a comfortable and relaxing atmosphere, and promote effective communication. While most event organizers have been typically leveraging the innovations in gamification for question and answer (Q&A) engagement, social media engagement, teamwork games, social programs, and networking games, the outbreak of COVID-19 has particularly offered a thrust to the adoption of event management software. This is expected to drive the growth of event management software market. There has been a paradigm shift in how the events, and conferences have been working out otherwise, in the wake of the pandemic situation. Virtual events, and conferences thus witnessed a significant rise, particularly in 2020, and entered mainstream post-2020. The growing preference among enterprises to host virtual events is opening lucrative opportunities for event management companies to expand their business, thereby driving the growth of event management software market.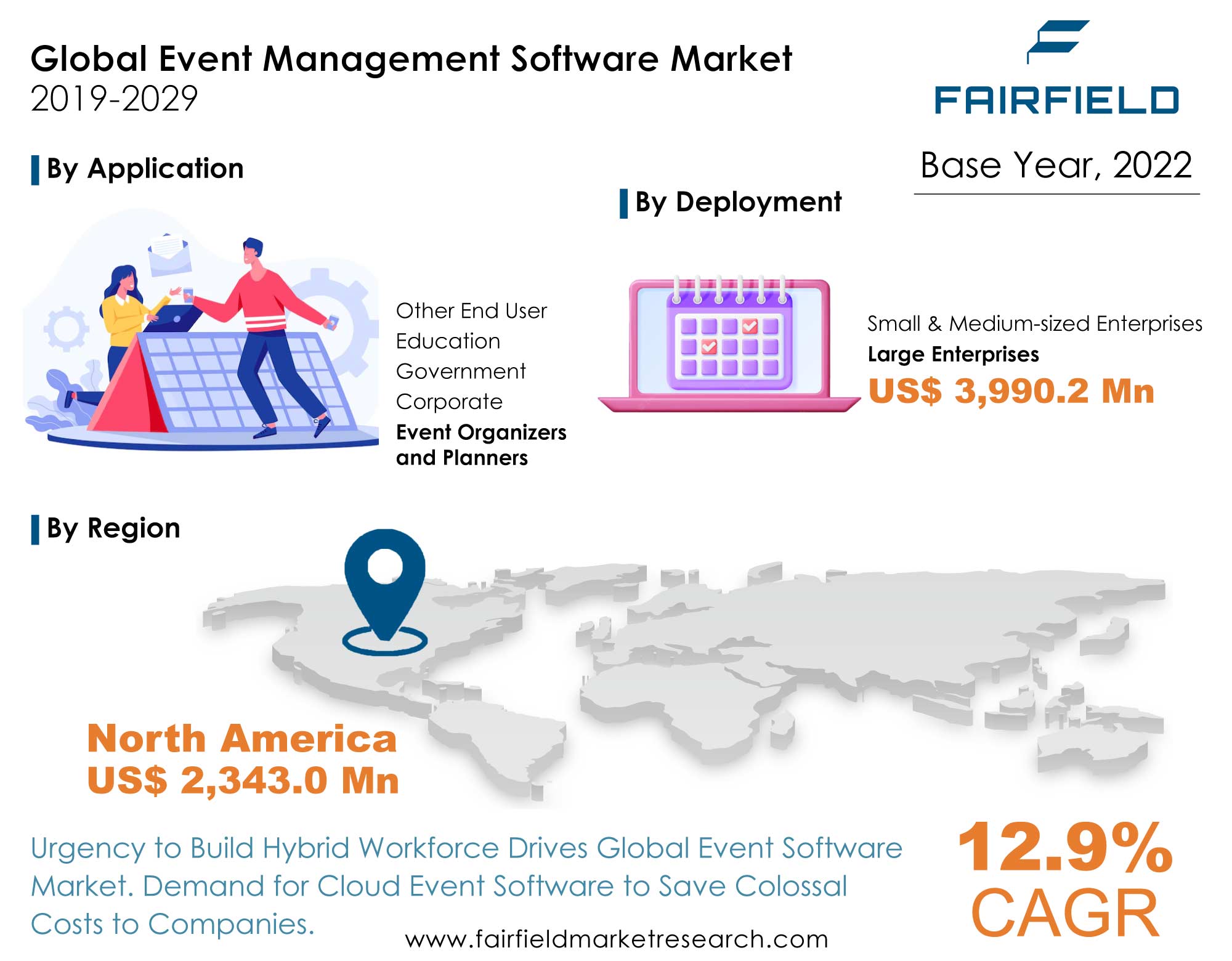 Heightening Adoption for a Host of Advantages Facilitates Event Management Software Market Expansion
Adoption of event management software is expected to be largely beneficial for marketers. It can potentially help them draw the significant, direct, real-time data to eventually gain actionable business insights right from their own events to further utilize the same to the advantage of organizational development. As such, integration of event management software into the various organizational systems such as marketing automation software, customer relationship management (CRM) systems, payment gateways, accounting software, and collaboration platforms for mining smart business and data insights is growing ubiquitous in business world. Subsequently, while organizations are getting in a better position to align the complete lifecycle of the events with their business objectives, chief marketing officers (CMOs) are managing to gain crucial business insights from the business events. Moreover, on the other hand, behavioural analysis of the event attendees has also been turning out to be a highly preferable method among organizations as a catalyst during the decision making process. This will also remain a strong factor propelling expansion of global event management software market.
Demand for Services on an Uptrend, Cloud-based Deployment Most Preferred in Event Management Software Market
Demand for software solutions remains high in event management software market. With more organizations embracing the virtual video conferencing culture, software solutions segment of event management software market will continue to flourish. Besides business enterprises, there has been growing adoption of software solutions across educational institutes as well, which further boosts the growth outlook for event management software market. Moreover, demand for event management services remains dominant owing to sustained need for managed, professional service providers to craft successful events. Professional vendors providing event management services also help with mitigation of security gaps. Employing a professional service provider also aids in slashing the overall administrative expenses in addition to resource optimization. By the mode of deployment, event management software market has been segmented into cloud-based, and on-premises. The former has been dominant on the back of its ability to help organizations achieve savings on overall IT costs along with an added benefit of gaining an improved cost structure. However, demand for on-premises deployment is also expected to surge at a notable pace in event management software market as it offers data security and transparency. It can also be tailored to suit specific business process requisites.
Highest Adoption Rate Seals the Top Spot for North America in Global Event Management Software Market
North America dominated the market in 2020 with largest market share. North America is home to several prominent market players such as Bizzabo, Aventri Inc., and Glue Up, as well as several small and medium enterprises, which bodes well for the growing adoption across the region's event management software market. The region is also known for hosting various public events, such as film festivals, marathons, and other events hosted by educational institutions, along with several other private events. According to the findings published by Billboard in June 2018, around 800 music fests are hosted in the US alone, and these events attract over 32 million attendees. The need for efficient management of all such events has been driving the adoption across the region, in turn fueling the expansion of event management software market here.
On the other hand, event management software market in Asia Pacific is anticipated to expand at the highest CAGR between 2022 and 2029. The market growth here is clearly attributable to the growing preference for technologically advanced solutions among enterprises in Asia Pacific countries, such as China, and India. Furthermore, the Asia Pacific region has abundant skilled and tech-savvy professionals, who can efficiently utilize the latest software solutions available on the event management software market. Moreover, the number of SMEs proliferating in the region is also growing significantly, which is likely to bode well for the growth of the region's event management software market.
Event Management Software Market - Competition Landscape
The event management software market vendors have implemented various types of organic and inorganic growth strategies, such as new product launches, product upgradations, partnerships and agreements, business expansions, and mergers and acquisitions to strengthen their offerings in the market. The major vendors in the global market include Cvent, Aventri, Eventbrite, Ungerboeck, Hopin, Certain, Bizzabo, ACTIVE Network, EventBooking, and Airmeet.
Recent Notable Developments
Market players are also pursuing several other strategic initiatives, including joint ventures, and new product launches, and striking contracts and agreements to strengthen their position in event management software market


For instance, in April 2020, Hubilo announced the launch of its new virtual event platform designed to help the incumbents of the media and entertainment industry in overcoming the losses encountered due to the cancellation of live events. The platform offers a real-time networking option that allows the attendees to book a seat and bond with people sharing similar interests
The Global Event Management Software Market is Segmented as Below:
By Components Coverage
By Deployment Coverage
By Application Coverage
Event Planning Software
Venue Management Software
Event Registration And Ticketing Software
Event Marketing Software
Analytics And Reporting Software
Onsite Technology
Content Management Software
Visitor Management Software
Managed Services
Professional Services
Others
By Org Size Coverage
Small and Medium-sized Enterprises
Large Enterprises
By End Use Coverage
Event Organizers and Planners
Corporate
Government
Education
Other End User
By Geographical Coverage
North America
Europe

Germany
France
UK
Italy
Turkey
Spain
Russia
Rest of Europe

Asia Pacific

China
Japan
South Korea
India
Southeast Asia
Rest of Asia Pacific

Latin America

Brazil
Mexico
Rest of Latin America

Middle East & Africa

GCC
Egypt
Rest of Middle East & Africa
Leading Companies
Cvent
Aventri
Eventbrite
Ungerboeck
Hopin
Certain
Bizzabo
ACTIVE Network
EventBooking
Airmeet
Inside This Report You Will Find:
1. Executive Summary
2. Market Overview
3. Global Event Management Software Market Outlook, 2019 - 2029
4. North America Event Management Software Market Outlook, 2019 - 2029
5. Europe Event Management Software Market Outlook, 2019 - 2029
6. Asia Pacific Event Management Software Market Outlook, 2019 - 2029
7. Latin America Event Management Software Market Outlook, 2019 - 2029
8. Middle East & Africa Event Management Software Market Outlook, 2019 - 2029
9. Competitive Landscape
10. Appendix
Post Sale Support, Research Updates & Offerings:
We value the trust shown by our customers in Fairfield Market Research. We support our clients through our post sale support, research updates and offerings.
The report will be prepared in a PPT format and will be delivered in a PDF format.
Additionally, Market Estimation and Forecast numbers will be shared in Excel Workbook.
If a report being sold was published over a year ago, we will offer a complimentary copy of the updated research report along with Market Estimation and Forecast numbers within 2-3 weeks' time of the sale.
If we update this research study within the next 2 quarters, post purchase of the report, we will offer a Complimentary copy of the updated Market Estimation and Forecast numbers in Excel Workbook.
If there is a geopolitical conflict, pandemic, recession, and the like which can impact global economic scenario and business activity, which might entirely alter the market dynamics or future projections in the industry, we will create a Research Update upon your request at a nominal charge.
1. Executive Summary
1.1. Global Event Management Software Market Snapshot
1.2. Future Projections
1.3. Key Market Trends
1.4. Analyst Recommendations

2. Market Overview
2.1. Market Definitions
2.2. Market Taxonomy
2.3. Market Dynamics
2.3.1. Drivers
2.3.2. Restraints
2.4. Value Chain Analysis
2.5. Porter's Five Forces Analysis
2.6. COVID-19 Impact Analysis
2.7. Key Patents

3. Global Event Management Software Market Outlook, 2019 - 2029
3.1. Global Event Management Software Market Outlook, by Components (US$ '000), 2019 - 2029
3.1.1. Key Highlights
3.1.1.1. Solutions
3.1.1.2. Services
3.1.2. BPS Analysis/Market Attractiveness Analysis
3.2. Global Event Management Software Market Outlook, by End user, Value (US$ '000), 2019 - 2029
3.2.1. Key Highlights
3.2.1.1. Event Organizers and Planners
3.2.1.2. Corporate
3.2.1.3. Government
3.2.1.4. Education
3.2.1.5. Other End User
3.2.2. BPS Analysis/Market Attractiveness Analysis
3.3. Global Event Management Software Market Outlook, by Deployment, Value (US$ '000), 2019 - 2029
3.3.1. Key Highlights
3.3.1.1. Cloud
3.3.1.2. On-premises
3.3.2. BPS Analysis/Market Attractiveness Analysis
3.4. Global Event Management Software Market Outlook, by Application, Value (US$ '000), 2019 - 2029
3.4.1. Key Highlights
3.4.1.1. Event Planning Software
3.4.1.2. Venue Management Software
3.4.1.3. Event Registration and Ticketing Software
3.4.1.4. Event Marketing Software
3.4.1.5. Analytics and Reporting Software
3.4.1.6. Onsite Technology
3.4.1.7. Content Management Software
3.4.1.8. Visitor Management Software
3.4.1.9. Managed Services
3.4.1.10. Professional Services
3.4.1.11. Others
3.4.2. BPS Analysis/Market Attractiveness Analysis
3.5. Global Event Management Software Market Outlook, by Org Size, Value (US$ '000), 2019 - 2029
3.5.1. Key Highlights
3.5.1.1. Small and Medium-Sized Enterprises
3.5.1.2. Large Enterprises
3.5.2. BPS Analysis/Market Attractiveness Analysis
3.6. Global Event Management Software Market Outlook, by Region, Value (US$ '000), 2019 - 2029
3.6.1. Key Highlights
3.6.1.1. North America
3.6.1.2. Europe
3.6.1.3. Asia Pacific
3.6.1.4. Latin America
3.6.1.5. Middle East & Africa
3.6.2. BPS Analysis/Market Attractiveness Analysis

4. North America Event Management Software Market Outlook, 2019 - 2029
4.1. North America Event Management Software Market Outlook, by Components (US$ '000), 2019 - 2029
4.1.1. Key Highlights
4.1.1.1. Solutions
4.1.1.2. Services
4.1.2. BPS Analysis/Market Attractiveness Analysis
4.2. North America Event Management Software Market Outlook, by End user, Value (US$ '000), 2019 - 2029
4.2.1. Key Highlights
4.2.1.1. Event Organizers and Planners
4.2.1.2. Corporate
4.2.1.3. Government
4.2.1.4. Education
4.2.1.5. Other End User
4.2.2. BPS Analysis/Market Attractiveness Analysis
4.3. North America Event Management Software Market Outlook, by Deployment, Value (US$ '000), 2019 - 2029
4.3.1. Key Highlights
4.3.1.1. Cloud
4.3.1.2. On-premises
4.3.2. BPS Analysis/Market Attractiveness Analysis
4.4. North America Event Management Software Market Outlook, by Application, Value (US$ '000), 2019 - 2029
4.4.1. Key Highlights
4.4.1.1. Event Planning Software
4.4.1.2. Venue Management Software
4.4.1.3. Event Registration And Ticketing Software
4.4.1.4. Event Marketing Software
4.4.1.5. Analytics And Reporting Software
4.4.1.6. Onsite Technology
4.4.1.7. Content Management Software
4.4.1.8. Visitor Management Software
4.4.1.9. Managed Services
4.4.1.10. Professional Services
4.4.1.11. Others
4.4.2. BPS Analysis/Market Attractiveness Analysis
4.5. North America Event Management Software Market Outlook, by Org Size, Value (US$ '000), 2019 - 2029
4.5.1. Key Highlights
4.5.1.1. Small and Medium-Sized Enterprises
4.5.1.2. Large Enterprises
4.5.1.3. BPS Analysis/Market Attractiveness Analysis
4.6. North America Event Management Software Market Outlook, by Country, Value (US$ '000), 2019 - 2029
4.6.1. Key Highlights
4.6.1.1. U.S. Event Management Software Market by Value (US$ '000), 2019 - 2029
4.6.1.2. Canada Event Management Software Market by Value (US$ '000), 2019 - 2029
4.6.2. BPS Analysis/Market Attractiveness Analysis

5. Europe Event Management Software Market Outlook, 2019 - 2029
5.1. Europe Event Management Software Market Outlook, by Components (US$ '000), 2019 - 2029
5.1.1. Key Highlights
5.1.1.1. Solutions
5.1.1.2. Services
5.1.2. BPS Analysis/Market Attractiveness Analysis
5.2. Europe Event Management Software Market Outlook, by End user, Value (US$ '000), 2019 - 2029
5.2.1. Key Highlights
5.2.1.1. Event Organizers and Planners
5.2.1.2. Corporate
5.2.1.3. Government
5.2.1.4. Education
5.2.1.5. Other End User
5.2.2. BPS Analysis/Market Attractiveness Analysis
5.3. Europe Event Management Software Market Outlook, by Deployment, Value (US$ '000), 2019 - 2029
5.3.1. Key Highlights
5.3.1.1. Cloud
5.3.1.2. On-premises
5.3.2. BPS Analysis/Market Attractiveness Analysis
5.4. Europe Event Management Software Market Outlook, by Application, Value (US$ '000), 2019 - 2029
5.4.1. Key Highlights
5.4.1.1. Event Planning Software
5.4.1.2. Venue Management Software
5.4.1.3. Event Registration and Ticketing Software
5.4.1.4. Event Marketing Software
5.4.1.5. Analytics And Reporting Software
5.4.1.6. Onsite Technology
5.4.1.7. Content Management Software
5.4.1.8. Visitor Management Software
5.4.1.9. Managed Services
5.4.1.10. Professional Services
5.4.1.11. Others
5.4.2. BPS Analysis/Market Attractiveness Analysis
5.5. Europe Event Management Software Market Outlook, by Org Size, Value (US$ '000), 2019 - 2029
5.5.1. Key Highlights
5.5.1.1. Small and Medium-Sized Enterprises
5.5.1.2. Large Enterprises
5.5.2. BPS Analysis/Market Attractiveness Analysis
5.6. Europe Event Management Software Market Outlook, by Country, Value (US$ '000), 2019 - 2029
5.6.1. Key Highlights
5.6.1.1. Germany Event Management Software Market by Value (US$ '000), 2019 - 2029
5.6.1.2. France Event Management Software Market by Product, Value (US$ '000), 2019 - 2029
5.6.1.3. U.K. Event Management Software Market by Value (US$ '000), 2019 - 2029
5.6.1.4. Italy Event Management Software Market by Value (US$ '000), 2019 - 2029
5.6.1.5. Spain Event Management Software Market by Product, Value (US$ '000), 2019 - 2029
5.6.1.6. Rest of Europe Event Management Software Market Value (US$ '000), 2019 - 2029
5.6.2. BPS Analysis/Market Attractiveness Analysis

6. Asia Pacific Event Management Software Market Outlook, 2019 - 2029
6.1. Asia Pacific Event Management Software Market Outlook, by Components (US$ '000), 2019 - 2029
6.1.1. Key Highlights
6.1.1.1. Solutions
6.1.1.2. Services
6.1.2. BPS Analysis/Market Attractiveness Analysis
6.2. Asia Pacific Event Management Software Market Outlook, by End user, Value (US$ '000), 2019 - 2029
6.2.1. Key Highlights
6.2.1.1. Event Organizers and Planners
6.2.1.2. Corporate
6.2.1.3. Government
6.2.1.4. Education
6.2.1.5. Other End User
6.2.2. BPS Analysis/Market Attractiveness Analysis
6.3. Asia Pacific Event Management Software Market Outlook, by Deployment, Value (US$ '000), 2019 - 2029
6.3.1. Key Highlights
6.3.1.1. Cloud
6.3.1.2. On-premises
6.3.2. BPS Analysis/Market Attractiveness Analysis
6.4. Asia Pacific Event Management Software Market Outlook, by Application, Value (US$ '000), 2019 - 2029
6.4.1. Key Highlights
6.4.1.1. Event Planning Software
6.4.1.2. Venue Management Software
6.4.1.3. Event Registration And Ticketing Software
6.4.1.4. Event Marketing Software
6.4.1.5. Analytics And Reporting Software
6.4.1.6. Onsite Technology
6.4.1.7. Content Management Software
6.4.1.8. Visitor Management Software
6.4.1.9. Managed Services
6.4.1.10. Professional Services
6.4.1.11. Others
6.4.2. BPS Analysis/Market Attractiveness Analysis
6.5. Asia Pacific Event Management Software Market Outlook, by Org Size, Value (US$ '000), 2019 - 2029
6.5.1. Key Highlights
6.5.1.1. Small and Medium-Sized Enterprises
6.5.1.2. Large Enterprises
6.5.2. BPS Analysis/Market Attractiveness Analysis
6.6. Asia Pacific Event Management Software Market Outlook, by Country, Value (US$ '000), 2019 - 2029
6.6.1. Key Highlights
6.6.1.1. India Event Management Software Market by Value (US$ '000), 2019 - 2029
6.6.1.2. China Event Management Software Market by Value (US$ '000), 2019 - 2029
6.6.1.3. Japan Event Management Software Market by Value (US$ '000), 2019 - 2029
6.6.1.4. Australia & New Zealand Event Management Software Market Value (US$ '000), 2019 - 2029
6.6.1.5. Rest of Asia Pacific Market by Value (US$ '000), 2019 - 2029
6.6.2. BPS Analysis/Market Attractiveness Analysis

7. Latin America Event Management Software Market Outlook, 2019 - 2029
7.1. Latin America Event Management Software Market Outlook, by Components (US$ '000), 2019 - 2029
7.1.1. Key Highlights
7.1.1.1. Solutions
7.1.1.2. Services
7.1.2. BPS Analysis/Market Attractiveness Analysis
7.2. Latin America Event Management Software Market Outlook, by End user, Value (US$ '000), 2019 - 2029
7.2.1. Key Highlights
7.2.1.1. Event Organizers and Planners
7.2.1.2. Corporate
7.2.1.3. Government
7.2.1.4. Education
7.2.1.5. Other End User
7.2.2. BPS Analysis/Market Attractiveness Analysis
7.3. Latin America Event Management Software Market Outlook, by Deployment, Value (US$ '000), 2019 - 2029
7.3.1. Key Highlights
7.3.1.1. Cloud
7.3.1.2. On-premises
7.3.2. BPS Analysis/Market Attractiveness Analysis
7.4. Latin America Event Management Software Market Outlook, by Application, Value (US$ '000), 2019 - 2029
7.4.1. Key Highlights
7.4.1.1. Event Planning Software
7.4.1.2. Venue Management Software
7.4.1.3. Event Registration and Ticketing Software
7.4.1.4. Event Marketing Software
7.4.1.5. Analytics And Reporting Software
7.4.1.6. Onsite Technology
7.4.1.7. Content Management Software
7.4.1.8. Visitor Management Software
7.4.1.9. Managed Services
7.4.1.10. Professional Services
7.4.1.11. Others
7.4.2. BPS Analysis/Market Attractiveness Analysis
7.5. Latin America Event Management Software Market Outlook, by Org Size, Value (US$ '000), 2019 - 2029
7.5.1. Key Highlights
7.5.1.1. Small and Medium-Sized Enterprises
7.5.1.2. Large Enterprises
7.5.2. BPS Analysis/Market Attractiveness Analysis
7.6. Latin America Event Management Software Market Outlook, by Country, Value (US$ '000), 2019 - 2029
7.6.1. Key Highlights
7.6.1.1. Brazil Event Management Software Market by Value (US$ '000), 2019 - 2029
7.6.1.2. Mexico Event Management Software Market by Value (US$ '000), 2019 - 2029
7.6.1.3. Rest of Latin America Event Management Software Market by Value (US$ '000), 2019 - 2029
7.6.2. BPS Analysis/Market Attractiveness Analysis

8. Middle East & Africa Event Management Software Market Outlook, 2019 - 2029
8.1. Middle East & Africa Event Management Software Market Outlook, by Components (US$ '000), 2019 - 2029
8.1.1. Key Highlights
8.1.1.1. Solutions
8.1.1.2. Services
8.1.2. BPS Analysis/Market Attractiveness Analysis
8.2. Middle East & Africa Event Management Software Market Outlook, by End user, Value (US$ '000), 2019 - 2029
8.2.1. Key Highlights
8.2.1.1. Event Organizers and Planners
8.2.1.2. Corporate
8.2.1.3. Government
8.2.1.4. Education
8.2.1.5. Other End User
8.2.2. BPS Analysis/Market Attractiveness Analysis
8.3. Middle East & Africa Event Management Software Market Outlook, by Deployment, Value (US$ '000), 2019 - 2029
8.3.1. Key Highlights
8.3.1.1. Cloud
8.3.1.2. On-premises
8.3.2. BPS Analysis/Market Attractiveness Analysis
8.4. Middle East & Africa Event Management Software Market Outlook, by Application, Value (US$ '000), 2019 - 2029
8.4.1. Key Highlights
8.4.1.1. Event Planning Software
8.4.1.2. Venue Management Software
8.4.1.3. Event Registration And Ticketing Software
8.4.1.4. Event Marketing Software
8.4.1.5. Analytics And Reporting Software
8.4.1.6. Onsite Technology
8.4.1.7. Content Management Software
8.4.1.8. Visitor Management Software
8.4.1.9. Managed Services
8.4.1.10. Professional Services
8.4.1.11. Others
8.4.2. BPS Analysis/Market Attractiveness Analysis
8.5. Middle East & Africa Event Management Software Market Outlook, by Org Size, Value (US$ '000), 2019 - 2029
8.5.1. Key Highlights
8.5.1.1. Small and Medium-Sized Enterprises
8.5.1.2. Large Enterprises
8.5.2. BPS Analysis/Market Attractiveness Analysis
8.6. Middle East & Africa Event Management Software Market Outlook, by Country, Value (US$ '000), 2019 - 2029
8.6.1. Key Highlights
8.6.1.1. GCC Event Management Software Market by Value (US$ '000), 2019 - 2029
8.6.1.2. South Africa Event Management Software Market by Value (US$ '000), 2019 - 2029
8.6.1.3. Rest of Middle East & Africa Event Management Software Market by Value (US$ '000), 2019 - 2029
8.6.2. BPS Analysis/Market Attractiveness Analysis

9. Competitive Landscape
9.1. Company Market Share Analysis, 2019
9.2. Company Profiles
9.2.1. CVENT
9.2.1.1. Company Overview
9.2.1.2. Key Retailing Partners
9.2.1.3. Business Segment Revenue
9.2.1.4. Ingredient Overview
9.2.1.5. Product Offering & its Presence
9.2.1.6. Certifications & Claims
9.2.2. Aventri
9.2.3. Eventbrite
9.2.4. Ungerboeck
9.2.5. Hopin
9.2.6. Certain
9.2.7. Bizzabo
9.2.8. ACTIVE Network
9.2.9. EventBooking
9.2.10. Airmeet

10. Appendix
10.1. Research Methodology
10.2. Report Assumptions
10.3. Acronyms and Abbreviations
BASE YEAR

HISTORICAL DATA

FORECAST PERIOD

UNITS

2022

2019 - 2020

2021 - 2029

Value: US$ Million
REPORT FEATURES

DETAILS

Components Coverage

Deployment Coverage

Application Coverage

Event Planning Software

Venue Management Software

Event Registration And Ticketing Software

Event Marketing Software

Analytics And Reporting Software

Onsite Technology

Content Management Software

Visitor Management Software

Managed Services

Professional Services

Others

Org Size Coverage

End Use Coverage

Geographical Coverage

North America

Europe

Germany

France

U.K.

Italy

Turkey

Spain

Russia

Rest of Europe

Asia Pacific

China

Japan

South Korea

India

Southeast Asia

Rest of Asia Pacific

Latin America

Brazil

Mexico

Rest of Latin America

Middle East & Africa

Leading Companies

Cvent

Aventri

Eventbrite

Ungerboeck

Hopin

Certain

Bizzabo

ACTIVE Network

EventBooking

Airmeet

Report Highlights

Market Estimates and Forecast, Market Dynamics, Industry Trends, Competition Landscape, Product-, Application-, Region-, Country-wise Trends & Analysis, COVID-19 Impact Analysis, Key Trends