Flooring Market Outlook
Ceramic Tiles, Vinyl, and Wooden Flooring to Remain Popular Floor Choices
Flooring amounts to 10% of the total project cost in building and construction activities, thus indicating a solid ground for the global market. An important part of any interior design across residential, commercial, and industrial, its usage is both functional and fashionable. Flooring is an important element that requires key attention as it sets the tone in a given space.
The global flooring market is estimated to be around 14 billion sqm. in 2018. Flooring is majorly categorized into carpets and rugs and resilient and non-resilient. Resilient floorings are manufactured from elastic materials. They are firm but have some give or bounce back to it. Resilient flooring is a middle ground between soft and hard floors. This type of flooring suits both residential and commercial spaces. Adhesives are used to ensure adherence of these flooring materials to the underlayment or subfloor.
Vinyl flooring is one of the major categories of resilient floors. In the past few years, luxury vinyl tiles (LVT), a category of vinyl flooring segment has outgrown in popularity compared to its flooring counterparts, owing to its excellent features such as durability, hard wearing, waterproof, long timespans, and design freedom. Luxury vinyl tiles are anticipated to exhibit double digit growths, even in established markets such as North America and Europe.
Non-resilient flooring on the other hand has no give or bounce back. It is made up of hard-surfaced, inflexible, and organic materials. Major non-resilient flooring materials include ceramic tile, engineered wood flooring, marble, terrazzo, and concrete. Ceramic tile is the most popular flooring material, which accounted for more than 50% of the total flooring market in terms of volume in 2019. Meanwhile, the carpets and rugs category has gained popularity in spaces wherein comfort, noise vreduction, and warmth are priority.
According to the Fairfield's latest research report, the global flooring market is expected to be worth US$285.5 Bn by 2025 from US$208.8 Bn in 2017, registering a CAGR of 6.9% during the forecast period 2021-2025.
Residential Spaces to Retain Dominance across Global Flooring Market
Residential buildings dominated the global flooring market and accounted for more than 55% of the total flooring market value market in 2019. Rising disposable income and an increase in the number of single-family homes are likely to be key driving factors in emerging countries. Rapidly expanding construction projects, both residential and commercial along with urban development projects are expected to create a surge in demand for flooring. Furthermore, renovation, replacement, and refurbishment in residential spaces are projected to stoke the vinyl flooring, carpets and rugs, wood flooring, and ceramic tiles market in the forthcoming years.
Trends and tastes in floor coverings are changing at a rapid pace. Urbanization and the need for sustainable flooring materials have had a huge impact on the industry. Consumers are looking for products with low maintenance and flatter floors. Both commercial and industrial spaces have shown inclination towards greener technologies as energy conservation in buildings has acquired prime importance globally. Though flooring looks like a small factor in designing sustainable buildings, it plays a considerable role as it covers a large surface area. Thus, the right choice of flooring material is important to keep rooms heated in harsh winters and cool in scorching summers.
Asia Pacific to Lead, the Middle East and Africa to be the Fastest-growing Markets
In 2019, Asia Pacific accounted for more than 44% of the total global flooring market. China and India are the dominant forces in the region. Rapid industrialization, urbanization, and the booming development of housing projects are the key influencing factors in the region. Increasing per capita income, leading to improved standard of living, in the countries such as India, Malaysia, Indonesia, Vietnam, and China have given the regional flooring market exponential business.
The level of investment in housing, whether its new construction or renovation, has increased leaps and bounds. Flooring demand has increased substantially in the Middle East & Africa. Urban development and construction projects are in upswing, boosting the demand for various flooring materials such as ceramic tiles, vinyl, and concrete floorings in the region.
Trends in North America are different as compared to other regions wherein, carpets and rugs is the major category. North America accounted for more than 45% of the total carpet production. However, due to the increase in competition from other flooring materials, the carpets and rugs category has observed sluggish growth in the past few years. The market for the high-end carpets and rugs segment remains upbeat, especially with wool and its blends as they are the best fibers in terms of performance and sustainability.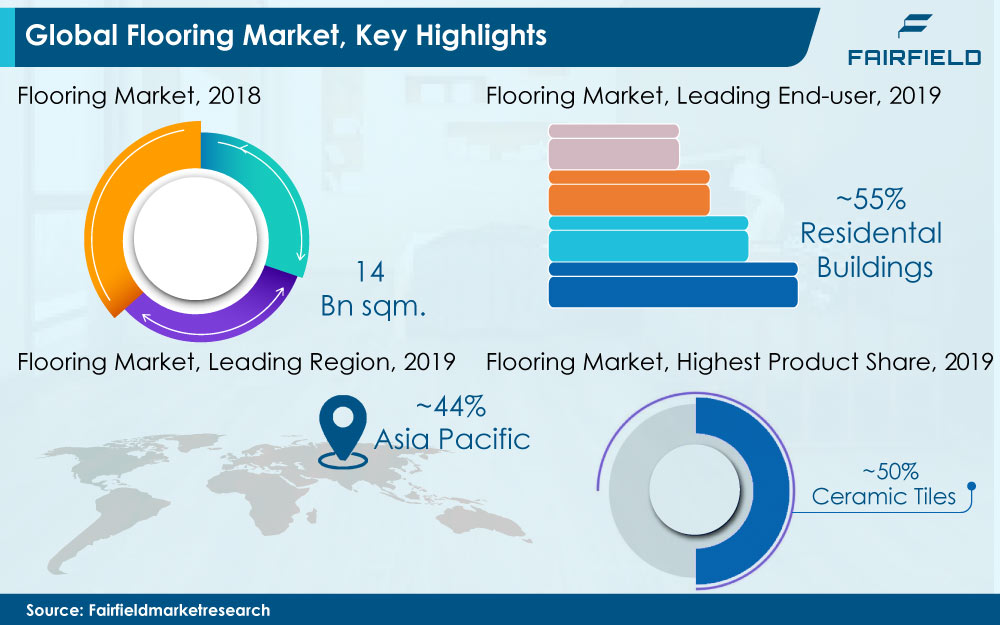 Flooring Competition Is Not a Race to the Bottom
The global flooring market is highly competitive. The market is dominated by global as well as regional players. The competitive landscape includes hundreds of small-sized enterprises and imports, a lot from cost competitive emerging countries, thus adding pressure on the margins. Every region has its own floor cover preferences, thus making competition fiercer. Technological innovation is at center stage and has become key for sustainable business. Companies are developing a blend of flooring materials with technologically inspired unique designs and formats. Laminate floorings can now convincingly mimic everything, from stone to marble to wood. The technical advances have helped the manufacturers to create flooring with raised textures with intricate designs for higher aesthetic appeal.
In 2020, Welspun Flooring Limited, a flooring vertical of Welspun Group launched its US$ 145 million manufacturing facility in Telangana, India. The facility is equipped with a wide range of innovative flooring materials such as carpet tiles, broadloom carpets, and greens. It also includes a patented and technologically advanced product 'Click N Lock® tiles', manufactured from stone & polymer composites.
The Global Flooring Market is Segmented as Below:
Product Coverage
Ceramic Tiles
Carpets & Rugs
Vinyl Tiles, Linoleum and Rubber
Wood & Laminate
Misc. (Slate, Marble, Concrete, etc.)
Application Coverage
Residential
Commercial
Industrial
Geographical Coverage
North America
Europe

Germany
France
UK
Italy
Turkey
Spain
Russia
Rest of Europe

Asia Pacific

China
Japan
South Korea
India
Southeast Asia
Rest of Asia Pacific

Latin America

Brazil
Mexico
Rest of Latin America

Middle East & Africa

GCC
Egypt
Rest of Middle East & Africa
Leading Companies
Mohawk Industries
Shaw Industries Group, Inc.
Tarkett S.A.
Beaulieu lnternational Group N.V.
Forbo Holding AG
Interface Inc.
Gerflor SAS
Grupo Lamosa
RAK Ceramics P.J.S.C
Mannington Mills Inc.
Balta Industries N.V.
Armstrong Flooring
Pamesa Ceramica
Kajaria Ceramics
Inside This Report You Will Find:

1. Executive Summary
2. Market Overview
3. Production Output and Trade Statistics
4. Price Trends Analysis and Future Projects 2017 - 2025
5. Global Flooring Market Outlook 2017 - 2025
6. North America Flooring Market Outlook 2017 - 2025
7. Europe Flooring Market Outlook 2017 - 2025
8. Asia Pacific Flooring Market Outlook 2017 - 2025
9. Latin America Flooring Market Outlook 2017 - 2025
10. Middle East & Africa Flooring Market Outlook 2017 - 2025
11. Competitive Landscape
12. Appendix

Post Sale Support, Research Updates & Offerings:
We value the trust shown by our customers in Fairfield Market Research. We support our clients through our post sale support, research updates and offerings.
The report will be prepared in a PPT format and will be delivered in a PDF format.
Additionally, Market Estimation and Forecast numbers will be shared in Excel Workbook.
If a report being sold was published over a year ago, we will offer a complimentary copy of the updated research report along with Market Estimation and Forecast numbers within 2-3 weeks' time of the sale.
If we update this research study within the next 2 quarters, post purchase of the report, we will offer a Complimentary copy of the updated Market Estimation and Forecast numbers in Excel Workbook.
If there is a geopolitical conflict, pandemic, recession, and the like which can impact global economic scenario and business activity, which might entirely alter the market dynamics or future projections in the industry, we will create a Research Update upon your request at a nominal charge.
1. Executive Summary
1.1. Global Flooring Market Snapshot
1.2. Future Projections
1.3. Key Market Trends
1.4. Analyst Recommendations

2. Market Overview
2.1. Market Definitions and Segmentations
2.2. Market Dynamics
2.2.1. Drivers
2.2.2. Restraints
2.2.3. Market Opportunities
2.3. Value Chain Analysis
2.4. Porter's Five Forces Analysis
2.5. Covid-19 Impact Analysis
2.5.1. Supply
2.5.2. Demand
2.6. Economic Overview

3. Production Output and Trade Statistics

4. Price Trends Analysis and Future Projects 2017 - 2025
4.1. Price Trends Analysis and Future Projects 2017 - 2025
4.2. Global Average Price Analysis, by Product vs Application, US$ per Kg

5. Global Flooring Market Outlook 2017 - 2025
5.1. Global Flooring Market Outlook, by Product, Volume (Mn Sq. Mtr.) and Value (US$ Mn) 2017 - 2025
5.1.1. Key Highlights
5.1.1.1. Ceramic Tiles
5.1.1.2. Carpets & Rugs
5.1.1.3. Vinyl Tiles, Linoleum and Rubber
5.1.1.4. Wood & Laminate
5.1.1.5. Misc. (Slate, Stone, Marble, Concrete, etc.)
5.2. Global Flooring Market Outlook, by Application, Volume (Mn Sq. Mtr.) and Value (US$ Mn) 2017 - 2025
5.2.1. Key Highlights
5.2.1.1. Residential
5.2.1.2. Commercial
5.2.1.3. Industrial
5.3. Global Flooring Market Outlook, by Region, Volume (Mn Sq. Mtr.) and Value (US$ Mn) 2017 - 2025
5.3.1. Key Highlights
5.3.1.1. North America
5.3.1.2. Europe
5.3.1.3. Asia Pacific
5.3.1.4. Latin America
5.3.1.5. Middle East & Africa


6. North America Flooring Market Outlook 2017 - 2025
6.1. North America Flooring Market Outlook, by Product, Volume (Mn Sq. Mtr.) and Value (US$ Mn) 2017 - 2025
6.1.1. Key Highlights
6.1.1.1. Ceramic Tiles
6.1.1.2. Carpets & Rugs
6.1.1.3. Vinyl Tiles, Linoleum and Rubber
6.1.1.4. Wood & Laminate
6.1.1.5. Misc. (Slate, Stone, Marble, Concrete, etc.)
6.1.2. BPS Analysis/Market Attractiveness Analysis
6.2. North America Flooring Market Outlook, by Application, Volume (Mn Sq. Mtr.) and Value (US$ Mn) 2017 - 2025
6.2.1. Key Highlights
6.2.1.1. Residential
6.2.1.2. Commercial
6.2.1.3. Industrial
6.2.2. BPS Analysis/Market Attractiveness Analysis
6.3. North America Flooring Market Outlook, by Country, Volume (Mn Sq. Mtr.) and Value (US$ Mn) 2017 - 2025
6.3.1. Key Highlights
6.3.1.1. U.S. Flooring Market by Product, Volume (Mn Sq. Mtr.) and Value (US$ Mn) 2017 - 2025
6.3.1.2. U.S. Flooring Market by Application, Volume (Mn Sq. Mtr.) and Value (US$ Mn) 2017 - 2025
6.3.1.3. Canada Flooring Market by Product, Volume (Mn Sq. Mtr.) and Value (US$ Mn) 2017 - 2025
6.3.1.4. Canada Flooring Market by Application, Volume (Mn Sq. Mtr.) and Value (US$ Mn) 2017 - 2025
6.3.2. BPS Analysis/Market Attractiveness Analysis

7. Europe Flooring Market Outlook 2017 - 2025
7.1. Europe Flooring Market Outlook, by Product, Volume (Mn Sq. Mtr.) and Value (US$ Mn) 2017 - 2025
7.1.1. Key Highlights
7.1.1.1. Ceramic Tiles
7.1.1.2. Carpets & Rugs
7.1.1.3. Vinyl Tiles, Linoleum and Rubber
7.1.1.4. Wood & Laminate
7.1.1.5. Misc. (Slate, Stone, Marble, Concrete, etc.)
7.1.2. BPS Analysis/Market Attractiveness Analysis
7.2. Europe Flooring Market Outlook, by Application, Volume (Mn Sq. Mtr.) and Value (US$ Mn) 2017 - 2025
7.2.1. Key Highlights
7.2.1.1. Residential
7.2.1.2. Commercial
7.2.1.3. Industrial
7.2.2. BPS Analysis/Market Attractiveness Analysis
7.3. Europe Flooring Market Outlook, by Country, Volume (Mn Sq. Mtr.) and Value (US$ Mn) 2017 - 2025
7.3.1. Key Highlights
7.3.1.1. Germany Flooring Market by Product, Volume (Mn Sq. Mtr.) and Value (US$ Mn) 2017 - 2025
7.3.1.2. Germany Flooring Market by Application, Volume (Mn Sq. Mtr.) and Value (US$ Mn) 2017 - 2025
7.3.1.3. U.K. Flooring Market by Product, Volume (Mn Sq. Mtr.) and Value (US$ Mn) 2017 - 2025
7.3.1.4. U.K. Flooring Market by Application, Volume (Mn Sq. Mtr.) and Value (US$ Mn) 2017 - 2025
7.3.1.5. France Flooring Market by Product, Volume (Mn Sq. Mtr.) and Value (US$ Mn) 2017 - 2025
7.3.1.6. France Flooring Market by Application, Volume (Mn Sq. Mtr.) and Value (US$ Mn) 2017 - 2025
7.3.1.7. Italy Flooring Market by Product, Volume (Mn Sq. Mtr.) and Value (US$ Mn) 2017 - 2025
7.3.1.8. Italy Flooring Market by Application, Volume (Mn Sq. Mtr.) and Value (US$ Mn) 2017 - 2025
7.3.1.9. Spain Flooring Market by Product, Volume (Mn Sq. Mtr.) and Value (US$ Mn) 2017 - 2025
7.3.1.10. Spain Flooring Market by Application, Volume (Mn Sq. Mtr.) and Value (US$ Mn) 2017 - 2025
7.3.1.11. Russia Flooring Market by Product, Volume (Mn Sq. Mtr.) and Value (US$ Mn) 2017 - 2025
7.3.1.12. Russia Flooring Market by Application, Volume (Mn Sq. Mtr.) and Value (US$ Mn) 2017 - 2025
7.3.1.13. Rest of Europe Flooring Market by Product, Volume (Mn Sq. Mtr.) and Value (US$ Mn) 2017 - 2025
7.3.1.14. Rest of Europe Flooring Market by Application, Volume (Mn Sq. Mtr.) and Value (US$ Mn) 2017 - 2025
7.3.2. BPS Analysis/Market Attractiveness Analysis


8. Asia Pacific Flooring Market Outlook 2017 - 2025
8.1. Asia Pacific Flooring Market Outlook, by Product, Volume (Mn Sq. Mtr.) and Value (US$ Mn) 2017 - 2025
8.1.1. Key Highlights
8.1.1.1. Ceramic Tiles
8.1.1.2. Carpets & Rugs
8.1.1.3. Vinyl Tiles, Linoleum and Rubber
8.1.1.4. Wood & Laminate
8.1.1.5. Misc. (Slate, Stone, Marble, Concrete, etc.)
8.1.2. BPS Analysis/Market Attractiveness Analysis
8.2. Asia Pacific Flooring Market Outlook, by Application, Volume (Mn Sq. Mtr.) and Value (US$ Mn) 2017 - 2025
8.2.1. Key Highlights
8.2.1.1. Residential
8.2.1.2. Commercial
8.2.1.3. Industrial
8.2.2. BPS Analysis/Market Attractiveness Analysis
8.3. Asia Pacific Flooring Market Outlook, by Country, Volume (Mn Sq. Mtr.) and Value (US$ Mn) 2017 - 2025
8.3.1. Key Highlights
8.3.1.1. China Flooring Market by Product, Volume (Mn Sq. Mtr.) and Value (US$ Mn) 2017 - 2025
8.3.1.2. China Flooring Market by Application, Volume (Mn Sq. Mtr.) and Value (US$ Mn) 2017 - 2025
8.3.1.3. Japan Flooring Market by Product, Volume (Mn Sq. Mtr.) and Value (US$ Mn) 2017 - 2025
8.3.1.4. Japan Flooring Market by Application, Volume (Mn Sq. Mtr.) and Value (US$ Mn) 2017 - 2025
8.3.1.5. South Korea Flooring Market by Product, Volume (Mn Sq. Mtr.) and Value (US$ Mn) 2017 - 2025
8.3.1.6. South Korea Flooring Market by Application, Volume (Mn Sq. Mtr.) and Value (US$ Mn) 2017 - 2025
8.3.1.7. India Flooring Market by Product, Volume (Mn Sq. Mtr.) and Value (US$ Mn) 2017 - 2025
8.3.1.8. India Flooring Market by Application, Volume (Mn Sq. Mtr.) and Value (US$ Mn) 2017 - 2025
8.3.1.9. Southeast Asia Flooring Market by Product, Volume (Mn Sq. Mtr.) and Value (US$ Mn) 2017 - 2025
8.3.1.10. Southeast Asia Flooring Market by Application, Volume (Mn Sq. Mtr.) and Value (US$ Mn) 2017 - 2025
8.3.1.11. Rest of Asia Pacific Flooring Market by Product, Volume (Mn Sq. Mtr.) and Value (US$ Mn) 2017 - 2025
8.3.1.12. Rest of Asia Pacific Flooring Market by Application, Volume (Mn Sq. Mtr.) and Value (US$ Mn) 2017 - 2025
8.3.2. BPS Analysis/Market Attractiveness Analysis

9. Latin America Flooring Market Outlook 2017 - 2025
9.1. Latin America Flooring Market Outlook, by Product, Volume (Mn Sq. Mtr.) and Value (US$ Mn) 2017 - 2025
9.1.1. Key Highlights
9.1.1.1. Ceramic Tiles
9.1.1.2. Carpets & Rugs
9.1.1.3. Vinyl Tiles, Linoleum and Rubber
9.1.1.4. Wood & Laminate
9.1.1.5. Misc. (Slate, Stone, Marble, Concrete, etc.)
9.1.2. BPS Analysis/Market Attractiveness Analysis
9.2. Latin America Flooring Market Outlook, by Application, Volume (Mn Sq. Mtr.) and Value (US$ Mn) 2017 - 2025
9.2.1. Key Highlights
9.2.1.1. Residential
9.2.1.2. Commercial
9.2.1.3. Industrial
9.2.2. BPS Analysis/Market Attractiveness Analysis
9.3. Latin America Flooring Market Outlook, by Country, Volume (Mn Sq. Mtr.) and Value (US$ Mn) 2017 - 2025
9.3.1. Key Highlights
9.3.1.1. Brazil Flooring Market by Product, Volume (Mn Sq. Mtr.) and Value (US$ Mn) 2017 - 2025
9.3.1.2. Brazil Flooring Market by Application, Volume (Mn Sq. Mtr.) and Value (US$ Mn) 2017 - 2025
9.3.1.3. Mexico Flooring Market by Product, Volume (Mn Sq. Mtr.) and Value (US$ Mn) 2017 - 2025
9.3.1.4. Mexico Flooring Market by Application, Volume (Mn Sq. Mtr.) and Value (US$ Mn) 2017 - 2025
9.3.1.5. Rest of Latin America Flooring Market by Product, Volume (Mn Sq. Mtr.) and Value (US$ Mn) 2017 - 2025
9.3.1.6. Rest of Latin America Flooring Market by Application, Volume (Mn Sq. Mtr.) and Value (US$ Mn) 2017 - 2025
9.3.2. BPS Analysis/Market Attractiveness Analysis

10. Middle East & Africa Flooring Market Outlook 2017 - 2025
10.1. Middle East & Africa Flooring Market Outlook, by Product, Volume (Mn Sq. Mtr.) and Value (US$ Mn) 2017 - 2025
10.1.1. Key Highlights
10.1.1.1. Ceramic Tiles
10.1.1.2. Carpets & Rugs
10.1.1.3. Vinyl Tiles, Linoleum and Rubber
10.1.1.4. Wood & Laminate
10.1.1.5. Misc. (Slate, Stone, Marble, Concrete, etc.)
10.1.2. BPS Analysis/Market Attractiveness Analysis
10.2. Middle East & Africa Flooring Market Outlook, by Application, Volume (Mn Sq. Mtr.) and Value (US$ Mn) 2017 - 2025
10.2.1. Key Highlights
10.2.1.1. Residential
10.2.1.2. Commercial
10.2.1.3. Industrial
10.2.2. BPS Analysis/Market Attractiveness Analysis
10.3. Middle East & Africa Flooring Market Outlook, by Country, Volume (Mn Sq. Mtr.) and Value (US$ Mn) 2017 - 2025
10.3.1. Key Highlights
10.3.1.1. GCC Flooring Market by Product, Volume (Mn Sq. Mtr.) and Value (US$ Mn) 2017 - 2025
10.3.1.2. GCC Flooring Market by Application, Volume (Mn Sq. Mtr.) and Value (US$ Mn) 2017 - 2025
10.3.1.3. South Africa Flooring Market by Product, Volume (Mn Sq. Mtr.) and Value (US$ Mn) 2017 - 2025
10.3.1.4. South Africa Flooring Market by Application, Volume (Mn Sq. Mtr.) and Value (US$ Mn) 2017 - 2025
10.3.1.5. Rest of Middle East & Africa Flooring Market by Product, Volume (Mn Sq. Mtr.) and Value (US$ Mn) 2017 - 2025
10.3.1.6. Rest of Middle East & Africa Flooring Market by Application, Volume (Mn Sq. Mtr.) and Value (US$ Mn) 2017 - 2025
10.3.2. BPS Analysis/Market Attractiveness Analysis

11. Competitive Landscape
11.1. Product vs Application Heatmap
11.2. Flooring Market Structure
11.3. Company Market Share Analysis 2019
11.4. Technological Developments
11.5. Company Profiles
11.5.1. Mohawk Industries
11.5.1.1. Company Overview
11.5.1.2. Product Portfolio
11.5.1.3. Financial Overview
11.5.1.4. Business Strategies and Development
11.5.2. Shaw Industries Group, Inc.
11.5.2.1. Company Overview
11.5.2.2. Product Portfolio
11.5.2.3. Financial Overview
11.5.2.4. Business Strategies and Development
11.5.3. Tarkett S.A.
11.5.3.1. Company Overview
11.5.3.2. Product Portfolio
11.5.3.3. Financial Overview
11.5.3.4. Business Strategies and Development
11.5.4. Beaulieu lnternational Group N.V.
11.5.4.1. Company Overview
11.5.4.2. Product Portfolio
11.5.4.3. Financial Overview
11.5.4.4. Business Strategies and Development
11.5.5. Forbo Holding AG
11.5.5.1. Company Overview
11.5.5.2. Product Portfolio
11.5.5.3. Production Capacities
11.5.5.4. Business Strategies and Development
11.5.6. Interface Inc.
11.5.6.1. Company Overview
11.5.6.2. Product Portfolio
11.5.6.3. Financial Overview
11.5.6.4. Business Strategies and Development
11.5.7. Gerflor SAS
11.5.7.1. Company Overview
11.5.7.2. Product Portfolio
11.5.7.3. Production Capacities
11.5.7.4. Business Strategies and Development
11.5.8. Grupo Lamosa
11.5.8.1. Company Overview
11.5.8.2. Product Portfolio
11.5.8.3. Production Capacities
11.5.8.4. Business Strategies and Development
11.5.9. JSC
11.5.9.1. Company Overview
11.5.9.2. Product Portfolio
11.5.9.3. Production Capacities
11.5.9.4. Business Strategies and Development
11.5.10. RAK Ceramics P.J.S.C.
11.5.10.1. Company Overview
11.5.10.2. Product Portfolio
11.5.10.3. Production Capacities
11.5.10.4. Business Strategies and Development
11.5.11. Mannington Mills Inc.
11.5.11.1. Company Overview
11.5.11.2. Product Portfolio
11.5.11.3. Production Capacities
11.5.11.4. Business Strategies and Development
11.5.12. Balta Industries N.V.
11.5.12.1. Company Overview
11.5.12.2. Product Portfolio
11.5.12.3. Production Capacities
11.5.12.4. Business Strategies and Development
11.5.13. Armstrong Flooring
11.5.13.1. Company Overview
11.5.13.2. Product Portfolio
11.5.13.3. Production Capacities
11.5.13.4. Business Strategies and Development
11.5.14. Pamesa Ceramica
11.5.14.1. Company Overview
11.5.14.2. Product Portfolio
11.5.14.3. Production Capacities
11.5.14.4. Business Strategies and Development
11.5.15. Kajaria Ceramics
11.5.15.1. Company Overview
11.5.15.2. Product Portfolio
11.5.15.3. Production Capacities
11.5.15.4. Business Strategies and Development

12. Appendix
12.1. Research Methodology
12.2. Report Assumptions
12.3. Acronyms and Abbreviations