Gene Therapy Market Forecast
Global gene therapy market size slated for a strong CAGR of 19.6% during 2023 - 2030
Market revenue all set for a rise from US$7.8 Bn in 2022, to US$27.3 Bn by 2030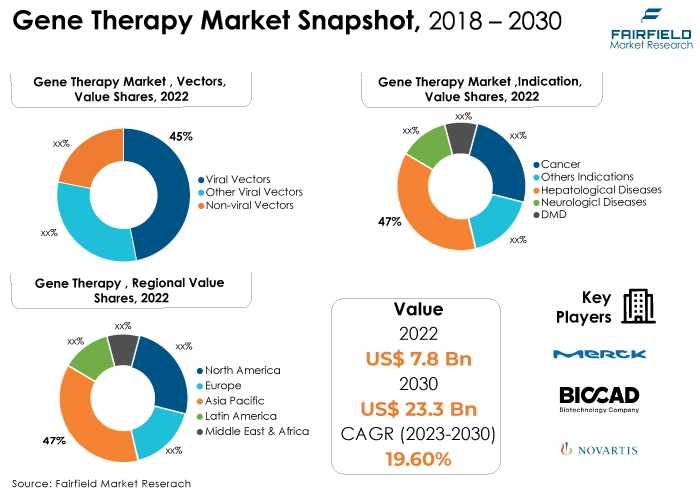 Quick Report Digest
The key trend anticipated to fuel the gene therapy market growth is the continuous advancements in genetic research and technology, such as CRISPR-Cas9 and other gene editing tools, which have significantly enhanced our understanding of genes and their role in diseases.
Another major market trend expected to fuel the gene therapy market growth is the increasing incidence of genetic disorders, both congenital and acquired, which has spurred the development and adoption of gene therapy as a viable treatment option.
In 2022, the viral vectors category dominated the industry. Viral vectors, including adeno-associated virus (AAV) vectors, lentiviral vectors, and retroviral vectors, have historically been extensively utilised in gene therapy due to their efficiency in delivering genetic material into target cells. Adeno-associated virus (AAV) vectors gained prominence for their safety profile and effectiveness in gene delivery.
In terms of market share for gene therapy globally, the cancer segment is anticipated to dominate. The substantial prevalence of cancer cases and the potential of gene therapy to offer innovative and effective treatments have driven the emphasis on gene therapies for various types of cancers. Advancements in gene-based cancer therapies, including CAR-T cell therapy and oncolytic viral therapies, have shown promising results in clinical trials and have even been approved for certain types of cancer.
In 2022, the in vivo category controlled the market. In vivo, gene therapy has gained prominence for several reasons. It allows for targeted and precise treatment directly within the physiological environment of the patient. This approach can be easier to administer and has the potential for efficient therapeutic action. In vivo gene therapies are versatile and find applications across a wide range of diseases, including genetic disorders, various types of cancers, cardiovascular diseases, and neurological disorders.
The neurological diseases category is highly prevalent in the market for gene therapy market. Neurological diseases encompass a broad spectrum of disorders affecting the nervous system, including the brain, spinal cord, and peripheral nerves. Conditions such as Parkinson's disease, Alzheimer's disease, spinal muscular atrophy (SMA), amyotrophic lateral sclerosis (ALS), and various forms of ataxia fall within this category.
The North American region is anticipated to account for the largest share of the global gene therapy market, owing to various technological factors such as economic conditions. North America hosts renowned research institutions, academic centres, and biotech companies that drive groundbreaking research and innovation in gene therapy. This region often serves as the birthplace of novel gene therapies, attracting substantial investments and fostering collaboration.
The market for gene therapy is expanding in Asia Pacific due to rapid economic growth and technological advancements. The Asia Pacific region has experienced significant economic growth over the years, resulting in increased healthcare expenditure and research funding. This growth provides ample resources for research, development, and adoption of cutting-edge technologies like gene therapy.
A Look Back and a Look Forward – Comparative Analysis
The gene therapy market is experiencing significant growth driven by several factors. The gene therapy market is experiencing a notable surge in research, development, and commercialisation activities. Gene therapy, once a promising concept, has rapidly transitioned into clinical applications and commercial products.
Several gene therapies have gained regulatory approvals, particularly in treating genetic disorders, rare diseases, and certain types of cancers. The advancements in gene editing technologies, viral and non-viral vector development, and a better understanding of disease genetics have significantly contributed to the current momentum.
Moreover, the ongoing global pandemic has highlighted the importance of innovative treatments, further propelling investment and research interest in gene therapy to address various health challenges.
The market witnessed staggered growth during the historical period 2018 – 2022. The gene therapy landscape has witnessed remarkable progress since its inception in the 1970s and subsequent clinical trials in the 1990s. Initially, the field faced substantial setbacks due to safety concerns and technical limitations. However, lessons learned from the previous trials have paved the way for safer and more effective approaches. The field gained momentum in the early 2000s with significant breakthroughs in viral vector design, particularly adeno-associated viruses (AAVs) that demonstrated enhanced safety and efficiency in gene delivery.
Over the years, the gene therapy market has seen successful outcomes, particularly in treating severe combined immunodeficiency (SCID) and inherited retinal disorders. The approval of Luxturna in 2017 marked a turning point, signifying the beginning of commercially available gene therapies.
The gene therapy market is poised for substantial growth with a strong focus on sustainability, performance, and versatility. The rapid pace of technological advancements, including CRISPR-Cas9 and other gene editing tools, suggests a transformative era for gene therapy. These tools offer precise gene modifications and hold potential for curing a broader spectrum of genetic disorders.
Futuristic applications encompass personalised cancer therapies, where patient-specific treatments become the norm. The integration of artificial intelligence and machine learning in gene therapy research and patient data analysis is set to revolutionise treatment approaches, making them more precise and effective.
Additionally, as regulatory pathways become more streamlined and collaborations between academia, industry, and regulatory bodies strengthen, we anticipate a surge in approved gene therapies across various therapeutic areas. Overall, the future promises an era of individualised, curative treatments that could significantly alter the landscape of healthcare.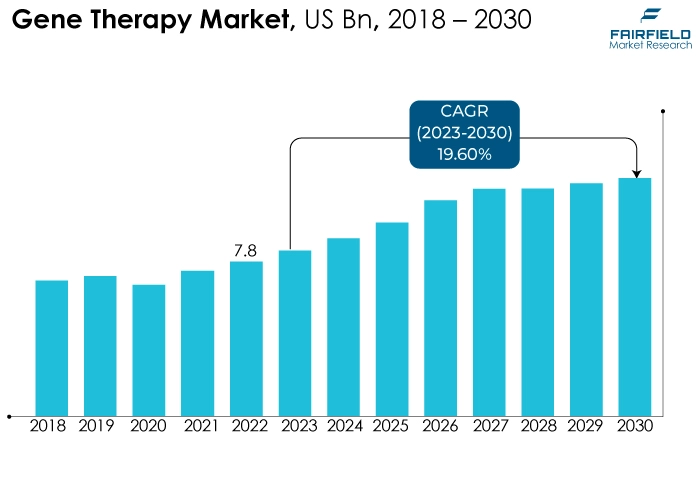 Key Growth Determinants
Advancements in Gene Editing Technologies
Advancements in gene editing technologies are set to propel the global gene therapy market into a new era of innovation and efficacy. Technologies like CRISPR-Cas9 have revolutionised gene editing, enabling precise and targeted modifications of genes within the human genome. This precision offers the potential to correct genetic mutations that cause diseases, paving the way for curative treatments.
CRISPR-based therapies are being explored for a diverse range of conditions, including genetic disorders, certain types of cancers, and neurological diseases. The high specificity, efficiency, and versatility of these technologies significantly enhance the development of personalised gene therapies tailored to individual patients.
Moreover, ongoing research to improve the delivery mechanisms of gene editing tools aims to enhance their clinical applicability further and expand the scope of treatable conditions.
Rising Prevalence of Genetic Disorders and Chronic Diseases
The increasing prevalence of genetic disorders and chronic diseases is a significant driver behind the expanding gene therapy market. Genetic disorders, often caused by mutations or alterations in genes, affect millions of individuals worldwide. Moreover, the rise in chronic conditions like cancer, cardiovascular diseases, diabetes, and neurological disorders necessitates novel and effective treatment approaches.
Gene therapy, with its potential to address the underlying genetic causes of these ailments, offers a promising solution. Advanced gene editing tools, along with enhanced understanding of genomics, enable the development of precise and targeted gene therapies. These therapies can correct or replace faulty genes, providing innovative treatment options.
Investment and Funding Influx
The gene therapy market is experiencing a robust growth trajectory, largely propelled by a substantial influx of investment and funding. Both private and public sectors are demonstrating a keen interest in gene therapy, recognizing its potential to revolutionise healthcare.
Venture capital firms, biotech companies, and governmental organisations are injecting significant funding into research, development, and commercialisation efforts. This financial support is instrumental in advancing groundbreaking technologies, conducting rigorous clinical trials, and facilitating the translation of innovative research into viable gene therapies.
Major Growth Barriers
The high cost of gene therapies stands as a significant constraint limiting the expansive growth of the gene therapy market. The expense associated with research, development, clinical trials, manufacturing, and delivery of gene therapies is substantial.
The factors contributing to these high costs include the complexity of gene therapy technologies, stringent regulatory requirements, sophisticated manufacturing processes, and the need for specialised facilities.
Moreover, the cost of gene therapies per patient is often exorbitant due to their personalised and customised nature, where each treatment is tailored to an individual's genetic makeup. This cost challenge raises concerns regarding affordability and accessibility, restricting widespread adoption and equitable availability of gene therapies.
Lack of Long-term Data and Follow-up
The lack of long-term data and comprehensive follow-up studies is a significant impediment hampering the expansion of the gene therapy market. While gene therapies have shown immense promise and often deliver impressive initial results, the long-term safety, efficacy, and durability of these treatments remain uncertain due to the relatively recent emergence of this field.
Comprehensive understanding of the long-term impacts and potential side effects of gene therapies is essential for building confidence among healthcare professionals, patients, and regulatory bodies.
Key Trends and Opportunities to Look at
Increasing Application in Oncology
The expanding applications of gene therapy in the field of oncology represent a significant stride toward more effective and personalised cancer treatments. Gene therapies, particularly those utilizing gene editing technologies like CRISPR-Cas9, are increasingly being investigated to target and modify cancer cells with remarkable precision.
Promising research is underway to develop gene therapies that can enhance the body's immune response against cancer, inhibit tumour growth, or directly target oncogenic mutations. Personalised cancer vaccines and CAR-T cell therapies, which involve genetically modifying a patient's immune cells to recognise and destroy cancer cells, are gaining traction.
Expansion into Sectors Like Rare Diseases and Genetic Disorders
The gene therapy landscape is rapidly expanding into the realm of rare diseases and genetic disorders, promising breakthrough treatments for previously incurable conditions. Rare diseases, often genetic, affect a small number of individuals, making finding a cure challenging.
Gene therapy offers a tailored approach, addressing the specific genetic mutations causing these disorders. Significant strides have been made in developing gene therapies for rare genetic diseases, such as spinal muscular atrophy (SMA), Duchenne muscular dystrophy (DMD), and certain types of inherited blindness.
Personalised Medicine, and Targeted Therapies
The advent of gene therapy has propelled the era of personalised medicine and targeted therapies, offering a paradigm shift in how we approach the treatment of diseases.
Personalised medicine involves tailoring medical interventions, including treatments and medications, to an individual's unique genetic makeup, lifestyle, environment, and other specific factors. Gene therapy, with its ability to target and modify an individual's genetic code, exemplifies the essence of personalised medicine.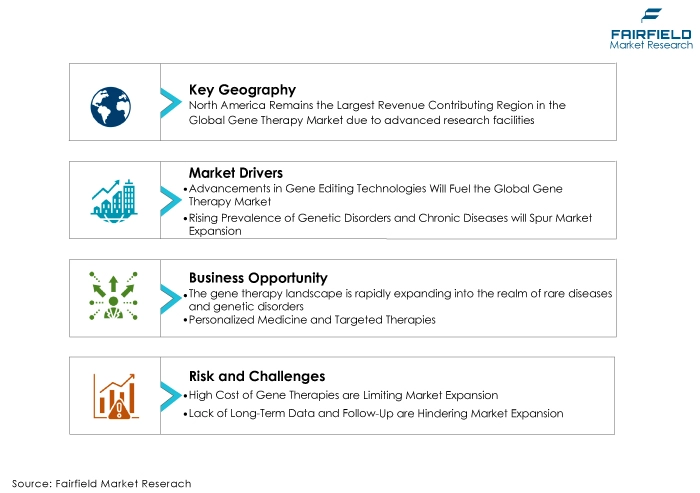 How Does the Regulatory Scenario Shape this Industry?
Over the last three years, the regulatory environment has had a significant impact on how the gene therapy market develops. The regulatory scenario significantly shapes the gene therapy industry, exerting a pivotal influence on research, development, and market access. Regulatory bodies, such as the US FDA, the European Medicines Agency (EMA), and their counterparts worldwide, oversee the safety, efficacy, and quality of gene therapies. Their guidelines and approval processes play a critical role in determining the trajectory of the industry.
The regulatory landscape is evolving to accommodate the unique characteristics of gene therapies, offering expedited pathways and flexible frameworks for approval, especially for treatments addressing rare, life-threatening diseases. Fast-track designations, breakthrough therapy designations, and orphan drug status have accelerated the development and commercialisation of gene therapies.
Additionally, collaborations and proactive engagement between regulators, researchers, and developers foster a conducive environment for innovation and scientific dialogue, further shaping the gene therapy industry by ensuring that therapies meet rigorous standards of safety and efficacy while swiftly reaching patients in need.
Fairfield's Ranking Board
Top Segments
Viral Vectors Category Continues to Dominate
In the gene therapy market, the viral vector category continues to dominate over the non-viral vector category. Viral vectors, specifically adeno-associated virus (AAV) vectors, retroviral vectors, and lentiviral vectors, have been widely used for gene delivery due to their high efficiency and ability to integrate into the host genome, ensuring stable and long-term gene expression.
Adeno-associated virus (AAV) vectors specifically gained prominence due to their excellent safety profile and high transduction efficiency in a wide range of cell types. They have been extensively utilised in both preclinical research and clinical trials for various genetic disorders and diseases.
Furthermore, the non-viral vector category is projected to experience the fastest market growth. Non-viral vectors, including plasmids, liposomes, nanoparticles, and other delivery systems, have been gaining traction due to their potential advantages.
Non-viral vectors are generally considered safer, less immunogenic, and easier to manufacture at a larger scale compared to viral vectors. Additionally, advancements in non-viral vector technologies have led to improved transfection efficiency, allowing for better gene delivery and expression.
Cancer Remains the Largest Indication Category
In 2022, the cancer category dominated the industry. Ongoing advancements in understanding the genetic and molecular basis of cancer have led to the development of more targeted and personalised gene therapies. Researchers are continually identifying novel genes and genetic mutations associated with different types of cancer, enabling the development of tailored gene-based treatments.
In addition, clinical trials in the field of oncology gene therapy have been prolific, with many demonstrating promising results. The success of these trials has accelerated regulatory approvals and paved the way for the commercialisation of gene therapies for various cancers.
The neurological diseases category is anticipated to grow substantially throughout the projected period. Neurological diseases, including rare genetic disorders, spinal muscular atrophy (SMA), Parkinson's disease, Alzheimer's disease, and amyotrophic lateral sclerosis (ALS), often lack effective and curative treatment options. Gene therapy holds promise in addressing these unmet medical needs.
In Vivo Delivery Preferred
The in vivo segment dominated the market in 2022. In vivo gene therapy involves the direct delivery of therapeutic genetic material into the patient's body, targeting and treating affected cells within their natural biological environment. This approach offers significant advantages, including precise and targeted treatment, simplifying the administration process, and potentially leading to faster therapeutic action.
In vivo, gene therapies find applications across a wide spectrum of diseases, ranging from genetic disorders to various types of cancers and cardiovascular diseases. Ongoing advancements in delivery systems, such as viral and non-viral vectors, are continually enhancing the efficiency and specificity of in vivo gene delivery, further bolstering its prominence.
The ex vivo category is expected to experience the fastest growth within the forecast time frame. Ex vivo gene therapy involves the modification or editing of cells outside the patient's body, typically in a laboratory setting, before reintroducing these altered cells back into the patient. This approach allows for precise genetic modifications, making it particularly attractive for addressing a range of diseases, including certain types of cancers, genetic disorders, and immune-related conditions.
The ex vivo technique offers the advantage of a more controlled environment for genetic editing, allowing for scrutiny and optimisation of the modified cells before their therapeutic administration.
Regional Frontrunners
North America Spearheads the Global Market
North America has a well-established and robust healthcare infrastructure, including advanced research facilities, academic institutions, and a high concentration of biotech and pharmaceutical companies. These entities drive substantial research and development efforts in gene therapy, fostering innovation and accelerating the pace of clinical trials and therapeutic breakthroughs.
The region benefits from a strong investment ecosystem, including significant venture capital funding and government support for gene therapy research and commercialisation. This financial backing propels advancements in the field and supports the translation of promising research into viable therapies.
Furthermore, regulatory agencies in North America such as the US FDA have demonstrated a proactive approach to adapting regulations to accommodate the unique nature of gene therapies. This adaptability expedites the approval process, allowing faster market entry for gene therapy products.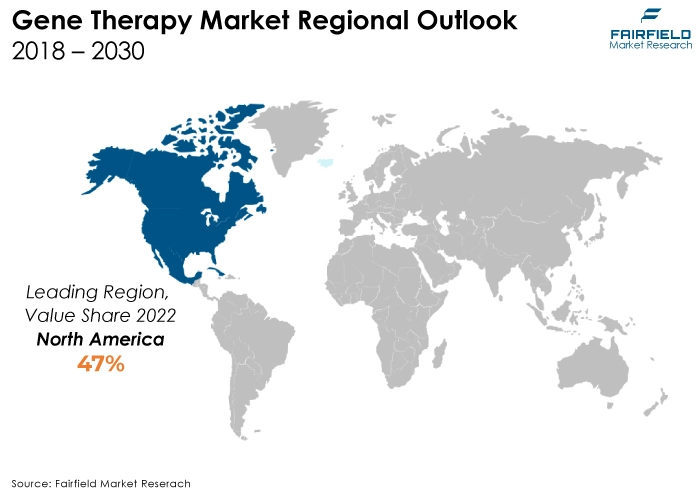 Asia Pacific Presents a High-potential Market Owing to Higher Cancer Prevalence
Asia Pacific is characterised by a large and ageing population, and age is a significant risk factor for cancer. As life expectancy increases and lifestyle changes become more prevalent, the incidence of cancer tends to rise.
Urbanisation, and the adoption of a Westernised lifestyle in many Asian countries have led to an increase in risk factors associated with cancer, such as poor dietary habits, sedentary behaviour, tobacco use, and alcohol consumption.
Environmental factors, including pollution and exposure to carcinogens, also play a role. Improved awareness, enhanced screening programs, and better diagnostic technologies are leading to earlier detection of cancer cases. This earlier detection can contribute to an apparent increase in cancer incidence rates.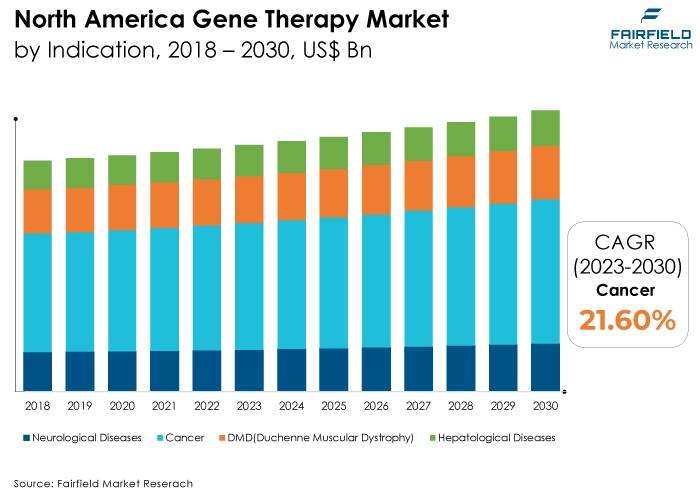 Fairfield's Competitive Landscape Analysis
The global gene therapy market is a consolidated market with less major players present across the globe. The key players are introducing new products as well as working on the distribution channels to enhance their worldwide presence. Moreover, Fairfield Market Research is expecting the market to witness more consolidation over the coming years.
Who are the Leaders in the Global Gene Therapy Space?
Significant Company Developments
New Product Launches
June 2022: CRISPR Therapeutics is advancing various CRISPR-based gene therapies through clinical trials, targeting genetic disorders like sickle cell disease and beta-thalassemia.
September 2021: Regeneron, in collaboration with Intellia Therapeutics, is working on in vivo CRISPR-Cas9 gene editing therapy for hereditary transthyretin amyloidosis (hATTR) and other genetic diseases.
November 2019: Acquired by Roche, Spark Therapeutics developed Luxturna, the first FDA-approved gene therapy for an inherited retinal disease, which leads to blindness.
Distribution Agreements
May 2021: Everads Enters License Agreement with Kriya for Development of Ocular Gene Therapy Candidates Using Everads' Suprachoroidal Delivery Technology.
February 2020: KromaTiD & Noble Life Sciences Sign a Distribution & OEM Partnership Agreement.
An Expert's Eye
Demand and Future Growth
The market demand for gene therapy is expected to expand significantly. Gene therapy represents a revolutionary approach in modern medicine, holding immense potential to treat a spectrum of genetic disorders and chronic diseases, including various types of cancers, rare genetic conditions, and neurological disorders. The market demand for gene therapy stems from several factors.
The rising prevalence of genetic diseases globally has accentuated the need for transformative treatments. Gene therapy offers the potential to address the root causes of these diseases, providing patients with new hope for improved outcomes and, in some cases, curative solutions.
Advancements in gene editing technologies, particularly CRISPR-Cas9 and other gene modification tools, have greatly bolstered the precision and efficiency of gene therapy. These breakthroughs have not only expanded the therapeutic possibilities but have also facilitated the development of personalised gene-based treatments.
Supply Side of the Market
According to our analysis, the supply side of the gene therapy market reflects a dynamic landscape characterised by fierce competition and rapid technological advancements. Examining the supply side of the gene therapy market reveals a landscape marked by burgeoning research, robust manufacturing capabilities, and a growing number of players in the biotechnology and pharmaceutical sectors.
Biotech companies, pharmaceutical giants, academic research institutions, and contract manufacturing organisations (CMOs) are pivotal stakeholders in this ecosystem, contributing to the development, production, and commercialisation of gene therapies. R&D efforts are thriving, driven by substantial investments, strategic collaborations, and a deepening understanding of molecular biology.
Innovations in vector technologies, such as viral and non-viral vectors, are enhancing gene delivery systems, improving efficacy and safety, and broadening the spectrum of treatable diseases. Additionally, advancements in gene editing tools, like CRISPR-Cas9, are revolutionizing the precision and potential of gene therapies. Manufacturing capabilities are evolving to meet the demands of scaling up production while maintaining stringent quality standards.
Global Gene Therapy Market is Segmented as Below:
By Vector:
Grade Non-viral Vectors

Oligonucleotides
Other Non-viral Vectors

Viral Vectors

Retro Viral Vectors
Adeno-associated Virus Vectors
Others Viral Vectors
By Indication:
Neurological Diseases
Cancer
DMD (Duchenne Muscular Dystrophy)
Hepatological Diseases
Other Indications
By Delivery Method:
By Sales Channel:
Offline Sales Channel

Supermarkets/Hypermarkets
Departmental Stores
Convenience Store
Other Sales Channel

Online Sales Channel

Company Website
E-commerce Platform
By Geographic Coverage:
North America
Europe

Germany
U.K.
France
Italy
Turkey
Russia
Rest of Europe

Asia Pacific

China
Japan
South Korea
India
Southeast Asia
Rest of Asia Pacific

Latin America

Brazil
Mexico
Argentina
Rest of Latin America

Middle East & Africa

GCC
South Africa
Egypt
Nigeria
Rest of the Middle East & Africa
1. Executive Summary
1.1. Global Gene Therapy Market Snapshot
1.2. Future Projections
1.3. Key Market Trends
1.4. Regional Snapshot, by Value, 2022
1.5. Analyst Recommendations

2. Market Overview
2.1. Market Definitions and Segmentations
2.2. Market Dynamics
2.2.1. Drivers
2.2.2. Restraints
2.2.3. Market Opportunities
2.3. Value Chain Analysis
2.4. Porter's Five Forces Analysis
2.5. COVID-19 Impact Analysis
2.5.1. Supply
2.5.2. Demand
2.6. Impact of Ukraine-Russia Conflict
2.7. Economic Overview
2.7.1. World Economic Projections
2.8. PESTLE Analysis

3. Global Gene Therapy Market Outlook, 2018 - 2030
3.1. Global Gene Therapy Market Outlook, by Vectors, Value (US$ Bn), 2018 - 2030
3.1.1. Key Highlights
3.1.1.1. Non-viral Vectors
3.1.1.1.1. Oligonucleotides
3.1.1.1.2. Other Non-viral Vectors
3.1.1.2. Viral Vectors
3.1.1.2.1. Retro Viral Vectors
3.1.1.2.2. Adeno-associated Virus Vectors
3.1.1.2.3. Others Viral Vectors
3.2. Global Gene Therapy Market Outlook, by Indication, Value (US$ Bn), 2018 - 2030
3.2.1. Key Highlights
3.2.1.1. Neurological Diseases
3.2.1.2. Cancer
3.2.1.3. DMD (Duchenne Muscular Dystrophy)
3.2.1.4. Hepatological Diseases
3.2.1.5. Other Indications
3.3. Global Gene Therapy Market Outlook, by Delivery Method, Value (US$ Bn), 2018 - 2030
3.3.1. Key Highlights
3.3.1.1. In Vivo
3.3.1.2. Ex Vivo
3.4. Global Gene Therapy Market Outlook, by Sales Channel, Value (US$ Bn), 2018 - 2030
3.4.1. Key Highlights
3.4.1.1. Offline Sales Channel
3.4.1.1.1. Supermarkets/Hypermarkets
3.4.1.1.2. Departmental Stores
3.4.1.1.3. Convenience Store
3.4.1.1.4. Other
3.4.1.2. Online Sales Channel
3.4.1.2.1. Company Website
3.4.1.2.2. E-commerce Platform
3.5. Global Gene Therapy Market Outlook, by Region, Value (US$ Bn), 2018 - 2030
3.5.1. Key Highlights
3.5.1.1. North America
3.5.1.2. Europe
3.5.1.3. Asia Pacific
3.5.1.4. Latin America
3.5.1.5. Middle East & Africa

4. North America Gene Therapy Market Outlook, 2018 - 2030
4.1. North America Gene Therapy Market Outlook, by Vectors, Value (US$ Bn), 2018 - 2030
4.1.1. Key Highlights
4.1.1.1. Non-viral Vectors
4.1.1.1.1. Oligonucleotides
4.1.1.1.2. Other Non-viral Vectors
4.1.1.2. Viral Vectors
4.1.1.2.1. Retro Viral Vectors
4.1.1.2.2. Adeno-associated Virus Vectors
4.1.1.2.3. Others Viral Vectors
4.2. North America Gene Therapy Market Outlook, by Indication, Value (US$ Bn), 2018 - 2030
4.2.1. Key Highlights
4.2.1.1. Neurological Diseases
4.2.1.2. Cancer
4.2.1.3. DMD (Duchenne Muscular Dystrophy)
4.2.1.4. Hepatological Diseases
4.2.1.5. Other Indications
4.3. North America Gene Therapy Market Outlook, by Delivery Method, Value (US$ Bn), 2018 - 2030
4.3.1. Key Highlights
4.3.1.1. In Vivo
4.3.1.2. Ex Vivo
4.4. North America Gene Therapy Market Outlook, by Sales Channel, Value (US$ Bn), 2018 - 2030
4.4.1. Key Highlights
4.4.1.1. Offline Sales Channel
4.4.1.1.1. Supermarkets/Hypermarkets
4.4.1.1.2. Departmental Stores
4.4.1.1.3. Convenience Store
4.4.1.1.4. Other Sales Channel
4.4.1.2. Online Sales Channel
4.4.1.2.1. Company Website
4.4.1.2.2. E-commerce Platform
4.5. North America Gene Therapy Market Outlook, by Country, Value (US$ Bn), 2018 - 2030
4.5.1. Key Highlights
4.5.1.1. U.S. Gene Therapy Market by Vectors, Value (US$ Bn), 2018 - 2030
4.5.1.2. U.S. Gene Therapy Market Indication, Value (US$ Bn), 2018 - 2030
4.5.1.3. U.S. Gene Therapy Market Delivery Method, Value (US$ Bn), 2018 - 2030
4.5.1.4. U.S. Gene Therapy Market Sales Channel, Value (US$ Bn), 2018 - 2030
4.5.1.5. Canada Gene Therapy Market by Vectors, Value (US$ Bn), 2018 - 2030
4.5.1.6. Canada Gene Therapy Market Indication, Value (US$ Bn), 2018 - 2030
4.5.1.7. Canada Gene Therapy Market Delivery Method, Value (US$ Bn), 2018 - 2030
4.5.1.8. Canada Gene Therapy Market Sales Channel, Value (US$ Bn), 2018 - 2030
4.5.2. BPS Analysis/Market Attractiveness Analysis

5. Europe Gene Therapy Market Outlook, 2018 - 2030
5.1. Europe Gene Therapy Market Outlook, by Vectors, Value (US$ Bn), 2018 - 2030
5.1.1. Key Highlights
5.1.1.1. Non-viral Vectors
5.1.1.1.1. Oligonucleotides
5.1.1.1.2. Other Non-viral Vectors
5.1.1.2. Viral Vectors
5.1.1.2.1. Retro Viral Vectors
5.1.1.2.2. Adeno-associated Virus Vectors
5.1.1.2.3. Others Viral Vectors
5.2. Europe Gene Therapy Market Outlook, by Indication, Value (US$ Bn), 2018 - 2030
5.2.1. Key Highlights
5.2.1.1. Neurological Diseases
5.2.1.2. Cancer
5.2.1.3. DMD (Duchenne Muscular Dystrophy)
5.2.1.4. Hepatological Diseases
5.2.1.5. Other Indications
5.3. Europe Gene Therapy Market Outlook, by Delivery Method, Value (US$ Bn), 2018 - 2030
5.3.1. Key Highlights
5.3.1.1. In Vivo
5.3.1.2. Ex Vivo
5.4. Europe Gene Therapy Market Outlook, by Sales Channel, Value (US$ Bn), 2018 - 2030
5.4.1. Key Highlights
5.4.1.1. Offline Sales Channel
5.4.1.1.1. Supermarkets/Hypermarkets
5.4.1.1.2. Departmental Stores
5.4.1.1.3. Convenience Store
5.4.1.1.4. Other Sales Channel
5.4.1.2. Online Sales Channel
5.4.1.2.1. Company Website
5.4.1.2.2. E-commerce Platform
5.5. Europe Gene Therapy Market Outlook, by Country, Value (US$ Bn), 2018 - 2030
5.5.1. Key Highlights
5.5.1.1. Germany Gene Therapy Market by Vectors, Value (US$ Bn), 2018 - 2030
5.5.1.2. Germany Gene Therapy Market Indication, Value (US$ Bn), 2018 - 2030
5.5.1.3. Germany Gene Therapy Market Delivery Method, Value (US$ Bn), 2018 - 2030
5.5.1.4. Germany Gene Therapy Market Sales Channel, Value (US$ Bn), 2018 - 2030
5.5.1.5. U.K. Gene Therapy Market by Vectors, Value (US$ Bn), 2018 - 2030
5.5.1.6. U.K. Gene Therapy Market Indication, Value (US$ Bn), 2018 - 2030
5.5.1.7. U.K. Gene Therapy Market Delivery Method, Value (US$ Bn), 2018 - 2030
5.5.1.8. U.K. Gene Therapy Market Sales Channel, Value (US$ Bn), 2018 - 2030
5.5.1.9. France Gene Therapy Market by Vectors, Value (US$ Bn), 2018 - 2030
5.5.1.10. France Gene Therapy Market Indication, Value (US$ Bn), 2018 - 2030
5.5.1.11. France Gene Therapy Market Delivery Method, Value (US$ Bn), 2018 - 2030
5.5.1.12. France Gene Therapy Market Sales Channel, Value (US$ Bn), 2018 - 2030
5.5.1.13. Italy Gene Therapy Market by Vectors, Value (US$ Bn), 2018 - 2030
5.5.1.14. Italy Gene Therapy Market Indication, Value (US$ Bn), 2018 - 2030
5.5.1.15. Italy Gene Therapy Market Delivery Method, Value (US$ Bn), 2018 - 2030
5.5.1.16. Italy Gene Therapy Market Sales Channel, Value (US$ Bn), 2018 - 2030
5.5.1.17. Turkey Gene Therapy Market by Vectors, Value (US$ Bn), 2018 - 2030
5.5.1.18. Turkey Gene Therapy Market Indication, Value (US$ Bn), 2018 - 2030
5.5.1.19. Turkey Gene Therapy Market Delivery Method, Value (US$ Bn), 2018 - 2030
5.5.1.20. Turkey Gene Therapy Market Sales Channel, Value (US$ Bn), 2018 - 2030
5.5.1.21. Russia Gene Therapy Market by Vectors, Value (US$ Bn), 2018 - 2030
5.5.1.22. Russia Gene Therapy Market Indication, Value (US$ Bn), 2018 - 2030
5.5.1.23. Russia Gene Therapy Market Delivery Method, Value (US$ Bn), 2018 - 2030
5.5.1.24. Russia Gene Therapy Market Sales Channel, Value (US$ Bn), 2018 - 2030
5.5.1.25. Rest of Europe Gene Therapy Market by Vectors, Value (US$ Bn), 2018 - 2030
5.5.1.26. Rest of Europe Gene Therapy Market Indication, Value (US$ Bn), 2018 - 2030
5.5.1.27. Rest of Europe Gene Therapy Market Delivery Method, Value (US$ Bn), 2018 - 2030
5.5.1.28. Rest of Europe Gene Therapy Market Sales Channel, Value (US$ Bn), 2018 - 2030
5.5.2. BPS Analysis/Market Attractiveness Analysis

6. Asia Pacific Gene Therapy Market Outlook, 2018 - 2030
6.1. Asia Pacific Gene Therapy Market Outlook, by Vectors, Value (US$ Bn), 2018 - 2030
6.1.1. Key Highlights
6.1.1.1. Non-viral Vectors
6.1.1.1.1. Oligonucleotides
6.1.1.1.2. Other Non-viral Vectors
6.1.1.2. Viral Vectors
6.1.1.2.1. Retro Viral Vectors
6.1.1.2.2. Adeno-associated Virus Vectors
6.1.1.2.3. Others Viral Vectors
6.2. Asia Pacific Gene Therapy Market Outlook, by Indication, Value (US$ Bn), 2018 - 2030
6.2.1. Key Highlights
6.2.1.1. Neurological Diseases
6.2.1.2. Cancer
6.2.1.3. DMD (Duchenne Muscular Dystrophy)
6.2.1.4. Hepatological Diseases
6.2.1.5. Other Indications
6.3. Asia Pacific Gene Therapy Market Outlook, by Delivery Method, Value (US$ Bn), 2018 - 2030
6.3.1. Key Highlights
6.3.1.1. In Vivo
6.3.1.2. Ex Vivo
6.4. Asia Pacific Gene Therapy Market Outlook, by Sales Channel, Value (US$ Bn), 2018 - 2030
6.4.1. Key Highlights
6.4.1.1. Offline Sales Channel
6.4.1.1.1. Supermarkets/Hypermarkets
6.4.1.1.2. Departmental Stores
6.4.1.1.3. Convenience Store
6.4.1.1.4. Other Sales Channel
6.4.1.2. Online Sales Channel
6.4.1.2.1. Company Website
6.4.1.2.2. E-commerce Platform
6.5. Asia Pacific Gene Therapy Market Outlook, by Country, Value (US$ Bn), 2018 - 2030
6.5.1. Key Highlights
6.5.1.1. China Gene Therapy Market by Vectors, Value (US$ Bn), 2018 - 2030
6.5.1.2. China Gene Therapy Market Indication, Value (US$ Bn), 2018 - 2030
6.5.1.3. China Gene Therapy Market Delivery Method, Value (US$ Bn), 2018 - 2030
6.5.1.4. China Gene Therapy Market Sales Channel, Value (US$ Bn), 2018 - 2030
6.5.1.5. Japan Gene Therapy Market by Vectors, Value (US$ Bn), 2018 - 2030
6.5.1.6. Japan Gene Therapy Market Indication, Value (US$ Bn), 2018 - 2030
6.5.1.7. Japan Gene Therapy Market Delivery Method, Value (US$ Bn), 2018 - 2030
6.5.1.8. Japan Gene Therapy Market Sales Channel, Value (US$ Bn), 2018 - 2030
6.5.1.9. South Korea Gene Therapy Market by Vectors, Value (US$ Bn), 2018 - 2030
6.5.1.10. South Korea Gene Therapy Market Indication, Value (US$ Bn), 2018 - 2030
6.5.1.11. South Korea Gene Therapy Market Delivery Method, Value (US$ Bn), 2018 - 2030
6.5.1.12. South Korea Gene Therapy Market Sales Channel, Value (US$ Bn), 2018 - 2030
6.5.1.13. India Gene Therapy Market by Vectors, Value (US$ Bn), 2018 - 2030
6.5.1.14. India Gene Therapy Market Indication, Value (US$ Bn), 2018 - 2030
6.5.1.15. India Gene Therapy Market Delivery Method, Value (US$ Bn), 2018 - 2030
6.5.1.16. India Gene Therapy Market Sales Channel, Value (US$ Bn), 2018 - 2030
6.5.1.17. Southeast Asia Gene Therapy Market by Vectors, Value (US$ Bn), 2018 - 2030
6.5.1.18. Southeast Asia Gene Therapy Market Indication, Value (US$ Bn), 2018 - 2030
6.5.1.19. Southeast Asia Gene Therapy Market Delivery Method, Value (US$ Bn), 2018 - 2030
6.5.1.20. Southeast Asia Gene Therapy Market Sales Channel, Value (US$ Bn), 2018 - 2030
6.5.1.21. Rest of Asia Pacific Gene Therapy Market by Vectors, Value (US$ Bn), 2018 - 2030
6.5.1.22. Rest of Asia Pacific Gene Therapy Market Indication, Value (US$ Bn), 2018 - 2030
6.5.1.23. Rest of Asia Pacific Gene Therapy Market Delivery Method, Value (US$ Bn), 2018 - 2030
6.5.1.24. Rest of Asia Pacific Gene Therapy Market Sales Channel, Value (US$ Bn), 2018 - 2030
6.5.2. BPS Analysis/Market Attractiveness Analysis

7. Latin America Gene Therapy Market Outlook, 2018 - 2030
7.1. Latin America Gene Therapy Market Outlook, by Vectors, Value (US$ Bn), 2018 - 2030
7.1.1. Key Highlights
7.1.1.1. Non-viral Vectors
7.1.1.1.1. Oligonucleotides
7.1.1.1.2. Other Non-viral Vectors
7.1.1.2. Viral Vectors
7.1.1.2.1. Retro Viral Vectors
7.1.1.2.2. Adeno-associated Virus Vectors
7.1.1.2.3. Others Viral Vectors
7.2. Latin America Gene Therapy Market Outlook, by Indication, Value (US$ Bn), 2018 - 2030
7.2.1. Key Highlights
7.2.1.1. Neurological Diseases
7.2.1.2. Cancer
7.2.1.3. DMD (Duchenne Muscular Dystrophy)
7.2.1.4. Hepatological Diseases
7.2.1.5. Other Indications
7.3. Latin America Gene Therapy Market Outlook, by Delivery Method, Value (US$ Bn), 2018 - 2030
7.3.1. Key Highlights
7.3.1.1. In Vivo
7.3.1.2. Ex Vivo
7.4. Latin America Gene Therapy Market Outlook, by Sales Channel, Value (US$ Bn), 2018 - 2030
7.4.1. Key Highlights
7.4.1.1. Offline Sales Channel
7.4.1.1.1. Supermarkets/Hypermarkets
7.4.1.1.2. Departmental Stores
7.4.1.1.3. Convenience Store
7.4.1.1.4. Other Sales Channel
7.4.1.2. Online Sales Channel
7.4.1.2.1. Company Website
7.4.1.2.2. E-commerce Platform
7.5. Latin America Gene Therapy Market Outlook, by Country, Value (US$ Bn), 2018 - 2030
7.5.1. Key Highlights
7.5.1.1. Brazil Gene Therapy Market by Vectors, Value (US$ Bn), 2018 - 2030
7.5.1.2. Brazil Gene Therapy Market Indication, Value (US$ Bn), 2018 - 2030
7.5.1.3. Brazil Gene Therapy Market Delivery Method, Value (US$ Bn), 2018 - 2030
7.5.1.4. Brazil Gene Therapy Market Sales Channel, Value (US$ Bn), 2018 - 2030
7.5.1.5. Mexico Gene Therapy Market by Vectors, Value (US$ Bn), 2018 - 2030
7.5.1.6. Mexico Gene Therapy Market Indication, Value (US$ Bn), 2018 - 2030
7.5.1.7. Mexico Gene Therapy Market Delivery Method, Value (US$ Bn), 2018 - 2030
7.5.1.8. Mexico Gene Therapy Market Sales Channel, Value (US$ Bn), 2018 - 2030
7.5.1.9. Argentina Gene Therapy Market by Vectors, Value (US$ Bn), 2018 - 2030
7.5.1.10. Argentina Gene Therapy Market Indication, Value (US$ Bn), 2018 - 2030
7.5.1.11. Argentina Gene Therapy Market Delivery Method, Value (US$ Bn), 2018 - 2030
7.5.1.12. Argentina Gene Therapy Market Sales Channel, Value (US$ Bn), 2018 - 2030
7.5.1.13. Rest of Latin America Gene Therapy Market by Vectors, Value (US$ Bn), 2018 - 2030
7.5.1.14. Rest of Latin America Gene Therapy Market Indication, Value (US$ Bn), 2018 - 2030
7.5.1.15. Rest of Latin America Gene Therapy Market Delivery Method, Value (US$ Bn), 2018 - 2030
7.5.1.16. Rest of Latin America Gene Therapy Market Sales Channel, Value (US$ Bn), 2018 - 2030
7.5.2. BPS Analysis/Market Attractiveness Analysis

8. Middle East & Africa Gene Therapy Market Outlook, 2018 - 2030
8.1. Middle East & Africa Gene Therapy Market Outlook, by Vectors, Value (US$ Bn), 2018 - 2030
8.1.1. Key Highlights
8.1.1.1. Non-viral Vectors
8.1.1.1.1. Oligonucleotides
8.1.1.1.2. Other Non-viral Vectors
8.1.1.2. Viral Vectors
8.1.1.2.1. Retro Viral Vectors
8.1.1.2.2. Adeno-associated Virus Vectors
8.1.1.2.3. Others Viral Vectors
8.2. Middle East & Africa Gene Therapy Market Outlook, by Indication, Value (US$ Bn), 2018 - 2030
8.2.1. Key Highlights
8.2.1.1. Neurological Diseases
8.2.1.2. Cancer
8.2.1.3. DMD (Duchenne Muscular Dystrophy)
8.2.1.4. Hepatological Diseases
8.2.1.5. Other Indications
8.3. Middle East & Africa Gene Therapy Market Outlook, by Delivery Method, Value (US$ Bn), 2018 - 2030
8.3.1. Key Highlights
8.3.1.1. In Vivo
8.3.1.2. Ex Vivo
8.4. Middle East & Africa Gene Therapy Market Outlook, by Sales Channel, Value (US$ Bn), 2018 - 2030
8.4.1. Key Highlights
8.4.1.1. Offline Sales Channel
8.4.1.1.1. Supermarkets/Hypermarkets
8.4.1.1.2. Departmental Stores
8.4.1.1.3. Convenience Store
8.4.1.1.4. Other Sales Channel
8.4.1.2. Online Sales Channel
8.4.1.2.1. Company Website
8.4.1.2.2. E-commerce Platform
8.5. Middle East & Africa Gene Therapy Market Outlook, by Country, Value (US$ Bn), 2018 - 2030
8.5.1. Key Highlights
8.5.1.1. GCC Gene Therapy Market by Vectors, Value (US$ Bn), 2018 - 2030
8.5.1.2. GCC Gene Therapy Market Indication, Value (US$ Bn), 2018 - 2030
8.5.1.3. GCC Gene Therapy Market Delivery Method, Value (US$ Bn), 2018 - 2030
8.5.1.4. GCC Gene Therapy Market Sales Channel, Value (US$ Bn), 2018 - 2030
8.5.1.5. South Africa Gene Therapy Market by Vectors, Value (US$ Bn), 2018 - 2030
8.5.1.6. South Africa Gene Therapy Market Indication, Value (US$ Bn), 2018 - 2030
8.5.1.7. South Africa Gene Therapy Market Delivery Method, Value (US$ Bn), 2018 - 2030
8.5.1.8. South Africa Gene Therapy Market Sales Channel, Value (US$ Bn), 2018 - 2030
8.5.1.9. Egypt Gene Therapy Market by Vectors, Value (US$ Bn), 2018 - 2030
8.5.1.10. Egypt Gene Therapy Market Indication, Value (US$ Bn), 2018 - 2030
8.5.1.11. Egypt Gene Therapy Market Delivery Method, Value (US$ Bn), 2018 - 2030
8.5.1.12. Egypt Gene Therapy Market Sales Channel, Value (US$ Bn), 2018 - 2030
8.5.1.13. Nigeria Gene Therapy Market by Vectors, Value (US$ Bn), 2018 - 2030
8.5.1.14. Nigeria Gene Therapy Market Indication, Value (US$ Bn), 2018 - 2030
8.5.1.15. Nigeria Gene Therapy Market Delivery Method, Value (US$ Bn), 2018 - 2030
8.5.1.16. Nigeria Gene Therapy Market Sales Channel, Value (US$ Bn), 2018 - 2030
8.5.1.17. Rest of Middle East & Africa Gene Therapy Market by Vectors, Value (US$ Bn), 2018 - 2030
8.5.1.18. Rest of Middle East & Africa Gene Therapy Market Indication, Value (US$ Bn), 2018 - 2030
8.5.1.19. Rest of Middle East & Africa Gene Therapy Market Delivery Method, Value (US$ Bn), 2018 - 2030
8.5.1.20. Rest of Middle East & Africa Gene Therapy Market Sales Channel, Value (US$ Bn), 2018 - 2030
8.5.2. BPS Analysis/Market Attractiveness Analysis
9. Competitive Landscape
9.1. Manufacturer vs Vector Heatmap
9.2. Company Market Share Analysis, 2022
9.3. Competitive Dashboard
9.4. Company Profiles
9.4.1. Merck KGaA
9.4.1.1. Company Overview
9.4.1.2. Product Portfolio
9.4.1.3. Financial Overview
9.4.1.4. Business Strategies and Development
9.4.2. Novartis AG
9.4.2.1. Company Overview
9.4.2.2. Product Portfolio
9.4.2.3. Financial Overview
9.4.2.4. Business Strategies and Development
9.4.3. AstraZeneca Plc.
9.4.3.1. Company Overview
9.4.3.2. Product Portfolio
9.4.3.3. Financial Overview
9.4.3.4. Business Strategies and Development
9.4.4. BIOCAD
9.4.4.1. Company Overview
9.4.4.2. Product Portfolio
9.4.4.3. Financial Overview
9.4.4.4. Business Strategies and Development
9.4.5. Crinetics Pharmaceuticals Inc.
9.4.5.1. Company Overview
9.4.5.2. Product Portfolio
9.4.5.3. Financial Overview
9.4.5.4. Business Strategies and Development
9.4.6. EffRx Pharmaceuticals S.A.
9.4.6.1. Company Overview
9.4.6.2. Product Portfolio
9.4.6.3. Financial Overview
9.4.6.4. Business Strategies and Development
9.4.7. Euroscreen S.A.
9.4.7.1. Company Overview
9.4.7.2. Product Portfolio
9.4.7.3. Financial Overview
9.4.7.4. Business Strategies and Development
9.4.8. Vicore Pharma AB
9.4.8.1. Company Overview
9.4.8.2. Product Portfolio
9.4.8.3. Financial Overview
9.4.8.4. Business Strategies and Development
9.4.9. Bristol-Myers Squibb
9.4.9.1. Company Overview
9.4.9.2. Product Portfolio
9.4.9.3. Financial Overview
9.4.9.4. Business Strategies and Development
9.4.10. Cell Genesys Inc.
9.4.10.1. Company Overview
9.4.10.2. Product Portfolio
9.4.10.3. Financial Overview
9.4.10.4. Business Strategies and Development
9.4.11. Adaptimmune Therapeutics plc.
9.4.11.1. Company Overview
9.4.11.2. Product Portfolio
9.4.11.3. Financial Overview
9.4.11.4. Business Strategies and Development
9.4.12. Achieve Life Science Inc.
9.4.12.1. Company Overview
9.4.12.2. Product Portfolio
9.4.12.3. Financial Overview
9.4.12.4. Business Strategies and Development
9.4.13. BioCanCell Ltd.
9.4.13.1. Company Overview
9.4.13.2. Product Portfolio
9.4.13.3. Financial Overview
9.4.13.4. Business Strategies and Development
9.4.14. Genelux Corporation
9.4.14.1. Company Overview
9.4.14.2. Product Portfolio
9.4.14.3. Financial Overview
9.4.14.4. Business Strategies and Development
9.4.15. Advantagene Inc.
9.4.15.1. Company Overview
9.4.15.2. Product Portfolio
9.4.15.3. Financial Overview
9.4.15.4. Business Strategies and Development
9.4.16. GenVec Inc
9.4.16.1. Company Overview
9.4.16.2. Product Portfolio
9.4.16.3. Financial Overview
9.4.16.4. Business Strategies and Development
9.4.17. GlaxoSmithKline PLC
9.4.17.1. Company Overview
9.4.17.2. Product Portfolio
9.4.17.3. Financial Overview
9.4.17.4. Business Strategies and Development
9.4.18. Amgen Inc.
9.4.18.1. Company Overview
9.4.18.2. Product Portfolio
9.4.18.3. Financial Overview
9.4.18.4. Business Strategies and Development

10. Appendix
10.1. Research Methodology
10.2. Report Assumptions
10.3. Acronyms and Abbreviations